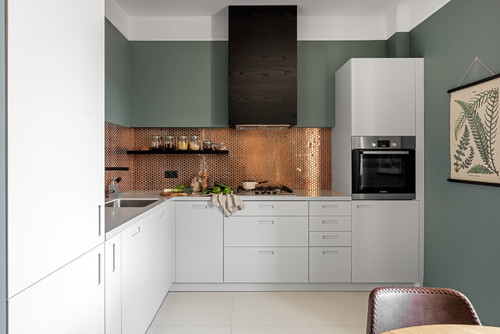 ID# 123502 | Houzz.com – Credit | Finchstudio | © Alexandra Dermont
---
White Cabinets with Copper Penny Tile Backsplash and Green Walls
With its glamorous appeal, the penny tile backsplash transforms this otherwise ordinary kitchen into a stylish design. The hexagon tile backsplash complements the olive green wall paint with its earthy color while white flat-panel cabinets create a clean and fresh look. The black wood range hood and black floating shelf complete the modern style of the cabinets. Using white paint for the upper walls enhances the space height and provides a more spacious atmosphere.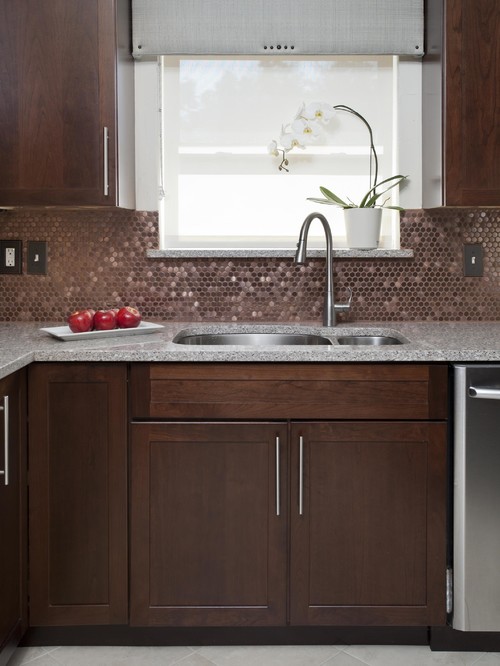 ID# 123517 | Houzz.com – Credit | © Nicole Arnold Interiors
---
Dark Wood Kitchen Cabinetry with Gray Quartz Countertop and Metal Handles
Dark wood shaker-style cabinets, gray quartz countertop, and copper penny tile backsplash create a cool and clean look. Stainless steel appliances, metal handles, and the faucet complete the modern look of the cabinets while copper backsplash tiles add a sparkle to the design.
Copper Backsplash
If you are looking for a visually interesting and at the same time durable material for your kitchen backsplash, copper offers you everything you want. With its warm allure and charming appeal, copper backsplashes are in the rising trend lists. From sleek modern kitchens to rustic delights, copper finds a place in every kitchen and instantly elevates the overall look. Here are some of the best copper backsplash ideas that embrace the beauty of this chic material.
From copper penny tiles to rectangular tiles, copper sheets to tin panels, there are plenty of different ways to incorporate copper into kitchens. You can polish your copper tile backsplash to give an exceptional glow or use an aged copper to add a bunch of character with vintage appeal. With their sleek and minimal looks, copper sheets are very suitable for modern and contemporary kitchens. If you want to add more texture, hammered copper or tin copper give an individual look that is rustic. Copper can easily combine with different colors like white, black, brown, blue, or green. Also, using copper with wood accents is a great way to create a cozy warm-colored kitchen. Whatever your choice is, a copper backsplash can lend a sophisticated and unique look to any kitchen. Scroll down and find some ideas for copper kitchen backsplashes that going to transform your kitchen.
Copper Tile Backsplash
Whatever the material is, tiles are the most popular option for backsplashes because they protect the wet areas without sacrificing style. And if you want to highlight your backsplash choosing a shiny material like copper is a perfect way. Copper is a material that can elevate the overall look of the kitchen. From classic rectangular tiles to small squares, copper tile backsplash comes in a wide range of shapes and sizes. You can even use real pennies to create a one-of-a-kind backsplash!
Copper Backsplash Sheet
Copper sheeting is Copper Backsplash Sheet is the simplest form of copper which is a smooth, flat, and large piece. Sheet copper backsplashes are characterized by their sleek and clean look. The ultra-modern appeal of the copper sheets can take any kitchen to the next level and easily glams up the atmosphere. If you don't want to use a plain sheet, there are hammered and patterned pressed options that can add visual interest. Besides their visual beauty, copper sheets are easy to clean and durable materials that make them a good candidate for backsplash.
Is Copper a good backsplash?
A kitchen backsplash needs to provide durability, easy maintenance, and style. With its durability and unique appearance, copper is a really good material choice for kitchen backsplash. If you want to highlight your backsplash area, a copper backsplash is a great way to add a unique and eye-catching look.
Hammered Copper Backsplash
Copper is one of the softest metals that can easily be shaped. Hammering is a simple process that adds visual interest to the copper. Also, the hammered copper backsplash has a stronger surface than flat sheets. Hammered coopers are more expensive but you can easily get this distinctive look with a DIY project, you just need a hammer. Lay down the copper sheet and secure it to the plywood with a nail in each corner. Hit the sheet with medium force by using a hammer. You can add the texture according to your taste. But be careful, coppe sheets come in different thicknesses and if you are doing by your shelf, thinner sheets are a better option for hammering.
Copper Tin Backsplash
Tin tiles add an ornate appearance that creates a unique and beautiful visual appeal for kitchens. A copper-tin backsplash offers the undeniable charm of copper with distinctive patterns. Just like the other types of copper, tin backsplashes also have extremely low maintenance and extremely high durability.
Is copper backsplash out of style?
Copper backsplashes are getting more popular day by day and have become one of the popular choices for homeowners and interior designers. The unique glamorous look of the copper can make a beautiful twist in your traditional kitchen or add a sparkle to your contemporary kitchen.
How much does a copper backsplash cost?
The average cost of a copper backsplash is between $25-$35. These prices can change according to the type, size, and finish of the copper and the company. Copper is not the cheapest material but this investment will never fail you down.
Copper Penny Tile Backsplash
Penny tiles are perfect materials to add texture and highlight the backsplash. All penny tiles have a cool textural look but when this look meets with the undeniable charm of the copper, the result is just perfect. A copper penny tile backsplash is one of the most popular usages of copper material in kitchens. They add a sense of uniqueness with an Art deco vibe and create a chic timeless elegant look.
What colors go with a copper backsplash?
Copper is a versatile material that an combine with different colors and shades. A copper backsplash works perfectly with earthy tones like black and brown. These combinations provide cohesive and sophisticated designs. Also, the white color can be a perfect match for copper. The clean and pure appeal of the white allows the copper backsplash to stand out. If you want to spruce up your kitchen, elegant navy blues or natural greens look beautiful with a copper backsplash.
Rustic Aged Copper Backsplash
When copper reacts with the oxygen in the air, copper gain a greenish color that gives a rustic appearance. Some may be uncomfortable with this look, but this rustic look can add a unique atmosphere to your kitchen. Copper aging can take years to develop but there are short ways to age copper artificially. There are some products o do this process or you can age it with a DIY project.
First, you need o clean all the copper surfaces from oils and other surface contaminants and apply commercial window cleaner with a spray bottle. Mix the plain white vinegar, household ammonia, and salt. Apply the mix with a brush, cover the surface with a plastic sheet to create humidity, and wait overnight. If you want to get more color on the piece, you can do his steps one more time. After you get the color that you want, clean the backsplash with a clean cloth. For the final part to finish the oxidation, a protective coat of varnish or clear paint.
Do i need to seal the copper backsplash?
When copper contact with acid, copper gets a greenish color known as a patina. Someones love this natural look and want to keep this oxidation process. If you are one of them you don't need to seal the copper backsplash. However, if you want to maintain the fresh look of the copper, you need to protect it from acids or other elements, so you need to seal it.
Copper Subway Tile Backsplash
Subway tiles are classic for kitchen backsplashes. This simple pattern can instantly change the overall look of the kitchen. Using the copper subway tiles as a backsplash will add warmth, elegance, and visual interest to any kitchen. If you want to create a classic look with an eye-catching twist, a copper subway tile backsplash might be your solution.
How to clean copper backsplash?
Cleaning the copper might be a little more tricky than other backsplash materials. When you are cleaning, you need to be more gentle, otherwise, you can scratch the copper and remove the finish. Use a soft cloth, warm water, and dish soap and gently wipe off the surface. Then Dry the copper with a clean, dry cloth. Avoid using an abrasive sponge or pad. These items may scratch the copper. Also, some cleaning products can strip off the finish and cause damage to copper. If your copper backsplash start to turning green, rub these areas with salt and lemon to remove the patina.
Backsplash With Copper Accents
If you're feeling bold using a backsplash with copper accents gives a powerful impression in any kitchen. From classic subway tiles to vintage penny tiles, plain and smooth sheets to hammered sheets, there are plenty of ways to incorporate the copper into your backsplash. However, if you don't want to create a fully copper backsplash, you can also combine different materials with copper. From travertine to glass tiles copper can work well for different materials.
What color cabinets go with a copper backsplash?
From emerald to black, white to navy, almost every cabinet color can work with a copper backsplash. If you want to create a warm and cozy look, you can go with brown shades, or if you want to highlight the backsplash you can consider white cabinets. Whatever your choice is, a copper backsplash will be the star of your backsplash.