30+ Spanish Tile Backsplash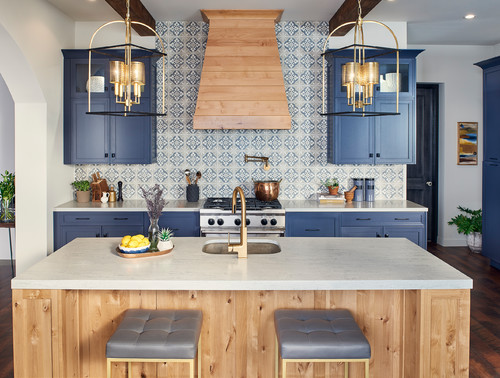 ID# 130909 | Houzz.com – Credit | © UltraCraft Cabinetry
---
Dark Navy Blue Shaker Cabinets with Wood Hood and Wood Island
Such a lovely and inviting look this kitchen has! If you want to increase a cheerful but stylish look, you can use blue and light wood colors for the kitchen design. Using black handles helps the navy blue cabinets to have integrity. In this way, they can create harmony with the light wood surfaces. The white quartz countertops provide a simple look with the navy blue flat-panel cabinets. The brass faucet and the brass pendant lighting fixtures team up together and they increase the chic look. It is a clever idea to match the blue tile backsplash with the navy blue cabinets. Furthermore, their match looks stunning!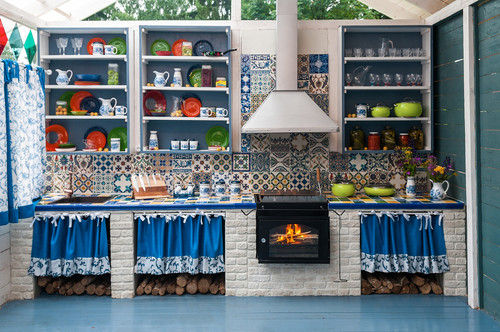 ID# 130916 | Houzz.com – Credit | © Грета Вульф – Greta Wolf
---
Energetic Kitchen with Natural Colors and Blue Wood Floors
This rustic kitchen has lovely colors! The blue and the white colors are the main colors which are supported by the greens, yellows, and reds. Those cute curtains for the base cabinet area and white brick walls of the base part add a beautiful match together. The mismatched patterns of the Spanish tile backsplash have lovely colors to spice up this kitchen design.
Spanish Tile Backsplash
The most important place of our home is, of course, the kitchen! Whether you like to prepare food or not, you spend most of the time here. For this reason, you may like to have some aesthetic designs for your kitchen designs. If you know what kind of design style you go with, it is easier to choose a backsplash for your kitchen cabinets. You may want to have a focal point for your kitchen, if so, a Spanish tile backsplash is a perfect fit for you! Centuries ago these tiles were made in Spain, they can be made from ceramic and clay. From the time of 17th Century, Spain is exporting these amazing tiles to the world. They have unique patterns, lovely colors, and can add an energetic look to your kitchen's atmosphere, also have a custom design thanks to their ability to be made by an artist.
It does not matter whether your design style is contemporary or classic, traditional or modern, you can use a Spanish tile backsplash with almost every design style! They have stunning colors and patterns which you can blend with every design style. Mostly they are used in bathrooms, showers, kitchens, or sometimes they can be for a characteristic wall that is needed for your design. If you like some energetic and eye-catchy look, you can choose or make a design these tiles for your backsplash! Scroll down and find stylish Spanish-style backsplash ideas!
Color Options for Spanish Tile Backsplash
When you decide to use a Spanish tile backsplash for your kitchen cabinets, you will be welcomed by a sea of alternative tile colors! You may get lost in color options for Spanish tile backsplash! Do you want a romantic atmosphere, cozy look, or some glamor for your cabinets? You can find every option in this endless sea of color options. The white colors for some pure simplicity or noble look, the blue colors to add some fresh atmosphere, gray ones to put a stylish touch, or black and white Spanish tiles to have some modern look.
Spanish tiles can come in vibrant colors and patterns for your kitchen backsplashes. Their ability to create spectacular designs increases your kitchen's appeal one step further. Let's see which color spice up your kitchen!
White Spanish Tile Backsplash
White colors have some benefits over other colors such as making a small kitchen look big and bright! You can also have a contrast with dark pale colors or simply black which adds characteristics to the kitchen. A white Spanish tile backsplash will be the one if you want to add some contrast or movement to your kitchen furniture. Whether with pale or vibrant colors the white Spanish tile backsplash will spice up your kitchen with dynamism thanks to their lovely patterns.
Blue Spanish Tile Backsplash
Spanish tiles can provide soft and curvy lines and patterns with striking color ranges. Thanks to their ability to create unique custom designs, you can have stunning colors and patterns for your backsplashes. If you want a focal point for your kitchen cabinets they are the perfect fit for this mission. You can choose a blue Spanish tile backsplash if you want a fresh and Mediterranean sea breeze for your kitchen atmosphere. They can provide an elegant look and freshness for your kitchen cabinets.
Gray Spanish Tile Backsplash
Are you ready to modernize your Spanish tiles? You can have a unique combination of patterns with soft contrast and smooth harmony. Mismatched patterns have an amazingly elegant look with a gray Spanish tile backsplash. Mostly, modern and contemporary design style kitchen cabinets have this color for Spanish tile backsplash to add a joyful look and movement to the cabinets. If you want to use simple colors to emphasize the backsplash, gray colors and patterns are the best choices for them!
Black And White Spanish Tile Backsplash
If you like to go with a classic color combination which is the black and white contrast, you can use it for your Spanish tile backsplash, as well. You can have a sophisticated look for your kitchen cabinets with the bold contrast of black and white Spanish tile backsplash. It draws all the attention when it is used with contemporary design style, or plain designs, thanks to its bold patterns. If you want to emphasize the patterns of the backsplash it is better to have simple colors around them.
Colorful Spanish Tile Backsplash
Creating an eye-catchy kitchen cabinet design is super easy with the colorful Spanish tile backsplash! These colorful tiles take your kitchen cabinets to the next level thanks to their mismatched, colorful, unique patterns. If you decide to have a dynamic, stylish, and colorful design element as a focal point for your kitchen cabinet design, this colorful Spanish tile backsplash idea is the perfect fit for this mission. You can use them in a contemporary design style, modern style, classic or traditional design style. They can harmonize almost every design style.
Backsplash Types and Styles
If you like to have square tiles with vibrant, curvy, floral patterns Spanish tiles are the most useful ones. They have tones of alternatives and even you can have custom designs. But you can get lost in this sea of options. There are backsplash types and styles that can refer you to choose your Spanish tile design. Modern, antique look and hand-painted Spanish tile backsplash options can help you to decide your backsplash types and styles.
Modern Spanish Tile Backsplash
The world changes and the design trends change according to that. For this reason, every year has its modern lines, trends. You can use old, antique look materials from the past years to have a new wave of inspiration. The Spanish tiles can be modernized in terms of the patterns and the lines. You will find more geometrical and less curvy patterns if you search for modern Spanish tiles. You may like to have a stylish movement for your kitchen cabinet design and for a match you can use a modern Spanish tile backsplash!
What is a Spanish tile backsplash?
Traditional Mexican and Spanish designs meet with tiles, the most important feature of them is they are handmade. They are made from ceramics and clay. With this, you can have a variety of benefits from them such as strength, durability, unique custom designs, and lovely patterns with beautiful colors. You can use them for your backsplashes to spice up your kitchen designs. Whether contemporary style or farmhouse, you can use every kind of design style with them.
Antique Look Spanish Tile Backsplash
Using contrast as a design element is mostly done with colors or textures. But there are different contrast which you can make between the past trends and modern trends. This can create such a perfect difference for your kitchen cabinet designs. As an example, if you have a Scandinavian minimalistic look design style for your kitchen you can use an antique look Spanish tile backsplash! They can create both the new modern feeling with the charm of the old times. This contrast adds a striking effect to your kitchen cabinet designs.
Hand Painted Spanish Backsplash Tile
As you know Spanish tiles are created from ceramics and clay and their very special feature is that they are handmade which means you can have custom designs. They can add a unique atmosphere to your interiors whenever they are used. Aesthetic decorations are created by the artist for your hand-painted Spanish tile backsplash and you can see every touch of the brush strokes that the artist made. You can see that every single tile is also unique!
What color cabinets with Spanish tile backsplash?
If you want to emphasize the Spanish tile backsplash in your kitchens, the white cabinets are perfect to highlight those tiles. You can use different colors with them such as white and gray cabinets which helps the Spanish tiles to show off. Because whether dark or light colors if you keep them in simple you can make the tiles stand out. The wood cabinets mostly have brown or yellowish tiles that create harmony with them but white and gray kitchen cabinets are always more powerful to show your Spanish tiles.