18+ French Country Kitchen Ideas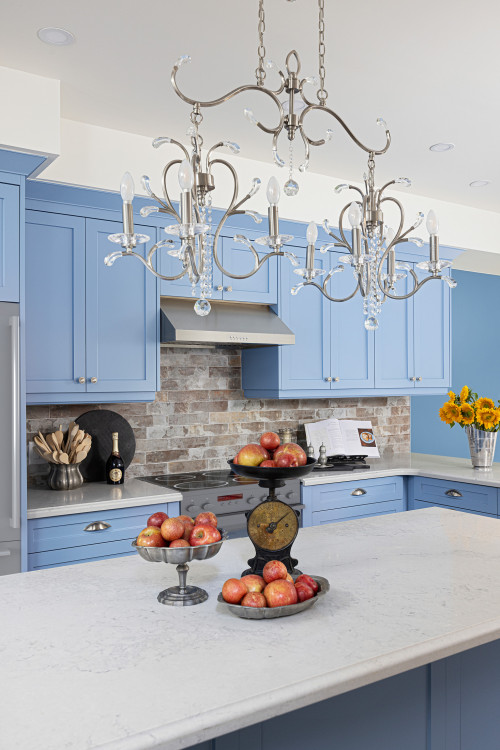 ID# 155802 | Houzz.com – Credit | © Bridgemont Properties Inc.
---
Blue Shaker Cabinets and White Countertops with a Brown Stone Tile Backsplash
In this French country kitchen design, the blue cabinetry brings a pop of color and a touch of coastal charm, while the white quartz countertops provide a clean and bright surface for food preparation and dining! The chrome hardware adds a touch of modernity to the traditional shaker cabinets, giving the space a sleek and contemporary feel. The stone-like brown porcelain tile backsplash complements the blue cabinetry and provides a textured and durable surface for the walls. The glamorous chandelier above the island makes a perfect final touch!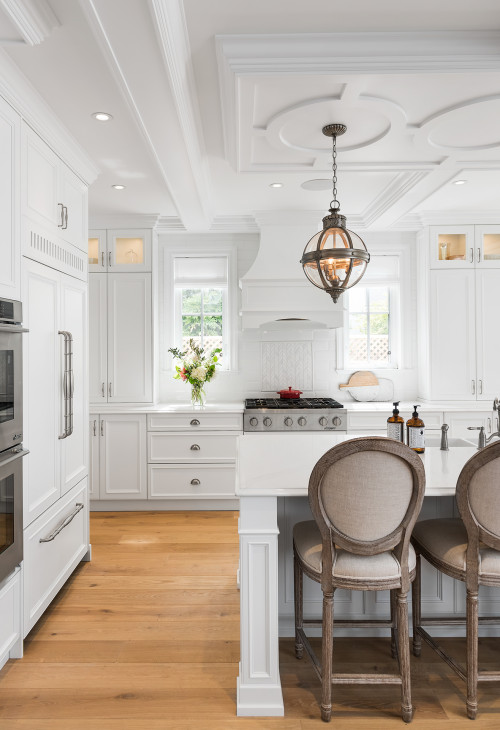 ID# 155818 | Houzz.com – Credit | © Spaciz Design Company Inc.
---
Light Wood Floors for a Bright and Spacious Space
In this all-white kitchen design the beautiful ceiling design takes the stage and instantly transforms the ordinary design into a one of a kind appeal! At the back, white shaker cabinets and backsplash create a clean and fresh backdrop. The mosaic tiles behind the stove create a focal point and add visual interest. The globe chandelier and wood counter stools perfectly complete the warm and rustic sense of the wood flooring. The chrome hardware makes a great final touch with a dose of sparkle.
French Country Kitchen Ideas
French country kitchen ideas are a popular interior style that brings a touch of rustic charm and timeless elegance to your home! Characterized by warm colors, distressed finishes, and a mix of vintage and contemporary elements, this design aesthetic creates a cozy and inviting atmosphere. Here are some ideas to help you incorporate the French country look into your kitchen.
Warm & Inviting French Country Style
Warm and earthy color palettes are the main aspects of this kitchen style. Another hallmark of a French country kitchen is the use of pattern and texture. To bring this style to life, consider adding decorative elements like patterned tile backsplashes, stenciled cabinetry, or woven baskets for storage. You can also incorporate textured fabrics, like linen and burlap, for curtains or seat cushions. These elements help to create a layered and visually interesting space, while also bringing in a touch of the outdoors. Incorporating natural materials is another important aspect of the French country kitchen style. Stone and tile flooring, exposed brick walls, and solid wood cabinetry are all great ways to bring a natural, organic feel to your space.
What colors are French country kitchens?
French country kitchens typically use a palette of warm, muted colors such as:
Soft yellows
Pale blues
Soft greens
Warm grays
Earthy blues and greens
Distressed whites and creams
Rusty oranges and reds
Rustic browns and beiges
These colors help create a relaxed, comfortable, and inviting atmosphere that is characteristic of the French country style. The use of muted and earthy tones creates a cozy and lived-in feel, while pops of brighter colors can be used to add a touch of energy and playfulness to the space.
How Do I Make My Kitchen Look French Country?
Color palette: Warm and muted colors such as soft blues, greens, yellows, and pinks, with white and cream accents, are great colors to create a warm and inviting atmosphere of the Frech country style.
Materials: Use natural materials such as wood, stone, and tile. Wood flooring, a wood island or countertop, and wood beams can add warmth and texture.
Cabinetry: Choose cabinets with a distressed or weathered finish and include glass doors to showcase your dishes and other kitchen collectibles.
Lighting: Use chandeliers or pendant lights with rustic or wrought iron details, or opt for lantern-style lighting for a more classic French country look.
Window treatments: Sheer curtains or shutters are perfect treatments to create a light and airy feel. You can add visual interest by choosing patterned fabrics.
Decorative details: Add a touch of character with vintage pieces such as a farmhouse sink, a classic clock, or wall art with a rooster or other French country-inspired motif.
French Country Kitchen Cabinets
These cabinets are highly sought-after for their timeless design and charming details, which create a warm and inviting atmosphere in any traditional kitchen! One of the most important features of these cabinets is their distressed or weathered finish, which gives them a rustic and vintage feel. Additionally, the cabinets are typically made of natural materials like wood, and their doors are often embellished with elegant hardware in a brass or iron finish. Glass fronted cabinets are also common in French country kitchens, as they offer a way to display and highlight dishware, glassware, and other decorative items.
How to decorate a French country kitchen?
Use warm and natural materials: Natural materials such as wood, stone, and ceramic can help create an inviting and comfortable atmosphere. Consider incorporating wooden cabinetry and a stone or ceramic backsplash.
Add pattern: Delicate and detailed patterns, such as toile or Provençal prints, can help add depth and character to the space. Consider adding a printed tablecloth, curtains or wall art.
Use vintage and antique pieces: Antique and vintage pieces such as a distressed armoire, a vintage clock, or a weathered rooster figurine can help create a warm, lived-in feel in the kitchen.
Incorporate florals: Fresh flowers, like sunflowers or peonies, or dried lavender bunches can help bring a touch of the outdoors in and add to the relaxed, country feel.
Add lighting: Install simple and rustic lighting fixtures, such as wrought-iron chandeliers or pendant lights, to complete the look.
Accessorize with textiles: Linens such as tea towels, tablecloths, and napkins in coordinating patterns and colors can help create a cohesive look and add a touch of softness to the space.
French Country Kitchen Backsplash
A French country kitchen backsplash refers to the material or design elements that are used to cover the wall behind the kitchen sink, stove, or countertop. This area is typically exposed to moisture, spills, and splatters, making it important to choose a durable material for the backsplash. The backsplash in a French country kitchen often features rustic, natural materials such as stone, tile, or decorative wallpaper that complement the overall aesthetic of the space. The goal of a French country kitchen backsplash is to add character, texture, and warmth to the kitchen, while also protecting the walls from spills and splashes.
How to modernize French country?
To modernize a French country kitchen, one can mix traditional elements such as beamed ceilings, rustic wood cabinetry, and distressed finishes with modern amenities and materials, such as sleek stainless-steel appliances, sleek lighting fixtures, and a neutral color palette with pops of bold color. A contemporary backsplash, such as glass or mosaic tiles, and modern hardware can also add a touch of modernity. Integrating open shelving and minimizing clutter can create a spacious and streamlined look. Using a mix of modern and traditional elements creates a unique, personalized design that honors the timeless charm of French country style while incorporating modern functionality.
French Country Kitchen Island
When it comes to kitchen designs, islands are one of the most functional elements that increase the value of your home! However, an island can make or break the entire look. That is why, when choosing it, you need to consider the other furniture and elements. French country kitchens generally offer a warm and inviting atmosphere that combines classic and rustic details. You can incorporate rustic wood textures, distressed finish, decorative legs, and antique hardware to reflect this design aesthetic.
French Country Kitchen Lighting
French country style is a warm and inviting design that combines classic and rustic elements to create a cozy and welcoming space. The right lighting can enhance the beauty of a French country kitchen and create a comfortable ambiance. Here are some lighting ideas to consider:
Chandeliers: Chandeliers are a classic and elegant lighting option for a French country kitchen. Choose a chandelier with an ornate design and warm, soft lighting to create a cozy and inviting atmosphere.
Pendant lights: Pendant lights in a warm metal finish, such as antique brass or wrought iron, can add a touch of rustic charm to the kitchen. Hang them above the kitchen island or sink to provide task lighting.
Wall sconces: Wall sconces with a candle-style design can add a touch of elegance to the kitchen. Place them on either side of the range or sink to provide soft, ambient lighting.
Under-cabinet lighting: Install under-cabinet lighting to provide bright and functional task lighting while keeping the kitchen looking stylish.
Table lamps: Place a table lamp or two on a kitchen countertop or island to create a warm and inviting glow.
Track lighting: Consider installing track lighting to highlight a kitchen backsplash, artwork, or other decorative elements.
By incorporating these lighting elements, a French country kitchen can be transformed into a warm and inviting space. Choose lighting fixtures that complement the style of the kitchen and provide the right amount of illumination for both functional and aesthetic purposes.
Modern French Country Kitchen
Modern French country kitchens take the timeless charm and warmth of traditional French country style and add a modern touch to create a space that is both stylish and functional. Rustic wood elements such as cabinetry, countertops, and flooring can be paired with sleek stainless steel or black finishes for a stylish contrast.
Another way to add a modern touch to a French country kitchen is through the use of bold, bright colors! Rather than sticking to traditional neutral tones, consider incorporating a pop of color through the cabinetry, countertops, or backsplash.
Can you mix farmhouse and French country?
Yes, of course, you can mix farmhouse and French country styles! This design style is often referred to as "modern farmhouse French country" or "farmhouse chic." The combination incorporates elements of both styles, such as combining the rustic elements of a farmhouse kitchen with the elegant and ornate details of a French country kitchen.
Rustic French Country Kitchen
Rustic French country kitchens have a timeless and charming style that brings warmth and comfort to any home! These kitchens are the perfect blend of classic and cozy design, with a focus on natural materials such as wood and stone. Shaker-style cabinets are a popular choice because they provide a simple and classic look that complements the rustic aesthetic perfectly. Granite and marble countertops, on the other hand, are popular choices due to their durability and classic appearance, whereas butcher blocks and reclaimed wood provide a more rustic feel.
Small French Country Kitchen
Small French country kitchens can offer a cozy and charming atmosphere, perfect for cooking and gathering with loved ones. These kitchens typically feature a warm color palette, rustic materials, and vintage accents that bring a touch of classic French style to any space. One design element commonly seen in small French country kitchens is the use of white cabinetry and countertops. This provides a bright and airy atmosphere, making the space feel larger and more open. Additionally, exposed wood beams and stone or brick walls add a rustic touch, while vintage lighting fixtures and accessories, such as a decorative rooster or a colorful ceramic vase, bring a touch of charming character.
In a small French country kitchen, every detail counts. Thoughtful choices, such as a farmhouse sink, apron-front cabinets, and a hanging pot rack, can help make the most of limited space and provide the perfect backdrop for an intimate and inviting dining experience. Whether you're looking to create a cozy corner in your home or you're working with limited space, a small French country kitchen can be a beautiful and functional space that will inspire you to cook and entertain.
White French Country Kitchen
White French country kitchens are timeless design choices that are both classic and sophisticated. White shaker cabinets, along with white countertops and backsplashes, provide a clean and crisp base for the design, while other elements such as brass hardware and natural wood accents add a touch of warmth and texture.