16+ French Country Bathroom Ideas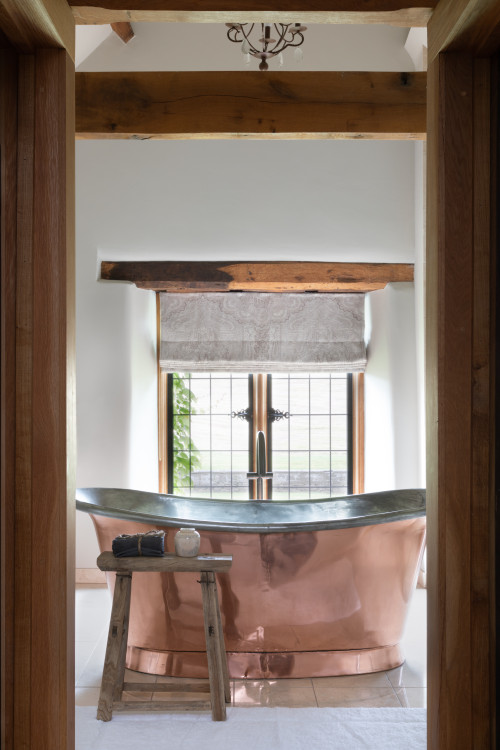 ID# 155702 | Houzz.com – Credit | © Hoi Interior Design Ltd
---
White Walls and Exposed Wood Beams
This French country bathroom is simply breathtaking! The eye-catching copper freestanding bathtub is a real showstopper that adds a touch of extravagance and opulence. The high vaulted ceiling, complete with exposed wood beams, gives the bathroom an open and airy feel. The small chandelier above the tub perfectly completes the luxurious sense. The wood stool and the beige window treatment make a stylish final touch.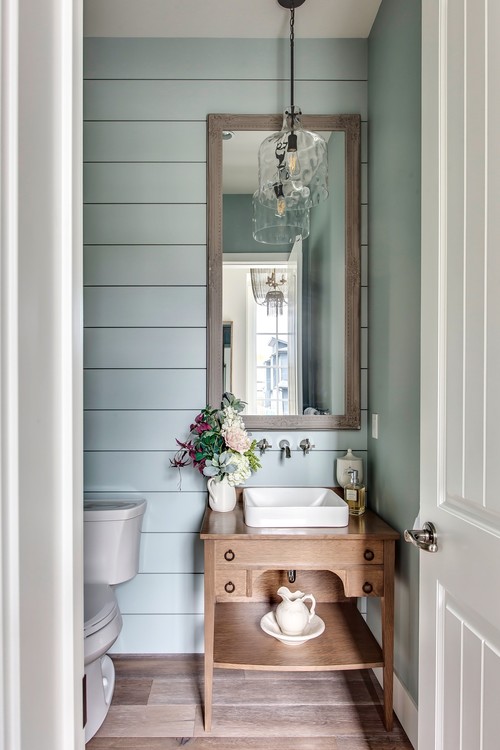 ID# 155710 | Houzz.com – Credit | © Trickle Creek Designer Homes
---
Blue Shiplap Backsplash Wall with a Small Wood Vanity
With its lovely green wall panels and natural textures, this tiny powder room offers a stylish appeal! While the wood vanity and the frame of the rectangular mirror create a warm and inviting look the green walls make a joyful touch. The glass pendant light adds a dose of glamour and perfectly completes the overall look. Also, using a large mirror in a small bathroom, makes the space feel larger by adding depth.
French Country Bathroom Ideas
French country style is a charming blend of traditional and rustic elements, inspired by the rural countryside of France. This aesthetic is characterized by warm, earthy colors, vintage details, and natural materials like stone, wood, and woven fabrics. When it comes to designing with French country bathroom ideas, the goal is to create a space that feels both elegant and inviting, with an emphasis on comfort and practicality.
French country bathroom ideas can include the use of classic fixtures, such as a freestanding clawfoot bathtub, a pedestal sink, and a bidet. To add warmth to the space, consider incorporating natural materials like wood flooring or beadboard walls. Opt for earthy tones such as soft blues, greens, and grays, and accessorize with vintage-inspired pieces like toile fabric shower curtains, rooster-themed soap dispensers, and wrought iron towel racks. To finish off the look, hang antique mirrors, chandeliers, or sconces and place potted plants or freshly cut flowers to complete the charming, rural feel of a French country bathroom.
How Can I Make My Bathroom Look French Country?
A warm and inviting atmosphere that incorporates both classic and rustic elements is the main aspect of the French country style. Choosing a color palette inspired by the French countryside, such as soft blues, greens, and grays is a great starting point to design a bathroom. Natural materials are also key elements of this design aesthetic. From vanities to mirror frames, you can easily incorporate natural textures.
French Country Bathroom Vanity
For all bathroom designs, the vanity is the focal point of the room that can set the tone for the entire space. French country style is characterized by natural materials, curves, and ornate details. That is why wood vanities are perfect options for this design aesthetic. Also, white bathroom vanities are another common element for these bathrooms. You can complete the sophisticated appeal of a white vanity with a marble top!
What is the difference between a French country and a French farmhouse?
These two design aesthetics are both inspired by the traditional rural architecture of France, but each of them offers different visual impacts.
French country style is characterized by its warm and elegant feel, often incorporating ornate details. Furniture pieces are typically vintage or antique with a weathered and timeworn appearance.
On the other hand, the French farmhouse style offers a more rustic and simple appeal, featuring raw and natural materials. Hand-crafted and utilitarian furniture with an emphasis on durability and longevity are the main aspects. The overall look is cozy, inviting, and grounded.
What are the French Country colors?
French country style often incorporates a color palette that is warm, inviting, and reminiscent of the rural countryside of France. Earthy colors such as gray, brown, black, and of course white are the main colors for this design aesthetic. Soft blues, mustard yellow, olive green, and soft pink are other alternatives.
French Country Bathroom Backsplash
A backsplash protects the walls from moisture and splashes, while also adding a decorative touch to the space. In a french country bathroom, natural materials such as stone, marble, and tile are often used for backsplashes.
What are French country patterns?
French country style often incorporates a variety of patterns that evoke the charming and rustic feel of rural France. Toile, gingham, provencal, stripes and florals are the important patterns that perfectly reflect the charm of this design aesthetic!
French Country Bathroom Mirror
French country-style bathrooms are known for their charming and rustic designs, and the perfect addition to complete the look is a well-chosen mirror! Even though a mirror seems like a small detail of the design, it is the element that provides both style and function and it brings the other features together. From large frameless mirrors to antique frames, you can find different alternatives that can easily work with a french country style!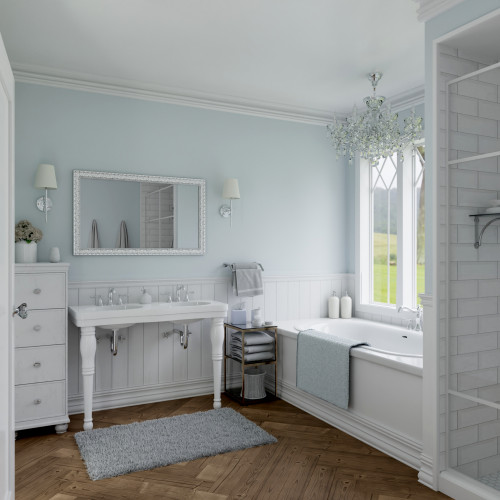 ID# 155709 | Houzz.com – Credit | © Metamorphosed
---
French Country Bathroom Mirror with a White Ornate Frame
In this romantic bathroom design the white vanity and bathtub offer a clean and bright look! The chrome fixtures add a touch of modernity and sophistication, while the white wainscoting adds texture and interest to the space. The pale blue walls create a serene and calming atmosphere and make the white features pop. With its intricate details and elegant design, the mirror brings a touch of vintage charm and French country style. The crystal chandelier above the alcove bathtub perfectly completes the french charm while the dark wood flooring adds a warm sense.
French Country Bathroom Lighting
French country style is all about creating a warm, inviting, and timeless ambiance in your home. The right lighting is crucial in achieving this aesthetic and elevating the look of your bathroom. In a French country bathroom, lighting should be both functional and decorative, providing ample illumination while also serving as a design statement. There are several options when it comes to French country bathroom lighting ideas. Chandeliers are a popular choice, especially over the bathtub or in a large bathroom with high ceilings.
They offer a touch of elegance and sophistication and provide a focal point for the room. Sconces, either mounted on the wall or as a pair flanking a mirror, are also a popular choice in french country bathrooms, providing task lighting for grooming and adding to the overall ambiance of the room. Another option is to incorporate natural light through large windows or skylights, adding to the warm and inviting feel of the space.
When selecting French country bathroom lighting, consider using a mix of fixtures in various styles and sizes. For example, a chandelier combined with sconces or a combination of overhead and task lighting. The key is to create a layered lighting design that enhances the mood and ambiance of the space while also providing ample illumination. Choose lighting fixtures that complement the other design elements in the bathroom, such as the finishes and colors, to create a cohesive and polished look.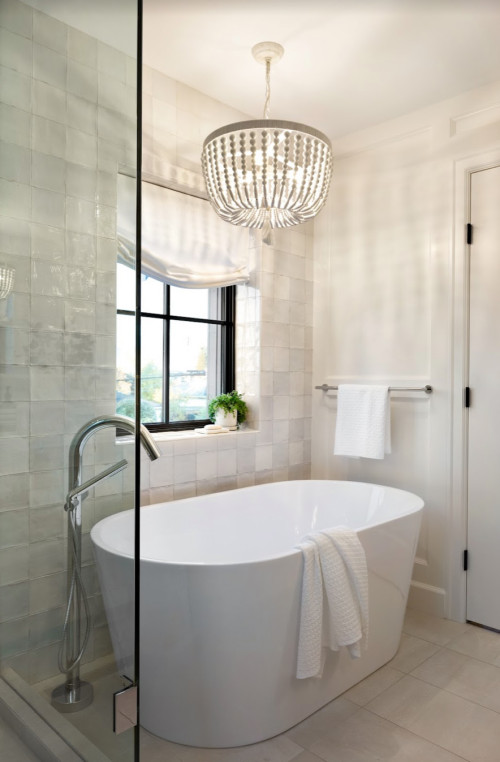 ID# 155711 | Houzz.com – Credit | © SHIFT Interiors
---
French Country Bathroom Lighting with a Chandelier
This bathroom features a chic and modern design with clean white square tiled walls, complemented by beige floor tiles! The centerpiece of the space is a stunning white freestanding bathtub, positioned in front of a stylish black frame window for a touch of contrast. The white chandelier above the bathtub adds an extra touch of glamour and sophistication, elevating the overall look of the bathroom. The chandelier serves as a unique and eye-catching accent, making it an exceptional feature that enhances the overall atmosphere of the room.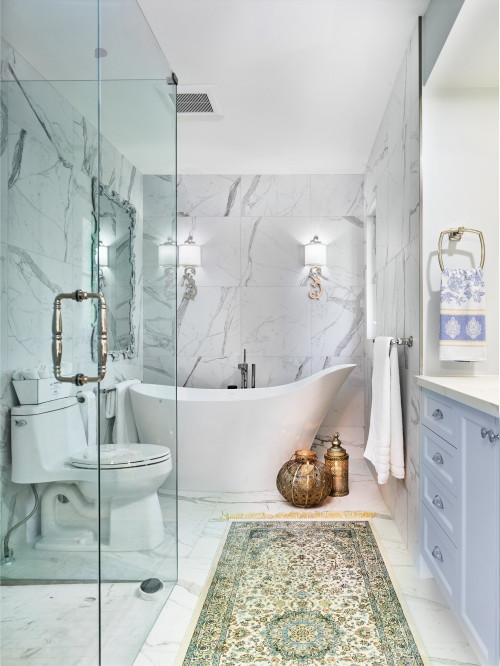 ID# 155712 | Houzz.com – Credit | © P. Rogers Designs
---
Sconces for the Bathtub with Marble Wall Tiles
This bathroom offers a luxurious oasis that allows you to relax after a long day! With its unique curved design, the white freestanding bathtub takes the stage and offers a one-of-a-kind appeal. The marble-look floor and wall tiles create a luxurious atmosphere while the light blue vanity adds a splash of color without breaking the bright overall look.
Modern French Country Bathroom
A modern French country bathroom brings together traditional elements with contemporary design to create a sophisticated and stylish space. This blend of styles creates a warm and inviting atmosphere, perfect for a relaxing retreat in your home. Whether you're starting from scratch or giving your existing bathroom a fresh look, these modern French country bathroom ideas will inspire you.
One of the key features of a modern French country bathroom is the use of natural materials. Stone, tile, and wood elements add texture and warmth to the space, while also creating a connection to nature. Incorporating a statement stone sink or a rustic wooden vanity can add a touch of traditional French charm to the space. Another important aspect of a modern French country bathroom is the color palette.
Soft hues of blue, green, and yellow evoke the countryside and create a calming atmosphere. Paired with crisp white fixtures, these colors provide a fresh and modern feel. For an added touch of elegance, consider incorporating brass or gold accents through lighting fixtures or hardware.
A modern French country bathroom is also characterized by its attention to detail. Delicate sconces, ornate mirrors, and intricately carved details on cabinetry bring a touch of sophistication to the space. Adding unique decor elements such as vintage-inspired soap dispensers, woven baskets, and fresh flowers further enhances the rustic charm of the room.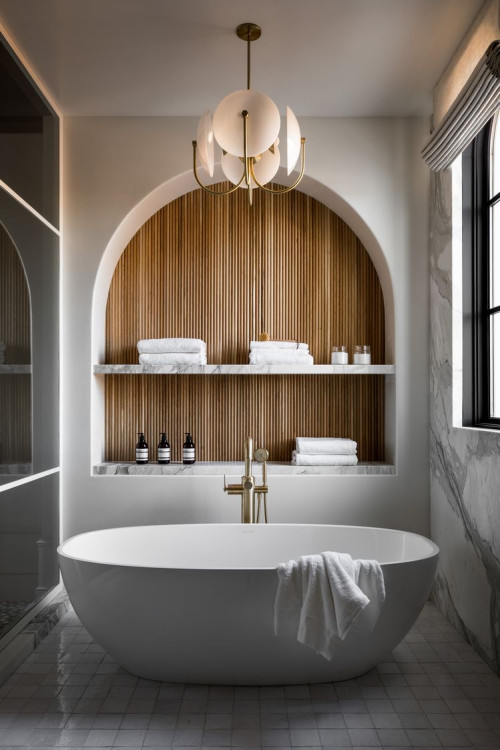 ID# 155713 | Houzz.com – Credit | © Annamaria interiors & Design
---
Modern French Country Bathroom with an Arched Top Wall Niche
With its well-applied details and material choices, this bathroom offers a one-of-a-kind appeal! The arched recessed niche with wood panels creates a focal point and adds visual interest to the overall look. While the niche meets both style and functional expectations, the wood textures bring warmth to the atmosphere. The white freestanding bathtub creates a clean and modern look while the square floor tiles add a nice textural look. The marble-look wall tiles complete the luxurious appeal which is created by the tub. The unique lighting fixture makes a perfect final touch.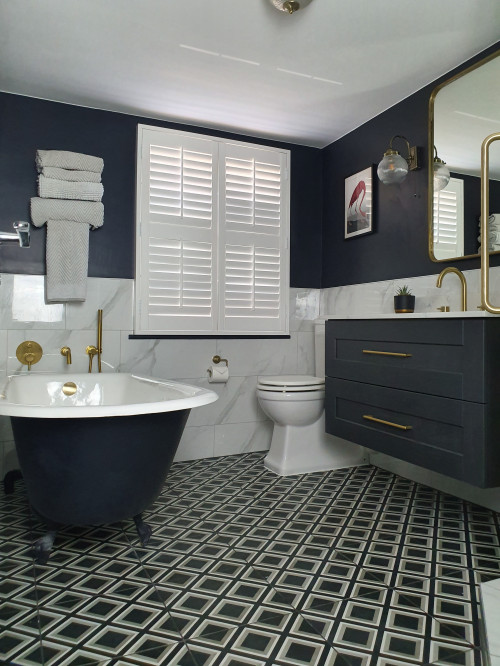 ID# 155714 | Houzz.com – Credit | © End Interiors
---
Blue Hint for Dark Gray Shaker Cabinets with Brass Accents
In this french country bathroom, the monochrome color scheme offers a timeless and elegant appeal! The black and white floor tiles take the stage and create a one-of-a-kind look! While the dark gray vanity and clawfoot bathtub provide a dramatic appeal, the white marble-look wall tiles make a contrasting twist and balance the dark shades. The dark gray wall paint complements the other dark-shaded elements.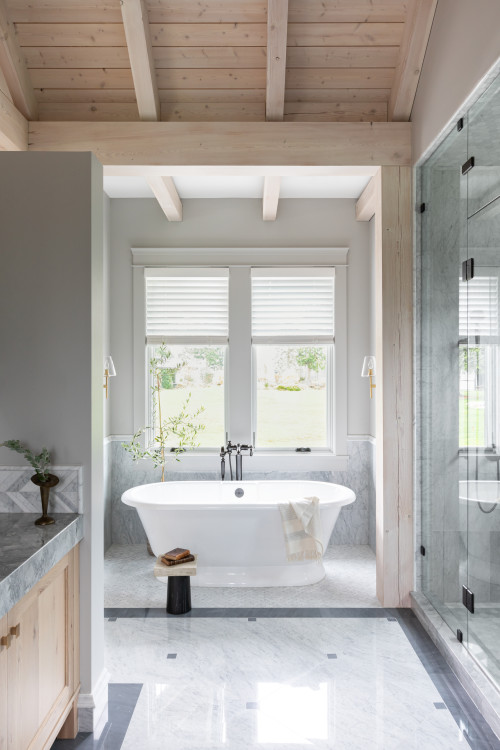 ID# 155715 | Houzz.com – Credit | © PlaidFox Studio
---
Modern French Country Bathroom with Light Woods
Step into this modern French bathroom, and you'll immediately feel a sense of warmth and elegance that invites you to relax and unwind! The marble floors give a sophisticated and luxurious touch, while the light gray walls evoke a sense of calm and serenity. The light wood vaulted ceiling with exposed beams adds a charming rustic element to the space. The freestanding white bathtub takes center stage, offering a comfortable and indulgent place to soak and destress.
White French Country Bathroom
When it comes to bathroom designs, white is one of the most popular and common colors. This light and airy color can easily create a serene atmosphere, making the space feel larger and brighter! White French country bathroom designs offer a timeless and elegant look. Whether you're renovating an existing bathroom or starting from scratch these white French country bathroom designs are sure to inspire.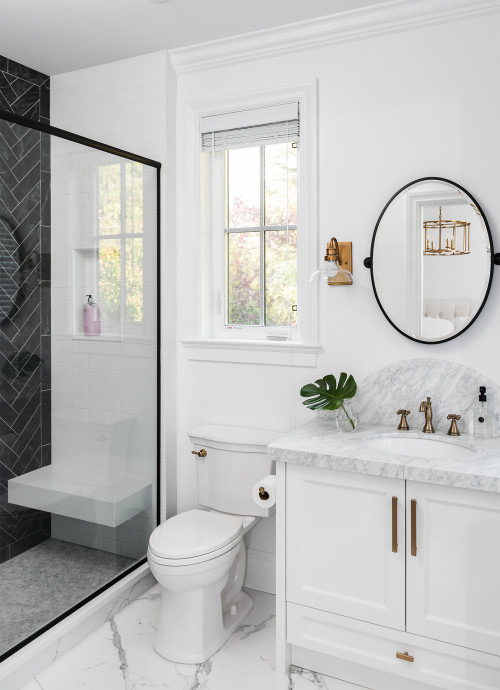 ID# 155716 | Houzz.com – Credit | © Spaciz Design Company Inc.
---
White French Country Bathroom with Shakers and Black Accents
Even though this bathroom has a small space, thanks to the white dominant color scheme and the window opening, it has a bright and spacious atmosphere. While the small white vanity creates a cohesive look with the walls, the marble top and backsplash add a dose of luxury. The black herringbone wall tiles in the shower break the white domination and add visual interest by creating contrast.