30+ Two Tone Kitchen Ideas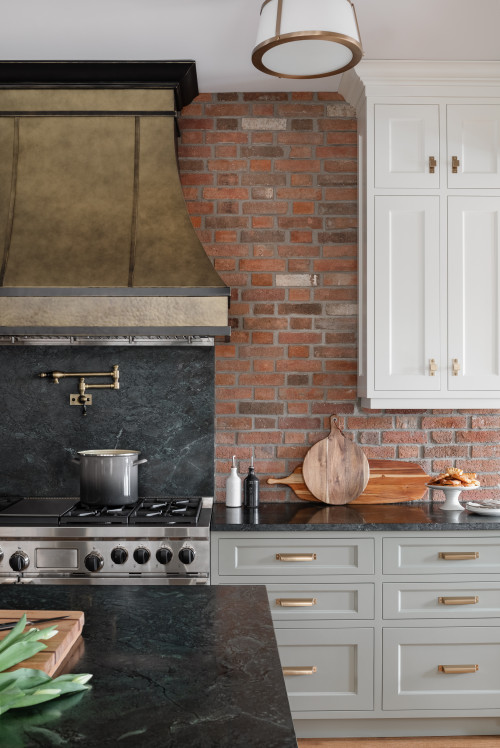 ID# 143413 | Houzz.com – Credit | © Knight Custom Homes
---
Marble Backsplash with Two-tone Joinery and Brass Hood
Featuring brick walls, marble stove backsplash, white-and-gray cabinets, and brass fixtures, this craftsman kitchen feels like a study of textures and neutral shades that come together to serve this home. The brass hardware used on two-toned cabinets creates harmony; the antique-brass range hood provides the perfect lived-in feel with its patina-developed and oxidized metal surface. The black marble countertops also are used on the island to tie the perimeter counters and the island unit together to create a continuous look.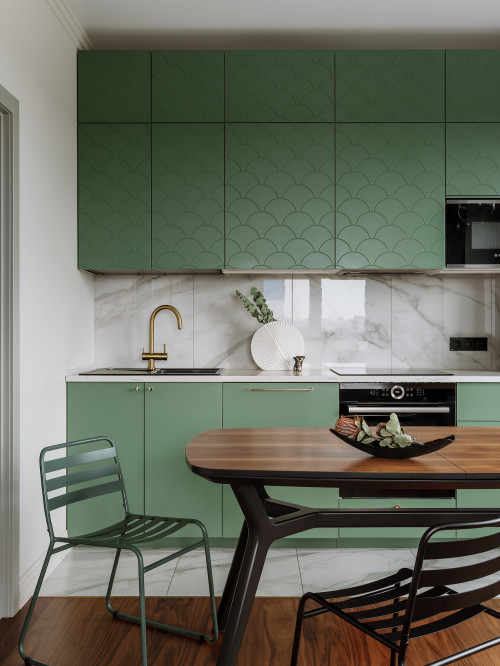 ID# 143426 | Houzz.com – Credit | © levitskaya-studio
---
Two-Tone Kitchen Ideas with Green Cabinets and White Marble Backsplash
This natural kitchen design has a bit of playfulness evident in the fish-scale cabinet door designs for a whimsical touch, while their green color offers a perfect match with the natural stone marble backsplash. The polished finish on this marble adds a soft contrast to the matte green cabinets.
Two Tone Kitchen Ideas
Referred to as the heart of our homes, kitchens demand a lot of action and energy. From cutting to chopping, cooking, and washing, we perform a series of acts to cook. And while doing so all we need is a user-friendly and viable kitchen design, which can be created not only with the right cabinet configuration but colors themselves that set the tone of the space. That's when the two tone kitchen ideas come in to provide more energizing looks that will keep homeowners' working pace alive.
And it is not only that two tone kitchen ideas create viable working environments but they also evoke visual interest, helping homeowners create focal points effortlessly. They are stylish, attention-commanding, and one of the best ways to entertain a space. Whether you prefer contrasting colors (white and black; white and dark brown), complementary shades (green-blue), pastel tones paired with white, and even two bold-bright colors, a second color introduced to any space, including small kitchens, adds a new dynamic, which you can navigate to impose a certain mood on the space. Hoping that we have ignited a level of curiosity in you, now let's take a look at two tone kitchen ideas more closely that will surely inspire your next interior design project.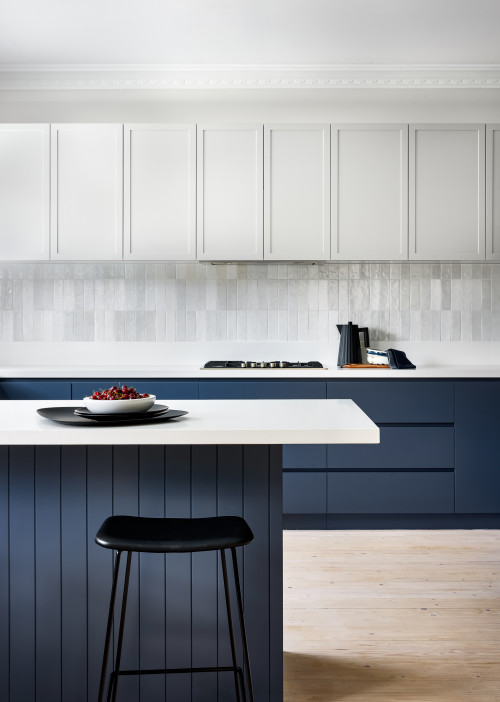 ID# 143401 | Houzz.com – Credit | © schemes & spaces
---
Two Tone Kitchen Ideas with Blue and White Cabinets
The serenity instills itself in this resilient Scandinavian kitchen through the white and blue cabinets. The lack of hardware keeps the focus on the form and shades of this two-tone joinery itself, helping achieve a sleek outfit. The beadboard island unit and vertically stacked white ceramic tile backsplash converse in harmony, giving the kitchen extra height and movement. The white quartz countertops and light wood floor accompany the beautiful two-tone joinery, bringing a Scandinavian edge to the space.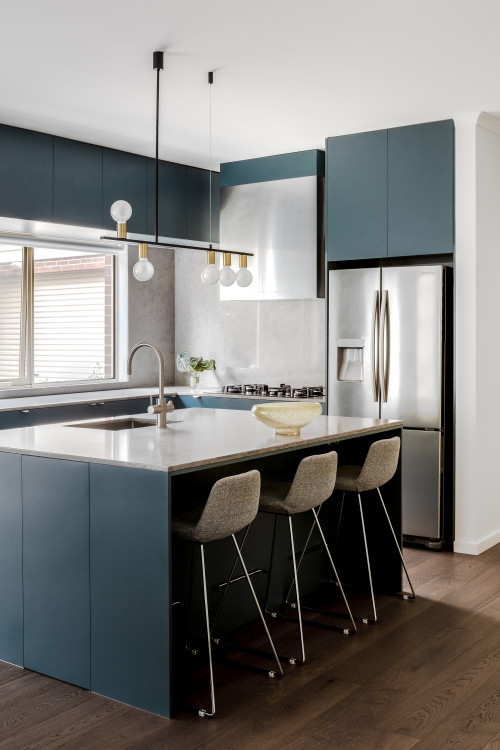 ID# 143402 | Houzz.com – Credit | © Pitch Architecture + Developments
---
Marble Slab Backsplash with Two-tone Joinery and White Countertops
This pint-size kitchen is packed with enough style and character to satisfy its owners both in aesthetic and functional terms. The use of two-tone cabinetry comes with two benefits. First, it makes the kitchen look more proportioned and larger. Secondly, it increases its aesthetic value significantly. Here, the white and blue cabinets are put into dialogue to impart a sense of calmness. The white countertops and steel appliances further modernize the kitchen, and a sputnik-inspired lighting fixture adds chic elements over the island.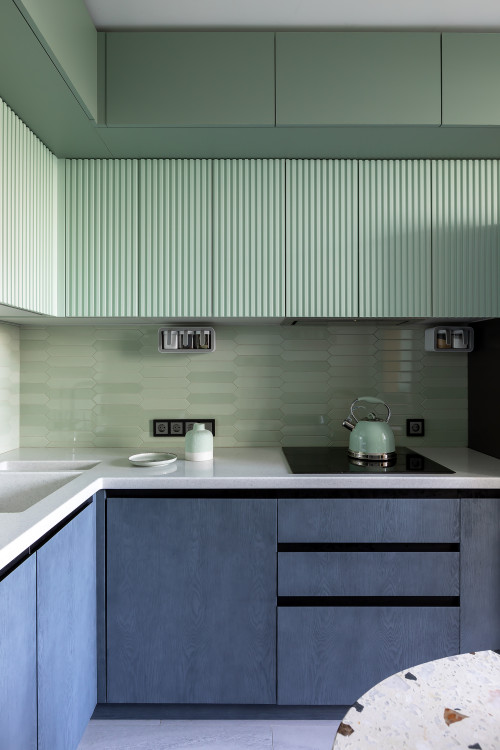 ID# 143403 | Houzz.com – Credit | © "ЭСТЕТ DESIGN " Надежда Ракова и Алёна Гуслиц
---
Fluted-Design Cabinets with Green-and-Blue Joinery and White Countertops
This sleek contemporary kitchen in Moscow employs soothing shades of muted green and blue. The light green picket tile backsplash and fluted-design upper wall units make this kitchen pop. The flat-front blue and top green cabinets provide a soul-appealing frame, while the white quartz countertops soften the color transitions. Also, using a white-interior faucet blends into the countertops perfectly as well as the low-profile hob.
Are two-tone kitchens out of style?
On the contrary, two-tone kitchens are considered game changers as they add new dynamics to the space. With this on-trend style, homeowners can go with different colors rather than committing themselves to only one. Given that sometimes it is hard to decide which color to go with, homeowners get to have more options with two-toned kitchen designs and thus feel freer, which keeps them on-trend.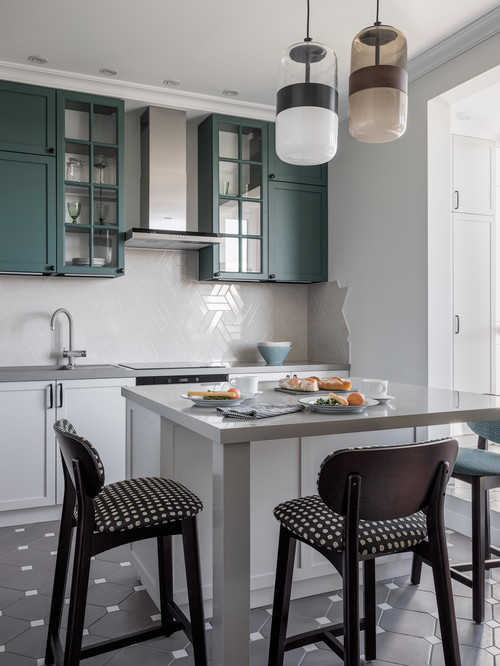 ID# 143404 | Houzz.com – Credit | © Студия Татьяны Архиповой
---
White Ceramic Tile Backsplash with Green Cabinets and Gray Quartz Countertops
This transitional kitchen chooses to go with a neutral color palette that ensures its relevance in the long term. Here, the gray quartz countertops pair perfectly with green and white shaker cabinets, providing a clean and clutter-free look. Between the two-tone cabinets, a white subway tile backsplash features an experimental layout that results in a basketweave-like pattern. On the floor, the gray geometric tiles zone the kitchen, accommodating a kitchen island also designed to host 3 people with an informal eating space.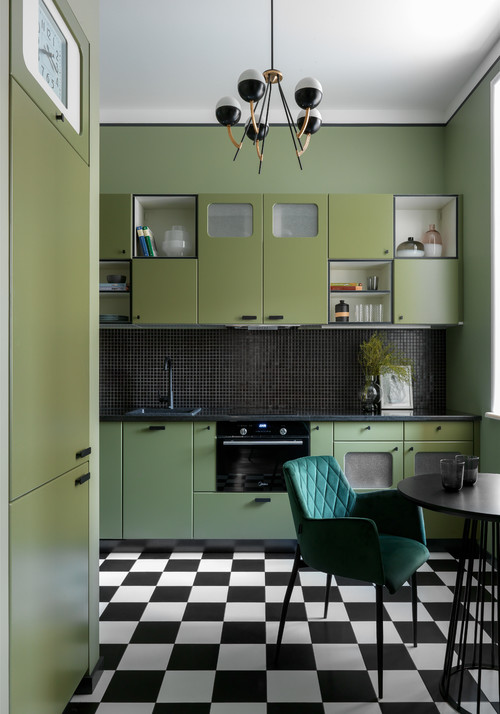 ID# 143405 | Houzz.com – Credit | © propertylab+art
---
Eclectic Kitchen with Green Cabinets and Black Countertops
This cozy kitchen proposes green cabinets whose colors feel as if they are just plucked from nature. Featuring opaque rounded glass fronts and cabinet shelves, these cabinets feel like strong visual statements and have their own concept of windows. The rest comes in black with black countertops and a black square mosaic tile backsplash. The checkerboard flooring gives the kitchen a vintage look, while the intriguing ceiling lamp adds a unique character. It borrows a traditional lighting fixture form and utilizes mid-century-inspired orb fixtures, making a rare-to-see mélange. The dark green dining chairs paired with a black rounded island provide a small cozy corner that matches the overall aura of the kitchen.
Modern Two Tone Kitchen Ideas
Modern kitchens love pops of colors. Some even go bold and over the top without overwhelming the space, while some play safe and modest, going with neutral color palettes. Dark cabinets with gray backsplashes, wood cabinets with white marble splash-backs, colored glass sheet backdrops with white cabinets, and many more. All of these looks provide great examples of modern two-one kitchen ideas that are commonly employed to cater to the needs of modern kitchen looks.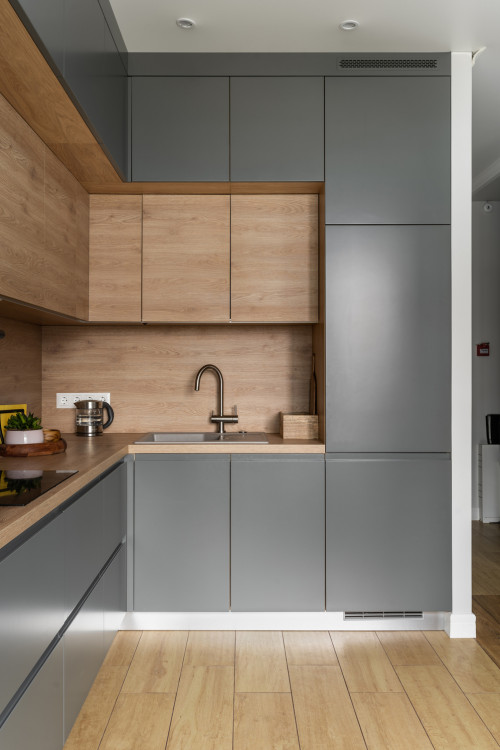 ID# 143406 | Houzz.com – Credit | © Интерьерно фабрика мебели
---
Modern Two Tone Kitchen Ideas with Wood Panel Backsplash
Abundant in warming wood shades and textures, this modern kitchen honors the wood itself by using it as a panel backsplash, countertops, and upper wall units. The gray flat-front cabinets befriend these wood installations, providing a soft contrast and adding more dimension to the otherwise all-wood kitchen. The final touch also comes as wood as a floor finish that adds warmth and texture underfoot. This organic dynamism makes the kitchen feel more biophilic and sophisticated while staying approachable simultaneously.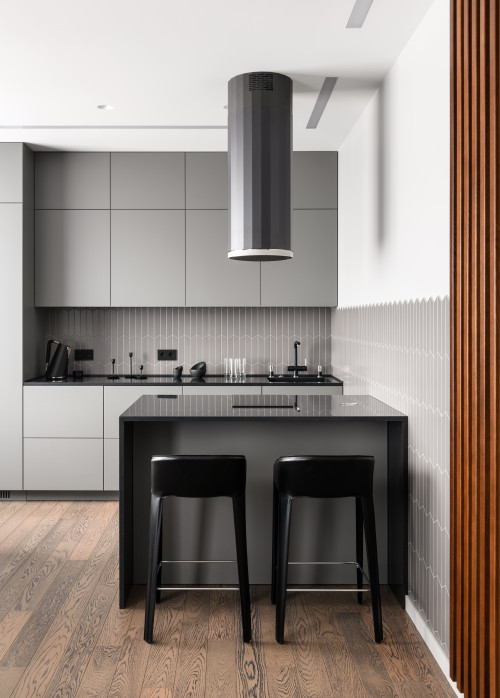 ID# 143407 | Houzz.com – Credit | © Olga Ladurko Interior Design
---
Contemporary Kitchen with Gray Cabinets and Geometric Tile Backsplash
Two-tone kitchen ideas are not all about contrasting shades or require you to be bold in your color choices. You can mix colors and still play safe. To achieve that, for example, you can use two different saturations of the same shade for a more sophisticated and refined look. Here, this contemporary kitchen brings together dark gray light gray cabinets, and in between, the gray geometric tile backsplash pairs perfectly with glazed black countertops.
The same design formula of black-and-gray also finds embodiment in the waterfall island to create a continuous design, while the backsplash tiles are continued on the adjacent wall for extra interest, not to mention the rounded upscale range hood. Bonus tip: Since the backsplash tiles are further used on the other wall, you can create another accent wall to mark where it ends. Here, for example, a slatted wood feature wall stops the tiles from moving further.
How do you build a two-tone kitchen?
To build a two-tone kitchen, you can use contrasting shades (white and black), two bright and bold tones to create a high-contrast look (E.g., lively blue and green cabinets), and different saturations of the same shade for a tonal effect.  Or another way to approach a tone-tone kitchen is to use strong colors like black and dark brown and combine them with muted and understated pastel tones like lilac and light beige. By doing so, you can downplay the intensity of dark shades. Now let's take a closer look at two-tone kitchen design techniques to see how these color variations can be practiced in  the space:
Halfway split designs:
With halfway split designs, you can use lighter shades for upper cabinetry and darker hues for base cabinets or vice versa. This way, you can treat your kitchen as if it has two distinct sections. And if you wish for a graduated look that makes color transitions not so obvious, you can use different saturations of the same shade, which adds extra elegance and sophistication.
Make islands focal points: Another way to build a two-tone kitchen is to create a central contrast to the perimeter counters with a kitchen island. There are many examples of kitchens that prefer white for perimeter counters and black, blue, and wood for the central island.
Color blocking:
Aside from kitchen islands and halfway split, color blocking is another alternative that works by dividing the kitchen into distinct color blocks. This is something that is used popularly in contemporary kitchens. For example, contemporary kitchens tend to define the main cooking and prep zone with white cabinets. And for the cabinets that accommodate built-in appliances and stretch from floor to ceiling, they prefer darker shades. Doing so creates diversity and color blocks that achieve a well-curated two-tone kitchen.
In case you would like to keep the cabinets in one color, you can divide the walls into sections and paint them in different shades. In other words, you can use the technique of color blocking on your kitchen walls.
Colors vs Textures:
When building a two-tone kitchen, you don't necessarily need to focus on colors. Textures, just like colors, constitute contrast and character to a high degree. The textures introduced by wood, brick, and stone ring true in the farmhouse, country, Mediterranean, and rustic kitchens. Textures also encompass tumbled, honed, and glazed finishes, which help you create immersive contrasts.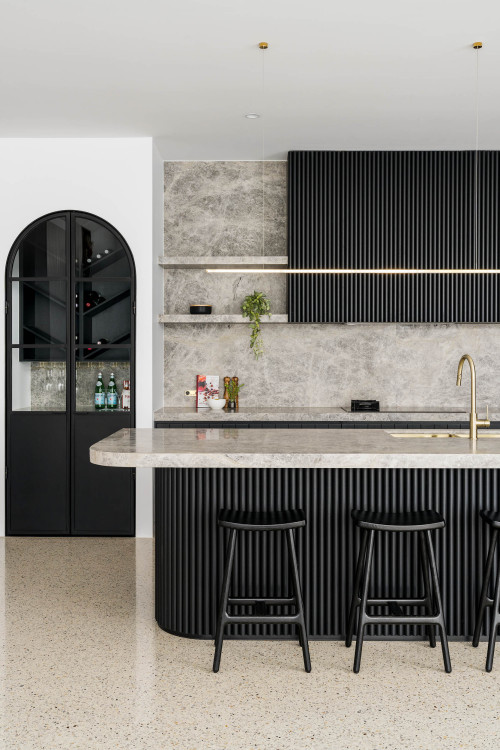 ID# 143408 | Houzz.com – Credit | © First Avenue Homes
---
Fluted Design Cabinets with Marble Slab Backsplash and Rounded Island
This stunning contemporary kitchen makes use of curved forms in abundance to introduce soft aesthetics to the space. From the rounded kitchen island to the arch-shaped black built-in home bar, each element speaks for itself. And adding to them is the marble slab backsplash that oozes opulence in the background, while the fluted design hood and island make a strong visual statement. On the floor, the speckled concrete floor brings an industrial edge without feeling over the top. Overall, as showcased here, gray, white, and black suit each other perfectly. And if such a color combination is supported by undulating and curvy forms, nothing can stop it from being a true show-stopper.
Farmhouse Two-Tone Kitchen Ideas
Farmhouse kitchens are packed with lots of personality, casualness, a lived-in feel, and textures. That's why you can feel more confident and less concerned about whether the colors match perfectly or not. For example, you can start by integrating weathered-looking cabinets, bespoke islands, and blues and greens. Also, the salvaged wood makes great additions as wall accessories to add extra color and texture along with exposed ceiling beams.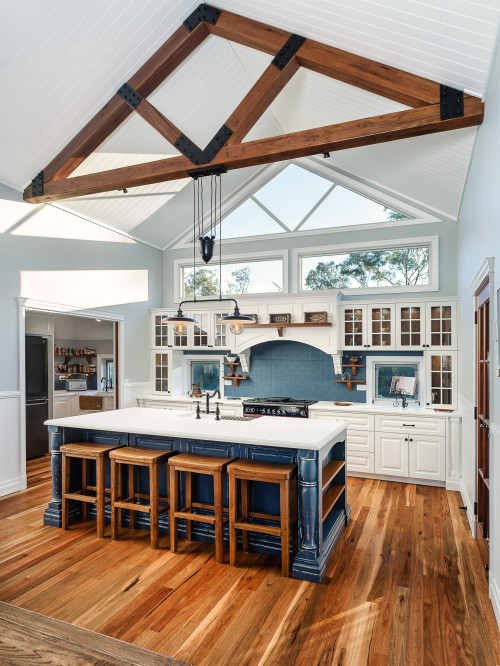 ID# 143409 | Houzz.com – Credit | © Hi Tech Projects
---
Farmhouse Two Tone Kitchen Ideas with Blue and White
Two-tone colors ring true in farmhouse kitchens that embrace inclusivity and casualness for a sense of character. Here the white raised panel and display cabinets are added to a ripple of color with a weathered blue island and blue subway tile backsplash. The wooden truss, shelves, and bar stools also introduce a third element to capture the gist of the farmhouse looks. And the medium-tone wood floor helps this impressive blue-and-white combination pop even more for an immersive look, not to mention the double height of the kitchen and the gabled ceiling that add grandeur to the interior.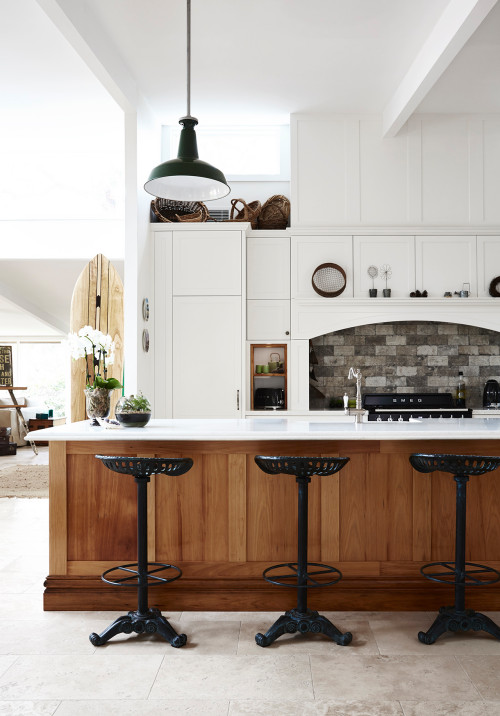 ID# 143410 | Houzz.com – Credit | © Collaroy Kitchen Centre
---
White Kitchen With Brick Backsplash and Statement Island
Blessed with plenty of streaming lights, this country kitchen in Sydney knows how to benefit from sunlight to the fullest: with white cabinets and white quartz countertops. Yet to avoid any potentially boring and jarring look, it also brings in a brick backsplash and statement island with a wood base which builds complementary contrasts. This way, the kitchen feels treated with a third element, while the stone-finish floor provides texture and coolness underfoot. Plus, what would be better than two colors? A third color that also brings a bonus texture!
Should upper or lower cabinets be darker?
It could be both, depending on personal preferences. However, as a rule of thumb, in most cases, the upper cabinets are kept lighter than the base counters to make the kitchen feel taller and more spacious. To support this feel, the darker base cabinets anchor this light and airy look, providing a solid ground for the top half to rely on. This trick especially works well in small kitchens, kitchens with low ceilings, and kitchens that do receive not enough sunlight.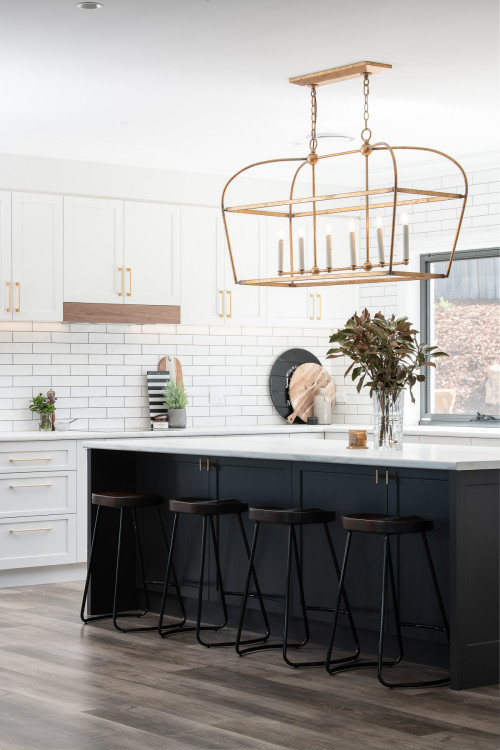 ID# 143411 | Houzz.com – Credit | © Prime Design Tasmania Pty Ltd
---
White Farmhouse Kitchen with Caged Pendant and Dark Island
Kitchen islands are one of the best ways to introduce a second color and create a focal point. This works well especially if you would like to direct attention to the island, the social hub of the kitchen, in other words. This country kitchen, for example, uses white shaker joinery as the perimeter counters and a dark blue island in the center as a statement piece. The brass hardware and the oversized caged pendant over the island tie these two contrasting shades together, contributing to the overall aesthetic design of the kitchen.
Rustic Two Tone Kitchen Ideas
Anyone who loves textures would favor rustic looks and put them on the top of their design lists. And since rustic kitchens prefer juxtaposing different elements, textures, and patterns, two-tone kitchen ideas work well in these designs. For example, you can benefit from light brown shades of wood and red-brown shades of brick in the same room. It, in turn, gets you plenty of texture and complementary shades altogether.
Given that rustic kitchens are not as regulated as contemporary or Scandinavian kitchens and are not concerned with specified design formulas, they allow for homeowners' personalities to drive the design process freely. You can use the mix-and-match method without overwhelming the space. And if you prefer a balance between rustic and modern, transitional kitchens are full of inspirational ideas and design tricks.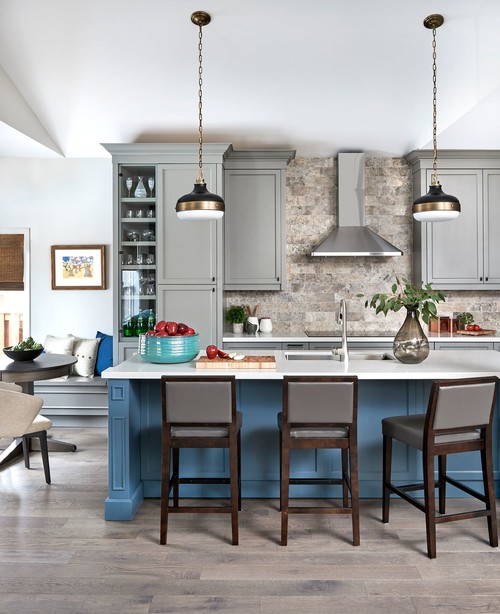 ID# 143412 | Houzz.com – Credit | © Carriage Lane Design-Build Inc.
---
Rustic Two Tone Kitchen Ideas Blue Island and Brick Backsplash
This open-plan transitional kitchen has a lot to say. Adjoined with a banquette and a relatively informal dining space for casual gatherings, this kitchen, without a doubt, captures the spirit of rustic kitchen designs. In the background, the brick backsplash creates a focal point, accompanied by gray cabinets that blend into their surrounding effortlessly. When it comes to the center, a second color gets introduced by the blue azure kitchen island. It not only adds a splash of color but also energizes the kitchen. Overhead, the stainless-steel appliances and stylish lighting fixtures make chic additions, while the rustic gray-beige wood floor highlights the design's earthliness
Do two-tone kitchens look good?
Two-tone kitchens look energizing and dynamic. Even if it is a shaker larder or dresser that you color with a bold shade, you can still make a great difference. Such small yet colorful touches come back as fabulous looks.
If you are concerned about two-tone kitchens and can't give up on all-white looks, you don't have to. Just stick to the white cabinets and borrow some inspiration from Nordic aesthetics and Scandinavian kitchens and inject some wooden installations. Such organic additions prevent all-white looks from looking plain and jarring.
Overall, whether it is wood, a tiny colorful touch, or a wide use of colorful cabinets (whatever you prefer it to be) two-tone kitchens look great and create an on-trend look for your home.
Small Two-Tone Kitchen Ideas
Just because your kitchen is small doesn't mean that you can't use two tones. But the easiest and safest way is to use white dominantly and complement it with another color of your choice. If you love contrasts, you can pair dark base cabinets with light upper cabinetry. And in case you prefer committing yourself to one color, you can use different saturations of it that will give you a sophisticated look.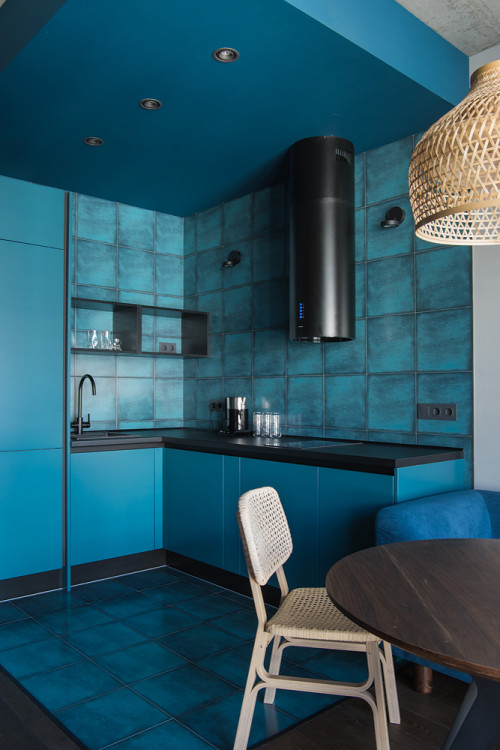 ID# 143414 | Houzz.com – Credit | © АР-КА бюро – Илона Болейшиц, Игорь Орлов
---
Small Two Tone Kitchen Ideas with Blue and Black
The different saturations of blue in this small kitchen create a tonal effect solidified by black countertops and a black range hood that introduce a level of masculinity. The large-format blue tiles used on the floor and walls define the kitchen zone perfectly, while the wall niche adds a recessed feature. And finally, with the blue false-ceiling overhead, this compact kitchen almost feels like a shower cabin where you can cook.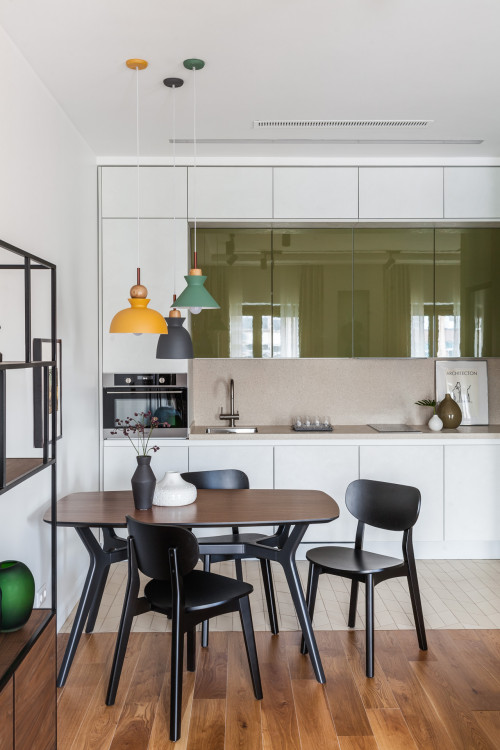 ID# 143415 | Houzz.com – Credit | © ANDdesign / Александра Дашкевич
---
Use Texture and Color for Extra Contrast
This Scandinavian-style kitchen in Moscow has a soothing color palette that offers comfort for the eyes. Here, the light beige marble slab backsplash pairs perfectly with high-gloss green upper units enveloped by white flat-front cabinets on all sides. The gloss finish provides a perfect contrast to the white-dominant kitchen, allowing lights to bounce off around the room for a sense of spaciousness.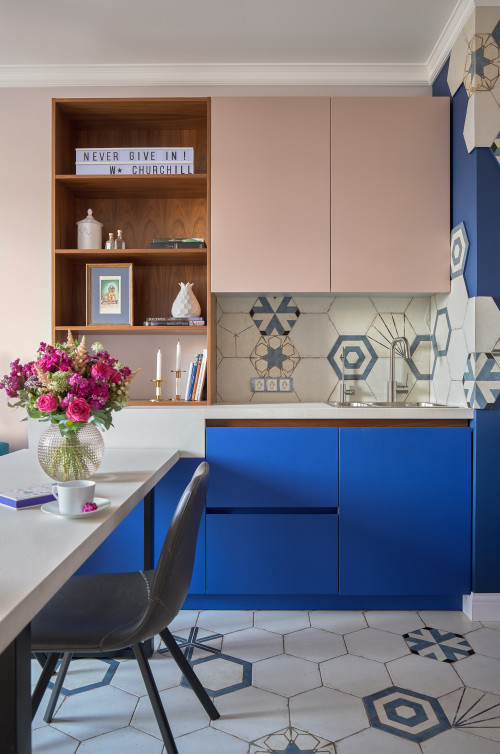 ID# 143416 | Houzz.com – Credit | © VerbaHome
---
Contemporary Kitchen with Pink Cabinets and Geometric Pattern Backsplash
If you are ready to unleash your imagination and go with a bold and entertaining theme, this contemporary kitchen is a source of inspiration. To start with, the muted pink cabinets paired with blue azure counters create an engaging look. And the multicolored hexagon tiles flood the space, starting on the backsplash and continuing on the floors to entertain the kitchen. To accompany this two-tone joinery, the wood interior cabinet shelf also brings a third element to inject a small dose of warmth and calm down the pattern-awash kitchen.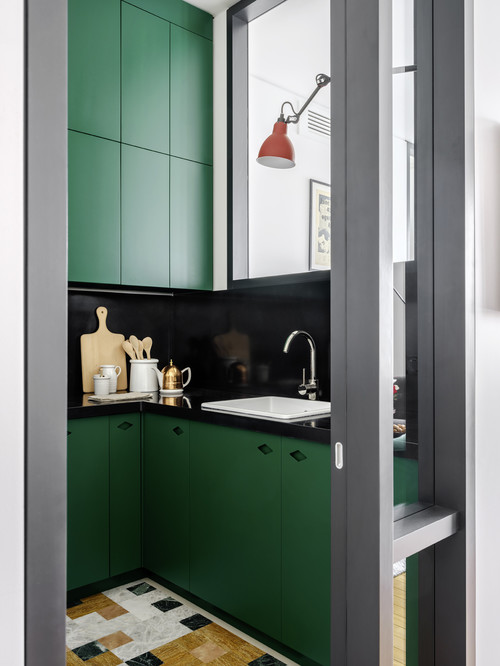 ID# 143417 | Houzz.com – Credit | © BLOCKSTUDIO
---
Two Tone Kitchen Ideas with Green Cabinets and Black Glass Sheet Backsplash
Though pint-size in scale, this two-tone contemporary kitchen has a sleek furniture vocabulary with green flat-front cabinets and a black glass sheet backsplash. Adding to that are also the pitch-black countertops that seem like extensions of the backsplash. On the floor, a third color, yellow, joins the juxtaposition of black and green to bring a sense of jovial.
Color Combinations for Two Tone Kitchens
When combining colors for two-tone kitchens, you can go multiple ways. Using different saturations of the same color for a graduated tonal effect, contrasting shades, bold hues balanced by white, and colors that sit opposite on the color wheel are only some of the strategies that you can go with. Or what you can do is choose white as your staple color and decide on the second floor that will give you the impact you are after.
Two-Tone Black and White Kitchens
Black-and-white kitchens create impactful contrasts that withstand the test of time and are one of the most popular two-tone combinations. You can use color blocks, dividing your kitchen into different sections with colors. Or if you wish, you can get a black island while keeping the perimeter counters white. This way, you can achieve a sense of balance and contrast that characterizes the style of the kitchen. You can also feel free to add further pops of color if you would love your space to have a truly contemporary look.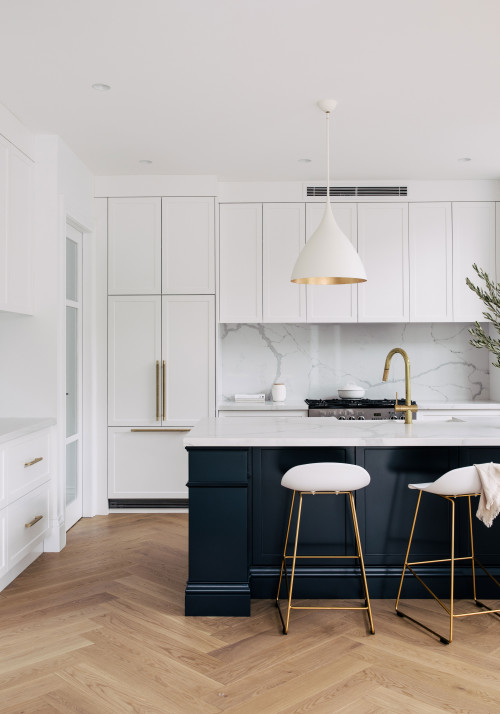 ID# 143418 | Houzz.com – Credit | © BCD Building Pty Ltd
---
Two Tone Kitchen Ideas With Island Contrast
Among the most popular color combinations for two-tone kitchens is black-and-white kitchens. If you want to participate in this tradition, you can also use white perimeter counters to ensure that the kitchen feels spacious and airy enough. And as a second shade, you can place a black island to build a contrast and focal point- as this transitional kitchen demonstrates. Additionally, you can get help from brass accents and herringbone wood floors to cast a sense of doubt and make this contrast pop out more.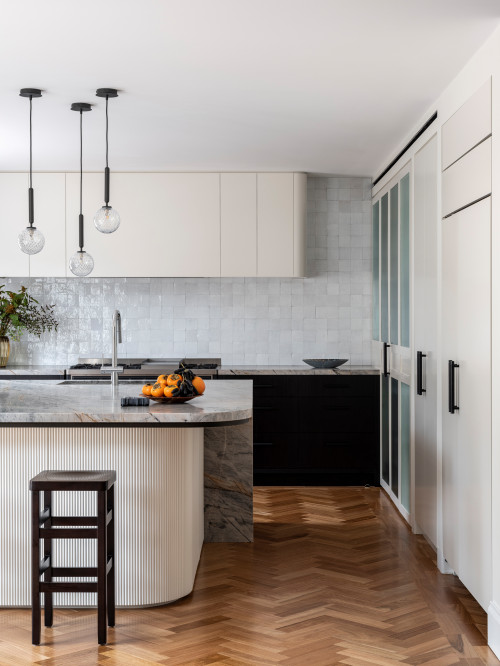 ID# 143419 | Houzz.com – Credit | © Bondi Kitchens & Joinery
---
Ceiling-Height Zellige Backsplash with Statement Island and Contrasting Color Palette
For those who can't decide whether they should use darker tones for the upper or base units, this kitchen gives a great answer. First, it starts by using white color blocks as white full-height cabinets for additional storage. Secondly, with the halfway splitting, it uses dark base cabinets to anchor the look, while the upper wall units are kept lighter/white to enhance the openness. Further enriching element of this well-balanced look is the kitchen island that applies the same logic. It features a dark gray marble-carved torso topped by a lighter marble countertop that extends in an adjoined ribbed and curved structure.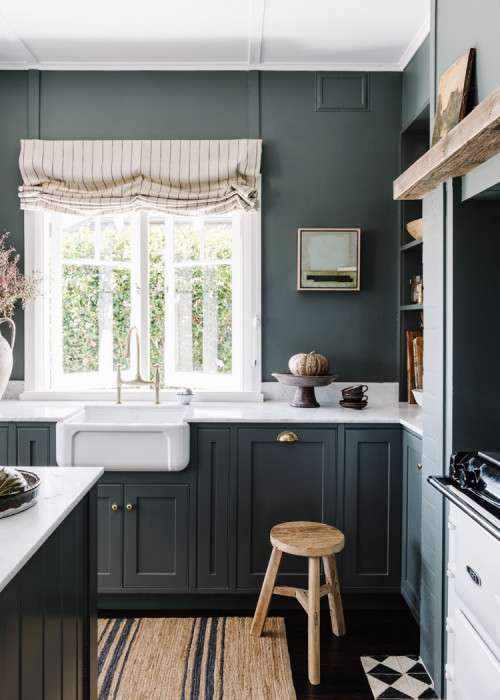 ID# 143420 | Houzz.com – Credit | © The English Tapware Company
---
Country Kitchen with Butler Sink and Green Cabinets
Proposing restful repose, this country kitchen is awash with green cabinets that feel akin to dark grey. The white countertops and white porcelain butler sink lighten up the dark green shades, while brass hardware and sporadic wood injections bring warmth and texture.
Two-Tone Blue and White Kitchens
One of the most tranquil shades-blue- makes a great contribution to all-white looks. It not only adds a pop of color but also instills a sense of calmness, especially when it comes in light shades. For dramatic looks that ooze opulence and look richer, you can go with darker blue shades like navy and indigo to match with white kitchens. And in case you happen to look for a third element, you can use wood and brass to cast a sense of warmth and make the design more approachable.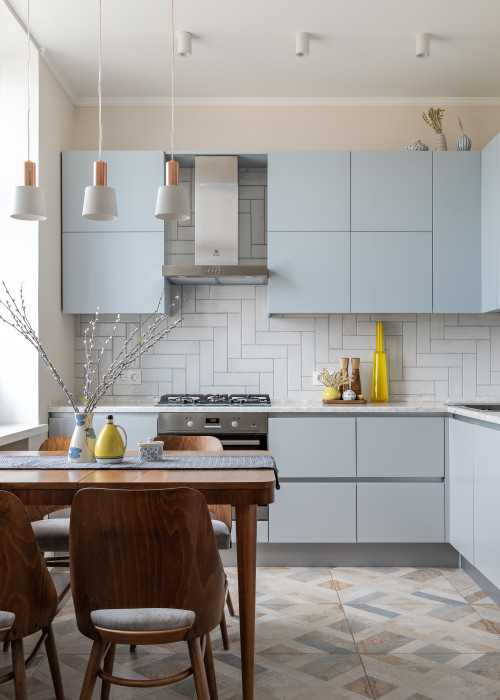 ID# 143421 | Houzz.com – Credit | © Maxim Maximov
---
Two Tone Kitchen Ideas with Blue and White Kitchens
The understated blue cabinets lay the foundation of this contemporary kitchen, while white ceramic herringbone patterns add a geometric touch to the walls as a backsplash. The diagonal layout of these subway tiles in a herringbone pattern creates extra interest while generating movement. The same approach is also seen in the floor design that features diamond-shaped floor tiles. This time, the light earthy shades are put into dialogue with pastel blue shades to echo the overall color palette. And the wooden dining table paired with wooden dining chairs adds plenty of texture and softens the cool color scheme.
Are two-tone kitchen cabinets a fad?
Two-tone kitchen cabinets are one of the on-trend looks that allow homeowners to go with their favored colors and use pops of colors freely with some design strategies like color-blocking and halfway splitting. So, if you want to catch this trend, scroll down and find some inspirational design ideas!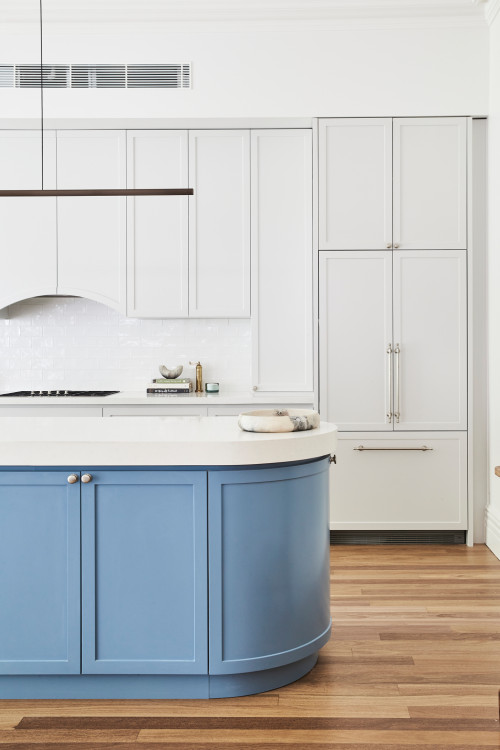 ID# 143422 | Houzz.com – Credit | © Danielle Victoria Design Studio P/L
---
White Cabinets with Blue Rounded Island and Wood Floor
When designing a kitchen, the floor type is an important cue if you are going to develop your design narrative on it. Here, for example, the medium-tone wood floor helps the white-and-blue combination shine. The white cabinets with white countertops and subway tile backsplash refresh the kitchen; the blue rounded island adds a coastal vibe.
Two-Tone Gray and White Kitchens
If you are looking for the most timeless two-toned kitchen ideas, gray and white combinations give you all that you need. With subtle tonal variations created throughout the space you can easily elevate the overall feel. Elegance, calmness, and serenity just follow along. From light grays to almost black ones, this color will never fail you with the company of white!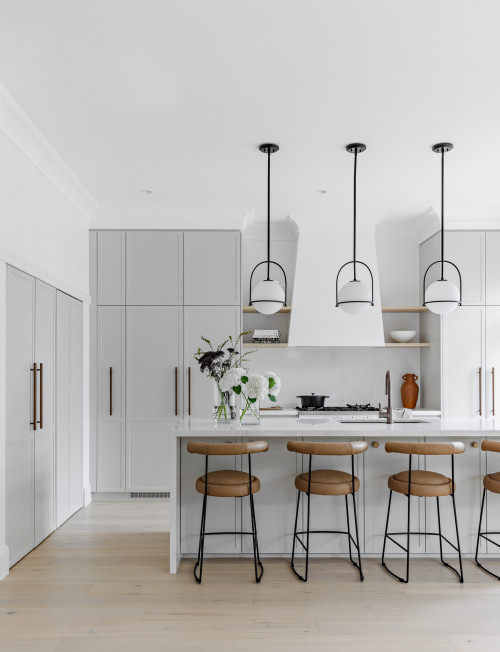 ID# 143423 | Houzz.com – Credit | © Green Chip Constructions Pty Ltd
---
Two Tone Kitchen Ideas with Gray, White, and Wood
If you can't give up on all-white looks but still want a change, why not use a gray-and-white combination as this kitchen does? The light gray cabinets team up perfectly with the white range hood and countertop, while the timber stools and floating shelves bring a Scandinavian flair to the kitchen, imparting warmth.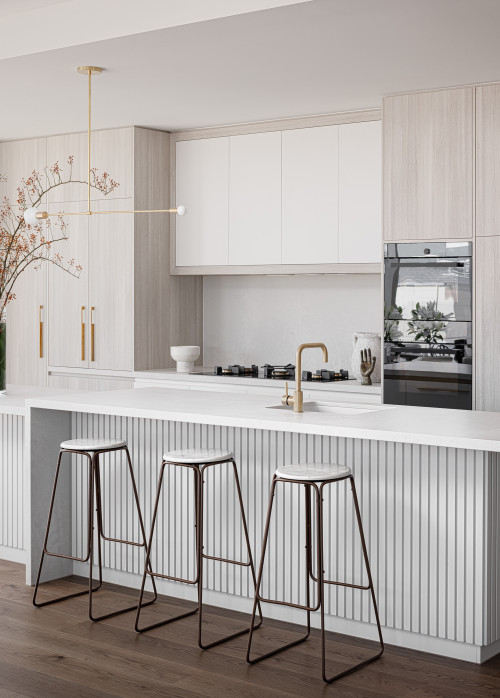 ID# 143424 | Houzz.com – Credit
---
Contemporary Kitchen with White Countertops and Brass Hardware
When we say two-tone kitchen ideas, we don't necessarily mean bold shades. This contemporary kitchen, for example, uses a very light color palette that is barely there, but it still has two tones combining white, and light oak veneer cabinets. White countertops and brass hardware complement this combination while adding some chic and characteristic touches.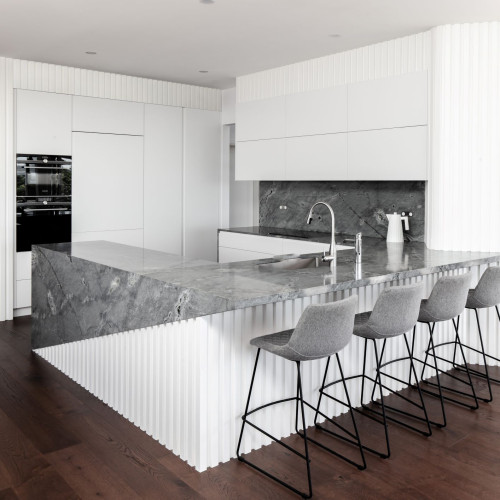 ID# 143425 | Houzz.com – Credit | © Avant Stone
---
Marble Slab Backsplash and White Cabinets with Dark Wood Floor
The protagonist of this contemporary kitchen is the gray marble backsplash along with the custom-design book-matching marble countertops that deepen the artistic character of the kitchen. The rest feels complete with white cabinets and a dark wood floor that serves as a solid, blank canvas for the marble to shine.
Two-Tone Green and White Kitchens
If you want nature to be your main inspiration, why not use green as one of the two-tone colors? When combined with white, green provides a sense of refreshment to the kitchen. This combination is also suitable for wood insertions to make the design align with something more biophilic that will take the sense of kitchen users on a tactile and visual journey.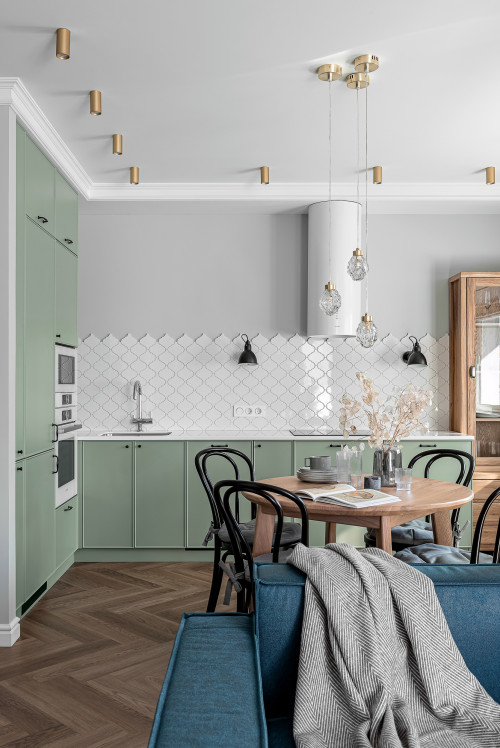 ID# 143427 | Houzz.com – Credit | © Михаил Косачёв
---
Light Green Cabinets with White Arabesque Tile Backsplash and Rounded Hood
This open-plan contemporary kitchen has a bit of everything: colors (even if they are understated), patterns, and wood. While the white ceramic arabesque tiles create an expressive background, the muted green flat-front cabinets instill calmness. The rounded hood adds an upscale and ultra-modern feel, while the wood floor and dining table build an intimate interior design. The gold ceiling lights and the glass lighting fixture above the island add a dose of sparkle. 
Can I use two-tone cabinets in a small kitchen?
Two-two cabinets are welcome in a small kitchen and are more widely used than you probably think. Monochromatic contrasts are particularly recommended to play with the proportions of the space and make small spaces look bigger. In addition, the strong contrasts, and the different hues of the same shade create a quiet sophisticated look. This way, you can draw attention to the space itself, encouraging a wider perspective on kitchens rather than creating a main focal point that makes your eyes focus on only a part of the kitchen.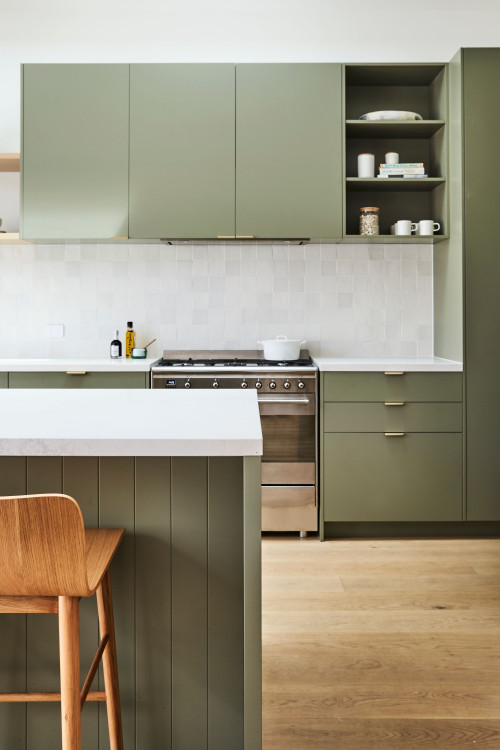 ID# 143428 | Houzz.com – Credit | © Naibu Design
---
Green Cabinets with Brass Hardware and White Backsplash
With a two-toned design, this modern kitchen offers a minimalist take on green cabinets and a modest white square tile backsplash. The brass hardware adds a touch of glamor without feeling over the top. The stainless steel appliances perfectly complete the contemporary overall look.
Two-Tone Brown and White Kitchens
If you love earthy shades, what stops you from using brown shades in white kitchens? Whether you get light or dark wood cabinets or just brown counters, they will radiate warmth and inject a dose of personality into your white kitchen. You can enrich this combination with brass hardware, dark wood floor, and metal accents like copper to orchestrate a sense of sparkle without overwhelming the kitchen.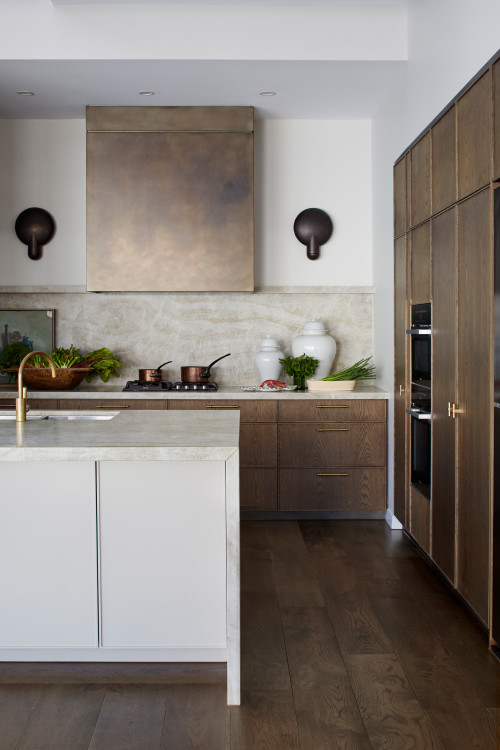 ID# 143429 | Houzz.com – Credit | © Brownlow Interior Design
---
Two Tone Kitchen Ideas with Brown and White Cabinets
Two-tone cabinets provide a duality that adds depth and dimension. Especially when they come in earthy shades like in this kitchen, they boost soft aesthetics and earthiness. Here brought in by full-height dark wood cabinets, perimeter counters, and wooden floor, this earthiness finds a solid presence. While accompanying them, the light beige-white marble backsplash and countertops with brass hardware keep this earthy vibe cohesive and lighten the interiors up.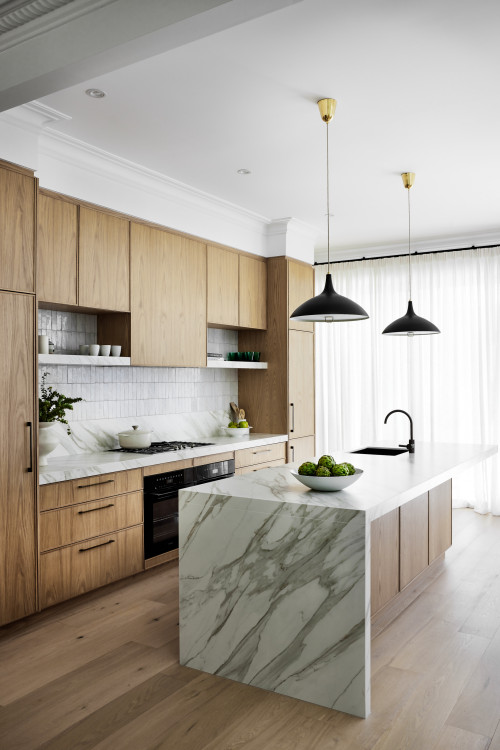 ID# 143430 | Houzz.com – Credit | © March Twice Interiors
---
Light Wood Cabinets with Zellige Tile Backsplash and Marble Countertops
Earth shades are incorporated by the wood cabinets at best! In this contemporary kitchen, the light wood cabinets, are supported by the opulent Calacatta gold marble countertops. The gorgeous texture of the marble slabs makes a luxurious twist against the rustic vibes. The white Zellige tiles with protruding edges add extra interest and texture to the wall. Overall, the combination of white and light wood results in a calming and genteel atmosphere.