28+ Matte Kitchen Backsplash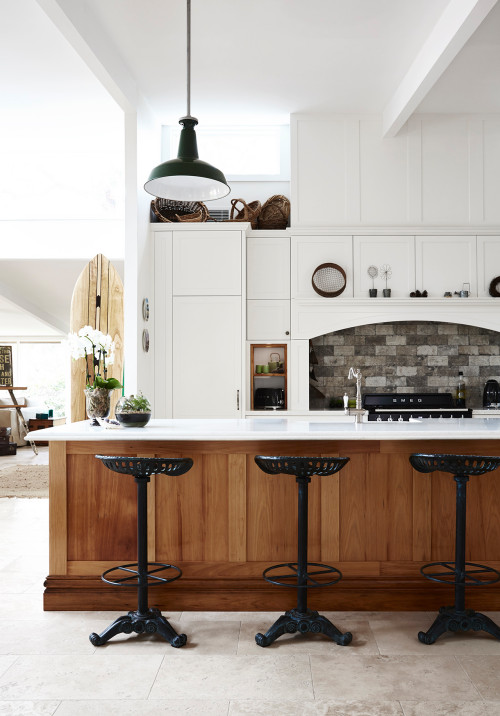 ID# 137302 | Houzz.com – Credit | © Collaroy Kitchen Centre
---
White Shaker Cabinets and Quartz Countertops with Gray Stone Tiles
This country design style kitchen welcomes you with a warm and familiar atmosphere. The white shaker cabinets and the wood island complement each other creating a natural harmony. The black accents add contrast to the wood and white cabinetry design. The matte gray stone tile backsplash complements the country design look with a natural and rough surface.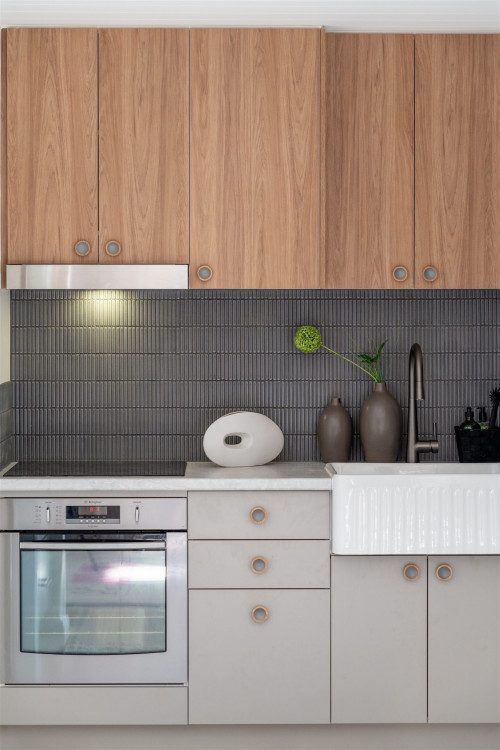 ID# 137316 | Houzz.com – Credit | © Annette Pust Design Studio
---
Scandinavian Design Touch with Porcelain Tiles and Wood Uppers
The light gray base cabinets and the white countertops enlighten the minimalistic dark gray porcelain tile kitchen backsplash. The tiles have a matte finish that provides stylish movement and texture. The wood flat-panel upper cabinets complement the warm tone of the dark gray backsplash creating a welcoming and Scandinavian design look.
Matte Kitchen Backsplash
Designing your kitchen or remodeling it needs really hard work. You need to consider all the design components such as countertops, cabinetry design, colors, backsplash, etc. Deciding on the finish of the surfaces is one of the elements that you will go through when you design your kitchen. Mostly, you will see glossy or matte kitchen backsplash design ideas on the internet while you search for an idea.
In general, people get used to seeing glossy finishes on backsplash surfaces, however, a matte kitchen backsplash stands before our very eyes to be discovered. Kitchen backsplash tiles are frequently among the most durable materials. The decision of whether to install a glossy or matte kitchen backsplash is one that homeowners frequently wrestle with. Though all are created similarly, they both have a distinct amount of sheen and smoothness, which, depending on whatever you pick, may ultimately make your kitchen area seem quite different. For instance, glossy subway tiles can appear brighter and more refined, frequently contributing to a more formal appearance. In comparison to its less dazzling sibling, it also conceals water stains and fingerprints better but a matte surface might suggest a gentler, more laid-back appearance. It is frequently utilized in modern settings instead of high-gloss cabinets.
Can backsplash be matte?
Even though matte tiles aren't frequently used for backsplashes in kitchens, they look fantastic and are worth a try. Matte white tiles will provide texture to any kitchen and seem more fascinating than standard white tiles. Matte black tiles in any geo form would be excellent for a manly or merely dark kitchen. Amazing matte marble tiles are also available; marble appears elegant, and matte adds intrigue to the room. If you believe matte tiles still don't appear eye-catching enough, pick them in a contrasting color, such as a strong green backsplash for a neutral kitchen or a white one for a blue kitchen. Such tiles are not more difficult to clean than glossy ones.
Color Options for Matte Kitchen Backsplash
Today, a backsplash is a design aesthetic, therefore there are many color options for matte kitchen backsplash ideas whether you want to design or modify one. A backsplash in the kitchen now serves as a decorative element rather than just a means of splash protection for your walls.
In the backsplash market, you may discover a variety of eye-catching color options for matte kitchen backsplash ideas, from black to startling green hues. There is a perfect match for everyone with a wide range of color possibilities for matte kitchen backsplash ideas, whether your design is classic or contemporary. Let's scroll down and see some of the gorgeous examples of color options for matte kitchen backsplash ideas.
Matte Black Kitchen Backsplash
Black is a classic and timeless hue that is always in trend. It also gives the room a more upscale look and helps to create contrast or a serious atmosphere. An amazing alternative for a modern matte black backsplash can complete a dark area or add a gorgeous accent to a room that is neutral or pastel in color. These features will enable you to design the ideal stunning matte black kitchen backsplash.
You may utilize a matte black kitchen backsplash in every color scheme you can think of, whether your kitchen is dark, serious, bright, or entirely neutral. The most popular kitchen design styles with matte black kitchen backsplashes are industrial, modern, Scandinavian, and minimalist. However, you can also try it in a rustic, farmhouse, antique, or many other types of kitchens by supporting it with black appliances, a hood, worktops, or fittings.
Is matte or glossy better for backsplash?
Matte tiles are a good choice for places like lobbies, kitchens, and bathrooms. Matt tiles, as opposed to gloss tiles, are better at hiding fingerprints, stains, and dried water droplets. Matt tiles don't need to be cleaned frequently, and when you do, you don't have to watch out for water and soap stains as much.
Are matte tiles difficult to clean?
Matte surface tiles are excellent at hiding scuffs and stains, hence reducing the need for thorough cleaning. Matt tiles are an excellent choice for busy areas since they require little upkeep.
Matte White Kitchen Backsplash
In addition to being useful, your kitchen should bring you delight. A matte white kitchen backsplash is a stunning alternative for practically any kitchen backsplash design. There are many modern ways to use white backsplash, even though it's a very traditional option. Playing with the surface finishes can help you to make a strong statement.
Many kitchens' top choice for a backsplash is a white color, of course. White backsplash tiles are seen as a reliable option with a really fashionable style appeal by some, while others consider them as a safe solution. Whether you want to get the sense of a conventional white subway tile kitchen or add a fresh feeling and ambiance that will exude creativity, matte white kitchen backsplash designs are the easiest and most practical solution to achieve your aim. Let's scroll down and see some of the stylish options of a matte white kitchen backsplash design.
How do you clean a matte surface?
The ideal option for you is to use matte finish tiles for your surfaces if immediately noticeable stains and smudges rapidly grate on your nerves. As they do not display dirt, scratches, stains, and watermarks as prominently as glossy tiles, matte finish tiles require less upkeep than glossy tiles. They are a great alternative because of their functionality for crowded areas where splashes and spills regularly cause stains. Your favorite kitchen tiles or chic bathroom tiles are examples of such regions. Tiles with a matte finish need to be cleaned and maintained much less frequently.
Although matte finish tiles do not need to be cleaned often, doing so might take a bit longer than washing glossy finish tiles. Although matt finish tiles conceal significantly fewer stains than glossy tiles, they are more challenging to clean. Any stains on the glossy tiles may be quickly and effectively removed with a wipe.

Matte Gray Kitchen Backsplash
The kitchen serves as the hub of your house. It offers a location where individuals may gather to celebrate and discuss life changes. This area ought to be tidy and inviting rather than chilly or antiseptic. Making a welcoming workplace that is yet simple to maintain may be challenging. Because it takes more effort to maintain, a backsplash made of less-than-ideal tiles shouldn't be something you have to put up with. Use a matte gray kitchen backsplash in the kitchen. For a fantastic view and a fashionable touch in kitchens, matte gray kitchen backsplashes may be paired with dark or light-colored cabinetry. It is hospitable, clean, and uncluttered with a straightforward design—exactly how a kitchen ought to be.
Gray is one of the neutral hues that may be utilized in both traditional and modern designs. Due to its versatility, you may utilize it in kitchens in a number of ways. Additionally, if you don't want a stark white viewpoint or don't want to cover the entire kitchen with a black backsplash, a matte gray kitchen backsplash may help you soften the design look. If you want a monochrome image with a gentle complimentary tone, gray might also be quite useful. Scroll down to discover the amazing results of the matte gray kitchen backsplash ideas for inspiration!
Does matte tile show water spots?
Matt tiles are more effective at disguising fingerprints, stains, and dried water droplets than gloss tiles.
Matte Blue Kitchen Backsplash
Blue is one of the most popular hues for a reason; it represents confidence and courage and may, by nature, either boost or decrease moods. There is a perfect hue of blue for everyone if there is one thing we can be sure of. This is why pairing cool-toned, matte blue kitchen backsplashes with white or black cabinets always look amazing in a kitchen. There are a few options, including a striking navy blue backsplash and a translucent, matte blue kitchen backsplash.
Your kitchen may be transformed into an island paradise using warm, blue-green ocean water as inspiration, or you can choose a striking matte blue kitchen backsplash made of deep blue sea glass tiles. Choose a backsplash composed of eye-catching blue tiles shaped like penny rounds to bring some color to your kitchen. It might function as a substantial backsplash wall tile, a stovetop accent tile, and the ideal focal point that won't dominate a space. View a few of the gorgeous matte blue kitchen backsplash design ideas that we have gathered for you to get inspired by scrolling down!
How do you remove matte tile stains?
The market offers a variety of tile cleaning products. However, you should always carefully choose the proper cleaning chemical to avoid harming your tiles. A professional cleaning solution will preserve the quality of the finish on the surface of your tiles and won't harm the texture or color of the tile.
The matte surface tiles may be cleaned most effectively using a moderate solution of warm water, a tiny bit of soap, and some white vinegar. Most of the time, all you need is a pail of warm water, a cup of white vinegar, and a spoonful of detergent or dish soap. With a brush and this solution, clean the tiles well. After thoroughly cleaning the area, rinse it with water and finish by wiping it down with a soft, lint-free cloth. For cleaning your tiles, you can also use baking soda in the mixture mentioned above.
Change to a cleaning product containing white vinegar from your typical one to keep your black tiles looking as beautiful as ever. Before continuing with your cleaning regimen, let the vinegar sit on the tiles for a bit to destroy any mold or fungus that is bothering you in a tiled room. After an hour of cleaning, wipe down the surface with a damp cloth to remove any remaining vinegar smell if it is bothering you. Your dazzling, clean tiles will keep enhancing your surroundings and your senses.

Matte Green Kitchen Backsplash
You can always count on the attractive appearance and robust endurance of the color green if it is what you desire in the kitchens! Both homeowners and interior designers may like matte green kitchen backsplashes. A green backsplash works well with many various design types, whether it is a farmhouse design style or contemporary. With a matte green kitchen backsplash, you may infuse your kitchen's design with lively and bright feelings.
White kitchen cabinets and a stunning matte green kitchen backsplash are two great ways to give your kitchen a lighter, more open vibe. Wood countertops may help achieve this harmony, add to its minimalist beauty, and make your mornings feel more natural and fresh. Scroll down to see the stunning matte green kitchen backsplash designs!