17+ Cottage Kitchen Backsplash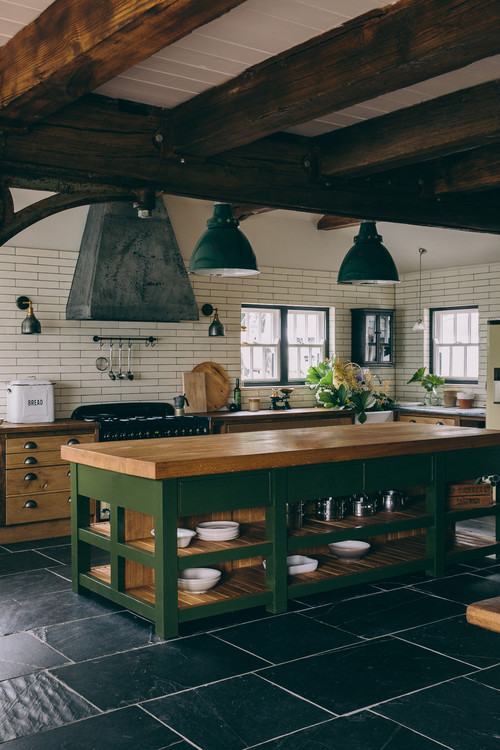 ID# 136704 | Houzz.com – Credit | © Field Day Studio
---
White Cottage Kitchen Backsplash with Wood Cabinetry Design and Countertops
The versatile look of the white subway tile backsplash design enlightens the dark color palette of this kitchen. The wood kitchen cabinetry and the wood countertops are complemented by the green island design. This combination provides a natural and fresh look when they meet with a white backsplash design.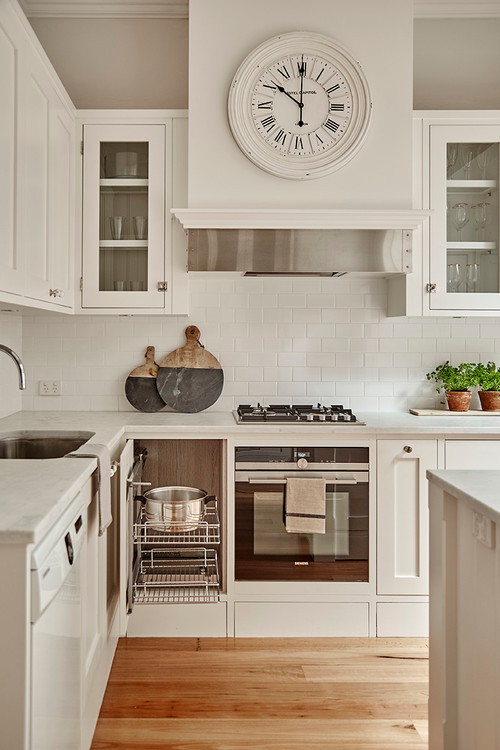 ID# 136710 | Houzz.com – Credit | © Provincial Kitchens
---
White Ceramic Cottage Kitchen Backsplash with Marble Countertops and White Cabinets
This country kitchen design style look is one of the best solutions to have a familiar and stylish atmosphere with a cozy appeal. The white kitchen cabinets and the white marble countertops provide a beautiful harmony without being too stark. Thanks to the white ceramic cottage kitchen backsplash with a subway tile layout, the whole cabinetry design has that familiar and cozy atmosphere.
Cottage Kitchen Backsplash
If you are the ones who like the cozy style with a rustic charm, you will adore the cottage kitchen backsplash designs in this post that we have gathered for you to get inspired by! Farmhouse and Craftsman characteristics converge in cottage-style kitchens with regional sensibilities. Solid, often light hues smooth out clean, frequently geometric lines with little trim or roughness. Fans of cottage decor adore the crisp, occasionally beachy aesthetic that white and light neutrals generate.
Whether you have a cottage kitchen or not, you may only want to change or design the backsplash in your kitchens. Sometimes a small partition wall design, the backsplash, in this case, can be the only touch needed in your kitchen renovation. Traditional cottages are renowned for their unique characteristics, like aged floorboards, wooden beams, exposed stone walls, and odd niches. These dreamy homes frequently have kitchens that are created with an emphasis on comfort, traditionalism, and tactility, making this fashion a tempting option for individuals looking to establish a warm haven. According to these, a cottage kitchen backsplash can be rough stone surfaces, marble slabs, ceramic or, wood designs. Let's scroll down and see the stylish and cozy cottage kitchen backsplash designs!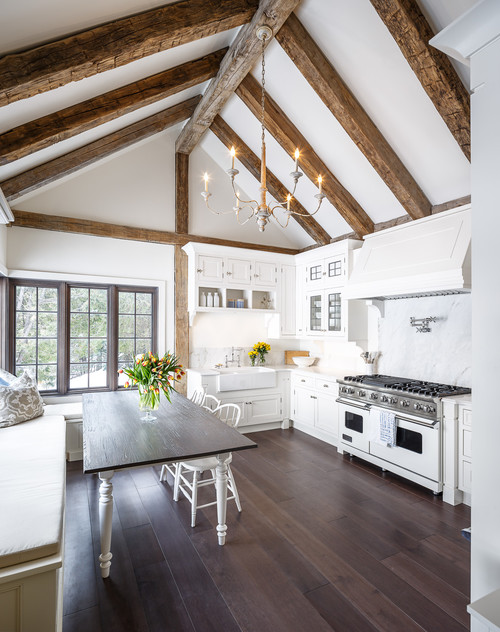 ID# 136701 | Houzz.com – Credit | © Astro Design Centre
---
White Kitchen Cabinets with Marble Slab and Dark Wood Floor
The warmth of the wooden elements fills the entire kitchen with a cozy atmosphere. The elegance and the cozy look complement each other with the harmony of the wood and white surfaces. Thanks to the dark wood floors the white kitchen cabinetry design stands out. The stone slab backsplash balances the contrast and keeps it simple while providing a clean and traditional look alive at the same time.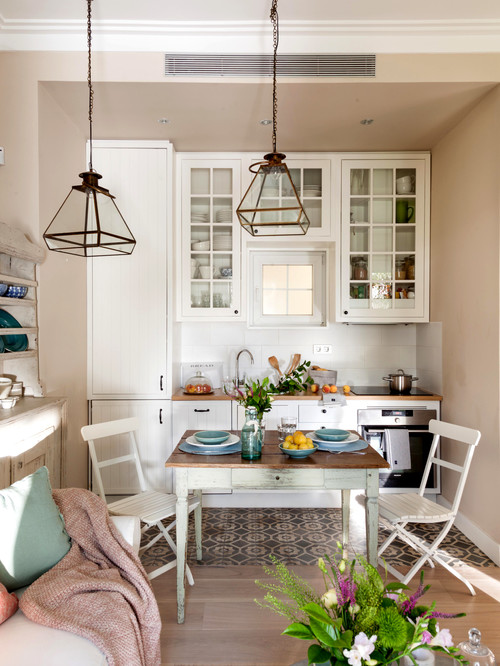 ID# 136702 | Houzz.com – Credit | © Carolina Verdugo Svensson
---
White Cabinets and Butcher Block Countertops with Black Accents
The sand beige of the kitchen's walls surrounds the white kitchen cabinetry. This warm harmony is accentuated by black accents such as the hardware. This tiny contrast moves up this shabby-chich style kitchen look with a cottage design style touch. The butcher block countertops complement the white cabinetry design while the white backsplash tiles enlighten the countertops.
What is a cottage-style kitchen?
Cottage-style kitchens have the traditional aesthetic of classic kitchens but a more relaxed and casual atmosphere. It primarily aims to create a light and airy feeling in a place, and as a result, employs largely light colors to do so. A cottage-style kitchen has a lot of traditional components, however, not all of them need to be there. You may also choose from a variety of color and material combinations.
For cottage kitchen ideas, a soft subdued color scheme is frequently employed to make the room feel airy and welcoming. Whites, light yellows, pastels, and light khaki are frequently used as color palettes. It's not unusual to see a two-tone color scheme, with the kitchen island having a different hue from the base cabinets.
Beadboard Cabinets
Beadboard cabinets, which are essentially vertical paneling with grooves to assist lend additional depth to the top, are one of the most distinctive features of cottage-style kitchens. In addition, cabinets are frequently painted, generally in white, though other muted colors are also appropriate, as well as a combination of the two. Apron-front sinks and matching fixtures, as well as vintage-style knobs and hardware, are required to complement the historic appearance of the cabinets.
Wooden floors.
Whether made of hardwood, engineered wood, or vinyl, it completes the cottage-style appearance and gives the room a cozier, more antique feel.
Farmhouse Sink
A gorgeous farmhouse sink with a sizable basin may give your kitchen a little bit of a country feel. These huge sinks, which are also referred to as apron front sinks and have grown in popularity in recent years, provide lots of areas for cleaning.
Your kitchen may feel more retro by using lighting fixtures like pendant lights with brushed nickel, an old patina, or frosted glass. To provide a hint of nostalgic elegance to the space, vintage light fixtures are frequently used in cottage kitchens.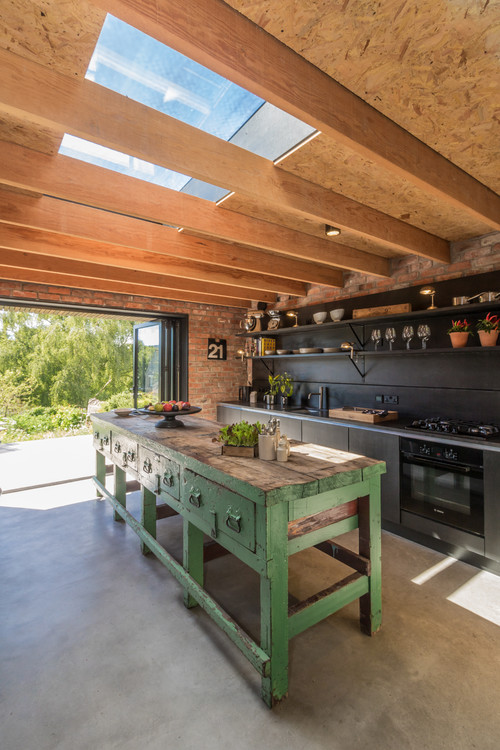 ID# 136703 | Houzz.com – Credit | © Design Storey
---
Contemporary Meets with Black Wood Backsplash Design Idea
The plain lines of the contemporary design style meet with the cottage charm. The natural wood surfaces and the black cabinetry design are balanced by the green island and gray floors. The combination of the rough material surface design provides a contrast to the flat-panel black kitchen cabinetry. This contrast is also balanced by the black wood backslash that keeps the natural look and the rough texture design alive.
Color Options for Cottage Kitchen Backsplash
Natural materials and neutral color options for cottage kitchen backsplash designs may help you to create a cozy and modern atmosphere at the same time. Modern backsplashes come in a variety of colors these days, including white, black, and, of course, gray, however, you can find white, beige, and gray hues for a cottage kitchen backsplash mostly. A backsplash may be a beautiful feature in the kitchen in addition to protecting the walls from splashes and spills. Think of it as a design element that represents your personal taste and a chance to be a bit more distinctive.
It is puzzling that so many individuals choose to neglect this sacred space given how much time we spend there. You seek and prepare nutrients in your kitchen, as well as entertain and provide, using it as both a sanctuary and a platform. You have the right to the finest in every way, including the beauty and security of these color options for cottage kitchen backsplash design ideas. Let's explore the world of cottage kitchen backsplash color alternatives!
White Cottage Kitchen Backsplash
As the most timeless and versatile color option, a white cottage kitchen backsplash can be the only design element that you need in your kitchen renovation! It imparts a natural, spotless, and fresh feeling to the room. A white cottage kitchen backsplash may brighten a kitchen up and give your space a more polished appearance, whether your cabinets are lighter or darker in color. You may give cabinets a modern appearance by using a slab of white backsplash, or you can create a welcoming, cozy look in the kitchens by using a white cottage kitchen backsplash.
Open and spacious kitchens are undoubtedly everyone's favorite. However, adding some humor to your kitchen wouldn't be a big deal. By surrounding your wooden countertop with colored chairs in addition to a white cottage kitchen backsplash, you may add color to your cabinets. A white cottage kitchen backsplash may serve as the ideal blank canvas for you to create distinctive kitchen designs, regardless of the accessories or colors used.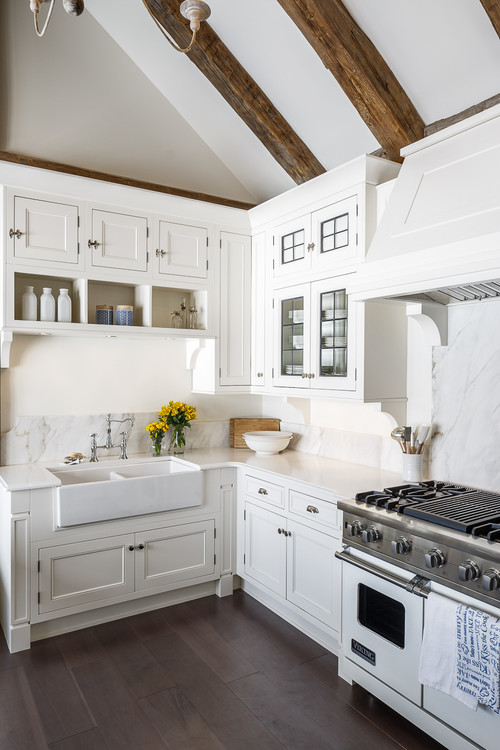 ID# 136705 | Houzz.com – Credit | © Astro Design Centre
---
Rustic Touch with White Cabinets and a Stone Slab
The coziness of the wooden components permeates the entire kitchen. The harmony of the wood and white surfaces enhances both the elegant and the warm appearance. Dark wood floors make the white kitchen cabinets stand out more. The stone slab backsplash keeps it basic, balances the contrast, and gives it a fresh, historic aesthetic all at once.
What are cottage colors?
Neutrals and pastels are key components of the cottage style. Go lighter with light pastels, pale colors, or pure white, which is the most common choice. The dominant impression should be a light-filled area, which is typically achieved with white or pastel tones. Stained wood and even some vibrant prints can be added afterward but only as decorations.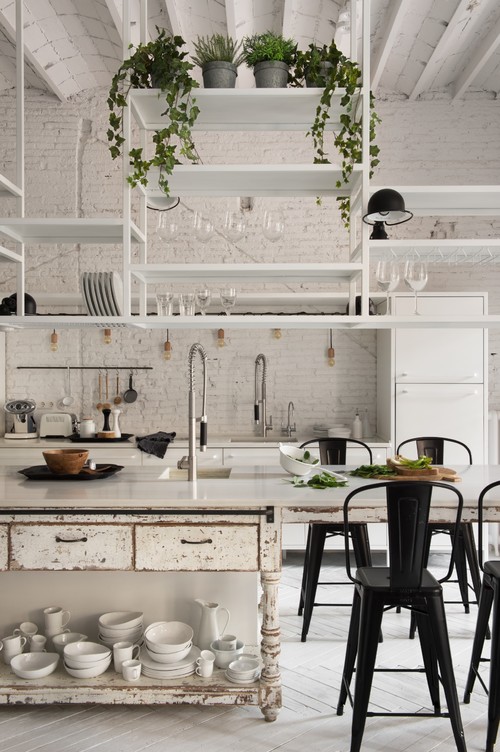 ID# 136706 | Houzz.com – Credit | © Marta Castellano
---
White Cottage Kitchen Backsplash With Exposed Bricks
This kitchen lures you with its perfect harmony! The old-look island design and the white-painted exposed brick backsplash wall complement each other providing texture and depth. Despite being all-white, this kitchen design has a warm and welcoming atmosphere thanks to the white cottage kitchen backsplash design and the other design components.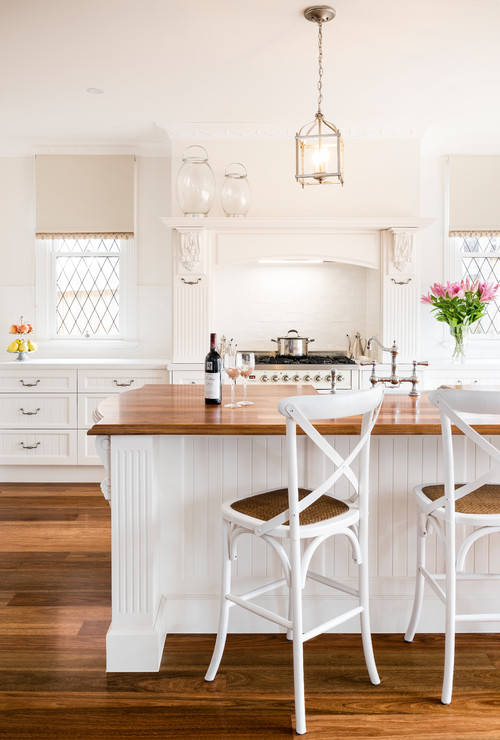 ID# 136707 | Houzz.com – Credit | © Smith & Smith Kitchens
---
Country Design Touch with White and Wood Harmony
If you are unsure about your kitchen design, you can easily rely on the harmony of the white and wood surfaces. This natural combination brings a warm, cozy, and sometimes contemporary appeal to your kitchen's atmosphere. From the chairs to the white cottage kitchen backsplash design, this kitchen has such an elegant design look.
Beige Cottage Kitchen Backsplash
The simplicity of white and the gentleness of brown are combined in the beige color, which is its most attractive feature. Because it won't ever trick you, you may use a beige cottage kitchen backsplash with browns, whites, grays, or even blacks with confidence. The beige color creates both contrast and harmony by fusing the dazzling effect of white with brown tones. Additionally, it helps to ensure the integrity of the design.
A transition from brown to beige will be captured in the kitchen design if a beige cottage kitchen backsplash is used with brown or wood worktops. With a beige backsplash and brown granite countertops, white cabinets with black hardware are a possibility to create a stylish cottage look. This will result in a shift of color from white, to beige, to brown that is elegant, dynamic, and smooth. Let's scroll down and see some of the stunning elegant design options for beige cottage kitchen backsplash ideas that we have gathered for you to get inspired by!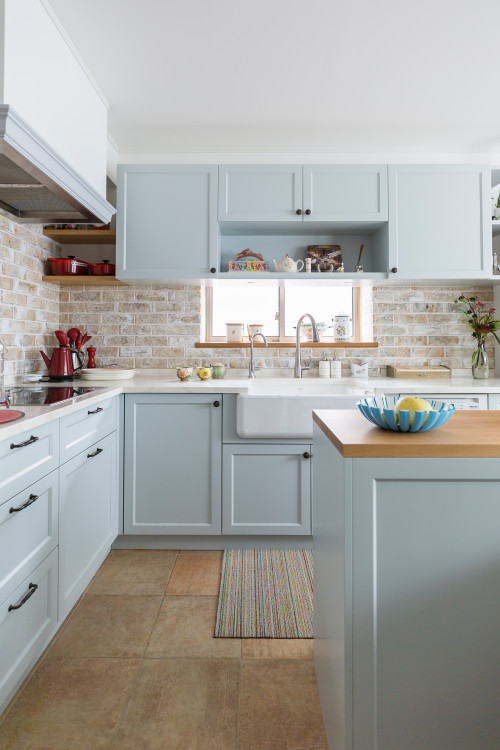 ID# 136708 | Houzz.com – Credit | © LiB contents
---
Brick Backsplash Design with White Countertops and Blue Shakers
The aesthetic contrasting look between the blue color and brown is well used in this kitchen with the brick backsplash, wooden details, and pale blue shaker cabinets. While the white countertops enlighten the colors, the black hardware provides a stylish contrast, too. The cute and stylish look greets you with a modern cottage design style.
Gray Cottage Kitchen Backsplash
Do you think about adding a gray cottage kitchen backsplash to your room? First and foremost, wise choice. They provide a lot of character and beauty to any kitchen. You may choose from a range of materials for cottage backsplashes, based on your preferences and the layout of your kitchen. For a gray cottage kitchen backsplash, you may choose from materials like marble, granite, soapstone, limestone, ceramic, and wood. In addition to being beautiful, if you choose stone backsplashes, it is good for you to know that these backsplashes are extremely strong, and with the right maintenance, you can keep them looking fantastic for years.
When looking for a backsplash that will give your kitchen a distinctive style, it's simple to feel a little—or a lot—overwhelmed by all the alternatives. Fortunately, a gray cottage kitchen backsplash can be a surefire winner. Nothing beats rough surfaces or neutral colors for a return on investment when it comes to a new kitchen in terms of increasing the value of your house. There is a style, color, and kind of gray cottage kitchen backsplash design to fit every kitchen thanks to its ageless, neutral appearance.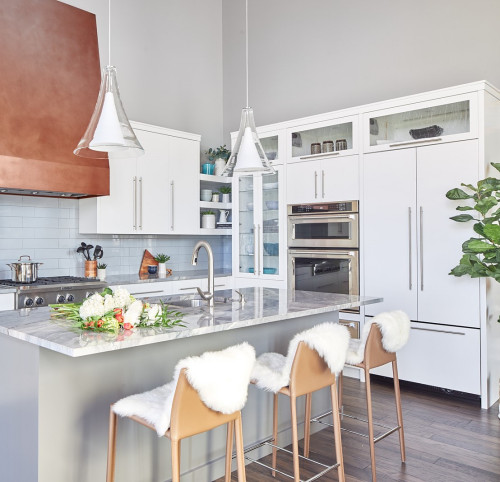 ID# 136709 | Houzz.com – Credit | © Linda Mazur Design
---
Contemporary Touch for a Gray Cottage Kitchen Backsplash
This contemporary kitchen brings a cozy atmosphere with cottage design style touches. The stools, custom-made hood, and a gray cottage kitchen backsplash design with subway tiles provide a familiar look. Thanks to the gray stone countertops, chrome hardware, and glass details, the kitchen has a fresh and contemporary appeal. If you do not know to use which tile layout for your backsplash, you can easily rely on a subway tile design. Its versatility complements any kind of kitchen design.
Tile Materials for Cottage Kitchen Backsplash
Cottage kitchen backsplashes are characterized by their use of raw materials and balanced design concepts. A mix of colors, textures, and patterns may make an otherwise chilly space feel warm, tranquil, and reminiscent of its warm style history. Tile is one of the best and simplest materials to use when creating a backsplash, and if you want to add a cottage-style touch, you might be interested in learning about the tile materials for cottage kitchen backsplash designs.
There are a variety of tile materials available for cottage kitchen backsplash ideas, from stone tiles to ceramic tiles. However, you may mitigate these effects by choosing the right tile materials for cottage kitchen backsplash designs. Countertop design, cabinetry design, and the overall kitchen atmosphere can all have an impact on your backsplash design. Scroll down to learn more!
Ceramic Cottage Kitchen Backsplash
Ceramic tiles are perhaps the most sought-after and preferred building material in the design sector. They are simple to locate, simple to install, simple to clean, and simple to maintain! Ceramic tile is long-lasting, reasonably priced, and simple to install. It also comes in a huge variety of designs, colors, and textures. A ceramic cottage kitchen backsplash may protect your walls from ugly and potentially dangerous food splatter in addition to adding visual appeal and refinement to your very own kitchen design. In addition to serving a functional protective purpose, a ceramic cottage kitchen backsplash may offer a lot of aesthetic appeal, color, and personality to your kitchen design.
Many homeowners believe that a ceramic tile backsplash is the best place to experiment with new patterns, colors, and designs. Ceramic tile is one of the most adaptable choices for kitchen backsplashes. It is available in an almost infinite variety of shapes, colors, forms, and sizes and may be purchased online or in-store at almost any home improvement company. Additionally, several ceramic tile specialized stores may meet any demands for a specific form, color, or texture. You can probably locate the kind of ceramic tile you're looking for among the countless alternatives. Scroll down to see one of the stylish options for a ceramic cottage kitchen backsplash that we love to share with you!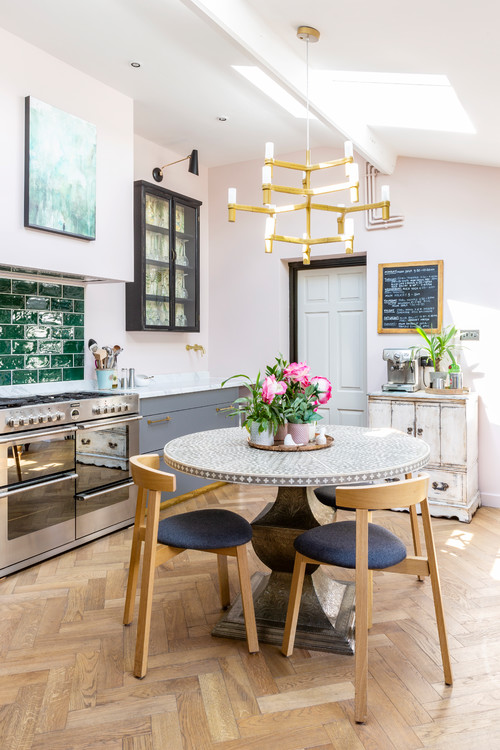 ID# 136711 | Houzz.com – Credit | © Completion Interior Design & Architecture
---
Marble Countertops and Gray Flat-Panel Cabinets
The shabby-chic design look is complemented by a green ceramic cottage tile backsplash! The pop of green welcomes you creating an elegant harmony with the brass details. The light wood furniture, floors, and accents combine with the brass hardware enriching the kitchen with a luxurious touch.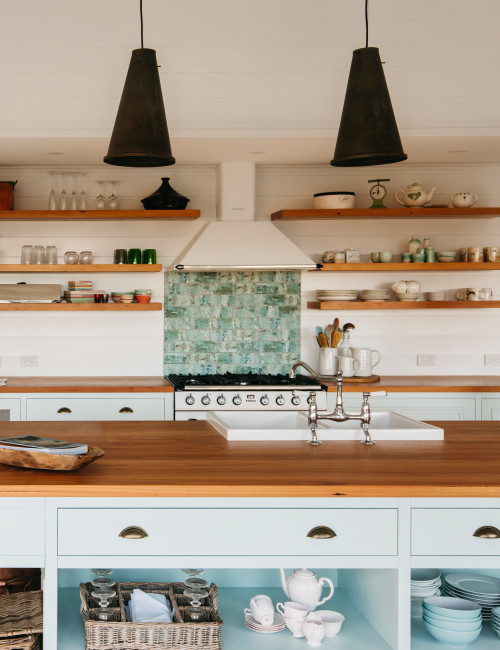 ID# 136712 | Houzz.com – Credit | © Rettke Builders
---
Beach Breeze with a Ceramic Cottage Kitchen Backsplash and Butcher Block Countertops
The white shiplap wall and backsplash are accentuated by the blue ceramic cottage kitchen backsplash. Thanks to the aesthetic contrast between the timber wood countertops and the light blue ceramic backsplash behind the stove, the kitchen has both a warm summer atmosphere with a fresh look. The black accents and the bronze hardware provide a contrasted look with a stylish appeal.
Stone Cottage Kitchen Backsplash
One of the best options for a kitchen backsplash among all the options is a stone cottage kitchen backsplash. They provide character to the central area of the house and are beautiful and sturdy. Stone is the perfect material for a stunning kitchen backsplash since nothing makes a more blatant statement. A stone cottage kitchen backsplash may be created using a variety of materials, including stone slabs and stone tile. There won't be a shortage of ideas to implement, with designs ranging from rigidly geometric to freeform fluidity. Stone is undoubtedly superior to other materials, and the long-term effects of a stone backsplash should not be disregarded.
Stone backsplashes make excellent backsplashes because they are both aesthetically pleasing and long-lasting. And with the right approach, you may preserve their breathtaking beauty for years to come. Try installing a stone cottage kitchen backsplash in your kitchen to bring in some natural appeal. Check out these wonderful backsplash suggestions for the kitchen of your dreams!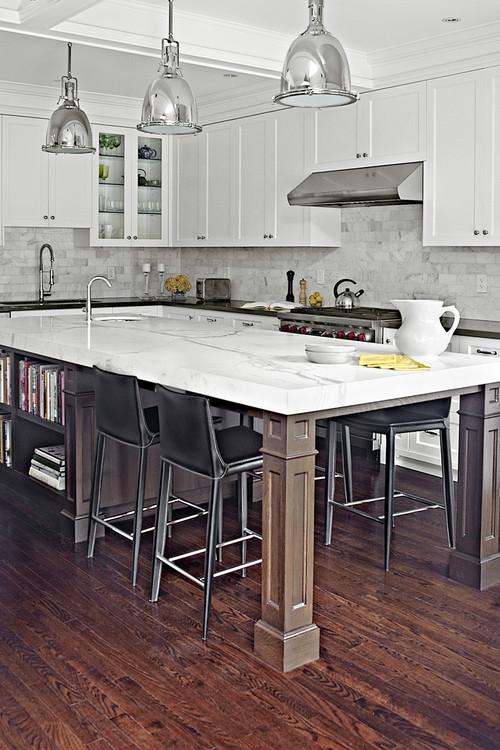 ID# 136713 | Houzz.com – Credit | © Palmerston Design Consultants
---
Marble Countertops and a Gray Stone Backsplash Design with Tiles
Traditional kitchen design elements are enriched by the gray stone cottage kitchen backsplash tiles. The stone tiles and the marble countertops complement each other creating an expensive look in the kitchen's environment. Thanks to the dark wood kitchen floors and the island there is a natural contrast and harmony between the dark wood surfaces and the white color palette.
Natural Stone Mosaic Tiles
What backsplash goes with a cottage-style kitchen?
We can recommend white-painted exposed brick backsplashes and wood shiplap or beadboard designs for a backsplash design for a cottage-style kitchen. White color is timeless and versatile, you can use stone tiles, too. The natural surface and texture feel complement the cottage-style kitchen's overall design look.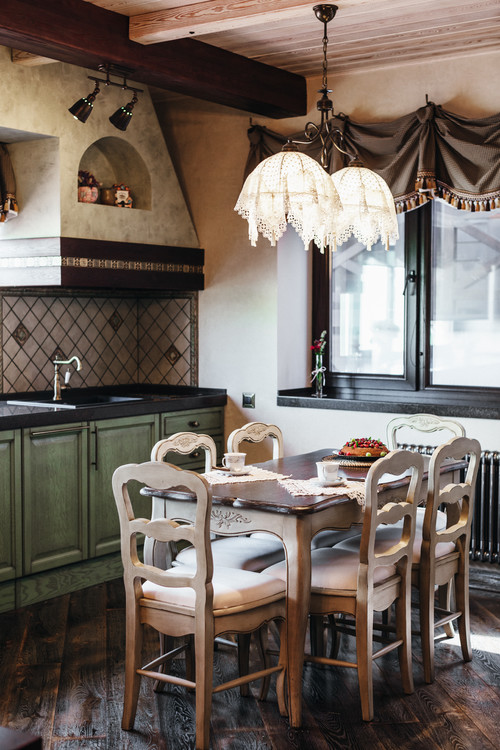 ID# 136714 | Houzz.com – Credit | © Natasha Pushkina
---
Country Design with Black Countertops and Green Cabinets
The rustic details and materials meet with a stone cottage kitchen backsplash design! The simple diamond layout of the stone square tiles creates a harmonious appeal with the black countertops and the green kitchen cabinets. Using an under-mount sink is a terrific idea to keep up the wide look without any disruption. The natural rough surfaces provide ultimate naturality and a familiar atmosphere.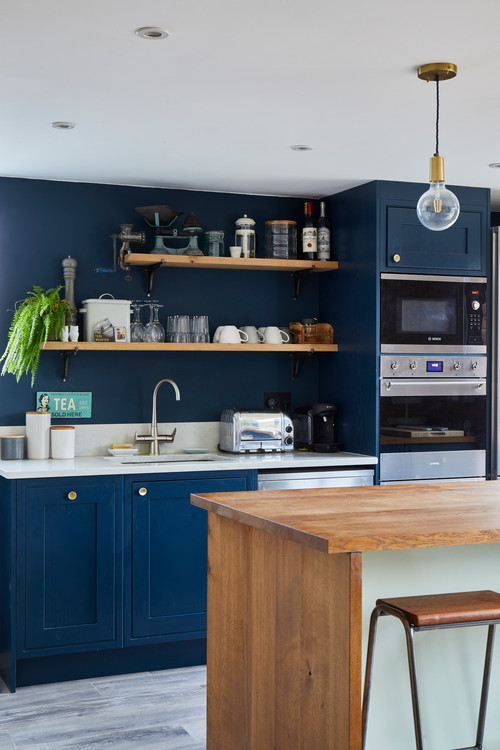 ID# 136715 | Houzz.com – Credit | © NK Living
---
Blue Shaker Cabinets with White Countertops and a Stone White Backsplash Design
The dark navy blue cabinetry design is enlightened by the white stone countertops and short stone slab backsplash. Thanks to this harmony there is a fresh beachy look! The stylish contrast between the wood surfaces and the navy blue cabinetry design stands out. While the brass hardware and accents provide a luxurious look, they also combine with the light wood surfaces creating a harmonious appeal.
Wood Cottage Kitchen Backsplash
Wood is a natural material that may be utilized for a variety of kitchen applications, including cabinets and wall cladding. What about the backsplash, though? A wood cottage kitchen backsplash may provide a touch of organic warmth and improve the kitchen's appearance thanks to its natural attractiveness. You could worry about the wood's resilience, though. Wood is not the most resilient material, yes. It is combustible, porous, and may absorb liquids. However, with careful care and sealing, the wood cottage kitchen backsplash may retain its new appearance for many years.
A wood backsplash works with many design styles and provides to make a large impression due to the natural textures and grains, regardless of your kitchen's style being modern or rustic, classic or contemporary. Rough wood surfaces work better to offer a rustic appearance, but polished woods are ideal for adding a cozy yet fashionable impression. Scroll down to uncover the wood cottage kitchen backsplash design if you're looking for more details.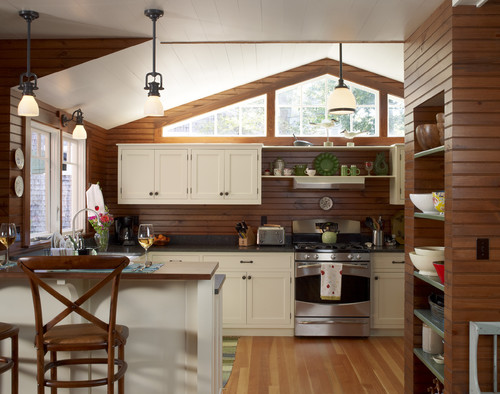 ID# 136716 | Houzz.com – Credit
---
The Perfect Harmony with White Cabinets and a Wood Cottage Kitchen Backsplash
The shiplap wall design of the entire kitchen is enriched by white and wood harmony. The wood backsplash design makes the kitchen look wider thanks to the horizontal lines. The white kitchen cabinets stand out in front of the wood backsplash wall while the black countertops balance the striking harmony.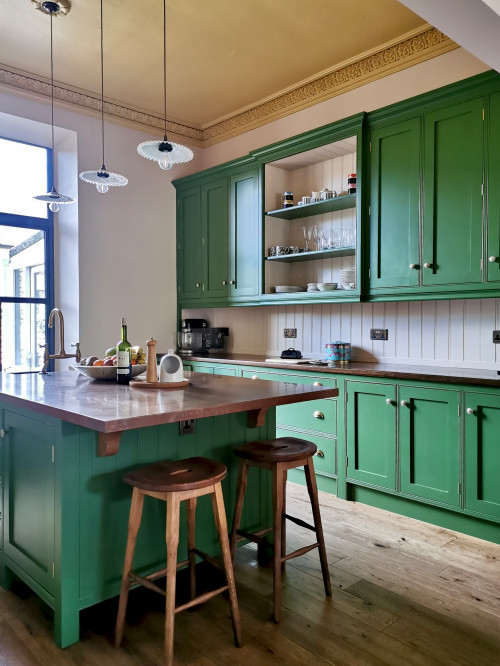 ID# 136717 | Houzz.com – Credit | © Making Spaces
---
Green Shaker Cabinets and Dark Wood Butcher Block Countertops
The pinky hue of the wood backsplash draws all the attention! The pop of colors in this kitchen provides a retro yet stylish look with a natural atmosphere. The dark wood butcher block countertops and the green shaker cabinetry design stand out with their natural harmony. Thanks to the light hue of the wood backsplash design, the colorful kitchen cabinetry is enlightened beautifully.