32+ White Cabinets with Dark Countertops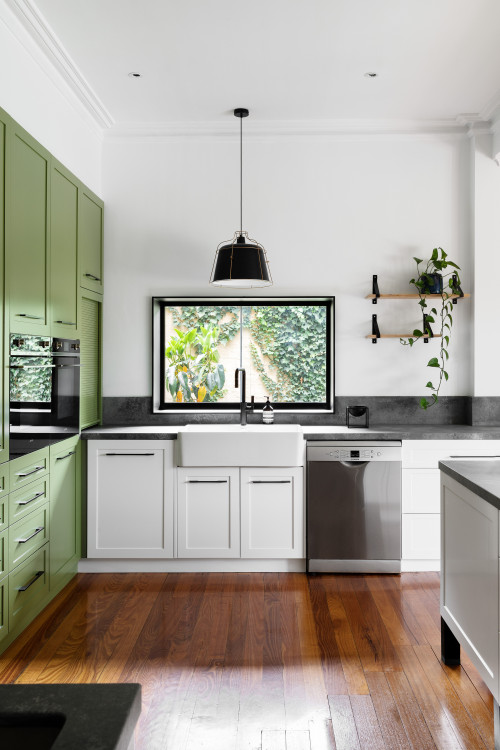 ID# 147501 | Houzz.com – Credit | © Peter Schaad Design Studio
---
Two-Tone Joinery with Black Countertops and Butler Sink
The juxtaposition of different colors pays off in this modern kitchen in Melbourne that sits in an open conversation with the garden thanks to the picture window. Translating the outdoor view into green full-height cabinets, kitchen plants, and timber floating shelves, it pays tribute to its local context. In the rest of the room, the white-painted walls enhance the openness, while the honed black countertops with the 4-inch standard backsplash introduce solidity. And finally, the white fireclay butler sink takes this modern kitchen back to its farmhouse roots.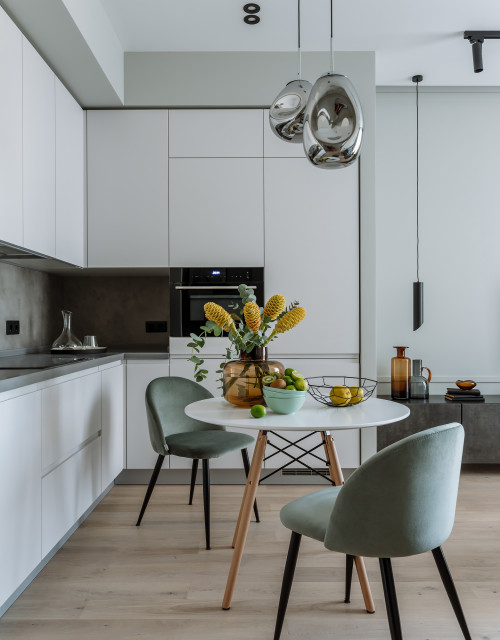 ID# 147524 | Houzz.com – Credit | © Ксения Коновалова
---
White Cabinets with Dark Countertops and Statement Pendants
The soft color palette restores this contemporary kitchen to its refined lines characterized by white flat-front cabinetry and seamless slab backsplash that continues on the countertops. The muted green dining stools paired with a white rounded table create a cozy spot to enjoy meals. The irregularly-shaped glamorous cluster pendant overhangs this seating spot, also commanding attention to the center of the room.
White Cabinets with Dark Countertops
When it comes to cabinet and countertop combinations, there is a plethora of ways to create eye-appealing compositions. And white cabinets with dark countertops are only one of them which have proven themselves as a timeless aesthetic design and a true classic.
Whether you prefer to go with gray, brown, or black for dark countertops, each dark shade comes with a world of its own, creating expressive and engaging designs with white cabinets. You can also experiment with the cabinet styles to change the overall feel of the kitchen, not to mention the backsplash options. Here, we compiled a rich list of white cabinets with dark countertops with a focus on color options, cabinet styles, and backsplash designs. Read on to explore 30+ kitchen designs that will ignite your imagination.
Dark Countertop Colors for White Kitchen Cabinets
Dark countertop colors for white kitchen cabinets include brown, gray, and black. Depending on the look you aim for, you can choose accordingly. For example, for a sense of earthliness, you can go with dark countertops that create non-contrived natural connections without ending up with a rustic look. By contrast, the white-and-black visual schemes build striking divisions within the same space, which might help play with the scale of the room. If you have a small space, with a rigorously proportioned white and black scheme, you can play with the dimensions of the room, at least in visual terms.
White Cabinets with Dark Gray Countertops
Popular in transitional kitchens, white cabinets with dark gray countertops play a gentle design game. When combined with gray marble backsplashes, they create sophisticated and elegant looks. To further stylize them, you can benefit from chrome hardware, glass pendants, and even chandeliers- if you are looking for an eclectic look.
Should I get light or dark countertops with white cabinets?
White cabinets adjust themselves to any setting whether you go with light or dark countertops. So, you could do both. For example, if you love all-white and achromatic looks, you can go with light countertops that enhance openness and lightness. It is especially great for small and enclosed kitchens. But if you are after contrasting themes or aim to anchor your white cabinets, you can go with a darker countertop, be it brown, gray, or black.
White Cabinets with Black Countertops
Fond of striking contrasts? Then white cabinets with black countertops are the way to go. If you want to support and strengthen this contrast, you can also go with a black backsplash that will add depth to the backdrop. If you want to offset it slightly, sporadic wood accents and brass fixtures (faucets, wall sconces, lighting fixtures, and so on) can add to the upscale feel of the design.
What is the best color countertop for white cabinets?
In today's market, countertop color options for white cabinets are extensive, ranging from white to brown. Yet the most popular colors are white, gray, and black, the best countertop color depends on the aim you look for. For example, if you want something with texture and warmth, butcher block countertops are the route to go. For contrast lovers, dark gray and black countertops make great additions to white cabinets.
White Cabinets with Dark Brown Countertops
Dark brown countertops and butcher block countertops add earthliness to the white cabinets. And they especially suit Scandinavian, country, modern, and beach-style kitchens, bringing the warmth out of the white cabinets. This way, you can avoid striking black-and-white contrasts and trade them with heartwarming looks.
White Cabinet Styles
White cabinet styles encompass shaker joinery, slab-front, beadboard, glass-front, and raised-panel cabinets. While shaker cabinets go well with any kitchen setup, slab-front cabinets are generally associated with modern and contemporary kitchens. Beadboard cabinets, like shakers, also can go well with many looks, including the farmhouse, modern, and contemporary. As for the raised-panel cabinets, they are mainly preferred by traditional kitchens, whereas glass-front cabinets suit beach-style and transitional kitchens particularly.
White Shaker Cabinets with Dark Countertops
White shaker cabinets are one of the safest options that you can choose for your kitchen. They adjust to any kitchen style. Even if you want to switch your transitional kitchen into a contemporary kitchen, you won't have to change your shaker joinery ( unless it feels old). The contrasting themes are also popular with this cabinet style. For better coordination, if you wish, you can also punctuate them with black cabinet handles.
What color of cabinets goes with dark countertops?
White, light gray, gray, black, brown, and wood cabinets go well with dark countertops. Dark-on-dark can create immersive and impactful looks, which you can jazz up with brass hardware and beige backsplashes. All that you need to pay attention to is whether your kitchen receives enough sunlight for you to go with dark cabinets with dark countertops. But if you want something more natural, dark brown or butcher block countertops pair perfectly with white, cream, and off-white cabinets.
White Flat- Panel Cabinets with Dark Countertops
Flat-panel or slab-front cabinets provide streamlined and sleek looks, featuring no hardware most of the time. They are favored by Scandinavian, minimalist, and contemporary kitchens as they propose decluttered lines with a sense of essentialism. You can combine them with any countertop color, including dark gray, brown, and black countertops that ooze drama.
White Raised- Panel Cabinets with Dark Countertops
The classic and elegant look of the white raised panel cabinets can easily elevate any kitchen design. White raised-panel cabinets with dark countertops can give any kitchen a traditional spin. But nowadays, some contemporary kitchens keep them handle-free and use them as part of their contemporary design. Scroll down and check these stunning combinations.
Backsplash Options for White Cabinets with Dark Countertops
From the V-groove and shiplap panels to ceramic tiles, marble slabs, glass sheets, and geometric-patterned printed tiles, white cabinets with dark countertops go with a wide range of backsplash options. For example, if you have a country or farmhouse kitchen, V-groove panels serve the farmhouse vibes well. If you wish, you can even paint them any color you like to create a more intimate look. Modern, contemporary, and beach-style kitchens, on the other hand, favor glass sheets. Scandinavian and contemporary kitchens prefer geometric-patterned tiles. Also, when deciding on a backsplash, it is important to decide what kind of finish you prefer. If you love luxurious and shiny, clean looks, polished finishes are better. Plus, the gloss finish surfaces are easier to clean. But if you prefer more natural looks, you can match your honed dark countertops to a matte finish backsplash.
What backsplash goes with white cabinets and dark countertops?
From hexagon tiles to chevron and herringbone, subway tiles, marble slabs, glass sheets, and ceramic tiles, a wide array of backsplash options are available for white cabinets with dark countertops. If you love eclectic looks, for example, you can get multi-colored geometric tile backsplashes and match them to colored stools that pop against the white-and-dark color themes.
Are white kitchen cabinets still popular in 2022?
White kitchen cabinets preserve their popularity in 2022 and will probably never be out of style since they provide clean, open, and bright interior designs. Even in pint-size and enclosed spaces, they save the space from looking too boxy. Plus, you can always enrich them by adding colorful and eye-popping complementary fixtures and backsplash designs. And when you get bored of these complementary additions, you can easily change them without creating a mess. That's why it is generally best to keep the main bones of the kitchen (E.g., cabinets) white to create a blank canvas so that you can upgrade the look as you wish over time.