32+ White Cabinets with Dark Countertops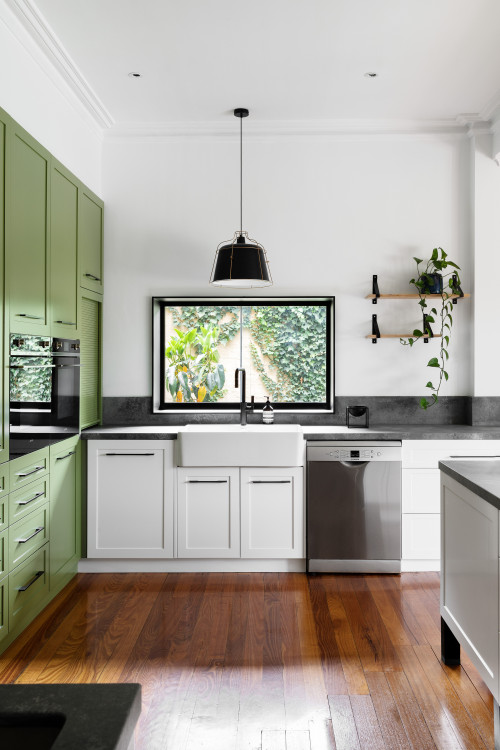 ID# 147501 | Houzz.com – Credit | © Peter Schaad Design Studio
---
Two-Tone Joinery with Black Countertops and Butler Sink
The juxtaposition of different colors pays off in this modern kitchen in Melbourne that sits in an open conversation with the garden thanks to the picture window. Translating the outdoor view into green full-height cabinets, kitchen plants, and timber floating shelves, it pays tribute to its local context. In the rest of the room, the white-painted walls enhance the openness, while the honed black countertops with the 4-inch standard backsplash introduce solidity. And finally, the white fireclay butler sink takes this modern kitchen back to its farmhouse roots.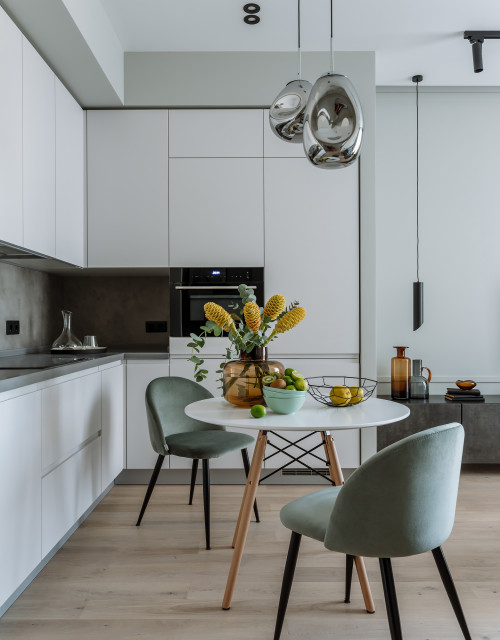 ID# 147524 | Houzz.com – Credit | © Ксения Коновалова
---
White Cabinets with Dark Countertops and Statement Pendants
The soft color palette restores this contemporary kitchen to its refined lines characterized by white flat-front cabinetry and seamless slab backsplash that continues on the countertops. The muted green dining stools paired with a white rounded table create a cozy spot to enjoy meals. The irregularly-shaped glamorous cluster pendant overhangs this seating spot, also commanding attention to the center of the room.
White Cabinets with Dark Countertops
When it comes to cabinet and countertop combinations, there is a plethora of ways to create eye-appealing compositions. And white cabinets with dark countertops are only one of them which have proven themselves as a timeless aesthetic design and a true classic.
Whether you prefer to go with gray, brown, or black for dark countertops, each dark shade comes with a world of its own, creating expressive and engaging designs with white cabinets. You can also experiment with the cabinet styles to change the overall feel of the kitchen, not to mention the backsplash options. Here, we compiled a rich list of white cabinets with dark countertops with a focus on color options, cabinet styles, and backsplash designs. Read on to explore 30+ kitchen designs that will ignite your imagination.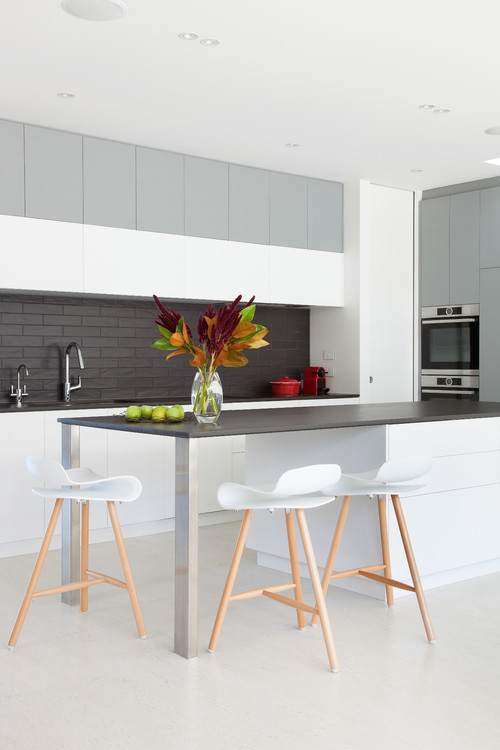 ID# 147502 | Houzz.com – Credit | © In2 Pty Ltd
---
White Cabinets with Dark Countertops and Dark Backsplash
This modern contemporary kitchen has a white and airy vibe even though the countertops and subway tile backsplash are black which creates a striking contrast with the white cabinets. But apart from those, here, the key design trick lies in the floor coating color and material that feels light and seamless that brings the necessary balance. Likewise, the gray top units and full-height cabinets add a softening shade, while kitchen gadgets and accessories bring pops of color.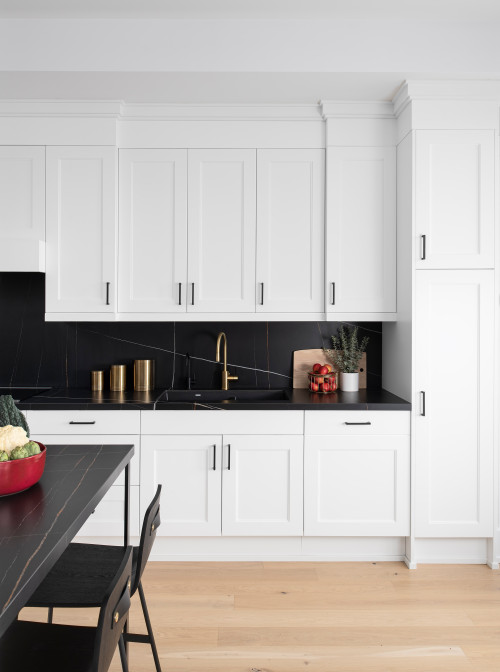 ID# 147503 | Houzz.com – Credit | © Lesley Brookes Design
---
Scandinavian Kitchen with Black Countertops and White Cabinets
This Scandinavian kitchen, like many others, is built upon the white-and-black contrast, yet with one difference. It chooses dark for the countertops and backsplash, whereas the cabinets are kept white and punctuated by black hardware to create coordination. This way, the background feels more recessed while adding further depth. The white sleek striations also spice up the look, and the brass elements add a touch of glamor for a sense of luxury.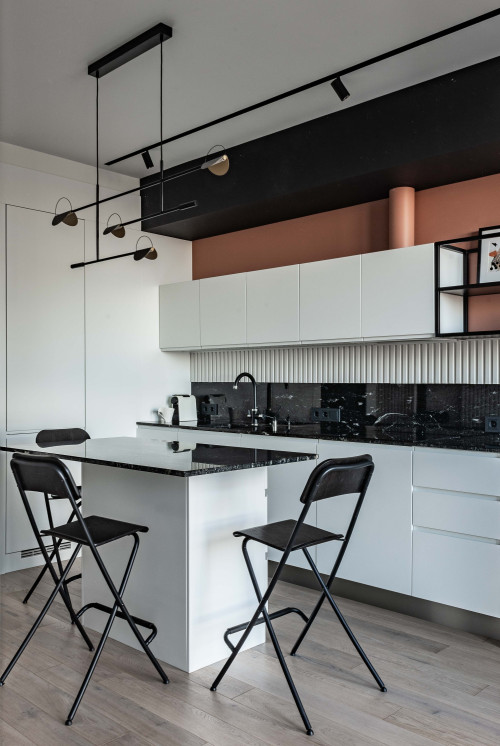 ID# 147504 | Houzz.com – Credit | © АСЯ БОНДАРЕВА
---
White Cabinets with Dark Countertops and Polished Backsplash
This small yet self-contained kitchen offers a stylish appeal. From the polished black marble backsplash to book-matching countertops, colored walls, industrial-style suspended shelves, and a row of stacked subway tiles, each element assures that this kitchen feels design-savvy enough to impress its users. The striking contrast and complementary matte and gloss finish deepen the artsy mood of the kitchen. The pinkish top of the wall adds a new dynamic. The black tracking spotlights and a contemporary chandelier overhanging the island also provide efficient lighting for the kitchen.
Dark Countertop Colors for White Kitchen Cabinets
Dark countertop colors for white kitchen cabinets include brown, gray, and black. Depending on the look you aim for, you can choose accordingly. For example, for a sense of earthliness, you can go with dark countertops that create non-contrived natural connections without ending up with a rustic look. By contrast, the white-and-black visual schemes build striking divisions within the same space, which might help play with the scale of the room. If you have a small space, with a rigorously proportioned white and black scheme, you can play with the dimensions of the room, at least in visual terms.
White Cabinets with Dark Gray Countertops
Popular in transitional kitchens, white cabinets with dark gray countertops play a gentle design game. When combined with gray marble backsplashes, they create sophisticated and elegant looks. To further stylize them, you can benefit from chrome hardware, glass pendants, and even chandeliers- if you are looking for an eclectic look.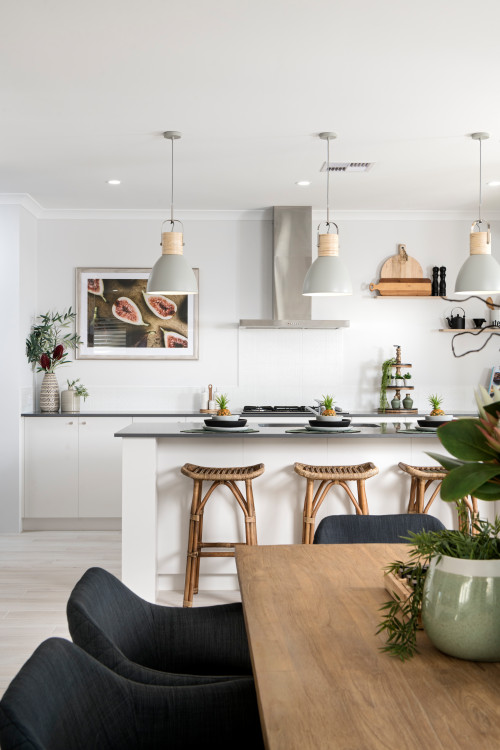 ID# 147505 | Houzz.com – Credit
---
Open Plan Kitchen with White Cabinets and Dark Countertops
This open-plan modern kitchen instills calmness in its users, thanks to its monochromatic color palette tinged with shades of gray. The stainless steel range hood, gray countertops, and light gray pendants synchronize perfectly without darkening the kitchen. Strategically placed, the island unit zones the kitchen, paired with rattan stools that add a dramatic contrast. In the background, a good-sized print of figs and other wall-mounted accessories punctures the otherwise too-blank walls, turning the backdrop into an eye-catching visual focal point.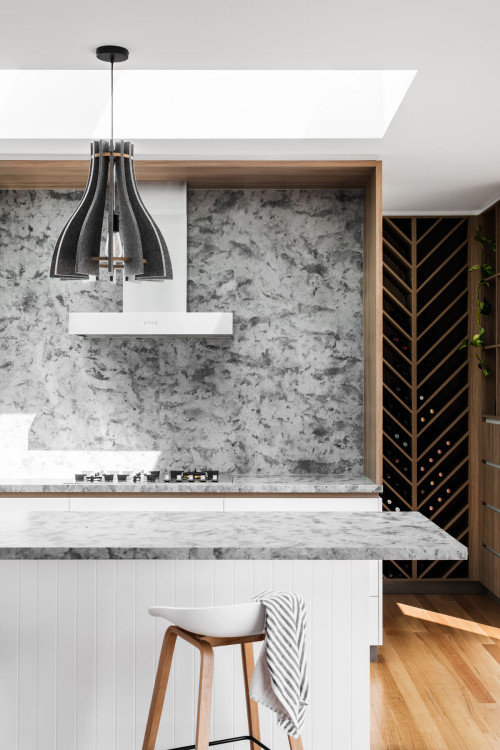 ID# 147506 | Houzz.com – Credit | © Lydia Maskiell Interiors
---
White Cabinets with Dark Countertops and Solid Stone Backsplash
This well-lit contemporary kitchen oozes elegance with its solid stone backsplash colonized by feather-looking black patterns that continue on the countertops. This way, it captures a seamless look supported by the white flat-front cabinets, while the wood frame envelops them with a sense of warmth. In the background, the timber wine cellar peeks out with shelves designed as chevron patterns to also add extra visual interest. The cubist form of the lighting fixture also commands attention, drawing eyes upward.
Should I get light or dark countertops with white cabinets?
White cabinets adjust themselves to any setting whether you go with light or dark countertops. So, you could do both. For example, if you love all-white and achromatic looks, you can go with light countertops that enhance openness and lightness. It is especially great for small and enclosed kitchens. But if you are after contrasting themes or aim to anchor your white cabinets, you can go with a darker countertop, be it brown, gray, or black.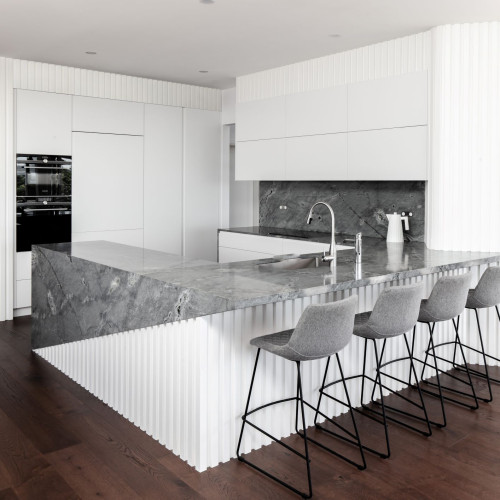 ID# 147507 | Houzz.com – Credit | © Avant Stone
---
Gray Marble Countertops and Backsplash with White Cabinets
To create luxurious and chic designs, a white and gray combination always results in satisfying looks- as proven by this kitchen. Here, the U-shaped contemporary kitchen builds a blank canvas with white flat-front joinery that creates a streamlined look. And to accompany it, it uses gray marble countertops that sit on the joinery as a cloak of sorts and also extend on the bridging cabinetry between the two arms of the U. This extension creates a breakfast bar that can host 4 people, while the polished finish adds extra elegance and communicates a sense of luxury. And one final touch comes with a dark wood floor that dramatically impacts the total look.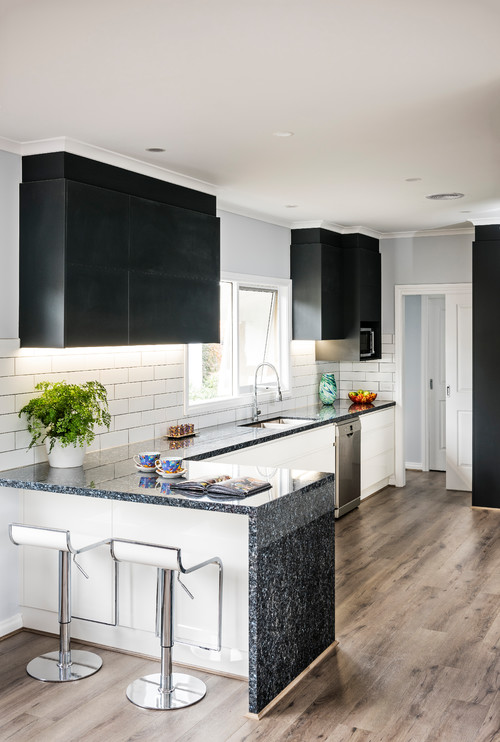 ID# 147508 | Houzz.com – Credit | © Smith & Smith Kitchens
---
Dark Granite Countertops and Subway Tile Backsplash with Two-Tone Joinery
Granite countertops that used to take part in traditional kitchens with ornate details, this time, welcome us in a more contemporary setting. Coming in black shades, they create a waterfall edge for the white base cabinetry, while the white speckles support the waterfall effect. Above it, the white subway tile backsplash and black flat-front cabinets further stylize the kitchen with modern touches. The chrome fixtures, LED-strip lighting, and parquet flooring in light earthy shades also result in a contemporary look tinged with a touch of earthliness.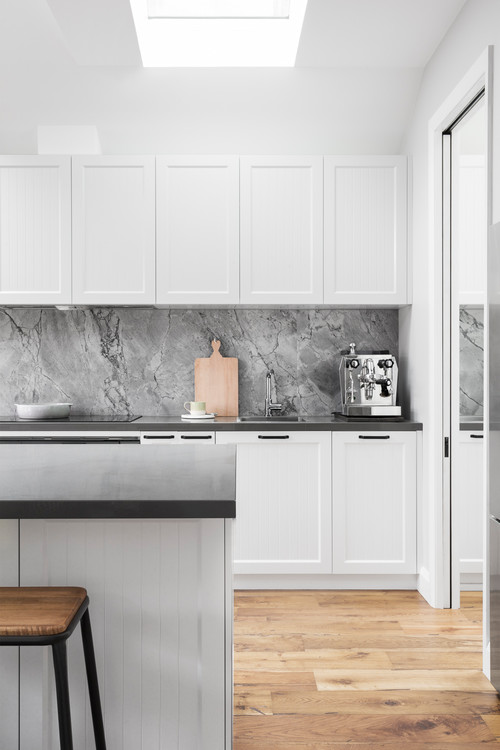 ID# 147509 | Houzz.com – Credit | © GIA Bathrooms & Kitchens
---
White Cabinets with Dark Countertops and Marble Backsplash
If you want to honor a white and gray look, go with a gray marble backsplash that is seamless and sophisticated. Plus, from a functional perspective, it is easier to clean-even though it requires regular sealing and cleaning- and is heat resistant, ensuring the safety of kitchen users. And complement it with the dark gray countertops that anchor the look and the white cabinets that play up the lightness of the kitchen. Lucky to have a skylight, the kitchen receives enough sunlight throughout the day that further warms up the kitchen along with the light wood floor.
White Cabinets with Black Countertops
Fond of striking contrasts? Then white cabinets with black countertops are the way to go. If you want to support and strengthen this contrast, you can also go with a black backsplash that will add depth to the backdrop. If you want to offset it slightly, sporadic wood accents and brass fixtures (faucets, wall sconces, lighting fixtures, and so on) can add to the upscale feel of the design.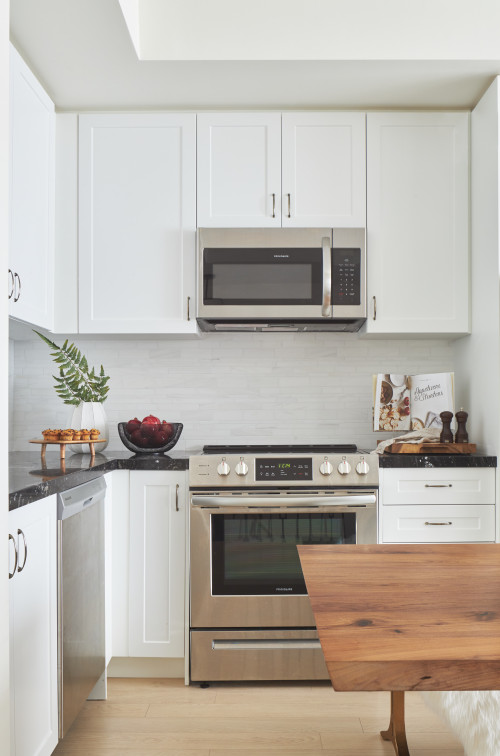 ID# 147510 | Houzz.com – Credit | © Elisse Navi Interiors
---
White Cabinets with Black Countertops and White Backsplash
This basic Scandinavian kitchen will make you feel at home immediately. It is outfitted with white cabinets and black countertops that create visual interest. The polished finish of the countertops cancels the darkening effect of the richly pigmented black shades. The stainless-steel appliances and hardware puncture the design. Right across the perimeters sits a wood-carved banquette that also highlights the Scandinavian character of the kitchen. It brings warmth, texture, and wellness, paired with a mid-century-inspired chandelier that is given a chic and contemporary form. Additionally, this island serves as a transition point while differentiating between the open-plan kitchen and the lounge area.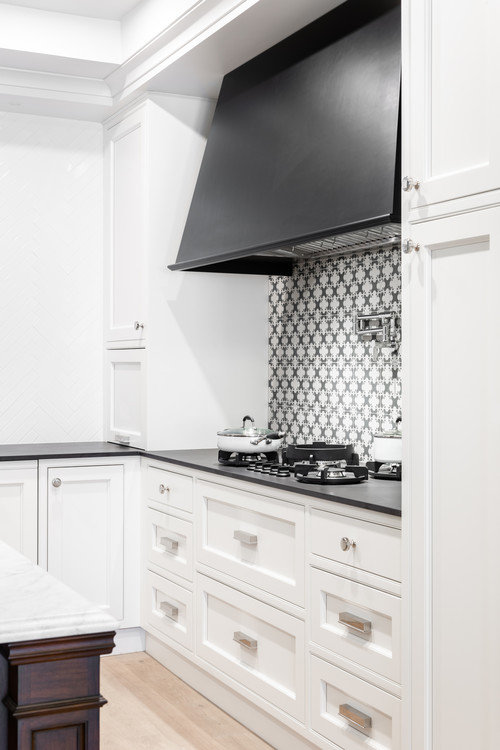 ID# 147511 | Houzz.com – Credit | © Thomas and Birch – Kitchens and Living
---
Patterned Backsplash with Black Range Hood and Countertops
We wouldn't be surprised if the house owner turned out to be a chemist since the backsplash has molecule-like patterns that bind bonds with each other. Feeling much more pronounced thanks to the white and black combination, it acts as the showstopper of this kitchen to mark the stove station. It is also flanked by a transitional black range hood and black countertops that provide a sleek setup that is balanced out with white cabinets. This shaker joinery is accentuated by chrome hardware, while the dark wood island occupies the center of the island, creating a visual drama. It also softens the white-and-black color scheme by introducing warming shades and sense-stimulating textures.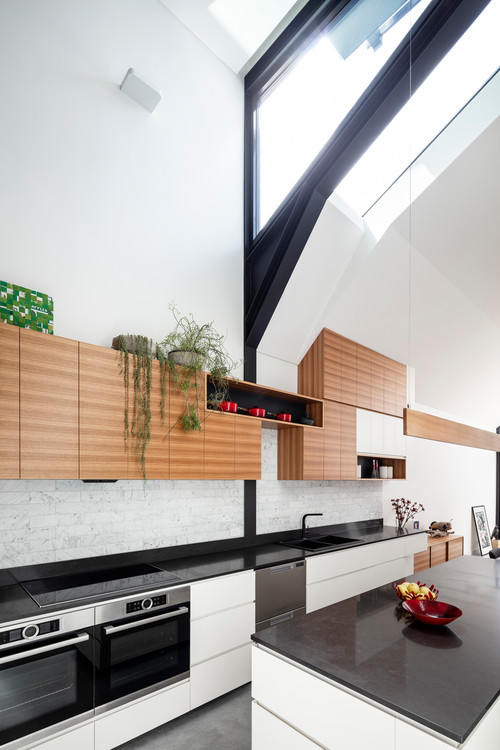 ID# 147512 | Houzz.com – Credit | © anderson architecture
---
Marble Subway Tile Backsplash with Polished Black Countertops and Concrete Floor
Blessed with a double-height space, this contemporary kitchen is bathed in sunlight, which is enough to meet this massive space's need for natural light. Here, while the industrial-style features split the kitchen's top half, the veneer upper wall units paired with a white marble subway tile backsplash and white base counters reclaim their agency on the lower part of the white-painted walls. The same veneer units also build a sense of warmth, while the cabinet shelves add further interest. To complement them, the kitchen plants distributed here and there add freshness and liveliness, and the black countertops and appliances ground the design. Furthermore, the polished finish of the countertop leaves a brightening impact on the kitchen despite its dark shade. Lastly, the soothing poured concrete floor finish and wood veneer units downplay the contrasting black and white touches, resulting in a well-balanced look.
What is the best color countertop for white cabinets?
In today's market, countertop color options for white cabinets are extensive, ranging from white to brown. Yet the most popular colors are white, gray, and black, the best countertop color depends on the aim you look for. For example, if you want something with texture and warmth, butcher block countertops are the route to go. For contrast lovers, dark gray and black countertops make great additions to white cabinets.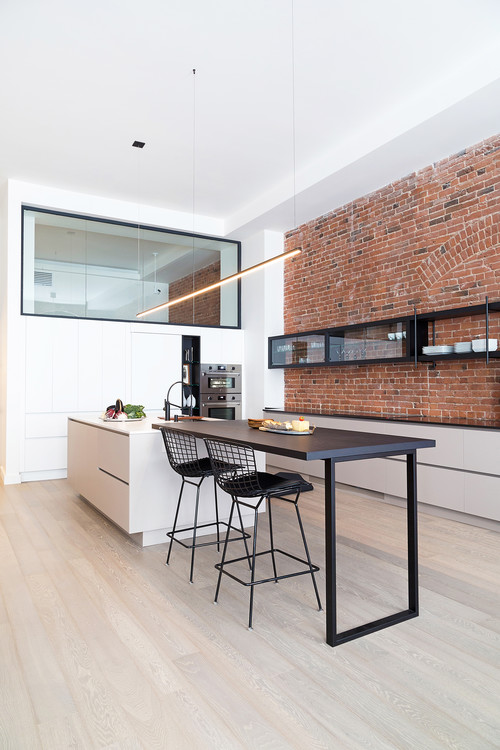 ID# 147513 | Houzz.com – Credit | © Cuisines Steam
---
Industrial Kitchen with Brick Backsplash and Black Open Cabinet
This industrial kitchen design owes its mesmerizing look to the eye-striking brick backsplash and black suspended shelves that anchor it to the space, not to mention the kitchen's high ceilings and white full-height cabinets that fade into the white walls. Yet above all, what this kitchen excels at is the way it avoids looking masculine with a muted pink island that cantilevers out to offer a seating spot. This black countertop extension coordinates beautifully with the black shelves and black countertops, while the light wood finish injects a healthy dose of warmth. The final product feels very airy and bright, offering the kind of brightness that also you wouldn't expect from an industrial kitchen.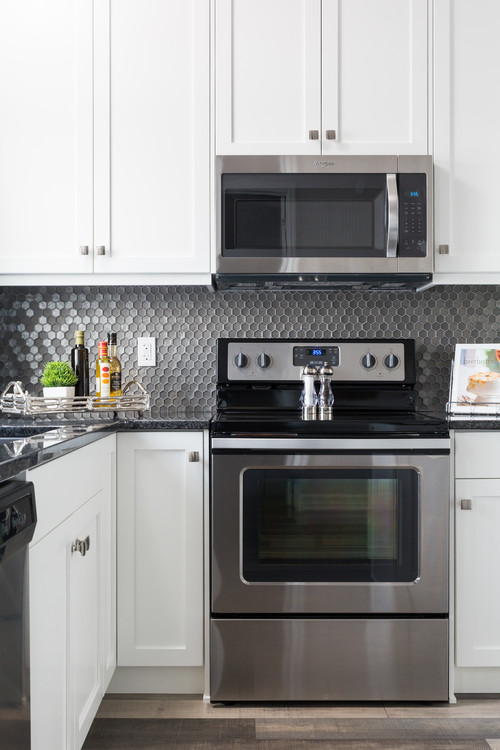 ID# 147514 | Houzz.com – Credit | © Landmark Homes
---
Gray Hexagon Tile Backsplash and White Shaker Cabinets with Black Countertops
The glittering small hexagon tiles create a visual focal point effortlessly in this modern kitchen that is founded upon the white and black contrast. Even though the small tiles mean more grout, this shimmering kitchen proves that sometimes it is worth it. As for the rest, while the backsplash sets itself apart, the rest is fitted with the white shaker joinery and black countertops to play up the backsplash's glittering aesthetic. Additionally, the sleek steel appliances contribute to the high-end feel of the interiors, while the stainless-steel hardware accentuates the cabinets to visually link them to the appliances. To finalize the look, the parquet flooring in light sandy shades carries a sense of earthliness indoors that play a soft contrast to the overall aesthetic design.
White Cabinets with Dark Brown Countertops
Dark brown countertops and butcher block countertops add earthliness to the white cabinets. And they especially suit Scandinavian, country, modern, and beach-style kitchens, bringing the warmth out of the white cabinets. This way, you can avoid striking black-and-white contrasts and trade them with heartwarming looks.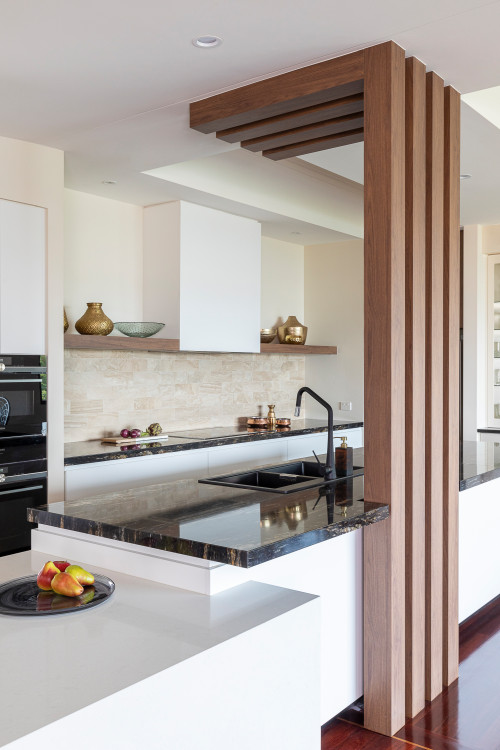 ID# 147515 | Houzz.com – Credit | © Popham Interiors
---
White Cabinets with Dark Countertops and Floating Shelf
This contemporary kitchen proposes natural connections with its light earthy color palette. From the light-cream tile backsplash to the timber linear floating shelf, brown countertops, and slatted wood features, each element delivers an earthy vibe to make the design feel more organic and approachable. Yet the chic brass and copper accessories feel luxurious rather than rustic to keep the kitchen in line with a luxurious contemporary look. In addition to them, the two-tiered island adds a layered element, offering different stations for different functions, also including a seating spot by the window.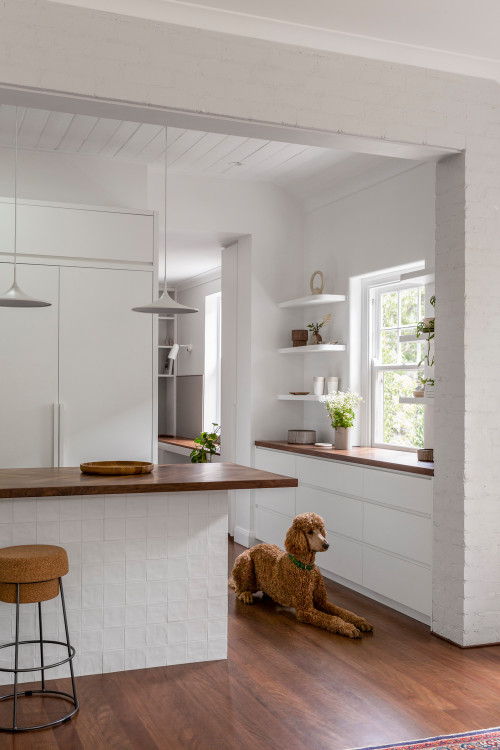 ID# 147516 | Houzz.com – Credit | © Jacqui Koska
---
Contemporary Kitchen with Brown Countertops and White Cabinets
Dark countertops don't necessarily create heavy contrasts or have a darkening effect. In this contemporary kitchen, for example, the medium-tone butcher block countertops bring out the warmth of the white cabinets and radiate organic vibes. To accompany them, the shiplap ceiling and brick walls are given whitewashing to enhance the openness and brightness of the kitchen. The island is also clad in white square tiles, paired with a trio of vintage-look pendants, and the walls are given an extra dimension with white floating shelves flanking the windows. In the resulting visual scheme, all these symmetrical placements and whitewashed features harmonize seamlessly, also restful repose for kitchen users.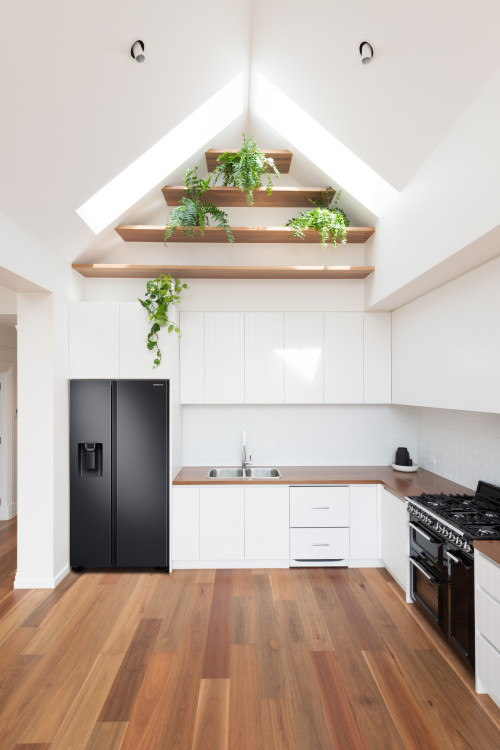 ID# 147517 | Houzz.com – Credit | © AD DESIGN DEVELOP
---
Scandinavian Kitchen with White Cabinets and Butcher Block Countertops
It feels like this enchanting Scandinavian kitchen has a treehouse of sorts mounted on the top half of the space. Placed right under the skylight, the trio of wooden shelves that form a larger triangle accommodates the kitchen plants. This way, they are exposed to direct sunlight, creating an intriguing look and turning the negative space of high-ceiling rooms into somewhere organic. In the rest of the space, the white cabinets fade into the white-painted walls. The butcher block countertops further the warming impact of the sporadic wood injections throughout. The black appliances strengthen the overall look, while the wood floor finish ties the space together. The result is a biophilic design that also realizes the main aims of the Nordic design aesthetic.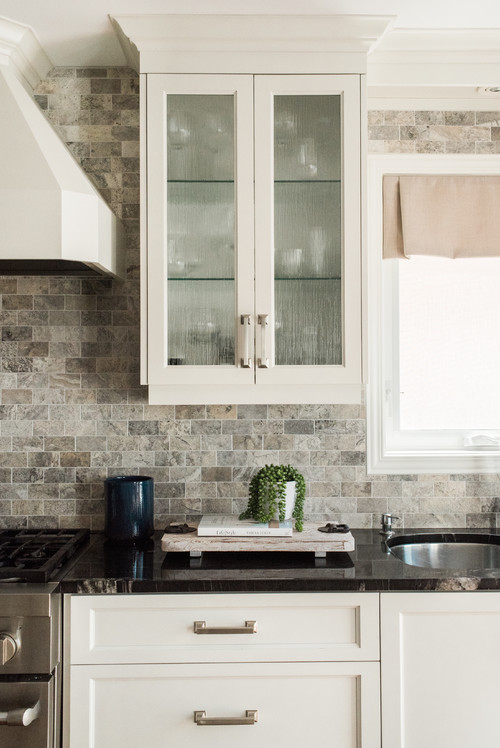 ID# 147518 | Houzz.com – Credit | © Candic Brown Designs
---
Transitional Kitchen with Reeded Glass Cabinets and Dark Countertops
Featuring a contrasting scheme without feeling contrived and over the top, this transitional kitchen has well-thought-out details which are most evident in reeded glass cabinetry and brick-look tile backsplash. This uncommon couple gives the kitchen a traditional spin, while the clean lines of the cabinetry balance it out with a sense of modernism. Taken up to the ceiling, the backsplash in light earthy shades is anchored by the brownish-black countertops and softened by an off-white range hood. Additionally, the brass hardware builds extra interest while punctuating the design at the same time.
White Cabinet Styles
White cabinet styles encompass shaker joinery, slab-front, beadboard, glass-front, and raised-panel cabinets. While shaker cabinets go well with any kitchen setup, slab-front cabinets are generally associated with modern and contemporary kitchens. Beadboard cabinets, like shakers, also can go well with many looks, including the farmhouse, modern, and contemporary. As for the raised-panel cabinets, they are mainly preferred by traditional kitchens, whereas glass-front cabinets suit beach-style and transitional kitchens particularly.
White Shaker Cabinets with Dark Countertops
White shaker cabinets are one of the safest options that you can choose for your kitchen. They adjust to any kitchen style. Even if you want to switch your transitional kitchen into a contemporary kitchen, you won't have to change your shaker joinery ( unless it feels old). The contrasting themes are also popular with this cabinet style. For better coordination, if you wish, you can also punctuate them with black cabinet handles.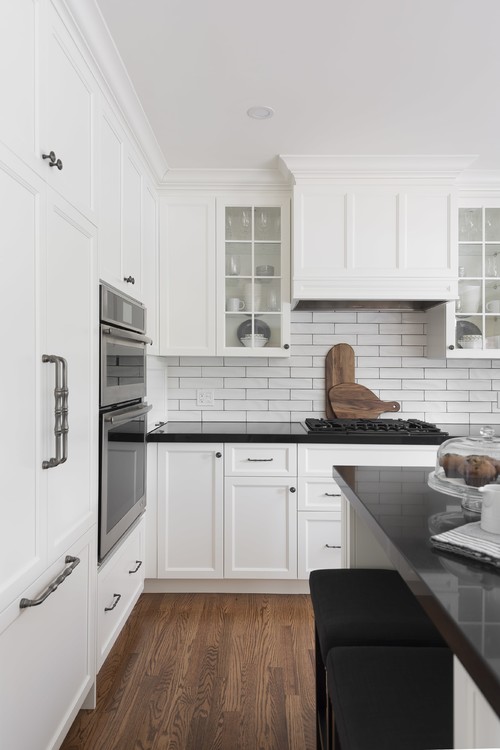 ID# 147519 | Houzz.com – Credit | © Monarch Kitchen Bath & Home
---
White Cabinets with Dark Countertops and Subway Tile Backsplash
This monochromatic transitional kitchen forms part of a French country abode, outfitted with white shaker cabinetry and polished black countertops. The subway tile backsplash pair perfectly with them to further the contrast, while display units enrich the cabinet repertoire of the kitchen. The sleek appliances and brushed nickel hardware further add nuanced details without overcomplicating the overall look. The wood floor finish and cutting boards offset the combination of contrasting shades, also delivering warmth.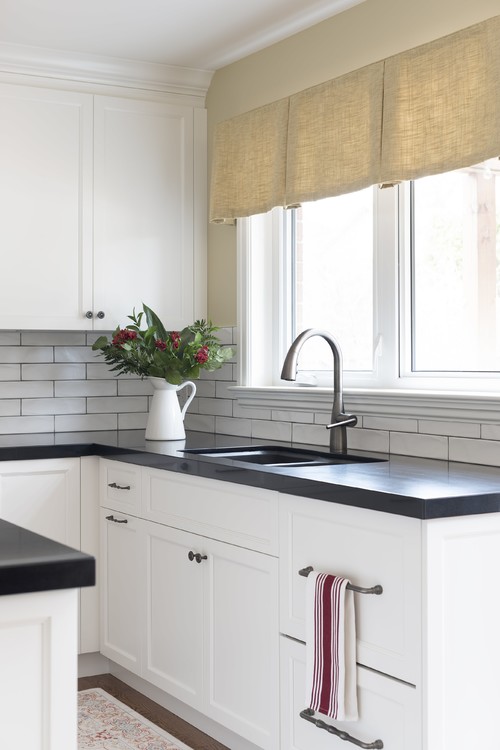 ID# 147520 | Houzz.com – Credit | © Monarch Kitchen Bath & Home
---
White Shaker Cabinets with Black Hardware and Metro Tile Backsplash
Sticking to the basics of a kitchen design, this transitional kitchen offers timeless aesthetics built upon a contrasting color palette. The white ceramic metro tile backsplash laid in an off-set pattern provides an all-time favorite splash-back, anchored by black countertops. The rest feels complete with white shaker cabinets and black hardware, while the window shades and light-colored traditional runner introduce visually and tactually comforting textures.
What color of cabinets goes with dark countertops?
White, light gray, gray, black, brown, and wood cabinets go well with dark countertops. Dark-on-dark can create immersive and impactful looks, which you can jazz up with brass hardware and beige backsplashes. All that you need to pay attention to is whether your kitchen receives enough sunlight for you to go with dark cabinets with dark countertops. But if you want something more natural, dark brown or butcher block countertops pair perfectly with white, cream, and off-white cabinets.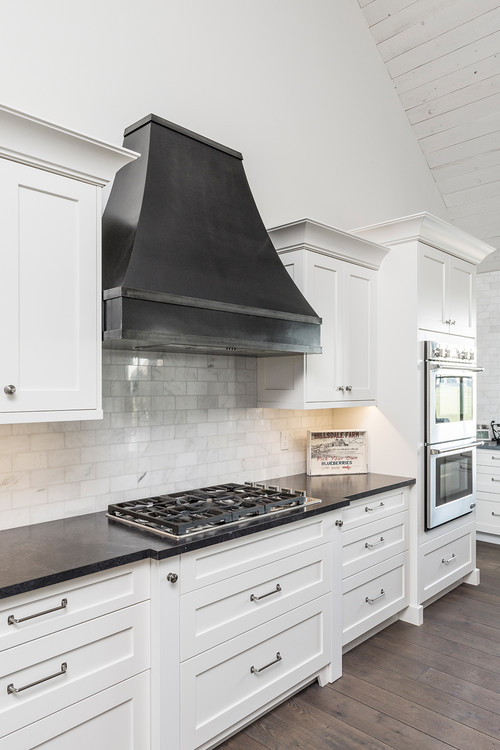 ID# 147521 | Houzz.com – Credit | © Su Casa Design Inc.
---
Polished Marble Tile Backsplash with Black Range Hood and Shiplap Ceiling
This country kitchen is classical and practical at the same time, priding itself on the polished marble subway tile backsplash that makes a statement under the sun-drenched black range hood. It is successfully decoupled from the all-white shaker cabinets via black countertops that divorce the all-white color palette. Overhead, the whitewashed shiplap ceiling provides a perfect fit for the two-colored palette, while on the floor, the dark wood finish endows the kitchen with a sense of earthliness. The under-cabinet spotlights diffuse warm white lights that create a cozy ambiance while providing task lighting for the sake of efficient working space.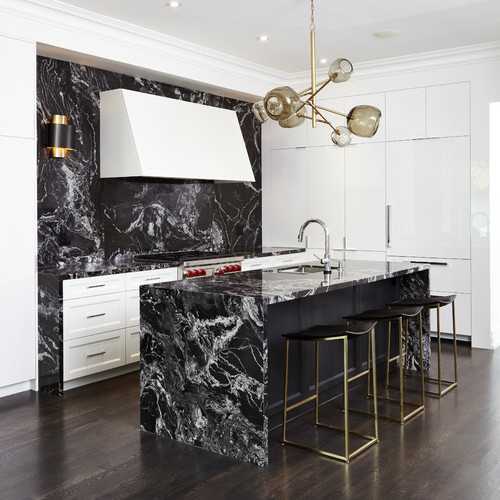 ID# 147522 | Houzz.com – Credit | © Condovate Interiors Inc.
---
Luxurious Contemporary Kitchen with Black Marble Backsplash and Countertops
This luxurious contemporary kitchen boasts a black marble backsplash and countertops defined by white pronounced patterns that deepen the artistic mood of the kitchen. Taken up to the ceiling, this spectacular backsplash is assisted by the waterfall-edge countertops that also extend on the vertical axis to create a visual continuum. By contrast, the white range hood and cabinets echo the rest of the white-dominant room. The oil-rubbed brass legs of the stools and the upgraded version of the sputnik lighting fixture stylize the kitchen and also add a touch of glamor, contributing to the upscale design of the kitchen.
White Flat- Panel Cabinets with Dark Countertops
Flat-panel or slab-front cabinets provide streamlined and sleek looks, featuring no hardware most of the time. They are favored by Scandinavian, minimalist, and contemporary kitchens as they propose decluttered lines with a sense of essentialism. You can combine them with any countertop color, including dark gray, brown, and black countertops that ooze drama.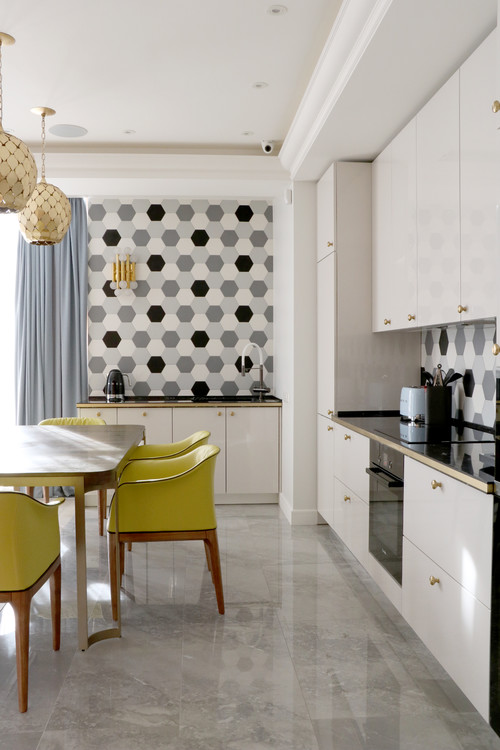 ID# 147523 | Houzz.com – Credit | © Interior designers Pavel and Svetlana Alekseeva
---
Eclectic-Contemporary Kitchen with Hexagon Tile Backsplash and Dark Countertops
If you want your white cabinets and dark countertops combination to stand apart, just add eye-catching pieces as this contemporary kitchen does. Here, this eclectic-modern kitchen goes with a multi-colored hexagon tile backsplash and takes it up to the ceiling to achieve a full impact with it. The gold lighting fixtures consisting of hexagons and yellow dining stools also pop against the white-and-black dominant background. To link these two different sections, the kitchen also goes with brass cabinet knobs and wall sconces, bringing the space together.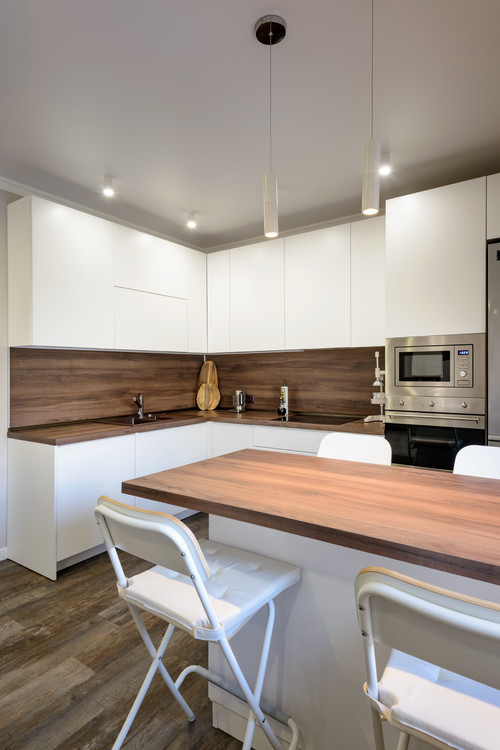 ID# 147525 | Houzz.com – Credit | © Студия дизайна "Три кота"
---
Wood-Panel Kitchen Backsplash with Butcher Block Countertops and White Cabinets
This contemporary kitchen honors the wood by using it both as a backsplash and countertop to warm up the otherwise all-white kitchen. This white and wood combination gives the kitchen also a Scandinavian edge that favors clean lines and organic touches. And this kitchen realizes all the promises of the Scandi-contemporary looks with its abundance of use of timber, sleek appliances, and streamlined cabinets while providing a new perspective on the white cabinets with dark countertops.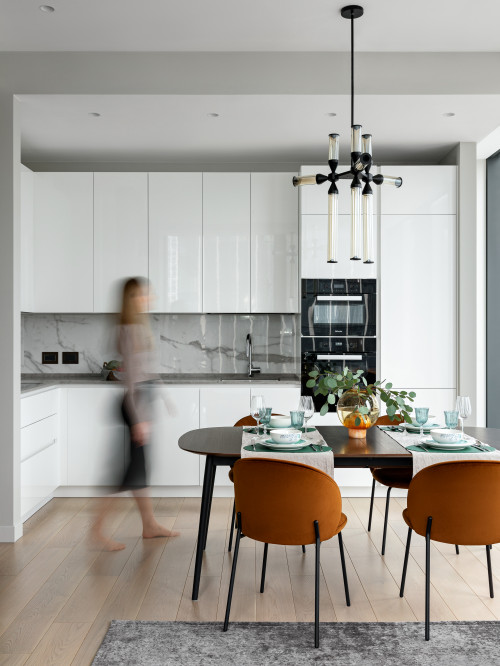 ID# 147526 | Houzz.com – Credit | © Maxim Maximov
---
White Cabinets with Dark Countertops and Marble Backsplash
Here we have another streamlined kitchen characterized by white slab-front cabinets, a polished marble backsplash, and gray quartz countertops. The gloss finish of the cabinets matches the polished surface of the marble, playing up the effect of natural lights and expanding the kitchen visually. Orange stools pop against this neutral background, while, again, a lighting fixture introduces an intriguing form, drawing eyes upward.
White Raised- Panel Cabinets with Dark Countertops
The classic and elegant look of the white raised panel cabinets can easily elevate any kitchen design. White raised-panel cabinets with dark countertops can give any kitchen a traditional spin. But nowadays, some contemporary kitchens keep them handle-free and use them as part of their contemporary design. Scroll down and check these stunning combinations.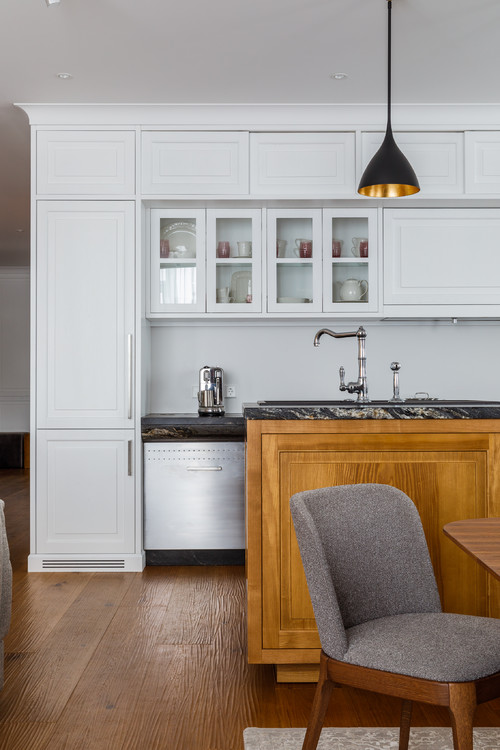 ID# 147527 | Houzz.com – Credit | © Архитектурная студия Chado
---
White Raised-Panel Cabinets with Dark Countertops and White Backsplash
Though associated with traditional kitchens, here, the raised-panel cabinets are used in a contemporary setup in a Moscow kitchen, whose pristine white shades perfect their clean look, giving them a modern treatment. Plus, it is also that hardware-free upper cabinet helps the kitchen grow in line with contemporary vibes, while the thick black countertops, ensure an intense cooking experience. This striking black-and-white scheme feels calmed down with the integration of a raised-panel wood island. Additionally, the chrome bridge faucet brings another twist to this contemporary kitchen by exposing kitchen users to nostalgia and solidifying the kitchen's bonds with traditional designs.
Backsplash Options for White Cabinets with Dark Countertops
From the V-groove and shiplap panels to ceramic tiles, marble slabs, glass sheets, and geometric-patterned printed tiles, white cabinets with dark countertops go with a wide range of backsplash options. For example, if you have a country or farmhouse kitchen, V-groove panels serve the farmhouse vibes well. If you wish, you can even paint them any color you like to create a more intimate look. Modern, contemporary, and beach-style kitchens, on the other hand, favor glass sheets. Scandinavian and contemporary kitchens prefer geometric-patterned tiles. Also, when deciding on a backsplash, it is important to decide what kind of finish you prefer. If you love luxurious and shiny, clean looks, polished finishes are better. Plus, the gloss finish surfaces are easier to clean. But if you prefer more natural looks, you can match your honed dark countertops to a matte finish backsplash.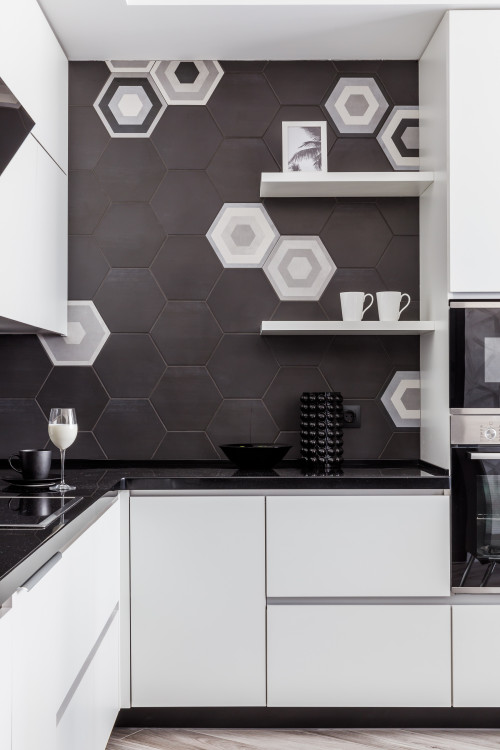 ID# 147528 | Houzz.com – Credit | © Archigram (Студия Евгении Княжевой)
---
Hexagon Tile Backsplash with White Cabinets and Black Countertops
For an eye-striking kitchen design go with a statement backsplash. This contemporary kitchen, for example, chooses an on-trend look with large hexagon tiles that clad the walls until the ceiling. They are complemented by white flat-front cabinets and black polished countertops that also echo the white-and-black color scheme of the tiles to retain the consistency design-wise.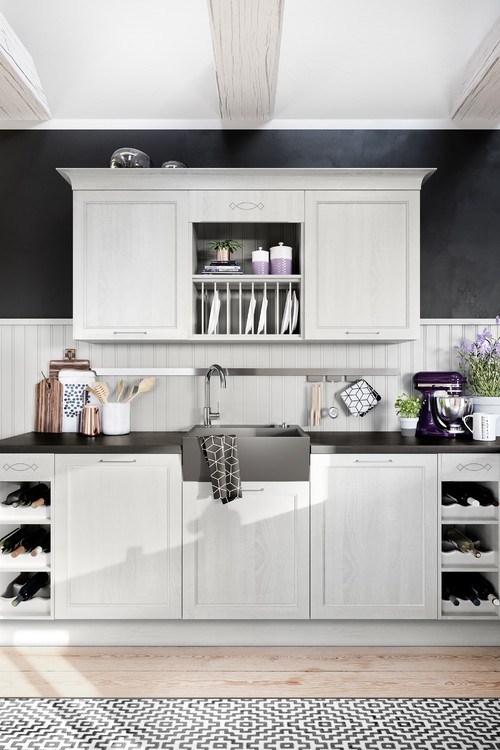 ID# 147529 | Houzz.com – Credit | © Hacker Kitchens Calgary
---
Traditional Kitchen with V-Groove Backsplash and Butler Sink
This soothing traditional kitchen skillfully brings white and black shades together. First, the kitchen is divided into two halves with a white V-groove panel backsplash and black wallpaper for the top half. The white shaker cabinetry perfectly complements them, and the cabinet shelves provide extra interest and also expose the plates and wine bottles to give that country look we love. The rest feels complete with a brushed stainless-steel butler sink, black countertops, and an oversized carpet that also partially clads the wood-coated floor, actualizing all the promises of a traditional kitchen.
What backsplash goes with white cabinets and dark countertops?
From hexagon tiles to chevron and herringbone, subway tiles, marble slabs, glass sheets, and ceramic tiles, a wide array of backsplash options are available for white cabinets with dark countertops. If you love eclectic looks, for example, you can get multi-colored geometric tile backsplashes and match them to colored stools that pop against the white-and-dark color themes.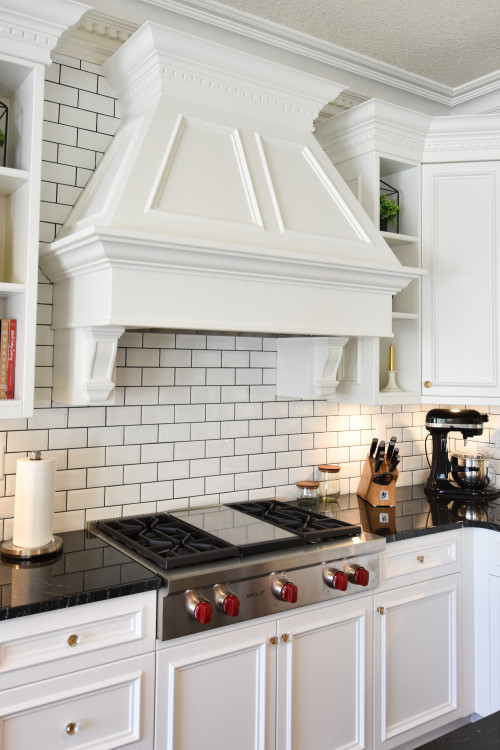 ID# 147530 | Houzz.com – Credit | © Scott Arthur Millwork & Cabinetry Ltd
---
Subway Tile Backsplash and White Cabinets with Dark Countertops
In this traditional kitchen, the highlight is the custom range hood with dentil details and stacked crown molding. It is paired with a white subway tile backsplash and black countertops. The black grout between the tiles ties the backsplash to the countertops, while brass hardware adds a luxurious vibe. The open cabinet shelves also allow homeowners to personalize the kitchen.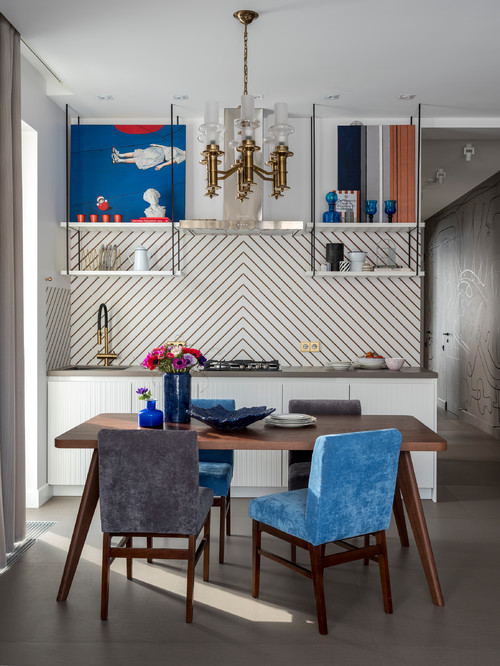 ID# 147531 | Houzz.com – Credit | © Студия Татьяны Архиповой
---
Eclectic Kitchen with White Cabinets and Dark Countertops
This eclectic kitchen ties together different elements without overwhelming them. The white paneled cabinets provide a clean and fresh look while the black patterned backsplash creates a visual illusion. The dark gray countertop creates contrast with the whites. The open shelves and artworks bring joy to the atmosphere.
Are white kitchen cabinets still popular in 2022?
White kitchen cabinets preserve their popularity in 2022 and will probably never be out of style since they provide clean, open, and bright interior designs. Even in pint-size and enclosed spaces, they save the space from looking too boxy. Plus, you can always enrich them by adding colorful and eye-popping complementary fixtures and backsplash designs. And when you get bored of these complementary additions, you can easily change them without creating a mess. That's why it is generally best to keep the main bones of the kitchen (E.g., cabinets) white to create a blank canvas so that you can upgrade the look as you wish over time.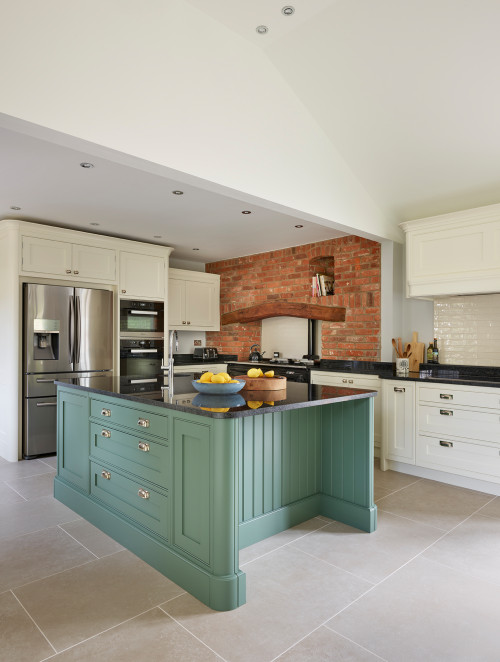 ID# 147532 | Houzz.com – Credit | © Davonport Kitchen & Home
---
White Cabinets with Dark Countertops and Brick Wall
This country kitchen feels graced with a brick wall that marks the stove zone, while the rest is outfitted with dark countertops and white cabinets. And a green island introduces a fourth color that harmonizes perfectly with the rest while not making the white-and-black contrast the protagonist of the design.