28+ Backsplash for Gray Cabinets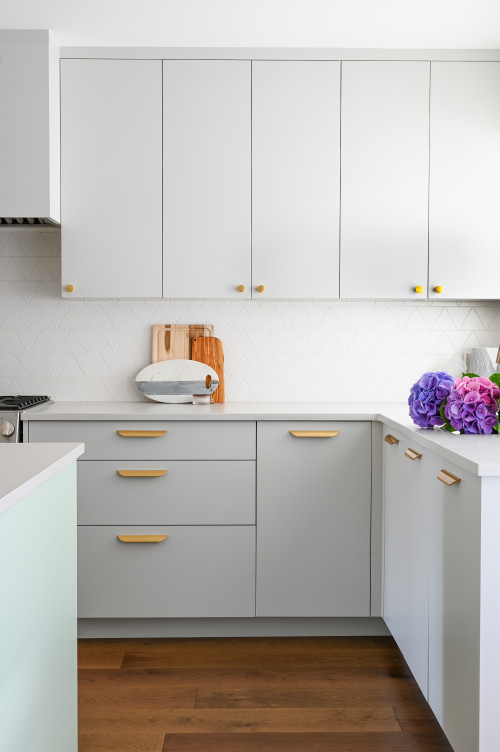 ID# 171105 | Houzz.com – Credit | © Triple Dot Design Studio
---
Geometrical Patterned Backsplash in Minimalistic Design
This minimalist kitchen is surrounded by the chic beauty of light grey cabinets! The geometric pattern of the white backsplash offers a pleasant texture between the cabinets without stealing from the minimalist style while blending with the white countertop.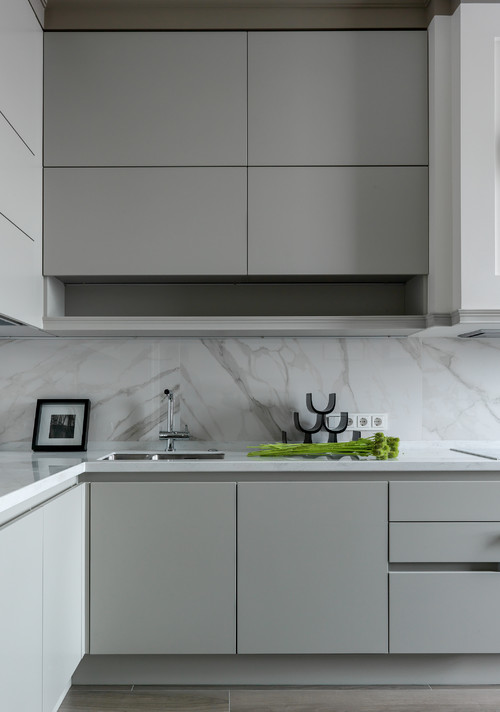 ID# 171121 | Houzz.com – Credit | © SOVA interiors
---
White Porcelain Backsplash for Light Gray Cabinets and White Countertops
This luxury-looking light gray contemporary kitchen has sleek lines. The white porcelain backsplash with gray accents complements the gray cabinets and creates a more appealing ambiance. The sleek white quartz kitchen countertop provides modest warmth when coupled with gray handle-free cabinetry. The mild gray tones complement the hardwood floor well. Simple black accents complement the kitchen.
Backsplash for Gray Cabinets
In all types of kitchens, the gray color has become one of the most preferred colors to welcome a modern update from conventional white. In the past, there could have been a more all-or-nothing attitude to kitchen color. Today's palette is more restricted, with gray kitchen designs becoming increasingly popular.
Warmer grays produce a different feel than blue-based shades of slate, for example. The tone is crucial, possibly even more so within the grey family, where warmer greys generate a different feel than blue-based shades of slate. When it comes to gray cabinet ideas, think about every surface, from the walls to the worktops and everything in between such as a backsplash. Choosing a backsplash for gray cabinets can be hard work, but do not be afraid. Since the gray color is so versatile, you can choose a backsplash for gray cabinets in popular colors such as white, blue, black, or even gray!
Thinking Every Design Element to Find the Perfect Backsplash for Gray Cabinets?
Gray is making a comeback in the kitchen renovation industry and it is a neutral hue that we use in our daily lives. Gray kitchen cabinet designs are quite trendy in today's renovation process, especially in contemporary and transitional kitchens. So, tones of gray may provide most kitchens with a professional, sophisticated style, and perhaps think of something stronger than all of your options. Thanks to the many available options, you can improve your design by choosing a stylish backsplash for gray cabinets. This versatile color will be a perfect match whether you choose a black or blue backsplash. Furthermore, gray is a timeless and sensible hue that is typically associated with sorrow or despondency. On the other hand, if you contrast with distinct hues, gray does not have its thickness level. Furthermore, gray is a sophisticated hue that is widely used by city people.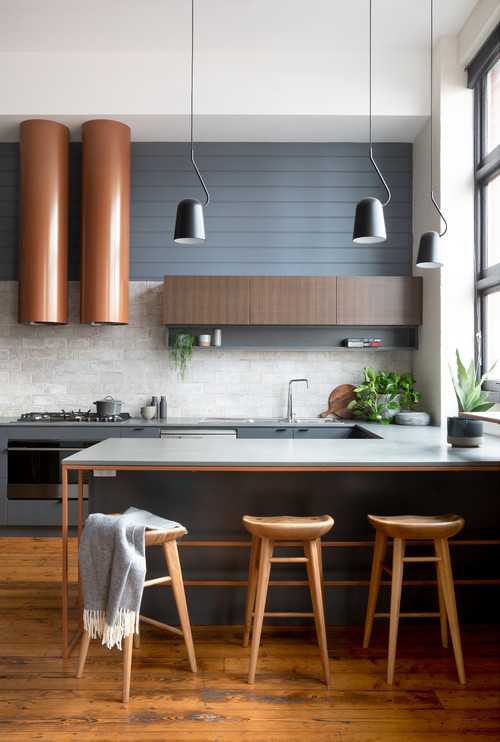 ID# 171101 | Houzz.com – Credit | © Jasmine McClelland Design
---
Stone-Look Backsplash in Industrial Kitchen
Different textures and materials perfectly come together in this modern kitchen with a touch of industrial flair! The countertops and grey flat-panel cabinets in the kitchen work very well together. The grey color scheme is combined with the dark wood upper cabinets and hardware to provide a cohesive look. Finally, the sleek range hood and stone-like subway tiles highlight the industrial design in the kitchen!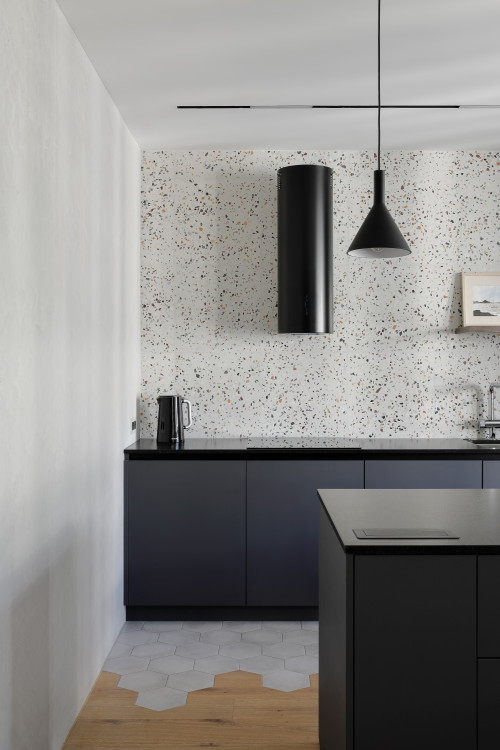 ID# 171102 | Houzz.com – Credit | © ointerior
---
Terrazzo Tiles in Dark Kitchen Design
You can stick with flat-front cabinets to add modern lines. For instance, in this modern design, the harmony created by the black countertops and cabinetry enhances the contemporary appearance. Dark cabinets warm up the overall design while providing a slight contrast. The terrazzo tiles, on the other hand, generate a genuine focal point. The black rounded range hood offers yet another stylish wall accent.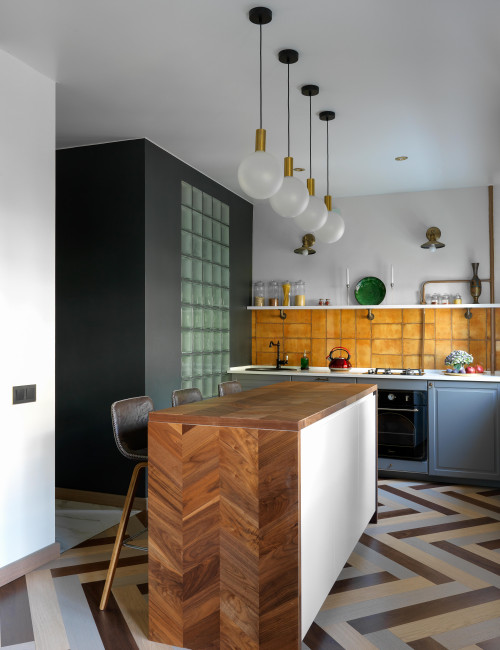 ID# 171103 | Houzz.com – Credit | © CODIA
---
Yellow Backsplash in Contemporary Kitchen
The shiny yellow tiles catch the eyes and provide a focal point while spicing up the kitchen atmosphere! The backsplash doesn't go all the way up but ends with a white floating shelf that complements the white countertop and offers a pleasant layer between the yellow tiles and the plain white wall. The island has a contemporary appearance while the accents in the kitchen give off a rustic vibe.
What color backsplash goes with gray cabinets?
The color of your backsplash is entirely up to you. A light-colored backsplash would be the finest choice if you want to create a cheerful and spacious ambiance. In this manner, you can create a continuous effect with your light countertop while also making the area feel larger, especially in tiny kitchens. If you have black or dark gray cabinets, choose neutral colors for the backsplash to complete the design. White countertops liven up gray kitchen cabinets and reflect light; therefore, a white color backsplash is a good way to balance the gray and white design. Light gray color cabinets and the white backsplash complement each other stylishly while the dark gray cabinets contrast with the white backsplash. In both shades, you can create a risk free design outcome.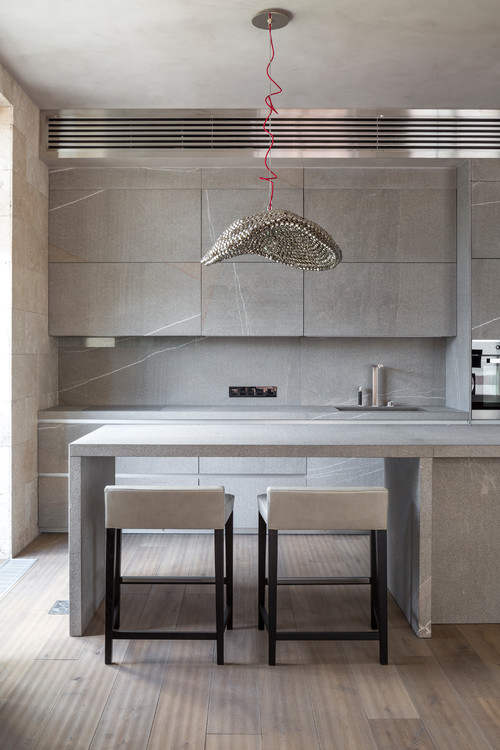 ID# 171104 | Houzz.com – Credit | © Nina Zaytseva
---
Contemporary Grey Kitchen with Glamorous Chandelier
The kitchen cabinets, backsplash and countertops have a sleek and cohesive appearance since they are all covered by an elegant gray color. This contemporary kitchen design stands as proof that even with just one color, you are able to create visually captivating interiors. Adorned by a lavish charm, the chandelier over the kitchen island attracts attention by itself!
Backsplash Colors for Gray Cabinets
Gray kitchen cabinets are a fantastic middle ground between vibrant, dazzling white cabinets and dark, ominous black cabinets. However, choosing the ideal backsplash design to complement your gray kitchen cabinets might be difficult. There are colors to think about, styles to consider, and even patterns!
Backsplash colors for gray cabinets can vary according to the material but you may consider what backsplash colors for gray cabinets will be good. Cabinets and worktops are the focal points of any kitchen, and a backsplash is a finishing touch that completes the aesthetic. A kitchen backsplash, like cabinets and worktops, is a vital component that serves both aesthetic and functional purposes. This limitless selection allows you to customize your design. The color of your cabinets and countertops are crucial factors to consider when it comes to the backsplash. We've gathered some lovely backsplash colors for gray cabinet designs in this post.
White Backsplash for Gray Cabinets
Many various backsplash designs may be coupled with gray kitchen cabinets, and gray cabinets come in a range of colors. This might easily aggravate your predicament. If you're having trouble deciding on a backsplash for gray kitchen cabinets, a white backsplash for gray cabinets can help you! Since the white color is as timeless as the gray color, they can complement each other stylishly and easily. A white backsplash for gray cabinets and white countertops can brighten up your gray cabinets and bring a fresh look. If you want to use dark gray cabinets, a white backsplash can still be on top of the list thanks to its versatility. You can have a sleek contrast with a white backsplash for gray cabinets and accentuate this contrast with the brass material to have a luxurious appeal. Let's check out some of the beautiful examples!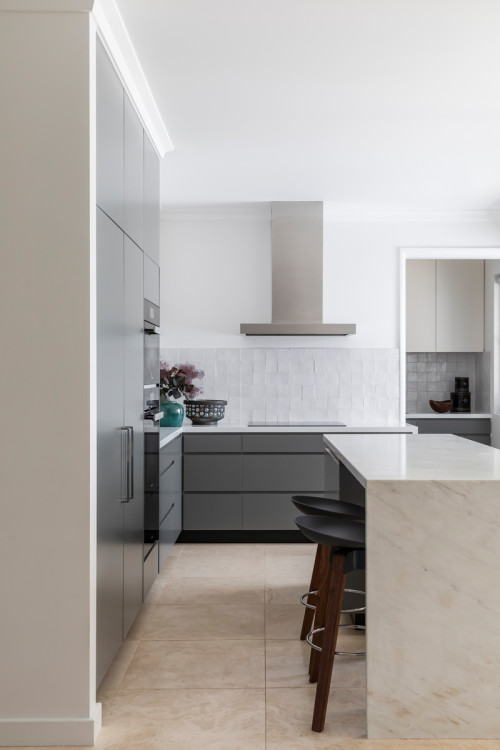 ID# 171106 | Houzz.com – Credit | © onefour interiors
---
Zellige Tiles in Modern Kitchen
This contemporary kitchen design offers luxury with its clean lines. The grey slab cabinets create a slight contrast while providing a minimalistic and modern look. The marble island also enhances the modern vibe. Not to mention the beautiful white Zellige subway tile backsplash which creates a visually appealing and dazzling background thanks to its glazed finish. The stainless steel range hood complements the overall design.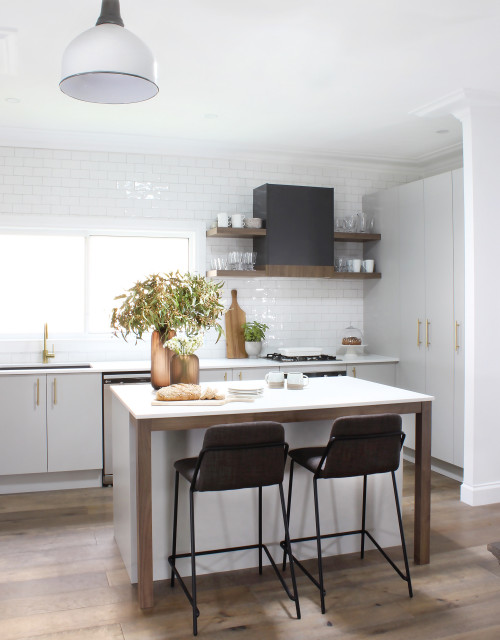 ID# 171107 | Houzz.com – Credit | © Kathryn Bloomer Interiors
---
Full-height White Backsplash with White Cabinets
A white-dominated design may be your rescuer if you desire an airy and clean atmosphere! The full-height white subway tile installation provides a continuous look and texture while the shelves and one dark top cabinet lend contrast to the modern aesthetic. The hardwood flooring also contrasts with the general white dominance of the decor. Finally, the gold embellishments elegantly finish the design!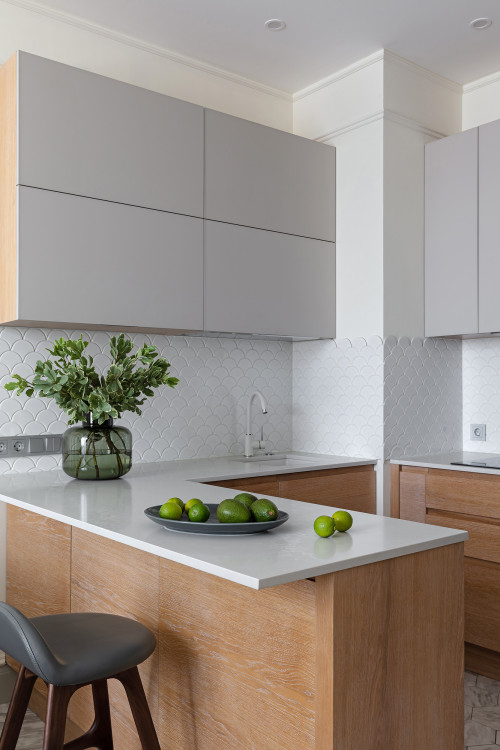 ID# 171108 | Houzz.com – Credit | © Osterman studio. Дизайн интерьеров.
---
Gray and Wood Kitchen Cabinets with White Fish Scale Backsplash
Just because you want a clean look and chose a white backsplash doesn't mean you can't add texture! The white fish scale tiles in this kitchen for example, create an excellent texture while providing a clean and bright appearance. The bright appeal of the backsplash is completed by the white quartz countertop. The light wood and gray cabinetry give the room a modern sophisticated feel and a feeling of luxury.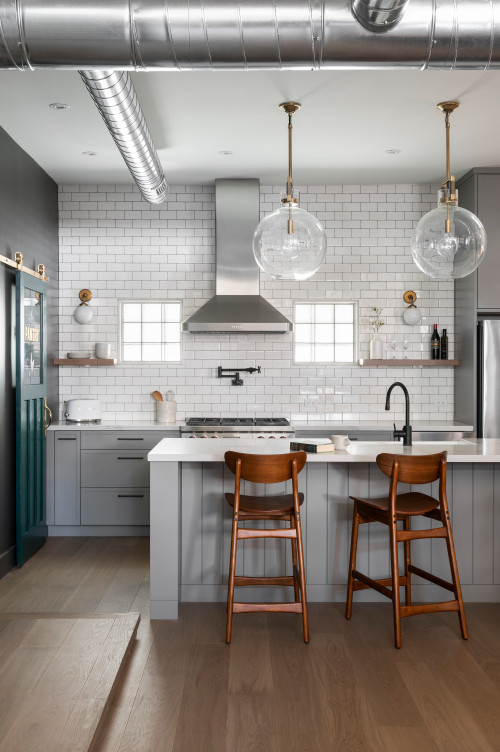 ID# 171109 | Houzz.com – Credit | © Studio Z Design
---
Full-height Backsplash in Industrial Kitchen
The full-height setup of the white subway tiles enhances the industrial charm while creating a visually appealing layout! The exposed pipes and wall tiles with a brick appearance further emphasize the industrial style. On the other hand, the industrial vibe is beautifully supported by the stainless steel range hood. Finally, the peninsula and light gray cabinets in the kitchen help to lighten the overall appearance.
What color knobs are gray cabinets?
Gray cabinetry adds a cool, clean aesthetic to any kitchen or bathroom but after debating whether a shade of gray is ideal for your project, you must also select appropriate hardware. You may be perplexed about which color knobs or handles will look best with your gray cabinets. The most popular color of hardware used with gray kitchen cabinets is silver, but many other metallic finishes work nicely as well. If you have a warm-tone gray cabinet, gold or brass drawer handles look great, especially when coupled with a matching sink faucet. Cooler gray tones or gray cabinets with a blueish undertone, look best with conventional stainless-steel hardware. Cabinets that are nearly black or dark gray look especially striking when accented with a black-finish handle. When shopping for hardware, bring a paint swatch with you to help you make judgments!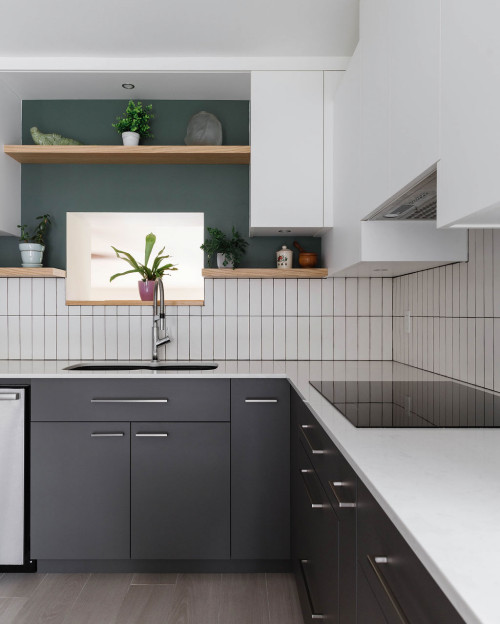 ID# 171110 | Houzz.com – Credit | © Rosa
---
White Stacked Tiles in Modern Kitchen
A clean and stylish backdrop is created by the white subway tile backsplash! The black grout contrasts with the vertical tiles and draws attention to their grid pattern to boost the contemporary look. White worktops, upper cabinets and backsplash match along beautifully. Contrast is created by the dark cabinetry. Floating wooden shelves enhance the modern vibe while adding warmth to the overall design.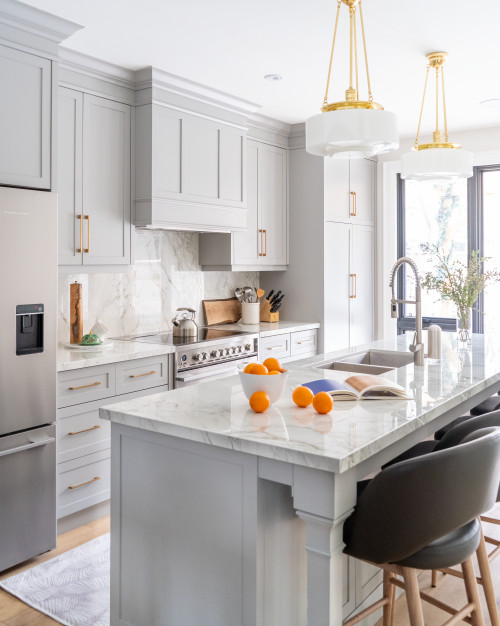 ID# 171111 | Houzz.com – Credit | © Alair Homes Lorne Park
---
Transitional Kitchen with Marble Countertop
This gorgeous transitional kitchen design screams elegance! The kitchen has a sophisticated, traditional feel thanks to the shaker cabinets with brass accents. On the other hand, the modern and lavish atmosphere of the design is enhanced by the marble backsplash and countertop. Additionally, The marble countertop and backsplash also offer a continuous look between the cabinets.
Gray Backsplash for Gray Cabinets
A gray kitchen is a great choice if you want a kitchen that transcends fads and is extremely flexible. And choosing the proper backsplash for a gray kitchen will help establish the tone while also ensuring that the design meets your needs! What about a gray backsplash for gray cabinets? A gray backsplash has the same advantages as gray cabinets: it's neutral appears professional and is entirely adaptable! Use a lighter hue to counteract your darker cabinets, or use gray tiles in a similar tone to your cabinets and integrate white tiles to create depth and textures. You can go neutral and bring the beautiful designs to come to life!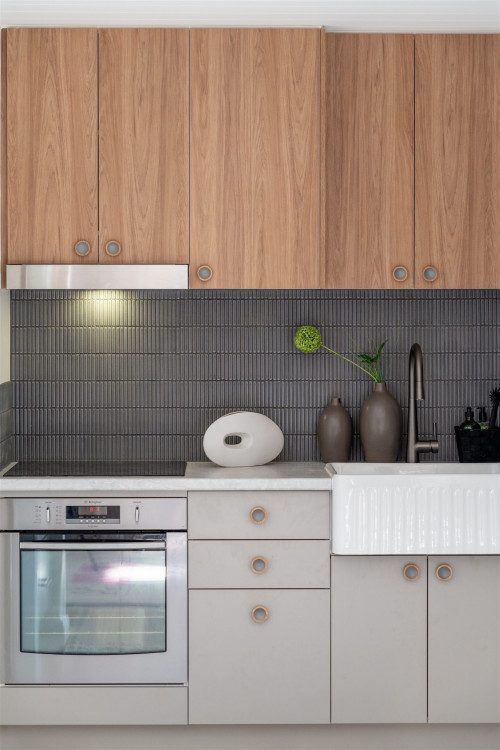 ID# 171112 | Houzz.com – Credit | © Annette Pust Design Studio
---
Scandinavian Kitchen Design with Dark Backsplash
Welcome to this charming kitchen, where a soft color scheme delivers a welcoming atmosphere. Not all homes have spacious, airy kitchens. Thankfully, a functioning kitchen does not require an enormous area. For instance, the cabinets in this Scandinavian kitchen are adorned with a modern, flat panel design that seamlessly matches the room's simple, minimalist style. Additionally, the space is made cozier thanks to the wooden upper cabinets. The sink boosts the contemporary feeling. Last but not least, the gorgeous dark backsplash enhances the entire design while creating a subtle contrast.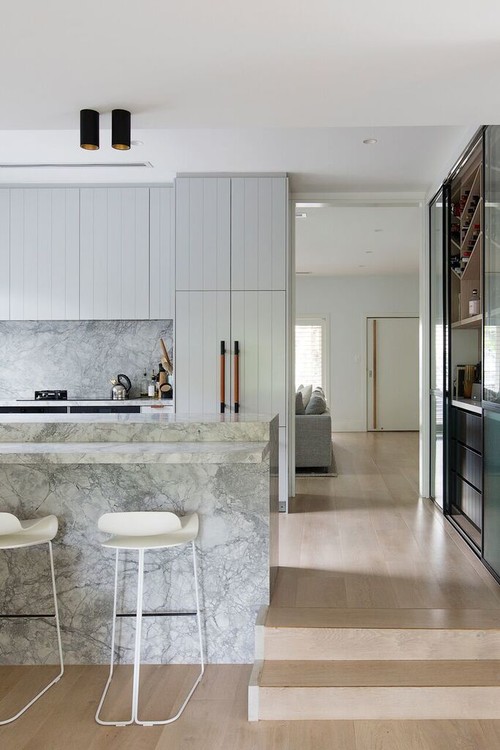 ID# 171113 | Houzz.com – Credit | © iSpace Solutions
---
Beach Style Kitchen Design with Grey Marble
The grey marble backsplash and island take the attention in this beach-style kitchen. The grey backsplash and the countertops offer a continuous look with grey cabinets in this monochromic design. The marble backsplash and countertop also provide an elegant look, while the details on the cabinets bring a beachy atmosphere to the kitchen. The light wood floors, on the other hand, make the space warmer while helping the grey-dominated kitchen design to pop up.
ID# 171114 | Houzz.com – Credit | © Hart Builders Pty Ltd
---
White Kitchen Design with Black Stools
The white flat cabinets' stylish and clean design enhances the modern mood while the backsplash provides texture to this monochrome kitchen. This wonderful, modern kitchen also boasts a lovely white island that fits in and offers a unified appearance. The trendy black stools give movement and contrast to the overall design, while the oak floors warm up the color palette.
Black Backsplash for Gray Cabinets
You may use gray to give your kitchen a little warm feel without it conflicting with the rest of your decor because it is versatile and neutral. For a sleek style, go with a black backsplash and gray cabinets. For a more modern appearance, go with a black backsplash, black counters, and gray cabinets. By opposing stainless steel or metal, a black backsplash for gray cabinets promotes harmony and coherence in your room!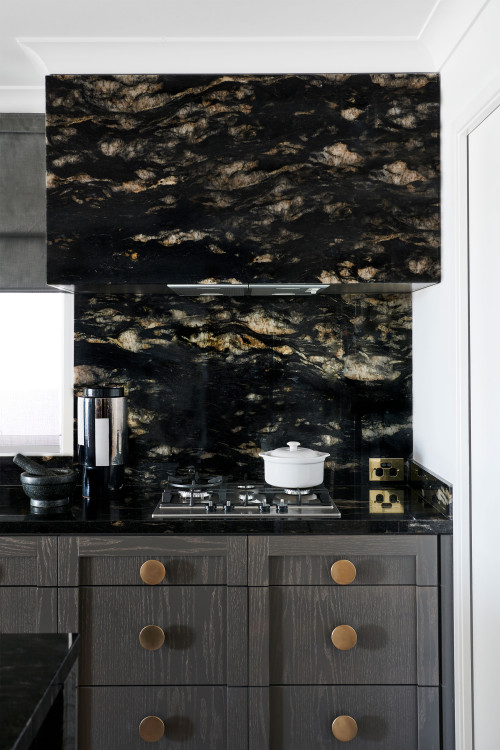 ID# 171115 | Houzz.com – Credit | © Kaiko Design Interiors
---
Eclectic Kitchen with Dark Marble and Wooden Cabinets
The marble is such an attention grabber which makes the space luxurious and glamorous! The design has a continuous look provided by the marble while the elegance of the marble is enhanced by the dark wood kitchen cabinets. Additionally, the warm atmosphere provided by the dark wooden cabinets prevents the marble from giving the kitchen a cold atmosphere.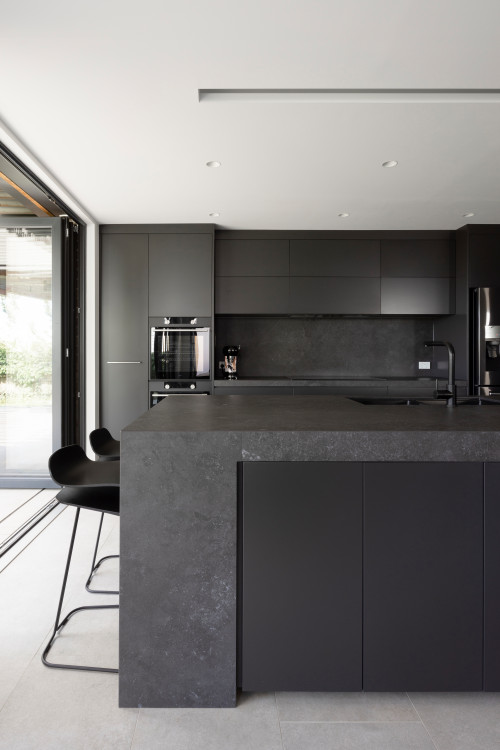 ID# 171116 | Houzz.com – Credit | © Kitchen Elegance
---
Contemporary and Minimalist Black Kitchen Design
You can boost the sophisticated and luxurious ambiance in your kitchen with the allure and beauty of black! The black cabinets, black stone worktops, and black backsplash all work together wonderfully while giving the design a smooth and continuous look in this gorgeous kitchen. The clean and smooth edges with matte finish embrace the minimalistic and modern style while the light grey floor harmonizes with the overall design. The suffocating feeling of black is broken by the white walls and light grey flooring which help to keep the kitchen light and airy.
How do you brighten up a grey kitchen?
You can brighten up your gray kitchens by using white countertops and white backsplash, this combination is the main combination that you can brighten up the gray kitchen cabinets. Then you can use brass, gold or shiny chrome hardware and fixtures with gray cabinetry. If you want to have pendant lighting fixtures, you should use glass material to help the white surfaces to brighten up the gray kitchen. Using light-wood floors is a great solution. You can use off-white walls, a bright white ceiling with a white backsplash, and countertops!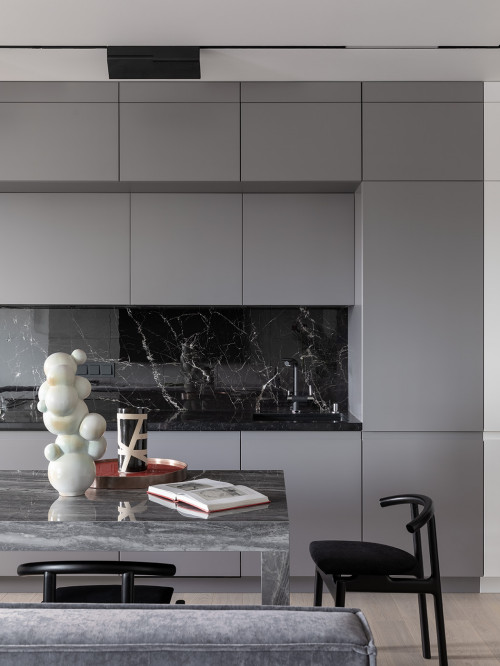 ID# 171117 | Houzz.com – Credit | © INKDESIGN
---
Contemporary Kitchen with Black Marble Backsplash and Grey Cabinetry
This contemporary kitchen radiates exquisite beauty with its gorgeous black marble and minimalist design! The grey flat-panel cabinets and the black marble backsplash with countertops are the perfect example of the harmonious combination of black and grey. The stunning marble backsplash between the grey flat-panel cabinets catches the eye immediately. The black marble backsplash also adds movement and depth to the minimalistic design of the grey flat-panel kitchen cabinets.
Blue Backsplash for Gray Cabinets
The beautiful gray color cabinets can increase their timeless appeal with a fresh touch! Thanks to the natural vibes of the blue color, a blue backsplash for gray cabinets can change everything in the kitchen design! The white cabinetry and the blue backsplash design are more common, so if you use a blue backsplash for gray cabinets, you can draw all the attention to your kitchen. It is possible to accentuate the blue and gray kitchen design with brass hardware to enrich their look with glam!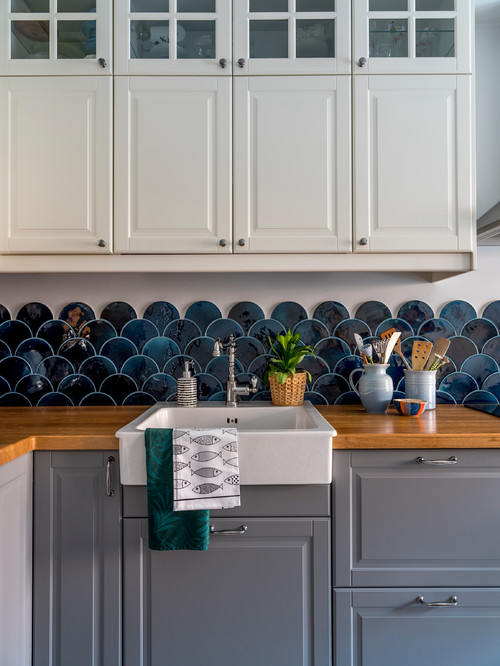 ID# 171118 | Houzz.com – Credit | © QT INTERIOR DESIGN
---
Navy Blue Fish Scale Backsplash Tiles in Beach-Style Kitchen
If you want to go with a bolder backsplash design in your kitchen, there is an idea for you! The blue fish scale backsplash in this beach-style kitchen takes all the attention to itself! It adds a movement between the white and grey cabinets while the shaker-style cabinet doors provide a classic look. The farmhouse sink and the wood kitchen countertop add a rustic feel to the design. The wood kitchen countertop also warms up the atmosphere.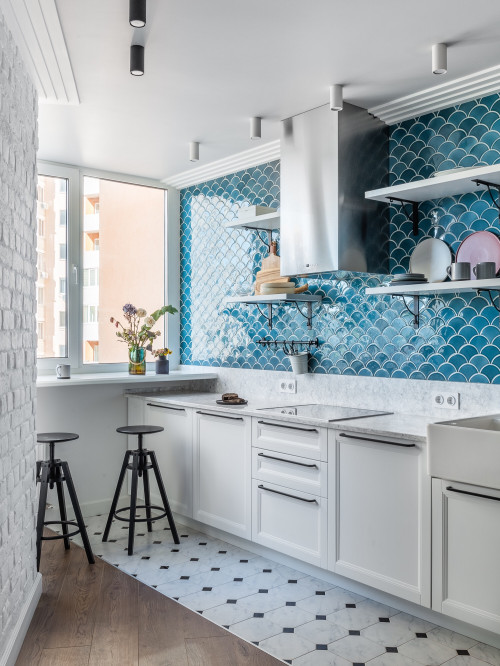 ID# 171119 | Houzz.com – Credit | © Архитектурная студия QUADRUM
---
Fish Scale to Protect the Kitchen Walls and Bring a Design Look
The blue-colored fish scale backsplash draws all the attention in this transitional kitchen. The light gray color cabinets and the blue backsplash create a beautiful harmony and natural look. Thanks to the white countertops and the light gray cabinets, the backsplash blows up and shows off. It is a good choice to have black hardware to create a contrast with the light gray cabinets.
Are gray cabinets too trendy?
More and more people are opting for deep grays in their kitchens instead of typical white or brown wood cabinets. And it's not a surprising trend since, unlike certain color schemes, gray provides the ideal blend of warmth and neutrality, making it suitable for practically every size kitchen. Gray cabinets are known to last a long period. Gray may be seen in the majority of Scandinavian kitchens. These kitchens are cutting-edge in terms of design. Although grays are not too trendy for conventional kitchen designs, they do provide distinctive elements and have a place in the current kitchen scene. So, if you're thinking about remodeling your kitchen, choose gray — it's fashionable, cozy, and resistant to filth!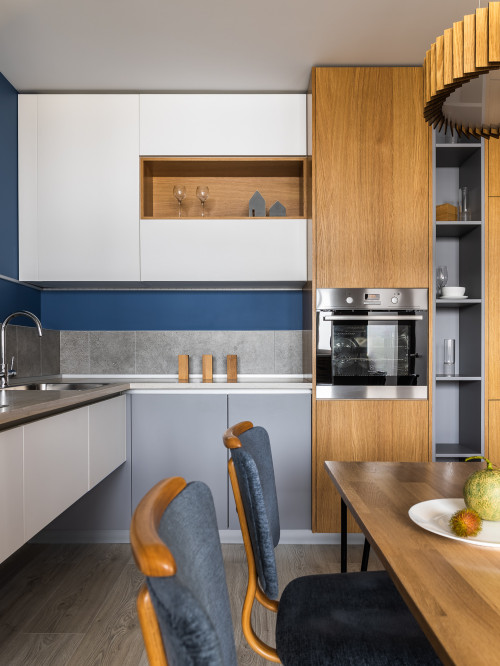 ID# 171120 | Houzz.com – Credit | © Архитектурная студия QUADRUM
---
Contemporary Kitchen with White, Grey, and Wood Cabinets
This multi-colored kitchen design exudes elegance. The backsplash is made of grey tiles, however, it only reaches halfway up the wall. The partial backsplash enhances the style while protecting the wall from stains. Not to mention the stunning combination of navy blue paint and wooden cabinets. White and grey cabinets on the other hand in perfect harmony.
Gray Shades for Kitchen Cabinets
Over the past few years, gray kitchen cabinets have become increasingly popular, and for good reason. The best of both worlds are offered to homeowners by gray thanks to its distinctive blend of cool and warm tones. It not only adds brightness but also gives the space a feeling of cleanliness in the kitchen. In addition, gray is a flexible color that complements a variety of backsplash and kitchen appliance colors! Gray is a very versatile color choice for kitchen cabinets because, depending on the shade selected, it can be utilized to complement a variety of colors.
Backsplash for Light Gray Cabinets
Opting for light gray cabinets can add a refined touch to your space with a hint of energy. These cabinets reflect more light, especially when paired with a white backsplash which enhances their luminosity. Whether you lean towards contemporary or classic design, the options for materials and colors to use for a backsplash with light gray cabinets are endless. You can add to their brightness by using a white backsplash or create a contrasting look with a black backsplash!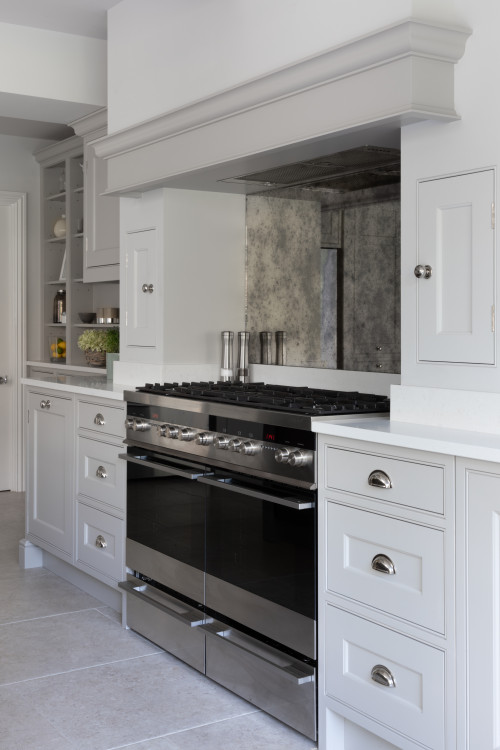 ID# 171122 | Houzz.com – Credit | © Tulip
---
Traditional Kitchen with White Cabinets and Mirrored Backsplash
Chic and timeless… This white kitchen delivers a classic appearance with its beautiful and sophisticated details! The white shaker cabinets enhanced the classic beauty of this traditional and functional kitchen. The mirrored backsplash creates a more spacious feeling between the cabinets.
What is an accent color for grey?
Choosing accent colors for gray is an art form that is nicely illustrated here. When constructing a kitchen with gray cabinets, you may notice that something is lacking, which might be an accent color. One of the simplest ways to add drama to a space while producing a cohesive design is to use an unexpected color in small portions of the room.
Go Bold with Yellow
The first color is yellow, of course. However, when we say color, do not think of the yellow-colored surfaces, there are brass and gold surfaces that accentuate the gray kitchen cabinets with a luxurious appeal.
Maroon and Gray? You Must Try!
Maroon decoration elements are perfect with the gray cabinets! You can have a vase or a runner on the island in a maroon color! Even maroon-colored flowers will change the atmosphere!
For a Warm and Cozy Atmosphere!
Caramel or warm wood tones are another perfect accent color of gray. You can bring a warm and cozy look to the kitchen with these colors.
The Brotherhood of the Charcoal and Green!
Charcoal gray goes well with the green color and creates fresh and sophisticated looks. Their match takes any interior to the next level.
The beauty of designing with gray is its endless possibilities. Gray, unlike many other hues, may be warm or chilly. Though gray is considered neutral, the undertones influence whether the gray is warm or chilly. Understanding how color undertones operate might assist you in selecting the best gray for your kitchen.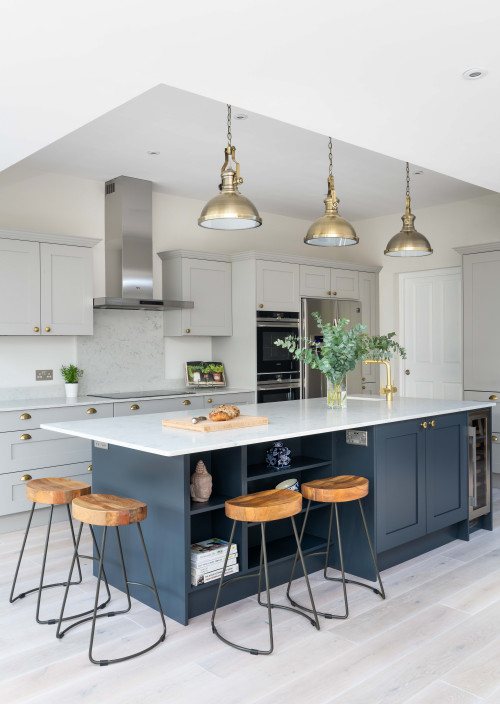 ID# 171123 | Houzz.com – Credit | © Veronica Rodriguez Interior
---
Light Grey Cabinets with Black Kitchen Island and Wood Stools
A dramatic black island with lots of storage takes the spotlight and is complemented by sleek wood stools in this sophisticated kitchen! The gold lighting fixtures above the island provide a warm ambiance. The stunning marble countertops and backsplash are well complemented by the light gray shaker cabinets. The stainless-steel appliances blend in with the traditional design of the kitchen.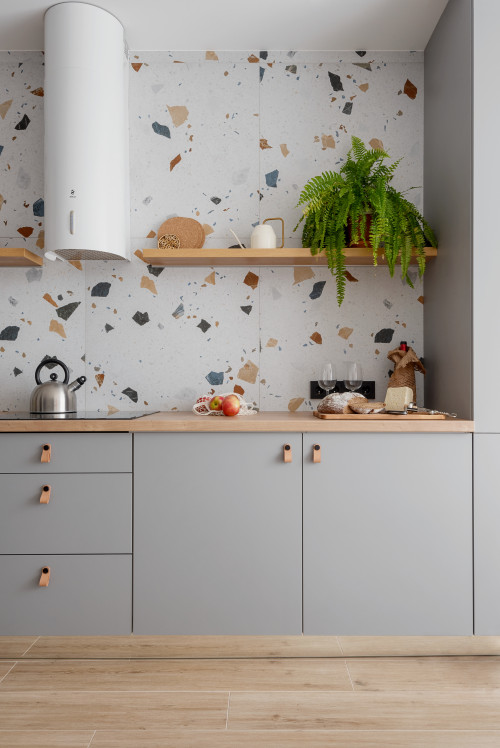 ID# 171124 | Houzz.com – Credit | © KEIS_project
---
Terrazzo Tiles and Floating Shelf in Contemporary Kitchen
This modern kitchen radiates calmness thanks to its soft color palette. The light gray cabinets help to light up the space and offer an impression of serenity and spaciousness. The clean lines of the grey flat panel cabinets along with a floating shelf create a minimalistic and modern look. And the terrazzo backsplash, of course, delivers a sense of warmth that delicately colors the background and adds movement between the cabinets and the floating shelf! Lastly, the white rounded range hood enhances the modern vibe and complements the overall design.
Backsplash for Dark Gray Cabinets
Cabinets and worktops are the focal points of any kitchen and a backsplash is a finishing touch that defines the overall appearance of the design. A kitchen backsplash, like cabinets and countertops, is a vital component that provides both aesthetics and utility. Kitchen backsplashes are available in a variety of styles, colors and materials in today's market. This limitless selection allows you to customize your design. When it comes to backsplashes, the color of your cabinets and countertops are critical factors to consider. Beautiful backsplash ideas for dark gray cabinets are included in this post!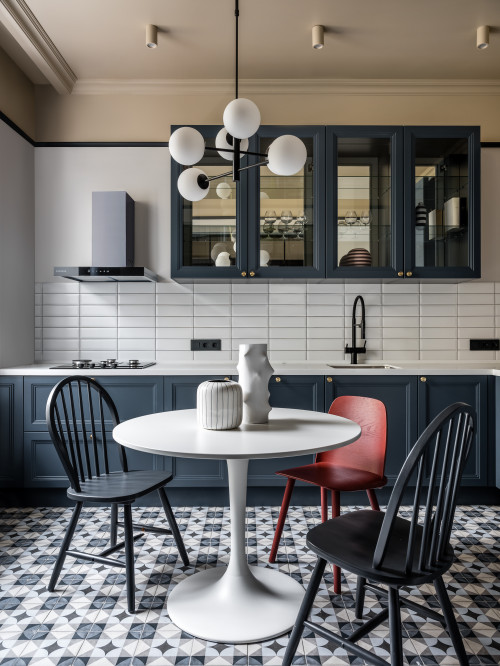 ID# 171125 | Houzz.com – Credit | © Зуева Анна
---
White Stacked Tiles Backsplash and White Countertop with Grey Cabinets
The colors create a harmonious look in this beautiful kitchen! The matte-finish cabinets, backsplash and countertops form a solid ambiance in this gorgeous modern kitchen. The matte gray cabinets have brass hardware knobs that have the appearance of little buttons, warming the tone of the color scheme. The geometrical shapes patterned floor tiles and reddish wooden chair add movement to the design while the white tile backsplash offers a timeless look.
ID# 171126 | Houzz.com – Credit | © Remodel
---
Dark Grey Cabinetry with Wood Countertop
In this modern and sleek kitchen, the dark grey flat panel cabinets embrace the contemporary and minimalistic style. The shiny finish of the backsplash tiles and the tiled range hood makes the space brighter and adds texture and movement to the minimalist design. The wood countertop warms up the color scheme of the design cohesively!
What is the most popular backsplash for kitchen 2023?
Kitchen backsplashes were traditionally composed of tile and covered just the section of the kitchen walls between the counters and higher cabinets. However, as kitchen design and cabinetry tastes have shifted toward open shelves or even no upper storage, kitchen backsplashes and tile styles have evolved as well. We see them more often and they are now a design element for our kitchen designs.
White kitchen backsplashes are among the most popular and favored solutions for all kitchen styles, and their popularity is expected to continue in 2023. White backsplashes are available in an infinite number of designs, sizes, patterns, and textures, ranging from traditional white subway tiles to futuristic hexagons!
However, The most recent kitchen backsplash trends span from bigger versions of the traditional standby subway tile to innovative kitchen backsplash ideas like zig-zag wallpaper. Tile envelopes, in which the backsplash tile covers the entire wall and goes all the way to the ceiling, are also highly popular. Instead of a tile backsplash, try a mirrored or glass backsplash, which may help provide a sense of additional space. Extending the countertop material to the backsplash is another contemporary option for tile backsplash. If you pick a quartz countertop, the same stunning quartz may be extended to the backsplash. Alternatively, you might go for a mosaic tile that matches the style of your kitchen island.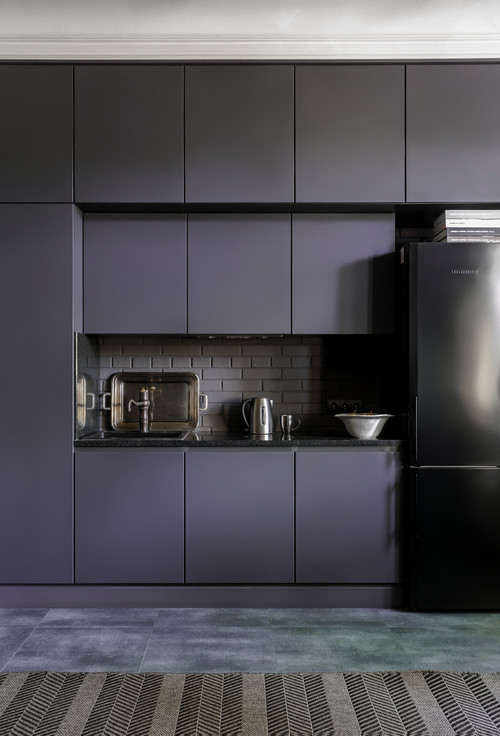 ID# 171127 | Houzz.com – Credit | © Ольга Шангина
---
Modern Kitchen with Black Matte Brick Subway Tile Backsplash
This stunning contemporary kitchen screams sophistication. The flat-panel cabinets draw attention to the stylish backsplash in this kitchen. The black matte brick subway tile kitchen backsplash radiated elegance while adding movement and depth to the black flat-panel kitchen cabinets. The light gray stone floor tiles enhance the sleek and contemporary look of the design while preventing a dark and suffocating kitchen.
Modern Kitchen Backsplash for Gray Cabinets
Gray is a timeless hue for your kitchen, and it doesn't get much more traditional than that. It's a versatile hue that comes in several tones as well as the warmest neutral. You may use it alone, in combination with a white backsplash, or in delicate motions with wood. Classic gray kitchens are both ageless and a throwback to a bygone era. Gray kitchen cabinets are smart, attractive, and infinitely flexible, with the ability to accommodate many different sorts of layouts.
People are used to having subway tile backsplashes, square tiles, or marble tiles with gray cabinets. However, you can increase the stylish appeal of your kitchen with a modern kitchen backsplash for gray cabinets. You can use a steel backsplash, for instance, the dramatic gray tones have an immediate impact, while the shiny shine of steel produces a clean, modern design. In a gray kitchen, a modern kitchen backsplash will serve as the focal point. To produce a serene pattern, it might be gray from wall to wall. Contrast the gray cabinets with a completely another hue, or mix with some patterned tiles or other materials like rich wood or luxury marble for a more daring look.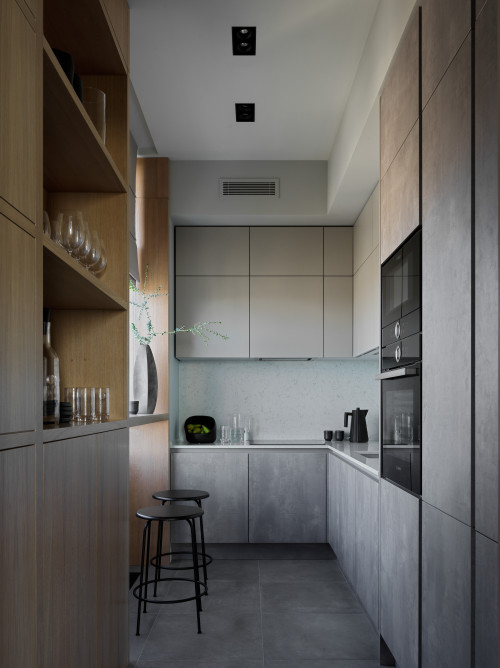 ID# 171128 | Houzz.com – Credit
---
Modern Kitchen Backsplash for Gray Cabinets and White Countertop
This gray contemporary kitchen exemplifies gray's easy flair and ability to complement the environment! Gray cabinets with no handles provide depth and character to the kitchen while the gray porcelain floor offers a welcoming and sophisticated environment. The white quartz kitchen countertop complements the white backsplash to result in a watery glossy surface. Natural wood shelves add storage while emphasizing the warm tones of the gray kitchen cabinets and the wood countertop with black barstools serves as a table surface.