21+ White Stone Backsplash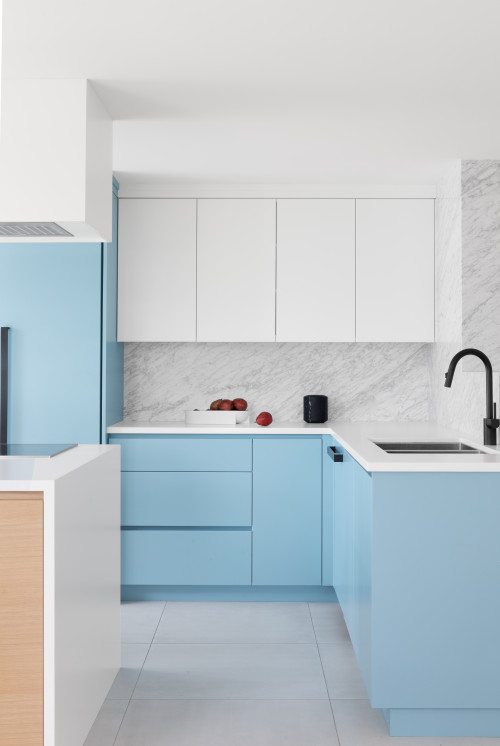 ID# 169904 | Houzz.com – Credit | © PlaidFox Studio
---
Sleek Beauty of the White Marble Backsplash and the Countertops
The texture of the white marble backsplash and the countertops enrich the flat-panel cabinetry with a gorgeous look! The sleek beauty of the marble brings an identity to the kitchen while the black faucet makes a stylish contrast to the light colors of the kitchen. The light blue flat-panel base cabinets and the white flat panel uppers freshen up the kitchen and increase the brightness of the environment.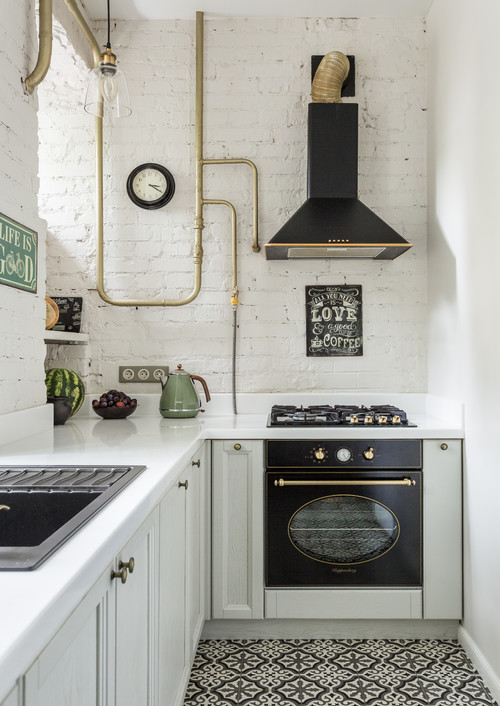 ID# 169911 | Houzz.com – Credit
---
Brass and Black Contrast with White Cabinetry for an Industrial Design Style Kitchen
Brick texture is a prominent element in industrial kitchen design. Using light colors in small spaces like this kitchen makes things feel bigger and more joyful. As a consequence, white brick walls that double as a backsplash, white worktops, and white kitchen cabinets all add to a clean and bright image. Black antique appliances, on the other hand, add a sophisticated touch to the design by enhancing movement in the environment via the use of brass pipes on the wall.
White Stone Backsplash
Many people's favorite room in the house is the kitchen. It might be huge or tiny, airy or cramped, with low ceilings or wide windows – but one thing is certain: everyone wants to feel at ease in the kitchen. The backsplash is one of the most significant aspects of the design of a kitchen, even though there are many others. For this one of the most significant aspects, you can consider a white stone backsplash. They're lovely, classic, and give any kitchen a lot of personality.
Bright Appeal with Organic Textures
When it comes to a white stone backsplash, you have two options: rough, textured piled stones for a rustic, organic effect, or sleek, contemporary white stone backsplashes like granite or marble. And with designs ranging from rigorously geometric to freeform fluidity, there will be no shortage of ideas to put into practice. Stone–no pun intended–truly stands out among the other materials, and the long-term consequences of a stone backsplash should not be overlooked. As a result of this, once you use them in white color –since the white color is one of the timeless colors in the design- you can have an ageless design element!
Stone backsplash has a boldness and integrity that few modern homes can match; impermeable and just as regal, there's a reason stone was monarchs' preferred material. And, because installation and care are incomparably easier than many of the more common materials used in today's homes, you may be assured that your fortress will stay as gorgeous as a castle. A white stone backsplash brings limitless beauty and elegance to everyone's favorite area to congregate in if you're willing to commit to a little bit of care.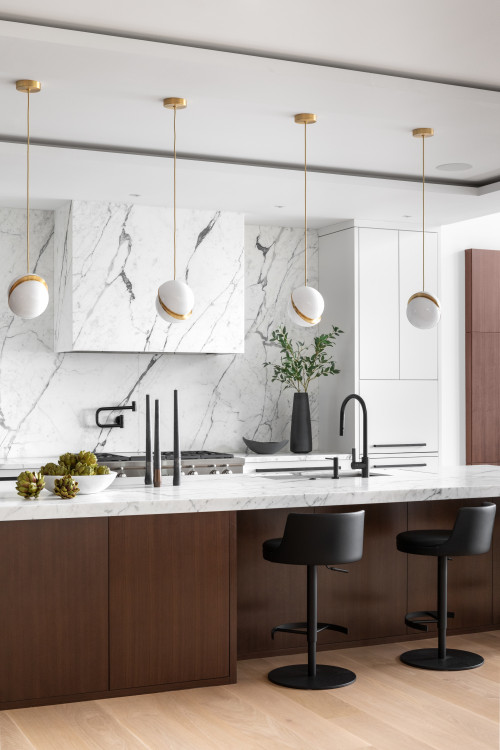 ID# 169901 | Houzz.com – Credit | © Madeleine Design Group Inc.
---
Eye-Catching White Stone Slab Backsplash and Range Hood with Wood Island
Adorned by an eye-catching marble stone, the brightness and the warmth welcome you to this stylish kitchen. The giant marble slabs as a backsplash create a visually pleasing backdrop for this space while using the same texture of the range hood cladding providing a seamless look. The plain white kitchen cabinets offer a clean and bright appeal that allows the marble slabs to stand out more! The dark wood kitchen island comes in front of the white features and adds warmth to the atmosphere. Above the island, the brass-detailed globe pendant lights bring a mid-century vibe while the matte black accents enhance the modern aesthetic.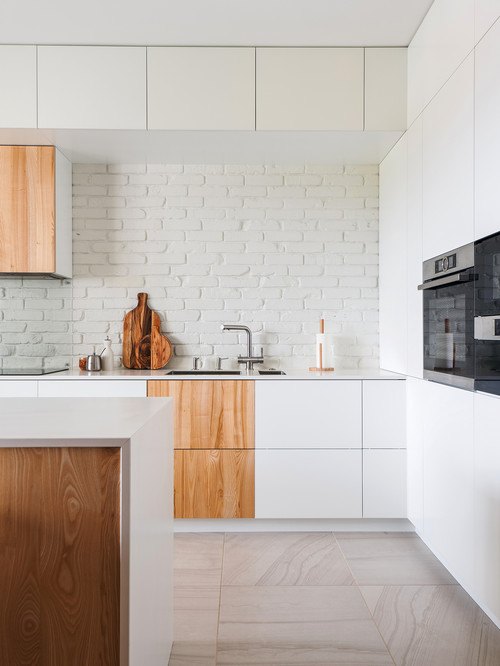 ID# 169902 | Houzz.com – Credit | © Line Design Studio
---
White Bricks for a Contemporary Kitchen and White Flat Panel Cabinetry
You may utilize a white stone backsplash whether your style is modern or vintage! The white flat cabinetry is given movement by the white brick backsplash and the wooden flat panels. The light wood floors and white cabinetry brighten the area while the wooden surfaces provide a natural ambiance in the kitchen!
Can you use stone as a backsplash?
You can use stone as a backsplash! Genuine stone tile for a bathroom or kitchen backsplash may necessitate a little additional maintenance, but the beauty of a stone is well worth the effort. Sealing is a simple procedure, and it's much simpler for a backsplash because there's no need to leave the room while it cures.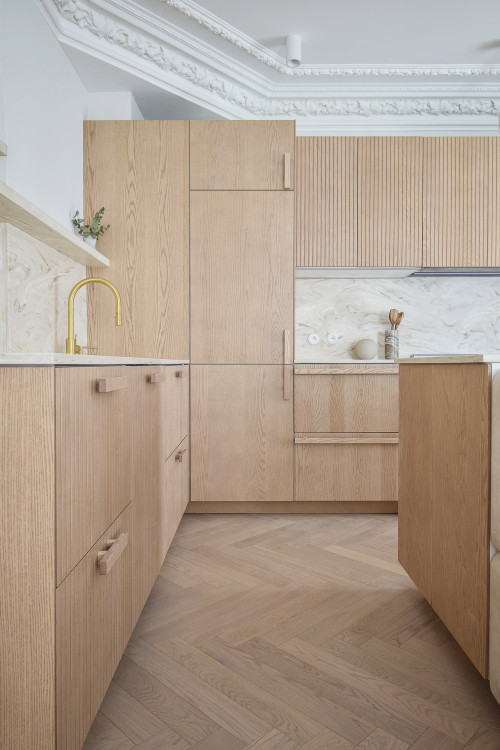 ID# 169903 | Houzz.com – Credit | © BAT & CO
---
Contemporary Kitchen Design with Wood Flat Panel Cabinetry and a White Stone Backsplash
The light wood flooring is chosen as a complementary hue from the cabinetry, this makes the light wood flat-panel cabinetry and the island create a seamless look! The white marble countertops and the white stone slab backsplash create a sleek and plain appeal with harmony to the wood cabinets while the natural and warm feel fills the entire kitchen with wood and marble surfaces.
Materials for White Stone Backsplash
There are several reasons why homeowners and interior designers like stone backsplashes! The most noticeable and appealing feature of a stone backsplash is its dramatic and gorgeous appearance. If you use a white stone backsplash when you finish your kitchen with it, the outcome will bring a stunning appeal. Material for white stone backsplashes is available in a variety of material possibilities, from which you may select one based on your preferences and the design of your kitchen. You may add a glamorous touch with a marble backsplash or a rustic charm with a brick backsplash!
White Marble Backsplash
Marble is a metamorphic rock that has undergone significant pressure transformation that originates as limestone and crystallizes as a result of pressure. Furthermore, mineral impurities in the soil around the limestone react with it to generate the stunning and diverse hues of marble. A white marble backsplash is one of the hues that you can go with for a gorgeous and luxurious kitchen. The rich look and feel of a white marble backsplash is by far the most appealing feature.
Luxurious Marble Stone with a Bright Appeal
Marble is a stone that is linked with elegance, sophistication and enduring beauty. It lends a light and airy character to any area, and its unique beauty is unrivaled in natural stone! A white marble backsplash may give a striking contrast to dark cabinetry or provide even more light to a modern, all-white kitchen. It goes well with modern gray finishings, which have lately gained popularity, so a white marble backsplash may fit into any design, from timeless tradition to ultra-modernity.
Because of its soft and porous character, a white marble backsplash is a contentious issue in the world of kitchen design. Although it has excellent looks, it is more prone to scratches and staining than most other stone alternatives. However, using a white marble backsplash for your kitchen rather than the countertop allows you to include the unparalleled elegance of marble without having to worry about potential damage. Although it is still a somewhat higher-maintenance alternative, marble's creative options and aesthetic improvement are unparalleled.
Are stone backsplashes hard to clean?
Stone backsplashes, while attractive, are more dangerous. Many of them are permeable. They splinter. They're also difficult to clean. Grease may stain honed natural stones like limestone, slate, or marble. Cleaning your kitchen backsplash, regardless of the style, regularly is essential for maintaining a healthy cooking and dining environment.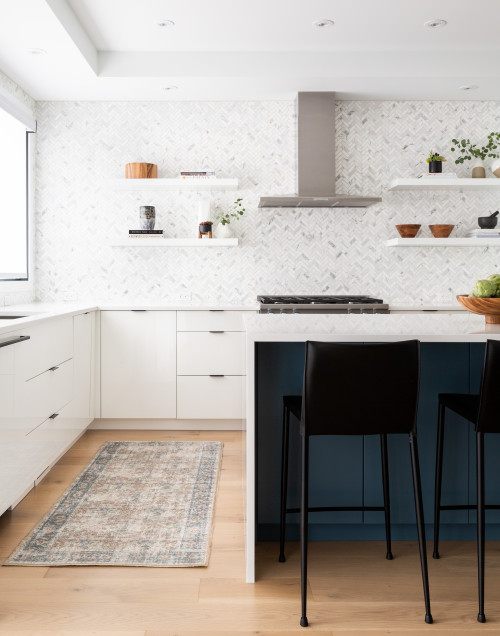 ID# 169905 | Houzz.com – Credit | © Alykhan Velji Design
---
Blue and White Kitchen Design with Light Wood Flooring
This transitional kitchen with its clean white elements, provides a bright and spacious environment! The full-height herringbone backsplash complements the modern white kitchen cabinets, which serve as a backdrop. The white floating shelves, complemented by certain décor pieces and potted plants, offer visual interest to this marble tiles accent wall while the stainless steel appliances reinforce the modern style. The dark blue kitchen island with a waterfall surface stands out as a splash of color and adds a contrasting touch.
Natural Stone Mosaic Tiles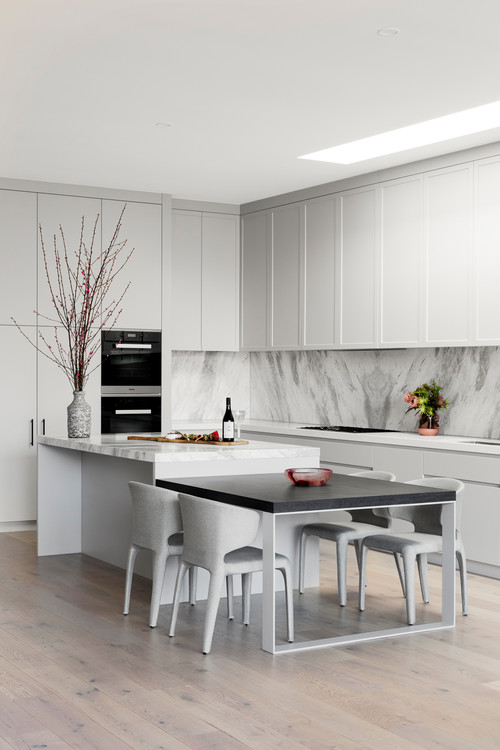 ID# 169906 | Houzz.com – Credit | © GIA Bathrooms & Kitchens
---
All-White Kitchen Design with Bookmatched Marble Backsplash
The rich and luxurious appeal comes from the all-white color scheme which is boosted by the bookmatched marble backsplash. The dark wood floors make the white cabinetry stand out more while the handle design of the cabinet doors enhances the modern aesthetic. The gray countertop brings a beautiful harmony with the wooden elements and the floors. Also, it matches the stainless steel appliances which harmonizes with the marble backsplash.
How do you protect natural stone backsplash?
Your stone backsplashes, like your granite countertops, should be treated with sealer regularly, especially if they are tiles separated by grout lines. Your stone backsplash will be protected from water, food and grease with a durable sealer. Furthermore, they will be considerably easier to clean as a result of this!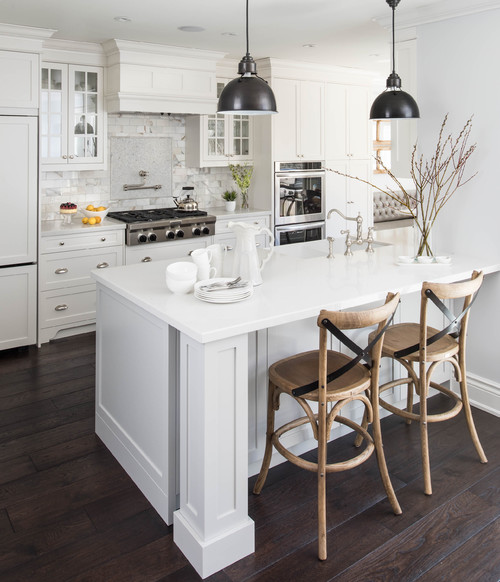 ID# 169907 | Houzz.com – Credit | © Stephani Buchman
---
Calacatta Gold Marble Backsplash with White Kitchen Cabinets
A Calacatta gold marble stone will be an amazing choice for a premium backsplash material! With gold and gray veins, this marble has a striking appearance that doubles as a work of art. The Calacatta Gold marble subway tile backsplash adds an exquisite touch to the white shaker cabinets while the mosaic tiles behind the stove add a focal point to the entire design. The white cabinets and counters dominate the remainder of the area but the dark wood floor offers a contrasting aspect that lends depth to the ambiance.
How do you degrease stone backsplash?
Using a specially formulated stain removal solution is the best way to get rid of an oil stain from any natural stone. You can use a stain remover with confidence if you pick one that is approved because it won't harm your stone. Always check the label of any cleaning solution for natural stone to ensure it is safe for your stone before using it!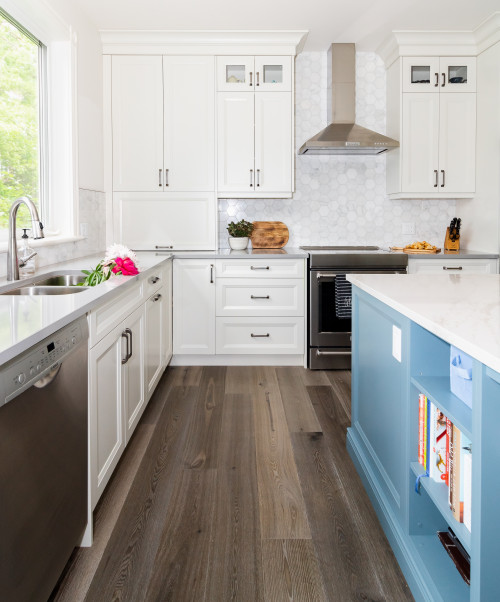 ID# 169908 | Houzz.com – Credit | © Cabinet Effects Inc.
---
White Transitional Kitchen with Blue Island and Dark Wood Floor
Consider utilizing an accent color to boost your design while building an all-white kitchen! The light blue kitchen island stands out against the white backdrop formed by the white cabinets and the marble hexagon backsplash in this transitional kitchen which adds visual interest to the space.
Is a white stone backsplash good for kitchens?
All the materials have advantages and disadvantages, of course. Nothing is flawless! However, kitchens benefit from a white stone backsplash. Regardless of the design or form if the white stone backsplash is correctly sealed and maintained, it will last for a very long time.
White Granite Backsplash
Installing a white granite backsplash is a terrific method to enhance the high-quality appearance and functional benefits of granite worktops. One of the handiest features of a white granite backsplash is that it may be created from the same block as your granite countertop. By selecting this option, you may get a consistent and visually pleasing style.
Stylish and Durable Granite Stone
There are several compelling reasons to go with a white granite backsplash. Granite is one of the most beautiful and long-lasting natural stone materials you can use in your house. Having a granite backsplash instead of other common backsplash materials, such as subway tile, may assist in accentuating the natural stone's presence on your countertop. In general, a kitchen backsplash is a terrific way to create a statement in your kitchen or other areas of the house. Installing a white granite backsplash is a wonderful choice because of the natural beauty and durability it will provide to your room. White is a timeless color, when you use it with white granite backsplash you can have timeless naturality in your kitchen.
White granite backsplash, which ranges in hue from blinding snow-white to creamy or ivory, lightens up the kitchen and makes it feel more appealing and inviting. While it is difficult to get "pure" white granite slabs due to the composition of the stone, the beauty of white granite is in the flecks and differences that offer character and warmth to your kitchen design. White granite backsplash looks elegant and trendy in any kitchen because of its subtle variances and/or strong contrasts.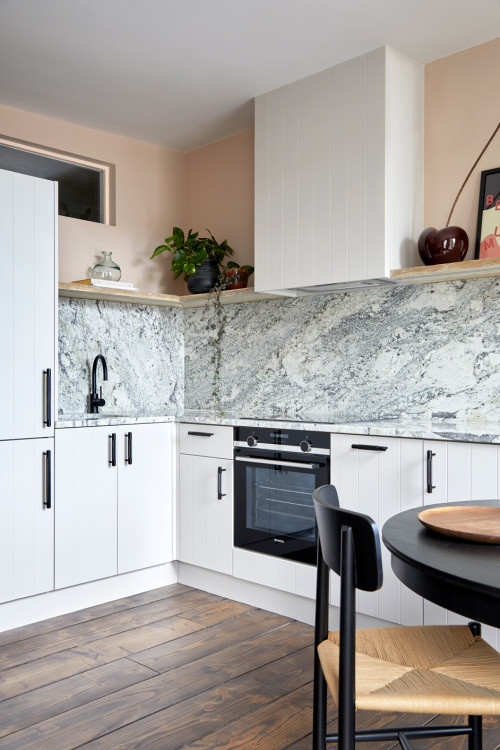 ID# 169909 | Houzz.com – Credit | © XI Projects
---
White Granite Backsplash and Cabinetry with Black Hardware
This Scandinavian kitchen design welcomes you with its natural and plain vibes. Thanks to the dark wood floors the white cabinetry blows up. Using black hardware in contrast to black cabinets increases the movement of the interior. The floating wood shelves create a sleek and modern appeal above the white granite backsplash. Thanks to the simplicity of the cabinets and the decorations this kitchen creates a plain and inviting appeal.
White Brick Backsplash
A backsplash is an important aspect of your overall design; it should be long-lasting, easy to clean, flawlessly coordinated, and attractive. Brick backsplashes demonstrate all of these characteristics by accentuating your area, highlighting the design and even adding color, pattern, or texture! Brick is a practical option that will get the most out of your kitchen, and modest accents of rustic industrial style are quite popular right now.
There are several methods to incorporate brick into your kitchen design, ranging from exposed brick walls to brick-look tiles! The first thing that springs to mind when thinking about brick is a red brick backsplash. A red brick backsplash on the other hand, may not be appropriate for all architectural sensibilities due to its bold and powerful appeal. The white brick backsplash enters the scene at this point. White brick maintains the textured aesthetic while providing a gentler appeal that may be used in a variety of kitchens.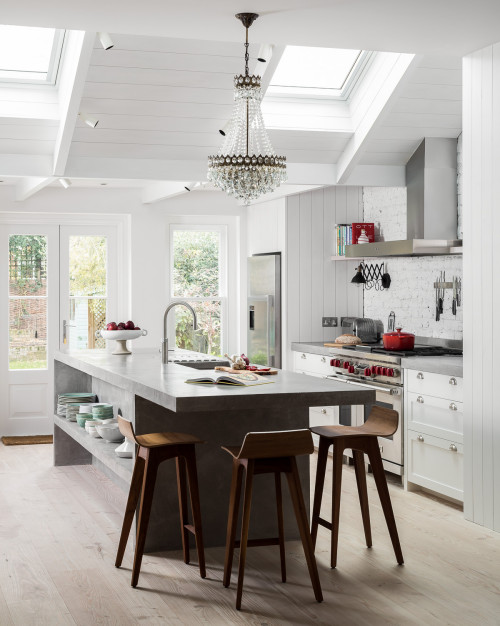 ID# 169910 | Houzz.com – Credit | © Kitchens By Holloways
---
White Farmhouse Kitchen with Black Island and Wood Stools
This kitchen surely serves as an illustration of "how to brighten up a kitchen"? The stunning chandelier and the ceiling windows create a shimmering scene. White kitchen cabinets and a white hardwood ceiling and wall give the room a bright appearance while the gray island gives this traditional and fashionable design a modern appearance. The calming impact of white kitchen cabinets is complemented by a white-painted backsplash.
How to clean a white stone backsplash?
Clean the crevices of the stone with a soft-bristled toothbrush or scrub brush. Stone which is generally rougher than tile, is more prone to accumulating oil. In a pail of hot water, use a mild dish detergent that reduces grease. Before you start working on your entire backsplash, try it in a tiny area to be sure it won't damage the stone.
Allow it to dry before continuing. Gently scrub with a lot of soap and water. Frequently re-dip your brush into the soapy water mixture. To remove the soap and prevent it from developing a film on the stone, rinse with a clean, moist towel. However, you can ask the manufacturer that you buy the stone backsplash about the cleaning materials, in some cases, there are special degreasing products.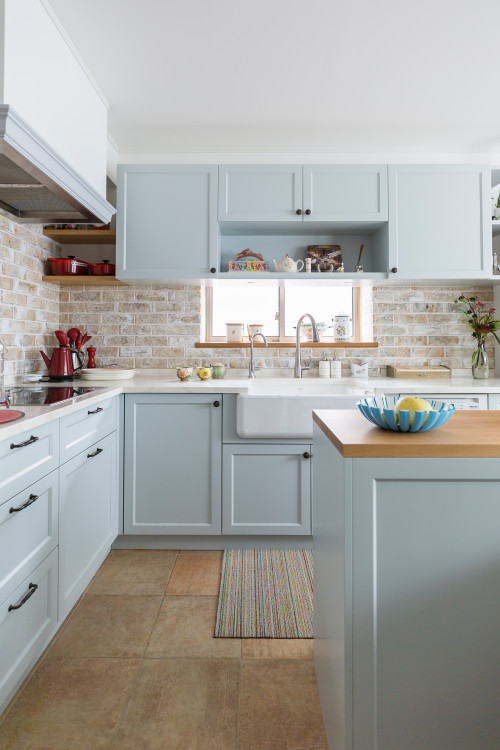 ID# 169912 | Houzz.com – Credit | © LiB contents
---
Light Blue Kitchen Cabinets with Whitewashed Brick Backsplash
This kitchen has a calm, serene appearance thanks to the pastel colors. Beige floors are a wise choice to contrast with light pastel blue kitchen cabinets. The cabinets look good with black hardware that matches and enhances them. A unified effect is added by the white countertops and aged white brick backsplash, and the finishing touch is provided by the wooden elements.
White Stone Backsplash Forms
Stone is a timeless material that may be utilized to complement a variety of interior surfaces! Stone has been used as a wall and floor covering since prehistoric times. It is still widely used in the same areas today, as well as for kitchen backsplashes. You can boost up this timeless material with a timeless color such as the white color! The white stone backsplash forms are available in many sizes, shapes and styles. The most appealing feature of a stone backsplash is its stunning and attractive appearance. White stone tile or white stone slabs, the white stone backsplash forms are available in a variety of materials from which to pick, depending on your preferences and the design of your kitchen. The white stone backsplash forms will be a fail-safe addition to your kitchen, regardless of your decision!
Small Backsplash Tiles or Large-Format Slabs?
You can choose a form from the white stone backsplash forms according to your design taste and bring an identity to your kitchen cabinetry. If you want to add some organic appeal to your kitchen, choosing a form from the white stone backsplash forms is a good option. Take a look at some of the greatest ideas for the white stone backsplash forms for your ideal kitchen!
White Stone Tile Backsplash
Tiles, thin, multipurpose squares or rectangles made of durable materials such as ceramic, stone, metal, baked clay and even glass, are used to cover surfaces such as roofs, floors, walls, borders, and backsplashes! Among these possibilities, a white stone tile backsplash stands out as a classic choice. Regardless of the other surface materials you choose, it has the power to enhance the beauty and character of your kitchen. With so many different forms, sizes and materials to choose from, you have the creative flexibility to create a kitchen that effortlessly integrates classic and modern components while embracing the charm of natural materials—a genuine monument to design adaptability.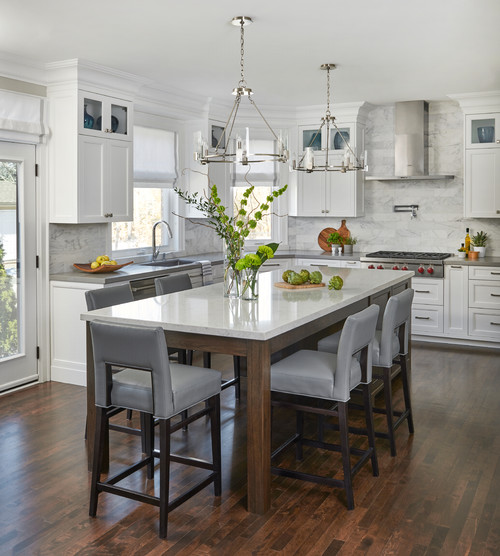 ID# 169913 | Houzz.com – Credit | © Diana Bastone Designs
---
Marble Subway Tile Backsplash with Gray Countertops and Chrome Hardware
White, gray, and a touch of wood… If you are looking for a timeless design, this combination will never let you down! In this transitional kitchen, for instance, the white shaker cabinets perfectly reflect the classic charm of the traditional style while the marble subway tile backsplash complements this timeless appeal with a touch of luxury. The gray countertops create a harmonious look with these features while the chrome hardware and stainless steel appliances enhance the overall look. At the heart of the kitchen, the wooden kitchen island with gray chairs brings a warm sense while the wooden flooring provides a continuous look to the island.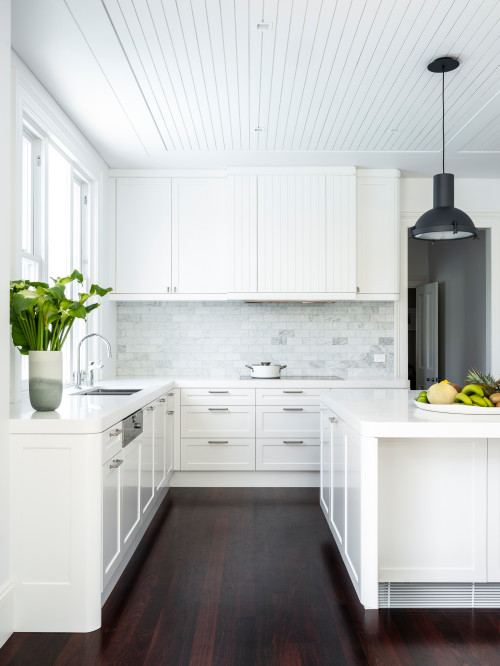 ID# 169914 | Houzz.com – Credit | © Porebski Architects
---
White Contemporary Design Style Kitchen with Dark Wood Floors
The dark wood floors make the white kitchen cabinetry blow up with stylish contrast. The white shaker cabinets and the white solid surface countertops increase the brightness of the environment with the white marble tile backsplash. The naturality comes from the stone and wood surfaces that enrich the kitchen. The chrome hardware has a contemporary appeal with its naïve design.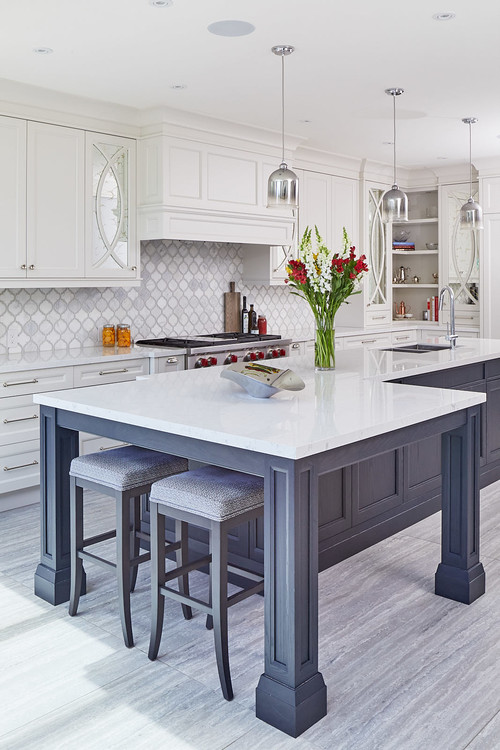 ID# 169915 | Houzz.com – Credit | © Lumar Interiors
---
White Stone Tile Backsplash with White Marble Countertops and White Shaker Cabinets
The white and light colors fill the kitchen with a fresh and clean look while the dark blue kitchen island brings a contrasting look that instantly elevates the overall design! At the back, the marble arabesque tile backsplash creates a cohesive look with the shaker-style cabinets and adds a dose of luxury. You can accentuate the white kitchen with chrome hardware and fixtures to enrich the kitchen with a luxurious appeal. Thanks to the medium-wood floors and the all-white environment the kitchen has a bright and fresh inviting charm.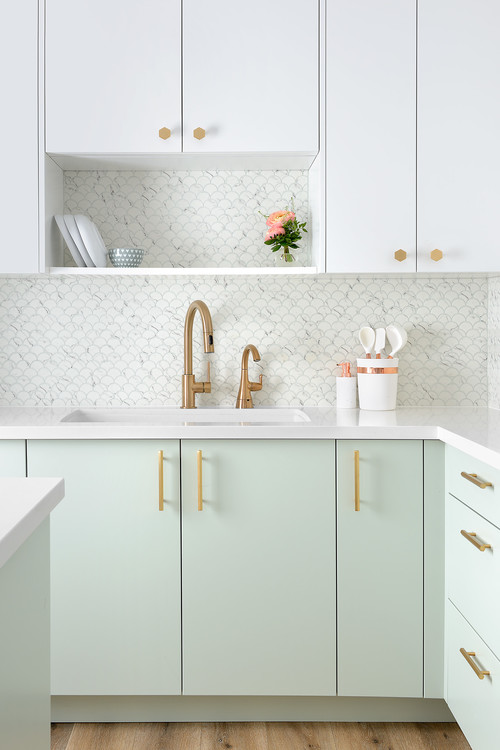 ID# 169916 | Houzz.com – Credit | © Michelle Berwick Design
---
Two-Tone Kitchen Cabinetry with Brass Hardware and Mermaid Tiles
Adorned by pastel colors and gold details, this contemporary kitchen offers a lovely atmosphere that looks very stylish! Starting with the cabinets, the mint green shade surrounds the base cabinetry to add a pop of color. Right above, the marble mermaid tile backsplash perfectly complements the joyful and quirky atmosphere that is created by the pastel green shade. The white upper cabinets and the white Silestone quartz countertops provide a bright and spacious atmosphere while the brass hardware and faucets add a dose of sparkle with a vintage flair.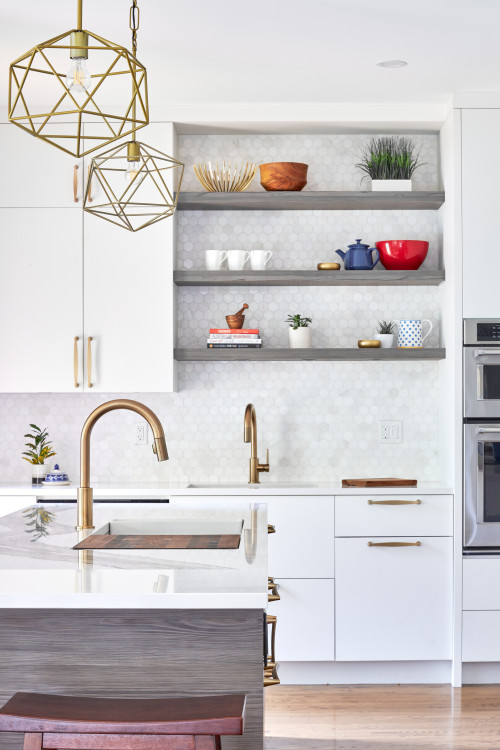 ID# 169917 | Houzz.com – Credit | © Paragon Kitchens
---
White Stone Hexagon Tile Backsplash with Wood Floating Shelves
White, wood, and a touch of gold… If you want to create a stylish farmhouse design for your kitchen, this combination will be your savior! The white kitchen cabinets and white quartz countertops provide a clean and bright atmosphere while the marble hexagon backsplash adds a nice textural look between the flat surfaces. The dark wood floating shelves make a rustic twist against the modern features that enhance the warm and inviting charm of the farmhouse style. At the heart of the kitchen, the dark wood kitchen island complements this farmhouse aesthetic while the brass pendant lights and hardware add a warm glow with a vintage touch!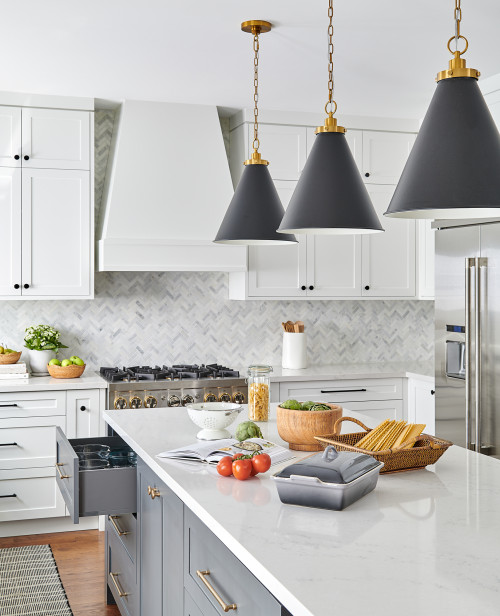 ID# 169918 | Houzz.com – Credit | © Erin Interiors
---
Transitional Kitchen with Herringbone Backsplash and Black Hardware
Boosted by the luxurious sense of the marble stone, this transitional kitchen offers a bright and elegant appeal! At the back, the white shaker cabinets and white quartz countertops create a clean and fresh base while the marble herringbone backsplash instantly jazz up this background with a nice textural touch. The black cabinet hardware creates a contrast against the white features to enhance the contemporary aesthetic. The gray kitchen island softens the sharp contrast between the black and white while the black pendant lights above the island make a characteristic final touch!
White Stone Slab Backsplash
Natural white stone worktops in the kitchen are both bold and opulent. They're stunning, long-lasting, and sophisticated. So, why should we stop there? Continuing your white stone slab up the wall to create a flawlessly matching backsplash is a developing trend among designers and homeowners that makes a bold statement. A white stone slab backsplash is created from a single piece of natural stone that runs the length of the wall. The solid surface backsplash has a completely different appearance than a regular tile backsplash. It offers a striking, coherent aesthetic to match the backsplash to the countertop.
Natural stone may now be fabricated in thin, lightweight slabs that are ideal for use as a wall covering instead of more traditional alternatives like subway or mosaic tile, thanks to current computer-aided manufacturing. The kitchen has a true minimalist feel thanks to the appearance of an uninterrupted plane between the countertop and the backsplash. In a modern or contemporary design, the backsplash becomes a focal point. A white stone slab backsplash can strike the ideal mix between a contemporary shape and a classic, timeless substance.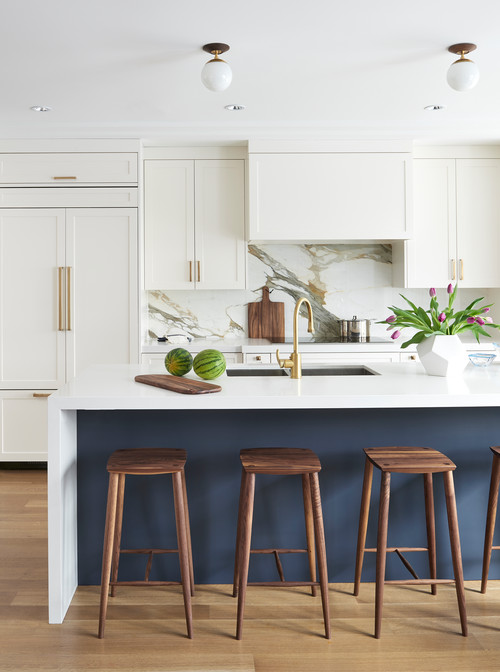 ID# 169919 | Houzz.com – Credit | © Shirley Meisels
---
White Stone Backsplash with Gold Veins and White Countertops
The stylish view of the white stone slab backsplash, quartz countertops, and white flat-panel cabinetry is boosted by the navy-blue kitchen island. Enhanced by the light wood floors, this transitional kitchen offers a warm and welcoming atmosphere. The gray and gold veins of the stone slab surfaces increase the organic flow of the design while brass hardware brings a little glamorous look with the contemporary appeal.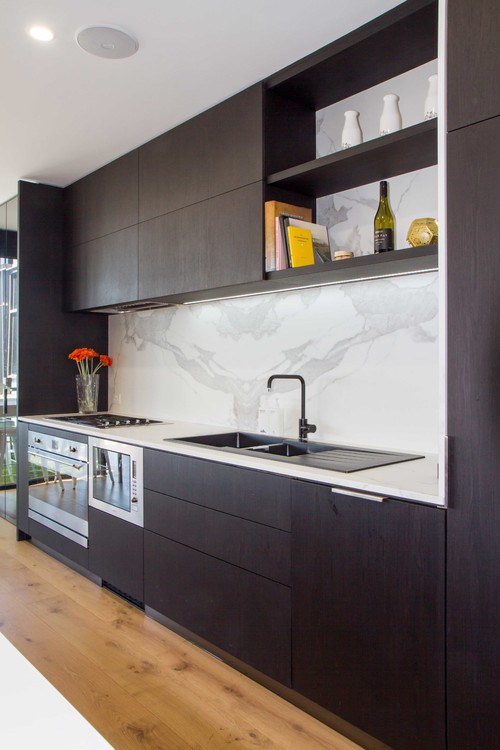 ID# 169920 | Houzz.com – Credit | © The Kitchen Design Centre
---
Dark Wood Kitchen Cabinets with Book-matched Marble Slab Backsplash
If you like to have a natural and contemporary look at the same time, using wood materials and stone slabs is a good choice! The dark wood kitchen cabinets serve as a modern foundation for this stylish kitchen design with a sleek and elegant appeal! Even though the cabinets dominate the space, the book-matched marble backsplash takes the stage and creates an eye-catching look that acts as a piece of art! Enriched by marble-look texture, the white quartz countertops provide a continuous and seamless look with the backsplash while the stainless steel appliances and the black sink make a cohesive final touch that enhances the contemporary flair.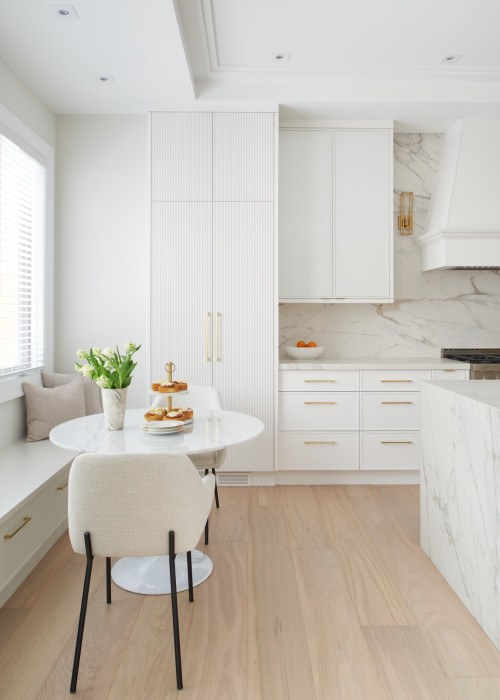 ID# 169921 | Houzz.com – Credit | © Julia Bewcyk
---
All-White Kitchen Design with Brass Accents
If you like the all-white designs but still looking for a wow factor that enhances the overall look and softens the crisp white atmosphere, the luxurious sense of the marble texture will absolutely help you to achieve this goal! In this transitional kitchen, for instance, the white kitchen cabinets which are enriched by a minimalist design, provide a clean and sleek foundation. Adorned by gray and gold veins, the marble slab backsplash and countertops Instantly draw attention to jazz up the plain white surfaces. The brass hardware and the light wood floor bring warmth to the atmosphere while the gold veins of the marble stone complement these features.
Should I lay tiles horizontal or vertical?
You can have your white stone backsplashes tiled or as a slab stone. For both of them, there are different installation ways. First, let's start with the installation of a white stone tile backsplash.
1- Make your purchases. The tile of your choosing, spacers, a tape measure, a pencil, a wax pen, compound thin set mix, a trowel, a bucket, a sponge, a blade, grout, and a rubber float are all you'll need to construct a natural stone backsplash.
2- Prepare the surface of the wall. Make sure you're working on a smooth surface, to begin with. If this is the first time you've tiled a wall, you should be good to go.
3- Work in sections, measuring and cutting the tile as needed at a corner or to fit around outlets. Before you start cutting tile or applying the compound, use the tape measure, pencil, and wax pen to mark off sections.
4– Some individuals like to apply the compound to the wall first, then tile. If you're putting up a kitchen backsplash, though, it's sometimes easier to apply the compound to each tile before sticking it to the wall. When you're working around outlets and other impediments, this comes in handy.
Begin by attaching the bottom row of tiles horizontally.
5 –Make sure you leave a tiny gap between each tile and that the borders are aligned as you place them down. If you discover that they aren't, remove the last tile and reapply it so that it lays flat.
6- After a few tiles have been laid, wash the surface of the tiles with your pail of water and a sponge to remove any excess compound. If you find compound accumulating between the tiles, pass your blade through it.
7- Begin climbing upward after finishing the first row. To keep a straight line, use tile spacers between each horizontal row. Check your work from time to time to be sure the spacers are keeping the tile level.
8- Allow for a night's rest before applying grout. Because real stone absorbs a lot of water, you'll want to moisten the tiles before adding grout. Apply the grout using a rubber float once it's been mixed, making sure to gently press it into the gaps.
9- Wait around ten minutes after the grout has been thoroughly placed before cleaning the tile surface with your damp sponge.
10- If you're going to apply a stone sealant, wait until the grout is completely dry before doing so.
Let's check out the installation of the white stone slab backsplash!
Installing a slab backsplash is similar to installing tile, however it is done in one piece rather than dozens of individual tiles. Typically, a strong backer material is put first and fastened into the studs. A backer is recommended since it retains mortar considerably better than sheetrock and does not rip. Like tile, the slab is attached to the backer with mastic or mortar. The installation will be handled by the stone supplier you choose. The first thing they do is come to your home and collect measurements, and in certain cases, a template is created. The stone slab is then cut at the shop before being shipped and placed. Everything is installed in the same manner as the countertops. There are two key reasons why slabs are so much less expensive to install. It's quick because there's only one large piece and no grout.