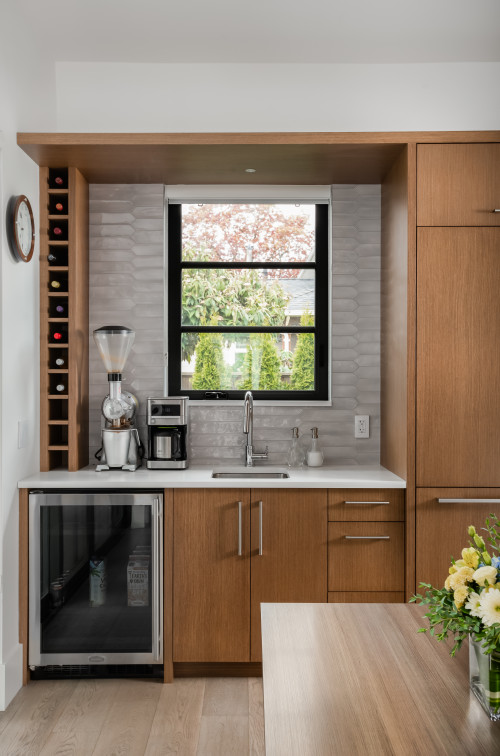 ID# 164401 | Houzz.com – Credit | © SGDI – Sarah Gallop Design Inc.
---
Contemporary Home Bar with Wood Cabinets
Enhanced by the relaxing charm of the neutral shades, this wet bar featrures wood cabinets that dominate the space to offer a sleek elegance with their flat panel door style. The beige picket tile backsplash completes the warm sense of the wood while adding a slight texture. The crisp white quartz countertop and brushed nickel hardware make a cohesive final touch while the vertical small wine cellar adds more visual interest and maximizes the functionality.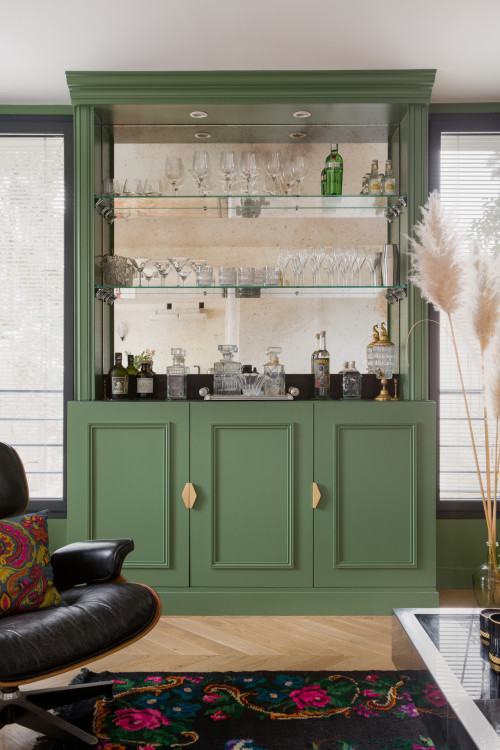 ID# 164420 | Houzz.com – Credit | © Ercole Salinaro
---
Green Bar Cabinets with Full-Height Mirror Backsplash
This green color is definitely a statement maker that can easily enhance any space! In this Scandinavian home bar, the green cabinets take the stage and create a one-of-a-kind appearance. The black countertop and aged mirror backsplash complete the sophistication of the cabinetry. The glass floating shelves create a continuous look with the backsplash and enhance the open and airy feel.
Wet Bar Backsplash
For those big on entertaining, a wet bar is a great addition to any home to prepare a couple of cold drinks to entertain both your guests and you. The cozy spots under the stairs, basements, and small corners can easily be transformed into a home bar as they serve as one of the best ways to utilize unused corners. What makes a home bar a "home bar," is a few cabinets, floating shelves, a beverage cooler, a sink, and an ice maker. If you would like the home bar to look more luxurious, you can expand the number of appliances. But if you don't want to deal with plumbing infrastructure, a cozy dry bar is good enough to place your coffee machine and some cookies. But in all such cases, you need a wet bar backsplash to protect your walls and achieve an aesthetic look.
A wet bar backsplash allows you to be creative and feel free in the use of materials and patterns. Be it wood, brick, stone, mirror, glass, tile, or natural stone, depending on the look you aim for, you can almost work with any material you can think of. But before deciding, you need to focus on the size of the home bar and the overall design theme prevalent in your home. It is also up to you whether you would like to create a neutral space or a statement-making corner. Just to give you an idea, this blog will walk you through different wet bar designs with a focus on the wet bar backsplash to explore very different looks. If you are ready, just scroll down to discover some inspiring projects.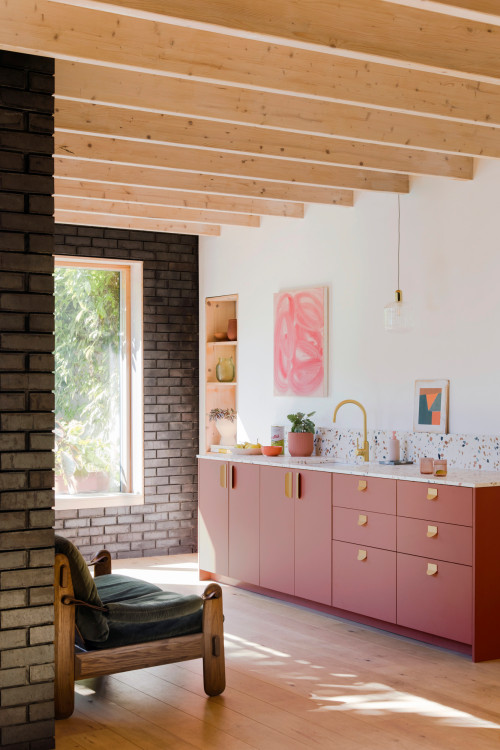 ID# 164402 | Houzz.com – Credit
---
Terrazzo Wet Bar Backsplash with Pink Cabinets
The hot shade of pink surrounds this Scandinavian wet bar design and offers a fun yet elegant appeal. The matte finish of the pink cabinets enhances the modernity of the overall look! The colorful appeal terrazzo backsplash and countertop is the perfect match with the pink. On the other hand, the brass fixtures and hardware complete the vintage vibes of the overall look.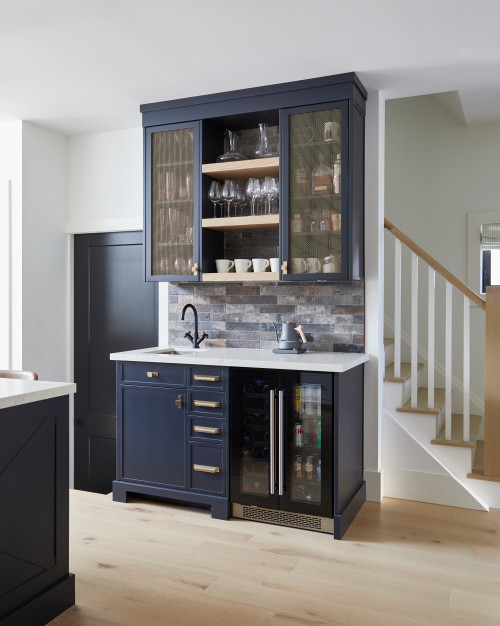 ID# 164403 | Houzz.com – Credit | © Eurodale Developments Inc
---
Transitional Kitchen Coffee Bar with Natural Stone Backsplash
If you have enough space in your kitchen, adding a coffee bar will enhance your design by maximizing functionality. In this transitional kitchen coffee bar, the navy blue cabinets create a sleek and elegant appeal. The glass-fronted upper cabinet doors and wood floating shelves provide a visual feast with beautiful glassware. The white quartz countertop perfectly completes the sophisticated overall look while bringing a fresh feel. Last but not least, the natural stone backsplash tiles make a rustic twist and add a nice textural look.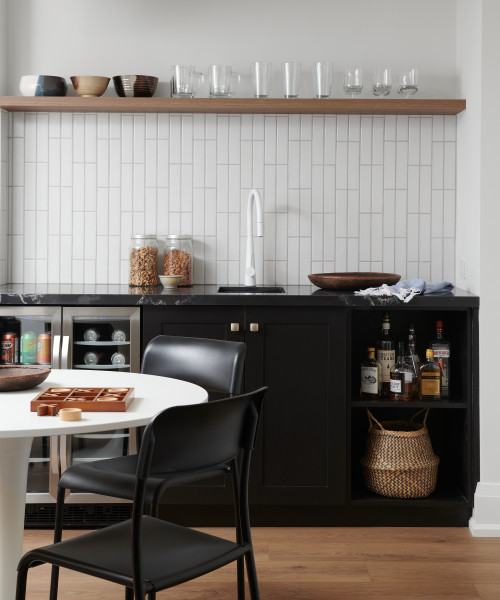 ID# 164404 | Houzz.com – Credit | © Soda Pop Design Inc.
---
Black Cabinets with White Wet Bar Backsplash
Are you looking for a timeless and at the same time stylish color scheme? Look no further than black and white! This all-time favorite duo will never fail you. In this transitional wet bar design, the black shaker cabinets and black quartz countertop bring a sophisticated look. On the other hand, the white ceramic tile backsplash adds a bright and fresh appeal and enhances visual interest by creating contrast. The single wood shelf and wood flooring break this monochrome color scheme and bring warmth to the atmosphere.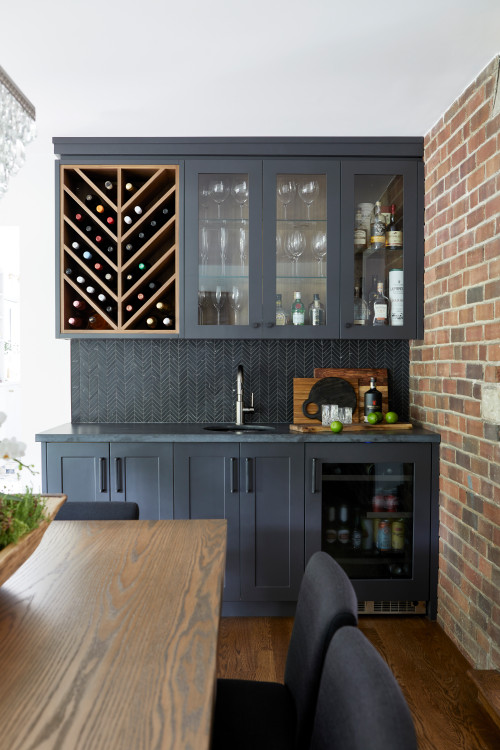 ID# 164405 | Houzz.com – Credit | © Charlie Coull Design
---
Black Transitional Home Bar Design with Built-in Wine Rack
The sophistication of black surrounds this wet bar and offers a luxurious experience!! The sleek look of the shaker cabinetry and black granite countertop create a cohesive look together. The black chevron backsplash completes the overall look and adds a nice texture. The built-in wood wine cellar adds dimension to the space with its geometrical design.
Design tip: If you are designing a home bar, using glass-fronted cabinets is a perfect way to display your beautiful glassware and create a visual feast.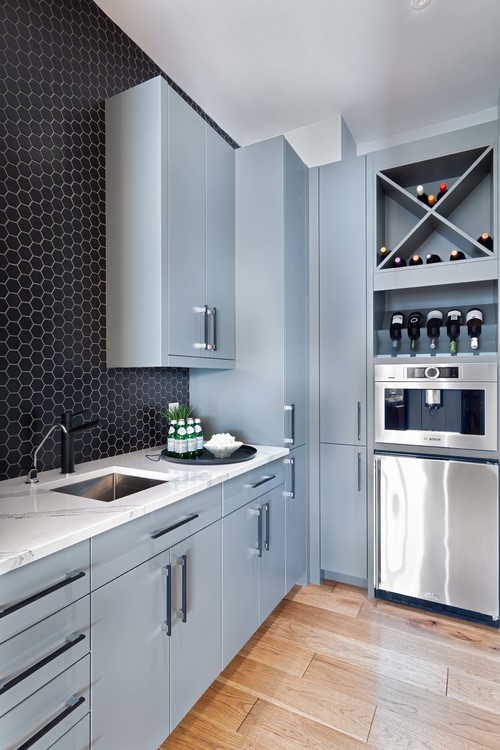 ID# 164406 | Houzz.com – Credit | © Studio 853 design
---
Black Hexagon Wet Bar Backsplash with Modern Gray Cabinets
This full-height black hexagon tile backsplash offers an eye-catching focal point between the sleek gray cabinets. The white grout contrast with the black tiles and highlight the hexagonal pattern. The light gray shade of the flat-panel cabinets softens the sharp and strong appeal of the black. The white quartz countertop, stainless steel appliances and chrome hardware make a beautiful final touch and complete the modern lines of the furniture!
Wet Bar Backsplash Materials
You can use a wide range of backsplash materials to define your home bar. If you have a small space, you can use a mirror and glass backsplash to visually expand the space. Natural materials such as wood, rock and brick are great for basement wet bars to create a more cave-like space with atmospheric lighting to capture the gist of the wet bar soul. In modern farmhouses or beach-style homes, white-painted V-groove wood panels create make for a beautiful design and add movement to the walls as well. Also, natural stones like marble create a luxurious backsplash that oozes opulence and sophistication!
Glass Wet Bar Backsplash
Though expensive, glass is one of the best materials to be used as a wet bar backsplash because of its shimmering skin. It flirts with the natural lights playfully and enriches the openness and brightness of the space skillfully. If you have the budget and want to make a statement, you can give try to glass mosaic backsplash that will be surely the visual focal point. Also, keep in mind that glass can be mixed with other materials such as marble and metal to create a complex material to enhance the impact.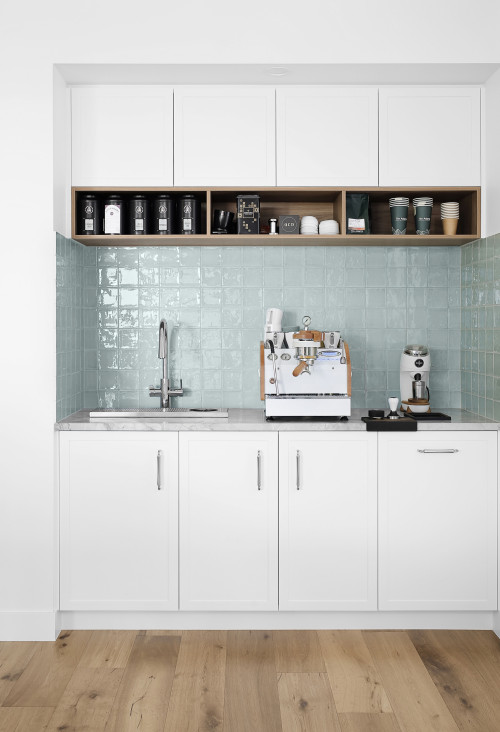 ID# 164407 | Houzz.com – Credit | © Taylor'd DISTINCTION
---
White Shaker Cabinets with Quartz Countertop and Wood Details
Boosted by glossy reflective surfaces, glass tiles are a perfect choice to create an open and airy feel for your space! In this beach-style home bar, the light green glass tile backsplash makes an unexpected twist between the white shaker cabinets and adds a fun and joyful feel to the atmosphere. The glossy finish of the tiles completes the bright and fresh look of the white cabinetry while the white quartz countertop brings a dose of luxury with its marble look texture. The vintage coffee machine and Wood open cabinets perfectly complete the beachy vibes.
Ceramic Wet Bar Backsplash
A ceramic tile comes with a wide array of color and pattern options and even better, at affordable prices. As they are easy to clean and maintain, for most homeowners, they are indispensable. As such, they continue to be popular and are used in multiple settings, including a wet bar backsplash. So, whether you want something colorful or neutral color, patterned or simple look, the ceramic tiles will satisfy you. If you give them a glazed finish, they also can achieve a glass-like effect that will communicate a sense of luxury.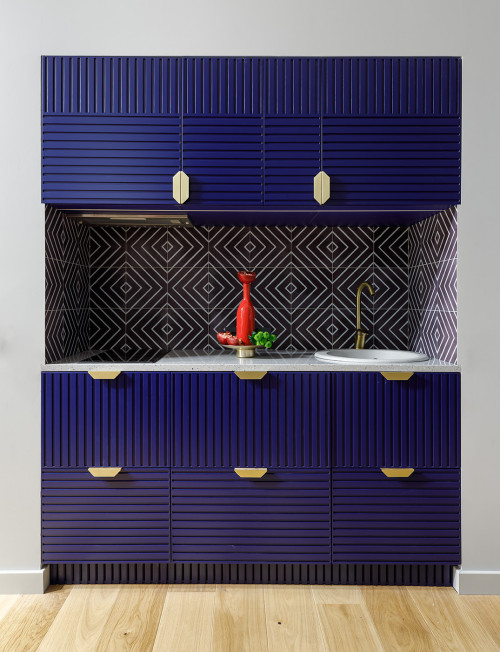 ID# 164408 | Houzz.com – Credit | © Omnia studio
---
Black and White Patterned Wet Bar Backsplash with Brass Hardware
In this transitional home bar, the navy blue cabinets take the stage with their vertical and horizontal panels! The brass hardware and marble countertops complete the elegance of the beautiful shade of blue. The black and white patterned backsplash tiles make a modern twist to bring depth to the space.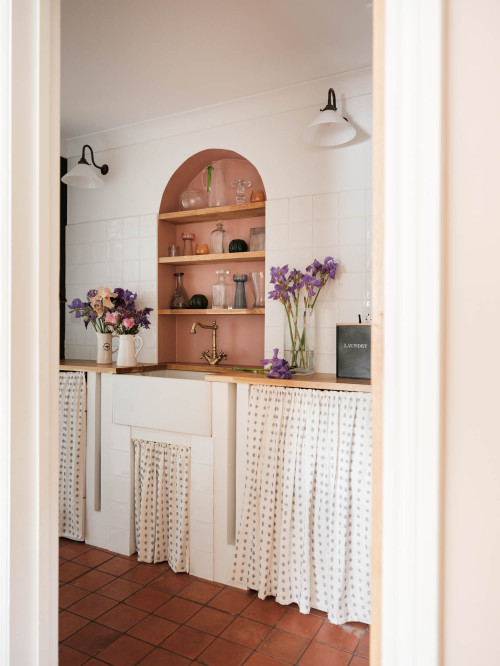 ID# 164409 | Houzz.com – Credit | © VICTORIA CALDWELL DESIGN
---
Cottage Wet Bar with Pink-Painted Built-in Niche
With its soft color scheme, wood details and textured textiles, this wet bar offers a cottage dream! Here, the pink-painted built-in niche stands out between the white features and creates a focal point. The wood floating shelves enhance the visual interest of the niche while the white square tile backsplash provides an open and airy feel with its glossy finish. Using patterned curtains instead of cabinet doors creates a more welcoming atmosphere. The white farmhouse sink and the wood countertops are also excellent choices to complete the country vibes!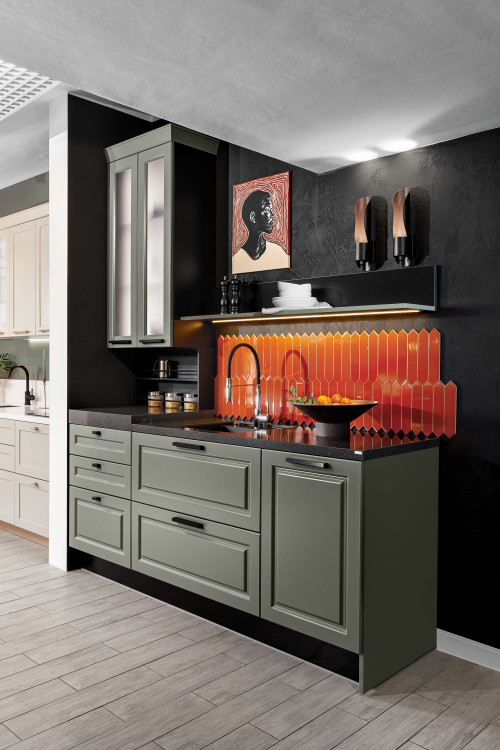 ID# 164410 | Houzz.com – Credit | © Роман Алексеев
---
Green Bar Cabinets with Orange Picket Tile Backsplash
If you want to add a wow component to your home bar, the correct backsplash may make your dreams come true: This transitional home bar is a perfect illustration of how one feature can completely transform the space, in this case, the orange backsplash! The orange picket tile backsplash is a show-stopping feature that adds an unexpected twist with its brilliant hue and one-of-a-kind charm. It also gives the typical green raised-panel cabinets a contemporary twist. The black paint behind the backsplash draws attention to the tiles to adds depth to the room.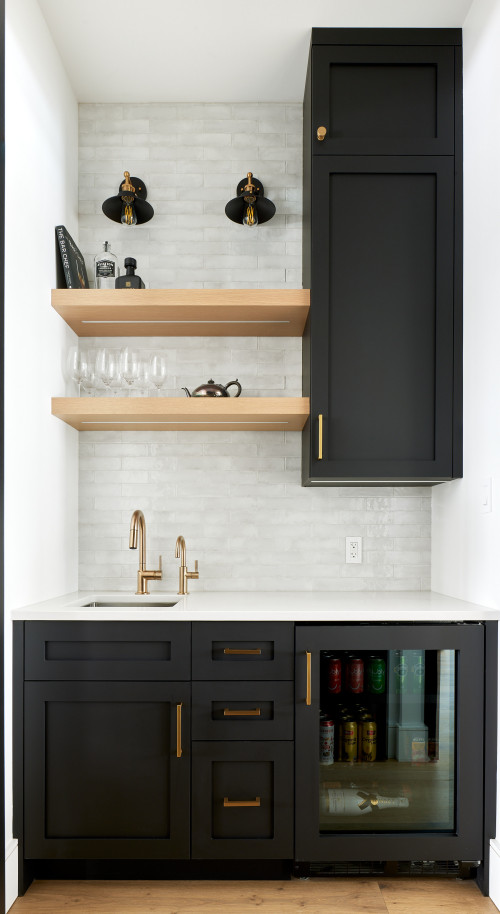 ID# 164411 | Houzz.com – Credit | © Bankside Design Studio
---
Subway Tile Wet Bar Backsplash with White Quartz Countertop
Building home bars is a great way to evaluate unused corners in your home and this design is a great example of that. Here, the black shaker cabinets are custom-made for this corner space. The white full-height backsplash provides a clean and sleek backdrop while the classic subway pattern brings timeless elegance. The wood floating shelves break the monochrome color scheme and bring warmth to space.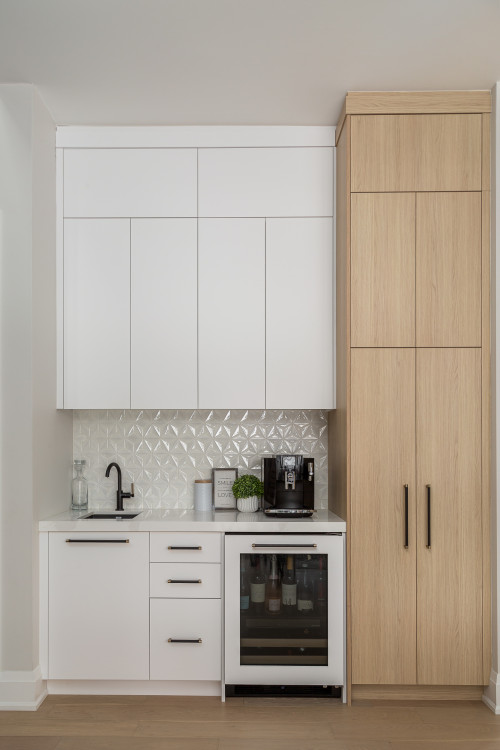 ID# 164412 | Houzz.com – Credit | © Olympic Kitchens
---
White and Wood Cabinets with Glossy White Tiles
This contemporary wet bar has a clean and timeless appearance thanks to its white and light wood color palette! With the white quartz countertop and white wet bar backsplash, the white flat-panel cabinets create a bright and expansive ambiance. The light wood tall cabinets, on the other hand, offer an excellent tactile appeal and reinforce the warm vibe.
What backsplash goes in a wet bar?
Crafting a space of your own that will add extra comfort zone and luxury is important, and it doesn't matter if the area is too small and dysfunctional. There is always something to do. A wet bar is one such option to create a luxurious spot to entertain you and the space. With a few stylish touches and the assistance of a backsplash, you can realize a fun spot.
Backsplash and design options in a wet bar vary a lot. From tiles to slab panels, wood, brick, wallpaper, mirror, and glass, various materials can be used to add functional and aesthetic value to the walls. For eccentric looks, shimmering glass tiles, sophisticated marble panels, antiqued mirrors, and stylish patterns coordinate the wet bar with the rest of the home easily.
How to decide which backsplash is better?
While choosing what is best for you, first, you should consider if you want to create a rather monotonic spot that won't draw much attention or whether you want to make a contrast and expect the wet bar to be the centerpiece of the space. When you decide this, you will know how to go with the color scheme and backsplash materials as well. Just for a sense of hint, for those who want a statement piece, a mirror, glass, marble backsplashes, and glazed tiles draw a lot of attention. But to keep it simple, neutral color matte finish tiles will give you a simple look that won't dominate the space. Lastly, those on a tight budget can try ceramics and peel-and-stick options.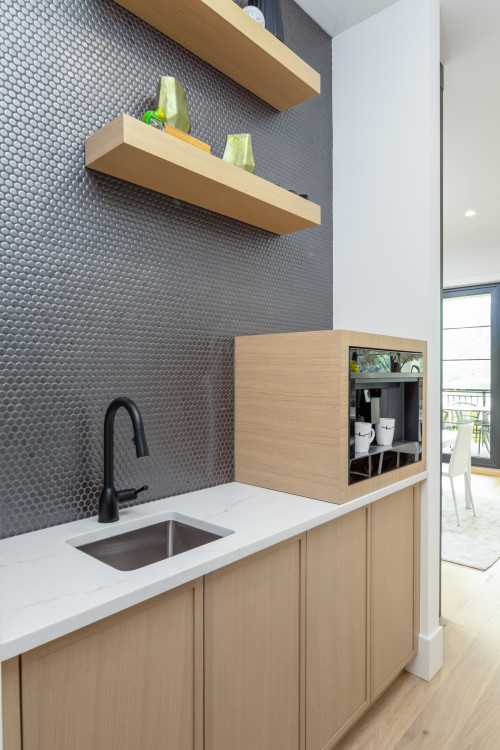 ID# 164413 | Houzz.com – Credit | © SGDI – Sarah Gallop Design Inc.
---
Black Full-Height Penny Tiles with Light Wood Cabinets
Penny tiles are classic materials for kitchen and bathroom tiling. So, if you want to incorporate this timeless appeal into your wet bar, this design will blow your mind!! Here, the black penny tile backsplash creates an accent wall by making a statement. Using black grout provides a cohesive look for this full-height backsplash while the light wood cabinets soften the sharp and strong look of the black and make the space more welcoming. The same wood material is also used for the floating shelves to create a continuous look. The white quartz countertop adds a dose of luxury to create contrast with the tiles.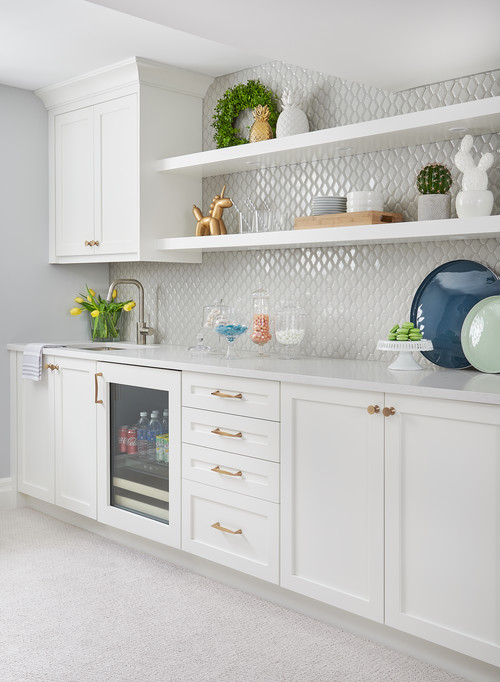 ID# 164414 | Houzz.com – Credit | © Erin Interiors
---
All-White Home Bar with Floating Shelves and Brass Hardware
An all-white color scheme will never fail you! In this beach-style wet bar, the pureness of the white surround all surfaces and provides a stylish and timeless space. The white shaker cabinets and the white hexagon tile backsplash serve a classic look that will never go out of style. The 3D effect of the tiles enhances the visual interest of the overall look. The brass hardware breaks the white domination and brings warmth. The white floating shelves and some decorations on them make the space more lively.
Mirror Wet Bar Backsplash
Who doesn't love mirrors especially when they are used as a backsplash? But aside from this love issue, the best part of having a mirror backsplash is the brightness and spaciousness that come with it. A mirror backsplash helps the light bounce around the room playfully, helping the distribution of light in the interiors. It also creates an interactive design with reflections letting different corners of the room flow into each other visually. Thus, in all scenarios, a mirror backsplash is never a bad idea. Especially if you have a small and enclosed space, a mirror will do its trick and expand the space.
If we take a closer look at the mirrors, they show a great deal of variance as well. The antiqued ones, vintage mirrors with distressed looks, and mirror tiles are all interesting options to create a different look. For example, the tile versions feature random, smoked, mosaic, colored, and beveled tiles, and each one builds a unique impact. For those looking for an intriguing lived-in feel, antiqued ones are the best. Their subway and diamond pattern ones are also as popular as the seamless ones. Additionally, for a 3D look, you can go with beveled mirror tiles.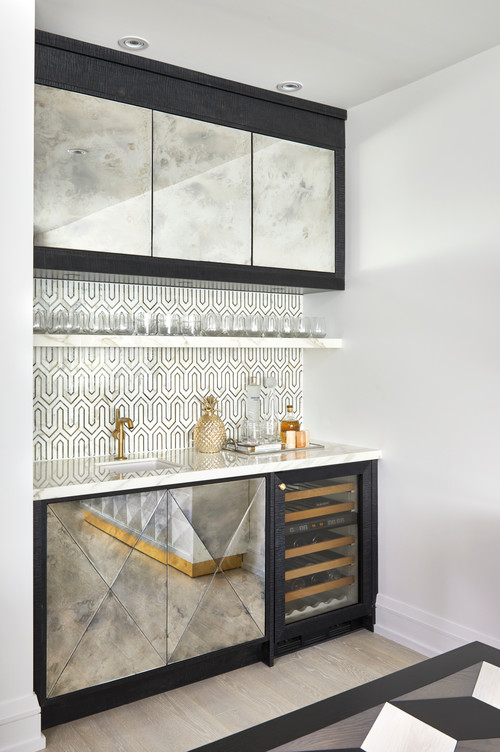 ID# 164415 | Houzz.com – Credit | © Jordyn Developments
---
Unique Bar Design with Aged Mirror Cabinet Doors
Wow! Each detail in this transitional home bar acts as a piece of art and they create a one-of-a-kind appeal together. The aged mirror application on the black cabinets adds a vintage flair to the space while the black bases bring depth. The black geometrical patterned white backsplash tiles modernize the look and create a focal point. The built-in beverage cooler and white floating shelf maximize the functionality even if this is a small bar design.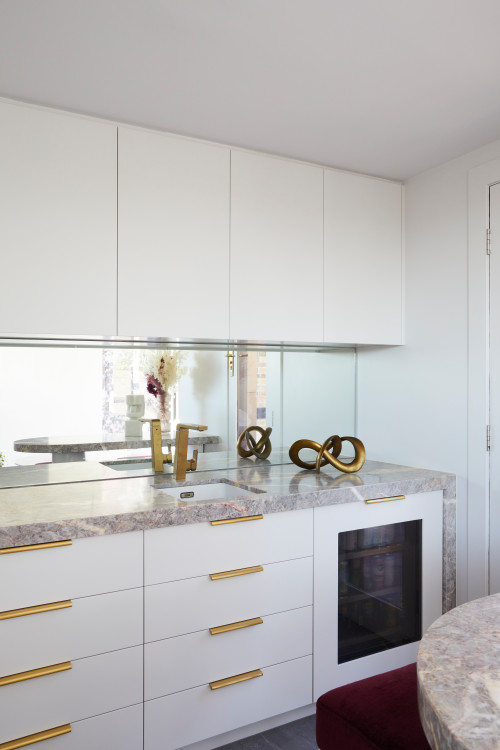 ID# 164416 | Houzz.com – Credit | © Lewisham Interiors
---
Mirror Wet Bar Backsplash with White Cabinets and Marble Countertop
A mirror backsplash is one of the most popular materials for home bars and in this luxurious design, it adds a wow factor… The white flat panel cabinets serve a simple and sleek appeal and this simplicity allows the backsplash to stand out. The gray marble countertop is the other statement maker piece that enhances the luxurious feel of the room.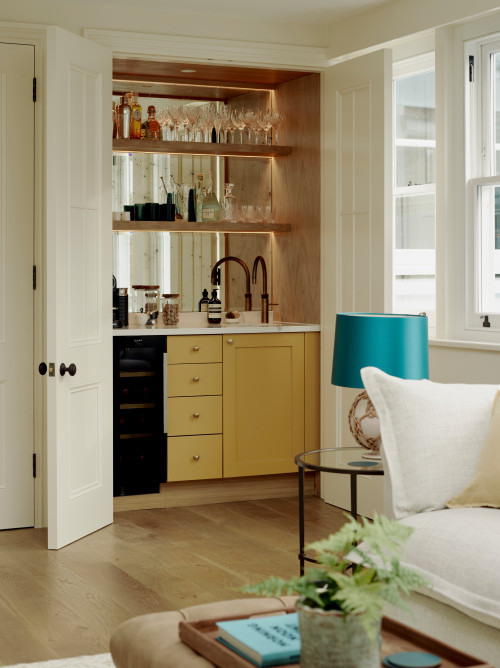 ID# 164417 | Houzz.com – Credit | © Tanya Bentley Ltd.
---
Hidden Home Bar with Yellow Cabinets and Wood Floating Shelves
If you want to add a home bar to your living space but are concerned about clutter, you may hide the bar area behind the doors! In this transitional design, the little wet bar glows like a jewelry box when the doors are open. The mustard yellow cabinets add a whimsical yet beautiful touch to the design and the white quartz countertop completes the aesthetic. The mirror backsplash gives the space depth and visual intrigue while the LED lights beneath the floating shelves add a dramatic touch.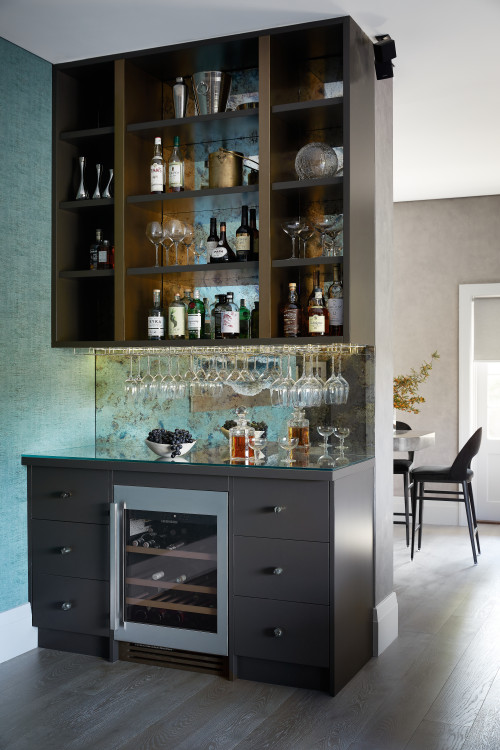 ID# 164418 | Houzz.com – Credit | © Covemade.
---
Contemporary Bar Design with Open Cabinets
If you want to add a vintage flair to your wet bar, an antique mirror backsplash will be an excellent choice for your design. In this contemporary home bar, the aged mirror as a backsplash makes a rustic twist against the clean and sleek look of the black cabinets. While the beverage cooler provides an additional function, the open cabinets for the upper part create a visual feast with the wine bottles!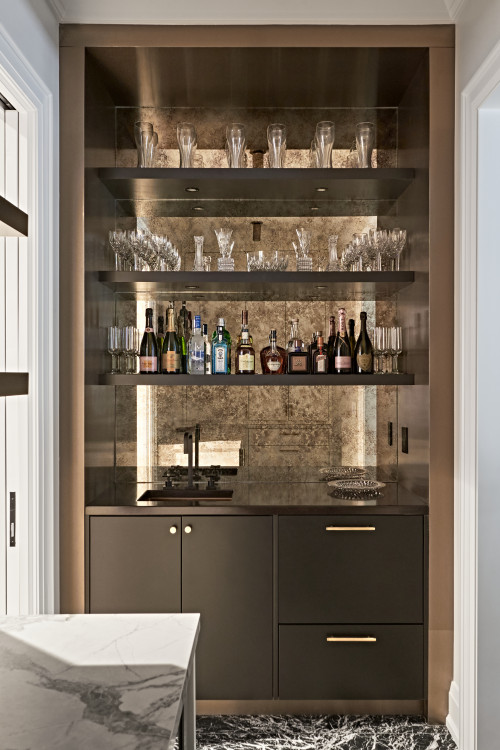 ID# 164419 | Houzz.com – Credit | © Alair Homes Forest Hill
---
Dramatic Home Bar with Dark Cabinets and Brass Hardware
Do you like a little bit of drama? Then this transitional home bar is perfect for you! With its dark brown cabinets, countertop and floating shelves this bar offers a sophisticated appeal. The aged mirror backsplash perfectly completes this elegance while adding depth to the space. Thanks to the open shelving, the glassware and bottles create a visually pleasing atmosphere.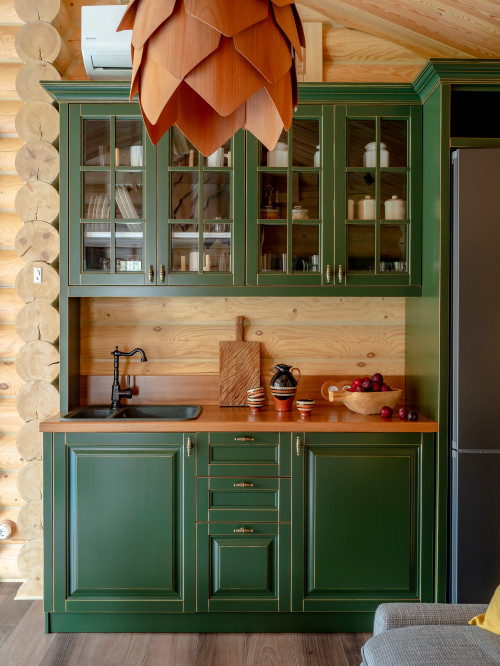 ID# 164421 | Houzz.com – Credit | © Виктория Лапухина
---
Rustic Home Bar with Wood Wall Panels
If you appreciate rustic designs then a wood backsplash might be an excellent choice for your home bar! Here, for example, the 4 inch wood backsplash and countertop blend in with the wooden wall panels to create a seamless aesthetic. The green cabinets complement the wood textures while the brass hardware completes the old look of the cabinets.
Wood Wet Bar Backsplash
Due to its natural stains, it feels enriched, contributing warming shades to make a cozy place. To complement a wood backsplash, butcher block countertops, green cabinets, and brass elements can be integrated into the design. Just because it is wood, it doesn't mean that you can't incorporate it into a modern and contemporary look. For example, with sleek black cabinets, a wood backsplash gains a different look.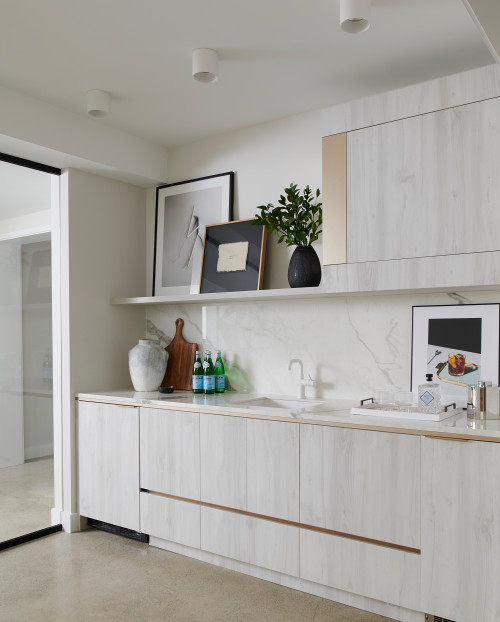 ID# 164422 | Houzz.com – Credit | © avenue design inc
---
Modern Gray Cabinets with Marble Wet Bar Backsplash
If you want to add a sense of luxury to your wet home bar, marble is the number one option! In this modern design, the marble backsplash and countertop instantly enhance the overall look by adding a luxurious feel. The sleek look of the light gray cabinets allows the marble slabs to be the star of this space.
Marble Wet Bar Backsplash
Marble is one of the most sophisticated natural stones that communicate luxury which makes it a perfect fit for a wet bar backsplash. Coming in various colors and tile patterns, marble always creates a design soothing, sophisticated and elegant. For those who love neutral designs, white and off-white marble with light-colored cabinets do an excellent job. For a more sleek and dramatic impact, black marble backsplashes with dark cabinets make for an immersive look. Though, the drawbacks of marble are its high prices and its demanding nature that requires regular sealing and cleaning. For these reasons, if you are looking for an alternative, marble-look porcelain will offer you a level of authenticity, more durability, and ease of maintenance.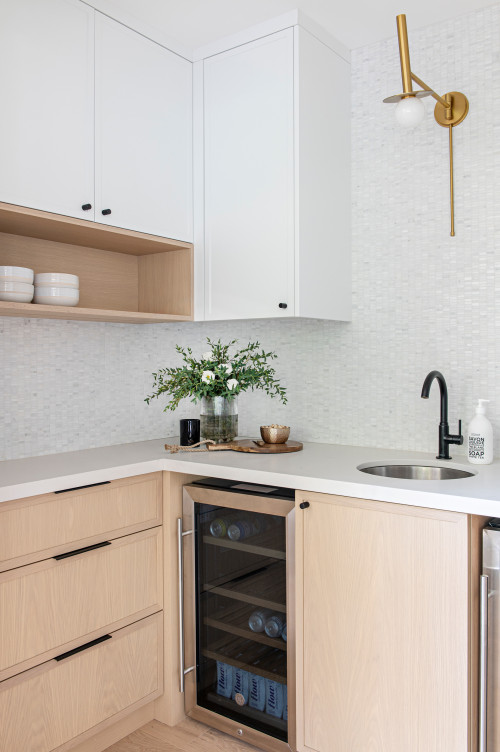 ID# 164423 | Houzz.com – Credit | © AMANDA SHIELDS INTERIORS
---
Two Tone Cabinetry with Gold Sconce
If you are designing a small home bar, lighter shades will help you to create more spacious spaces like in this Scandinavian bar. Here, the two-tone cabinetry creates a simple yet elegant appeal with its white and wood combination. The tiny marble backsplash tiles provide a cohesive look with the cabinets and add a nice textural look while the brass sconce above the sink enhances the overall design.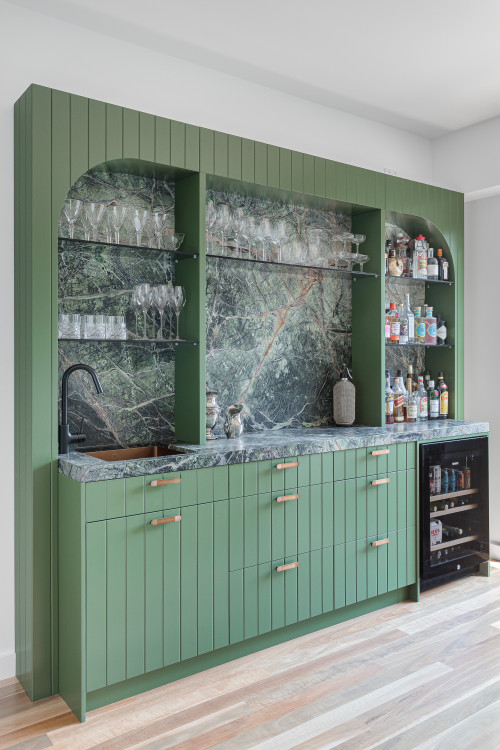 ID# 164424 | Houzz.com – Credit | © Assembuild
---
Green Cabinets with Marble Wet Bar Backsplash and Countertop
If you want to create a statement maker corner for your living space that will be a conversation piece for years? Then you will love this home bar design! This contemporary home bar stands out with its green cabinets while the gorgeous shade of green provides a one-of-a-kind appeal. The giant marble slabs as a backsplash and countertop complete the sophistication of the cabinetry while adding drama to the space!