31+ Modern Stone Backsplash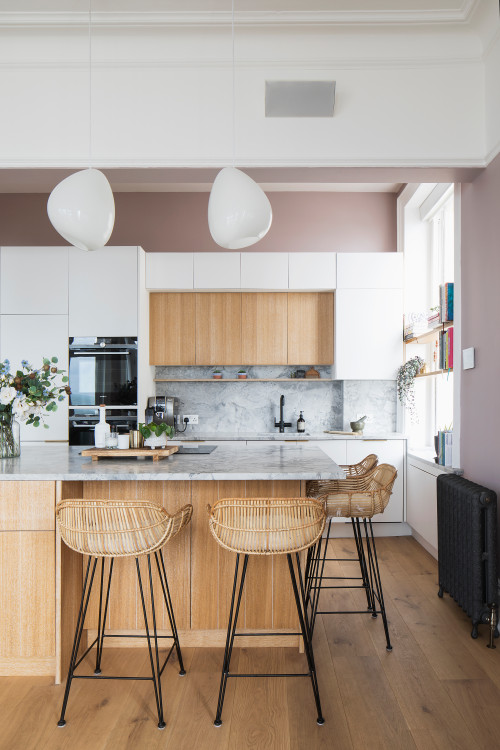 ID# 168702 | Houzz.com – Credit | © Stickland Wright Architects + Interiors
---
Contemporary Design Kitchen with Wooden Surfaces and Flat-Panels
This kitchen provides all the signatures of a contemporary kitchen design style. The stone countertops, wood textures and marble backsplash bring a natural and expensive feeling to the kitchen environment. At the back, the gorgeous marble slab backsplash creates a cohesive look with the two-tone kitchen cabinetry. Also, using flat-panel cabinetry without handles can help you to increase the simplicity and prevent the crowdy look. The wicker counter chairs complement the natural texture of the wood surfaces while the white pendant lights above the island make a final touch to enhance the contemporary aesthetic!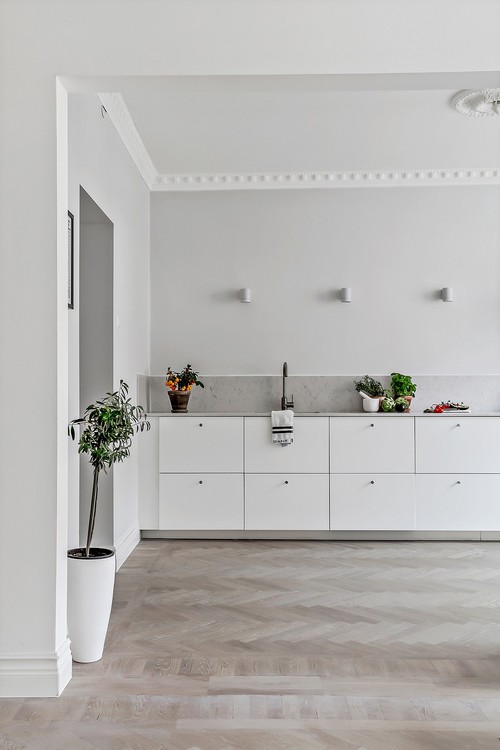 ID# 168718 | Houzz.com – Credit | © Bjurfors Skåne
---
Modern Stone Backsplash for Minimalist Scandinavian Kitchen
The design vocabulary of this simple Scandinavian kitchen is limited to the necessities. To begin, the white cabinets give adequate storage, and the gray marble backsplash running shorter on the walls provides adequate wall coverage. Because there are no top units, the walls have greater breathing room, which is enhanced with white wall sconces. To fit the design's minimalist objectives, they virtually blend into the backdrop against white-painted walls.
Modern Stone Backsplash
A modern stone backsplash is one of the greatest solutions for a kitchen backsplash out of all the possibilities. Nothing makes a more stark statement than stone, making it the ideal material for a spectacular kitchen backsplash!
Sleek and Elegant Charm of Modern Stone Tiles
Stone tile and stone slabs are just a handful of the materials available to the kitchen designer for a modern stone backsplash. And with designs ranging from strictly geometric to freeform fluidity, there will be no shortage of ideas to put into practice. Stone is definitely a cut above the rest, and the long-term implications of a modern stone backsplash should not be overlooked.
Modern stone backsplashes are a great choice for a backsplash because they are both visually appealing and durable. Due to their porous structure, stone backsplashes are more prone to staining which means they are a little bit harder to maintain than classic backsplash tile materials such as ceramic or porcelain. But do not worry!! With a proper cleaning routine, you can keep their natural beauty for many years to come!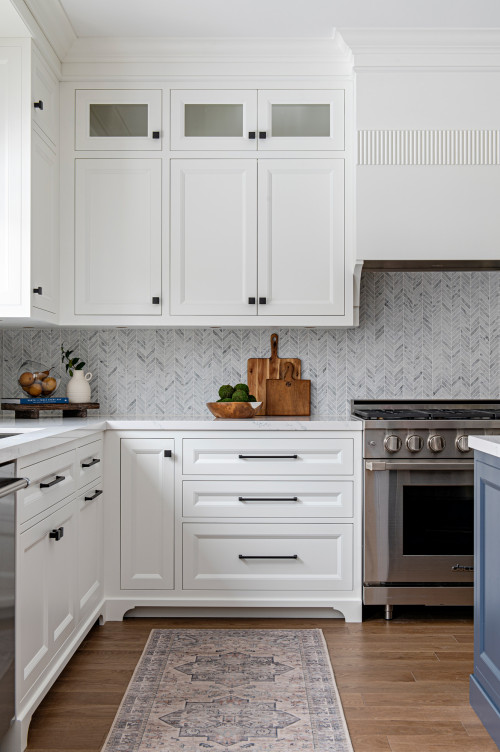 ID# 168701 | Houzz.com – Credit | © Cambro Contracting
---
Marble Modern Stone Backsplash with Shaker Cabinets
Boosted by white cabinetry, marble backsplash and black hardware, this transitional kitchen provides the elegance of ageless appeal. White shaker cabinets dominate the space here and offer a clean and sleek look with the white quartz counters. The gray marble chevron backsplash complements the white cabinets and adds a touch of elegance. The matte black hardware adds a contrasting aspect to the modern feeling while the wood flooring gives warmth to the area while breaking up the monotone color palette.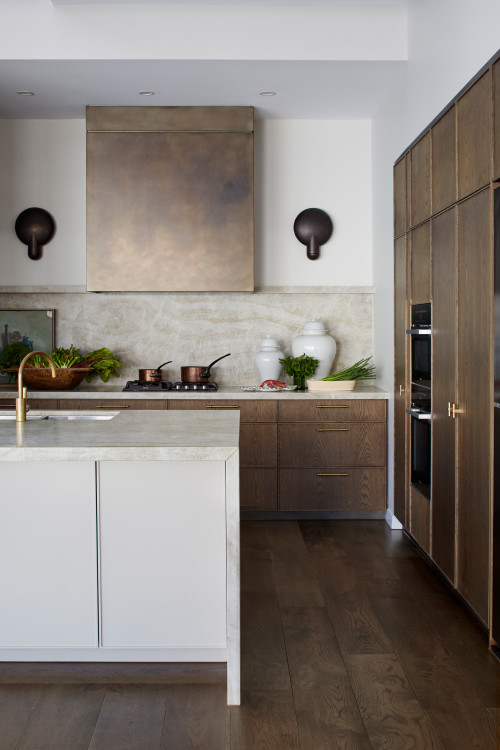 ID# 168703 | Houzz.com – Credit | © Brownlow Interior Design
---
Beige Modern Stone Backsplash with Copper Range Hood
Along with the light beige marble backsplash and matching countertops, this welcoming comfortable kitchen is plentiful in hardwood textures and colors that lend a powerful aspect to the interiors! The metal range hood just merges in with the surrounding woodwork, implying a lived-in look with rustic attractiveness. This well-integrated mix also maintains the design's endurance while the brass hardware gives the cabinets a shining gesture.
Does stone make a good backsplash?
A kitchen backsplash is designed to protect the kitchen wall area behind your counters from stains and splatters in addition to complementing your countertops. When it comes to backsplashes, you will undoubtedly have a plethora of alternatives to pick from. While tile backsplashes are quite prevalent in homes, a slab or tile of natural stone is an excellent way to make a statement. Stone backsplashes are also more long-lasting and they are a terrific choice for your new backsplash because of its mix of beauty and durability! A stone backsplash is one of the greatest solutions for a kitchen backsplash out of all the possibilities.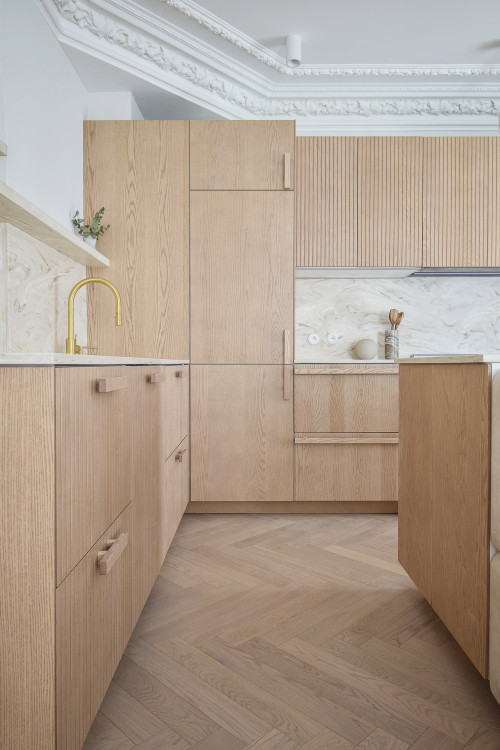 ID# 168704 | Houzz.com – Credit | © BAT & CO
---
Beige Modern Stone Backsplash with Light Wood Cabinets
Boosted with the luxurious marble texture, these light wood cabinets offer a sleek and modern appeal with a warm and welcoming sense. The fluted-design bespoke joinery, wood-carved cabinet handles, and chevron wood floor bring the entire area together, but the marble slab backsplash separates the all-wood features. The soft beige shades of the marble backsplash and countertops perfectly adjust the texture-rich color palette of the kitchen while the ceiling moldings make a historical spin that enhances the overall look.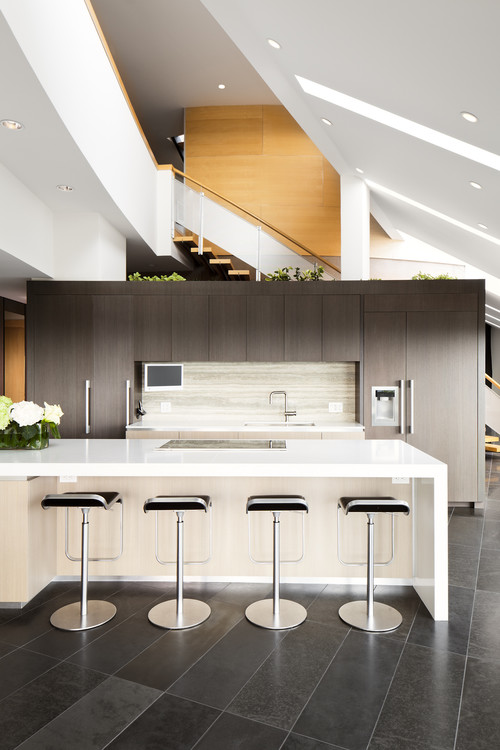 ID# 168705 | Houzz.com – Credit | © Natural Balance Home Builders
---
Limestone Backsplash with Light and Dark Wood Cabinets
Enlightened by the limestone backsplash, the dark and light wood cabinets provide a sleek and modern appeal. Mirroring the bright look of the base cabinets, the kitchen island enhances the modern aesthetic with its waterfall quartz countertop while the black floor tiles emphasize the contrasting look.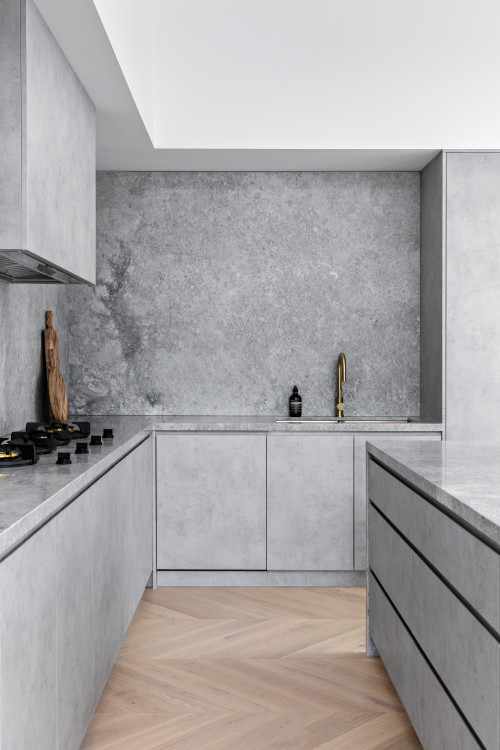 ID# 168706 | Houzz.com – Credit | © EKOSS
---
Gray Backsplash and Cabinets with Wood Chevron Floor
Even though this kitchen is enveloped by one subtle gray shade, it creates a streamlined and stylish look! Mirroring the natural texture of the gray stone backsplash and countertops, kitchen cabinets offer an ultra-modern appeal. The light wood flooring breaks the gray domination in the space while the chevron pattern adds more visual interest.
Color Options for Modern Stone Backsplash
Nowadays, there are many color options for modern backsplashes available, including white, black, and, of course, gray. While a backsplash serves to protect the walls from splashes and spills, it may also serve as a decorative element in the kitchen. Consider it a design detail that expresses your particular style and a chance to show off a little individuality.
Given how much time we spend in our kitchens, it's a mystery why so many people choose to ignore this hallowed room. Your kitchen serves as both a refuge and a stage; it is here that you seek and prepare nutrition, as well as entertain and offer. As a result, you are entitled to the best in every detail–you are entitled to the elegance and security of these color options for modern stone backsplashes. Let's dive into the world of color options for modern backsplash ideas!
Modern White Stone Backsplash
Stone is one of the long lasting materials that can be used both inside and out and it's one of the most popular kitchen backsplash choices! The natural stone backsplash with earthy colors is the first thing that springs to mind when thinking about stone. However, a natural stone's natural and powerful appeal may not be appropriate for all architectural sensibilities. The white stone enters the picture at this point. White stone maintains the textured aesthetic while adding a gentler appeal that may be used in a variety of kitchens!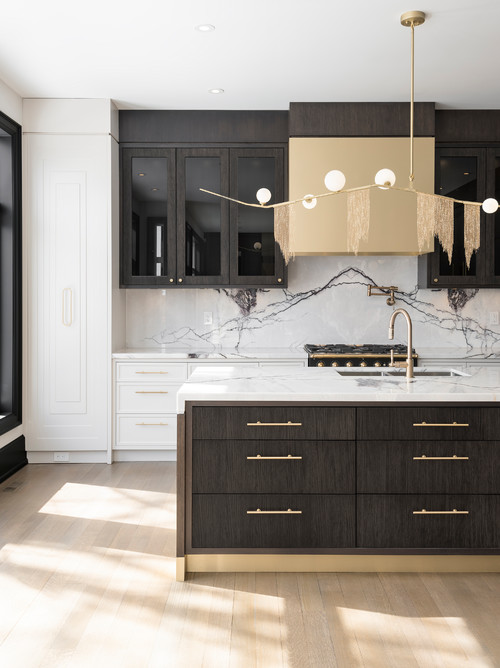 ID# 168707 | Houzz.com – Credit | © Drake+Khan Design
---
Dark Wood and White Kitchen Cabinets with Brass Range Hood
If your kitchen opens to garden views through full-height glass windows, you're in luck since you'll be able to see the interplay of light and shadows falling across your kitchen like in this one! The contemporary kitchen has a dramatic color scale softened by brass hardware, with dark cabinets, oak floors and a white polished marble backsplash. The raised base provides another depth to the dark cabinetry while the fascinating contemporary lighting fixture turns the island into a focal point that seems complimentary to the white backsplash in the backdrop.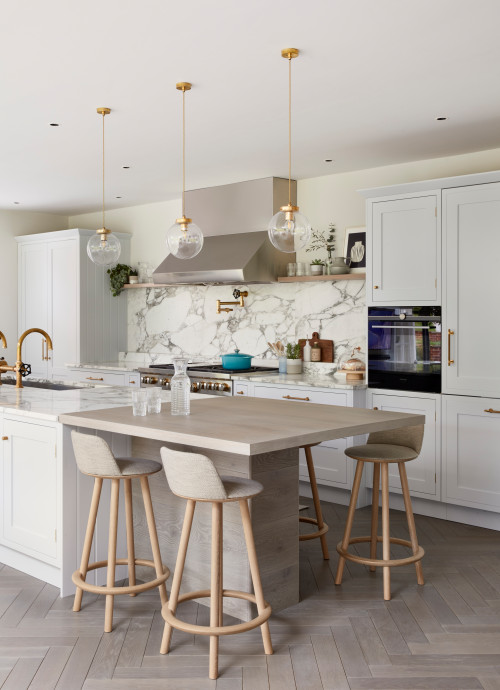 ID# 168708 | Houzz.com – Credit | © Snug Kitchens
---
White Modern Stone Backsplash with Stainless Steel Appliances
Warmed up with the wood and gold additions, the white shaker cabinets offer a blank canvas for this transitional kitchen. The pronounced brown veins of the white marble backsplash ooze opulence while the kitchen island mirrors the perimeter counters with a wooden cantilevered extension paired with the stools in the same color. The glass orb-style lighting system and built-in spotlights provide task and ambient lighting while chevron wood flooring in light sandy colors unites the entire design motif.
Is a stone backsplash hard to clean?
When was the last time you carefully cleaned the tile or stone backsplash in your kitchen? If you're like most people, you disinfected your kitchen counters and vacuumed the floor the day before last. The stone backsplash behind your sink or stove, on the other hand, is easy to overlook.
When you cook, your backsplash, like the surface of your stove, becomes greasy. However, unlike the cooktop, where food spills and oil are easily visible and cleaned up, the backsplash is frequently disregarded. That oil serves as a magnet, attracting dust and grime, which is not ideal for food preparation. Furthermore, keeping the kitchen clean is essential for minimizing bacteria overgrowth and lowering your chance of contracting a foodborne disease. Stone backsplashes are beautiful, but they may be difficult to keep clean.
Before it's time to clean, check with your installer to see how or if your stone backsplash is sealed.
Clean the crevices of the stone with a soft-bristled toothbrush or scrub brush. Stone, which is generally rougher than tile, is more prone to accumulating oil.
In a pail of hot water, use a mild dish detergent that reduces grease. Before you start working on your entire backsplash, try it in a tiny area to be sure it won't damage the stone. Allow it to dry before proceeding.
Gently scrub with a lot of soap and water. Frequently re-dip your brush into the soapy water mixture.
To remove the soap and prevent it from developing a film on your stone, rinse with a clean, moist towel.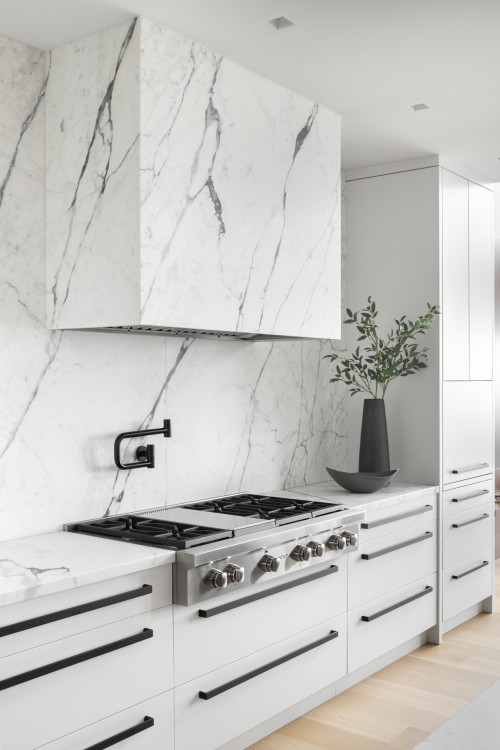 ID# 168709 | Houzz.com – Credit | © Madeleine Design Group Inc.
---
All-White Modern Kitchen with Black Accents
If you want to create a seamless and uniform look, consider enveloping the range hood with the same backsplash material! This all-white kitchen, for instance, is founded on the marble slab backsplash, which extends to the ceiling and covers the range hood in the process. The marble's undulating curves offer delicate nuances, producing a softer aesthetic that extends to the countertops. The rest of the kitchen is furnished with white cabinets, the majority of which are drawers for better organization of culinary equipment. The extended black cabinet pulls simply reflect the black veins on the backsplash and connect the cabinets to the rest of the visual plan for a seamless aesthetic.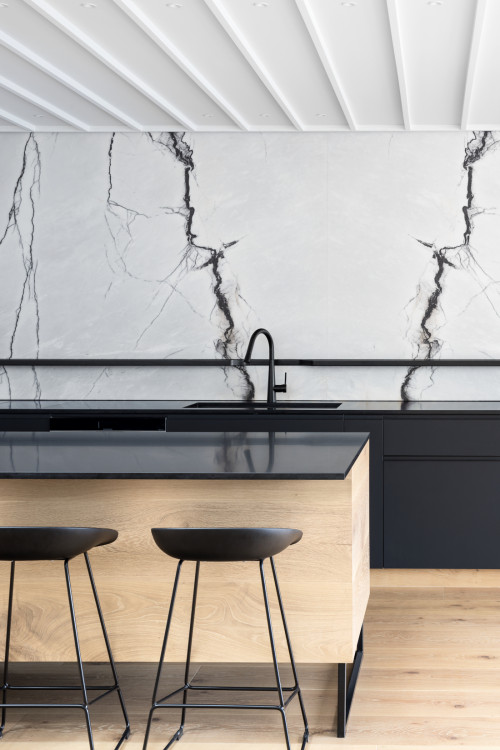 ID# 168710 | Houzz.com – Credit | © Shane Marsh Architects
---
Black Kitchen Cabinets with Wood Island and Black Countertops
Enhanced by striking black veins, this white marble backsplash is sure to catch the eye! The light wood flooring and island give a coordinating yet contrasting element to the overall layout while the black countertops and flat-panel kitchen cabinets are complemented by its contrasting appearance.
Modern Black Stone Backsplash
Consider a modern black stone backsplash if you want to give your kitchen a more natural feel and catch the modern appeal. Since the black color is versatile, you can create stunning and sophisticated designs with it. The mysterious look is a plus with a modern black stone backsplash! When the word "modern" comes to mind, you can think of a stone slab backsplash, however, there are modern black stone backsplash tiles in the market available that can help to create a modern look with movement.
Black is a classic and timeless hue that never goes out of style, and it may give a room a sophisticated sense while also creating a somber atmosphere or contrast. A modern black stone backsplash is a great choice since it may help to round off a dark room or add a striking accent to a neutral or pastel environment. It does not matter whether you have a classic or contemporary kitchen design, you can use a modern black stone backsplash that can improve your kitchen's look with sophistication!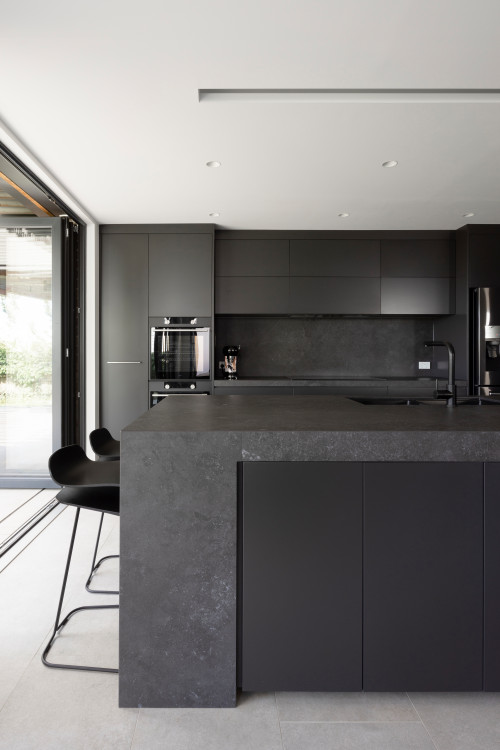 ID# 168711 | Houzz.com – Credit | © Kitchen Elegance
---
Black Contemporary Kitchen with Flat-Panel Cabinets
Such a dim kitchen provides a sophisticated look with serenity! You might think that this much black can be overwhelming but this contemporary kitchen gets you wrong! Enriched by thick black granite countertops that add a masculine touch to the kitchen design, the black flat-panel cabinets offer an ultra-modern look. The same granite material is also used for a kitchen backsplash. Balancing the dark shades of this sophisticated kitchen, using white walls, a white ceiling, and light gray floor tiles enhances the spaciousness.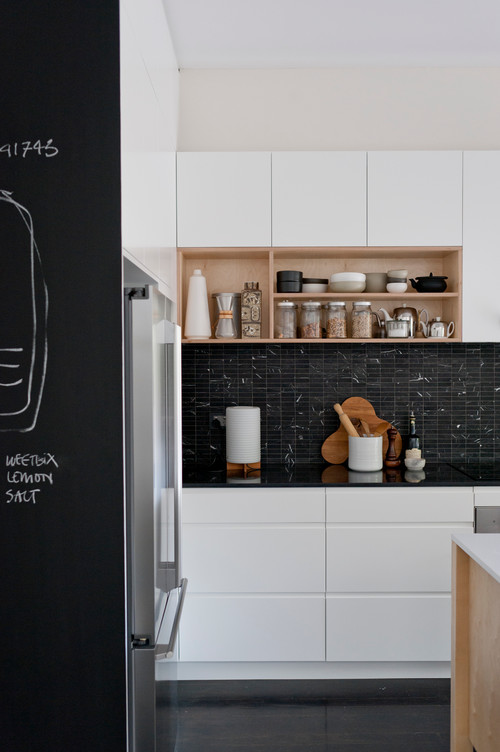 ID# 168712 | Houzz.com – Credit | © ANNA CARIN Design
---
Modern Kitchen Design with Wood Flat-Panel Cabinets and Wood Ceiling
The matte black marble backsplash tiles and the glossy black counters contrast tastefully with the clean and fresh look of the white kitchen cabinets! The modernized Scandinavian aesthetic is maintained by the kitchen cabinets' flat panels and wooden accents. The black kitchen floors make the white cabinetry style pop into the room.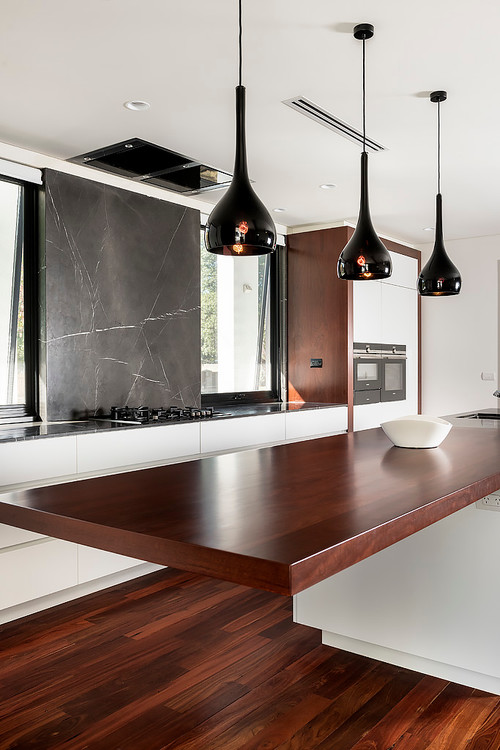 ID# 168713 | Houzz.com – Credit | © Western Cabinets
---
Black Modern Stone Backsplash with White Cabinets and Wood Countertop
The dark wood floors and textures complement the white flat-panel kitchen cabinetry! The black marble slab backsplash and black counters add to the natural balance. The island's dining extension grabs attention while the black marble slab backsplash combines with the kitchen's wood textures.
Are stone backsplashes still in style?
Stone has never gone out of style in a kitchen or bathroom so this type of backsplash could be worth the investment if you're planning a remodel soon! If you want to save money and change up the trend, you could certainly couple this feature with butcher block counters as well. As it is known, a stone slab backsplash is one of the signatures of the contemporary design style. So it is not possible for a stone backsplash to not be in style sill.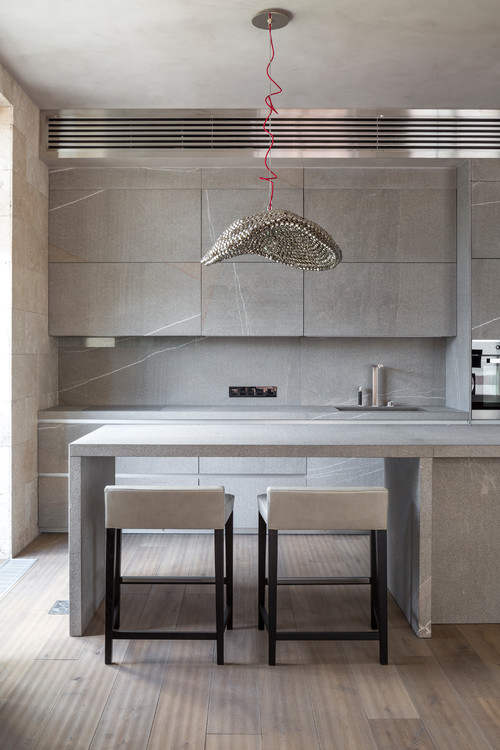 ID# 168714 | Houzz.com – Credit | © Nina Zaytseva
---
All-Gray Kitchen Design with Eye-Catching Chandelier
This contemporary kitchen design is evidence that even one color—in this example, gray—can be used to make visually pleasing areas! The backsplash, countertops and kitchen cabinets are surrounded by gray stone-like surfaces which gives the space a streamlined and coordinated appearance. The focal point of this design is the chandelier over the kitchen island which adds an unexpected twist with its glitzy appeal.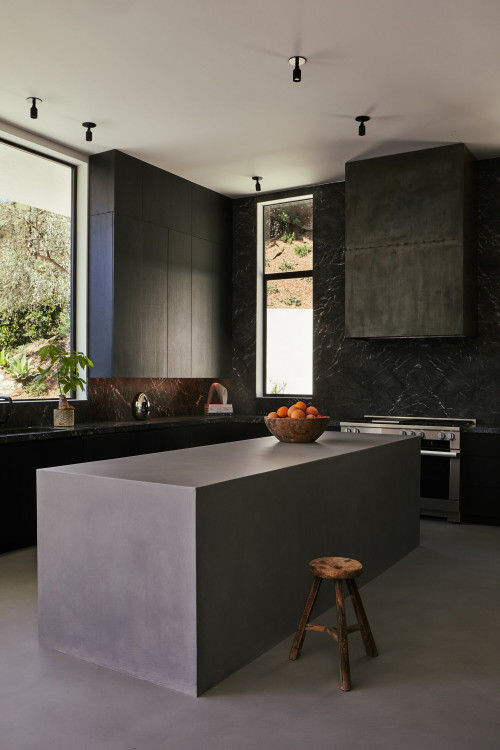 ID# 168715 | Houzz.com – Credit
---
Dramatic Kitchen Design with Concrete Island
Choose a color scheme with a strong emphasis on black if you want to create a dramatic environment with seductive undertones! Surrounded by the cabinets and backsplash, deep black colors provide a rich and sophisticated atmosphere. The white veins of the black quartz backsplash offer a wonderful texture and heighten the drama. The gray concrete countertop and floor's straightforward yet striking appeal makes it possible for the black surfaces to stand out and balance the deep, dark colors.
Modern Gray Stone Backsplash
Are you thinking of installing a modern gray stone backsplash in your kitchen? First and foremost, excellent decision. They're lovely and classic and give any kitchen a lot of personality. Stone backsplashes come in a variety of materials from which to pick, depending on your preferences and the design of your kitchen. Marble, granite, soapstone, limestone, travertine, and onyx can all be utilized for a modern gray stone backsplash. Stone backsplashes are not only attractive, but they are also durable, and with the correct care, you can keep them looking great for years.
It's easy to feel a little—or a lot—overwhelmed with all the options while looking for a backsplash that will bring a signature appearance to your kitchen. You can't go wrong with a modern gray stone backsplash, fortunately. A new kitchen will raise the value of your home, and nothing beats genuine stone for a return on investment. Stone's neutral, timeless appearance is here to stay, and there's a style, color, and kind of stone to suit any kitchen.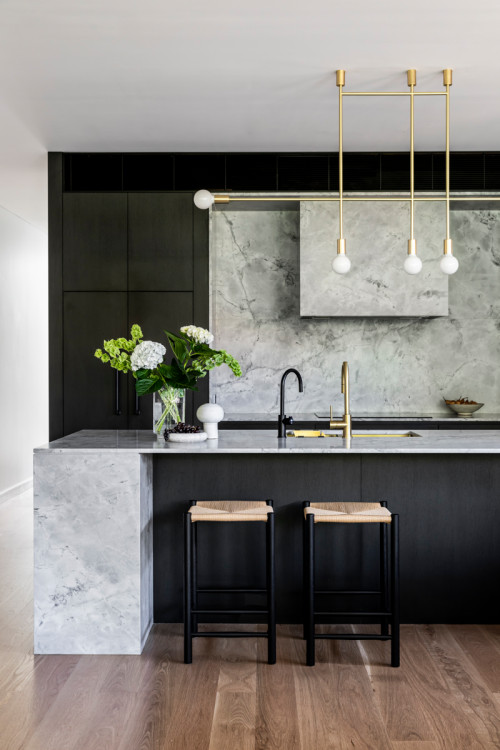 ID# 168716 | Houzz.com – Credit | © onefour interiors
---
Modern Gray Stone Backsplash and Countertops with Black Cabinets
Such an elegant look! The combination of the luxurious marble texture and the deep black shade offers a luxurious kitchen design with a dose of glamour! Framed by black modern cabinets, the giant gray marble slab is used as a backsplash to create a visual feast. The same marble material is also used for range hood cladding to create a seamless look. At the heart of the kitchen, the large black island topped with a marble countertop increases both the functionality and visual appeal of the space while the naïve design of the brass lighting fixture makes a cohesive final touch.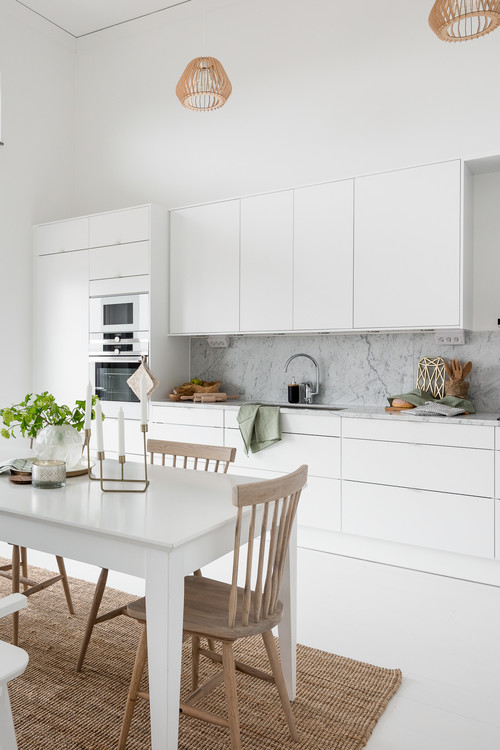 ID# 168717 | Houzz.com – Credit | © papac media AB
---
White Modern Kitchen Design with Natural Wood Accents
Incorporating some gray and natural tones can help you achieve your aim of breaking up the monochromatic look of your kitchen and introducing warmth! The gray backsplash in this modern kitchen, for example, livens up the simple design of the modern white cabinetry while the rattan mat adds warmth beneath the dining room.
Can you use a stone backsplash in the kitchen?
Natural stone backsplash tile, regardless of the type of surface you choose for your kitchen or bathroom counters, gives a lot of beauty and character to the space. You may be as creative as you want with so many different forms, sizes, materials, and colors to pick from. Let's check the pros and cons of a stone backsplash ideas!
Pros
It has a broad appeal. A natural stone backsplash should be at the top of your list if you're redesigning it for future resale. Travertine and marble, to mention two, are not only ageless but also well-liked, giving them exceptional longevity. Whether you're selling in five, ten, or fifteen years, they'll appeal to a huge buying audience.
There are no two stone backsplashes alike. Natural stone has the advantage of never looking precisely like your neighbor's. Even between two pieces of the same hue, stone has a natural tendency to vary. All of the veins and swirls will be distinctively yours. Natural stone is a great option if you're seeking something unique.
It is not prohibitively expensive. Natural stone is inexpensive. Travertine, for example, comes in a variety of shapes and sizes (subway tile, 4 by 4, mosaic), all of which are reasonably priced.
Cons
It's more difficult to clean. This isn't to argue that cleaning stone is difficult. It only takes a bit more time and effort than a glass mosaic. The pits and grooves make wiping off more difficult, especially because dirt and scum can get lodged between them.
You must also choose your cleaning products carefully. When exposed to certain substances, natural stone can darken. Warm water or a professional stone cleaner should typically be enough, but always read the manufacturer's instructions before using any cleaning materials.
It's not water- or stain-resistant. Stones are permeable by nature. They have a proclivity for absorbing stains and water, both of which are common in kitchens. To protect your stone from oil and grime, you should seal it every couple of years. Even so, certain stains will be difficult to get rid of. Some homeowners just do not have the time or patience to deal with this additional upkeep. Devoted cooks may choose a backsplash that is more stain-resistant.
It's possible to have too much variance. Natural stone is very unexpected. There's a strong possibility your backsplash installation may differ slightly from the sample piece you viewed at the store. Variation isn't normally an issue, and most homeowners choose natural stone for a more varied aesthetic. However, there are occasions when you'll see colors and patterns that you don't like, and you'll have to either live with them or start over.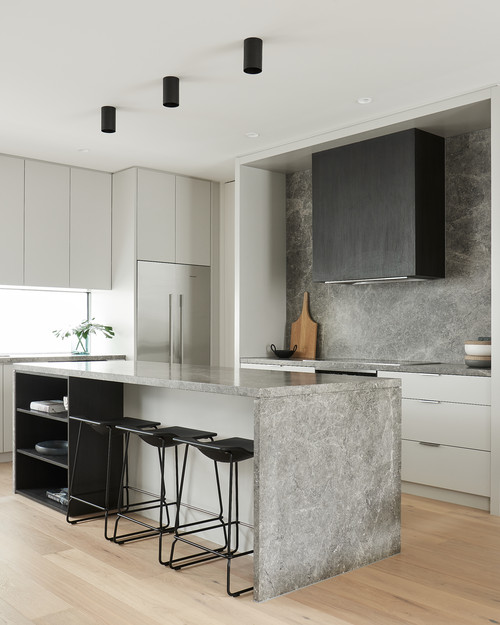 ID# 168719 | Houzz.com – Credit | © S&K Group
---
Gray Modern Stone Backsplash with Oversized Black Range Hood
Even though this kitchen is simple in style, utilizing items that have a noticeable impact gives it a distinctive charm! The white kitchen cabinets provide a clean and uncomplicated backdrop for the black appliances in this room while the black details, such as the counter stools and range hood, lend a touch of opulence and contrast to the white decor. The stunning gray granite countertops and backsplash offer a seamless transition between black and white.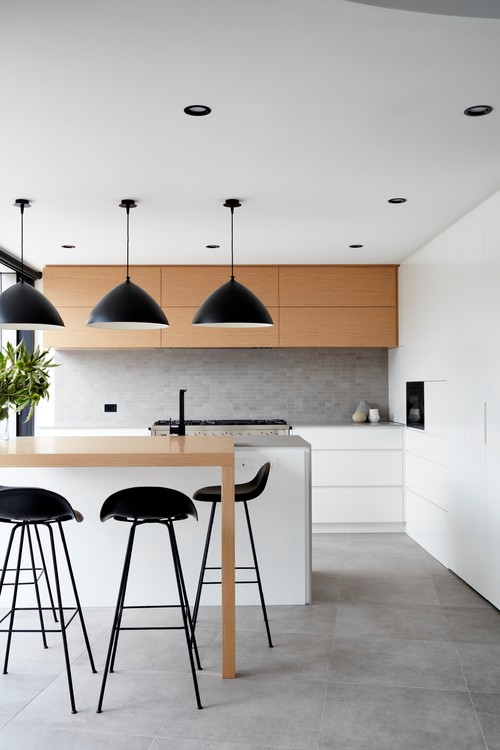 ID# 168720 | Houzz.com – Credit | © COSO architecture
---
Modern Kitchen with Two-Tone Cabinetry and Black Pendant Lights
The combination of black, white and a touch of wood guarantees a stunning interior! The two-tone cabinetry's white and wood tones simply blend together to create a unified and fashionable appearance. Along with complementing the muted tones of the rest of the design, the gray stone countertops and backsplash also add a great touch of texture. Contrasting with the other elements, black counter stools and pendant lighting above the island lend a touch of elegance to elevate the overall look even higher!!!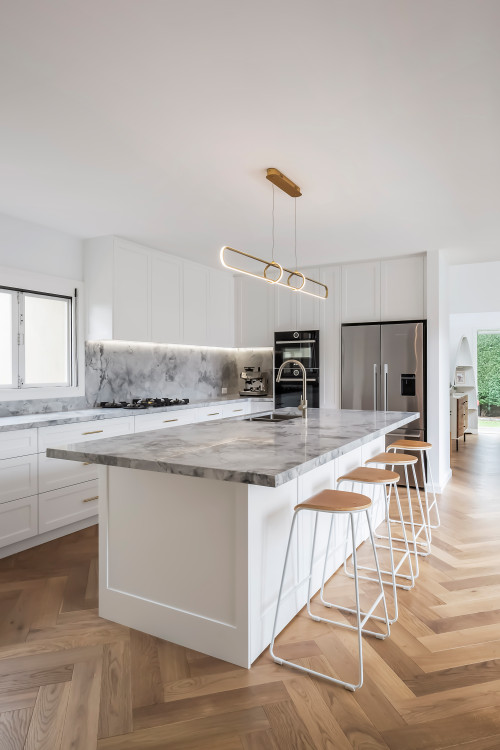 ID# 168721 | Houzz.com – Credit | © Northern Beaches Kitchens and Bathrooms
---
Marble Modern Stone Backsplash in White Kitchen
Using other elements in one hue especially white, will be a terrific approach to make the natural stone the spotlight if you want to draw attention to the natural stone that you will use for the backsplash and countertops! The gray marble slabs in this white kitchen design immediately catch the eye and add an opulent touch to the contemporary attractiveness of the cabinetry. The wood herringbone flooring gives a beautiful textural background while the brass hardware and lighting fixture enhance the opulent atmosphere.
Stone Backsplash Types
The backsplash may be made out of any material, color, form, or style, but stone backsplash types are one of the most striking options. Stone backsplashes offer a unique character and beauty that other materials lack. A modern stone tile backsplash is an option. The distinctive attractiveness of the kitchen backsplash offers movement and a fashionable look because no two pieces of natural stone are ever precisely the same.
On the other hand, you might go with a slab stone backsplash which is popular in contemporary and modern kitchen design styles. The sleek look of the stone materials such as marble, granite, or quartzite and the cold feeling of the stone enrich the kitchen with the clean and expensive look that they provide.
Modern Stone Tile Backsplash
When it comes to kitchen backsplashes, tiles are the most common materials that provide both visuality and function! And, a modern stone tile backsplash holds the power to infuse your kitchen or bathroom with beauty and character. Marble, travertine, granite and more… Whether it is a classic subway tile backsplash or a distinguished chevron pattern, stone tiles can morph from sophisticated to rustic to help you achieve your goal of creating your dream kitchen!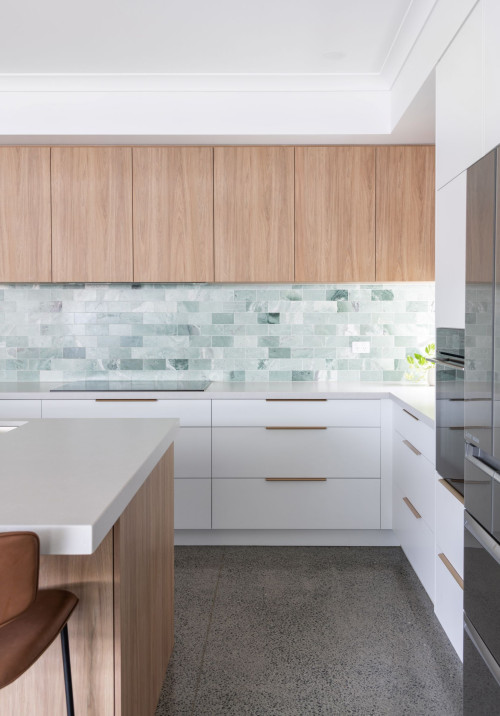 ID# 168722 | Houzz.com – Credit | © KBK – Custom Kitchens Designers based in Brisbane
---
White and Wood Kitchen Cabinets with Greenish Subway Tiles
Marble backsplashes are commonly used with white quartz countertops to produce a sleek and solid look, as seen in this modern kitchen! They are complemented by light wooden and white cabinets to create a gentle canvas-like arrangement accented with a smidgeon of green and genteel elegance. The speckled-finish seamless concrete on the floor has a gorgeous sheen that provides extra smoothness to the kitchen and an easy-to-clean surface for the convenience of the homeowners!
Should natural stone backsplash be sealed?
Many homeowners are unsure if natural stone backsplash tiles should be sealed. Most people are aware that utilizing travertine — or any other form of stone — inside necessitates the application of sealer regularly. Is it possible to leave a backsplash untreated because it is a vertical surface?
If you are serious about keeping your natural stone wall tile, daily cleaning and two to three sealer treatments per year are required. The frequency varies according to the location and type of stone. For example, regions behind the stove that are prone to oil and cooking spatters will require it more frequently. Because travertine is more permeable than granite, it requires more frequent sealing.
The good news is that applying sealer does not have to be a time-consuming or complicated task. Furthermore, sealing backsplash tile may increase its natural attractiveness, providing you with the incentive you need to complete the work.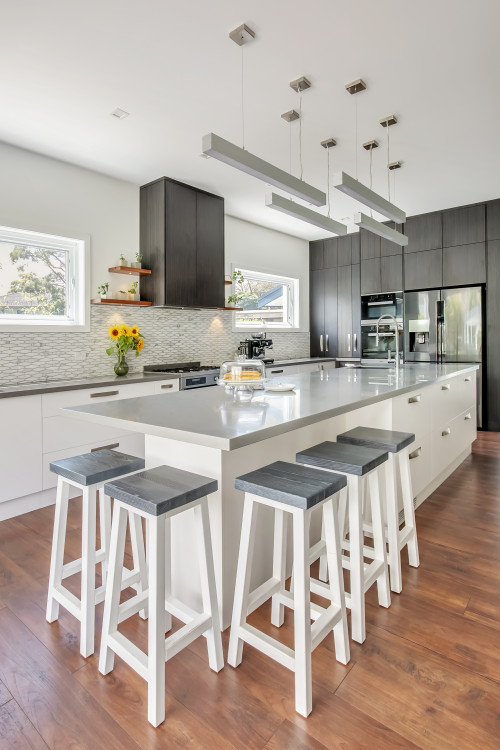 ID# 168723 | Houzz.com – Credit | © The Renovation Broker
---
Monochrome Kitchen Design with a Contemporary Aesthetic
The white flat panels complement the dark gray wood cabinets, gray hood and gray solid surface countertops to create a monotone effect! The backsplash of hex tiles adds movement and character to the sleek cabinetry design. The oversized range hood above the backsplash area stands out between the light shades and creates a striking focal point. The kitchen's flooring is constructed of medium-tone wood which creates a warm atmosphere.
Natural Stone Mosaic Tiles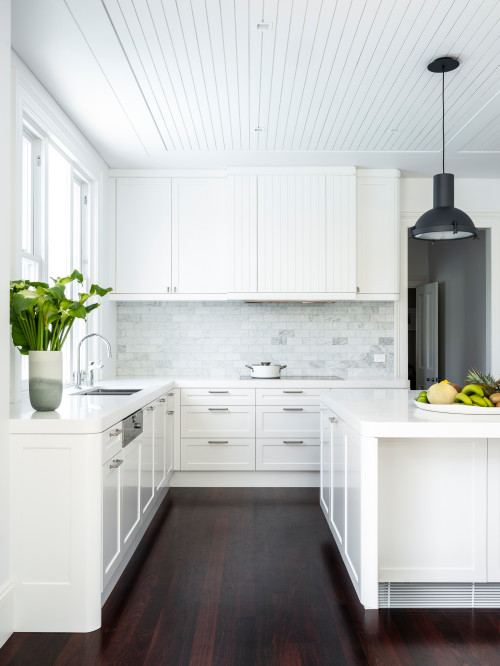 ID# 168724 | Houzz.com – Credit | © Porebski Architects
---
White Shaker Cabinets and White Quartz Countertops with a Modern Stone Tile Backsplash
Enriched by the dark wood floor, the white shaker cabinets and the chrome hardware provide the signature of the modern design look. The minimalistic design of the classic subway tile backsplash enriches the kitchen with a sleek look. The curved edges of the cabinetry soften the space while the range hood cover features ship-lapped cladding to match the ceiling and create a unified look.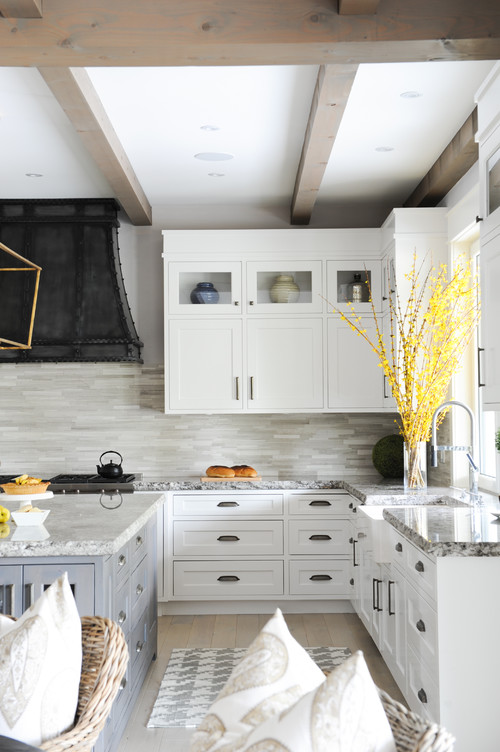 ID# 168725 | Houzz.com – Credit | © PlaidFox Studio
---
Farmhouse Kitchen with Exposed Wooden Beams
Blended with the soft beige shades, the limestone backsplash makes a modern twist to this farmhouse kitchen! The subway tile backsplash also gives the kitchen a sense of movement and texture. The gray granite countertops add another layer of texture to the space. The white cabinets perfectly reflect the timeless elegance of the shaker style while the oversized black range hood and the exposed wooden beams add a rustic charm!
Modern Stone Slab Backsplash
The contemporary kitchen is a versatile area with several design options. Everything from the worktops or a modern stone slab backsplash to the cabinet color and floating shelves in the background can now be changed much more simply than in the past. It also ensures a simpler kitchen restoration or makeover while mostly preserving the current dining room or living space in an open-plan living space.
In recent years, modern stone slab backsplashes in the kitchen have become a popular choice. Even if natural stone is a concern, composite stone surfaces provide a much more durable and attractive option. The modern stone slab backsplash is a simple way to change the look of your kitchen and it's not only for modern kitchens. This is a selection of some of the greatest modern stone slab kitchen backsplash designs, you can create designs with a stone slab backsplash ranging from classic to contemporary, eclectic to the farmhouse!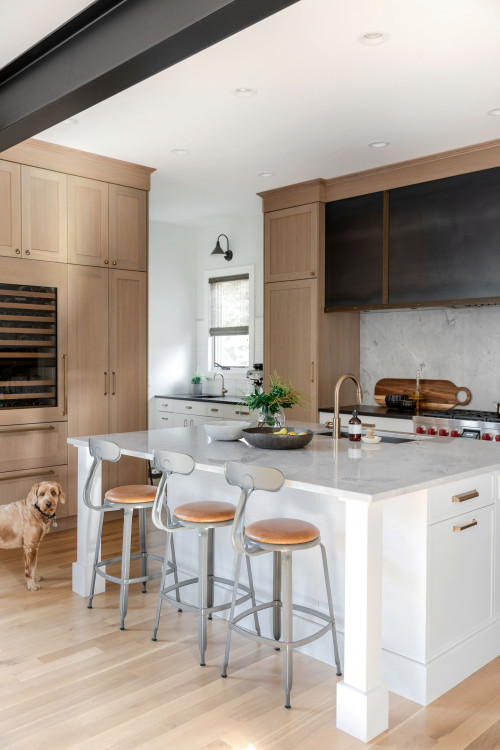 ID# 168726 | Houzz.com – Credit | © Andison Residential Design
---
Light Wood Kitchen Cabinets with White Island and Marble Countertops
The luxury of nature fills the entire kitchen with elegance through the marble textures! Enriched by brass hardware, the light wood kitchen cabinets provide a warm and welcoming atmosphere. At the back, the oversized black metal range hood creates a striking focal point that brings a rustic charm. The marble slab backsplash makes a luxurious twist to enhance the overall look while the black countertops complement the range hood. Mirroring the bright and fresh appeal of the base cabinets, the white kitchen island creates an open and airy feel for this space.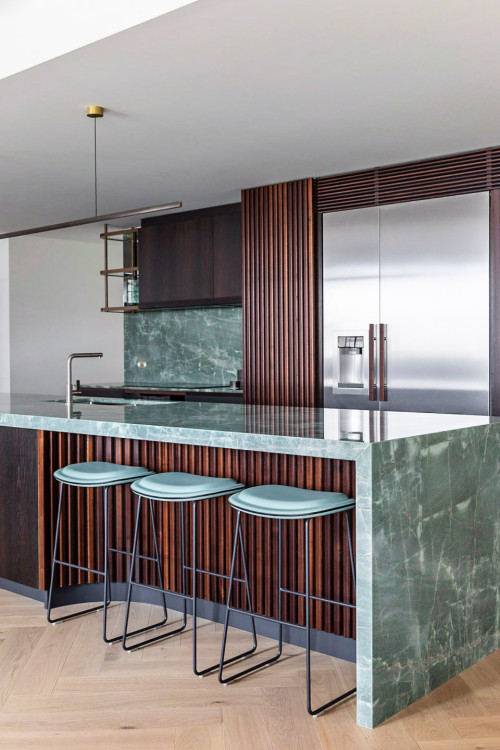 ID# 168727 | Houzz.com – Credit | © Matter Design & Make Pty Ltd
---
Green Quartzite Slabs with Dark Wood Kitchen Cabinets
This penthouse kitchen is built with materials that may be reconditioned over time such as smoked oak veneer cabinets, with an emphasis on utility and sustainability! While these cabinets exude richness and elegance, the green quartzite backsplash with matching worktops and island waterfall edge adds a relaxing element to the area. The slatted wood elements, a brass chandelier and bluish-green contemporary stools fill out the design.
How do you maintain stone backsplash?
Your stone backsplashes, like your granite countertops, should be treated with sealer regularly, especially if they are tiles separated by grout lines! Your stone backsplash will be protected from water, food, and grease with a durable sealer. Furthermore, they will be considerably easier to clean as a result of this. Also, it is important to clean them properly, you shouldn't buy a normal cleaner and wipe them down.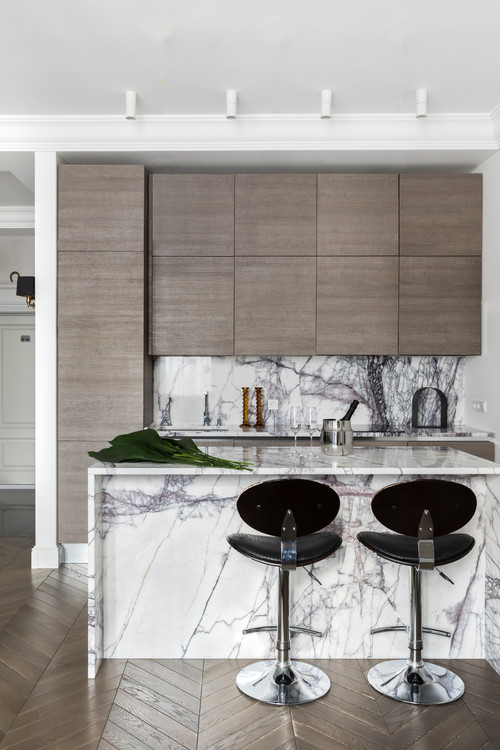 ID# 168728 | Houzz.com – Credit | © U(nik) design team
---
Modern Stone Slab Backsplash with Black Veins and Dark Wood Cabinets
With the right material choice, even if there are dark wood cabinets, you can create a bright kitchen design, as in this modern kitchen! The white stone slab backsplash and the countertops have stunning veins that increase the movement of the kitchen interior. The same stone material is also used for the kitchen island which makes a strong statement. The dark wood floors complement the cabinetry and make the modern stone slab backsplash stand out.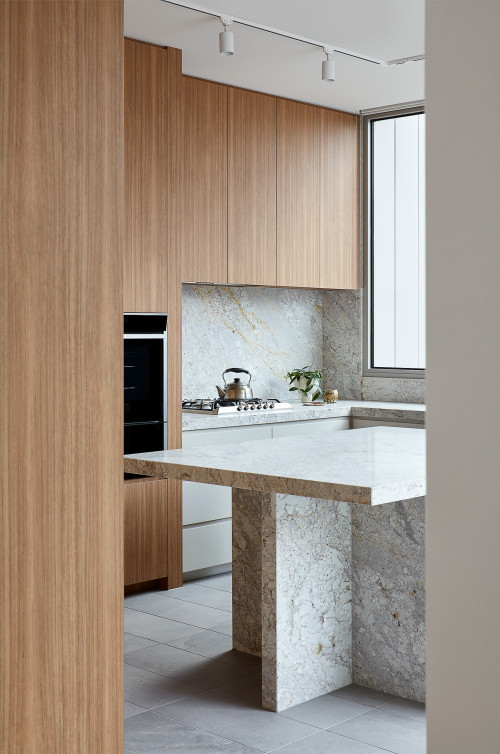 ID# 168729 | Houzz.com – Credit | © Jane Cameron Architects
---
Wood Flat-Panel Cabinets with Stone Kitchen Island
Once inside, you may simply immerse yourself in the abundance of natural textures and colors! The wood cabinets and the white natural stone backsplash with gold veins create a visually pleasing motif that is carried through to the matching marble worktops and island unit. This well-coordination of the many characteristics generated using the same material language guarantees a high level of consistency, aesthetic continuity and beauty. Furthermore, the sculptural design of the island lends an aesthetic air to the kitchen while the tracking spotlight lighting bulb adds a futuristic edge.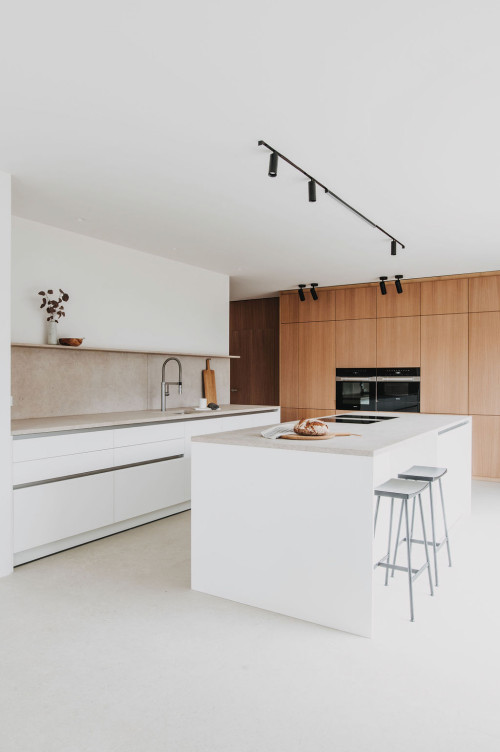 ID# 168730 | Houzz.com – Credit | © tudio17B
---
Bright and Spacious Kitchen with Limestone Backsplash and Countertops
Contrasting with the white flat-panel cabinets, island and beige floors, the black accents emphasize the kitchen's seamless appearance. The kitchen's stark white and fresh appearance is lessened by the neutral colors. The natural textures of the limestone backsplash, countertops and oak cabinetry add a warm aesthetic to this bright and spacious kitchen design!
How to install a stone backsplash?
Including a backsplash in your kitchen design is a terrific way to add interest, and natural stone is a perfect option because it is not only beautiful but also simple to cut and install. Hiring a professional to install a backsplash in your kitchen can cost thousands of dollars, but we'll show you how to do it yourself for only a few hundred dollars if you follow these easy steps.
Preparation
Step 1- Make your purchases. The tile of your choosing, spacers, a tape measure, a pencil, a wax pen, compound thin set mix, a trowel, a bucket, a sponge, a blade, grout, and a rubber float are all you'll need to construct a natural stone backsplash.
Step 2- Prepare the surface of the wall. Make sure you're working on a smooth surface, to begin with. If this is the first time you've tiled a wall, you should be good to go.
Step 3- Work in sections, measuring and cutting the tile as needed at a corner or to fit around outlets. Before you start cutting tile or applying the compound, use the tape measure, pencil, and wax pen to mark off sections.
Step 4- Some individuals like to apply the compound to the wall first, then tile. If you're putting up a kitchen backsplash, though, it's sometimes easier to apply the compound to each tile before sticking it to the wall. When you're working around outlets and other impediments, this comes in handy.
Installation
Step 5- Begin by attaching the bottom row of tiles horizontally. Make sure you leave a tiny gap between each tile and that the borders are aligned as you place them down. If you discover that they aren't, remove the last tile and reapply it so that it lays flat.
Step 6- After a few tiles have been laid, wash the surface of the tiles with your pail of water and a sponge to remove any excess compound. If you find compound accumulating between the tiles, pass your blade through it.
Step 7- Begin climbing upward after finishing the first row. To keep a straight line, use tile spacers between each horizontal row. Check your work from time to time to be sure the spacers are keeping the tile level.
Step 8– Allow for a night's rest before applying grout. Because real stone absorbs a lot of water, you'll want to moisten the tiles before adding grout. Apply the grout using a rubber float once it's been mixed, making sure to gently press it into the gaps.
Step 9- Wait around ten minutes after the grout has been thoroughly placed before cleaning the tile surface with your damp sponge.
Step 10- If you're going to apply a stone sealant, wait until the grout is completely dry before doing so.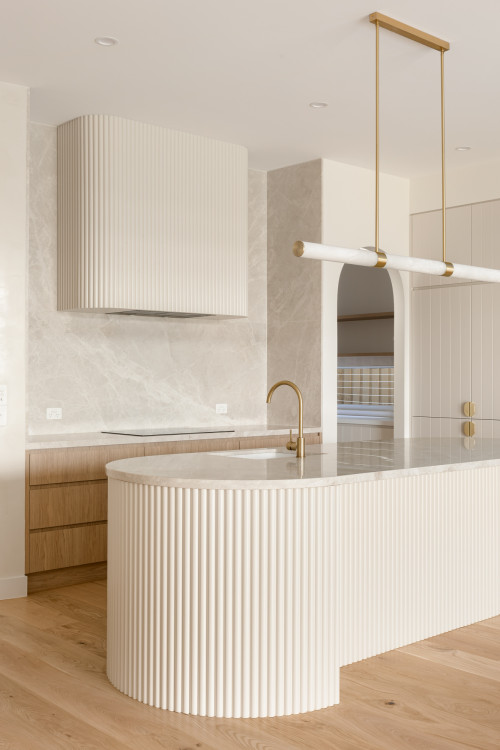 ID# 168731 | Houzz.com – Credit | © Paradigm New Pty Ltd
---
Beige Kitchen Design with Curved Island
Beige has recently been one of the most popular color choices for interior designs and it is a soothing neutral color that makes it simple to create a warm and inviting ambiance, even in the kitchen! The soft beige hues are used throughout this contemporary minimalist kitchen in a variety of textures. The wood base cabinets enhance the beige's neutrality and give the room a unified appearance with the other components. The paneled range hood and marble backsplash provide flair to the wall without overpowering it. To improve the overall appearance, the same panels are also used on the kitchen island.