38+ Farmhouse Kitchen Ideas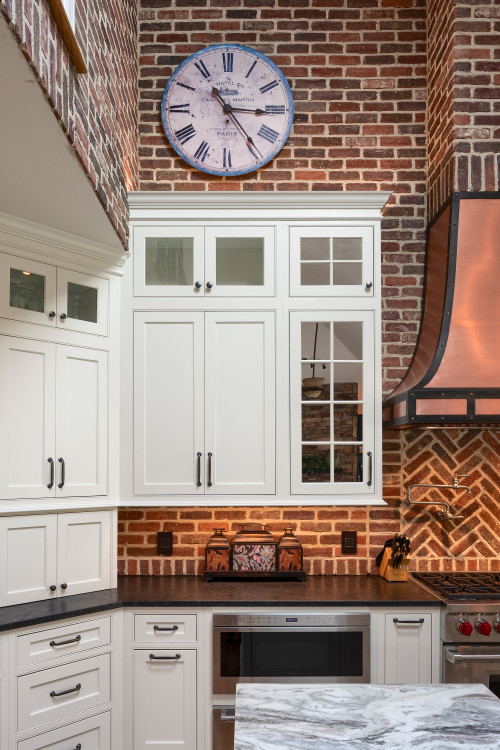 ID# 114504 | Houzz.com – Credit | © General Shale
---
White Shaker Cabinets with Brick Backsplash and Black Soapstone Countertop 
Thin brick walls make a rustic foundation in this white farmhouse kitchen. Black soapstone kitchen countertop creates a modern touch with white farmhouse cabinets. The brick backsplash adds a rustic touch that doesn't age over time, while the bronze range hood adds beautiful energy. The kitchen island with gray-white countertop creates a farmhouse kitchen that can be eaten, while it looks contemporary with stainless-steel appliances.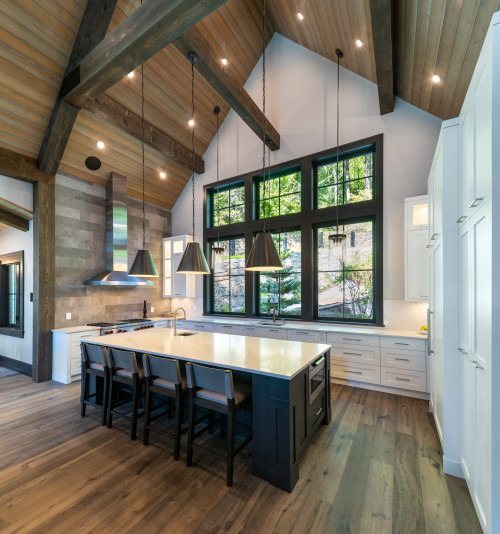 ID# 114524 | Houzz.com – Credit | Zwada Home | © Paul Grdina
---
Modern Rustic Kitchen with Gray Cabinets and Stainless Steel Appliances
Gray and whites are a classic color combination in this modern farmhouse kitchen. This kitchen with stylish features uses a white quartz kitchen countertop for white cabinets and also a beautiful gray backsplash behind the oven. The white quartz countertop creates a stylish focal point with its darker-toned gray kitchen island. The large kitchen windows let the daylight in, while the wooden vaulted ceiling and wooden floor exude a beautiful rustic vibe. Gray conical pendant lamps and gray barstools add elegance.
Perfect Rustic Vibe and Fascinating Ambiance in White Farmhouse Kitchens!
White farmhouse kitchens evoke rustic materials and charming settings, but the best ones blend a relaxed, country vibe with modern sensibilities. You don't have to live on a centuries-old rural farm to enjoy a farmhouse kitchen. Wherever you live, you can recreate the old charisma of your cooking space. Scroll down and find inspiration in these eye-catching white farmhouse kitchen ideas.
Combine white with Natural wood.
Farmhouse-style kitchens are essential for their warm and personality-based looks. Classic farmhouse kitchen tends to focus on natural ingredients, unpretentious design, and large cooking spaces. There are no strict rules for white farmhouse kitchen colors. However, a winning palette seen in many areas combines white, black, and natural wood tones. The lightest, airy, and warm colors are used, which greatly illuminate the kitchen. Choose a white as the base and then choose a blue or red hue, which is a great combination for farmhouse kitchens. Below, you'll find 38 great ideas to help you transform your kitchen into the perfect white farmhouse kitchen you've been craving for a long time.
The white farmhouse has a mix of rustic wood floors, ceilings, beams, and kitchen ideas like brick, white, or color many different backsplash ideas, mostly white cabinets.