38+ Shaker Kitchen Cabinets Ideas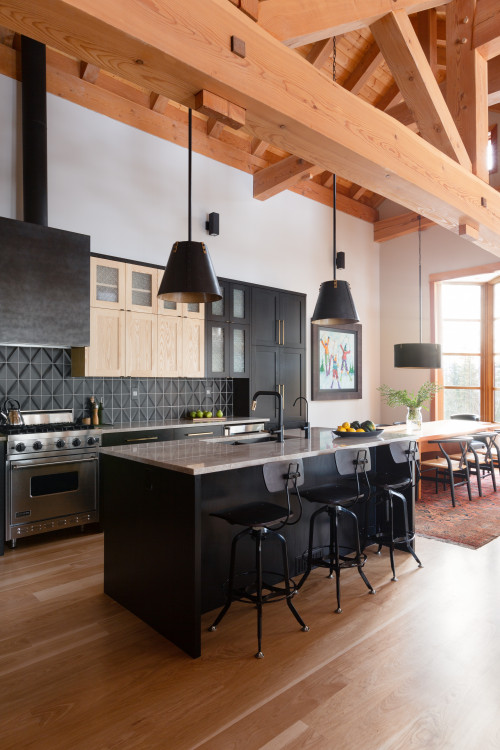 ID# 140212 | Houzz.com – Credit | © Knight Custom Homes
---
Wood and Black Shaker Kitchen Cabinet Ideas for a Transitional Design
The light wood shaker cabinets stand out thanks to the black shaker cabinetry design. The black tile backsplash and the dark gray countertops complement the black kitchen cabinetry adding a sophisticated finish. The wood textures of this kitchen add a warm atmosphere and make the black cabinetry design a welcoming environment.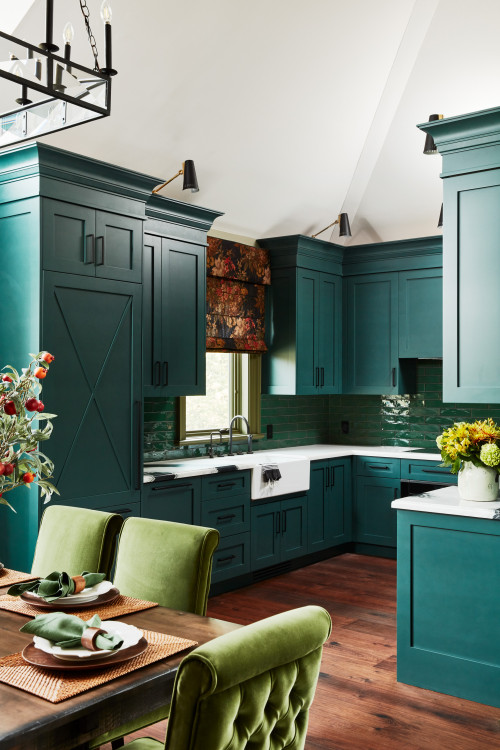 ID# 140232 | Houzz.com – Credit | © M-Squared Contracting Inc.
---
Country Design with Green Shaker Kitchen Cabinets and Backsplash Design
Nature welcomes you to this lovely kitchen! The dark green shaker cabinets and the matte black hardware bring sophistication to the kitchen while the white quartzite countertops create a strong contrast. Thanks to the green backsplash design, the natural atmosphere of the kitchen makes you feel as if you are in the woods. The dark wood kitchen floors boost this feel, too!
Shaker Kitchen Cabinet Ideas
The basic and straightforward appearance of shaker kitchen cabinet ideas to either a traditional or modern design makes them a prominent trend in today's kitchen remodeling. Shaker-style kitchen cabinets are one of the timeless options you can rely on easily in your kitchen designs.
From the '70s to Today a Timeless Option for Kitchens
A religious movement that started in the 1770s during the American colonial era is where the shaker style got its start. In favor of a straightforward and practical look, the design tends to shy away from any stylistic embellishments. Despite their classical origins, shaker kitchen cabinet ideas are well suited for use in modern or contemporary kitchen designs because of their plain and sleek lines. Shaker-style kitchen cabinets are known for their flat paneled doors with rail frames, solid construction from high-quality wood, and practical designs. Shaker-style cabinets often use premium native American timbers typically found in the northeastern United States. Durable woods like cherry, maple, hickory, and quartersawn oak are some examples.
Shaker cabinets can be stained to bring out the natural wood tones in deeper colors or left with a natural wood finish. Shaker kitchen cabinet ideas that have been painted white or gray are very common in contemporary kitchens because they exude the bright and airy vibe that many modern homeowners desire. Modern kitchens frequently combine shaker kitchen cabinet ideas with stainless steel appliances, white or light granite worktops, and contemporary hardware to complete the appearance.
What is a shaker-style cabinet?
Shaker cabinets are recognizable by their square edges or box-like design. Imagine a rectangle-shaped wood slab, and inside it, another square-shaped box that is a little bit smaller. Shaker-style cabinets have an inset panel but otherwise have the appearance of a four-cornered cabinet frame.
White Shaker Kitchen Cabinets
Shaker cabinets in white color are a timeless style. They are the ideal option for your dream kitchen since they provide the ideal canvas for constructing your kitchen in any style. Did you know that, depending on your style preferences, even white shaker kitchen cabinet designs come in a variety of hues? Moreover, you may mix different finishes, from matte to shine.
Since white shaker kitchen cabinets are the most timeless and versatile design option, they are also helpful to create an eye-catchy backsplash and countertop design. The ideal canvas of the white shaker kitchen cabinets will surround the backsplash and countertops and make them stand out. Let's see!
What is the difference between shaker cabinets and regular cabinets?
Shaker cabinet designs are rather straightforward. They each have an overlay around their borders and center panels as well. Their simple panels and edges are the main difference between them and typical cabinets.
Gray Shaker Kitchen Cabinets
The color gray has emerged as one of the most popular choices for kitchens of all shapes and sizes as a contemporary alternative to traditional white. The attitude toward kitchen color may have been more all-or-nothing in the past. The color pallet of today is more limited, and gray shaker kitchen cabinets are growing in popularity.
Gray is a popular choice among many interior designers and homeowners because it is timeless and adaptable. This preferred neutral hue is used frequently for kitchen cabinets in addition to appearing on furniture and other furnishings. It is simple to match gray shaker kitchen cabinets with several backsplash designs, countertop materials, and appliance finishes because of the color's range of tones, which may lean either warm or chilly. Gray complements almost all kitchen designs and cabinet types, whether your cooking space is more modern or has a farmhouse aesthetic. To incorporate gray shaker kitchen cabinets into your own house, get inspired by the design solutions that we have gathered for you!
Do Shaker-style cabinets look cheap?
If painted with a poor color or finish that doesn't complement the wood of the cabinets or the room's overall decor, shaker-style cabinets may appear cheap. However, if they are installed properly, Shaker cabinets are frequently the greatest option for a room.
Black Shaker Kitchen Cabinets
Black shaker kitchen cabinets are the ultimate statement piece. Any kitchen will look remarkable with black shaker kitchen cabinets, and they may contribute to the room's opulent and sophisticated atmosphere. Black shaker kitchen cabinets may also be quite useful, as they can be used to cover up scuffs and scratches. Black cabinets also can enlarge the appearance of a tiny kitchen. There are a few considerations to make if you want black kitchen cabinets in your house. First, compared to other hues, modern black cabinets tend to display dust and fingerprints more readily.
It is crucial to keep a consistent cleaning routine as a result. Second, a space might feel fairly dark in a kitchen with black shaker cabinets, so it's crucial to counteract that feeling with brighter hues or reflecting materials. Finally, black shaker kitchen cabinets could need more maintenance since they might need to be painted more frequently than cabinets in other colors. Black shaker kitchen cabinets may be both a beautiful and useful addition to your house with the right care and planning.
Are shaker cabinets out of style?
Even when other design fads come and go, shaker cabinets are a timeless, simple style that never seems to go out of vogue. The Shaker cabinet doors that are used now are still as plain and uncomplicated in design as they were decades ago. All people find appeal in the traditional Shaker cabinets' simple form and understated recessed frame.
Brown Shaker Kitchen Cabinets
In general, it's extremely simple for a brown kitchen to fit in with the rest of the house. You may make your kitchen fashionable without having to spend a lot of money on paint by relying just on natural wood textures and finishes. With straightforward design concepts, a brown shaker kitchen cabinet design is simple to accomplish. These kitchens may be designed to seem both classic and modern.
Kitchen cabinet installation can be pricey or inexpensive depending on the design, color, and materials you choose. After all, cabinets maintain the kitchen's cleanliness and hide clutter. Furthermore, brown shaker kitchen cabinets might help you make the most of your kitchen space.
Blue Shaker Kitchen Cabinets
This well-liked color scheme is combined with a timeless style in the shaker type's traditional framed look. For homeowners wishing to design an elegant room that is serene and welcoming, blue shaker kitchen cabinets are a fantastic on-trend alternative. The soft hues of the blue units provide a friendly ambiance that's perfect for relaxing after a stressful day or for socializing. By incorporating blue color schemes with the organic appearance of light wood materials, you may give a space a fashionable sense by incorporating Scandinavian design elements. Combine metallic accents and accessories with these kitchens' blue tones for a chic finishing touch.
How do you make Shaker cabinets look modern?
To make your shaker cabinets look modern, you can try out a couple of things that we listed below.
-Create a Cohesive Look with Islands
Shaker designs frequently include kitchen islands, which may be found in a variety of sizes and forms. A custom kitchen island may be made to fit your space perfectly, making it ideal for homeowners looking to give their contemporary Shaker kitchen a utilitarian twist. Kitchen islands also provide a ton of extra storage space, enabling you to add features like drawer inserts, run-end storage, and built-in bin cupboards. Your appliances can be housed on a kitchen island. This kind of cookware concealment gives the room a sleek, modern appearance.
-Update Handles
Cabinetry made in the Shaker design frequently has a knob or cup handle. These were often quite modest and built of wood by Shaker philosophy. Metal was shunned by artisans because it was seen to be overly decorative. To ensure that they don't deviate too far from conventional concepts, modern kitchen designs sometimes feature simpler metal variants.
On cabinets and drawers, cups and knobs are frequently utilized. You could, however, choose a bar pull that complements the Shaker-straight style's lines. Take a look at our dark grey design, which has straightforward silver cabinet knobs that mix in well. Round or oval knobs made of chrome, stainless steel, or any other metallic material are an excellent option for a contemporary Shaker kitchen. Another choice is to combine knobs and pulls, as shown in this dark shaker kitchen with cup pull handles that make it simple to open the drawers.
-Use Integrated Appliances
Modern shaker kitchen designs frequently use cutting-edge storage solutions to enhance their slick, streamlined appearance. Your kitchen's attractiveness may be ruined by large "white goods," so consider integrating your appliances into the plan. Your shaker units may house anything from your fridge and freezer to your oven and washing machine, creating a neat finish and adding room. For instance, appliances like your refrigerator, dishwasher, and washer may be hidden behind cabinet doors, while ovens that are put at waist height fit neatly into your kitchen cabinets.
-Take the Advantage of Bold Colors
Furniture in traditional Shaker kitchens is adorned in hues of blue, green, red, and yellow; grey and cream are also common neutrals. As shown in our green Shaker kitchen, bright colors will quickly modernize a Shaker kitchen and bring attention to the woodwork. Your kitchen may be given new vitality and depth with only a few coats of paint. For instance, the dramatic appearance of inky black or dark green gave the traditional Shaker design a modern twist.
Green Shaker Kitchen Cabinets
There is no doubt that green shaker kitchen cabinets bring a stylish look to the kitchens. Green is becoming more fashionable in every area of the house, from hunter to olive, but we can't get enough of it in the kitchen. Green is a hue that represents rebirth, vigor, and vitality; it is not just a fad. Although it gives the kitchen a modern vibe, it may also seem equally conventional and timeless.
The plain design of the green shaker kitchen cabinets will bring the freshness of nature or create a sophisticated atmosphere. The many hues of the green shaker kitchen cabinets will change your Monday moods immediately! Let's see some of their gorgeous design options!
What is the most popular kitchen cabinet style?
The most popular cabinet door type is Shaker, which has simple, timeless lines and looks great in spaces with modern, transitional, or traditional aesthetics.
Shaker Cabinet Designs for Different Kitchen Styles
You may utilize Shaker kitchen cabinets with many different design styles because of their versatility. There are several shaker cabinet designs for different kitchen styles, from modern to traditional, with a wide range of color selections!
You can embrace the natural vibes with shaker cabinets for a rustic kitchen design or have a modern look with them! Let's scroll down and see some of the stunning shaker cabinet designs for different kitchen styles and get inspired by them!
Farmhouse Kitchen Shaker Cabinets
Shaker-style cabinets are a perennial choice for kitchen cabinets in the farmhouse style. Simple lines of Shaker-style cabinets make it possible for them to blend in with both modern and rustic designs. Shaker-style cabinets can also be accessorized with modern or vintage-inspired hardware. A farmhouse kitchen means shaker kitchen cabinets, for this reason, if you want a farmhouse design style, you will mostly see farmhouse kitchen shaker cabinets.
You don't have to live in a farmhouse just because you enjoy the way the kitchen looks. Modern to rustic style directions may be seen in farmhouse design these days. Each of the ideas we present here highlights farmhouse kitchen shaker cabinet designs. The 60-30-10 color scheme is frequently used in farmhouse kitchen designs to bring together hues that may be found in nature. For your walls, backsplash, art, or décor, pastel hues like light blue, lavender, white, green, and pale yellow might be stunning options. Farmhouse kitchen shaker cabinets, however, are often painted white, grey, wood stain, blue, and occasionally green.
How much do shaker kitchen cabinets cost?
Shaker cabinets cost between $100 to $1,200 per linear foot or the same as other styles. For the doors and drawer faces, this is a design decision rather than a material distinction. The real costs will depend on the kind of material you select and whether you choose stock or bespoke.
Modern Kitchen Shaker Cabinets
As we mentioned before, shaker-style kitchen cabinets come from the 1770s and this may give you the idea of being old. This is a historic style that was named after a religious group known as the Shaking Quakers in the middle of the 18th century, although it is readily modernizable. In fact, because of its simple lines and emphasis on simplicity, the Shaker style is well suited to modern kitchens. A modern kitchen shaker cabinet design can be the solution for you to have your dreamy kitchen design. Let's check!
How to turn kitchen cabinets into shaker style?
To turn your kitchen cabinets into shaker-style cabinets, first, you need some equipment, such as;
–Nail gun
–Miter saw
–Detail sander
–Orbital sander
–Putty knife
–Wood filler
To begin, you must first take out all of the cabinet bases' doors and hardware, clean them with a fairly potent cleaner, then sand them. Take care to wipe everything clean so that the doors are free of dust.
After they have all been sanded, the trim may be worked on (plywood strips). As a result, once this is finished, you will have plenty of 8′ long pieces of plywood. Before trimming your trim to fit the size of your door, measure each of your doors separately.
Vertically, you may start by creating full-length strips and then fill in the tops and bottoms in between. When you are measuring for your horizontal strips, be sure to keep this in mind. You may measure where the rounding began on the edge of your doors if they have one. This does leave a little lip on the exterior of all your trim. When your parts are cut, you'll see that the plywood inside isn't made entirely of solid wood. You can take all of your pieces, turn them over, and use the 220 grit sandpaper to smooth out that area as much as you could. Although it won't be flawless, it will cover it up reasonably well when you apply the primer and paint.
Attach the trims on the doors
Once your pieces are cut and the edges have been sanded, attach each trim piece to the door using your nailer, starting with the two vertical pieces and moving on to the horizontal ones. First drive a nail in the middle, then advance to the ends.
When all of your doors are constructed, it's time to get out the wood filler. All of the gaps between the trim pieces and the trim's nail holes should be filled in. Now is a wonderful time to fix any holes or severe scratches you have on your doors. As per the instructions on the container, let the surface dry before smoothing it off with 220-grit sandpaper.
The interior and exterior trim edges don't have to be caulked. You may omit it because there are no gaps between the trim and the door. If you're a total stickler for detail, caulk here.
Once you get into the rhythm of making these doors, you will understand where to sand. Make sure all of your holes are filled or sanded, and that any dust is removed from the doors. The doors should then be painted after that.
Rustic Kitchen Shaker Cabinets
Although the rustic design style has dominated the publishing scene for many years, it doesn't mean it can't be improved upon and given a seasonal makeover. Rustic kitchen cabinets, which are located next to shabby chic, are mostly devoted to country cottage and farmhouse interiors and draw their inspiration from natural, frequently antique textures, colors, and shapes. Incorporating a more sophisticated approach to urban and country life with a spirit of resilience, rustic home décor is all about comfort and seamless charm.
According to these, we can say that shaker-style kitchen cabinets are some of the cabinetry door styles you can work with when you want a Rustic charm. Rustic kitchen shaker cabinets with a cozy and warm atmosphere will change your mood!
Backsplash Options for Shaker Style Cabinets
If you will go with shakers in your kitchens, you may start to dig the backsplash options for shaker-style cabinets. Avoid choosing tiles that are extremely fussy or overly ornamental when selecting the ideal backsplash options for shaker-style cabinets. By selecting tiles that go well with the room's symmetry and simplicity, you may draw attention to the focal point of your kitchen. Using white subway tiles as a backsplash with either white or darker grout to give each tile more definition would be a fantastic place to start.
Due to their neat look after installation, most subway tiles make for a superb backsplash. Another excellent option is brick-appearance tiles. These tiny brick slips give the shaker kitchen a hip, modern vibe. You can use slab backsplashes, too, if you want a more contemporary design look. Let's check what can be done with backsplash options for shaker kitchen cabinet ideas.
Shaker Cabinets with Light Backsplash
Shaker kitchen cabinet ideas are streamlined, simplistic, and adaptable. Typically, cabinet doors have a flat panel with a thin border around the edges. These door-fronts don't have any elaborate routing or beveling. Shaker-style drawers may occasionally be manufactured using the same design. The drawer fronts can, however, alternatively be left as flat panels without a border. They are timeless and versatile which allows us to use any backsplash and countertops design. Of course, shaker cabinets with light backsplash designs are the most preferred ones since they create an airy and enlightened appeal with a familiar look.
From subway tiles to slabs, shaker cabinets with light backsplash designs will enhance your kitchens and create airy looks. Whether you use dark or light colors for shaker cabinets, shaker cabinets with light backsplash designs may help you to create a focal point in your kitchens.
How to clean shaker kitchen cabinets?
To begin, wipe off any visible dust or grime from your cabinets using a dry, soft cloth. The next step is to wipe down all of your clean surfaces with a moist rag. Make care to clean the sides of each cabinet door as well as each shelf. After finishing this, you may use a microfiber towel to polish any stainless steel kitchen appliances. Many dishwashing detergents come with stainless steel wipes that are excellent for cleaning various metal surfaces prevalent in kitchens. Avoid cleaning these appliances with common stainless steel cleaners, though, if they have any scuffing or scratches.
Shaker Cabinets with Dark Backsplash
One of the key components that ties all the other components of a kitchen together is the backsplash. The backsplashes' primary role has historically been functional. To shield the walls from water and food spills, they build a layer of defense. But in addition to serving a practical purpose, a backsplash may also add visual interest by producing appealing surfaces to your shaker cabinets. A backsplash for shaker cabinets may significantly improve the overall appearance because of the limitless range of materials, colors, and styles available.
Bright colors, especially white ones, are the most popular choices among all of these for backsplashes. Dark-colored backsplashes, however, will be the ideal complement to any design project if you want to highlight the backsplash and provide a more dramatic appeal! Let's make a strong statement with shaker cabinets with dark backsplash designs.