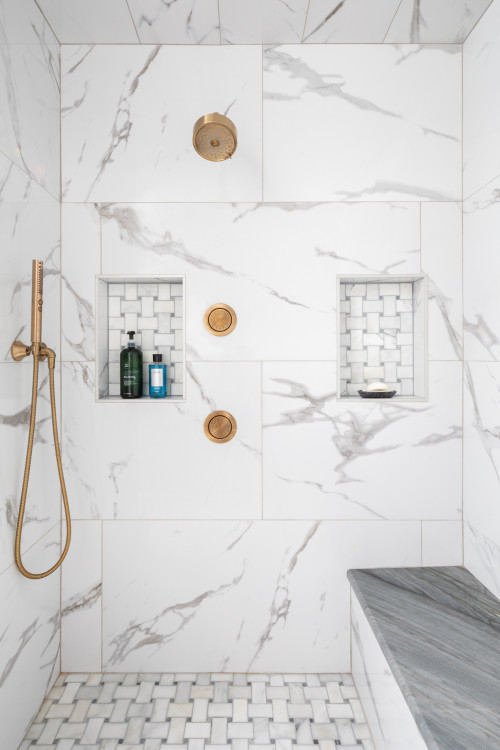 ID# 130704 | Houzz.com – Credit | © Refined Renovations
---
White Marble Tile Shower Niche with Brass Shower Kit
Using the brass materials with the white marble texture adds an amazing look to the design. There is a pleasant contrast between the niche tiles and the wall tiles. They create a stylish look with their patterns. The pale colors of the marble patterns add a soft look with their curvy lines and the organic patterns of the niche tiles balance the color contrast.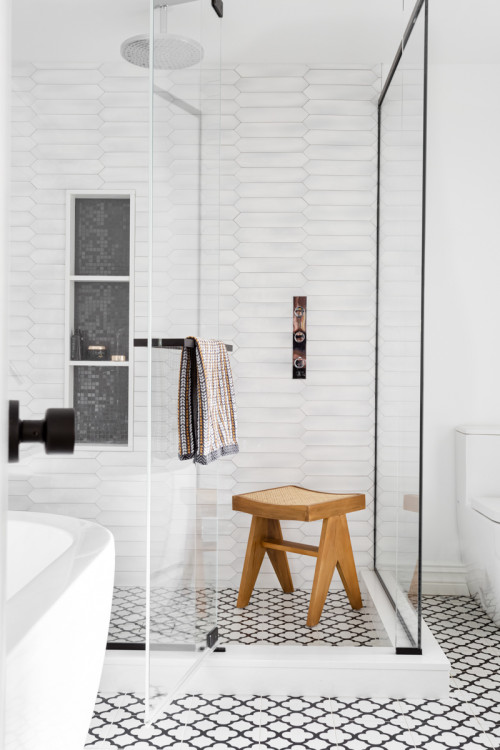 ID# 130725 | Houzz.com – Credit | © Studio Nine & Co.
---
Black and White Floors with Elongated Hexagon Tile Walls
The stylish black and white patterns of the floor tiles add movement to the interior of this beach-style bathroom. You may like to use horizontally elongated white hexagon tiles for walls to make the interior look wider, it creates a stylish view at the same time. The black mosaic tiles for the shower niche stand out thanks to the white wall tiles. The white multiple shelves of the shower niche help you to save some space. This bathroom has a bright and elegant look.
Tile Shower Niche
Building niches in showers is the best option to gain some space. Of course, there are some other solutions such as shower caddies, bathroom containers, storage racks, etc. But they are not long-term solutions. They tend to rust, cause pockets of mildew. You may like to have a stylish design that completes your bathroom. You can have a variety of options for it. The most popular one is the tile shower niche! Having niches in your showers for a long-term space saver solution is the best idea for your stylish bathrooms. Are you ready to dive into stunning tile designs? Scroll down and find stylish storage solutions to get rid of the messy shampoo bottles!
Nothing is better than having a relaxing shower after a long day and having a stylish shower is the best thing, of course. However, to achieve an organized look, you may need some storage options and the treatment on one of the shower enclosure walls can help you to elevate your shower! From classic white subway tiles to tiny penny tiles, eye-catching patterned tiles to luxurious stone tiles, there are plenty of different options to create a tile shower niche for your design. Keep reading and find these different alternatives to give a stylish look to your shower design!
Can you tile shower niche?
We've finished our designs and it's time to see the results! Now we can tile our shower niches! Before choosing the material, we need to pay attention to whether it is for the shower or not. Shower wall and floor tiles are rated differently, for this reason, to be sure check them independently. You can choose tile ready shower niche or a custom built-in shower niche. They have both advantages and disadvantages.
Tile-ready shower niches provide you to get results quickly since they are pre-made designs but they also limit your design. A nice advantage is that it is a ready-made material for waterproofing, so you will not have any difficulty in tiling the shower niches. A custom built-in shower niche creates much more freedom because you can have alternatives in size. The disadvantage of this one is that you have to be careful in terms of waterproofing while tiling your shower niches. In conclusion, whichever your choice is you can tile your space saver shower niche and create amazing designs!
Tile Styles for Shower Niche
You know the form of the design but when it comes to style it is all up to your imagination! You may wonder about the tile styles for the shower niche. The style of the tile is the main element that helps you to create your very special design. Materials, textures, colors, there are tons of things to think about, right? Modern or eclectic? Contemporary or vintage? Farmhouse? What are the lines and colors of those designs and what do you feel about them? You may like to use subway tiles with a contemporary design style or a farmhouse style, or penny tile shower niches with a minimalistic look. Let's see a couple of examples!
Subway Tile Shower Niche
There are tons of things to choose from when it comes to designing a place. One of the saver materials from these things is subway tiles of course! They have great harmony in almost every aspect of the design elements. They can be combined with colorful elements, different materials, etc. Do you want a farmhouse look? Yes, you can use the subway tile shower niche. Do you want some eclectic touches? Yes, choose whatever color you want to use with subway tiles. White color and the subway tile design lines have endless combination alternatives!
How to tile a shower niche?
Is the place of the niche ready? If it's so firstly we are going to start with a custom-built shower niche. For this one, we will need some equipment such as a notch trowel, a quarter inch is enough for most shower tile and mosaics. The size depends on the material thickness. So if you have a quarter-inch tile, a quarter-inch notch trowel works pretty well.
Start with the sill as in windows, then sides and finally the top. So when the water hits it, it all runs down over each other. Thin-set back of the walls so you can place your tiles. Then back butter your sill and be careful about the backside of the tile. You must make a tiny angle, slope the sill towards to front because we do not want water to sit on the back. A small angle is perfect for both shampoo bottles to sit and water to run off. If there are two niches on the wall a laser level is a must to keep all the tiles level with each other. If you will be using pencil trim tile to frame the niche the sill tile should hang outside the niche by 1/16". 
After embedding the tiles by hand and then embed them fully in the thin-set with the grout float. The factory edge should face the exterior of the niche. In this way when you use the pencil trim or a Schluter metal profile you will have a great-looking grout joint. Yes, all these were about custom-built shower niches. However, the main difference between these two alternatives is in the first one you prepare the wall in the second one you prepare the wall and buy a tile-ready niche. 
Penny Tile Shower Niche
If you want a different approach to your bathroom interiors, penny tiles are the perfect fit for this mission. They look chic, elegant, and lively! A variety of colors can change the look of the design and when it comes to penny tiles they can create stunning interiors! You can have a penny tile shower niche that matches the floor or harmonizes with the walls, etc. They have a stylish characteristic appeal when they are used in shower niches.
Mosaic Tile Shower Niche
Some design materials never vanish. They change and evolve into different things. Mosaic tiles are one of these materials. Their fashion combines with another style and they create new things! They can be used in farmhouse designs, modern looked designs, vintage designs, etc. Let's see how a mosaic tile shower niche can change the atmosphere of a bathroom interior!
How do you grout a shower niche?
Yes, tiles are all installed and ready to be grouted. Before you start check all grout lines if there are squeezed through materials. Make sure you can clean them with some sort of sharp tool. If it is so close to the surface, you do not want that because it might show through on your grout. Then it is super useful having two small pails each with its sponge. One pail is for all the cleaning so it will be pretty dirty and the second one is for the final wipe to get rid of any residue that was left on the tiles. You should change the water as it gets dirty so you don't disperse the dirt.
Prepare your grout and put it on the surface of the grout float but do not take it too much. Start with a small area. Take it up to the wall and kind of work it into the joints. A quarter inch is enough to will that grout.
After with the sponge – it must be as much as dry- the same as what you did with the float. Work diagonally across lines and softly make circles while cleaning it. Try to get the bulk of it off and smooth over the joints. Rinse your sponge, once the water coming out of your sponge is going to be fairly white with the glue or the adhesive and you probably see the water is already milky. If you are not going to be cleaning very well and it is just time to change the water. Yes once you finish your first step of cleaning, you can get to the next step with another clean sponge to make the final touch to the tiles.
How to tile edge of shower niche?
To tile edge of shower niche, there are a couple of ways such as using bullnose tile, tile profiles, framing tiles, or frame marbles. All of them have a unique approach to the design look and you can match them with your walls or other design elements.
How to cut tile around shower niche?
If you are not going to use a corner material such as tile profile or bullnose tile, you should cut the ceramics in the niche according to the wall around the niche. This means that you will either combine the inside and the outside at a 45-degree angle or leave the ceramics that form the frame on the shower wall a little longer so that it covers the inner foreheads. To cut a ceramic there are machines but be careful when you use them. At least ask a person who can cut a ceramic. If you are going to use profiles or bullnose tiles, framing tiles, or frame marbles, you should first place them and cut the tiles around the niche according to their size so that the tiles fit cleanly.
Tile Materials for Shower Niche
Shower niches help us to save space and put different design choices for us, we know that but when it comes to materials there is a huge world out there with tons of materials for them. Tile materials for shower niches are the most used ones. They have a wide variety of products and there are many alternatives to choose from according to your dream design. Let's see some of the beautiful ones from this huge material world for shower niches!
Glass Tile Shower Niche
Glass tile materials have their characteristic design attitudes. They are in mosaic forms mostly and when it comes to shower niches they create soft and chic design looks. As a material choice, glass tile materials give the feeling of a clean and elegant look in the shower niche designs. You can have a dynamic look, chic design with a glass tile shower niche.
How to frame a shower niche without bullnose tile?
To frame a shower niche without a bullnose tile we can use a variety of ways such as profiles, marble frames or you can create a frame from the tiles around the nice. Sometimes it is useful to use pencil moldings. Bullnose tile softens the edges and puts an aesthetic look to the shower niches but you can create other designs with different materials.
Ceramic Tile Shower Niche
Ceramic tiles have always won the hearts of designers with their diversity. When it comes to a shower niche, there are tons of colors, textures for them, and you can create beautiful designs with them. For long times their authority in the design industry was undeniable. You can create stylish and elegant bathrooms with a ceramic tile shower niche! Saving some space is a plus! There are different ceramic tiles for every design style so do not hesitate to use ceramic tiles for your special design. Let's see how we can use ceramic tiles for the shower niches!
Does a shower niche need a lintel?
If you have solid brick walls, yes your shower niche needs a lintel. Whether it is small or big over time the brick above the niche will move and we do not want this.
How big should my shower niche be?
The size of the shower niche depends on the size of your shower wall. It would look odd if you put a tiny shower niche compared to your shower wall. Installing a niche that's at least half of the width of your shower wall would be good. Except these the most popular shower size is 12" wide x 28" height x 3-1/2" deep. The second most popular size is the 12" x 12" niche.
Stone Tile Shower Niche
Using stone material in an interior always brings to mind naturalness and simplicity. Also, it gives a rich look to the interior. They can provide beautiful stylish patterns from nature and can help you to have a simple but elegant look. You can build a stone tile shower niche for your showers with a diversity of color options and have styles from farmhouse to contemporary!
How do you keep a shower niche clean?
Having a solid stone as a bottom or shelf always makes it easier to clean the shower niches. It has a solid surface and natural look and this keeps the clean look anyways.
Shower niches are storage for shampoo bottles, conditioners, soap, body wash, etc. If you built your shower niche away from the shower's direct spray you can prevent moisture and leak. This moisture and heat in an enclosed recess make it the perfect breeding ground for mold and other microorganisms. If you wipe down the recess after every shower with a squeegee or an absorbent towel you can keep clean your shower niche from these problems. Using a surface-approved, spray-and-rinse cleaner is very useful to reach the deep corners of the niches. Overzealous cleaning and harsh chemicals remove waterproofing and damage the grout line for this reason we do not recommend these.