32+ Bold Kitchen Backsplash Ideas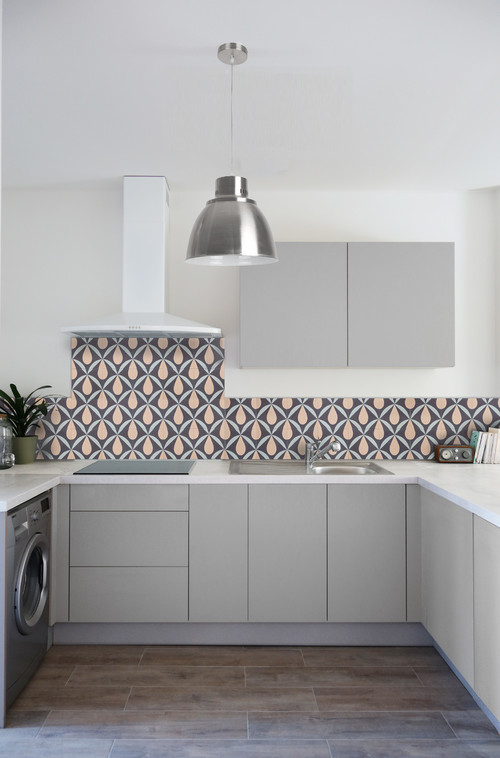 ID# 135804 | Houzz.com – Credit | © Sarah-archi-in
---
Printed Tile Backsplash with Gray Cabinets and White Countertops
If you want to stick to neutral colors in your kitchen but also desire to make a statement, using a bold backsplash is one of the best ways to make a drastic change. It is because the backsplashes cover a larger portion of the kitchen and are installed at eye level, which feels exposed to the kitchen users right away. This contemporary kitchen, though mainly featuring a light palette, goes with a printed multicolored backsplash that steals the show. The gray cabinets and white countertops with a few decorations that style the countertops just ensure that the backsplash feels at home.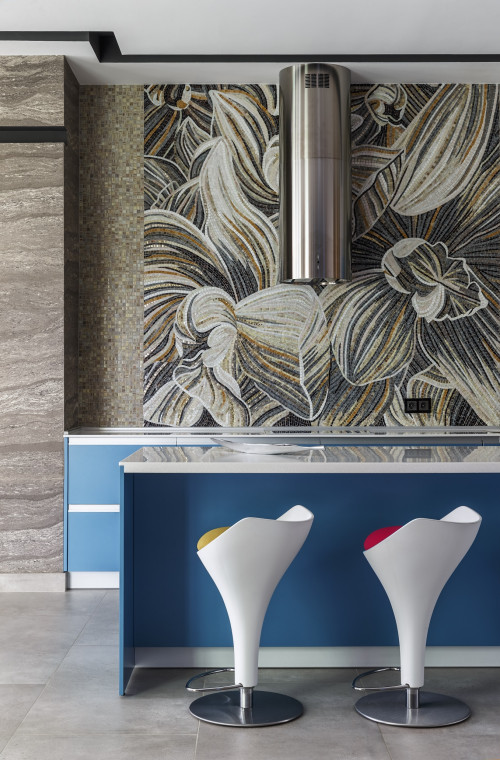 ID# 135821 | Houzz.com – Credit | © Insomnia
---
Bold Colorful Kitchen Backsplash with Blue Cabinets and Mosaic Tiles
This ultra-contemporary kitchen has a bit of everything: pops of colors, patterns, upscale appliances, and intriguing geometric forms. The mosaic tiles in the earthy shades clad the back wall, while a floral pattern mural artwork brings spring into the kitchen. The seem-to-be-unrelated blue cabinets topped by white countertops populate the kitchen. The top-notch cylinder-shaped brushed finish steel hood adds an urban flair to the background, bringing a sharp contrast to the floral patterns. And of course, the island stools, don't you also think they look like ice-cream cones?
Bold Kitchen Backsplash Ideas
Kitchen backsplashes are the guards of your kitchen walls, protecting them from water splatters, everyday spills, and grease. And while they serve such an important mission, why not make them also stunning? In today's market, with the advancement of technology, the variability of tile patterns, materials, and colors is almost limitless, opening up unending design possibilities for homeowners. Especially, for those who prefer cabinets and countertops in white or neutral shades, bold kitchen backsplash ideas can upgrade the look easily and make the space feel as if it has been fully renovated by creating a distinctive focal point.
Ranging from the multi-colored geometric patterns to the natural stone backsplashes, mural backsplashes, and mosaic tiles, bold kitchen backsplash ideas are quite expansive. In this blog, we gathered over 30 kitchen designs centered around colorful, patterned, and eye-popping backsplashes that will make you renovate your kitchen.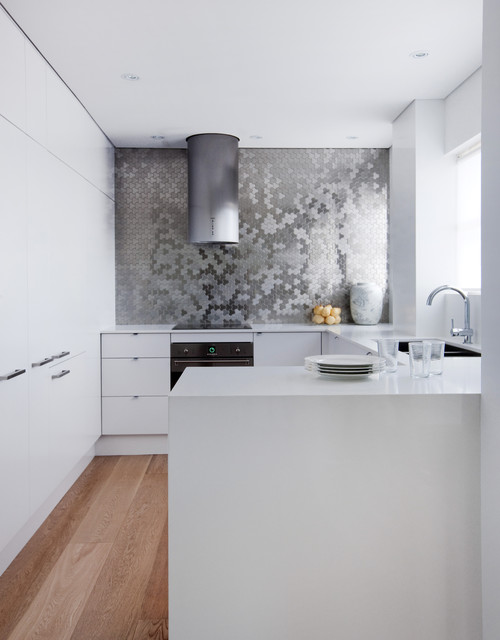 ID# 135802 | Houzz.com – Credit | © ALLOY Solid Metal Tiles
---
Contemporary Kitchen with Stainless Steel Backsplash and White Cabinets
Metal backsplashes are as great as other materials to make a statement, which is exemplified best in this contemporary kitchen. Here, a stainless-steel brush finish backsplash goes all the way up the ceiling, drawing all attention. Its nature-inspired undulating and curvilinear forms add depth to the design, creating a top-notch background. And its brushed finish cancels the mirror effect of the luminous steel, executing a humbler and more functional asset. To complement it, the kitchen goes with flat-front modern cabinets and a brushed steel cylinder-shaped range hood, while the medium wood floor brings much-needed warmth to the kitchen.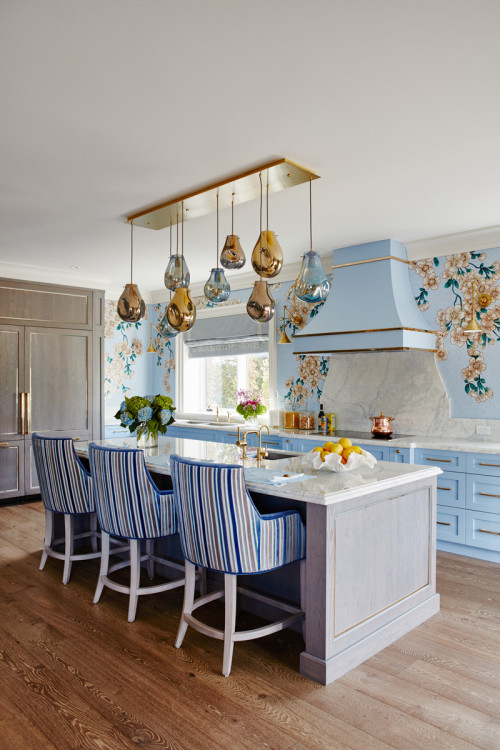 ID# 135803 | Houzz.com – Credit | © M-Squared Contracting Inc.
---
Transitional Kitchen with Blue Cabinets and Bold Kitchen Backsplash Ideas
Combining two statement backsplashes is hard but when it is done right, it is unforgettable. This transitional kitchen offers one of those big design moments. Employing a custom-cut marble slab backsplash and cherry-blossom mosaic mural artwork, it creates a statement wall surface. The variegated shades of blue, pink, and gray come together, complemented by powder blue cabinets and brass detailing. The irregularly shaped colorful glass pendants complement the color scheme in a different form, achieving layered materiality. The synthetic flowers and vertically-lined blue counter stools alongside the other statement elements create a visual feast. Overall, it offers a kind of look that will make you feel like in spring even in winter. Can kitchens have seasons? Well, this one has.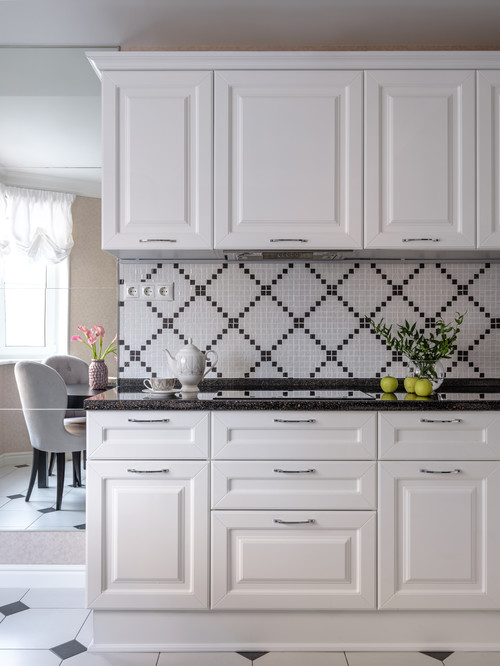 ID# 135805 | Houzz.com – Credit | © LEMOdesign
---
Transitional Kitchen with Black Countertops and White Cabinets
Can't give up on the black and white union? This transitional kitchen has the answers you need by showcasing how a stylish and unique look can be achieved with only two colors and one basic pattern. On close inspection: what stands out between the white raised-panel cabinets and black granite countertops is the diamond pattern mosaic tile backsplash. The black tiles are used to create diamond patterns, which are repeated on the floor styling as well. The white floor tiles are enriched with black diamond patterns at the intersection points of the adjacent tiles. The glazed finish on the countertops allows the backsplash patterns' reflections to fall across the worktops, creating a visually rich scheme.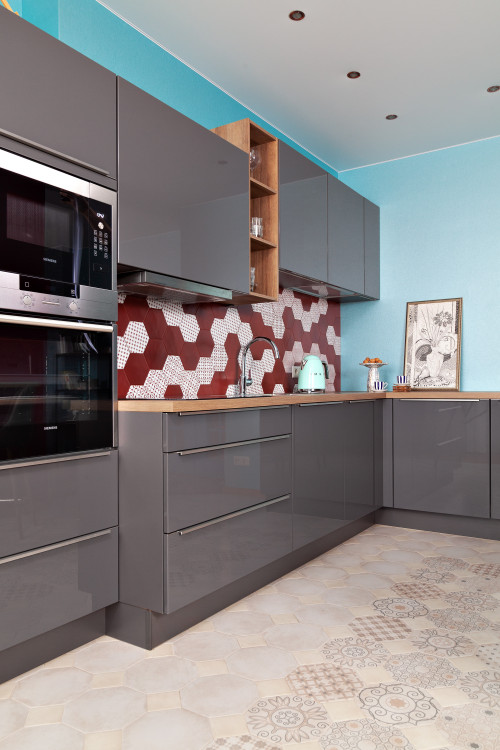 ID# 135806 | Houzz.com – Credit | © Лилия Салах
---
Hexagon Tile Backsplash with Gray Cabinets and Wooden Countertops
This contemporary kitchen is a study of the juxtaposition of unrelated colors that pull off a one-kind-of-a-look. The paint on the wall is baby blue; the cabinets are gray with a gloss finish, and finally, the backsplash consists of red hexagon patterns mixed with white ones. The combination of two different colors on the backsplash makes the backsplash the focal point, while the wooden countertops temper the color variations throughout the kitchen.
Design hint: If you want to mix patterns on the backsplash for it to stand out, a hexagon is one of the most eligible patterns that give the illusion of puzzle pieces.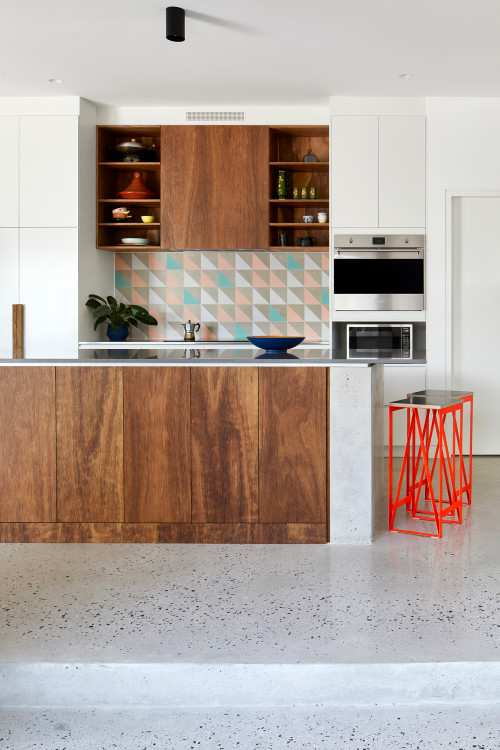 ID# 135807 | Houzz.com – Credit | © Poly Studio
---
Bold Kitchen Backsplash Ideas with Geometric Patterns and Dark Wood Cabinets
Fond of geometric patterns? Why not use them on the backsplash? This Scandinavian-influenced contemporary apartment makes use of multicolored triangles to define the kitchen's backdrop. Surrounded by dark wood cabinets, this cement tile backsplash energizes timber textures. Right above, the cabinet shelves are brought in as symmetrical additions to flank the main wall unit. The rest features full-height cabinets that zone the kitchen along with the kitchen island. The modern raw orange counter stools pop against the background as whimsical elements, while the beige rubber flooring provides a seamless look on the ground. Design hint: In case you would like to integrate more patterns, you can use the same triangle patterns on the front of the kitchen island. This way, you can also constitute a nice translation and dialogue between the different pieces.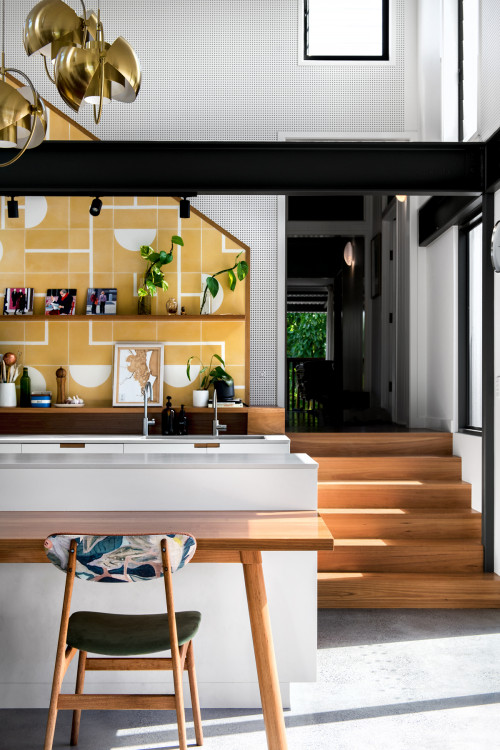 ID# 135808 | Houzz.com – Credit | © Maytree Studios
---
Yellow Backsplash with White Cabinets and Timber Open Shelving
Resting against the staircase, this stunning modern kitchen has smart ideas to complement its yellow heartwarming backsplash. First, it goes with a patterned tile that has white semi-circles and maze-like additions that break up the yellow background. Second, to mimic these lines, the kitchen designers go with thin timber open shelving that adds dimension to the tiles. Likewise, the overall intriguing geometric form of the backsplash (due to the staircase) is also defined by timber which makes the backsplash feel even warmer. Decorating it with kitchen plants and personal items makes this corner a true statement spot that lures its guests for longer stays especially when those streaming lights are what welcome you.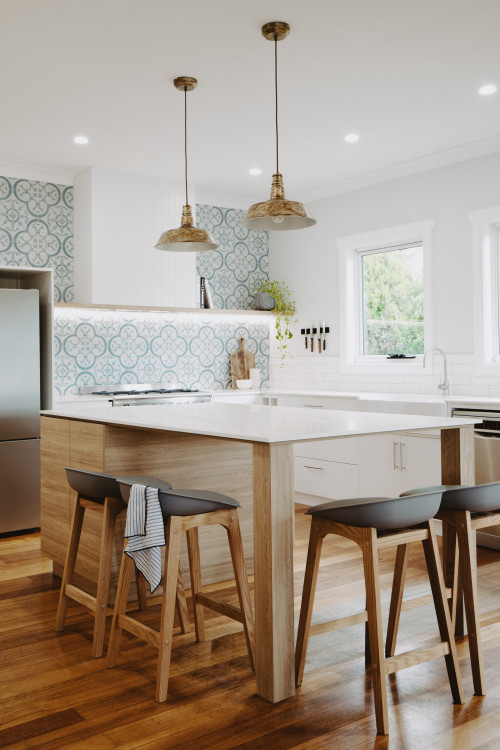 ID# 135809 | Houzz.com – Credit | © Framed Renovations
---
Modern French Country Kitchen with Blue Backsplash and Wooden Cabinets
The combination of white, blue, and light wood never disappoints, and this modern French country kitchen is not an exception. Bringing a subtle shade of blues, the backsplash introduces modernized floral patterns to distinguish the stove zone. The rest of the walls are clad in white subway tiles and painted white to create restful repose. The light wooden cabinets and brass pendants bring in warmth to complement this white-blue combination.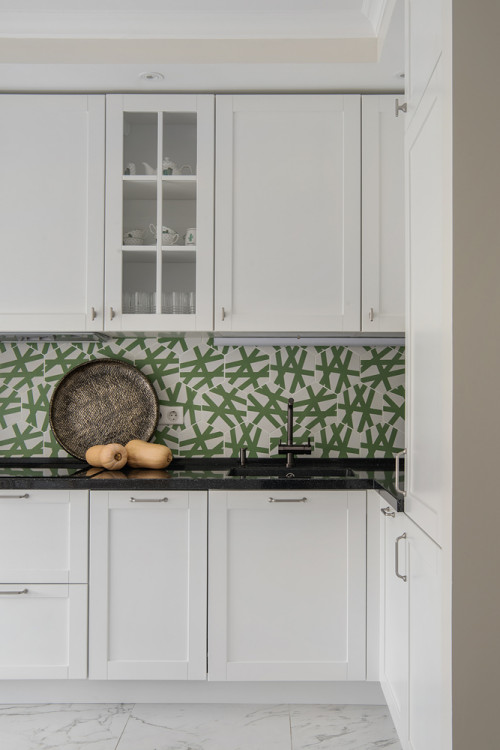 ID# 135810 | Houzz.com – Credit | © Мила Колпакова
---
Eclectic Kitchen with Green Patterned Hexagon Tile Backsplash and Black Countertops
Snagging green through the hexagon patterns on the backsplash changes the aura of this kitchen completely, giving it an eclectic touch. The white cabinets sandwich this backsplash, while the black countertops add striking contrast. The marble-look porcelain tiles sheathe the floor in resonance with the rest of the color scheme. Overall, the abstract brush stroke-like prints on the backsplash are brought into a state of calmness in the company of white-black coordination.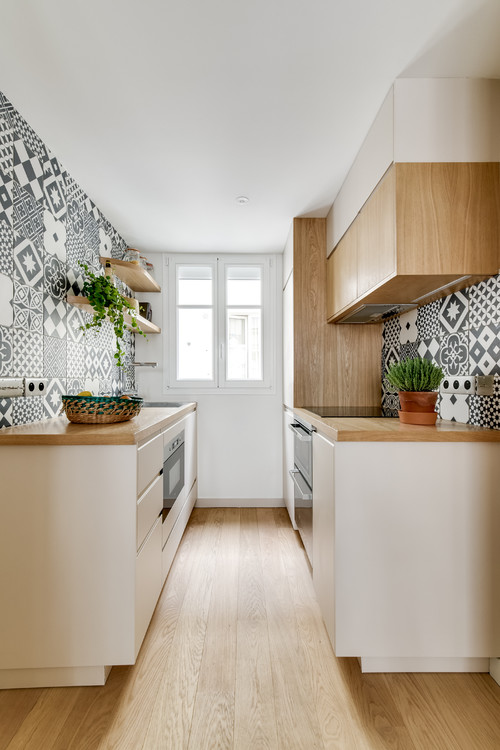 ID# 135811 | Houzz.com – Credit | © Transition Interior Design
---
Galley Scandinavian Kitchen with Printed Tiles and Wooden Cabinets
In this space, the Scandinavian influence prevails, which is evident in the use of light wooden countertops and white cabinets. The harmony of white and wood delivers a natural look enlivened with the kitchen plants. The ceramic printed tiles in shades of white and black incorporate lots of patterns that define the walls without encroaching on the space. But if you find it too much, you can use these patterned tiles only on one side of the kitchen and clad the rest in white subway tiles for a classical feel.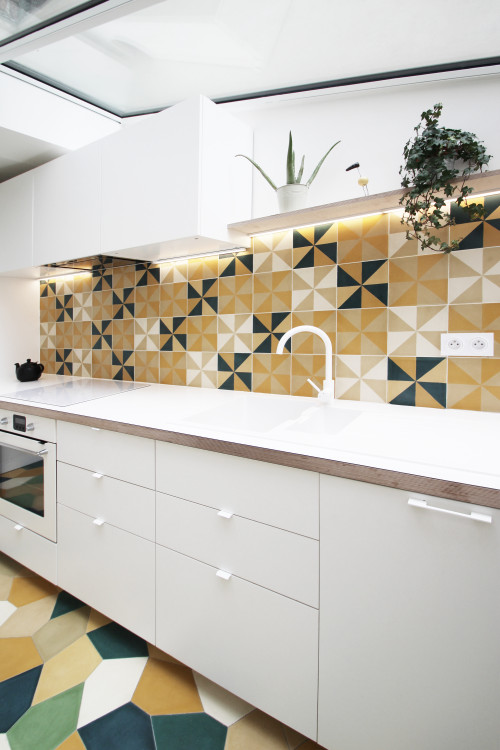 ID# 135812 | Houzz.com – Credit | © Maud Soulimant Intérieurs
---
Colorful Kitchen Design with White Cabinets and Windrose Patterns
If you love floral patterns but expect them to look more geometric, these wind-rose patterns on the backsplash are a good option to consider. Used in multiple shades, they give this otherwise too-white kitchen a different outfit, while the same colors are repeated on the floor, this time with pentagon shape geometric patterns. This color coordination with different patterns creates whimsical and unexpected coordination without overwhelming the space. To calm the space down, the flat-front cabinets do their job while also enhancing the kitchen. Also, keeping the countertops free except for a few kitchen plants on the shelving is another excellent choice to put the patterns in the spotlight.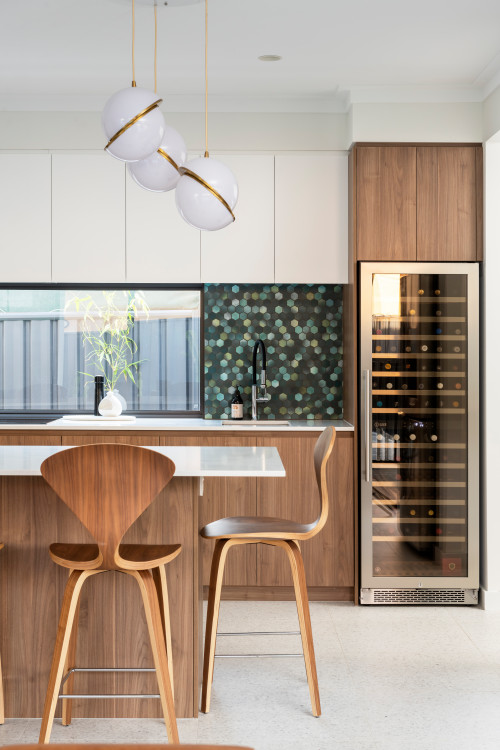 ID# 135813 | Houzz.com – Credit | © Residential Attitudes
---
Metallic Hexagon Backsplash with Natural Wood Cabinets
If you want to create a striking focal point, there is no better option than a mosaic backsplash. In this midcentury kitchen, the metallic hexagon tile backsplash draws the attention at the first sight and bring visual interest to the kitchen walls. The two tone kitchen cabinetry, white quartz countertops, and the glamorous lighting fixture above the island perfectly reflects the midcentury vibe. The window backsplash enhances the brightness of the room and adds a value to the design.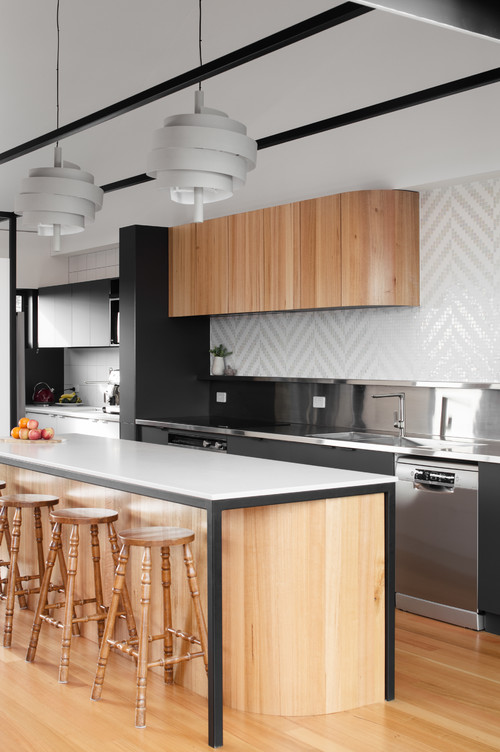 ID# 135814 | Houzz.com – Credit
---
Two Tone Cabinetry with Stainless Steel Countertop
If you love mix and match materials, using two different backsplashes will add visual interest to your kitchen. In this contemporary kitchen, the stainless steel backsplash panel is placed behind the stove. Using a stainless steel panel also provides more durable surfaces. On the top of this panel, the white and gray mosaic tile backsplash brings a nice textural look while create a clean and fresh backdrop with its subtle colors. The black and wood cabinets and the stainless steel countertop of the base cabinets serves a sleek modern look.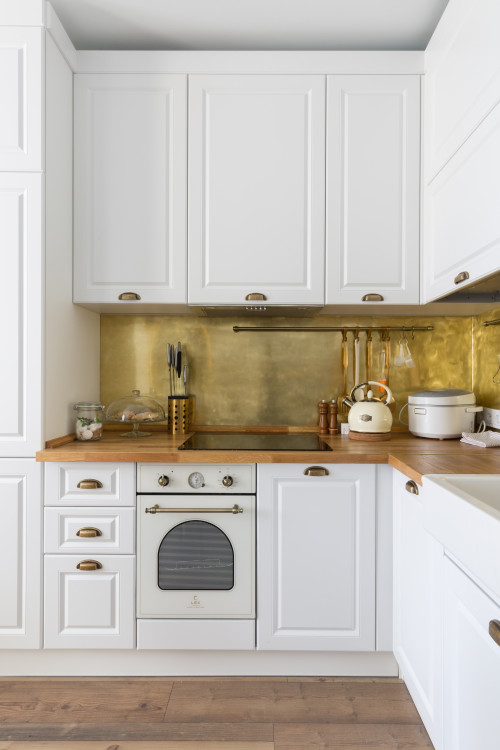 ID# 135815 | Houzz.com – Credit | © Шакирова Елена
---
Antique Brass Backsplash with Wooden Countertops and White Shaker Cabinets
For those looking for a tinge of color, sparkle, and lived-in feel, this antique brass backsplash creates a perfect background. The white raised-panel cabinets and wooden countertops calm this statement color and material, while the oil-rubbed brass hardware punctuates the white cabinets.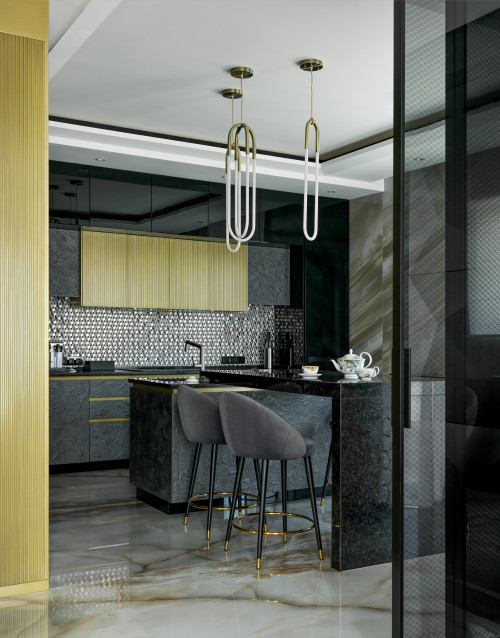 ID# 135816 | Houzz.com – Credit | © Антон Петров | ANTON PETROV Unique Home
---
Bold Kitchen Backsplash Ideas with Black Cabinets and Paperclip Pendant Lights
Featuring sumptuous finishes from top-to-toe, this modern kitchen is the ultimate form of luxury that makes you feel special. Ranging from the black cabinets to the brass fluted-design top cabinet units, and the tiled metal backsplash, each material works together harmoniously to pull off a memorable look. The cantilevered island creates a T-shape in the center, giving the kitchen an eccentric form, paired with paperclip pendant lights. The green-gray marble seamless floor with golden striations completes the overall look. But despite all these statement finishes and eccentric fixtures that harmonize beautifully, it is the metal backsplash that steals the show.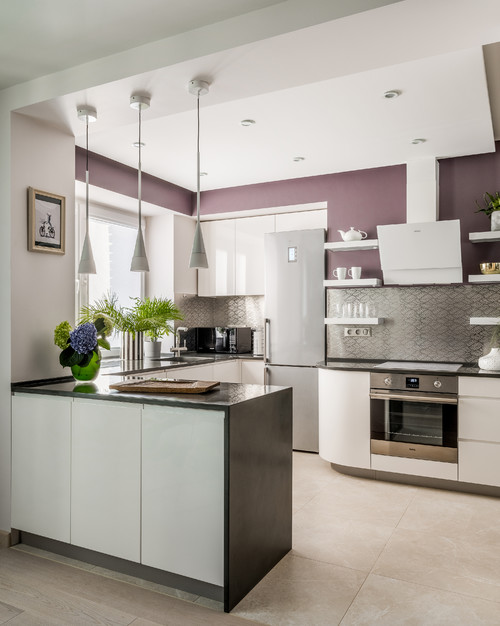 ID# 135817 | Houzz.com – Credit | © Projective studio
---
Bold Metallic Kitchen Backsplash with Black Countertops and White Cabinets
Adding a bold metallic tiled backsplash is a good investment for kitchens both for its stylish and glittering look and unparalleled durability. But you don't have to end the design there. If you want to enrich it further, you can introduce another statement color without using any backsplash but by painting the rest of the bare walls. Here, for instance, purple wall paint harmonizes with the metal backsplash effortlessly, creating natural integrity. Black countertops and white cabinets just make everything perfect for the statement pieces to feel at home. Kitchen plants and stainless-steel appliances add a punch of character and extra color to revitalize the space.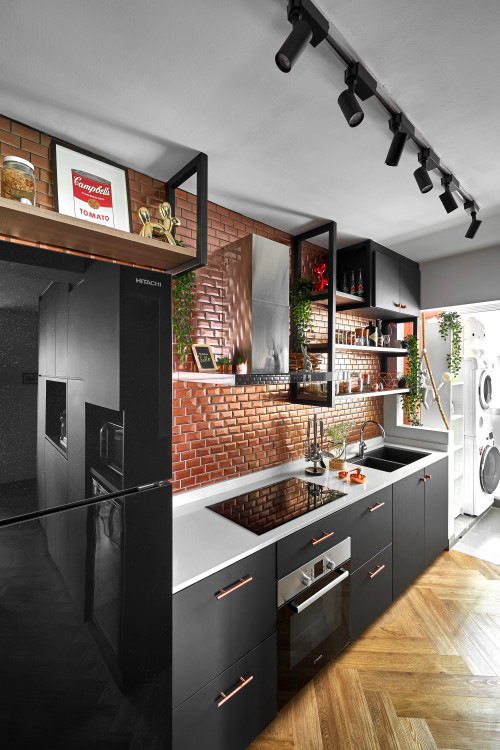 ID# 135818 | Houzz.com – Credit | © Ideasxchange Ptd Ltd
---
Industrial Kitchen with Copper Tiled Backsplash and Black Cabinets
Could you think of anything else that would replace a brick backsplash in an industrial kitchen while capturing a similar flair? Well, this kitchen does with a bold copper subway tile backsplash. Using it until the ceiling, this skillful kitchen creates a faux brick entire wall with copper. The black flat-front cabinets topped by white countertops complement it, fitted with copper pulls to coordinate with the backsplash. Using the black suspended shelf with white floating shelves instead of upper cabinetry keeps the space opened up while letting the backsplash do its show. Lastly, the herringbone pattern floor adds a rustic flair, a perfect finish for an industrial kitchen.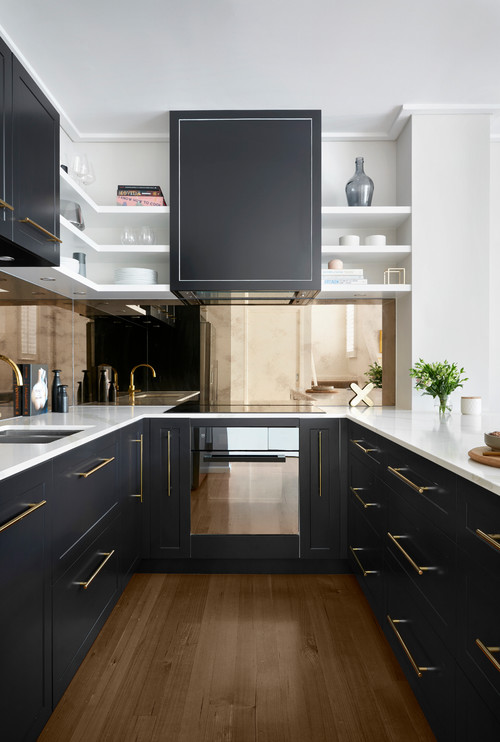 ID# 135819 | Houzz.com – Credit | © smarterBATHROOMS+
---
Mirror Backsplash with Dark Blue Cabinets And Brass Hardware
If you have a small kitchen and are seeking ways to encourage it to feel spacious, a mirror backsplash is a route to go. This U-shaped kitchen, for instance, makes use of a mirror backsplash, letting different corners of this open-plan layout flow into each other. The white cabinets brighten it up, reflecting the natural light. The dark cabinets with rustic wood floor create a visual drama, and brass hardware brings a sense of sparkle to match the vibes of the mirror.
What cabinets go with a bold kitchen backsplash?
White, gray, black, and light and dark wooden cabinets go well with a bold kitchen backsplash. But it also depends on the material type and style of the kitchen. If you want o to create an industrial kitchen, black cabinets are the way to go. But for Scandinavian kitchens, you can use white and light wooden cabinets to match a bold kitchen backsplash. If you have a multi-colored backsplash, you can use one of those colors for your cabinets to achieve consistency. Or to play safe, you can just choose white cabinets over colored ones to endorse a sense of calmness and visually light appeal to balance the colors.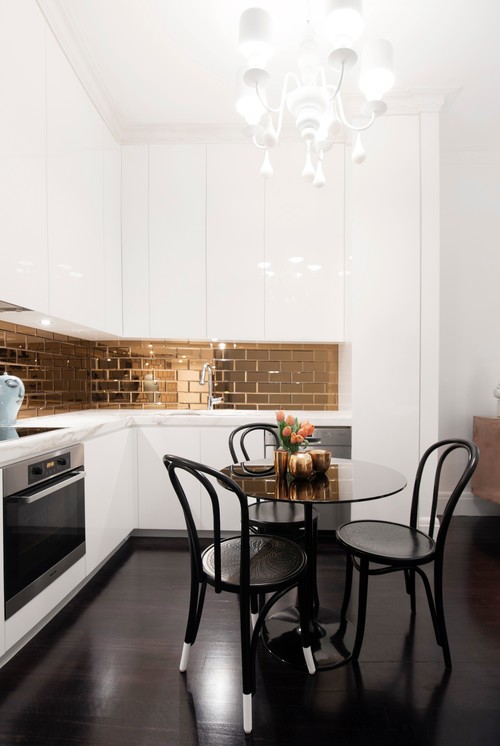 ID# 135820 | Houzz.com – Credit | © Yvette Philips Interior Design
---
White Flat-front Cabinets with Statement Backsplash And Dark Wood Floor
This opulent kitchen design lays its foundation on the dramatic contrast between the crisp white flat-front cabinets and the dark wood floor. Delving into the bright and dark sides of the color spectrum creates a fanfare of contrasts. Yet, the protagonist of this space remains to be the gold metallic tile backsplash. Its delicate sheen adds glamor to the space, and we are pretty sure that subway tiles didn't have such a golden treatment before.
Bold Colorful Kitchen Backsplash
Whether you have white or gray-dominant kitchens, a bold colorful kitchen backsplash makes a great addition to enliven the kitchen and upgrade the mood of the space. Thus, don't shy away from using oranges, yellows, and greens and even combining them. Escher tiles are very suitable for multi-colored backsplashes, along with pentagons and wind-rose patterns. If you want a non-tile backsplash, bold glass sheet backsplashes provide a grout-free and seamless background with a nice sheen.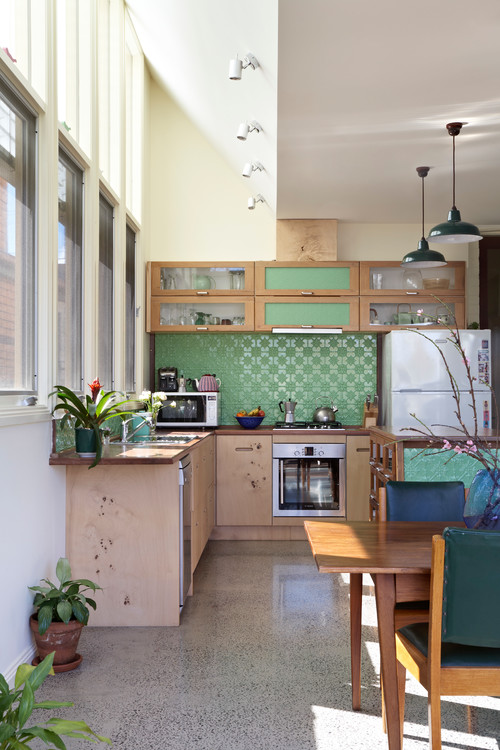 ID# 135822 | Houzz.com – Credit | © Positive Footprints Pty Ltd
---
Modern Open-plan Kitchen with Green Patterned Backsplash and Wood Cabinets
This double-height open-plan kitchen is configured in an L-shape and added another arm of cabinetry with the kitchen island. It is mainly defined by light timber cabinets topped by slightly darker reclaimed wood countertops. Taking inspiration from the kitchen plants distributed here and there, it uses a green floral patterned tin backsplash that draws all attention, topped by display cabinets. To complement them, the black vintage-style pendants and white modern tracking spotlights create a slight contrast and a sense of ambiguity evident in the design throughout.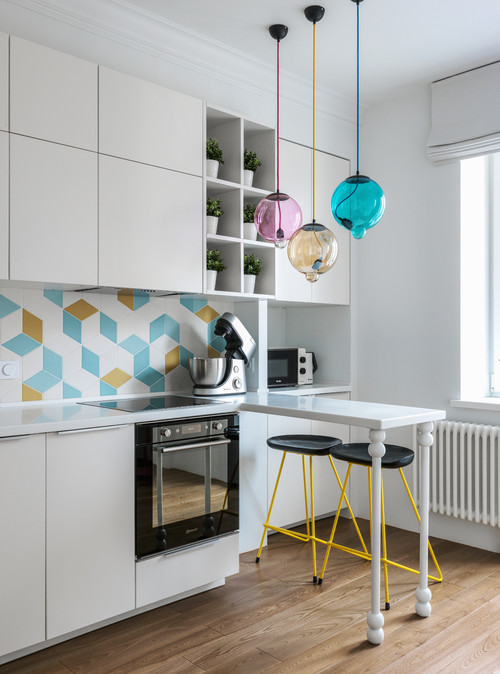 ID# 135823 | Houzz.com – Credit | © Geometrium – Студия дизайна интерьеров
---
White Cabinets and Escher Geometric Backsplash with Colorful Glass Pendants
When it comes to geometric tile patterns, Escher tile backsplashes are always on the menu. Eligible for colorful inlays, these tiles are popular faces in contemporary and Scandinavian kitchens. Plus, with the use of dark and light shades, they can give a more 3-dimensional feel as in this particular kitchen. Featuring white, blue, and orange shades, the Escher tiles create a bold background. And they are complemented by white flat-front cabinets and sleek countertops. The modern stools with yellow stencil legs and colorful glass pendants pop against the white elements while coordinating with the backsplash colors to bring the space together.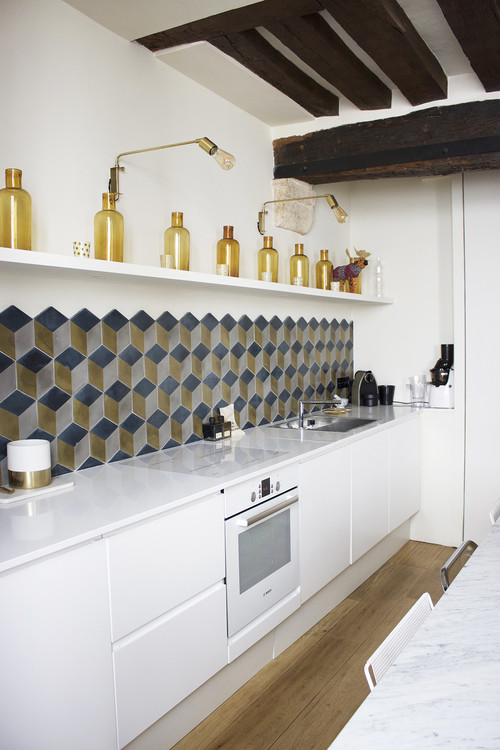 ID# 135824 | Houzz.com – Credit | © WTF/A Architectes Associés
---
Bold Kitchen Backsplash Ideas with Beamed Ceiling and White Floating Shelf
Another kitchen design that employs Escher tiles on the backsplash. This time, they come in dark shades tinged with golden hues. Flanked by white cabinets and a white floating shelf, this backsplash is encouraged to feel lighter and calm. The brass glass bottles aligned on the shelf at equal intervals and brass wall sconces add a splash of color, while the beamed ceiling and wood flooring channel warmth.
What countertops go with a bold kitchen backsplash?
As backsplashes occupy a larger portion of the kitchen, when you use a bold one, it is better to keep the rest of the space calm and much simpler for a sense of balance. That's why white quartz, laminate, less patterned black granite, black quartz, dark gray, white marble, and quartzite are more popular and considered suitable for a bold kitchen backsplash. Additionally, butcher block countertops contextualize the bold backsplashes in a softer surrounding, embracing them with warmth. If you have a matte finish backsplash, you can give your countertop a glazed finish. This way, you can also create a surface upon which your statement back splash's reflection falls for a cinematic effect.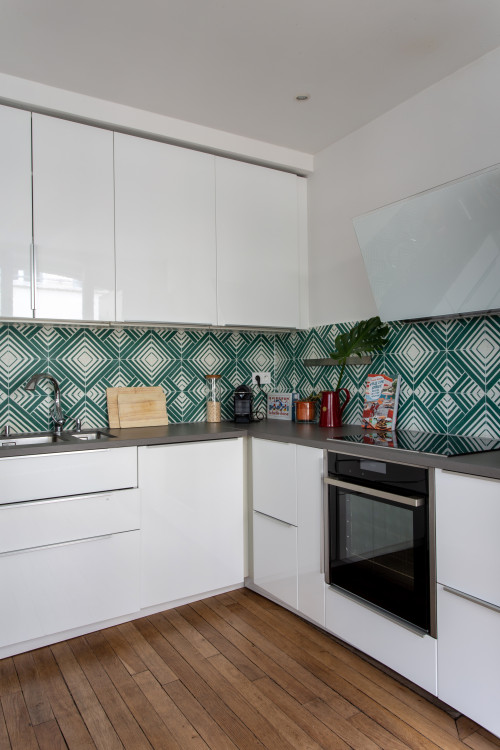 ID# 135825 | Houzz.com – Credit | © Marion Alberge
---
Kaleidoscope Effect Kitchen Backsplash with White Cabinets and Gray Countertops
You have a 90 m2 apartment with a combined concept kitchen. How would you design it? This kitchen aligns itself with a mid-century modern design. Thus, it goes with super-white cabinets that offer a clean and shiny look; the dark gray countertops lend sophistication. The blue backsplash with variously sized diamond patterns dazzles its users, creating a kaleidoscope effect.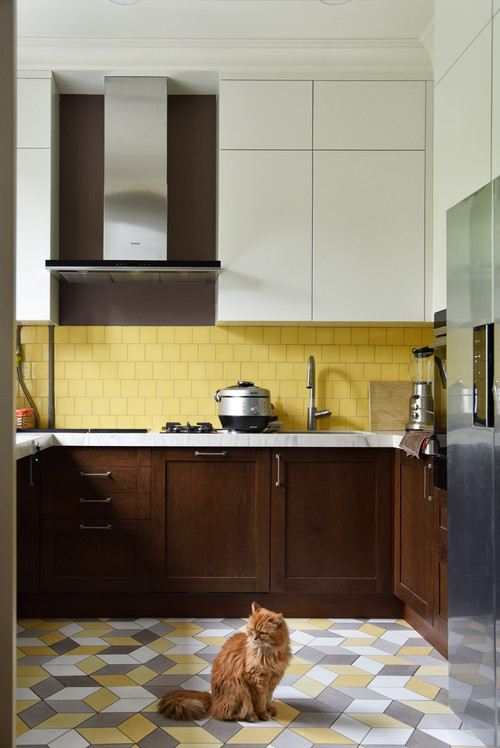 ID# 135826 | Houzz.com – Credit | © TB.Design
---
Bold Kitchen Backsplash Ideas with Dark Wood Cabinets 
To make a statement with a backsplash, you don't always need sophisticated materials, multi-colors, or metals. Sometimes, the harmony the backsplash captures with the rest of the space is enough. Here, for example, the yellow square tile backsplash though could look simple in another kitchen, pairs perfectly with dark wood cabinets, turning into a statement piece. The white wall units, white natural stone countertops, and stainless-steel appliances share the rest of the space.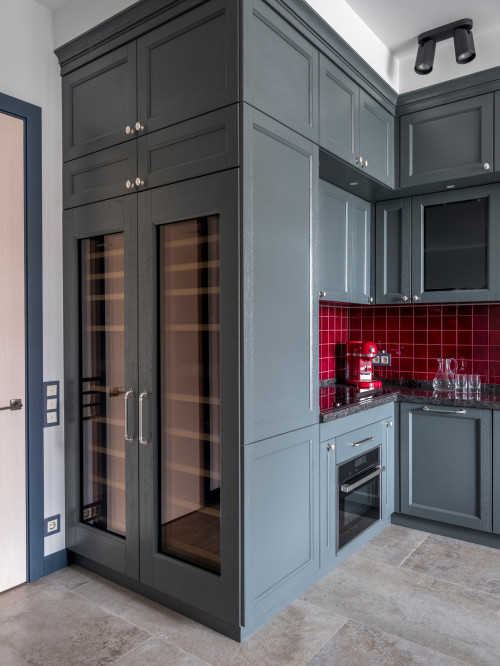 ID# 135827 | Houzz.com – Credit | © Ирина Киреева
---
Red Backsplash with Gray Cabinets and Dark Countertops
Looking for a way to attract attention to your backsplash? Why not try a red backsplash for a change? In this modern kitchen, the red square tiles serve as the highlight around which the remaining furniture and fixtures are centered. Featuring a gloomy edge to it, the kitchen is occupied by dark gray cabinets and dark countertops and would be proposing a monochromatic look if it weren't for the red backsplash.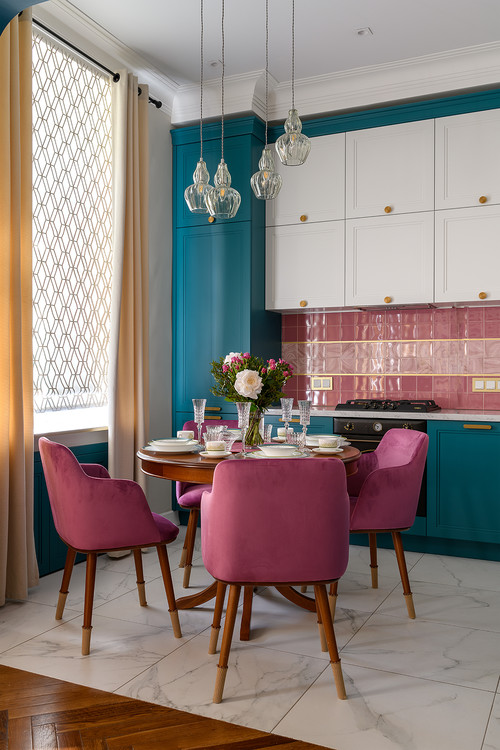 ID# 135828 | Houzz.com – Credit | © Салон ЛюксШтора
---
Bold Kitchen Backsplash Ideas with Blue Cabinets and Wood Accents
Awash with pinks and blues, this stylish kitchen has a feminine edge to it. Starting from the blue cabinets to the white wall units, wood hardware, and white marble countertops, each element ties together gently. The high-gloss pink square tiles make a statement between the two-tone cabinets. Lined with two shades of pink (dark and light) along with brass dividers that zone the light-shaded part, this backsplash gains movement and extra charm.
White Kitchen with Bold Backsplash
Looking for ways to renovate your white kitchen and give it a new outfit? You can introduce a pop of color and create a focal point with a bold backsplash. From the mosaic tiles to the copper tiled backsplashes and hexagon patterns, you have a wide range of options. Depending on the impact you want to go for, you can make a decision. For example, if you want to create a Mediterranean feel, you can go with subtle blue printed tiles or any bold pattern backsplash in earthy shades. But if you want to stick to a modern palette, hexagons, herringbone, and chevron patterns give kitchens a modern spin.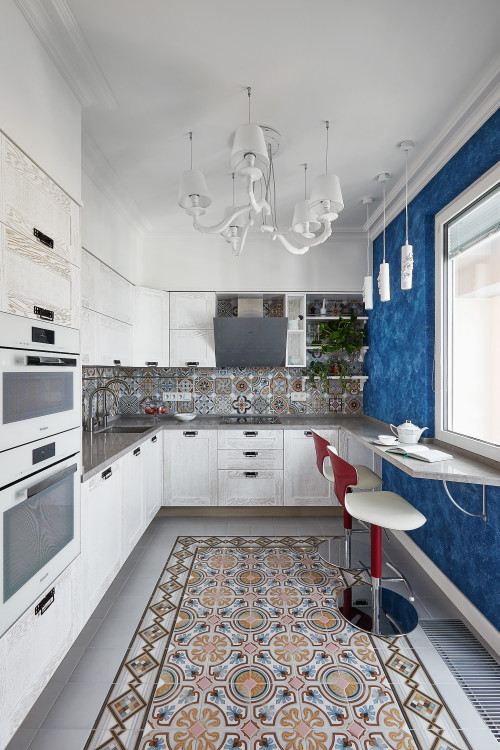 ID# 135829 | Houzz.com – Credit | © Бюро IVA
---
White Kitchen with Bold Backsplash Ideas and Gray Countertops
If you are fond of patterns, you will love this Mediterranean-style backsplash that brings a plethora of colors and patterns together. Used both as a backsplash and flooring, it comes with pops of oranges and blues to enliven the white cabinets topped by gray quartz countertops. Overhead, the white oversized chandelier adds a statement accent that centers all attention on the heart of the floor and the beauty of the tiles. The rest of the space is treated with the blue-painted feature wall that creates a solid and lively background that keeps the tiles in the spotlight.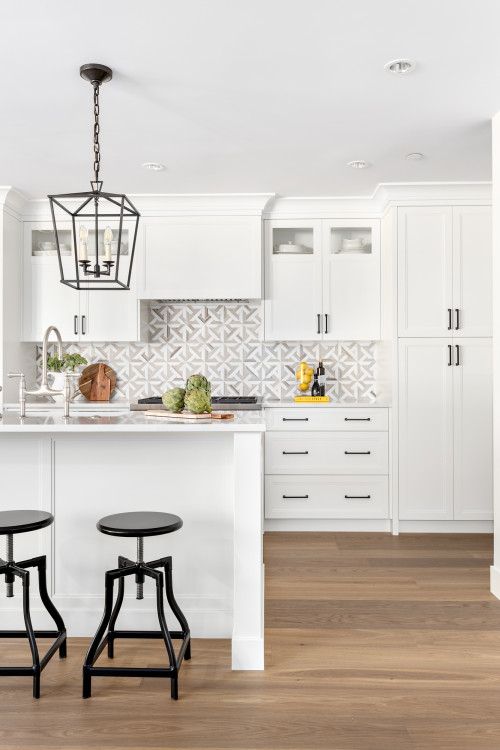 ID# 135830 | Houzz.com – Credit | © Beyond Beige Interior Design Inc.
---
Monochromatic Transitional Kitchen with Geometric Patterns and Cage Pendants
All-white looks are sometimes tricky, giving you the daunting task to style them in the right way. But with minimalist nuanced details, this monochromatic transitional kitchen nails a chic style with black hardware, cast-iron cage pendants, and geometric patterns on the backsplash that generate movement throughout the kitchen.
How to make a statement with a kitchen backsplash?
You can easily make a statement with metal and mirror backsplashes, geometric patterns, natural stones, mosaic tiles, mural artworks, and bold or multi-colored backsplashes. To put it differently, introducing a pattern, glow, and eye-popping color always makes a change in the overall look, creating a moment in the space. Or sometimes materials themselves are enough to make a statement, which is especially true with metal and natural stone backsplashes. Ranging from marble tiles to granite, onyx, and soapstone slab backsplashes, these materials are generally statement makers, especially when they feature pronounced striations.
Recently, for example, copper, brass, stainless steel, and silver backsplashes have been having their moments. Whether you want to keep their brand-new versions or oxidized ones with a lived-in feel, they provide both of the best worlds. And they easily create focal points. Sometimes these materials are accompanied by statement wall paints. For example, if you have a silver or brushed finish steel backsplash, purple wall paint adds a colorful touch. Brass backsplashes, likewise, are sometimes combined with dark blue wall paints. These solid contrasts help define the space better and highlight the kitchen's architectural features.
When it comes to patterns, Escher tiles are true statement-makers, especially if you use their multi-colored versions. Likewise, hexagons are designed as ombre or when mixed with other colors create puzzle-like features, with which you can entertain the space easily. For other pattern options, you can consider pentagons, diamonds, and triangles, particularly in modern kitchens. But if you want to be modern and traditional at the same time, herringbone and chevron patterns are more popular in kitchens with in-between designs.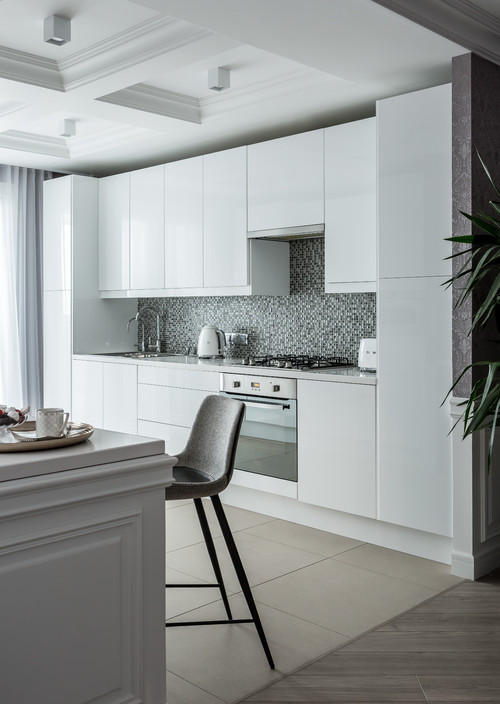 ID# 135831 | Houzz.com – Credit | © Ирина Базыльчик
---
Contemporary Kitchen with Chic Backsplash and Coffered Ceiling
What breaks up the uniform look of the white cabinets and countertops is the chic gray backsplash tile that comes with eye-catching patterns. It is complemented with gray wallpapers that sheathe the rest of the walls and gray cushioned stools that create a neutral and soothing overall look. And the coffered ceiling with miniature flush mounts provides ambient lighting to this already white-bright kitchen design.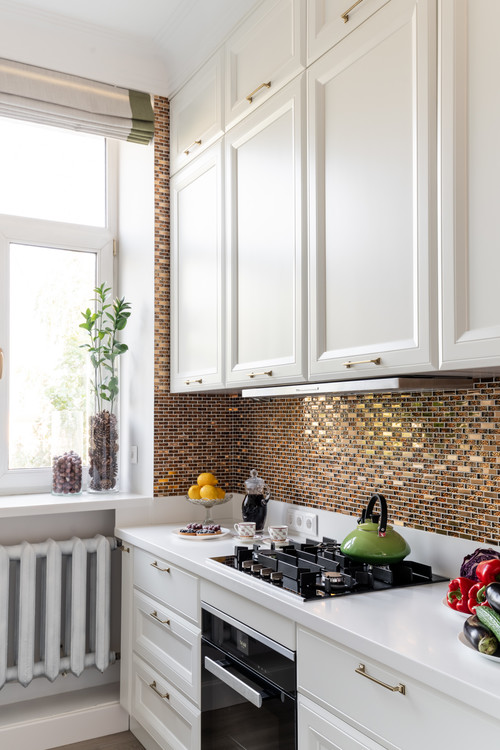 ID# 135832 | Houzz.com – Credit | © Наталья Широкорад
---
Copper Tile Backsplash with White Cabinets and Brass Accents
In all-white kitchens, sometimes all that a space needs are a tinge of color. To achieve that, this modern kitchen chooses to go with a copper backsplash tiles with brass accents that lend a sense of warmth and glamor to this compact space.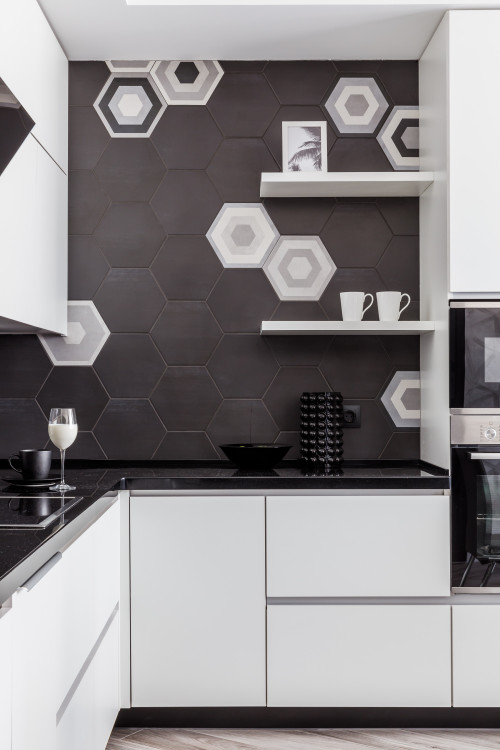 ID# 135833 | Houzz.com – Credit | © Archigram (Студия Евгении Княжевой)
---
Bold Kitchen Backsplash Ideas with Dark Hexagon Patterns and Black Countertops
If you want something modern and playful, hexagon patterns are one of the best geometric forms. All you need to do is just get rid of the wall units and use floating shelves instead to show off your stunning backsplash, especially when you have these dark hexagon patterns alternated with white and patterned tile versions to make a statement.