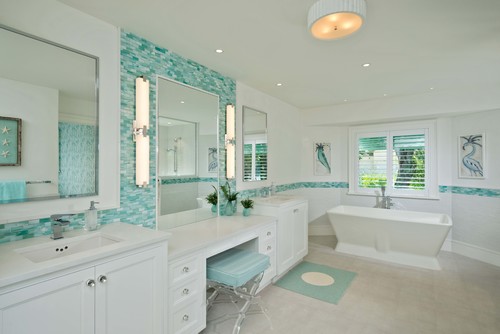 ID# 106607 | Houzz.com – Credit | © Kukk Architecture & Design P.A.
---
White Beach Bathroom with Turquoise Backsplash Tiles
Turquoise-shaded subway tile backsplash break the domination of white and create an elegant look with white features. White vanities completed with white countertop and turquoise bench.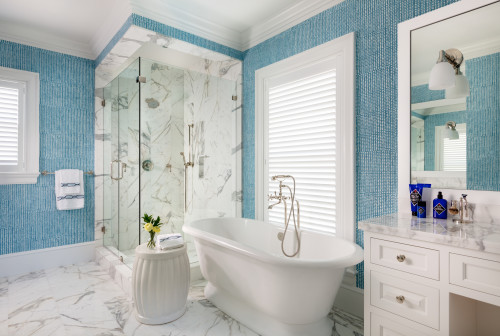 ID# 106624 | Houzz.com – Credit | © McCann Design Group
---
Pedestal Bathtub with Marble Tiles and Ceramic Table Stool
The blue and white bathroom with blue wallpaper creates a relaxing and inviting atmosphere. A roll-top pedestal bathtub is paired with a white ceramic table stool. Marble tiles in the shower add a sense of luxury. Same marble tiles are preferred also as flooring.
Cool, Elegant and Serene Beach Bathroom Ideas
If you love the sea and the sand and want to fill your bathroom with coastal vibes, these beach bathroom ideas are perfect for you! Check out the beach bathroom ideas below to start decorating your bathroom.
Incorporate blue and its shades into your bathroom.
From nautical elements to a serene tropical oasis, there are many different types of beach-style bathrooms. First of all, if you want to decorate your bathroom with coastal vibes, you will definitely need some blues. You can incorporate blue tiles and wallpapers or use blue vanities in white bathrooms or catch this vibe with some coastal decorations like shells, fishes, mermaids, seagrass, and nautical wheels. Take a cue from the following beach bathroom ideas that prove you can create your dream bathroom with beach style!
Also, beach-style bathrooms have various components to work with like wood accents.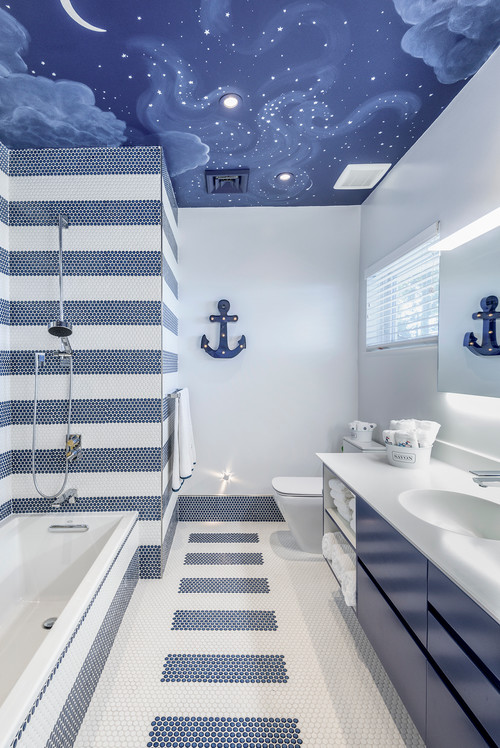 ID# 106601 | Houzz.com – Credit | © Eclipse Design Studio LLC
---
Blue and White Kids Bathroom with Sky Painted Ceiling
Sky painted ceiling and lovely use of blue and white tiles create a stylish kids' bathroom for little sailors! Usage of the blue and white tiles on the walls and floor adds texture. Blue cabinets paired with a white countertop and create a clean and fresh look.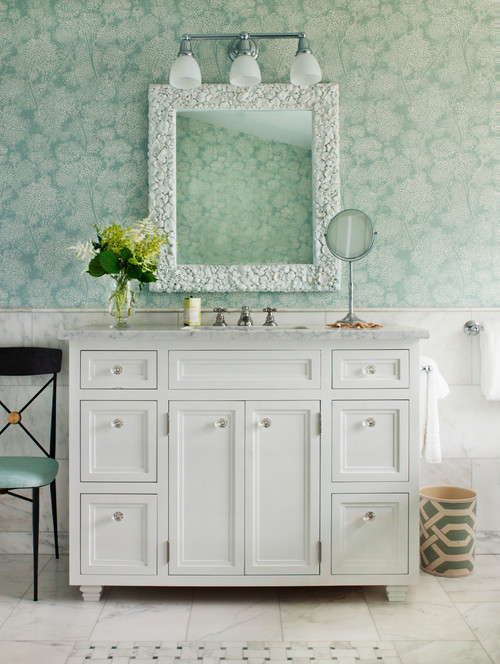 ID# 106602 | Houzz.com – Credit | © Patricia McGrath Design
---
Beach Style Bathroom Ideas with Floral Wallpaper and White Vanity
Mint green bathroom wallpaper makes a romantic touch with its white floral print and soft color. White mirror in beautiful harmony with wallpaper and creates a focal point above the vanity. White shaker vanity paired with marble countertop while marble wall and floor tiles creating a bright atmosphere.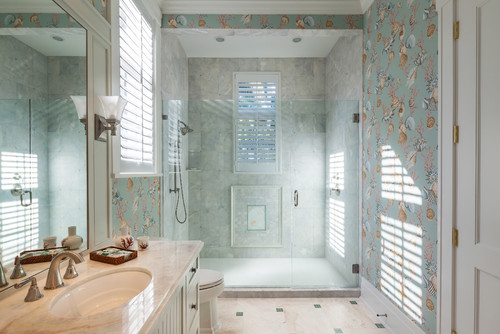 ID# 106604 | Houzz.com – Credit | © Harwick Homes
---
Traditional Bathroom with Coastal Wallpaper and Soft Green Tiles
Inspiration for a beach bathroom with white vanity, granite countertop with undermount sink, soft green marble shower tiles, and coastal wallpaper. Green tiles and wallpaper create a romantic look and work well together.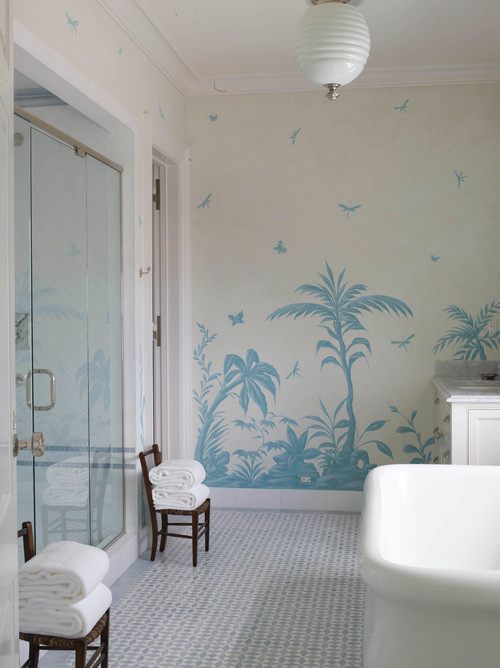 ID# 106605 | Houzz.com – Credit | © Phoebe Howard
---
Beach Bathroom Ideas with Tropical Wall Mural and Mosaic Flooring
Tropical, hand-painted mural in cream and pale blue directly takes the attention in an otherwise ordinary white bathroom. Inlaid marble mosaic flooring adds texture to the space.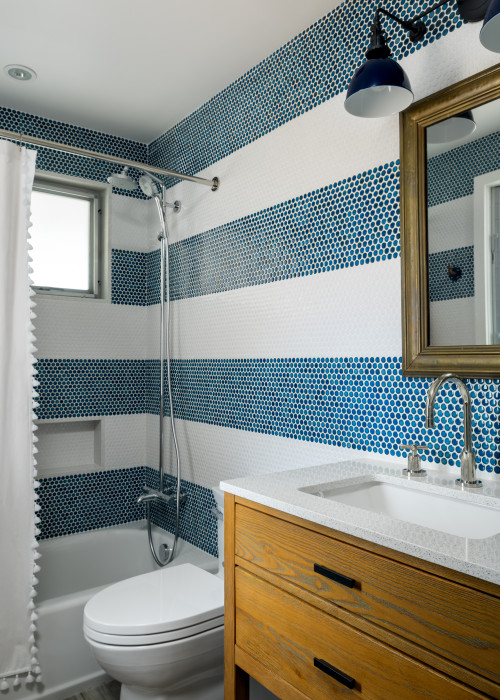 ID# 106606 | Houzz.com – Credit | © Sarah Schmidt
---
Blue and White Penny Tiles with Wood Vanity and Quartz Countertop
Inspiration for a nautical boy's bathroom with wood vanity, quartz countertop, and blue and white penny tiles. A blue wall-mounted vanity light coordinates with the blue tile. The old brass mirror adds some patina to the space.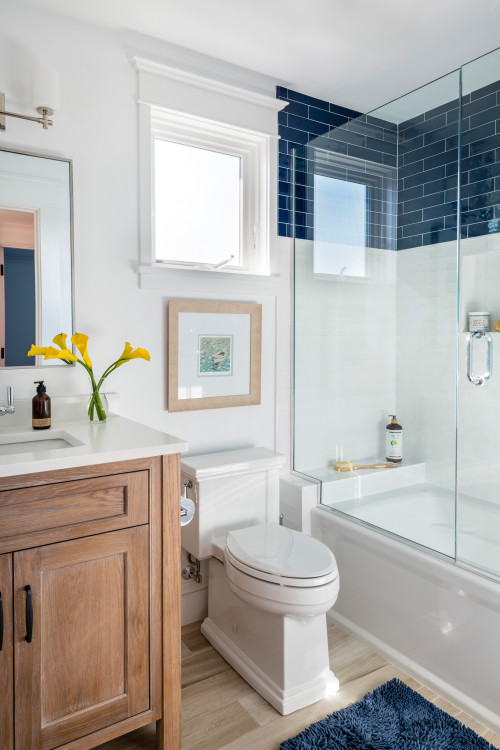 ID# 106608 | Houzz.com – Credit | © Janet Shea Interiors
---
Wood Vanity with White Countertop and Navy-Blue Subway Tiles
Calm and crisp nautical style! Mostly white bathroom provides a spacious and bright atmosphere. Navy blue subway tiles on the upper parts of white walls to keep the compact room from looking too dark. Shaker wood vanity and weathered wood floor add warmth and texture to the space.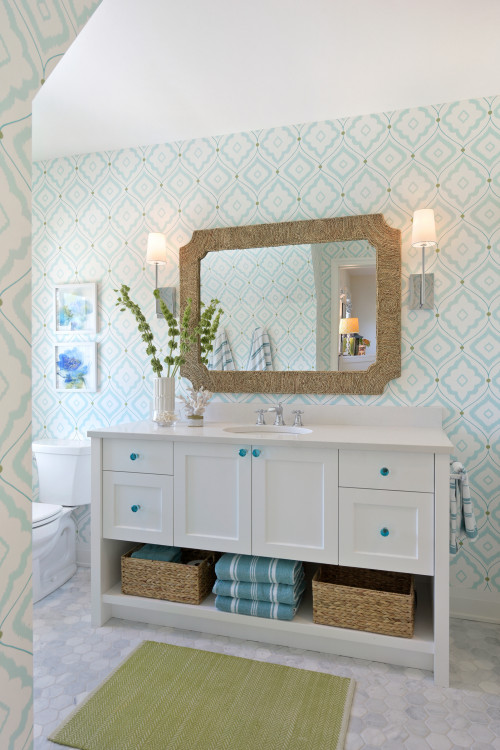 ID# 106609 | Houzz.com – Credit | © Refined Llc
---
White Shaker Vanity with Blue Handles and Rope Mirror
A great example of a beach bathroom with white shaker vanity with a white quartz countertop and blue handles. Mint green and white wallpaper create a beautiful backdrop for this bathroom. The rope mirror and wicker baskets in the vanity give a coastal feeling. A green rug is placed on a gray hexagon floor tile.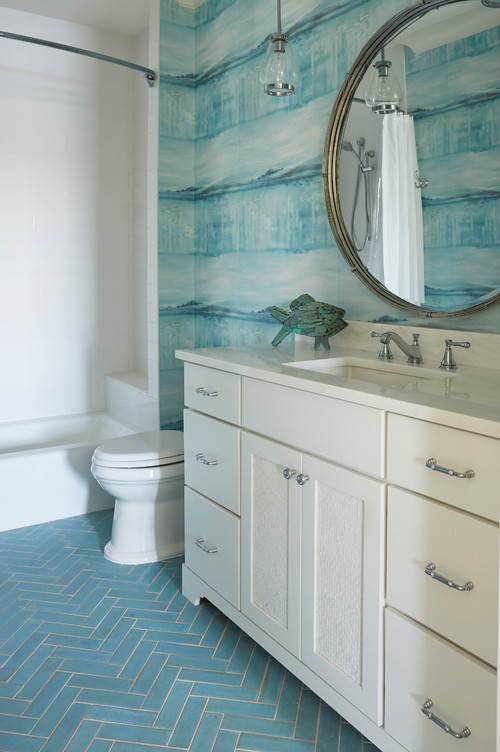 ID# 106610 | Houzz.com – Credit | © Saltwater Kitchen & Bath Studio
---
Blue and White Coastal Bathroom with Blue Herringbone Floor Tiles
This casual beach color palette with pops of aqua and turquoise adds to the relaxed feel of the bathroom. White vanity with a quartz countertop provides a bright and elegant look between the blue wallpaper and blue herringbone tiles on the floor. The metallic framed circular mirror creates a focal point above the vanity.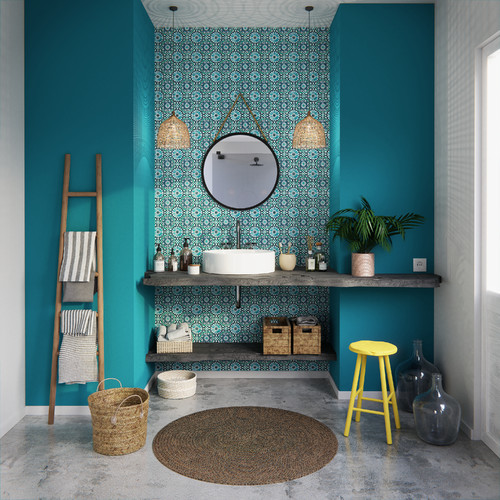 ID# 106611 | Houzz.com – Credit | © 4MURS
---
Wood Floating Benchtop with Teal Graphic Wallpaper and Wicker Pendants
Bright teal murals and graphic wallpaper give a very decorative and tropical atmosphere to this blue bathroom without straining the eye. Wood floating vanity paired with white vessel sink and allows to shine stunning wallpaper out. Another wood shelf under the vanity provides additional storage space for towels or bath products. Yellow stool creates a beautiful contrast with the teal walls. Wicker basket pendants, wicker baskets and wood ladder add warmth to the space.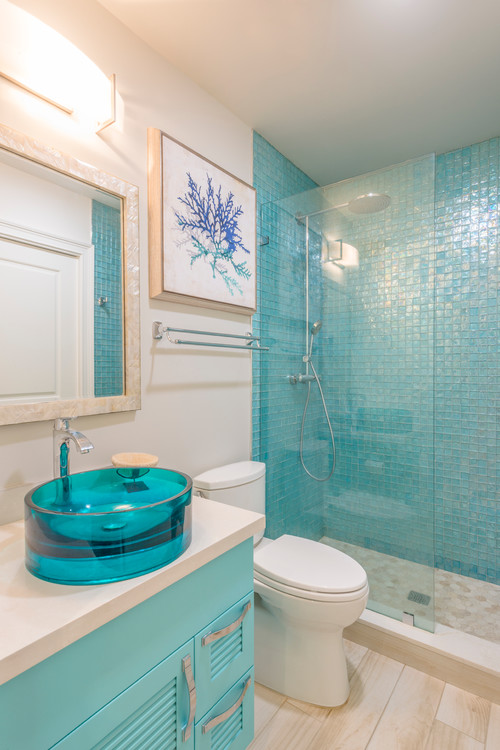 ID# 106612 | Houzz.com – Credit | © David L. Smith Interiors
---
Blue Vanity with Blue Acrylic Vessel Sink and Blue Shower Tiles
Example of a mid-sized blue bathroom with blue vanity with white countertop, blue acrylic vessel sink, white framed rectangular mirror, blue shower tiles, and wall-mounted light above the mirror.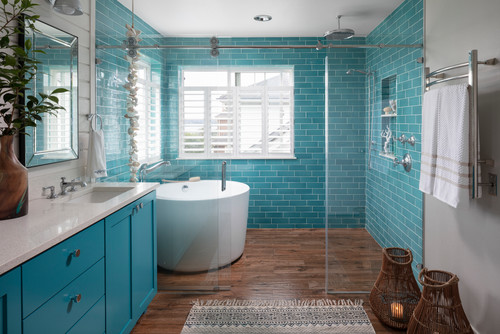 ID# 106614 | Houzz.com – Credit | © Lux Design Builds
---
Turquoise Vanity with Soapstone Countertop and Shiplap Wall
We loved the harmony with the turquoise and wood! Glass subway tiles cover all the walls and make the coastal atmosphere very nice. Blue vanity completed with white countertop and shiplap wall as a backsplash. The rectangular mirror above the vanity reflects the tiles beautifully.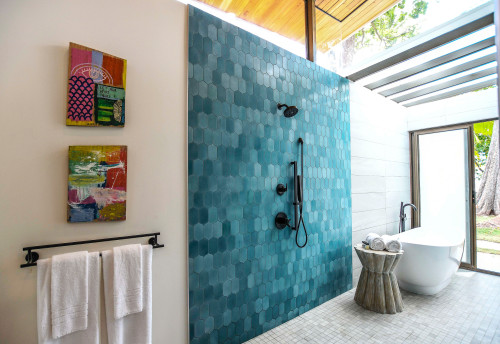 ID# 106615 | Houzz.com – Credit | © Errez Design Inc.
---
Beach Bathroom Ideas with Blue Hexagon Tiles and Glass Ceiling
The glass ceiling provides a bright and spacious atmosphere in this beach-style bathroom. The blue, white, and gray color schemes of the bathroom complement this atmosphere. Blue shaded hexagon tiles create an accent wall while boasting a wall-mounted shower head and faucet. White freestanding bathtub and wood stool make the finishing touch.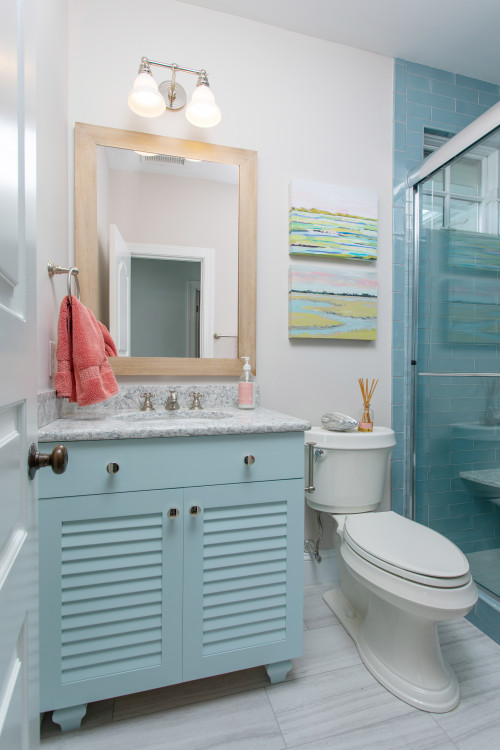 ID# 106617 | Houzz.com – Credit | © Big Sky Design
---
Small Bathroom Design with Pastel Blue Vanity and Wood Mirror
Inspiration for a small beach style bathroom with pastel blue vanity with marble countertop, wood mirror, blue subway tiles, and marble floor. Small paintings above the toilet bring joy to the space white complementing the blue accents.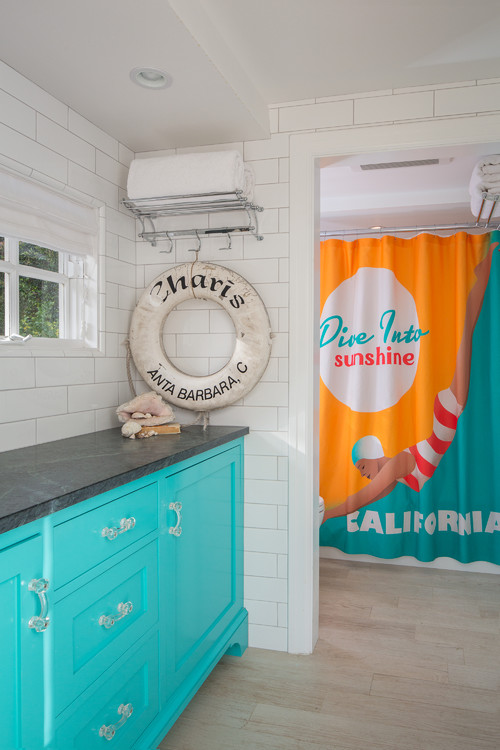 ID# 106618 | Houzz.com – Credit | © Shannon Ggem Design
---
Turquoise Vanity with Black Countertop and Graphic Shower Curtain
How about a graphic shower curtain for your bathroom? The vibrant turquoise and orange are like nature in neon, giving it a slightly quirky look that's pleasing without getting bizarre. White shiplap walls, wooden flooring, a turquoise vanity with a black countertop, a small round lifebuoy, and a curtain offer beachy vibes. In contrast, the flooring brings in nice neutral shades of dunes.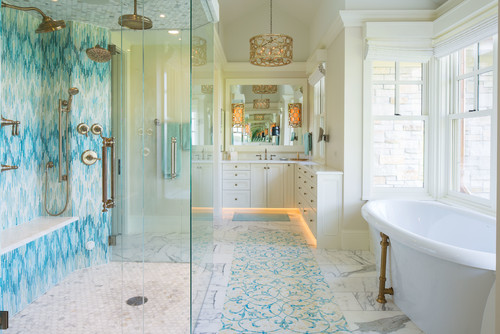 ID# 106621 | Houzz.com – Credit | © Sharratt Design & Company
---
Modern Beach Bathroom Ideas with Luxury Accents
Bright, airy, and envy-inducing! This master bathroom features white shaker cabinets with brass hardware, a white bathtub, and a blue patterned rug. A large square mirror above the vanity creates a beautiful visual illusion. Gold sconces make a warm glow.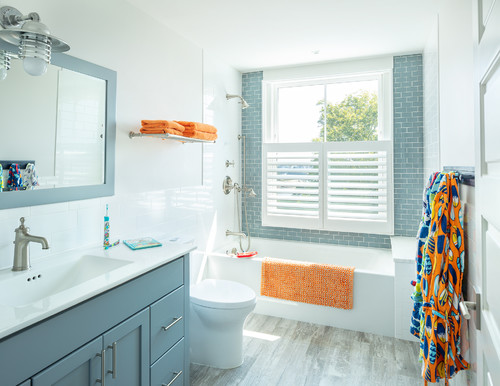 ID# 106622 | Houzz.com – Credit | © Michael McKinley and Associates, LLC
---
Gray and White Beach Bathroom Ideas with Orange Details
In this beach house, the combination of gray and white seems to be best to create an elegant and minimalist look. Gray subway tiles create an accent above the bathtub while complementing the gray vanity. Vibrant orange colors add a dynamic aspect to gray and white. The white tile backsplash offers a clean and fresh look.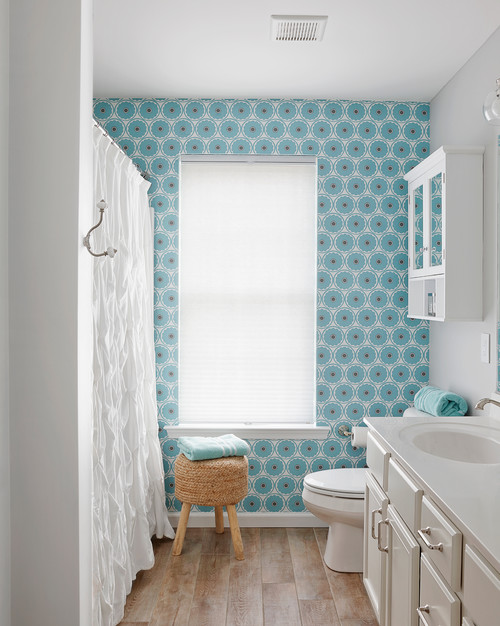 ID# 106623 | Houzz.com – Credit | © Love Your Room LLC
---
Blue Graphic Wallpaper with White Vanity and Wicker Stool
Just adding a bright-colored wallpaper transforms this small bathroom into a cheery space. Blue wallpaper catches the eye and creates an accent wall between the white features like vanity, floating cabinet, and shower curtain. Wicker stool and wood floor add warmth to the atmosphere.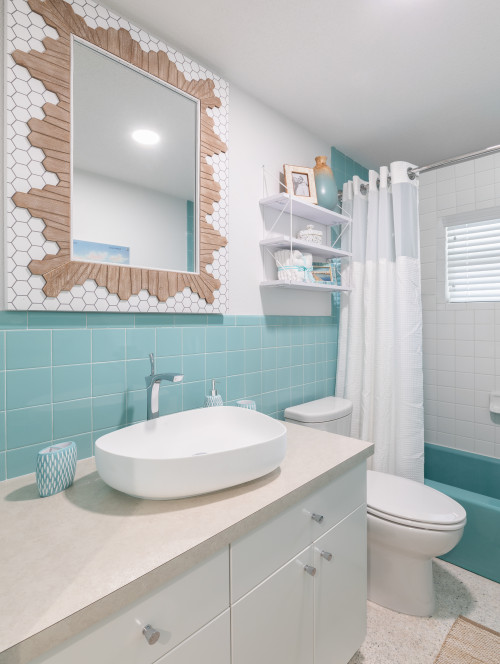 ID# 106625 | Houzz.com – Credit | © Orange Moon Interiors
---
Turquoise Bathtub with White Shelves and Turquoise Backsplash
The beach-themed bathroom features a turquoise bathtub with white square tiles. White shelves are placed above the toilet and provide additional space for products and towels. A white washstand with cream countertop and blue backsplash under a unique mirror with hex tiles and wood details.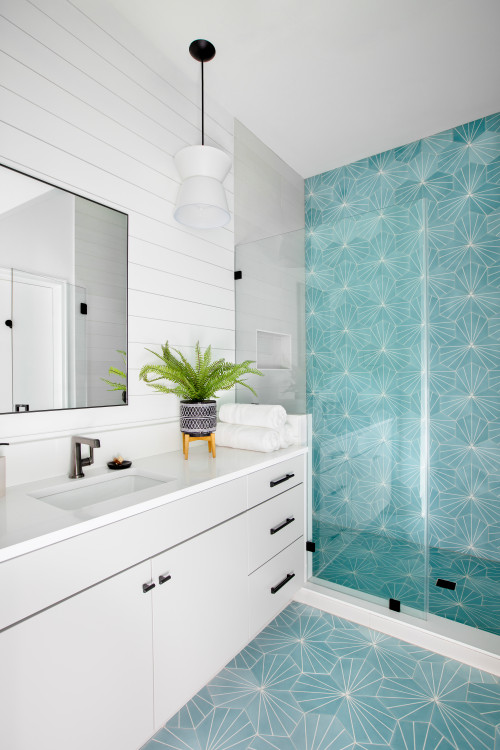 ID# 106626 | Houzz.com – Credit | © JLV Creative
---
Beach Bathroom Ideas with White Washstand and Turquoise Hex Tiles
Turquoise starburst hexagon tiles make a powerful impact in this white bathroom with white vanity with quartz countertop and black handless and rectangular mirror. White shiplap wall is preferred as a backsplash and catches the beachy vibes.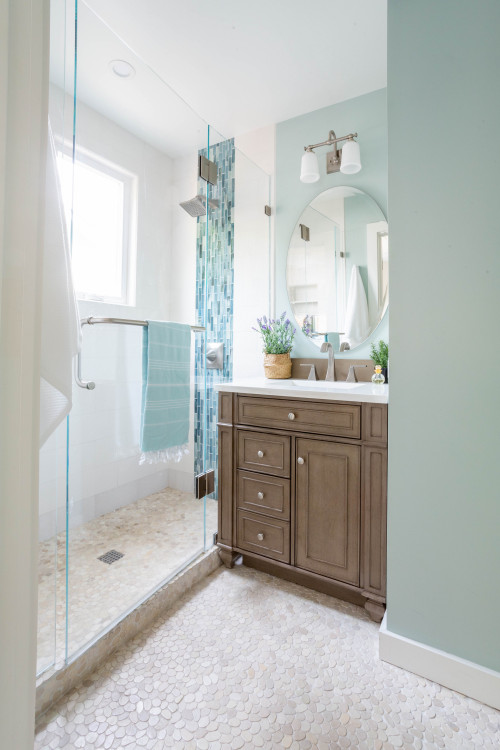 ID# 106627 | Houzz.com – Credit | © Designology Studio LLC
---
Wood Shaker Vanity with Green Mural and River Rock Tiles
A combination of natural wood and pastel green creates an intimate and welcoming atmosphere. Beige river rock floor tiles support this natural look. Dark wood vanity paired with white quartz countertop and brass handles. A circular mirror and sconce above the vanity complete the look simply and cleanly.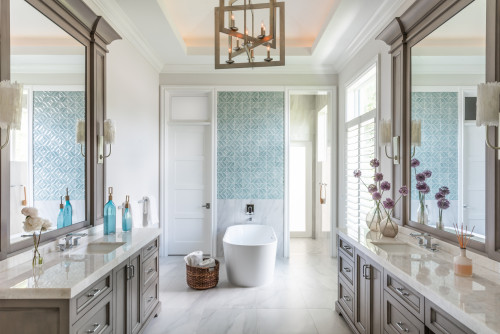 ID# 106628 | Houzz.com – Credit | © Carrie Brigham Design
---
Luxury Beach Bathroom Ideas with Dual Vanity and Teal Geometric Tiles
We loved the symmetrical look in this luxury bathroom! A white freestanding bathtub centralizes the space and is paired with teal and marble tiles which creates an accent. Dark wood vanities were placed on opposite walls and completed with cream granite countertops. Wicker baskets provide a space for towels.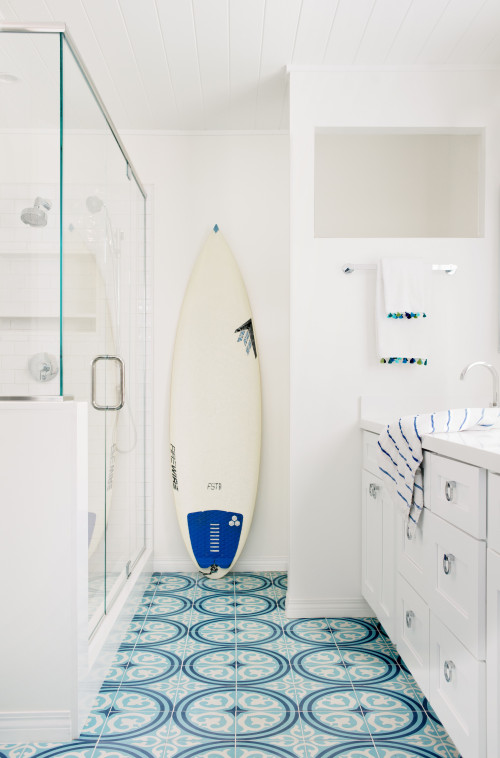 ID# 106629 | Houzz.com – Credit | © Rebecca Foster Design
---
Beach Bathroom Ideas with Blue Floor Tiles and Surfboard as a Decor
If you have an interest in surfing, how about adding a surfboard to your bathroom? It will be a great décor for your beach-style bathroom like this design. Blue floor tiles create an accent under the white vanity, walls, and shiplap ceiling.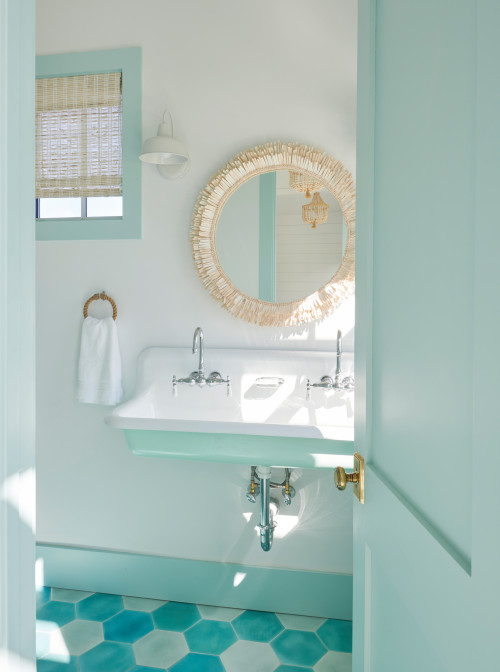 ID# 106630 | Houzz.com – Credit | © Wills Design Associates
---
Light Blue Through Sink with Beach Bathroom Decor and Hexagon Tiles
The white and blue bathroom features a light blue trough sink with two faucets, a wicker circular mirror above the sink, and a white sconce. Using a darker shade of blue on hexagon tiles adds texture and depth to this bathroom.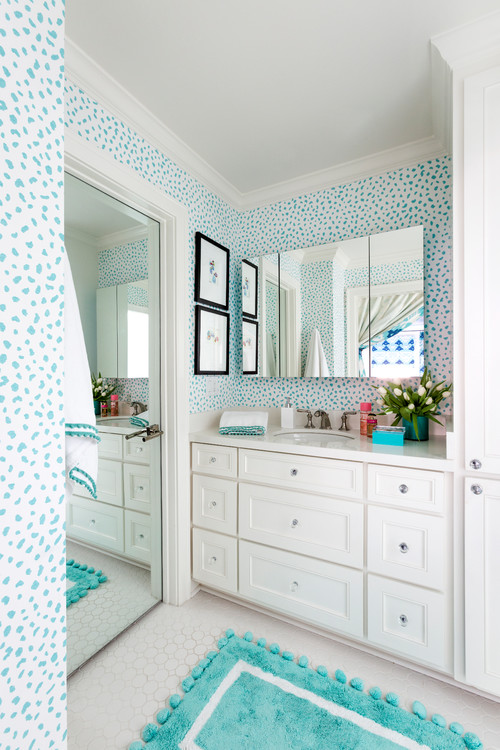 ID# 106632 | Houzz.com – Credit | © Richard Harp Homes, Inc.
---
Beach Bathroom Ideas with White Shaker Vanity 
Blue patterned wallpaper creates a cheerful and intimate atmosphere. White bathroom vanity fitted with a white quartz countertop mounted under a medicine cabinet with mirrored doors. The turquoise bath mat sits on white hexagon floor tiles in front of an oversized mirror.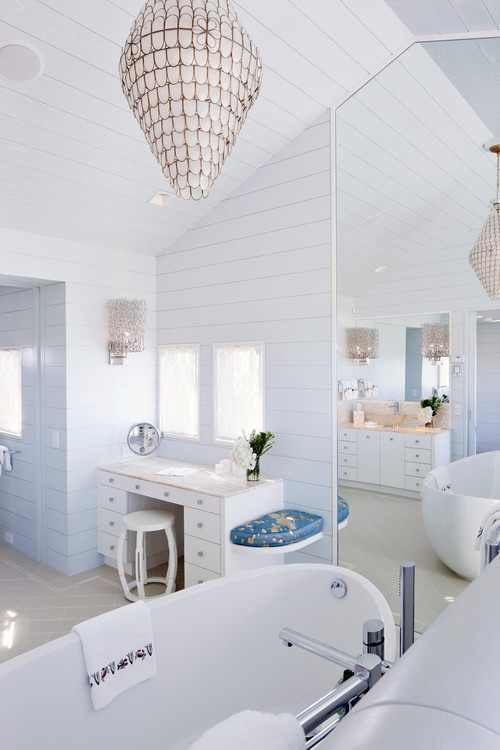 ID# 106603
---
White Bathroom Design with Shiplap Walls and Shell Chandelier
Using a chandelier in the bathroom is a bold choice but isn't it look so beautiful? Shell chandelier, blue toilet, and shiplap walls catch the coastal vibe while white vanity and bathtub creating a clean and fresh look in this white bathroom.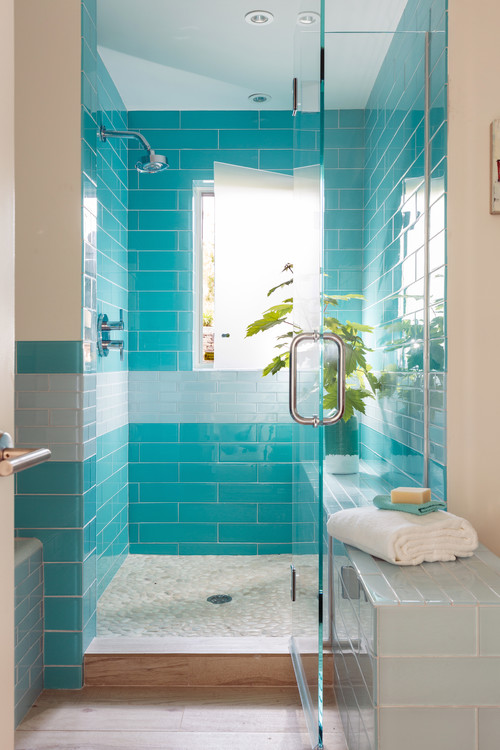 ID# 106613
---
Turquoise Subway Tiles with Hardwood Floor and Hinged Shower Door
Vibrant turquoise color dominates this bathroom and creates an eye-catching look. Hinged shower door this visual beauty to come out. White river rock is preferred as a shower floor and the hardwood floor brings a natural look.
---
Multicolored Geometric Tiles with Wood Vanity and Wood Shelves
Blue, white, and yellow geometric tiles are the main event in this beach bathroom. The separation wall provides a space for storage and wood floating shelves add a practical slant to the bathroom. wood vanity with white countertop and wicker store curtain brings warmth to the atmosphere.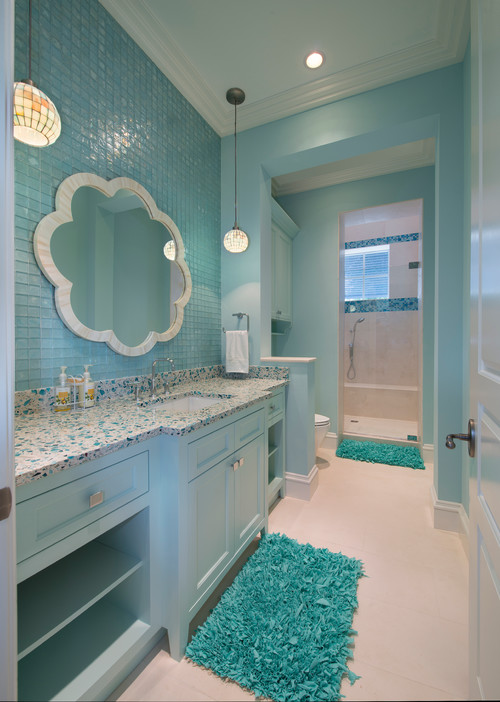 ID# 106619
---
Blue Bathroom Design with Gloss Blue Tiles and Multicolored Countertop
In this blue bathroom, the sleek and shiny blue tile which has been used for the backsplash and blue paint for other walls create a calm atmosphere. Blue vanity completed with multicolored granite countertop and brass handles.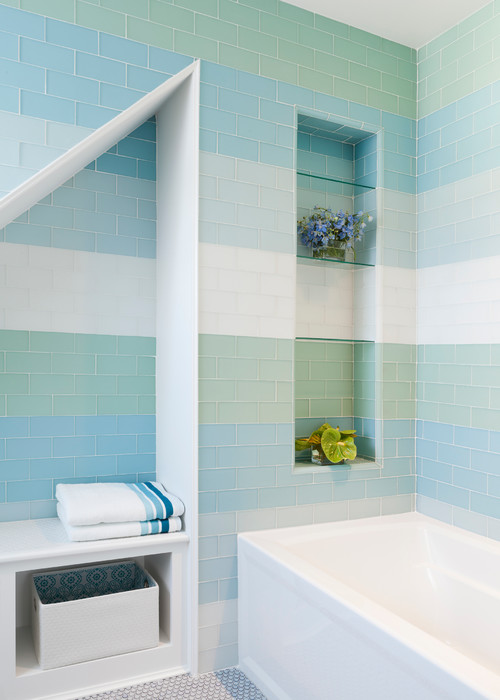 ID# 106620
---
Blue White and Green Subway Tiles with Built-in Niche
What a serene and calm look! This bathroom features a sloped nook filled with a white built-in bench. Blue, white and green subway tiles continue to the bathtub and make a big impact with stripes. Built-in niche above the bathtub filled with glass shelves.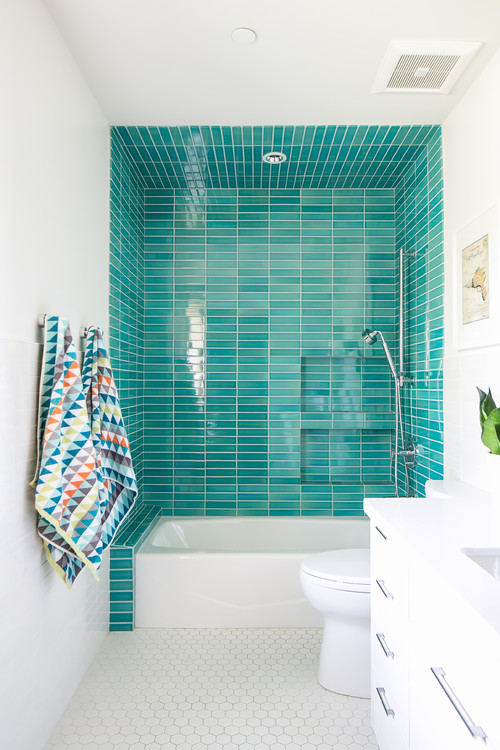 ID# 106631
---
Glass Teal Tiles with Built-in Niche and White Hex Floor Tiles
Eye-catching teal subway tile is the main event in this white beach inspired bathroom. built-in tiled niches allow extra space. White bathtub, toilet, white vanity with quartz countertop, and white hexagon tiles create a bright atmosphere.