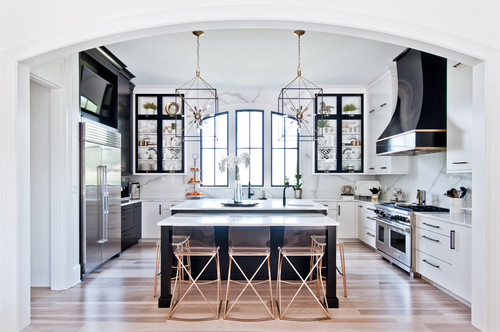 ID# 100506 | Houzz.com – Credit | © Victoria Highfill
---
The Harmony of Black and White in the Stylish Kitchen
In this elegant transitional u-shaped kitchen, we see how impressive the black and white color is used. Stainless steel appliances, an island, and white countertops have good harmony. Lightwood and beige have been used on the floor. Glass-front cabinets have harmonized with the window sill and supported the elegance of the space. The black cabinets have brought the details to the fore by harmonizing with the white and stone slab backsplash. Kitchen tools create a visual feast in the upper black cabinets.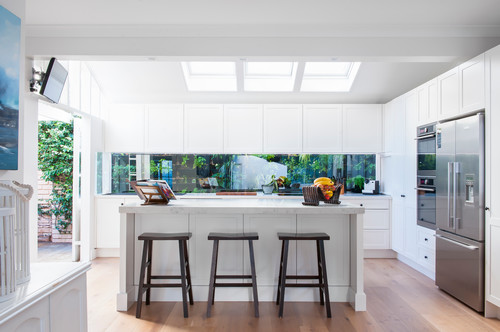 ID# 100512 | Houzz.com – Credit | Liebke Projects PTY LTD | © Nicole England
---
Transitional, Kitchen with White Cabinetry
Medium tonewood is used on the floor in this mid-sized transitional, I-shaped kitchen. White cabinets with a white countertop and white island are in harmony. The use of glass backsplash has increased the attractiveness of the environment and has become the focal point. The windows used on the ceiling also supported the light reception quality of the space and increased the light in the environment by catching contrast with the floor.
Bright, Stylish, and Modern Kitchen Window Ideas with Spacious Appearance!
Small details have been added to the overall design in the interior of each room, especially in its kitchen. Sometimes a small thing can spoil the whole situation or vice versa – transform a room into something spectacular beyond recognition. Before embarking on a major or cosmetic change of the kitchen, you must first choose a design style and decide on the materials carefully. The materials suitable for the style you choose should be considered integrated with the lighting elements and the floor, and you should create designs that will increase the feeling of the interior and provide a comfortable working environment according to the size of the window in your kitchen. That's why you can browse through the ideas in this kitchen window idea book.
Choose windows that are large and can easily receive light.
In kitchen window designs that we have seen many different types, we see the elements used in general and how natural light is used. Since the use of natural light increases the sustainability of the design and the feel of the space, designs generally include high glass panels, sometimes full-length glass walls. Also, bright colors and natural tones are preferred to support the design and have a bright space.
According to their technical specifications, different types of windows are used in different design styles such as medium size fixed, fixed from height, double wing, guillotine system, sliding, skylight. According to their forms, we can see designs in different colors such as arched, high, shuttered, etc.