37+ Zellige Tile Backsplash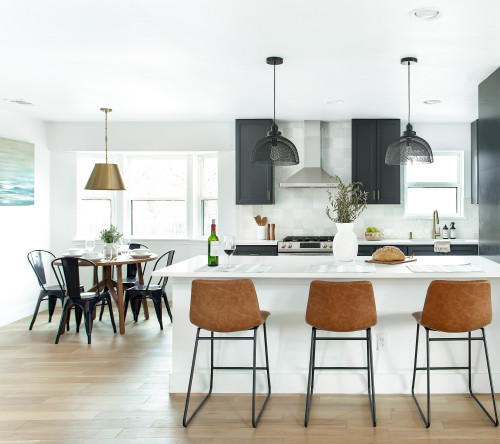 ID# 135009 | Houzz.com – Credit | © Jessica Koltun Home
---
Black and White Style with Modern Kitchen
The combination of indispensable colors is always legendary. The black shaker cabinets created a stylish harmony with the white quartz countertop. The white zellige tile backsplash was used and it created a natural background with the slightly shimmering gray tones in between, providing an elegant look to the cabinets. Gold color basin mixer and cabinet handles are used. Stainless steel tools are used. There is a half-island counter and mustard-colored leather bar chairs around it. Black pendant lights were placed on the island and a golden color chandelier was placed on the dining table. On the other hand, the black and white effect of the color was revealed by using light wooden parquet on the floor.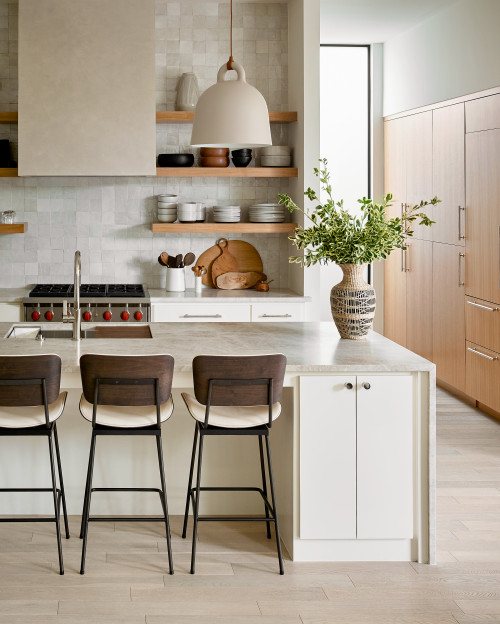 ID# 135021 | Houzz.com – Credit | © Mark Ashby Design
---
Simple Elegance with Light Tones in Modern Kitchens
Reflecting the harmony of beige and white, this kitchen brings calmness to people. The kitchen, which consists of light wood and white flat cabinets, is completed with beige marble and has an elegant appearance. The beige chair fabric and the minimal style beige pendant lighting are the details that are spot-on in the space. Gray zellige tile backsplash gives a cool effect to this cool and simple chic kitchen, and it also looks perfect with the other features. A very stylish kitchen has been designed with a clear appearance.
Zellige Tile Backsplash
One of the most recent trends, the zellige tile backsplash creates a very characteristic style with its original appearance. The way it comes out dates back to ancient times. It comes from a Moroccan art tradition, which is quite laborious to make. No two pieces are the same, these handmade backsplashes are a truly artisanal product. Its glossy and slightly rough surface provides a natural cool look. This usually square backsplash is also made in various ways.
This zellige tile backsplash, which is mostly preferred in bathrooms and kitchens, is also used in other areas. It creates a different ambiance in spaces by using different colors. To create a clean and classic look, a more antique style can be achieved by applying it without grouting as well as using grout. Also, because these tiles are handmade, no two zellige tiles are exactly the same, and that irregular surfaces create a beautiful slight textural look for kitchen walls. So, if you want to learn more about these tiles, keep reading and find stunning design ideas!
Color Options for Zellige Tile Backsplash
One of the reasons why the Zellige tile backsplash is so popular is that it has so many color options. It can be easily used in every style of kitchen, bathroom, and other areas. Since they are handmade, all of them are different from each other and differ from other backsplash with their jagged surface, it is preferred because it creates an unusual ambiance in spaces. Modern, classic, old fashion is in harmony with all of them. Since beautiful designs can be created by using different colors together, it is a kind of material that is the favorite of designers.
White Zellige Tile Backsplash
The backsplash is the most important element of the space. Cabinets, floor tiles, ceiling, and all other details will not show themselves if the right backsplash is not used, even if the most beautiful and highest quality materials are used. The white color, which does not go out of fashion and harmonizes in every way, is among the indispensable in the zellige tile backsplash. This backsplash, which is produced in many different ways, is applied in kitchens and bathrooms to achieve excellent results.
How to install Zellige tile backsplash?
For the Zellige tile backsplash installation, first, you need a sander, sponge, painter's tape, thin-set mortar, notched trowel, tape measure, wet saw, grout float, grout sealer, and caulk gun.
It is arranged whether it is to be laid randomly or harmoniously by mixing the tiles with different shades before assembly. Then the wall to be applied is prepared appropriately. The prepared adhesive mortar is applied evenly to the back of the tile and the surface to be made. It can be preferred in silicone for fixing. The placement of tiles is placed by adjusting the adhesive depth according to the joint gap. After the adhesive has dried and the Zellige tiles are well fixed, the flexible joint filler is spread on the surface with a rubber spatula, and the gaps between the tiles are filled. Excess mortar residues are wiped off with a damp sponge or cloth.
Gray Zellige Tile Backsplash
Gray is a color that creates a cool effect wherever it is used. It is also available in different forms and color tones as a Zellige tile backsplash. It can be easily preferred to create effective spaces out of the ordinary. While a noble stance is captured with dark cabinets, it can attract attention in light-colored spaces. Each different shade of gray leaves an exquisite effect.
Does zellige tile need grout?
The healthiest method to do is to lay the tiles without gaps, apply to grout, and clean the upper areas so that the grouts will not be very obvious and will remain at the bottom. It can be seen that good effects are seen by applying grout. But most the implementing companies say that grout should not be used.
Blue Zellige Tile Backsplash
Blue is a color that creates an energetic and dynamic effect. It also has a calming side. Although it is preferred more especially in summer places, we can use the blue color in many places. A blue zellige tile backsplash is widely used in different sizes and shapes, with many tone options.
This backsplash, which can be applied in bathrooms and kitchens with many variations, is almost a piece that creates the spirit of the space. The type of the space can be used according to the desired ambiance and each form creates different effects. These handmade backsplashes manage to steal everyone's hearts due to their natural, original look.
How expensive is zellige tile?
The Zellige tile must be guessed that it is expensive, highly valuable because it is handmade. It goes around $28.50/sqft. Available in more affordable products similar to Zellige tile.
Green Zellige Tile Backsplash
If you want to make a difference other than classical colors and at the same time want to use it for a long time without getting bored, one of the best choices is green. Nature always gives us peace of mind, just as it gives us peace of mind, it affects us in using those colors. A green zellige tile backsplash is a popular material used in many places. It can be applied in many different designs with unlimited varieties.
These tiles, which are easily used in the kitchen, bathroom, floor, and many areas, are handmade, and they are ahead of other ceramics with their artistic original air. Since there is a wide color scale from dark green to the lightest, natural, fresh, lively, deep effects can be created according to the areas used.
Are Zellige tiles easy to clean?
Cleaning Zellige tiles is a little different than other tiles. We can wash other tiles as easily as we want. However, zellige tiles are a little troublesome to maintain as well as to make.
Zellige tiles usually need to be rubbed with a special sponge. If care is not taken, a protective varnish layer wears off over time, which takes the tile away from its natural appearance and gradually begins to degrade the tile itself. And If you use unglazed zellige tile, you will need to seal it routinely.
Do you seal zellige tile?
Glazed Moroccan tile is low maintenance without a lot of fuss.
Because Zellige is a glazed terracotta, it does not need to be sealed. Because unglazed terracotta is porous and absorbent, a sealant should be used to protect the tile before and after grouting.

Tile Shapes
Today, tiles have many places. They are used in more various fields than in the past. It has been used in different wall designs, especially in recent years. In this way, they are designed and produced to easily adapt to the floor in many shapes and colors. models are produced.
Zellige tile backsplash is one of the most popular tiles. These handmade tiles are easy to use, contrary to popular belief. It is used not only in the kitchen and bathrooms but also in many places you can think of. You can find suitable tiles in many different sizes and shapes, large and small, even for the most difficult places to apply. It also has many different shapes such as squares, subways, and honeycombs. Depending on the size of the space, the shapes used will create different effects.
Zellige Square Tile Backsplash
The zellige square tile backsplash, which has existed since old times, is becoming more and more popular day by day. These handmade Moroccan tiles are different from each other and attract a lot of attention due to their original stance. With the effect of its glossy surface, it is a product that is preferred in very stylish places and attracts incredible attention. Although there are many examples of different shapes, the most trendy one is the square shape. It can be used easily in the kitchen, bathroom, wall, and floor in many areas and it is a very durable material.
Why do you soak Zellige tiles?
Since Zellige tiles are naturally porous, it is necessary to soak them for a few minutes before laying. Because when we put it in the mortar, it absorbs the moisture and leaves the mortar dry, and prevents it from sticking. To prevent this, we have to soak them all in turn while placing the tiles.
Zellige Subway Tile Backsplash
Another popular one of the Zellige tile backsplash is the subway tile. This tile, which creates striking effects, is used in a wide variety of areas and is available in many color options. This tile, which creates different effects with its laying shapes, is the apple of the eye of designers. Because it can be applied in places of all kinds and tastes by using it as they wish. While it stands with all its nobility in a stylish place, it creates crazy effects in a marginal place and cools in a sporty place.
Do you use spacers with zellige tile?
If a joint is to be given, a spacer is used, but it is better to lay these raw tiles without using spacers.