33+ White Cabinets with Marble Countertops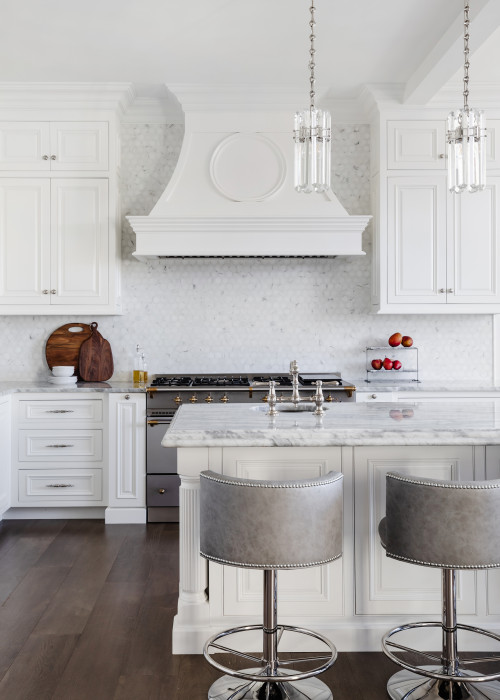 ID# 134901 | Houzz.com – Credit | © Swell Decor
---
White Raised-Panel Cabinets with Penny Tile Marble Backsplash and Dark Wood Flooring
This transitional kitchen owes its fresh look to its all-white look. If you favor white looks in a classic design, this kitchen shows how to create one. The marble penny tile backsplash evokes visual and tactile interest and creates a continuous look with white raised-panel cabinets. The chimney range hood contributes a sophisticated look. With personal touches, you can always add some color and project your personality to the kitchen as white cabinets with white marble offer a perfect backdrop.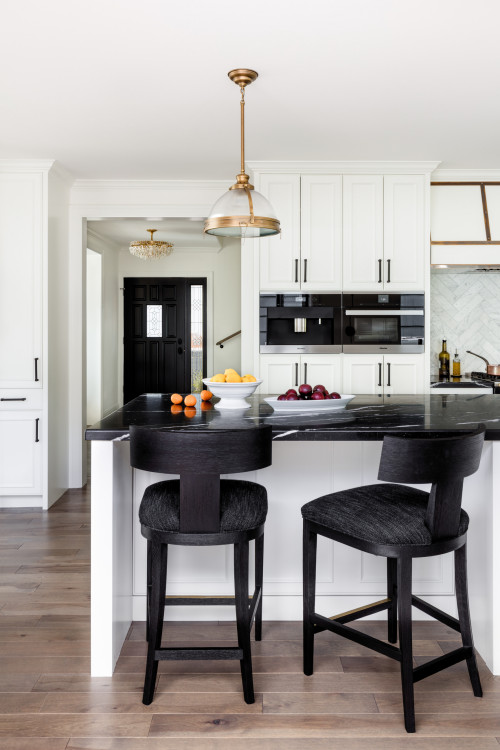 ID# 134918 | Houzz.com – Credit | © K&L Interiors
---
Transitional Kitchen with White Cabinets and Herringbone Marble Backsplash
We love how the gray-white marble herringbone backsplash stands out between the white cabinets and black marble countertops! It not only adds movement but also emphasizes the transitional character of the island while interlocking old and new in terms of material and pattern use. For a stylish kitchen look, you can consider using different forms and colors of marble as is here. Especially, if you desire to build up a theme based on contrasts! In this kitchen, for instance, the black cabinet handles accentuate the white cabinets, while black utility appliances blend in perfectly. The black counter stools with T-shaped backs give a definitive form, contrasting the white island topped with black marble in a complementary manner. To lighten up this look, brass lighting plumbing fixtures are added to communicate a sense of luxury and warmth.
White Cabinets with Marble Countertops
Before delving into the combination of white cabinets with marble countertops, first, let's discuss the marble itself. Marble is an elegant natural stone particularly appreciated for its genetic veining that brings instant sophistication to the environment. A premium building itself material, marble garners a lot of intention thanks to its unbeatable beauty and luxurious and stylish look.
Quarried from all around the world, marble forms as a result of a metamorphosis of limestone when exposed to heat and pressure. It is a dense, compact, colored, and crystallized rock that is valued as a design and building product used in multiple set-ups, including cathedrals, kitchens, residential units, bathrooms, and statues. Especially, in kitchens, they create unique effects when combined with different accents.
This article will walk you through various kitchen designs that combine white cabinets with marble countertops. You will see how many different design ideas and impacts they can achieve together, adding a stylish character to the kitchen.
White Cabinets With Gray Marble Kitchen Countertops
If there is anything as good as white cabinets with white marble countertops, it is the white cabinets with gray marble countertops. This beautiful soothing combination enriches the look of the kitchen and creates subtle tonal variations. This versatile and calming palette also portrays a carte blanche for other elements to blend in perfectly.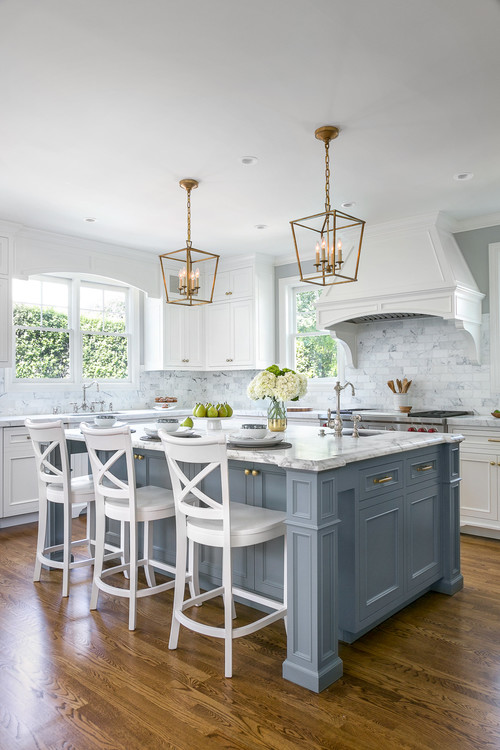 ID# 134919 | Houzz.com – Credit | © Christine Sheldon Design
---
White Cabinets with Marble Subway Tile Backsplash and Blue Island
Light shades make this traditional kitchen look brighter and more spacious, while the soothing blue of the kitchen island takes the center stage. The island topped with a gray marble countertop is put in a dialogue with the Carrara marble backsplash with bluish veins. The brass caged pendants and gold-finish handles on the cabinets with medium-tone wood flooring bring much-needed warmth to the kitchen. The gray marble countertops suit the overall color scheme as they seem to evoke bluish shades, changing colors in compliance with the furniture. The white counter stools with X detailing on the back and the subway tile backsplash contribute a classic look. The use of marble both in the backsplash and countertops adds a luxurious feel.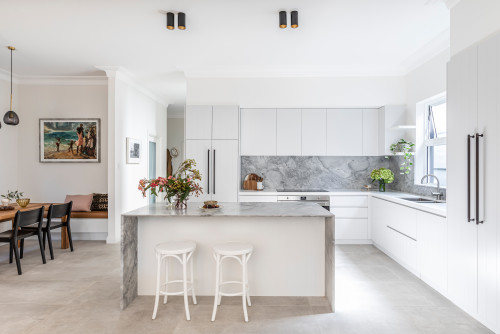 ID# 134920 | Houzz.com – Credit | © Blue Tea Kitchens and Bathrooms
---
Modern Kitchen with Natural Stone Slabs and Waterfall Kitchen Island
The interplay of light and shadow on the white cabinets, quartz perimeter countertops, and the floor creates a dynamic atmosphere. The ornament-free character of the contemporary kitchen benefits from nature and sunlight to create an organic feel that offsets the distant nature of the white-gray palette. For example, flowers in the glass vases color this monochromatic kitchen while borrowing something from nature. The natural stone, gray marble backsplash with smoky patterns adds a natural flow to the wall surface. The same material is also used as the waterfall countertop of the island, which in return brings a sense of integrity and increases the impact of the marble. Overall, the kitchen looks inviting yet distant simultaneously, which explains the true charm of the kitchen.
How much does a marble kitchen countertop cost?
The costs of marble kitchen countertops vary by the type of marble you are going for. But on average, a marble kitchen countertop costs $ 60 per foot. However, rarer and the most famous versions such as Calacatta marble can cost $ 180 per square. Black and blue marble can also be included in the category of most expensive marbles.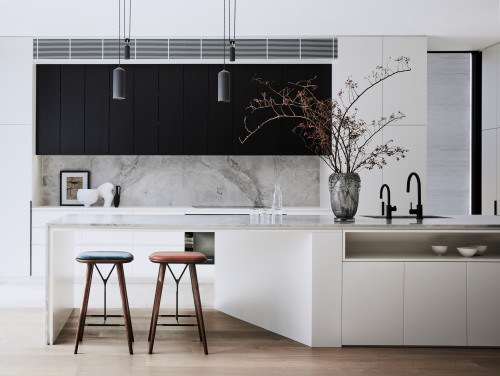 ID# 134921 | Houzz.com – Credit | © Penman Brown Interior Design
---
Contemporary Kitchen with Two-tone Cabinets and Black Accents
Unapologetically gorgeous, this contemporary kitchen synthesizes gray, black, and white shades masterfully with a sense of control and restraint. The sleek surfaces, clean lines, and generous use of geometric forms prove the inherent contemporary character of the kitchen. The island's iconic anatomy with open shelving and diagonal cuts becomes the visual focal point and makes a bold statement. Black overhead cabinets build up a striking contrast with white cabinets topped with Caesarstone quartz countertops. The gray marble backsplash softens this contrast, bringing a natural flow. Light wood flooring, backless counter stools with wood legs, and branches reminiscent of Autumn foster soothing energy and warmth.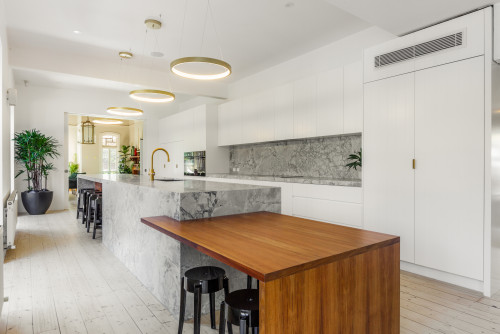 ID# 134922 | Houzz.com – Credit | © First Avenue Homes
---
Gray Marble Island with Two-Tier Island and White Cabinets
Weathered flooring, sleek flat-front cabinets, and a cantilevered island! A kitchen couldn't have looked more refined and subtle! The oversized island runs along with the wall-mounted cabinets. The gray marble backsplash is well-coordinated with the gray marble island. The half-waterfall island increases the utility of the kitchen and organizes the space. Its two-tier countertop, the second of which is wood, adds much-needed warmth and offers a cozy space to enrich the spatial dining options at home. As one final touch, the brass-finish faucet and pendant lighting fixtures contribute a splash of color.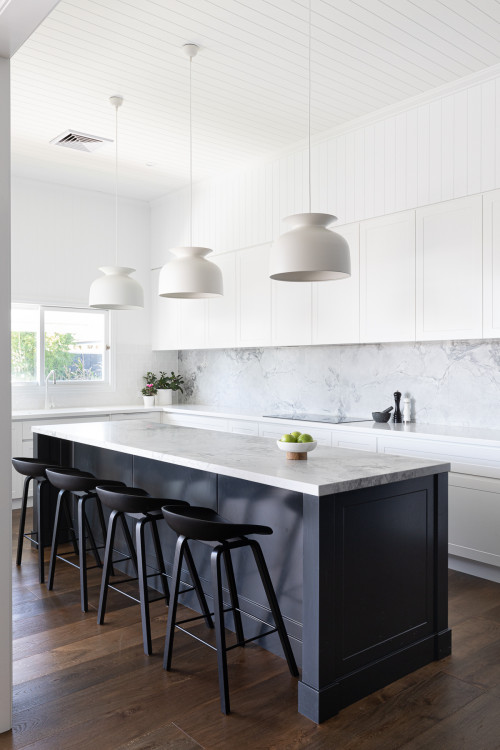 ID# 134923 | Houzz.com – Credit | © Bella Vie Interiors
---
White Cabinets with Black Island and Gray Backsplash
The soothing energy of the white prevails in the kitchen, instilling a sense of crispness. The light gray marble backsplash with a genetic flow softens the all-white look at the rear. The black island topped with gray marble backsplash achieves a cohesive look while building a contrast simultaneously. The ultra-modern black counter stools with low backs blend perfectly with the island's torso, while a trio of white pendants serves a contemporary appeal. The plank dark wood flooring with black stains douses the kitchen with warmth and an organic feel.
Which marble is best for kitchen countertops?
White marbles countertops are recommended more as they are better at hiding white marks resulting from an acid etching. Plus, these marks can even trick you and make believe you that they were always there, building a more organic look and lived-in feel. Also, it is much easier to match white kitchen countertops with the rest of the kitchen design. If you pick something with more pronounced veins, you can even make a bolder statement with marble countertops and achieve a more definitive look.
Marble Countertop Finishes
Speaking of the finishes, thanks to advanced technology, there is a variety of finishing and brushing techniques, which are also applied to marble countertops. The most common ones are honed, tumbled, and polished finishes. While honed and tumbled marbles with matte finish offer a more organic feel and texture, the polished ones add a bit of glow with a sleek and glazed look. Depending on the kitchen design, you can choose one of these to create a continuous design. In a farmhouse kitchen, for instance, a honed marble would project that cottage feeling much better. On the contrary, the polished marble can be a better fit in transitional kitchens that favor a bit of glam to accompany brass or chrome finish accents.
White Cabinets with Honed Marble Kitchen Countertops
White cabinets with honed marble kitchen countertops make a great pair while providing a seamless look in the meantime. The natural look of the honed marble brings an organic softness to the kitchen. Plus, even if the marble earns scratches in time, it will be hard to notice. They might even give the illusion of blending in with marble and look like a genetic mark inherent in the marble skin.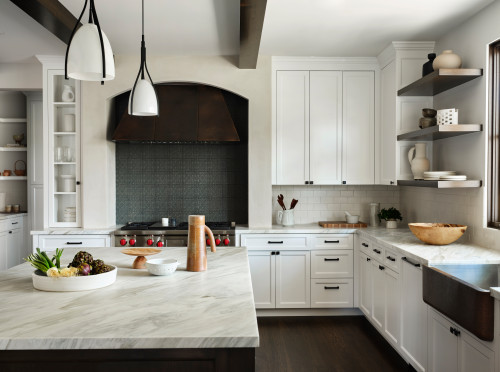 ID# 134924 | Houzz.com – Credit | © Peruri Design Company
---
Mediterranean Kitchen with Terracotta Backsplash and White Cabinets
This gorgeous Mediterranean kitchen without a doubt will leave you speechless! The deep blue-green shade terracotta tile stove backsplash with a plaster surround defines the kitchen with a noble treatment of the wall. The ceiling-height overhead white cabinets emphasize the kitchen's grandeur, while exposed wood beams exude elegance. The wood floating shelves and a farmhouse sink bring warmth and instill the Mediterranean spirit, combined with dark wood flooring. The subway tile backsplash's classic style is supported by white honed-marble countertops that complete the overall look of the kitchen.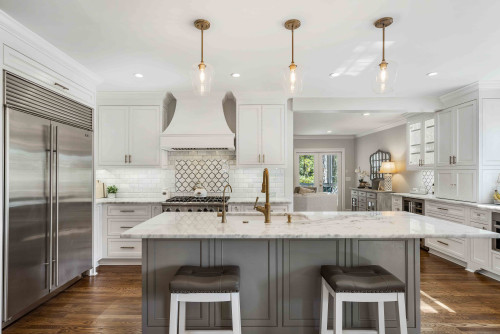 ID# 134925 | Houzz.com – Credit | © Hammer + Harmony
---
White Marble Backsplash with Gray Island and Stainless Steel Appliances
This monochromatic transitional kitchen creates the illusion of a chef's kitchen. The stainless steel appliances, including a double door oversized refrigerator, almost steal all the attention. The white marble subway tile backsplash is flanked by white recessed panel cabinets and white honed marble countertops, offering a neutral and stylish background. The gray island elevates the kitchen's overall look with a marble countertop extending to make room for a duo of gray cushioned backless bar stools. In contrast to the all-white look, the bronze industrial-style lighting and plumbing fixtures over and on the island are added to bring an authentic look. Lastly, the dark wood flooring anchors the whole kitchen design.
How to care for marble countertops in the kitchen?
Though durable and heat resistant, it requires delicate care and sealing to last long. Marble is susceptible to staining, scratches, and etching, thus requiring a bit more complicated care routines. The simplest things to follow are using a cutting board while engaged with a knife and keeping the abrasive cleaners away from the countertops. Acidic products, for example, leave white marks and etch marble surfaces. Secondly, sealing marble countertops at least once a year is an important part of the marble care routines to prevent spills and drills from sinking into the marble. Thirdly, wiping the spillage before it dries up or sets down into marble is another important trick.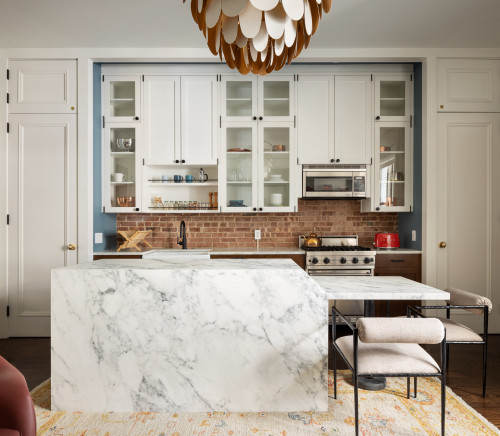 ID# 134926 | Houzz.com – Credit | © M&P Design Group
---
White Cabinets with Marble Cantilevered Island and Brick Backsplash
The unique touches and unexpected combinations in this transitional kitchen result in an engaging look. The brick backsplash stands out between the white and brown cabinets, contributing an earthy and raw feeling. To build a contrast, the kitchen strategically benefits from the marble island which adds richness and elegance. The blue wall paint surrounding the backsplash and cabinets echo the blue veins of this marble island to achieve cohesion. This astonishing cantilevered island extends on one side to offer a practical dining zone for homeowners, while a carpet lying beneath it adds an authentic look.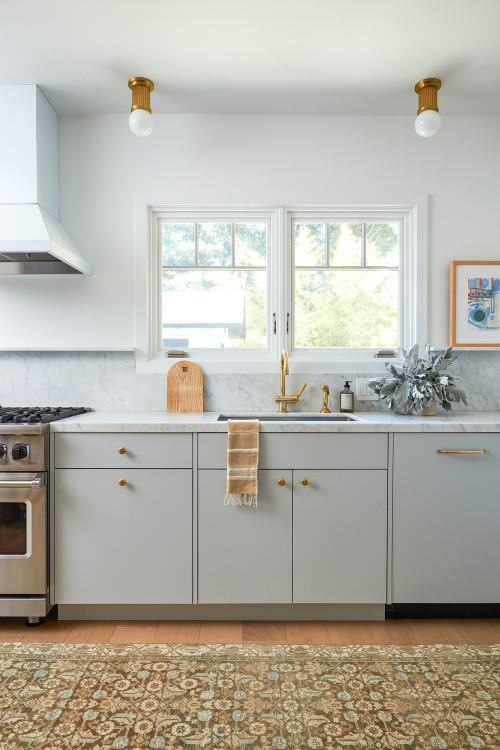 ID# 134927 | Houzz.com – Credit | © Elizabeth Lawson Design
---
Contemporary Kitchen with Light Gray Cabinets and Brass Hardware
Fresh and subtle shades define the outlook of this contemporary kitchen while bringing a soothing ambiance with them. Brass cabinet handles and plumbing fixtures add a splash of color and warmth without overpowering other elements. Off-white slab-front cabinets offer a perfect match with gray marble backsplash and countertops. The backsplash, though running short vertically, brings a tactile feeling to the wall. Also, its honed surface offers a visual rest for the eyes. The light wood flooring is partially coated with a carpet featuring beautiful floral patterns matching the color scheme of the kitchen. All elements work together harmoniously to bring a sense of cohesion and an authentic look.
White Cabinets with Polished Marble Kitchen Countertops
The polished marble features a smooth and glossy surface and enables ease of cleaning as it feels less porous thanks to the polish. So, unlike matte finishes, the polished ones offer an extra layer to provide protection, which makes marble less susceptible to staining. However, when light spots the countertops, any imperfection like stains or marks becomes more visible to the eye.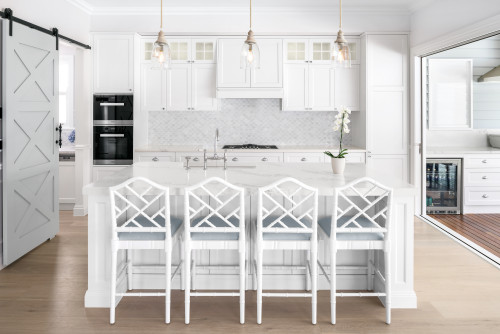 ID# 134928 | Houzz.com – Credit | © Urban Kitchens and Joinery
---
All-White Kitchen with Fisch-scale Marble Mosaic Backsplash
The beach-style kitchen opens onto a terrace coated with slatted wood flooring, sitting in an open conversation with the garden and borrowing fresh air from outdoors. In this beach-style kitchen, the liberal use of white evokes a summerish feeling, while the light wood flooring brings sandy warmth. White marble countertops champion the organic and refreshing palette of the kitchen, while the fish-scale marble mosaic backsplash adds a coastal flavor. The counter stools' intriguing backs are reminiscent of garden chairs, complementing the all-white island. If you need some color and softness, you can add wood elements or brass accents for a touch of glam.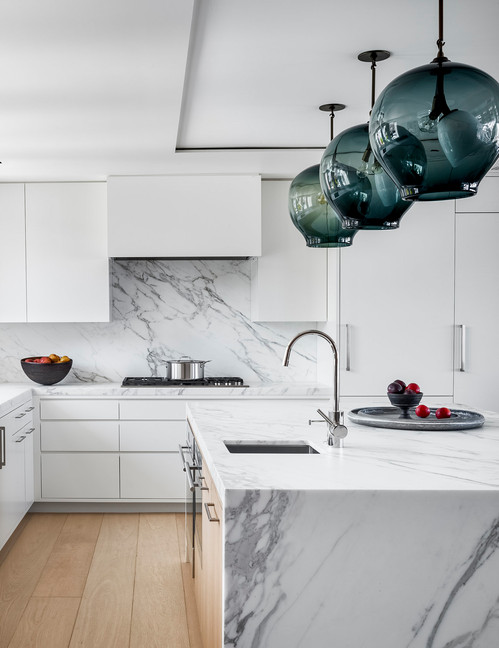 ID# 134929 | Houzz.com – Credit | © Ann Lowengart Interiors
---
White Cabinets with Marble Countertops and Light Wood Flooring
The white marble backsplash stands out between the white slab-front cabinets while its bold veins add a dramatic look. A trio of green glass lighting fixtures adds a ripple of color and brings more character in the company of the contemporary silhouettes of the kitchen. Light wood flooring injects a small dose of warmth just in the right proportion, which creates a subtle variation overall. The soothing materials like wood, marble, and glass ensure the relevance of the kitchen in the long term.
How to clean marble kitchen countertops?
Cleaning marble countertops isn't tricky at all. Hot water, mild or non-abrasive dish soap, and a microfiber cloth will do the work unless you let the stain sit too long on the countertop. Stay away from any acidic cleaners such as lemon-based ones, vinegar, and bleach that etch the marble. It is also important to consult your manufacturer about what to do when faced with a stubborn stain that doesn't leave the surface.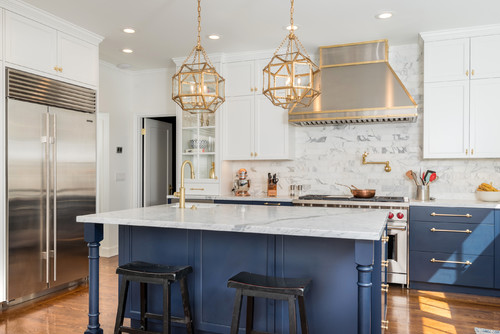 ID# 134930 | Houzz.com – Credit | © Greenberg Construction
---
Transitional Kitchen with Two-tone Cabinetry and Blue Island
White cabinets coupled with blue base cupboards are one of the favorite pairs in transitional kitchens. And this kitchen design puts this pair on display masterfully! The blue island situated in the heart of the kitchen with front legs adds a classic look, while brass details accentuating the stainless steel range hood, brass lighting, and plumbing fixtures add glam. The white marble countertops and backsplash carve out a timeless feel, improving the kitchen's energy by bridging organic and glam features. The stainless steel appliances don't seem out of place at all but rather blend in perfectly with the rest.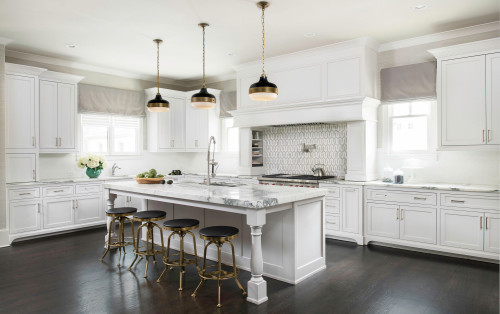 ID# 134931 | Houzz.com – Credit | © Pineapple House Interior Design
---
Water-Jet Mosaic Backsplash and White Cabinets with Marble Countertops
This outstanding traditional kitchen makes a statement with dark wood flooring that brings out the crispiness of white cabinets. The bulky range hood dressing shelters the stove while the water-jet mosaic stove backsplash accentuates the walls. The marble countertops portray a harmonious look with the kitchen's color scheme.
Is marble cheaper than granite?
No, it is granite that is cheaper than marble. Granite prices generally start at approximately $75 square foot, whereas marble prices start at $ 100 and reach up to $ 200. They can even go up even over + 200. E.g., the Calacatta marble.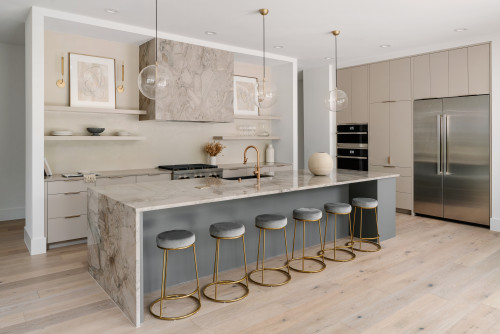 ID# 134932 | Houzz.com – Credit | © Messer Design + Construction
---
Beige Cabinets with a No-tile Backsplash and Half-Waterfall Island
The contemporary kitchen owes its heartwarming and cozy ambiance to its beige palette with subtle tonal variations. The range hood clad in beige marble with the half-waterfall island topped with a marble countertop makes a statement together. Wood floating shelves almost seem like an extension of the beige-painted wall. The oversized island with a gray bottom suggests versatility, matching the gray smokey patterns on the marble. The gray cushioned with velvet fabric backless counter stools complete the island while their brass legs add extra warmth, supported by a brass-finish goose-neck faucet.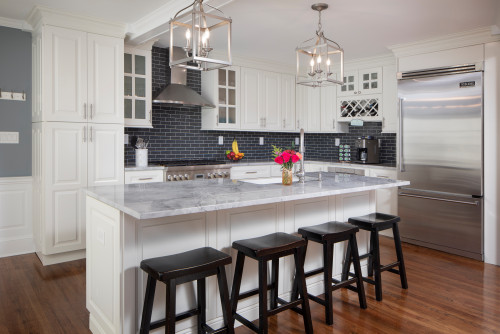 ID# 134933 | Houzz.com – Credit | © Woodhaven Lumber & Millwork – Kitchen Designs
---
White Cabinets with Marble Countertops and Black Subway Tile Backsplash
The monochromatic color scheme of the kitchen is enriched with the black ceramic tile backsplash, standing out between the raised-panel cabinets. Its white grout builds up a contrast, while gray marble countertops portray a color between the two. The island mirrors the perimeter cabinets with a paneled torso that adds movement and a layered look. Industrial-style lighting fixtures and chrome hardware add extra glam to the kitchen, well-balanced with medium-tone wood flooring.
What are the disadvantages of marble countertops?
Anything extremely beautiful, unfortunately, comes with disadvantages. The same goes for the marble countertops too. As marble is a natural stone with porous skin, it can absorb the stains and grease that penetrates the marble texture easily, leading to bacterial growth. It is also prone to etching and scratching, thus requiring careful and delicate treatment.