45+ Modern Backsplash with Dark Cabinets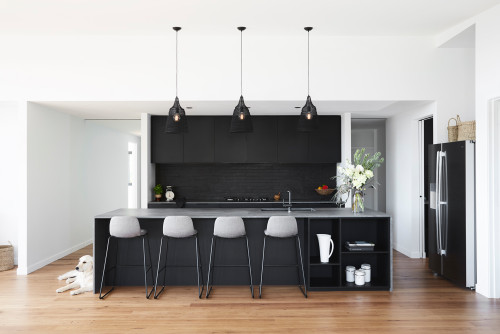 ID# 132806 | Houzz.com – Credit | © Collaroy Kitchen Centre
---
Black Ceramic Tiles for Black Flat Panel Cabinets and Quartz Countertops
The matte black surfaces add a deep serenity to the kitchen. This kitchen has an inviting and cold stylish look, however, the medium tone wood floors wipe away this cold and bring warmth to the atmosphere with white walls. The sharp contrast of the black and white is eye-catchy. The brick patterns of the ceramic tile backsplash complete the cabinets with a little movement. The black Silestone quartz countertops combined with the cabinets and the island chairs join this combination with their sleekness.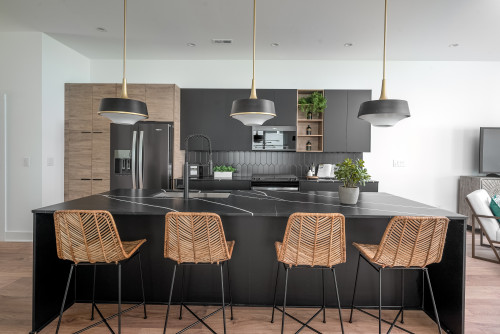 ID# 132824 | Houzz.com – Credit | © Chelsea Building Group
---
The Harmony of Black Color and Wood Textures for a Modern Kitchen Design
You can accentuate the upper black cabinets with wood shelving to bring movement to the cabinet design. The black flat-panel cabinets and the black countertops create a smooth stylish appeal. The white veins of the black countertops sway on the surface of the countertops and make a difference. The elongated black hexagon tile backsplash draws all the attention and amaze. It is better to have black appliances to boost the black cabinet design.
Modern Backsplash with Dark Cabinets
The time is changing and the trends are changing. You may want to catch the latest styles for your kitchens. It is possible to go with modern designs with timeless colors such as black and white. You can spice up your modern design kitchens also with wood details and accentuate them with gold or brass. If you go with a modern design for your kitchens and use dark cabinets, since the dark cabinets are mostly in use for modern designs, you may want to use a modern backsplash with dark cabinets.
Clean and straight lines, minimalistic decors, and neutral color schemes are the essentials for a modern style. To create a modern backsplash, the first decision you need to make is the scope of your project. The traditional backsplash height is 4 inches but, in the modern design, backsplashes can cover the entire wall. And this critical decision will define the aesthetic of your backsplash. After deciding, you need to check the material options. Glass, metal, ceramic, and natural stones are the most popular materials to create a modern appeal. Also, the layout of the tiles will impact visuality. Vertically stacked tiles are the perfect choice for modern style. Or, you can go with a full marble slab to catch the modernity with a sleek appeal.
On the other hand, to create a totally modern look, dark kitchen cabinets will be a perfect pair with your backsplash. They can boost up the modern lines of the kitchen. So, let's check out some of the good examples of a modern backsplash ideas for dark cabinets!
Colors for Modern Backsplash
One of the main members of design styles is, of course, the colors. They can change your kitchen's atmosphere easily. You can spice up your kitchens with live colors and add dynamism. It is possible to bring a clean and bright look with white color. Colors for modern backsplash can be in any material, type, and style. You can use gray, black, blue, or others. Using dark blue or navy blue cabinets with wood backsplash is a good example of a modern backsplash for instance. You can gain a fresh atmosphere with a blue backsplash or increase the sophisticated appeal with a black backsplash.
Modern White Backsplash with Dark Cabinets
Kitchens are the places where we spend our time the most. There are many styles to choose from to design kitchens. If you want to go with modernism, there is a large range of colors and materials. For example, you can use a modern white backsplash with dark cabinets that can bring a fresh and clean look to your kitchens. It is possible to benefit from the stylish contrast of the white and dark colors, textures. The movement that is brought by the contrast can provide elegance and a sleek look.
Modern Gray Backsplash with Dark Cabinets
White is for the strong contrast with dark cabinets, however, if you do not want a sharp contrast and soften it, you can use a modern gray backsplash with dark cabinets. The gray color can bring a stylish monochromatic look to your dark cabinets. The harmony of the gray color and the wood textures bring a stunning view to the kitchens. You can accentuate your dark cabinets with chrome hardware and use stainless steel appliances to create a matching look and add movement.
Should backsplash match cabinets or countertop?
It is not a must, however, matching a backsplash with countertops boosts up the modern design view of the cabinets.
Modern Black Backsplash with Dark Cabinets
You may like to go deeper and have a sophisticated look for your dark cabinets. A modern black backsplash with dark cabinets can shine in the middle of a white-painted kitchen. The sophistication and serenity will fill the entire kitchen atmosphere and bring such an elegant look. You can match a black backsplash with black countertops to catch the harmony with the dark cabinets. It does not matter what color the cabinets are, the black backsplash can boost up the kitchen and take it to next level.
Modern Blue Backsplash with Dark Cabinets
The blue color is the color of nature, the sea, and the sky. This color can bring freshness and peace to the interiors. You can brighten up your kitchen design with a modern blue backsplash with dark cabinets. A blue backsplash also can be vibrant and create a dynamic look to your kitchens. You may like to use white countertops to liven up the dark cabinets and bring a brighter appeal.
Materials for Modern Backsplash
The atmosphere that colors and the materials give to an interior can change according to the materials. For instance, you decided to go with a modern design style and want to use a modern backsplash. There are many materials for a modern backsplash, if you like a down-to-earth feeling it is possible to use marble, or if you like translucency and a clean look you can use glass material. Ceramic material is, of course, on top of the list thanks to its popularity.
Modern Marble Backsplash with Dark Cabinets
Once the word "modern" comes to mind, the slab stone backsplashes are on top of the material list, of course. A modern marble backsplash with dark cabinets is one of the options that you can boost your modern kitchen with. You may like to use gray, black, or white marble with dark cabinets to blow up the dark cabinets. It is possible to accentuate the cabinets with gold or brass hardware to bring a more luxurious appeal.
What kitchen backsplash is in Style 2022?
Since the white color is timeless, it is possible to say that a white backsplash is still in style in 2022. The same material of the countertops for backsplash is on the list. You can use white subway tiles, by the virtue of their timeless look. We can add a minimalistic patterned tile backsplash to the list.
Modern Glass Backsplash with Dark Cabinets
If you are in search of easy-to-clean material, the glass material is a good one for backsplashes. They can endure stains and splashes better than ceramic tiles. Thanks to their semi-solid surface they can reflect the light more than other materials, this helps the daylight to spread evenly in the interior. A modern glass backsplash with dark cabinets is a good choice to spice up the kitchen with endless color variations.
Modern Ceramic Backsplash with Dark Cabinets
If you do not want to think about any material options, you can go with a modern ceramic backsplash with dark cabinets without any hesitation. Ceramic tiles are the most popular alternative for backsplashes. They are versatile, they have a large variety of shapes, colors, and sizes. Heat resistance and durability are a plus, of course. You can harmonize them with countertops easily. And they certainly create eye-catchy looks.
Modern Metal Backsplash with Dark Cabinets
You may not like to use a full backsplash for cabinets, for this you can use a modern metal backsplash with dark cabinets. You can use a simple sheet or pattern for the cooktop, or full backsplash. They are non-porous which means bacteria can not find a cozy place to live. A metal backsplash does not fade in time and does not require repolishing. Reflecting light is a plus to support the daylight in the kitchen. You can find the color, pattern, and finish alternatives easily of the metal backsplashes.
Modern Wood Backsplash with Dark Cabinets
Wooden materials are the masters of the natural looks of the design. The raw texture of the wood brings a warm atmosphere to the kitchens. If they are sealed and maintained properly, they are used as backsplash perfectly. You can create a simple and plain design with a modern wood backsplash with dark cabinets. They are very helpful in do-it-yourself projects. You only need a little equipment to apply a wood backsplash. You can use matching wood backsplash and countertops to blow up your cabinets.