37+ Marble Kitchen Island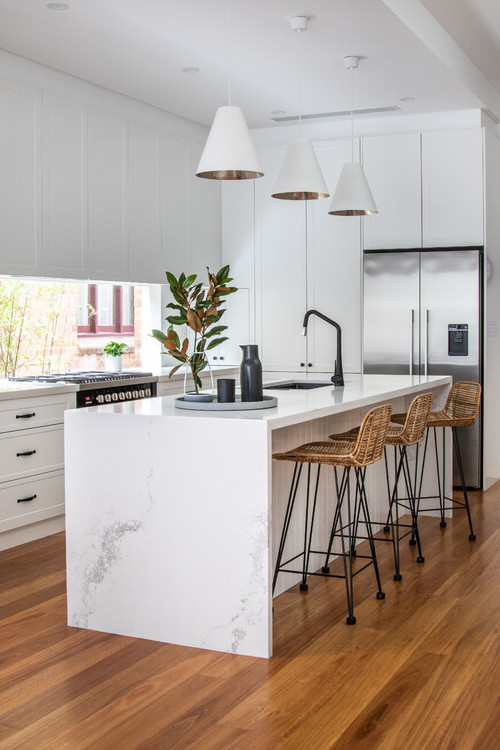 ID# 144606 | Houzz.com – Credit | © Nimmo Nielsen Collective
---
White Shaker Style Kitchen Cabinets and White Marble Kitchen Island in an L-Shaped Kitchen
This white kitchen looks very adorable and welcoming. The white shaker-style kitchen cabinets with white laminate countertops make the space fresh and they draw attention to the marble kitchen island. The island gives elegance and texture to the cooking space. The rush mat barstools add coziness to the environment. The medium hardwood flooring gives color and warmth to this cute kitchen. Also, decorative items such as green plants support the cozy and adorable kitchen vibe nicely.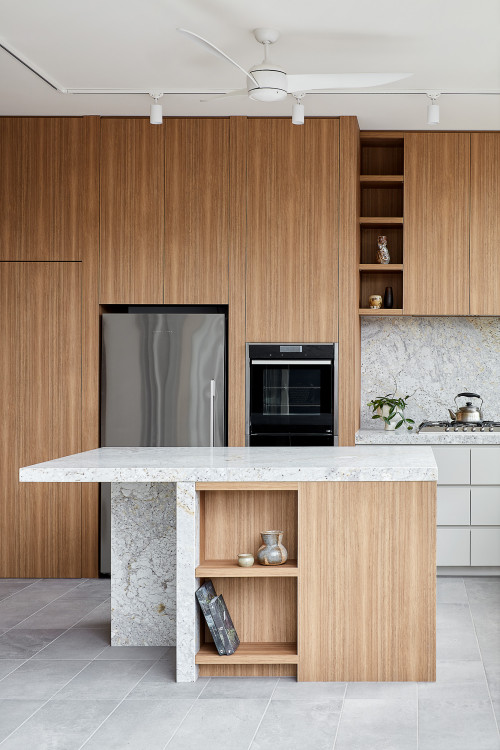 ID# 144620 | Houzz.com – Credit | © Jane Cameron Architects
---
Small Marble Kitchen Island With Wooden Parts in A Small L-Shaped Kitchen
The small island gives extra storage space and a style to this modern kitchen. The medium hardwood flat-panel kitchen cabinets not only make a cozy kitchen environment but also prevent the marble from making the kitchen cold. The white lower kitchen cabinets balance the wooden look. The marble backsplash matches nicely the kitchen island. Also, the stone flooring gives a cool vibe to the kitchen and balances the wood and marble look.
Marble Kitchen Island
Nowadays, marble is becoming a trendy material for luxurious and modern houses. Marble is a naturally soft stone. It is produced from limestone. You can use marble as a backsplash, a countertop, or a kitchen island top. Most homeowners who want to create elegant and stylish kitchens prefer marble kitchen islands. A marble island is one of the easiest ways to make a statement in the kitchen. So, if you want to add a statement make element to your kitchen, scroll down and check out these stunning kitchen island ideas that will inspire you!
A marble kitchen island not only increases the aesthetic of the space but also increases the value of your home. It is a timeless interior design choice. You can use a marble-topped kitchen island with any kitchen style. For instance, a minimalistic kitchen can have a statement with a white marble kitchen island. So, a marble kitchen island can offer your dream kitchen look by adding style and character to the kitchen environment.
How much does a marble kitchen island cost?
The average cost of marble islands is $60 per square foot. However, this price can go up more according to the size and the type of marble. For example, Carrara marble is more affordable option than Calacatta Gold or Thassos marble. That is why before deciding, contact your stone supplier and learn the price tags!
Marble Top Kitchen Island
Many interior designers and architects are obsessed with a marble-top kitchen islands. A marble top can offer you lots of style alternatives. This kitchen island type looks very elegant in different design aesthetics such as modern, traditional, industrial, and transitional. It has a natural beauty that draws everybody's attention immediately. Thus, making a marble top kitchen island the focal point of the kitchen is a smart move.
What are the disadvantages of marble countertops?
Marble countertops are not resistant to stains and acids. You can prevent any damages permanently by sealing countertops when they are installed. You can use a solution containing hydrogen peroxide with ammonia to clean the stains. Also, marble countertops can scratch easily because the material may not be durable against acids. Luckily, you can use hone marble to hide the scratches or etching. Another disadvantage of marble countertops is the price of the marble. Marble is one of the most expensive countertop materials, yet affordable marble types exist. You can prefer those budget-friendly marble types.
Waterfall Marble Kitchen Island
A waterfall marble kitchen island is an island type. In this kitchen island design, overflowing countertop material slides down the side of the cabinets. A waterfall marble kitchen island is ideal for modern and minimalist kitchen styles. It adds an elegant and stylish look to the kitchen and makes the cooking area look more spacious.
What are the dimensions of a typical marble island in the kitchen?
The dimensions of a typical marble kitchen island are 80×40 inches. However, every kitchen has different layouts. Thus, you should choose the kitchen island dimensions according to your kitchen layout. Before deciding these dimensions, try to create a space between the island and the countertops. This space must be at least 40 inches and a maximum of 60 inches.
Modern Marble Kitchen Island
Modern marble kitchen islands are excellent design elements to add character and uniqueness to your kitchen. It not only adds a luxurious look to the kitchen but also makes the space look bigger than it is. You can use this space as a dining area or as an extra storage space. Also, marble islands are durable. Thus you can use it for long years. However, marble is a porous material which means you need to seal them regularly to maintain its beautiful appearance.
Small Marble Kitchen Island
Do you have a small kitchen area but still want to add a statement maker element? The marble kitchen island is the perfect choice for you then! A small marble kitchen island is ideal for minimal or tiny kitchen spaces. This island type doesn't occupy a lot of space compared to a regular-sized kitchen island. It provides more counter space or a space for an appliance such as a sink. A small marble kitchen island is completely a space safer and also it is practical for small kitchens.
Faux Marble Kitchen Island
Natural marble is one of the most precious stones in the world and it is not very affordable. Although it is a stunning material for kitchens, it might cost much more than your budget. But don't worry, there is a solution: faux marble! In today's market from laminate to quartz, you can find different countertop material options that look like marble. And these alternatives are also much more affordable!
Marble Kitchen Island with Seating
A marble kitchen island with seating is a great way to include a dining area in the kitchen. This area is made by extending the countertop on one side of the island to provide room for stools or seats. Thus, a marble kitchen island is such a space saver. Before you install a it you should keep this in mind: to create enough space for people to sit comfortably the countertop must be extended at least 10 inches to 12 inches. This is extremely important to have enough room to move around.
Is marble practical for kitchen countertops?
Marble is a cool remaining natural stone. Thus, a marble countertop is a perfect surface for baking and cooking. Yet, it is not entirely heat resistant. For this reason, pay attention to not directly putting hot pans or pots on the surface.
Color Options for Marble Kitchen Island
Marble, a metamorphic stone, has different patterns and colors. The chemical compositions create distinct marble features. For this reason, there are lots of color options for marble kitchen islands. Although there are many marble color options, the most preferred colors are white and gray. With these colors you can easily find, you can have stylish marble kitchen islands effortlessly.
White Marble Kitchen Island
White marble kitchen islands are very practical for small and minimalist kitchens. The whiteness of the marble kitchen island increases the natural light in the cooking space. Also, it makes the kitchen environment look bigger and more spacious. Thus, it is very ideal for narrow and limited light-sourced kitchens.
How often does marble need to be sealed?
Sealing marble depends on the color and quality. Experts recommend every 3 to 6 months is ideal for sealing marble. Sealing marble is very important to prevent extra damage to the marble. So, be careful with the sealing times, otherwise you can not maintain the beauty of these stones!
Are kitchen islands a good idea?
Kitchen islands are convenient to have extra space such as an eating area or a storage unit in the kitchen. It is very easy to have a kitchen island, especially for L-shaped or U-shaped kitchens. You can convert one of the countertops into a kitchen island.
Black Marble Kitchen Island
A black marble island is the key element of the elegant and deluxe kitchens! Black is an easy color to use in the interior design world. You can go all black kitchen style with a black marble kitchen island and black kitchen cabinets with a black kitchen backsplash. Or, you can match your black marble kitchen island with white kitchen cabinets to add contrast. The black marble kitchen island is usually suitable for industrial and modern kitchens. Yet, you can easily adapt it to your interior design style.
Gray Marble Kitchen Island
A gray marble kitchen island can fit any kitchen style. It is a trendy marble option that will not go out of style. A gray marble kitchen island can look perfect with wood, white, and black materials because gray is a neutral color. But you can match your beautiful gray marble with any other colors. Also, it provides a warm and calm feeling to your kitchen. Lastly, it can hide any stains or scratches on its surface. So, a gray marble kitchen island is a satisfying kitchen island type to have in your kitchen.
Does the kitchen island add value to a home?
The short answer is yes, a kitchen island definitely can add value to your home! It is one of the best ways to increase the value of the house. Also, kitchen islands are trendy kitchen items that will not go out of fashion. Thus, if you want to increase your house's value, you can add a kitchen island to the kitchen.