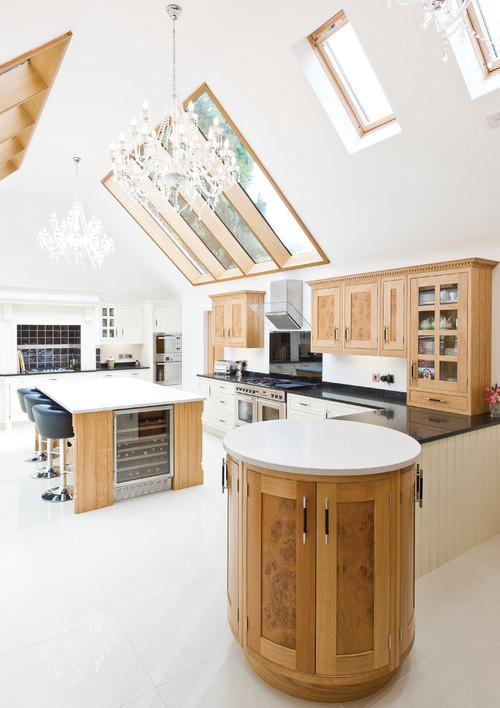 ID# 116913 | Houzz.com – Credit | © Mulberry Kitchen Studios
---
White Kitchen Cabinets With Wood Backsplash and Countertop
Transitional u-shaped kitchen idea with white tile floor, shaker cabinets, light tone wood upper cabinets, beige lower cabinets, white backsplash, stainless steel appliances, an island, skylight window, black countertops and white quartz countertops.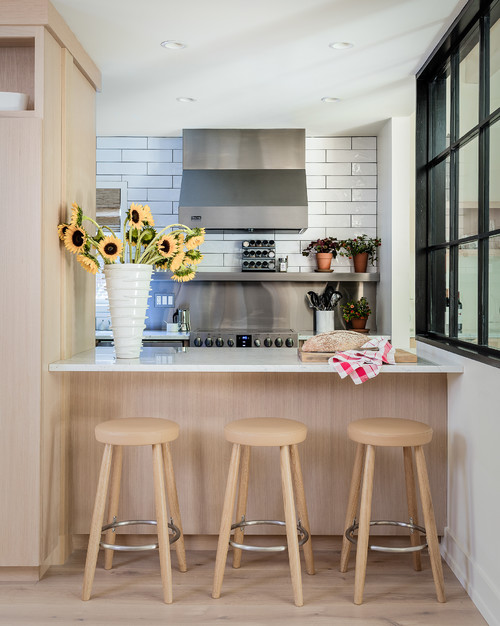 ID# 116905 | Houzz.com – Credit | © BSA Construction
---
White Subway Tile Backsplash With White Marble Countertops
Example of a trendy galley kitchen design with light wood floor, light wood cabinets, stainless steel appliances, white marble countertops, white subway tile backsplash with dark grout, a peninsula and custom interior steel window.
54+ Light Wood Kitchen Cabinets ( NATURAL LOOK ) Popular, Soft And Harmonious Trend
Light wood kitchen cabinets are clean and practical and will match well with almost any type of kitchen flooring, countertops, walls, and furnishings. Light kitchen cabinets are perfect for those who want a neutral-toned kitchen that can be accessorized with other colors. Light wood kitchen cabinets show that modern styles do not have to be cold and gray. If you want to keep a wide range of decorating options available to you, then a beautiful wood kitchen is a great starting point!
Light wood kitchen is a great choice for a bright and cheery environment!
Naturalness and brightness… One way to reach that feeling is with light wooden design work functioning as both a natural ingredient and a visual anchor for the room. Natural, of course, does not have to mean old-fashioned. There is a certain pleasure in witnessing one of our oldest natural resources being turned into something spectacularly modern.
The best of these combine that ability with a pleasing aesthetic that makes anyone want to stay for a while. We hope these examples can inspire you in your search for a new kitchen design.