34+ Kitchen Backsplash Trends 2023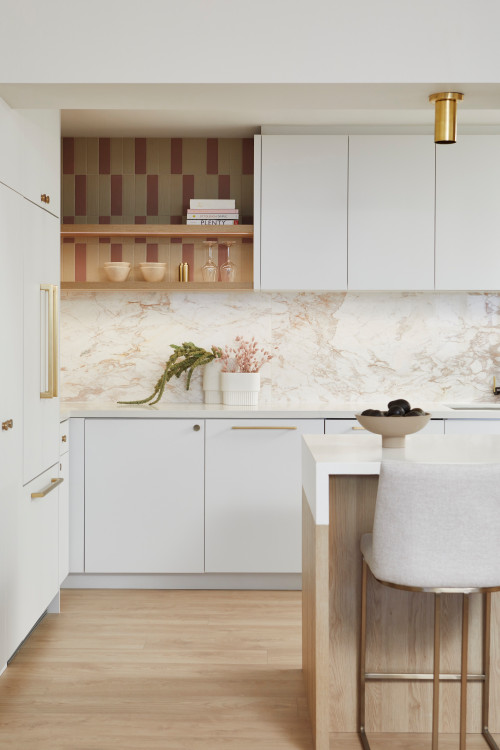 ID# 150814 | Houzz.com – Credit | © Studio P Interiors
---
White Flat-Panel Cabinets and White Countertops with a Beige Slab Backsplash
This kitchen has a modern design with a blend of bright whites and wood textures that evoke a feeling of style and sophistication! The flat panel cabinets, white quartz countertops, and brass hardware offer a sleek and refined foundation for the space, with the paneled appliances adding a contemporary touch. The beige stone slab backsplash adds visual texture while the floating wood shelves and multicolored ceramic tiles behind them offer storage and create a welcoming display.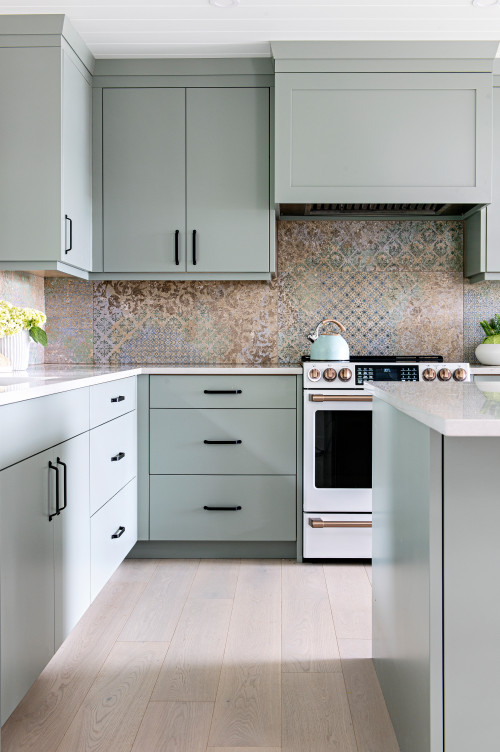 ID# 150819 | Houzz.com – Credit | © Michelle Berwick Design
---
Gray Cabinets and a Bold Patterned Backsplash with White Countertops
This beach-style kitchen elicits a tranquil and sophisticated atmosphere with its calming gray cabinets, white appliances and white countertops complemented by black hardware. The soft wood floors add delightful warmth, while the blue and brown patterned backsplash, with its inviting floral motifs, creates a joyful and coastal feel. Lastly, the backsplash serves as the main focal point, perfectly stitching the entire look together.
Kitchen Backsplash Trends 2023
As we enter the new year, it's a great time to start thinking about updating the look of your kitchen. One area that is often overlooked but can make a big impact is the backsplash. Just like in past years, kitchen backsplash trends 2023 have their own rules. Natural materials such as stone, wood, and clay are becoming increasingly popular for kitchen backsplashes. These materials offer a warm and organic feel and can add a touch of rustic charm to your kitchen. In addition to traditional flat tiles, textured backsplashes are also gaining popularity. These backsplashes feature raised or indented patterns and can add depth and interest to your kitchen.
Catch the Kitchen Backsplash Trends 2023!
If you're looking to make a statement with your kitchen backsplash, consider opting for bold patterns and colors. From geometric shapes to colorful mosaics, there are endless options for adding a unique and eye-catching element to your kitchen. Another way you can go in kitchen backsplash trends 2023 is by mixing and matching different materials in your kitchen backsplash. This can include combining different types of tiles or incorporating elements such as metal or glass into the design. As homeowners continue to prioritize sustainability and eco-friendliness, kitchen backsplashes made from recycled materials or natural, renewable resources are becoming more popular. No matter what trend you choose, the most important thing is to choose a backsplash that reflects your style and complements your kitchen's overall design. With so many options available, you're sure to find a backsplash that fits your needs and taste.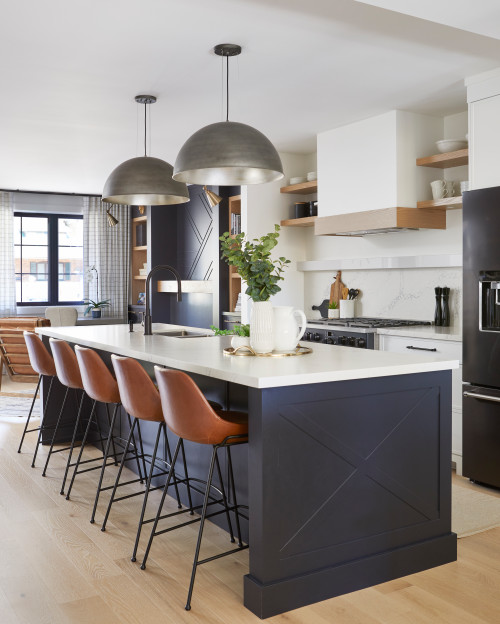 ID# 150801 | Houzz.com – Credit | © Eurodale Developments Inc
---
Kitchen Backsplash Trends 2023 with White Cabinets
The sleek and modern design of this kitchen, with its white cabinets and countertops, white
slab backsplash
, and gray island, evokes a feeling of cleanliness and cohesion. The wood shelves and light wood floors add warmth and texture, making the room feel inviting, while the black appliances and hardware bring an element of drama and sophistication. The neutral color scheme exudes flexibility, allowing for easy changes to the look of the kitchen over time – providing a sense of freedom and endless possibilities.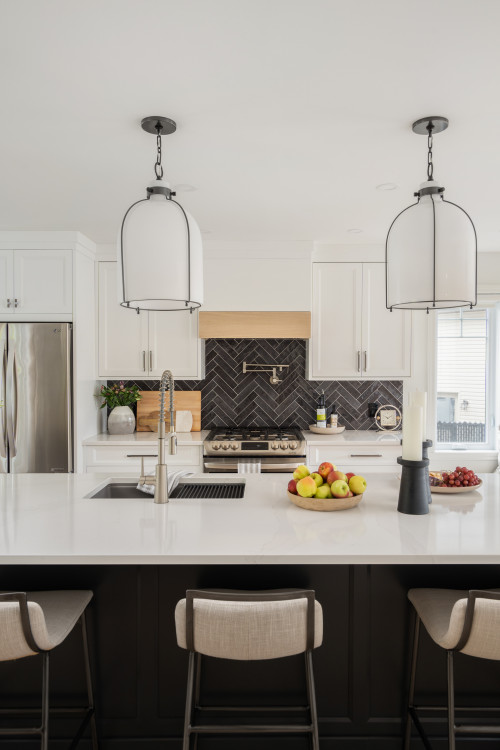 ID# 150802 | Houzz.com – Credit | © Laurie Yapp Design
---
White Shaker Cabinets and Dark Gray Herringbone Tiles with White Countertops
The sleek and sophisticated look of this large transitional kitchen is enhanced by the crisp white beaded-inset cabinets, quartz countertops and cool gray ceramic herringbone tile backsplash. Unifying these elements is the use of black hardware throughout. The bold black island serves as a focal point, the mix of light and dark elements, and the blend of textures create a sense of depth and character. The transitional style offers great flexibility with decor and accessories, allowing you to make the space your own with a range of design choices.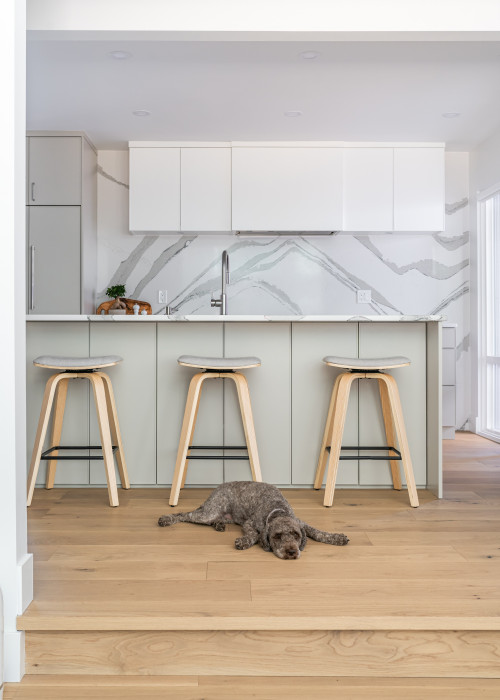 ID# 150803 | Houzz.com – Credit | © Genesis Kitchens & Design
---
Scandinavian Kitchen Style for Kitchen Backsplash Trends 2023
The use of light and neutral tones evokes a bright, airy ambiance and the sleek lines of the cabinets and peninsula create a modern and refined aesthetic. White marble countertops and a full-height white marble backsplash bring a touch of indulgence and sophistication, while the dramatic gray veins in the marble surface give the kitchen subtle visual intrigue and dimension. The light wood stools offer an inviting and natural atmosphere on the peninsula, eliciting warm and welcoming feel!
What are the Kitchen Backsplash Trends for 2023?
Any décor magazine you pick up will show a clear departure from the typical white kitchen. The kitchen, which is everyone's favorite area in the house, has bold features that create excitement even when the cabinets are white. Bold backsplashes made of loud marble, built-in coffee stations, art ledges, and curving islands are hot designs for 2023. Renovating? Continue reading to learn what are the kitchen backsplash trends for 2023!
From the timeless subway tile backsplashes to bold patterns, there is an answer for anyone who asks what are the kitchen backsplash trends for 2023! Let's check!
Subway Tile Backsplash
Subway tiles are a classic and timeless choice for kitchen backsplashes. These rectangular tiles have been a popular choice for decades, and their popularity shows no signs of slowing down. While most subway tiles are 3×6 inches in size, you can also find variations in sizes such as 4×8 inches or 2×4 inches to add a unique twist to your design. No matter what size you choose, subway tiles are a versatile and stylish option that can complement a wide range of kitchen styles.
There are several ways to install subway tiles in your kitchen backsplash to achieve different design styles. The traditional running bond or offset pattern is a classic choice that creates a cohesive and orderly look. Stacking the tiles horizontally or vertically is a more contemporary option that adds visual interest and depth to the space. Setting the tiles in a herringbone pattern is a more traditional effect that adds a touch of sophistication and elegance. Subway tiles are available in a wide range of colors and materials, making it easy to incorporate them into a variety of design trends. Whether you want a classic and timeless look or something more modern and unique, there is a subway tile option that will fit your style!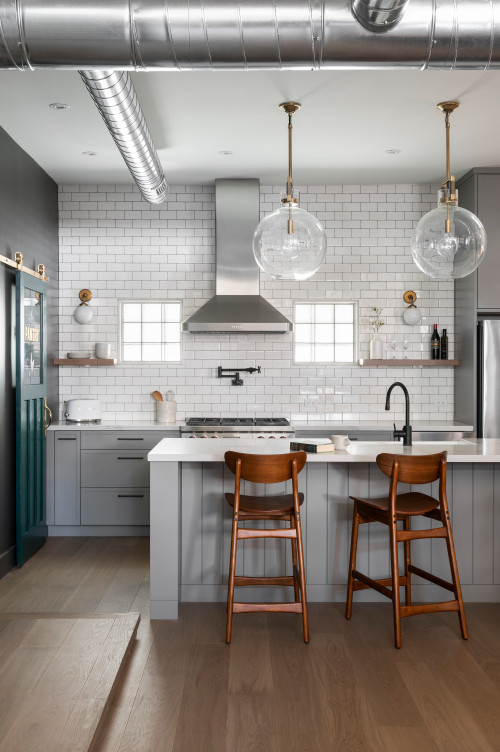 ID# 150804 | Houzz.com – Credit | © Studio Z Design
---
White Subway Tile Backsplash with Gray Flat-Panel Kitchen Cabinets
This kitchen evokes a sense of warmth, luxury and elegance. The bright white countertops and ceramic subway tile backsplash stand out vividly against the dark gray and medium-toned wood. The gray grout between the subway tiles adds an additional depth and texture, creating an inviting and stylish look. The gentle hint of brass accents brings a touch of opulence, blending harmoniously with the surrounding wood textures. All in all, an understated yet sophisticated atmosphere is achieved in this kitchen, one that is sure to impress with its balanced and harmonious presentation.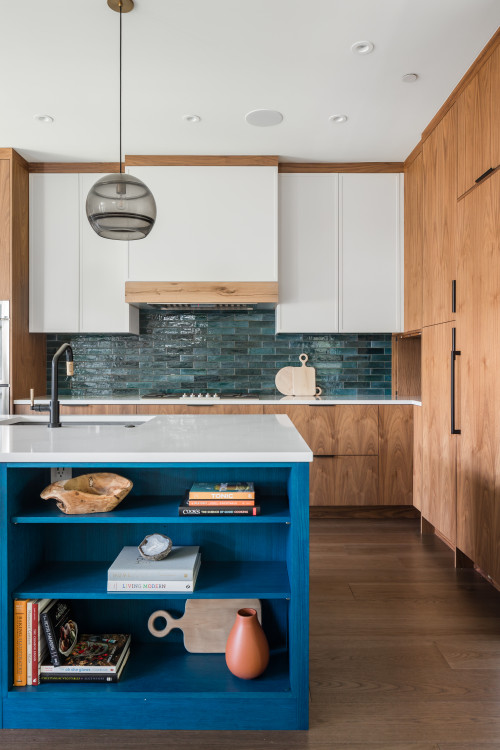 ID# 150805 | Houzz.com – Credit | © Designs by KS
---
White and Wood Cabinets with White Countertops
Wood cabinetry and white uppers create a tranquil, natural balance. However, the blue island introduces a vibrant contrast to the serene atmosphere. The bold blue hue stands out against the brown of the wooden grain, and the white uppers and counters help to soften the overall impact. The
blue backsplash tiles
give the island a completed and polished look, evoking feelings of contentment.
What kitchen trends are going out of style?
It is difficult to say with certainty what kitchen trends will go out of style in the future, as design trends are ever-evolving and shaped by a variety of factors. While all-white kitchens have been popular in recent years, it appears that more vibrant and mixed-material designs are gaining favor. Similarly, open shelving may be becoming less popular due to its limited applicability and lack of coziness. Similarly, industrial chic designs may not be resonating with people looking for more inviting and homely spaces. Ultimately, time will tell which current kitchen trends will stand the test of time and which will no longer hold appeal.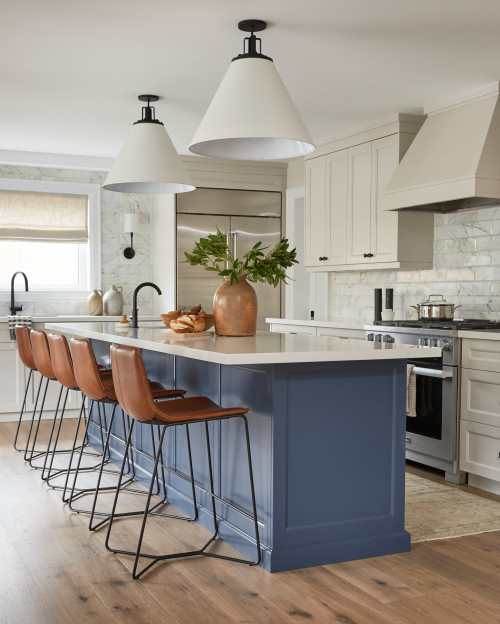 ID# 150806 | Houzz.com – Credit | © Kingsgate Construction Ltd.
---
Marble Subway Tile Backsplash with Beige Shakers and Black Hardware
This kitchen presents an attractive, stylish style with an attractive contrast of dark and light elements! The brilliant white countertops and marble backsplash provide an exuberant and bright contrast against the light beige shaker cabinets and light-toned wooden floors. The dark hardware adds a sense of drama and a sophisticated touch, while the stainless steel appliances grant an elegant and ultramodern look. The brown-top island chairs provide a homely warmth and texture to the kitchen, while the blue island with a white worktop adds a pleasing contrast of color and visual attention. The white worktop ties the island with the rest of the design, while the blue imbues a striking, spirited feel.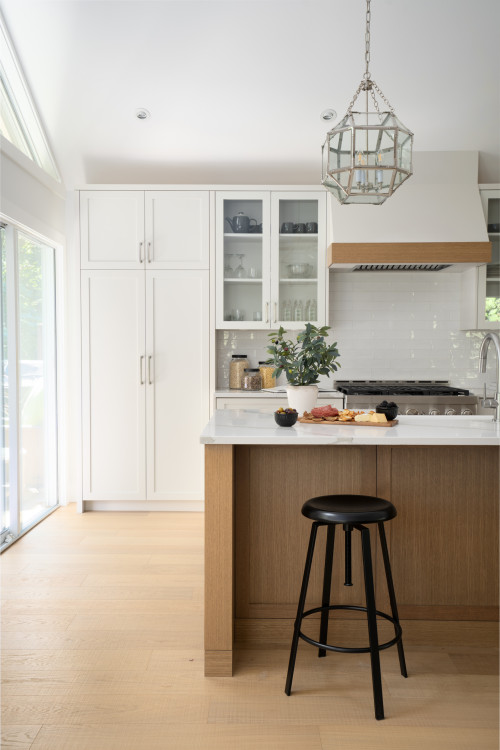 ID# 150807 | Houzz.com – Credit | © Millwerks
---
White Shaker Cabinets with Wood Details
This kitchen has a warm and natural touch, thanks to the light wood floors! The brown island provides a cozy look while the white range hood and cabinets give the space a bright and fresh feel. With the white subway tile backsplash, the kitchen is airy and light. The chrome hardware adds a touch of shine and sophistication so that the kitchen has a coordinated and dazzling appearance. The white cabinets and backsplash help to balance out the warm and rich shades of the floors and island, resulting in a harmonious and well-balanced atmosphere.
What is the most popular backsplash for the kitchen?
Ceramic tile backsplash designs are the most popular backsplash materials and they are still one of the most common kitchen backsplash trends 2023. They are easy to maintain, easy to install and budget-friendly. Their capability to have enormous alternatives for patterns, colors, and finish options is a plus!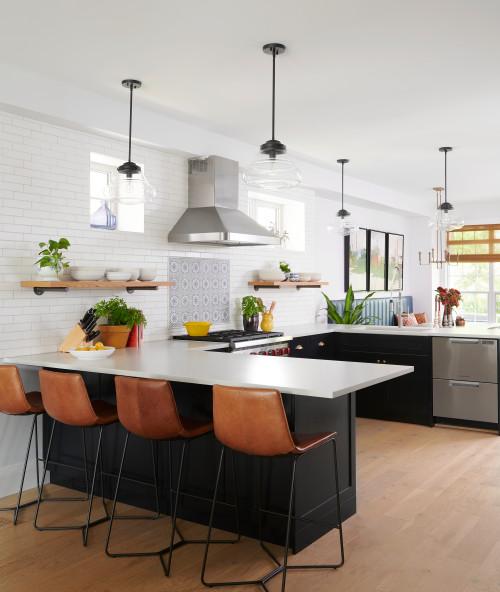 ID# 150808 | Houzz.com – Credit | © Alair Homes Forest Hill
---
Black Shaker Cabinets and White Countertops with a Full-height White Subway Tile Backsplash
The black base shaker cabinets provide a bold and dramatic contrast to the white countertops and full-height white subway tile backsplash. The brass hardware adds a touch of warmth and sophistication, while the stainless steel appliances provide a sleek and modern finish. The wood floating shelves provide additional storage and display space, while the light wood floors bring warmth and texture to the space. The brown peninsula chairs add a touch of color and visual interest, while the lack of upper cabinets gives the kitchen an open and airy feel.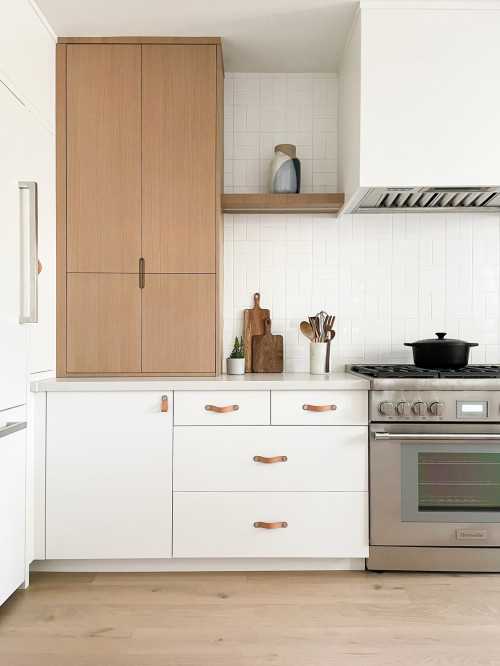 ID# 150809 | Houzz.com – Credit | © Four Blocks South
---
Modern Kitchen with Wood and White Cabinets
The light wood cabinets, combined with the white of the backsplash, create a naturally unified look for this contemporary kitchen. The white cabinets and backsplash, with its basketweave tiling, bring a bright and airy contrast to the gray counters, giving them a modern and chic feel. The composition of various materials and textures in this kitchen sparks a joyous sense of harmony and balance while the basketweave tiling adds movement and texture, adding to its stylishness. The stainless steel appliances perfectly complete the modern lines.
Slab Backsplash
A backsplash is one of the most important considerations that must be made when redesigning a kitchen since it has an impact on the overall appearance. Tiles are the most typical material used for kitchen backsplashes, whether they are traditional subway tiles or contemporary hexagons. Yes, they are lovely, but are you ready to try a different strategy? Try a slab backsplash! The visual appeal of the space may be preserved while adding a utilitarian aspect with a solid slab backsplash. So if you're searching for a fantastic substitute for a tile backsplash, check out our slab backsplash collection for kitchen backsplash trends 2023 to get the prettiest design inspiration!
This method works with any slab countertop, including marble, granite, quartz, and quartzite, which are all popular choices for worktops this year. Extensions for slab countertops are less cluttered than tiles and may truly make a kitchen stand out. However, because they cost the same as a kitchen countertop, slab backsplash designs are more expensive than other backsplash materials. Therefore, plan on spending twice as much when installing a new countertop.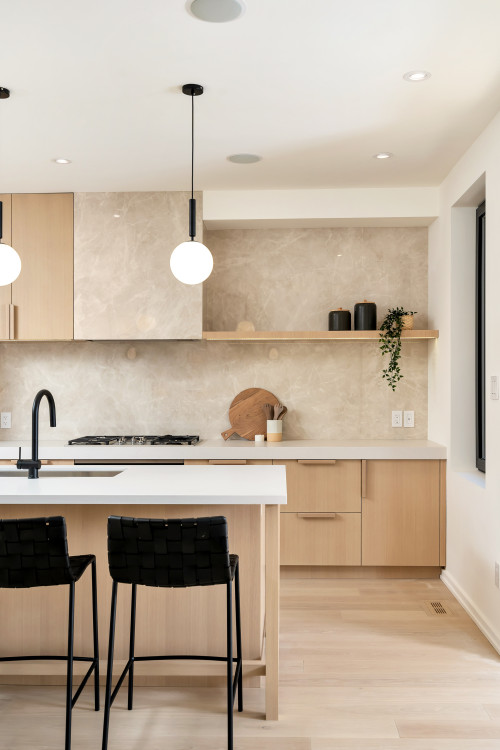 ID# 150810 | Houzz.com – Credit | © MGB Construction
---
Scandinavian Kitchen Slab Backsplash and Countertops
This kitchen boasts a stunning, modern look with its white quartz countertops, gray flat-panel cabinets, and brass hardware – adding a dash of glamour. The appliances blend seamlessly and the gray island provides extra storage and seating. The warm and natural tones of the medium-tone wood floors are accentuated by the white
glossy tile backsplash
that creates an inviting, bright atmosphere. It's truly a space where human feelings of comfort and style come together.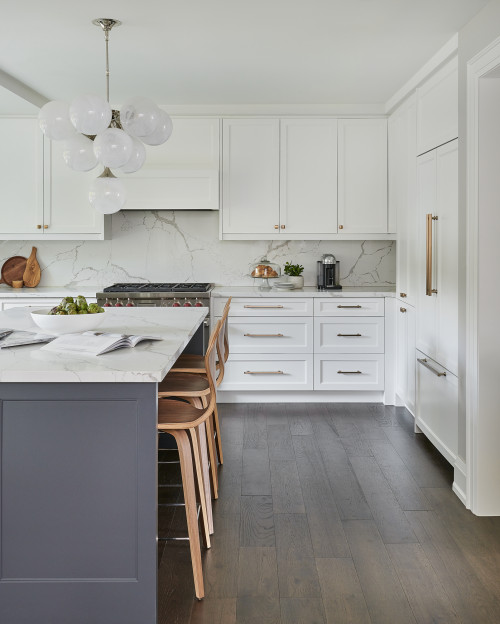 ID# 150811 | Houzz.com – Credit | © Erin Interiors
---
Transitional Kitchen with White Shakers and White Quartz Countertops
The white shaker cabinets and white quartz countertops create a beautiful and refreshing atmosphere in the kitchen. The white quartz slab backsplash with marble veins gives it an intriguing depth while the brass hardware brings a sense of warmth and elegance. The paneled appliances bring a modern and stylish flair, while the gray island with a white worktop adds a tonal contrast and visual appeal. The dark wood floors evoke a warm feeling and natural look, whilst the white cabinets and backsplash produce a delightful and fresh contrast!
What is the most timeless backsplash?
A timeless kitchen backsplash is a style that will always be in vogue. It is a quick, easy and stylish option to modernize your kitchen without having to do a full overhaul. Natural stone, such as marble or slate, glass, or even metal can be used to create a timeless backsplash. These options are also at the top of the kitchen backsplash trends 2023!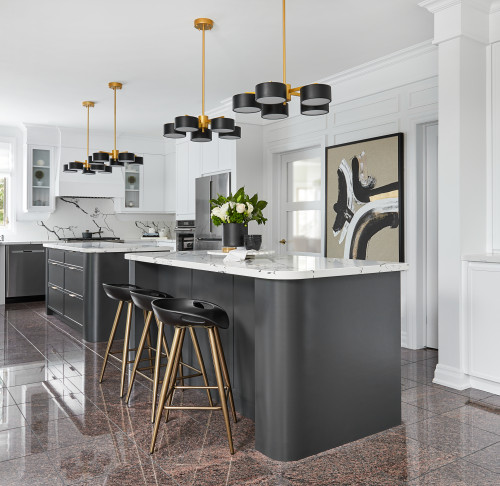 ID# 150812 | Houzz.com – Credit | © Rüme Design
---
Transitional Kitchen with Gray Cabinets and a Quartz Slab Backsplash
The double island with its white quartz countertops and dramatic backsplash with dark gray veins creates a cohesive and balanced look that is further enhanced by the warmth and sophistication of the brass accents. As if the eye-catching look wasn't enough, the contrast between the bright countertops and the veined backsplash adds depth and visual appeal to the space, evoking feelings of awe and contentment.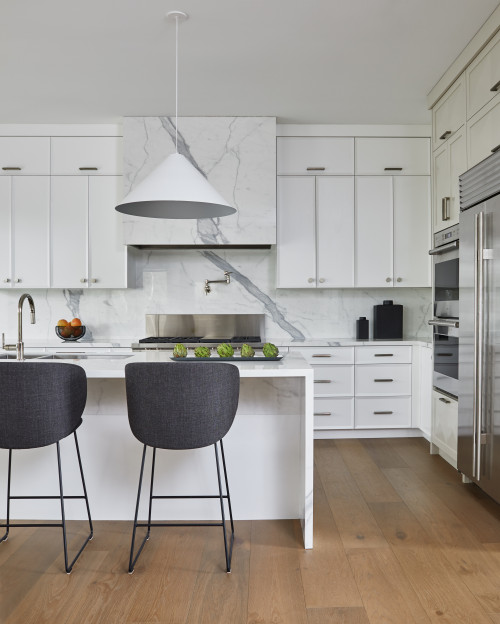 ID# 150813 | Houzz.com – Credit | © Madison Taylor
---
Contemporary Kitchen with White Cabinets and Chrome Hardware
This contemporary kitchen evokes a feeling of luxurious sophistication with its all-white design! Light and dark elements create a sleek, modern look, while the marble slab backsplash, countertops, and chrome hardware add a sense of opulence and grandeur. Natural warmth is invited in with the medium-tone wood floors, and a bright and fresh contrast is provided by the all-white cabinets. A chic and stylish atmosphere is created with this sophisticated combination, making you feel content from the moment you enter.
Ceiling Height Backsplash
Backsplashes that extend to the ceiling are a popular kitchen backsplash trends 2023 that is making a comeback this year. Rather than stopping at the area between the counters and cabinets, these backsplashes stretch around the cabinets and reach the ceiling. This creates a dramatic and cohesive look that is especially effective in kitchens with high ceilings and exposed cabinetry. Many homeowners are choosing to incorporate ceiling-height backsplashes into their kitchen designs, emulating the architectural brilliance seen in modern restaurants and commercial buildings. Ceiling-height backsplash designs are a stylish and unique way to add interest and depth to your kitchen. They are especially effective in creating a cohesive and seamless look in a space with high ceilings and exposed cabinetry.
Ceiling-height backsplash designs provide a lot of flexibility in terms of material and design. You can choose any type of backsplash material or design to create the look you want. For example, you can use subway tiles to give your kitchen a cozy and rustic feel, or you can use Art Deco tiles to create a bold and geometric look. This versatility allows you to combine trends and create a unique and personalized design for your kitchen. Whether you want a traditional or a modern look, a ceiling-height backsplash is a stylish and effective way to add interest and depth to your space.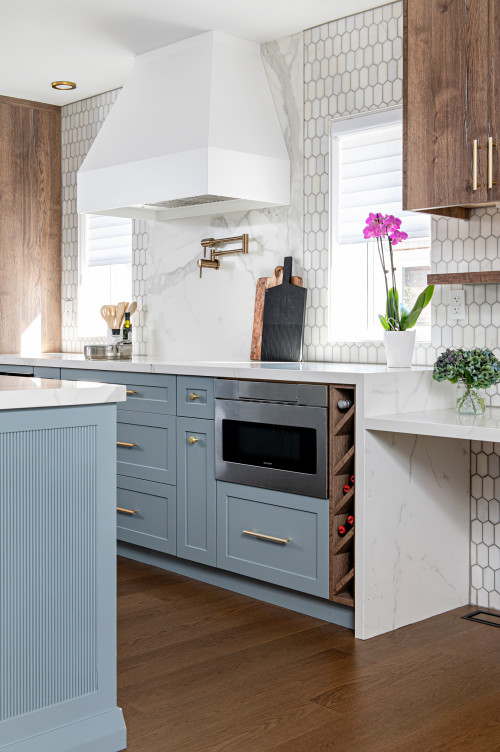 ID# 150815 | Houzz.com – Credit | © Soda Pop Design Inc.
---
Blue and Wood Cabinets with a Ceiling-Height Backsplash
This modern kitchen boasts a contemporary backsplash made of elongated hexagonal tiles or white picket tiles. The white countertops and hexagonal tile backsplash provide a cohesive look, while the light blue shaker cabinets and wood upper cabinets offer a striking visual contrast. The natural environment outside the windows adds a welcoming touch to this chic space.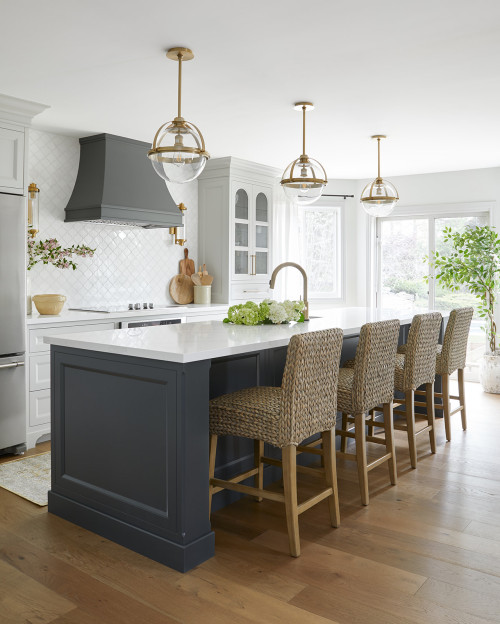 ID# 150816 | Houzz.com – Credit | © Masellis Designs
---
White Kitchen Cabinets with Brass and Gray Accents
The glossy white cabinets and backsplash combined with the white countertops and elegant arabesque backsplash, create a stunning and luxurious atmosphere. The graceful, organic patterns of the arabesque soften the angular lines of the white cabinets, and the dark grey range hood and island balance with the warm medium-wood flooring, giving a cozy, inviting feel to the kitchen!
Bold Patterned Backsplash
If you're looking to add some personality to your kitchen, a bold patterned backsplash is a great way to do it. These statement backsplashes can add visual interest and bring a unique touch to your space. Bold colors and patterns are currently popular in interior design, and this trend is also being incorporated into tile work. Decorating a wall with tiles can transform it into a work of art. Neutral hues can help prevent the tiles from appearing cluttered or overwhelming, while patterned tiles can serve as a visual focal point. If you don't want to cover an entire wall with tiles, consider using them as an accent on a small section of the wall, paired with a simple tile in a similar color or shape for the rest of the area.
Large Tile Backsplash
You need to remodel your backsplash, but you're sick of the conventional aesthetic of little tiles. Look nowhere else! The answer you're seeking is the large tile backsplash! These tiles' enormous surface area will give your room a feeling of both spaciousness and wealth. These tiles are an excellent technique to reduce grout lines on the surface and provide the appearance of one continuous surface and also they are one of the best kitchen backsplash trends 2023. As a result, your kitchen is contemporary, spotless, and has a hint of sophisticated design.
The large tiles are equally as varied as their smaller counterparts when it comes to selecting the best tile type for your next backsplash design. You may select the materials, hues, finishes and designs that best suit your kitchen and your creative vision. Additionally, by enabling the material you select to cover a larger area with these tiles, you can showcase its best features, such as the stunning veining in a marble backsplash. Or you might be daring and select a 3D surfaced tile, which is a special feature of the huge tiles that will create dimension to your area. Large tile backsplash ideas can be the style you want if you're thinking about how simple they are to clean and how much money you can save since there won't be as many grout lines! Read on our selection for additional suggestions on how to use these tiles!
Glossy Tile Backsplash
Due to their inherent ability to reflect light, high gloss tiles are a fantastic way to make a room feel lighter. Many homeowners may choose high-shine finishes to help provide cozy, glowing effects in bathrooms and kitchens alike. Metallic hues or metal elements in tile may also reflect light to create a decorative sheen that can seem unique and lovely in the home. If you're looking to add some brightness and shine to your kitchen, a glossy tile backsplash is a great option. These tiles naturally reflect light, creating a warm and illuminating effect in the space.
Illuminate Your Kitchen with Glossy Tiles
Glossy tile backsplash ideas are a great way to make a small or dark kitchen feel brighter and more open. The natural reflection of light from the tiles can help to bounce light around the room, making it feel larger and more welcoming. In addition to their visual appeal, glossy tiles are also easy to clean and maintain. The smooth surface of the tiles means that spills and splatters can be wiped away easily, making them a practical choice for busy kitchens.
Marble Backsplash
Marble backsplashes, with their classic and timeless appeal, have been gaining popularity in recent years, and are expected to remain highly sought-after by homeowners. Beyond its visual beauty, marble is highly durable and practical, withstanding the wear and tear of everyday use within the kitchen. With a range of colors, patterns and finishes to choose from, marble is the perfect choice to express one's unique style and create a truly personal space. Appreciate the way it effortlessly blends with its surroundings and evokes a sense of classic luxury. Marble is sure to be one of the most popular and on-trend choices for kitchen backsplashes in 2023!