38+ Mosaic Tile Backsplash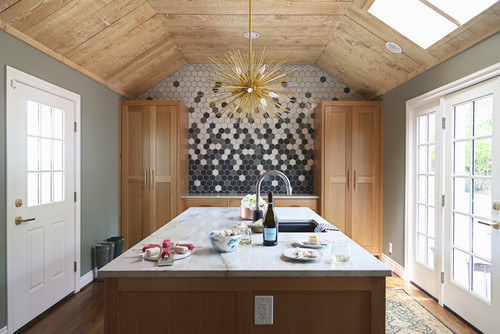 ID# 125801 | Houzz.com – Credit | © Woodstock Cabinet Company
---
Modern Farmhouse Kitchen with Mosaic Tile Backsplash and Starburst Chandelier
In this modern farmhouse kitchen, the black, gray, and white hex tiles create an accent and bring a mosaic appeal. Also, the mosaic tile backsplash adds a modern vibe to the design. The wooden cabinets serve a clean and simple look and they allow the stunning backsplash design to stands out. The starburst chandelier completes the warm feel of the wooden textures while the marble countertop adds a sense of luxury.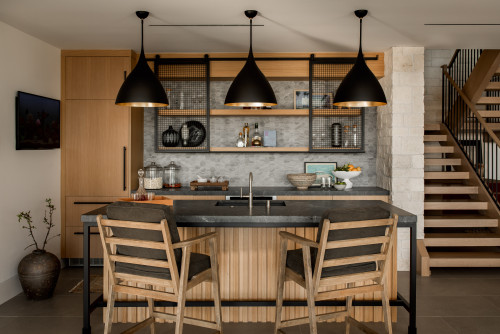 ID# 125835 | Houzz.com – Credit | © Devco Homes
---
Farmhouse Home Bar with Wooden Cabinets and Black Countertops
This farmhouse home bar perfectly blends the neutral shades and offers a warm and welcoming atmosphere. The wooden cabinets and kitchen island are paired with black soapstone countertops which add a natural look. The wooden open shelves and metal accents add some industrial vibe while the gray mosaic tile backsplash completes the neutrality of the cabinets.
Mosaic Tile Backsplash
Mosaic tiles are classic for kitchen backsplash and can be suitable for all types of kitchen designs. A mosaic tile backsplash is a collection of smaller tiles that make one larger piece of art! With these unique appeals, you can add visual interest to your kitchen. So, if you want to add some color and texture without overwhelming, a mosaic tile backsplash is a perfect choice for you. Scroll down and find the best mosaic tile backsplash ideas to get some inspiration!
A kitchen backsplash might seem like a small piece of the kitchen design but it is an important decision that pulls the whole look together. From glossy glass tiles to luxurious marbles, natural stones to shiny metallics, there are endless options to create a stunning mosaic appeal. Thanks to this wide range of materials, you can use every color scheme. You can go with lighter shades like white, beige, or light gray to create a bright look or add some drama with darker colors like black, navy blue, or brown. Options are limitless and with all these options, choosing the right mosaic tile that fits your personality might be overwhelming. So, today we're sharing some inspiring mosaic tile backsplash ideas with intricate patterns that will help you to find the best mosaic tile backsplash.
Mosaic Tile Backsplash Materials
Glass, natural stone, ceramic, steel, and more! When it comes to mosaic tile backsplash, material options are endless. whether made from ceramic, porcelain, glass, or stone, mosaics create an intricate design effect that creates a visual feast. Thanks to this wide range of material options, there is the right mosaic tile backsplash for everyone! Scroll down and find more about the materials.
Glass Mosaic Tile Backsplash
Overall, glass is a durable and easier to clean material than others like ceramic, or marble. Its non-porous surface which makes it a perfect backsplash material is resistant to staining, bacteria, mildew, and mold. And the biggest advantage is that glass is already a stunning appeal, but if you want to add more visual interest, you can bring a mosaic appeal with different colored glass tiles. Also, you can combine different materials with your glass mosaic tile backsplashes like stainless steel or stone!
How to install mosaic tile backsplash?
The installation of the mosaic tile is easier than the other types because generally, mosaics come with a mesh. Before the installation process, first, you need to prepare your walls. The surface must be perfectly flat and smooth. Sand the roughness and patch the holes on the wall and clean it with an all-purpose cleaner. Define the boundaries of the backsplash with painter's tape, and remove the electrical switches.
Whether your tiles come with a mesh or individual pieces, it is important to prepare the layout of your tiles before applying them to the wall. This way you can avoid the unmatching pieces or blanks between the tiles and you can define the cutting the borders and around obstacles. For the cutting process, you need to use specialized tools for your material.
Now, you are ready for installation. Apply the mortar with a V-notch trowel in small sections. Then stick the mesh on the mortar. The starting point might change according to your pattern. That's why it is important to define the layout before installation. Do these steps until cover the all backsplash area. Wait at least over a night, and after it dries, wipe down the tiles with a cloth and cleaner. Apply the grout with a float at a 45-degree angle. Wait until all grouts dry and wipe the tiles with a wet sponge.
Marble Mosaic Tile Backsplash
Marble is a very precious stone that adds a sense of luxury to any room. Using this already stunning stone with a mosaic appeal is a great way to create a one-of-a-kind backsplash design. Also, thanks to its beautiful natural veining, it is easy to create this mosaic appeal. You can give a more modern look by using hex marble tiles or add a traditional and oriental look with arabesque tiles. Whatever your choice is, a marble mosaic tile backsplash will never fail you down!
Ceramic Mosaic Tile Backsplash
Thanks to their endless color, shape, and texture options, ceramic tiles are one of the most popular materials for homeowners and interior designers. Also, these tiles are durable, affordable, easy to install. All these elements make the ceramic a great backsplash material and its wide range of color and texture options make it a great material to create a mosaic appeal for a kitchen backsplash!
Mosaic Tile Backsplash Colors
From bright whites to sophisticated blacks, adventurous greens to relaxing blues, you can use every colored tile to create a mosaic tile backsplash. Thanks to this endless array, you can fit the backsplash to any styled and colored kitchen according to your taste. You can find below beautiful color options for mosaic tile backsplashes.
White Mosaic Tile Backsplash
White is the representation of cleanliness and pureness and it is the most popular color for backsplashes in all times. If you want to spruce up your white backsplash, using different materials or finishes together is a great way to add more interest. This way your white mosaic tile backsplash will be the centerpiece of your kitchen!
Blue Mosaic Tile Backsplash
Blue is a reminiscence of the sky and sea which has a calm and relaxing feeling. Thanks to its almost endless array of shades and hues, blue is a perfect color to create a mosaic tile backsplash.
Black Mosaic Tile Backsplash
Arguably, black is the most sophisticated color and it can add a character to ay space. you can create a dramatic effect by using different shades of black together or you can add some sparkle to your black tiles with some metallic details. Whatever your choice is, a black mosaic tile backsplash will be a perfect addition to your kitchen!
How to grout mosaic tile backsplash?
When it comes to grouting the mosaic tile, first you need to choose the grout type and color. Unsanded grout is a better choice for mosaic tiles because the grout line is smaller than usual. First, mix the grout in a bucket with the manufacturer's instructions. spread the grout over your backsplash tile with a grout float by using 45-degree angled motions. Repeat this process until fill the all blanks between the tiles. Let the grout dry for 10-15 min then clean the tile surfaces with warm water and a damp cloth. And, let the grout dry overnight.
Gray Mosaic Tile Backsplash
Gray is a versatile color that can work with different color schemes and different design aesthetics. Thanks to this versatility, you can pair the gray tiles with every color according to your taste and style.
Green Mosaic Tile Backsplash
The natural look of the green is a great way to create warm and welcoming spaces. You can add some mysterious feel with darker shades like emerald or forest green, or create a bright look with lighter shades like mint.
How to choose grout color for mosaic tile backsplash?
The choice is of grout color is very important for the overall look of the tiles. That's why, before choosing the color, you need to define what type of look that you want on your backsplash. If you want to highlight the pattern which is created by the tiles, choose a contrasting grout and tile color. If you want to create a more sleek and cohesive look match the tile and grout colors.
Brown Mosaic Tile Backsplash
You might think that brown is outdated but with the right approach, a brown backsplash might be the centerpiece of your kitchen. Gold detailed tiles will be a perfect addition to brown tiles. They will complete the warmness of the brown and add a dose of sparkle to create a more interesting appeal.
Mosaic Tile Backsplash Styles
When choosing a mosaic tile backsplash, the shape of the tiles is a very important point that defines the style of the overall look. You can create a modern look with tiny hex tiles or add some classic charm with subway tiles.
Mosaic Subway Tile Backsplash
The simple rectangular shape of the subway tiles is the classic for kitchens. But if you want to add some spice to this beautiful classic appeal, creating a mosaic tile backsplash by using different materials, sizes, and finishes for the subway tiles is a great way!
Hexagon Mosaic Tile Backsplash
With their clean, minimal geometrical shapes, hex tiles offer a modern look for kitchens. And using different colored hex tiles together will definitely emphasize their impact!
How to seal mosaic tile backsplash?
Because tile grout is porous, it must be sealed. After the grout is completely dry you can apply the sealer. Because the mosaic tiles have a lot of grout lines, using a brush or roller is an effective way. You can apply the sealer in two coats.
Chevron Mosaic Tile Backsplash
Chevron tiles have a distinctive elegance that offers timeless appeals for kitchens. Also, according to the application, a chevron mosaic tile can look modern, traditional, transitional, and contemporary.