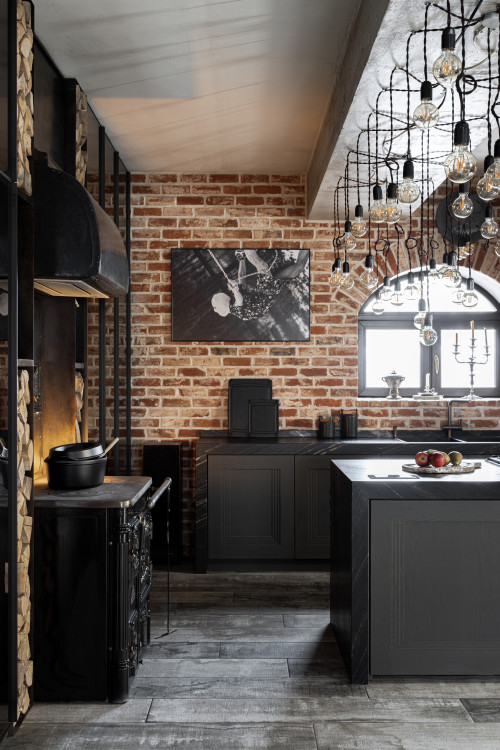 ID# 169213 | Houzz.com – Credit | © BRICKTILES.ru плитка из старого кирпича
---
Rustic Black Kitchen Ideas with Black Cabinets and Red Brick Backsplash
This tranquil kitchen design balances modern and rustic elements to perfection. The black granite countertops with sleek black cabinets make a great pair, of complemented wood-look floor tiles that introduce extra texture. The lack of overhead cabinets exposes the bare brick walls, even more, making extra space for wall decors. Right below, above the kitchen island, the unique lighting fixture design perfectly completes the industrial sense and adds a wow factor!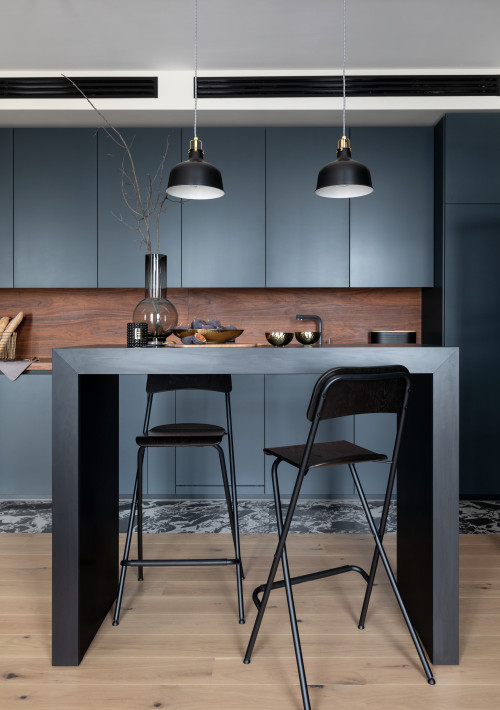 ID# 169217 | Houzz.com – Credit | © Hamiltoun
---
Sleek Kitchen Design with Wood Backsplash and Countertop
Compact yet comfortable, this minimalist kitchen has an efficient workspace with plenty of storage and breathing space. Dedicating one wall to the full-height cabinets opens up a great amount of space. The black cabinets topped by wood countertops and wood backsplash, expand the kitchen visually.
Black Kitchen Ideas
We are all familiar with and enchanted by all-white looks. But what if we make a drastic shift and explore some dark designs emerging from the other side of the spectrum? Painting sophisticated, moody, and sleek portraits, all-black looks are as inspiring as the other color palettes, achieving timeless aesthetics. And even better, black kitchen ideas have a way of slowing us down unlike the pops of oranges, yellows, and reds, easing our states of mind. So, if you want to take a break from the bombardments of colors that put you in constant motion, black is the way to go.
Whether your kitchen is small or vast and closed or open-plan, all-black looks work in all sorts of spaces and designs thanks to their versatility. Do you love contemporary kitchens or prefer farmhouse vibes enriched with a rustic flair? Black gives the target look in all cases. To show how, in this article, we compiled 27 black kitchen ideas that will whet your appetite with timeless monochromatic palettes with refined material language. To see what comes next, read on to explore various black-themed kitchen designs and steal some inspiration from one of these on-trend looks in 2022.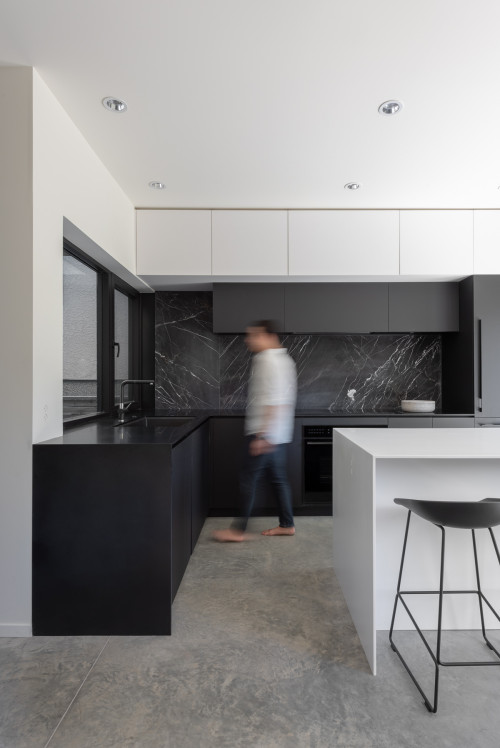 ID# 169201 | Houzz.com – Credit | © Barbara Tili
---
Black Kitchen Ideas with Gray Concrete-Look Floor
All-black looks are a confident choice especially if your kitchen is regularly visited by sunlight as here. Relying on the naturally well-lit ambiance, you can employ dark cabinets with a black granite backsplash and countertops for a seamless look. The matte lacquer finish of the cabinets helps build a sleek and clean look, enriched with stainless-steel built-in appliances. The oversized kitchen island topped with quartz countertops adds a contrast that enhances the spaciousness of the room. To finalize the design, the concrete floor finish is used to connect the black and white hues in this contemporary kitchen.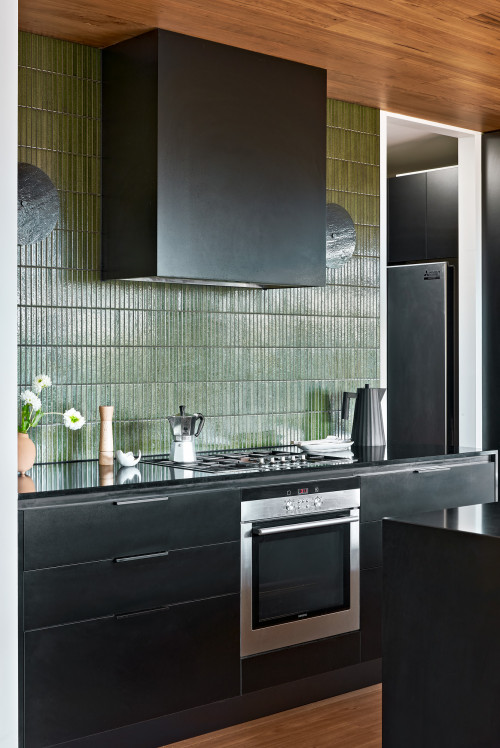 ID# 169202 | Houzz.com – Credit | © Jasmine McClelland Design
---
Sophisticated Kitchen with Green Backsplash and Black Cabinets
This vast contemporary kitchen goes with a black color scale that dominates the perimeter site to execute elegance. The green Kit Kat tile backsplash adds dimension with a layered look, while black button-like sconces and the range hood complement the cabinets. The wooden floor and ceiling bring warmth to the space while the stainless steel appliances enhance the contemporary aesthetic.
Is a black kitchen a good idea?
If an edgy and moody ambiance is your cup of tea, surely, a black kitchen is a good idea. But even before that, for their characterful looks, black kitchens always look immersive and tranquil. Plus, unlike white kitchens, even if you keep the kitchen all black, you don't run the risk of the kitchen looking jarring or sterile! They just build up a statement design as you add more and more black fixtures. However, the only thing that you need to consider is if the kitchen receives enough natural light and is vast enough. But if not, don't despair, you can add more lighting fixtures and some lighter shades at key points to compensate for the compact space and lack of natural light.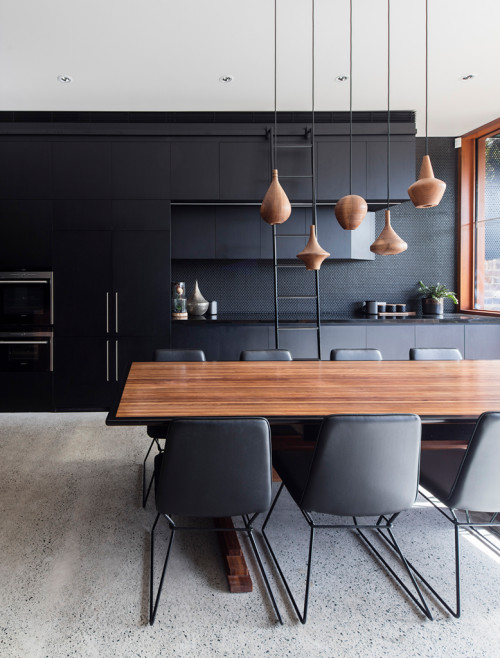 ID# 169203 | Houzz.com – Credit | © Carter Williamson Architects
---
All-Black Kitchen with Copper Pendants and Penny Tile Backsplash
Even if you want to keep it all black, you can still create diversity with different material finishes and fixtures of various volumes. This contemporary kitchen, for instance, uses matte black kitchen cabinets, gloss-finish countertops, penny tile backsplash, and a trio of light copper pendants that generate movement over the island. Receiving enough natural light that seeps in from the light window shades and using a light gray floor finish, the kitchen ensures diversity within the color palette to avoid black colors encroaching all over the space.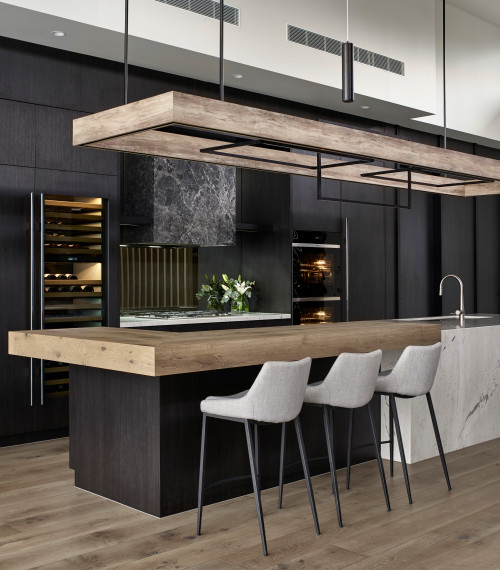 ID# 169204 | Houzz.com – Credit | © Maker + May
---
Luxurious Kitchen Design with Rich Wooden Textures
Clad in black from top-to-toe, this contemporary kitchen skillfully uses storage units. Referring to industrial kitchens with the use of a neutral color scheme, the kitchen creates a statement zone with this oversized island at the heart of the space, while the floor-to-ceiling cabinets add a sense of grandeur at the back. To break up the monochromatic look, the white ceiling makes the space feel opened up, saving it from looking claustrophobic, while the light gray counter stools bring a soft contrast.
What looks good with black in a kitchen?
To soften the black shades, sometimes kitchens seek brighter tones, warmth, and textural materiality. To achieve that, you can incorporate wood, brick, and stone accents, timber shades, oak floor finishes, and silver and brass fixtures. Also, the traditional kilim rugs, terracotta floor tiles, woven baskets, and kitchen plants look good in black kitchens. To make it homier and cozier, you can even give a chance to wallpapers that include shades of black, purple, and dark green with floral patterns.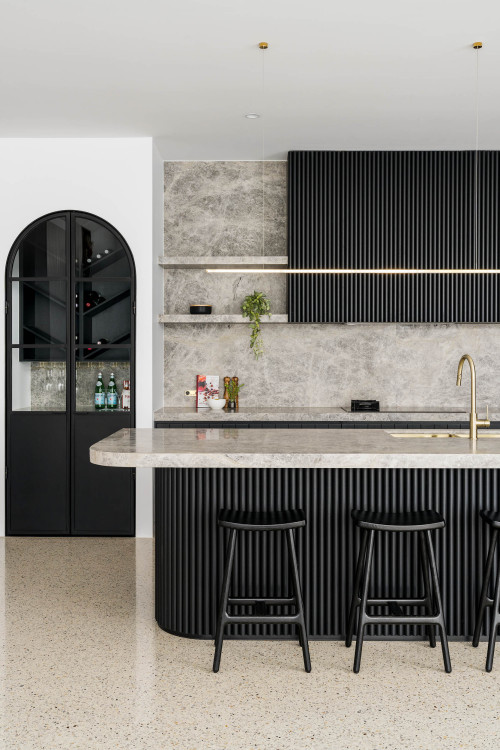 ID# 169205 | Houzz.com – Credit | © First Avenue Homes
---
Contemporary Kitchen with Marble Backsplash and Countertop
Featuring a rather soft shade here, the black cabinets give a rather gentle look with the vertical panels. Complemented with the gray marble countertops and backsplash, they build up a more sophisticated narrative and are added color with gray shades. Across the perimeter counters, the galley-style island sits to designate the kitchen zone in this open-plan layout, while the marble countertop of the island complements the other marble features to create a continuous look.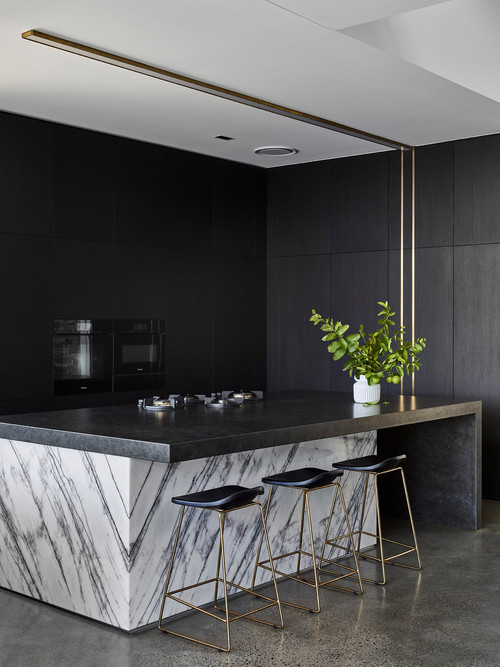 ID# 169206 | Houzz.com – Credit | © Accord Homes
---
Modern Black and White Kitchen with Marble Island
Consider a marble island as a statement-maker piece that may transform the entire ambiance of the design! Enriched with stunning veins and a bookmatched design, this marble island stands out between the blacks while the trendy black cabinets that go through the ceiling offer a sleek basis for the island to highlight it even more. The dark gray waterfall countertop design complements the modern style wonderfully and offers a seamless look with the black cabinetry.
Modern Black Kitchen Ideas
Black shades suit modern kitchens best while providing a sleek and clean look! Especially in modern spaces, it becomes undeniably obvious how black represents the nature of decluttered lines perfectly. But if you are wondering how to ensure variety and introduce more light to modern black kitchens, don't worry. Depending on your taste, you can consider glass pendants, brass hardware, and super-sleek linear lighting fixtures. Also, glass-front cabinets, gloss-finish countertops, glass sheet backsplashes, and chrome hardware pull off excellent looks in modern black kitchens.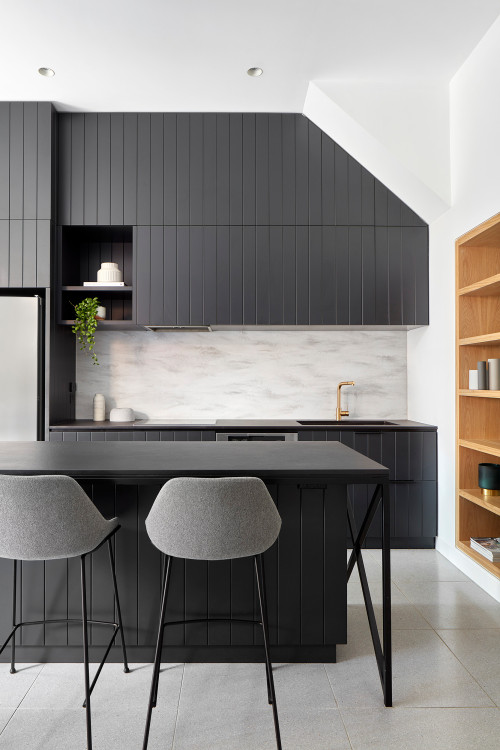 ID# 169207 | Houzz.com – Credit | © Bryant Alsop Architects
---
Black Kitchen Ideas with Marble Backsplash
Enriched with gray veins, the backsplash serves as a coordinating material between the center and perimeter site of the kitchen. It is complemented by stain-finish oak black cabinets that provide enough texture and storage in the background while the gray floor tiles soften the sharp contrast to create a uniform look. To retain this masterful integration, another detail to keep in mind in contemporary black kitchens is to keep the counters as free as possible so as not to cause any visual intervention. This kitchen, for example, does the same, using a minimum number of utensils on the countertops to maintain its sleek look.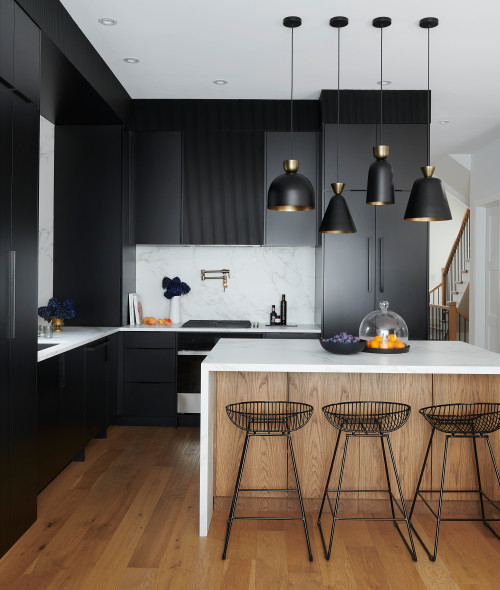 ID# 169208 | Houzz.com – Credit | © avenue design inc
---
Open-Plan Kitchen with Black Cabinets and Waterfall Island
This open-plan kitchen is smartly distinguished from the lounge area with a wood island, consisting of matte-finish black cabinets. It is illuminated by the white countertops and backsplash and modern black pendant lights used respectively for the task and ambient lighting. Also, enriching the design is the hob-installed waterfall island that brings an intriguing addition, paired with a contemporary design of black stools and wood front adding warmth.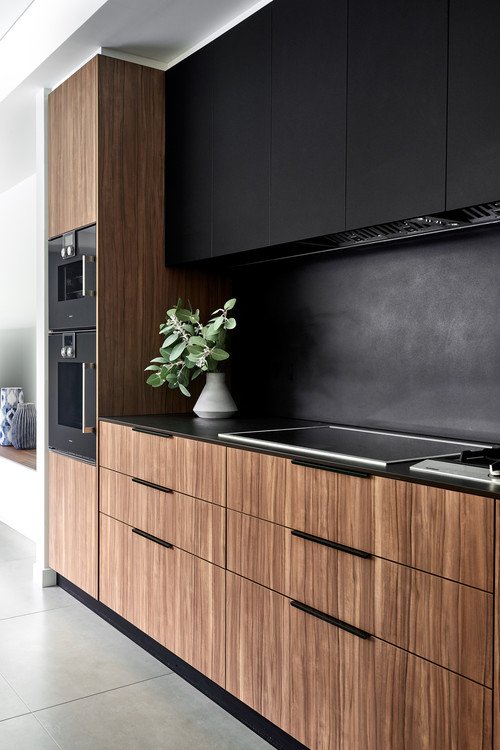 ID# 169209 | Houzz.com – Credit | © schemes & spaces
---
Two-Tone Kitchen Cabinetry with Black Stainless Steel Appliances
The minimalist kitchen achieves a classy yet dramatic design! It's built around a black natural stone backsplash which provides a sleek touch to the backdrop and is bordered by black upper and warm wood base cabinets. They are complemented by built-in appliances and an electric stove that blends into the entire design while black lip pull-notches are left naked to avoid feeling exposed and causing clutter.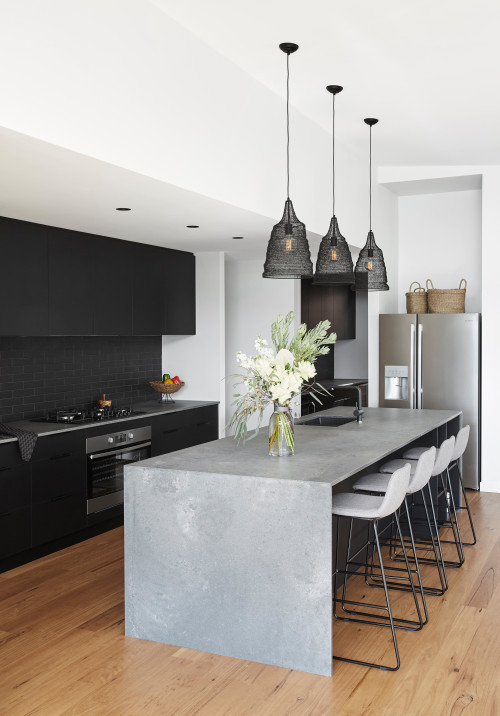 ID# 169210 | Houzz.com – Credit | © Collaroy Kitchen Centre
---
Modern Kitchen with Matte Black Cabinetry and Waterfall Island
Distinguished from the main lounge area with a large kitchen island, this black kitchen proposes a counterpoint to the rest of the space! Featuring decluttered finishes and a neat look, it grows akin to a minimalist design. The soft gray countertops mingle with black cabinets and black backsplash for a soft contrast while the wood flooring brings warmth. Kitchen plants, black pendant lights, and wood flooring running across the whole room enliven the kitchen zone a bit more.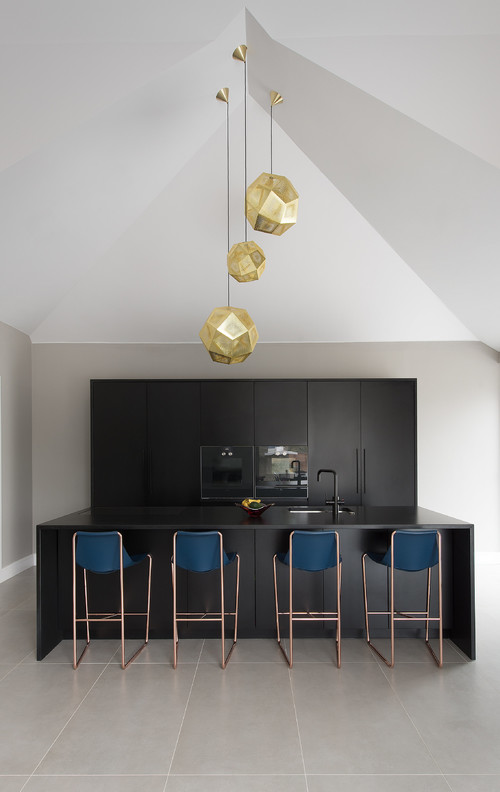 ID# 169211 | Houzz.com – Credit | © Maria Pennington Design
---
Modern Black Kitchen Ideas with Brass Pendant Lights
If you are lucky enough to have a high-ceiling kitchen space, then you can freely use an all-black color scheme without overwhelming. In this contemporary kitchen, for instance, the deep black color surrounds all cabinet and countertop surfaces and creates a sleek and elegant appeal. Keeping the walls in lighter shades highlights the black features while the brass pendant lights make a glamorous final touch to spice up the overall design.
Are black kitchens in Style 2023?
Creating versatile and minimalist designs, black is always about slowing the passage of time and imposing serenity and tranquility which explains its popularity, especially in function-oriented and decluttered modern kitchens! And probably for the same reason, matte black kitchens with edgy and sleek personalities and black-painted walls are just one of the favored looks in 2023. They play against the hectic schedule of dense urban life by presenting a quiet cool attitude.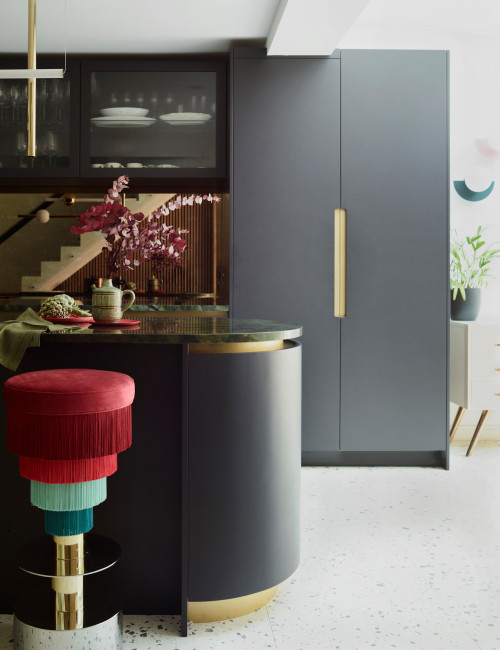 ID# 169212 | Houzz.com – Credit | © Roundhouse
---
Matte Black Cabinetry with Mirrored Backsplash
This black modern kitchen has a sumptuous look because of the dazzling gold embellishments! The mirrored backsplash sticks out between the flat-panel cabinets while the cabinetry's brass elements complement it. The white terrazzo floor tiles contrast with the black elements, giving the area a new feel while the colorful counter stools make an unexpected twist to add a pop of color!
Rustic Black Kitchen Ideas
Rustic kitchens mean soulful spaces, a lived-in feel, and wood, stone, and brick additions along with weathered pieces. And these kitchens get even more delightful with the incorporation of dark cabinets and backsplashes as they tend to show imperfections and discoloration much better than light colors. Thus, if you want to be surrounded and inspired by simple and natural looks, rustic black kitchens are up your alley.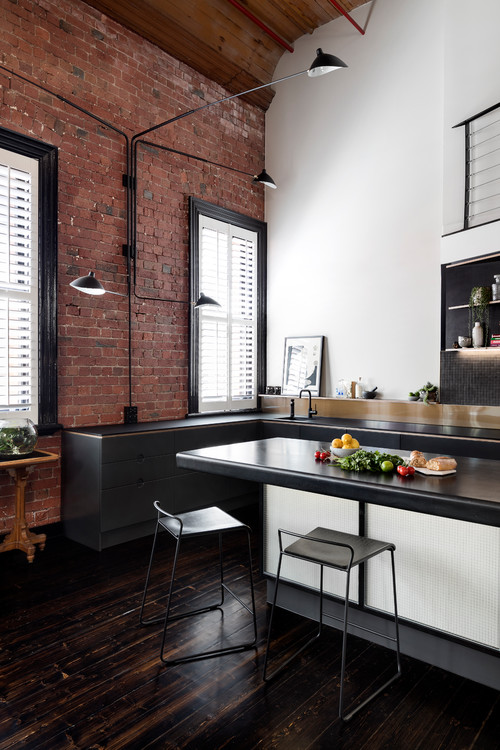 ID# 169214 | Houzz.com – Credit | © Design + Diplomacy
---
High-Ceiling Kitchen with Exposed Brick Wall
Boosted with a warm red shade, this exposed brick wall achieves an authentic look that infuses a rustic flair! Contrasting with the black cabinets and countertops, it proposes a curated rustic kitchen design that gains solidity with deep black shade. Despite the open plan, the U-shaped layout helps the kitchen enclose and create a private area of its own with a refined design vocabulary, enriched with sleek modern lighting fixtures.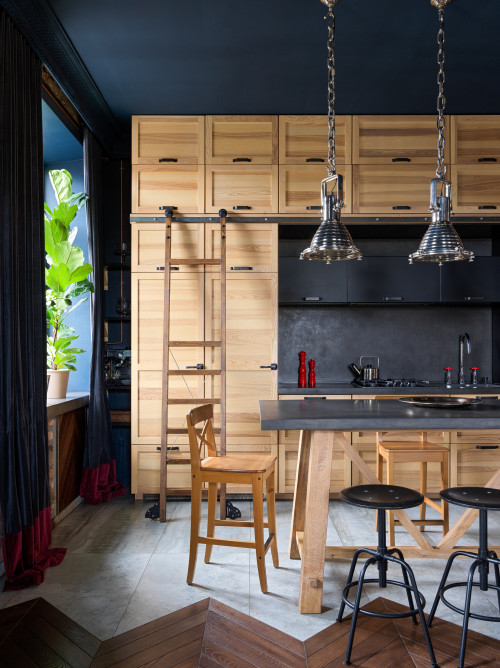 ID# 169215 | Houzz.com – Credit | © Totaste.studio | Виктор Штефан
---
Natural Wood Cabinets with Black-Painted Ceiling
This farmhouse-inspired rustic kitchen has a cozy charm unique to itself, making the overall look approachable and well-distinguished! From the natural wood cabinets to the black stone slab backsplash, each piece works harmoniously to nail a delightful, rustic look. And the black-painted ceiling complements them to add an edgy personality. Above the kitchen island, the metallic pendant lights become the visual focal point that effortlessly coordinates with the black cabinets.
Minimalist Black Kitchen Ideas
Recognized for their simple details, refined material palette, and clean looks, minimalist kitchens embrace straightforward forms that feel modern and well-defined without any need for elaborate accessories and fixtures. That's why, as a statement color and finish, black suits the overall soul of the minimalist kitchens perfectly. As such, minimalist black kitchens offer restful repose, making sculptural statements with emphasized geometric forms and coming as a noble treat for minimalist looks.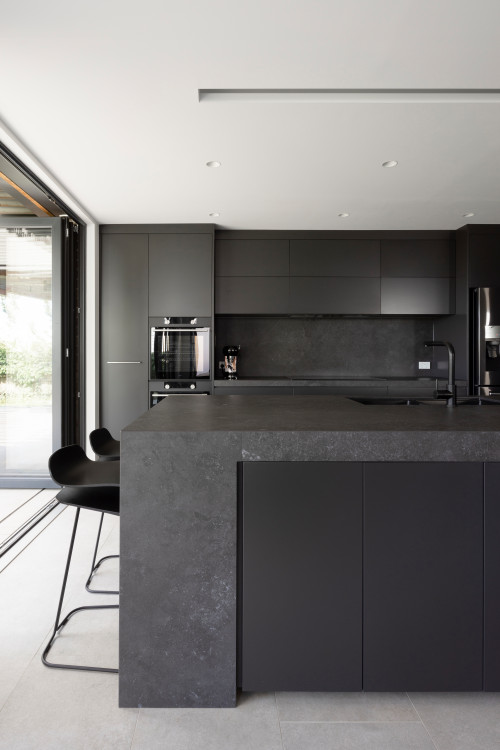 ID# 169216 | Houzz.com – Credit | © Kitchen Elegance
---
Minimalist Black Kitchen Ideas with Stone Countertops
In this minimalist kitchen, black cabinets marry black stone countertops and backsplash while the walls are kept white to keep the interiors bright and spacious. The matte finishes and clean lines offer a smooth and decluttered design without any visual intervention! The light gray floor paints a gentle contrast to add a natural form that brings this ultra-modern look down to earth.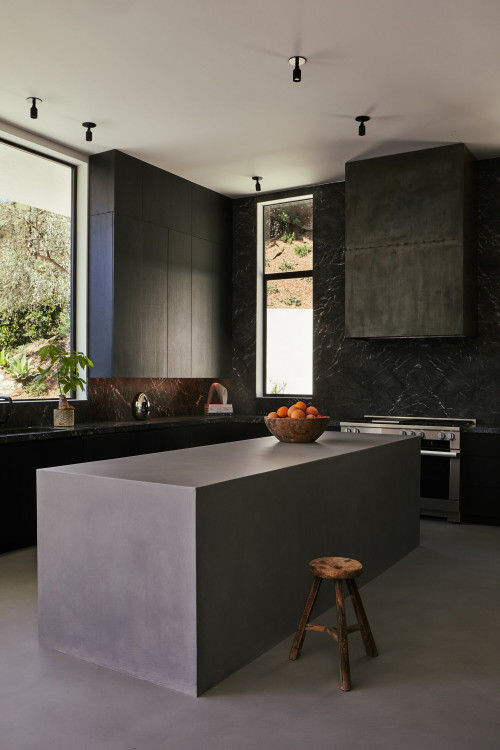 ID# 169218 | Houzz.com – Credit
---
Modern Kitchen Design with Concrete Island
This luxurious oozing space offers restful repose in an open conversation with the surroundings that are made visually accessible through the picture framed windows. Taking cues from the outdoors, the kitchen goes with a dramatic look inspired by natural materials, which showcases itself in the black wood cabinets, black marble backsplash, and concrete island. Shaded by the rich deep hues, this contemporary kitchen keeps everything minimalist to emphasize the architectural forms. When this is the aim, dark shades and contrasts always work better to make a statement with the material itself. And this kitchen design just plays along, staying loyal to decluttered lines!
Small Black Kitchen Ideas
Small and black. Though it may be hard for some to imagine these two concepts together, using an all-black palette in compact spaces is manageable, immersive, and well-functioning. By choosing the best layout for your kitchen, whether it is U-shape, L-shape layout, or galley-style, you can pull off a fully-fledged kitchen look. As long as you use contrasting shades and a well-planned lighting system to enliven the dark small kitchens, you can safely go with all-black looks in small kitchens as well.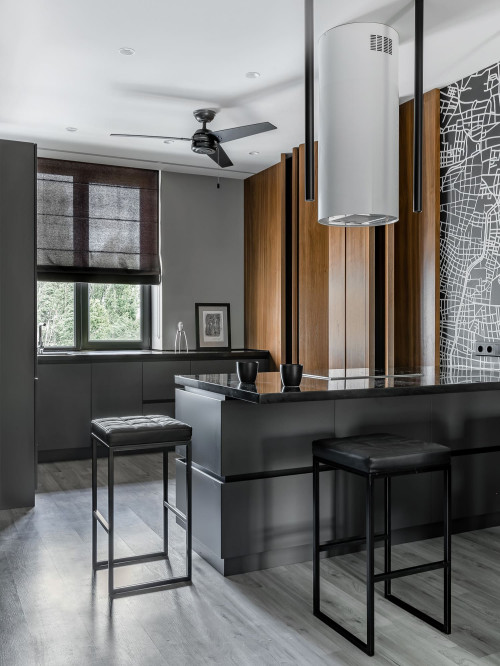 ID# 169219 | Houzz.com – Credit | © Архитектурная студия QUADRUM
---
Small Black Kitchen Ideas with Window Backsplash and Peninsula
If you have a small yet combined-concept plan, black remains a safe color choice in compact spaces since it can benefit from the light and space of the lounge area. Plus, with a few visual tricks, you can expand the visual scheme of the kitchen. For example, this contemporary kitchen uses a window backsplash cleverly to bring natural sceneries along with natural lights. This way, it also invites the outdoors in, creating fluidity between interior and exterior spaces, thus enhancing openness! Aside from that, the rising and going-down forms of the cabinetry and the wooden wall panels play with the scale and proportion of the space, making it look wider and taller which indicates the favorable style of contemporary kitchens skilled in the use of variously structured geometric forms.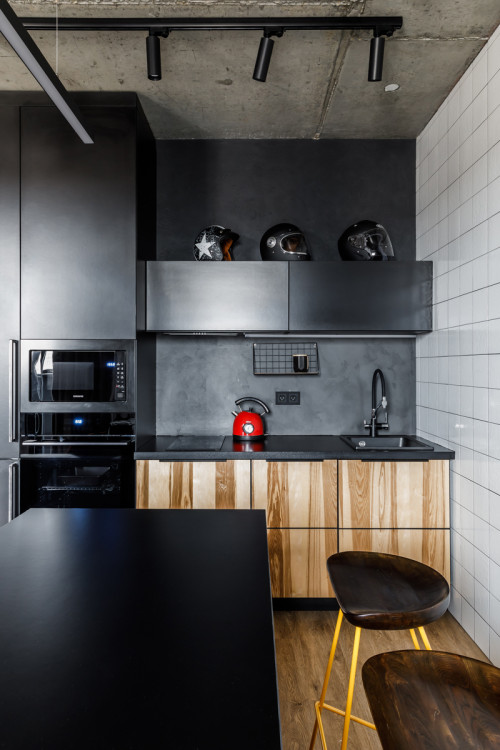 ID# 169220 | Houzz.com – Credit | © Donolux
---
Industrial Kitchen Design with Black and Wood Cabinets
Less is always more for minimalist kitchens, and this simple industrial kitchen is one of the best embodiments of this tenant. Staying loyal to a minimal color palette of off-white and black with a touch of wood, it makes a counterpoint to the rush of metropolitan life, slowing down the movements of its users. Even though it is small, with the right amount of contrast, it feels spacious. The sleek black cabinets with stone backsplash and countertops feel complete with a practical two-person eating space that is easy to navigate. Additionally, sleek appliances and some décor elements above the cabinets add extra interest that reaffirms the kitchen's soothing design theme.
What color goes with the black kitchen?
A wide range of colors goes with black kitchens, starting from cream cabinets to white cabinets, and green, teal, and wood shades. But if you are looking for a stark contrast element, you can incorporate brass features. For example, a gold range hood accompanied by gold cabinet hardware could make an instant change in the overall black look of the kitchen.
Apart from that, since a backsplash is one of the best ways to introduce color and create a focal point, you can use intriguing backsplashes for the background. Depending on your kitchen theme, you can add white and green marble backsplashes, and gray or beige terrazzo backsplash to bring in some color.
If you are after modern and masculine looks, mustard yellow and gray shades are a way to go to enrich the black look. But if you wish for something more ambitious, then you can even consider red backsplashes. It could be a red brick, red glass sheet, or a red stacked backsplash for an immersive look.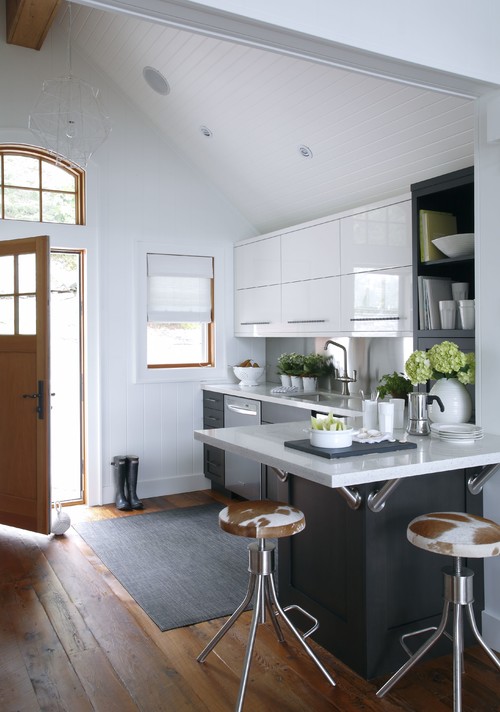 ID# 169221 | Houzz.com – Credit | © Northern Living Kitchen & Bath
---
Black and White Transitional Kitchen with Rustic Floor
How would you add color to a black and white kitchen while emphasizing its upscale look at the same time? This contemporary kitchen utilizes some wooden textures to bring warmth! The cased openings also help this small kitchen open up and stay visually connected with the outdoor to expand the sense of the space.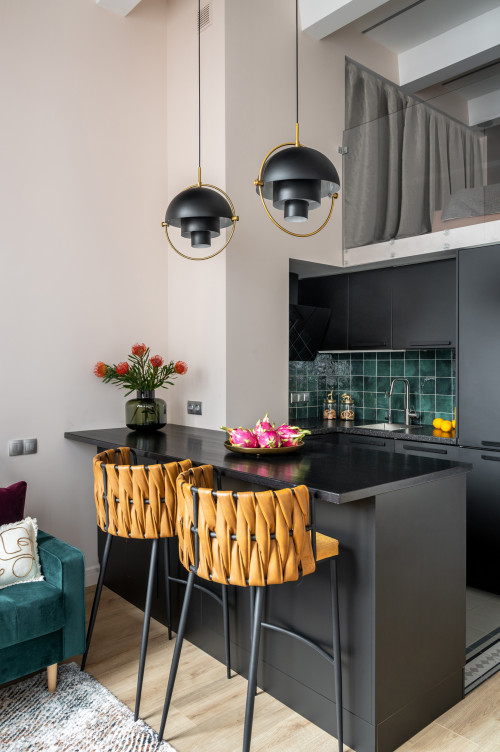 ID# 169222 | Houzz.com – Credit | © Katya Geits l Interior
---
Modern Kitchen Cabinets with Green Square Tile Backsplash
This open-concept kitchen surrounded by a deep shade of black, provides a fashionable nook for both cooking and dining! The black flat-panel cabinets in the rear provide a sleek and elegant look while the green square tile backsplash adds drama and matches the cabinetry's clean style. The kitchen peninsula is emphasized with leather counter stools and black pendant lighting and is topped with a granite countertop!
Black Kitchen Cabinets
Black kitchen cabinets have a charm of their own, adding visual drama and depth to any space! You can either use them as the main cabinetry or for an island unit to make a statement. Whatever your target design is, you can use them in various kitchen styles ranging from Scandinavian to rustic, farmhouse, contemporary and modern design spaces. They can adjust themselves to the surrounding theme, which makes them a safe choice to go with. But to avoid ending up with any claustrophobic space, all you need to do is integrate enough lighting (whether natural or artificial) or lighter shades to achieve a well-balanced look.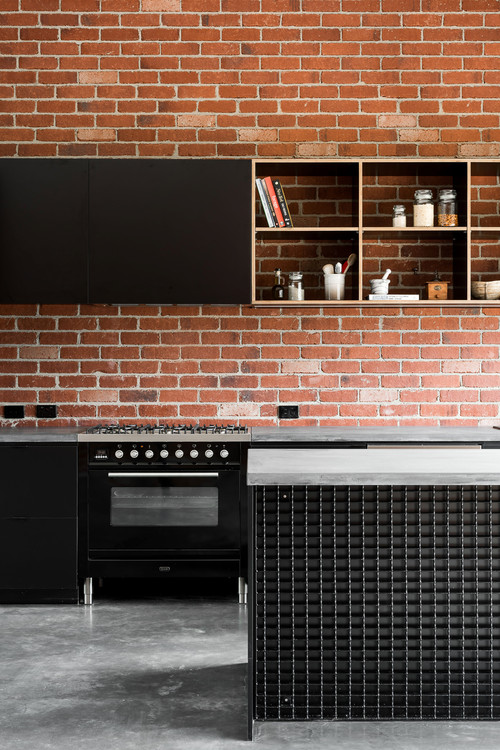 ID# 169223 | Houzz.com – Credit | © Cast Studio
---
Black Kitchen Ideas with Black Cabinets and Concrete Countertops
This industrial kitchen has a minimalist and soothing palette defined by black cabinets and concrete countertops! Complemented by an exposed brick wall, the kitchen prioritizes exhibiting some eccentric objects to personalize the space. This way, it prevents the space from looking too monotonic and soulless.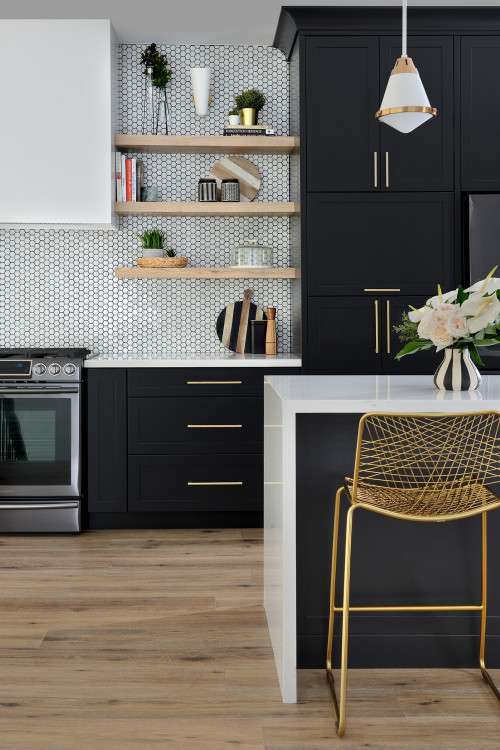 ID# 169224 | Houzz.com – Credit | © Michelle Berwick Design
---
Moody Kitchen Design with Dark Cabinets and Brass Hardware
This classic modern kitchen is well-appointed with dark cabinets reaching the ceiling to add a sense of grandeur to the kitchen. To ease the dramatic impact of the black perimeter counters, the white hexagon tile backsplash is placed between the cabinets, paired with a black grout that complements the cabinetry.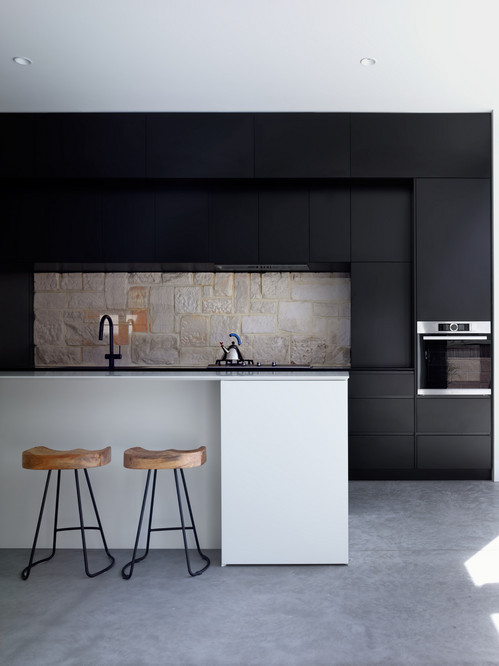 ID# 169225 | Houzz.com – Credit | © Couvaras Architects
---
Dark Cabinets with Stone Backsplash and White Island
Infusing dark and light shades, this kitchen captures a well-balanced look! Dark flat-panel kitchen cabinets along with the beige stone backsplash not only bring in a dramatic appeal but also expand the kitchen on all sides. Complementing them is the light gray flooring that adds a sense of brightness to illuminate the space. The addition of the pure white kitchen island creates a striking contrast to enhance spaciousness!
Black Kitchen Backsplash
Ranging from natural stone backsplashes, including granite, soapstone, marble, and terrazzo, to black ceramic, porcelain and terracotta tiles, black kitchen backsplashes are available in a plethora of materials and patterns. Plus, what you can do with these tiles is even more! For example, you can create a stacked layout with subway or slender tiles or puzzle-like backgrounds by using hexagon patterns. The gloss finish backsplashes help light to get diffused evenly and are a great way to establish a contrast if the other finishes are all matte. But if you prefer grout-free looks, slab backsplashes suit the sleek and inky palette of all-black color schemes and provide a seamless look.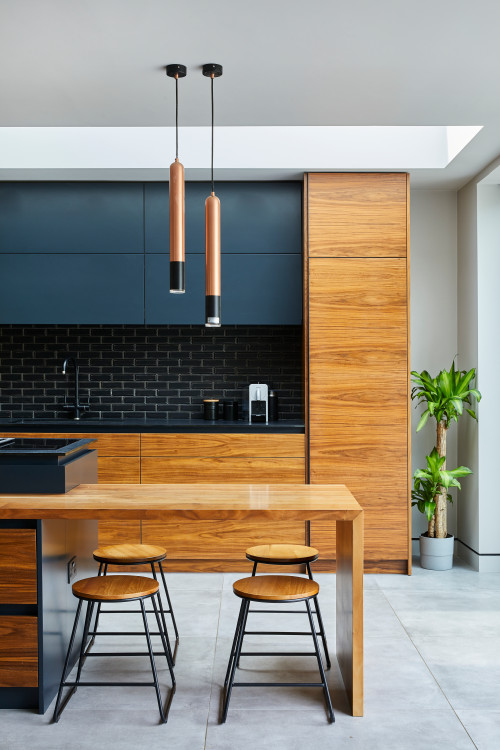 ID# 169226 | Houzz.com – Credit | © AIB Contractors Ltd
---
Black Subway Tile Backsplash with Natural Wood Cabinets
Taking cues from the Nordic design, this clutter-free and function-oriented kitchen delivers a sense of wellness! The black subway tile backsplash creates a texture-rich background, complementing the sleek black cabinets. The natural wood cabinets and island add a gentle contrast, while the copper pendant lights perfectly complement the warm feel of the wooden textures.
How can I add warmth to my black kitchen?
Brass hardware, cream shades, wooden countertops, and timber floating shelves with timber ceilings and hardwood floors are some of the best ways to incorporate warmth and offset the all-black look. Integrating a well-planned lighting system with warm lighting also is a great way to inject warmth into the kitchen.
Also, if you have a rustic and farmhouse-style kitchen, you can add copper pots and wooden cutting boards to the countertops! You can even mount a pot rack on the ceiling and hang your copper pots and wooden utensils. By dropping it down over the island, you can easily create a statement piece.
Also, don't forget to add some leafy plants! You can even consider wallpapers with patterns of fauna and flora that will add warmth without stealing from the sleek look of the black design.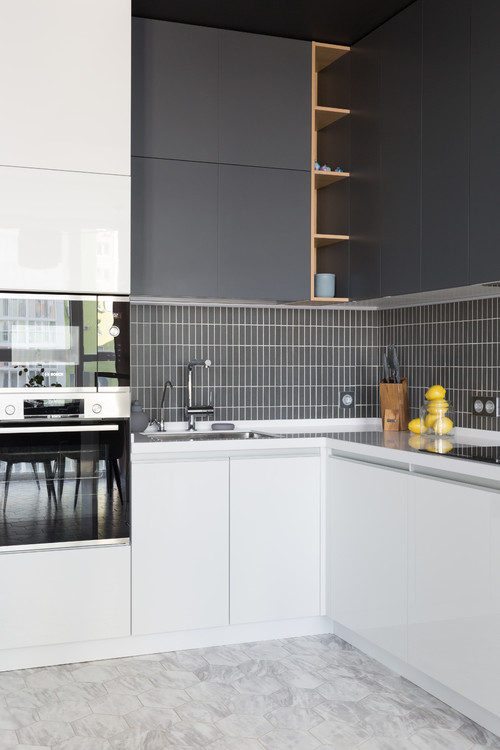 ID# 169228 | Houzz.com – Credit | © Re-PIN
---
Black Kitchen Ideas with Stacked Backsplash and Cabinet Shelf
Presenting a masterful monochromatic black palette, this kitchen design demonstrates a thoughtful approach to utilizing the richness of this deeply hued shade! Embracing a sense of sophistication, the matte-finish black cabinets align with a stacked tile backsplash to conjure a modern aesthetic while the white base cabinets and countertops expand the visual narrative. A touch of warmth and natural texture is introduced through the addition of a wood cabinet shelf that enhances the overall look.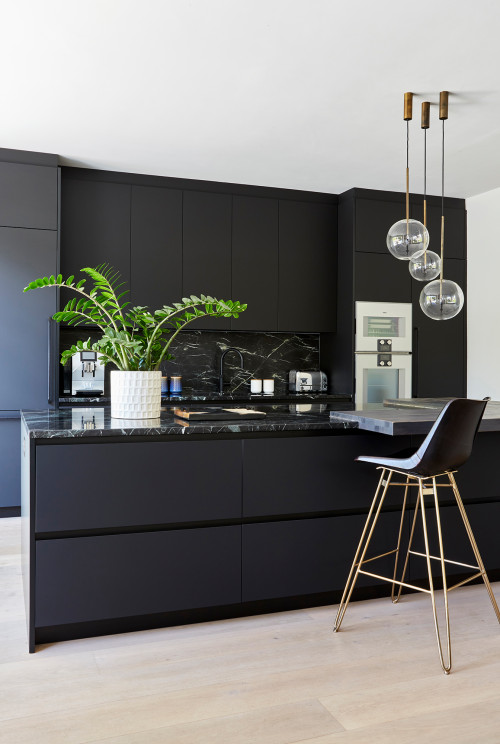 ID# 169229 | Houzz.com – Credit | © Espresso Design
---
Black Slab Backsplash with Glass Pendant Lights
The use of natural stone for the backsplash is always a great choice especially when it comes in dark shades, making the kitchen look sophisticated with an opulent finish. Even better, its subtle textures ensure warmth in addition to its minimalist look while the light wood floor plays against the dark theme with a gentle contrast. The gold accents complement both wood and dark features, by adding glow and reinforcing the sense of warmth!
Is a black kitchen hard to clea?
One of the disadvantages of black kitchens is their hard-to-clean nature! Though they don't show dust and dirt as much as the lighter shades, they are prone to water stains and fingerprints, easily showing dust. Especially if you have gloss-finish countertops and cabinets, to avoid any stains, you will need to clean them regularly.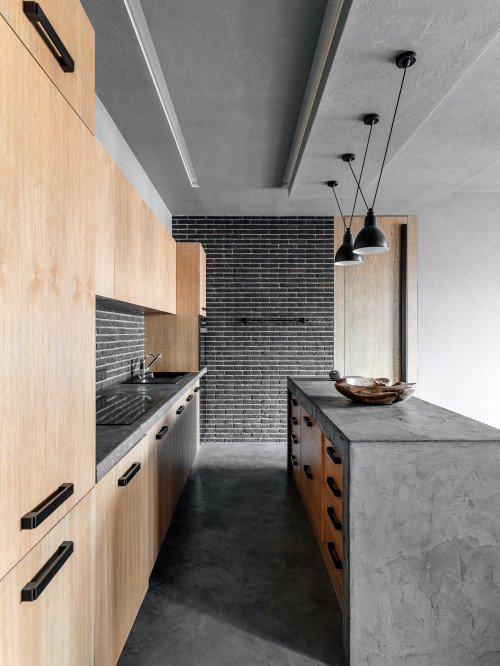 ID# 169230 | Houzz.com – Credit | © Татьяна Корниенко
---
Black Natural Stone Backsplash with Concrete-Look Floor and Wood Cabinets
This sophisticated modern-rustic kitchen executes a well-articulated design language, rich in textures. From the natural wood cabinets that generate movement to the stone backsplash, and concrete surfaces, each piece is unique on its own, doing the speaking for itself. The black-painted brick walls stand out between the flat surfaces while the concrete texture of the island countertop and floor perfectly complements the rustic flair of the brick.