23+ White Kitchen with Dark Backsplash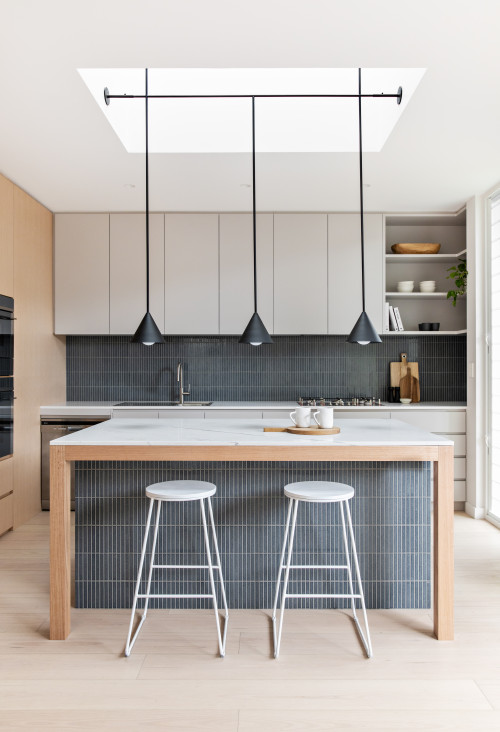 ID# 135602 | Houzz.com – Credit | © Renotech Building Pty Ltd
---
Contemporary Kitchen with Two-tone Cabinetry and Blue Backsplash
Centered around blue, light wood, and white, this contemporary kitchen is designed to feel tranquil and impart calmness. For the same reason, the kitchen island is placed right beneath the skylight which allows abundant natural light to flood in. The white cabinets alongside the light wood full-height cabinets used for storage and built-in appliances lay the foundation of the design. And blue mosaic tile backsplash comes in to inject a healthy dose of color as a rational element of color balance. To play into the continuity, the same tiles also sheathe the island base paired with white backless stools and a trio of black lighting fixtures. These additions bring extra interest without making the kitchen feel cramped.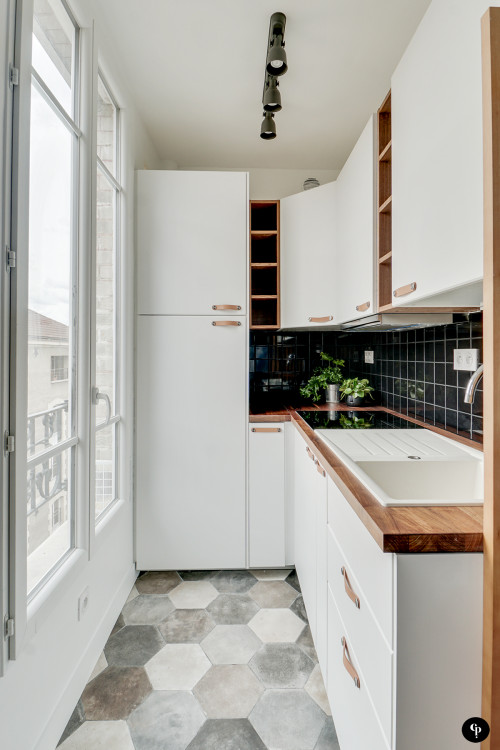 ID# 135612 | Houzz.com – Credit | © CP Design Interieur
---
Black Square Tile Backsplash with Butcher Block Countertops And White Cabinets
If you have a small kitchen like this, you want everything to look more or less in uniformity. And one of the best ways to achieve that is to hide appliances behind the paneled cabinets. Here, for instance, the fridge and oven are hidden behind the white cabinets, remaining out of sight to create a continuous design. The white cabinets add a weightless appeal, and the butcher block countertops bring in warming shades along with the wood-interior cabinet shelves. To provide a contrast to the white-wood union, a black splash-back gets brought in for a dramatic look and sense of depth. Lastly, the use of large format hexagon tiles expands the kitchen visually, supported by the French windows that open onto a Juliette balcony harvesting plenty of natural light from outdoors.
White Kitchen with Dark Backsplash
It is a known fact that white kitchens are always on-trend but even they sometimes need an upgrade. But how to make this change? Designing a kitchen enquires many decisions to be made, starting from the cabinet colors to the backsplash color and patterns, hardware, layout of the cabinets, and flooring. Especially the combination of cabinets and backsplashes makes a great difference, setting the tone of the design. For the same reason, bringing a statement backsplash is one of the great ways to upgrade a white kitchen. In this blog, we will introduce you to a white kitchen with dark backsplash that adds a stylish contrast while solidifying the total look.
Whether you envision a kitchen that is built upon contrasting shades with white cabinets and a dark backsplash or one that embraces greens and blues, dark green and dark blue backsplashes are as impactful as dark gray, brown, and black shades. Thus, if you would like to make a statement and introduce pattern and color, backsplashes make it super easy. Here we've got over 20 design project that is centered around a white kitchen with dark backsplash. It doesn't matter if you have a small or large kitchen; you can always steal some inspiration from these kitchens and apply some of their design tricks to encourage your space to feel spacious and lighter. Thus, read on to discover some!
Are white kitchens going out of style?
Even though white kitchens are considered boring, jarring, and sterile and all-white looks a bit outdated by some, they are still popular and commonly used. But the key thing is to enliven the white looks with complementary elements to add interest. Dark backsplashes, for instance, that come in shades of green, blue, gray, and black, upgrade all-white looks masterfully, preventing the kitchen from ending up too clinical. Brass hardware, pendants, built-in contrasts, and backsplash designs proportioned to the space's needs ensure that white kitchens are still trending and will never be out of style.
Dark Backsplash Colors for White Kitchens
Whether you go with blue, brown, green, black, or gray, dark shades chosen for a white kitchen establish dramatic looks that result in memorable designs. Thus, if you want to create a sophisticated look that exudes elegance, don't hesitate to integrate some dark colors.
White Kitchen with Dark Gray Backsplash
The combination of two versatile colors, white and gray, establishes a soothing and sophisticated design that feels modern. But with the incorporation of wood, distressed cabinets, and salvaged accessories, you can also create a modern-rustic look.
Should the backsplash be lighter or darker than the cabinets?
There is no rule of thumb on whether the backsplash should be lighter or darker than the cabinets. It is rather dependent on personal tastes. But if you prefer a visually lightweight design, it is recommended to keep the cabinets lighter because they are mostly used as the base and upper cabinets. Pairing light cabinets with a dark backsplash establishes a nice contrast that adds depth to the wall.
However, if you want your kitchen to feel closer to the dark side with an edgy character to it, you can go with dark cabinets and a lighter backsplash such as light gray and off-white backsplashes. This way, you can create a soft contrast while playing with the scale of the space at the same time.
What kitchen backsplash is trending now?
The popularity of certain backsplash designs, patterns, and colors changes over time to cater to the ever-changing needs of homeowners. This year, the designs that open up the space and make the kitchens feel more spacious and sophisticated have gotten more popular. Now let's see what they are.
Window Backsplash
Sometimes all that you need in a kitchen is natural light and a garden view, which also provides an easy-to-clean and grout-free surface. And you can achieve that with a window backsplash that ranks high in 2022 trending kitchen designs. Especially if you have a garden view or live on a top floor that overlooks the city, a window backsplash will expand your kitchen visually toward the outdoors.
Ceiling-height Backsplash
Another popular backsplash is a ceiling-height backsplash. Whether it is with a tiled or slab backsplash, dedicating the entire swath of wall to the backsplash creates expressive walls. And it is generally complemented with floating shelves and open cabinets to leave more space for the backsplash to highlight its presence.
Natural Stone Slab Backsplashes
We have good news for natural stone lovers. Marble-slab and marble-look quartz slab backsplashes are on-trend materials that come with beautiful striations. If you love a seamless and contemporary feel, the slab backsplashes are the way to go. Plus, you won't only choose a trending backsplash but also will achieve a timeless look with sophisticated and stylish slab backsplashes.
Subway Tiles and Multiple Layouts
Adjustable to any design, a timeless classic, subway tiles, again, are one of the popular faces in 2022. But if you are bored with the running-bond layout, why not try stacking them vertically or horizontally or lay them in a basketweave pattern? These different layouts are popularly used to give kitchens a modern spin.
Gloss-finish Backsplashes
What about high-gloss finishes? Another popular kitchen profile is nowadays achieved with a glazed backsplash. Coming with a beautiful sheen, these backsplashes are especially great in small kitchens to enhance openness and spaciousness.
Patterned Encaustic Tiles
Fond of patterns? Pattern-master encaustic tiles that open up many design possibilities are another popular backsplash in 2022. They come in various patterns and pastel or bold shades that enliven the space. And their durability, thanks to the hydraulic method used to compress them, is even better than ceramic tiles.
Rustic copper backsplashes are also having their moment in 2022. If you are looking for something different and deviate from all the standard looks, oxidized copper backsplashes give a lived-in feel and create an eye-appealing wall surface.
White Kitchen with Black Backsplash
If you want to create a memorable look in your kitchen, black is the route to go. Ranging from glass tile backsplash to natural stone and geometric pattern backsplashes, you have multiple options with black. And the best part is that you don't need to worry about the lighting system and how much natural light the kitchen receives when you have the rest of the space sheathed in white shades. This contrast enables the kitchen to feel both lightened up and spacious as the white and black contrast also allows homeowners to play with the scale of the space. Overall, whether it is the black-honed granite, marble, soapstone slab backsplashes, or black subway tiles you choose to get, you can create a curated look with extra visual depth and dimension brought into the kitchen.
What backsplash goes with white cabinets?
Ranging from white to dark shades, green, blue, yellow, and orange, white cabinets go well with all backsplash colors, materials, and patterns. Be it geometric, floral, slab, or tiled, any backsplash could be used to accompany white cabinets. But what you need to consider is the overall impact you want to achieve for your kitchen and decide the material, pattern, and colors accordingly.
White Kitchen with Dark Blue Backsplash
Shades of blue bring calmness, serenity, and tranquility to the kitchen, upgrading the mood of the space and its users. By adding dark blue shades, you can also create a sense of drama. As white has an easy-going nature, you can match it with a dark blue backsplash confidently. Especially transitional kitchens love the integration of blue along with the mid-century modern kitchens that make statements with blue backsplashes.
In white-blue kitchens, you can also bring in a third color that will pop up against the blue background. Pink, yellow, orange, and brown shades could serve as a third component of these white-blue kitchens.
White Kitchen with Dark Green Backsplash
Green is one of the on-trend colors in 2022, bringing calmness and creating covetable and jolly looks easily. Also associated with wisdom (e.g., sage green), it makes a direct reference to nature, enabling the interiors to connect with the outdoors. When it comes to dark green and white combinations, they make a great pair that you can enliven more by adding silverish or brass hardware. But, if you would like to temper the white and green combination rather than highlight it, you can incorporate butcher block countertops. This way, you bring in texture and warmth. Above all, whether you wish for a rustic, farmhouse, or modern kitchen, a dark green backsplash is suitable for all different looks when combined with the right materials.
What countertop goes with white cabinets and dark backsplash?
Natural stone, white quartz, and white laminate countertops are among the most popular countertops that go well with white cabinets and dark backsplash. For a seamless look, countertops can also be the same material as the backsplash. This way, you can constitute a timeless and sophisticated feel, which especially works well in minimalist and Scandinavian kitchens. But if you are looking for something that channels warmth, butcher block countertops are another option to soften the white-black contrast. Light quartzite countertops with a weightless appeal also introduce a nice texture and pattern that goes well with white cabinets and a dark backsplash.
White Kitchen with Dark Brown Backsplash
If you want to create a natural design, it rings true to use a dark brown backsplash and dark wood shades. And if you want a change and authentic material, copper backsplashes are another great option to consider. Whether you get a tiled or custom-cut panel version, the copper will change the aura of the room instantly. Plus, the warming shades of copper and dark wood bring the warmth out of the white cabinets, creating a cozy design. For those looking for a tranquil Mediterranean vibe, dark brown backsplashes with white cabinets pair perfectly.