37+ Latest Kitchen Backsplash Trends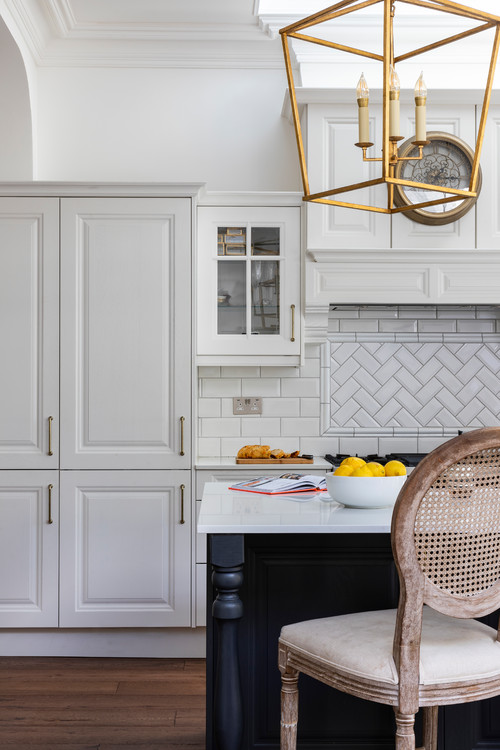 ID# 142916 | Houzz.com – Credit | © Sheraton Interiors
---
Traditional Kitchen with White Subway Tile Backsplash and Monochromatic Color Palette
Traditional kitchens love monochromatic color palettes and integrating ornate touches on stove backsplashes to add visual interest while staying loyal to the white color palettes. Here the subway tiles are laid out in two different ways: running bond style and herringbone. Doing so offers extra visual interest and makes a statement while proposing a trendy look in the meantime.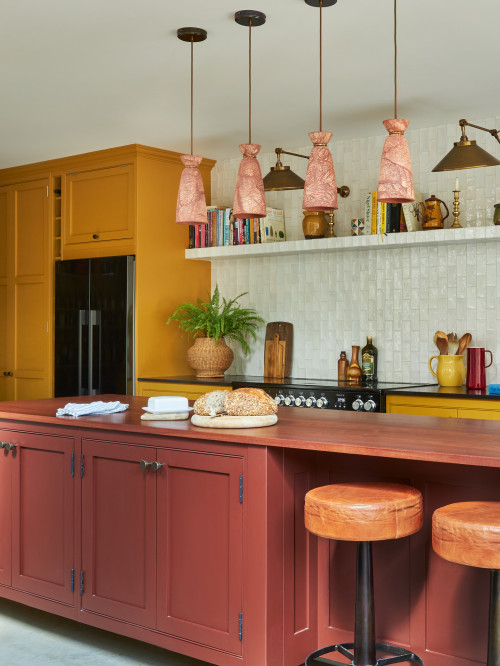 ID# 142921 | Houzz.com – Credit | © Boffe Design
---
Latest Kitchen Backsplash Trends with Two-Tone Cabinets and Ceramic Tiles
The arresting visual scheme of this kitchen springs from the memorable color combination of yellow and pink and its unique way of using ceramic tiles. First of all, the kitchen boasts clever ideas with white ceramic tiles by installing them vertically in a running-bond pattern, which is very rare to see. Secondly, it makes a floating shelf out of these tiles for an eccentric look. Yet, the best part is how this kitchen makes it look like some ordinary addition by using an intriguing color scheme with two-tone joinery.
Latest Kitchen Backsplash Trends
Even if backsplash trends change from time to time, some backsplash types have proven themselves to be classic. Ceramic tiles, subway tiles, white tile splash-backs, and marble backsplashes are the major never-changing on-trend looks that will never disappoint you. But on the other hand, in addition to those, the latest kitchen backsplash trends include ceiling height, multi-colored, patterned, and geometric backsplashes, giving good news for color and pattern lovers.
To take a closer look at the latest kitchen backsplash trends, if you love opened-up and breathing spaces, ceiling-height backsplashes allow you to ditch the upper wall units. Or if you don't want to worry about cleaning grout lines, marble slab backsplashes are one of the popular faces in 2022 while providing extra functional benefits. But if you love patterns and pops of colors, you can again create on-trend looks with multi-colored and geometric backsplashes. Apart from those, you can experiment with tile layout options to make your style speak and personalize your kitchen easily. Here we have gathered the latest kitchen backsplash trends for you that will whet your appetite and inspire you for your next home-upgrading projects.
What is the most popular backsplash right now?
Ceramic tile backsplashes are the most popular backsplash materials because they are affordable and highly customizable. So, their availability in countless design options draws attention to them. Also their ease of maintenance makes them more friendly for homeowners.
What is the trend for backsplash in 2022?
When designing a kitchen, choosing a backsplash stands apart as one of the most important decisions since it sets the tone of the overall look. And when deciding on what is the right backsplash for you, you can take a look at on-trend looks for inspiration and choose what adjusts to your kitchen better. In 2022, for example, ceiling height, marble, ceramic tile, geometric, and patterned tile backsplashes are very popular, offering great alternatives for both color and pattern lovers and also for those who prefer simple and modern looks. If you want to get to know these trending backsplashes, keep on reading!
Ceramic Tile Backsplash
Affordable and highly-customizable, ceramic tile backsplashes provide a wide variety of color, shape, pattern, and texture options. For example, polished and honed versions can give you different textures and looks. And if you love printed tiles, they can compete with encaustic tiles as well. In case you want irregularities and imperfections in tiles for the sake of a more natural feel, handmade ceramic tiles can do the job for you. But they are a bit more expensive when compared to the manufactured ones.
In addition to their aesthetic benefits and almost limitless design possibilities, ceramic tiles also provide ease of maintenance, high durability, and heat resistance. Plus, since they are pore-free materials, they don't demand much unlike natural stones.
What is the most timeless kitchen backsplash?
A classic and high-end material, marble is one of the most timeless kitchen backsplashes along with ceramic tiles. Available both in tiled and slab formats and in multiple colors, marble suits both traditional and modern looks. Its durability, heat resistance, and long lifespan also ensure its timelessness in addition to its high aesthetic values.
Marble Backsplash
Available in slab and tile formats, marble backsplashes can create any look you aim for. Either you can keep them at standard size or take them up to the ceiling; in either case, they will make for an engaging and well-articulated backdrop for your kitchen. We all know how marble slabs make fantastic additions. But marble also suits and works best with mermaid and hexagon patterns, especially when the tiles are kept smaller. They provide a texture-rich and sophisticated background. Also, if you love uniform and well-integrated looks, you can envelop the range hood fixture with marble and choose book-matching countertops as well. This way, you can create a visual continuum and achieve consistency within the space.
What is the most popular tile pattern?
Subway tiles are still the most popular tile patterns. But rather than their typical 3*6 inch versions, recently the slimmer, and larger formats are more popular options. Plus some designers and homeowners prefer experimenting with layout options which allows for more geometric trendy looks. And, resulting schemes look satisfying and bring a contemporary voice to kitchens.
Subway Tile Backsplash
The most timeless option subway tile backsplashes have preserved their popularity for years and they still commonly form part of kitchen designs. Available in multiple formats, they are given modern looks and adjusted to the needs of modern spaces. Especially slimmer versions and square subway tiles seem to be trendier nowadays. You can also stack them vertically and horizontally or in basketweave patterns to modernize the kitchen and give your background a trendier look.
Ceiling-Height Backsplash
A ceiling-height backsplash can be a marble slab, quartz slab, and ceramic tiles, depending on the budget and taste of the homeowners. And if you would like to emphasize the form of the tiles, you can use large format tiles and apply black grout that will give your kitchen a modern and trendy vibe. Since ceiling-height backsplashes mean a lack of upper cabinetry and thus more breathable space, using them is one of the best ways to open more space on kitchen walls.
Patterned Tile Backsplash
Patterned tile backsplashes can feature a wide range of patterns from stars to geometric patterns, circles, and floral patterns. They are also available in numerous colors which you can combine with black, gray, and white cabinets to create a neutral setting for a well-balanced look. But with complementary features, you can continue adding pops of colors to put them into dialogue with patterned tile backsplashe.
What size tile is best for the kitchen backsplash?
What size tile is best for the kitchen backsplash depends on the size of the space. For example, it is recommended to use tile sizes that are well-proportioned to the scale of the space. But in small kitchens, to give the kitchen extra height and width, you can use large format tiles or slab backsplashes. Doing so helps the kitchen feel more sizeable and roomier. As for the large spaces, the medium-size tiles generally go well, which also reduces the number of joints you will get.
In terms of functionality, larger tiles are also easier to cut and install. But if you have too many corners to be covered in your kitchen, small tiles are better in such spaces since they can adjust themselves to the small gaps easily.
Geometric Tile Backsplash
One of the most trending looks in 2023 is geometric tile backsplashes. These geometric patterns include hexagon, herringbone, chevron, rhomboid, and Escher patterns that create eye-catching backgrounds. You can also get them in multicolored versions.
What is the most popular trending tile look in 2022?
Colorful ceramic tiles and geometric patterns offer the most popular tile looks in 2023. 
White Kitchen Backsplash
Especially a great option for small kitchens, a white kitchen backsplash makes a great addition to any space. From penny round mosaic to kit kat mosaic, white quartz slab, white ceramic, zellige tile, and glass sheet backsplashes, a white kitchen backsplash is available in a wide array of material and pattern options. That's why there is no need to be concerned about too-white looks. You can always make them feel more intriguing and dimensional with the right pattern options. But if you would like to take it to the next level, you can always integrate metal tiles to create diversity. For example, Escher and hexagon tiles are very suitable for such color mixes.