47+ Backsplash for Black Countertops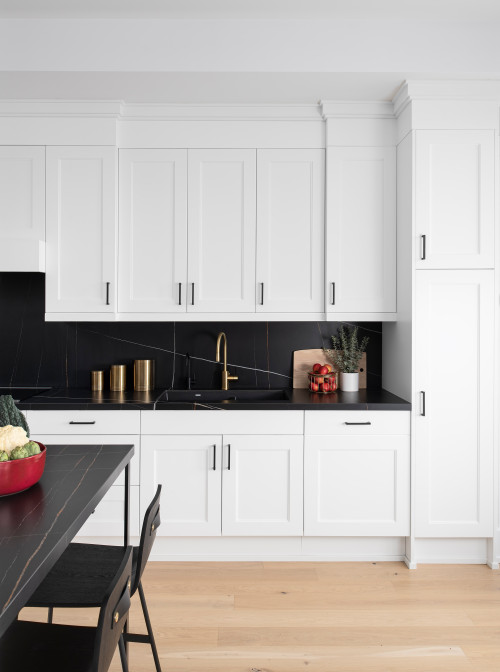 ID# 131402 | Houzz.com – Credit | © Lesley Brookes Design
---
White Shaker Cabinets and Light Wood Floors for a Scandinavian Kitchen Design
Scandinavian kitchens create such stylish and simple appeals. The black and white contrast creates a strong impact. The light wood floors add a warm look and harmonize with the white shaker cabinets. The black countertops and the backsplash match with the black hardware. The brass faucet draws the attention adding a luxurious glance.
ID# 131425 | Houzz.com – Credit | © Красюк Сергей
---
Black Appliances and Black Backsplash for Black Countertops
You can have a unique and sophisticated look with the black flat panel cabinets brilliantly. The complete black look gains movement with the black countertop and its white veins. The flat black backsplash completes the plain look of the black flat panel kitchen cabinets. It is better to use black appliances if you do not break the integrity of the black cabinet appeal.
Backsplash for Black Countertops
You may hesitate to use black color for your countertops but do not. Did you know that you can both create a warm atmosphere with black countertops, or you can have luxurious look with a soft contrast? It depends on the design style of course. The backsplash for black countertops gains importance here. The materials and the colors for the backsplash can change everything in the design. You may want to have a focal point, use black backsplash and countertops with white cabinets. You can have a sophisticated elegance with the black cabinets and countertops using a black backsplash.
The alternatives can vary according to your design style and taste. The farmhouse kitchen design can give you warm appeal with the black countertops. White brick can support this warmth with its natural look. Kitchens are the places where we are spending our time the most. Let's dive into the backsplash ideas for black countertops to have inspiration for the kitchens!
Backsplash Colors for Black Countertop
Black countertops are useful thanks to their ability to hide dirt, stain, and conceal cracks. If you have decided to use them, you may wonder about the backsplash colors for black countertops to achieve the perfect end for the kitchen design. Black color is a neutral and timeless color that you can use practically. They create limelight which you can combine them different backsplash colors. In this way, you can increase the emphasis on them.
In some kitchens, the white backsplash can help the black countertops to gain a warmer look. You can try out to go with a complete black backsplash with the countertops and create a focal point. Gray backsplash can help you to have a soft contrast with the black countertops.
White Backsplash for Black Countertop
The black and white colors are the contrast colors and can add movement to your kitchens perfectly. This is their nature, of course, but when you go with the natural palettes, white backsplash for black countertops can provide an intimate warm atmosphere. The more natural textures the more inviting look you get. You may want to have a sharp contrast to create a focal point and go with a plain and vibrant look. You can use a white backsplash for black countertops and have a contemporary appeal.
What material are black countertops?
When they are combined with the lighter cabinets and walls, the black countertops bring an identity to your kitchens. You can match them with gray, black, and white. Since black is a strong color and can create a contrast easily with light colors, you can soften its contrast with some gray or white veins. They have a great appeal when matched with the complete black flat-panel cabinets and black backsplash. They create such a sophisticated look.
What material are black countertops?
The most common ones are quartz and granite, of course, but you can consider soapstone as well. Many people choose the natural look for the black countertops to have harmony easily with other design elements in the kitchen.
Gray Backsplash for Black Countertop
Thanks to its soft and harmonious color hues, gray color can help you to create monochromatic color transitions. A gray backsplash for black countertops can provide a soft contrast and bring an elegant look. If you will use stainless steel appliances, you can get harmony with the gray countertops, and when you accentuate the cabinets with chrome handles you can increase the harmonious appeal.
Are black counters out of style?
Black countertops have no chance to be out of style thanks to their timeless color. You can use it for contemporary or industrial, traditional or modern. It does not matter what kind of design style is, it matters that this color will be always in style.
Black Backsplash for Black Countertop
Let's go beyond the limits and try something bold with the black backsplash for black countertops. Black color creates a noble and mysterious look somehow. If you consider having a luxurious and sophisticated appeal you can go with a black backsplash and countertops. They are perfect for the urban and contemporary design style themes especially when they are combined with the light color wood cabinets. You may want to make a different approach and add a minimalistic touch to the farmhouse kitchens and this black backsplash and countertop combination can help you.
Blue Backsplash for Black Countertop
The blue and white colors create a fresh and bright look always for the interiors, but how about pairing them with black countertops? A blue backsplash for black countertops can change many things for the kitchen cabinet design. You can use white cabinets and blue backsplash and have a dim atmosphere with blue hues. Using a blue backsplash for black countertops is not a common thing, but when you want to make a change and have a different view this way can help you to bring freshness with a classy appeal.
Black Countertop Materials
The black countertops are one of the design elements that you can achieve a sleek and chic look for your kitchen cabinets. The color matters, of course, however the materials matter, too. There are options for the black countertop materials to change the atmosphere of the kitchen design. As an example, the black granite countertop can be a good one. It brings a natural look with a stylish harmony to the kitchen cabinets. You may want to go with quartz material to put an expensive-looking view, or there are soapstone countertops which you can feel the nature with an elegant appeal.
Backsplash for Black Granite Countertops
Granite is made of basalt, gabbro, or diabase, we can say that it is a form of rock. Its color range from pure black to a combination of blacks with secondary colors such as white, blue, brown, gold, or green. It is durable and resilient, thanks to these, black granite kitchen countertops are very popular for kitchens. You may wonder what type of color backsplash for granite countertops will be better? You can use black granite as a backsplash to create a focal point, white backsplash will be a good choice to create a contrast, or gray backsplash can provide a monochromatic view. Let's check out some inspirations!
Are black kitchen countertops good?
Black kitchen countertops are the ones that unquestionably can create a warm look and contemporary appeal. It depends on the design style, of course, for this reason, black kitchen countertops are good to have a timeless material.
Backsplash for Black Quartz Countertops
One of the latest materials for black countertops is quartz. The trends come and go, but black countertops remain with variations of materials. There are many options for black quartz countertops such as matte surfaces, with sparkles, with secondary colors such as gray, white, gold, or brown, and glossy ones are available for you. You can use a black quartz backsplash for black quartz countertops to have integrity and limelight. White porcelain tile backsplash will be useful for these countertops If you will have glossy surfaces. You can try out gray color to soften the appeal of the kitchen cabinets.
Backsplash for Black Soapstone Countertops
The soapstone is made of dolomite, chlorite, and magnesite, you may like to use a natural countertop, for this the soapstone is a perfect fit for you. You can combine them from rustic to urban, or from farmhouse to contemporary themes. Their durability, heat resistance, being able to not stain, and they do not crack easily. Since they are non-porous they provide an easy cleaning process. However, using mild soap and a soft sponge will be better for them. You may wonder about the types and colors of backsplash for black soapstone countertops. The black soapstone itself is a perfect fit to create a focal point with the countertops. You can try out grau ceramic backsplash to soften the sharp black appeal. However, soapstone is one of the materials that can add a warm atmosphere to your kitchen cabinets thanks to their perfect surfaces.
Is black granite popular?
Black granite is always popular. The time, technological events are changing and according to these trends are changing. Thanks to its timeless colors, maybe patterns and veins can vary but black granite will be still popular in the future as well as today.
Are there black quartz countertops?
There are black quartz countertops and you can use them for an elegant, luxurious, and sophisticated look.