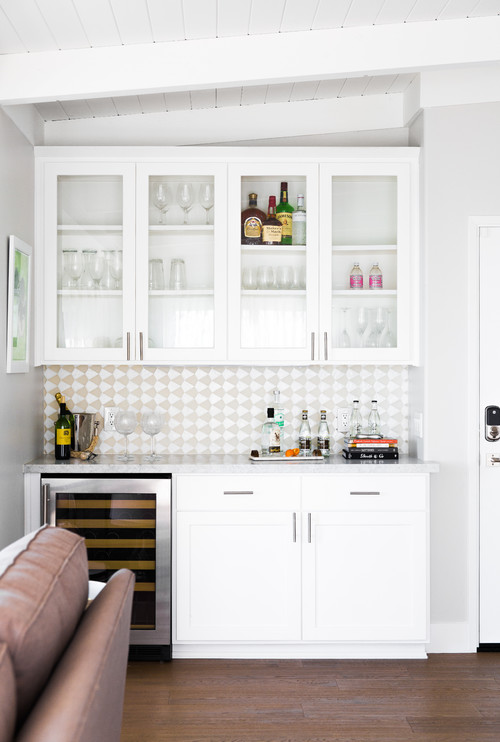 ID# 103206 | Houzz.com – Credit | © Katrina Stumbos Interior Design
---
Single wall white bar cabinet
Smooth contrast between the dark wood floor and white cabinets always helps to add a warm look to an interior. Glass–front cabinets and white color shaker cabinets make the area look spacious. It is so bright that the white countertop can not be seen, almost.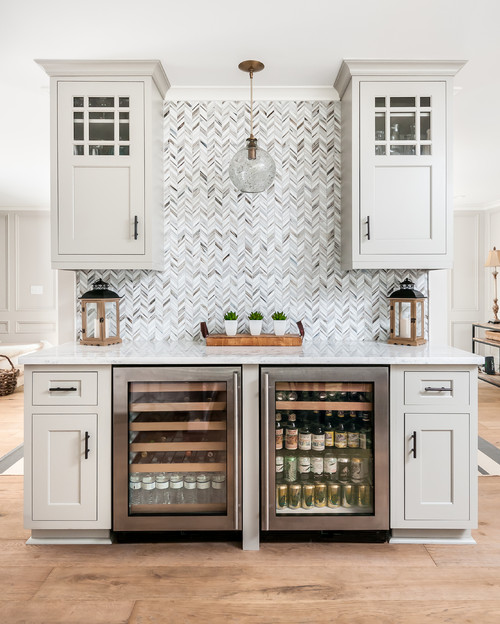 ID# 103228 | Houzz.com – Credit
---
White bar cabinets and multicoloured backsplash
Lively and clear look is in this bar cabinet design. While white shaker cabinets are creating the stylish look multicoloured chevron marble backsplash gives the lively look. There is a spacious atmosphere with the nice combination of white cabinets and light tone wood floor.
42+ White Bar Cabinet ( MOST POPULAR ) Nice Corner With Guests
It is a nice idea that having a place to have some entertainment with guests right? If you want to celebrate something with some of your friends or family in your home, white bar cabinet are good corners for these activities. Or maybe you are just thirsty then grab a bottle from your special bar cabinet! A fun corner where you can have sweet conversations with your guests.
Design Your Own Special Bar Cabinet
Bar cabinets are getting more popular nowadays. It is a truth that they can be very useful when it comes to entertaining both hosts and guests. Celebrate something? Yes, bar cabinets come to help, a sudden guest who broke up with someone? Bar cabinet is there, watching football with your friends? Oh please grab a bottle from the bar cabinet.
Of course they are not just fridges that you can put somewhere. They also have a unique design style with the interior that they belong to. While choosing the right design approach using white color will always help us more. Because we know that white color has an endless harmony with other textures and colors. Whatever the design style you have just combined it with the white color. The result will never be bad.
White color is on the way for combination!