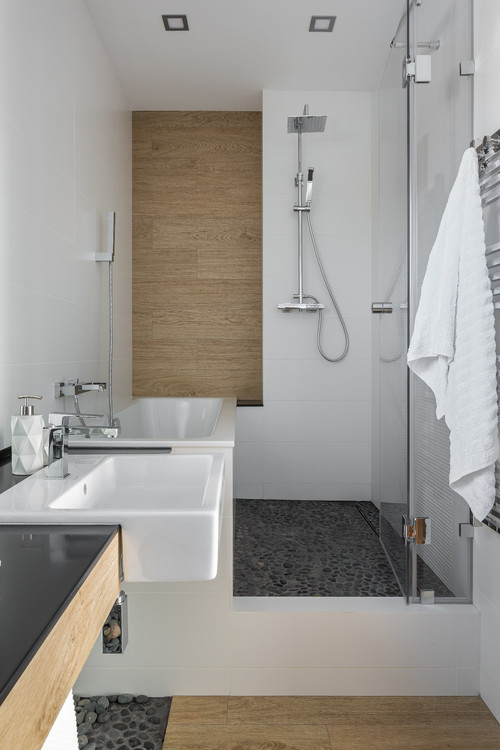 ID# 161906 | Houzz.com – Credit | © "Арт-Н"
---
Contemporary Bathroom with Black Pebbles
When you step into this modern bathroom, your eyes are drawn to the exquisite and elevated shower enclosed by glass doors. The shower floor is tastefully adorned with black pebble tiles that create a striking and contemporary ambiance. The white sink and alcove bathtub are unobtrusive, contributing to the clean and minimalist aesthetic of the space. By contrast with the dark shower floor, they create a visually captivating effect. The transparent shower doors add a touch of airiness, allowing natural light to seep in, resulting in a cheerful, welcoming atmosphere.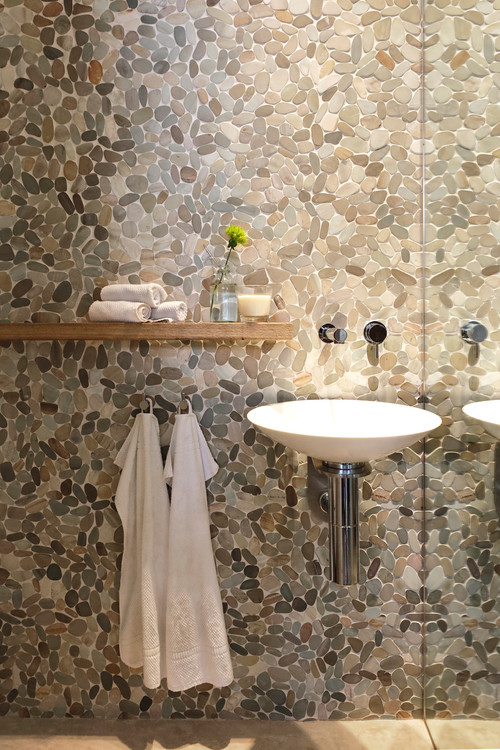 ID# 161911 | Houzz.com – Credit | © Architecture Saville Isaacs
---
Small Powder Room with Wall Mounted Sink
The powder room is a cozy space that boasts amazing pebble tile bathroom wall tiles, which give the room a unique and textured look. The wall-mounted sink adds a modern touch that makes the space feel open and uncluttered. The pebble tiles create an interesting focal point in the room, adding visual interest and depth. You'll love the wood floating shelf for its functionality and decor potential, so you can display your favorite decor items or store essentials. Lastly, convenient towel hangers offer practicality, ensuring your guests can help themselves to a fresh towel with ease. Overall, this powder room has everything you need to look and feel great!
Pebble Tile Bathroom
Bathrooms are probably the first and last rooms that we visit before going to the bed. That's why how they are designed becomes more essential as the way the spaces are articulated through colors and design forms influence us deeply. The same goes for our safety as well, especially in wet rooms like bathrooms. And if there is one material that comes with multiple aesthetic and functional benefits, it is the pebble tiles. Pebble stone tiles are one of the safest options for their non-slip nature to clad the floors. In this blog, we will be taking a closer look at pebble tile bathroom ideas that create natural designs speaking to the soul of its users.
A pebble tile bathroom can be a coastal, transitional, cottage, or even modern style. As pebble stones are versatile, they can adjust to any theme. You can even use these cute little tiles to delineate the different zones of the bathroom, accentuate the niches or create strips to punctuate the backsplashes. They are also helpful in bringing the outdoors in, creating a natural design. Here we will be covering designs that employ pebble tiles in many different ways that will hopefully inspire you for your home improvement projects.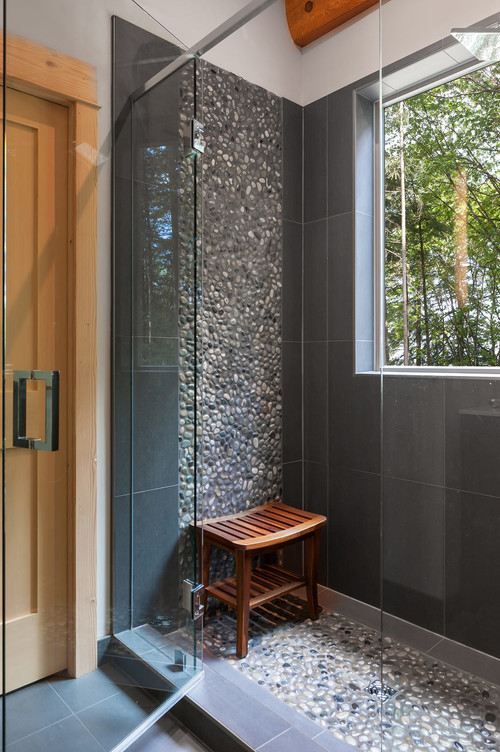 ID# 161901 | Houzz.com – Credit | © Streamline Design Ltd.
---
Pebble Tile Bathroom Wall and Floor with Wood Details
Step inside this beautiful transitional bathroom and feel at peace. Serene gray tiles adorn the walls, while pebble tiles line the shower walls and floor, bringing the healing power of nature inside. The large window bathes the space in gentle sunlight, inviting you to take in the beauty of the outdoors and relax. This oasis blends traditional and modern elements to create a timeless feel, with a soothing color palette and natural materials that will never go out of style. Let the rough-hewn elegance of the pebble tiles and the cool tranquility of the gray walls transport you to a spa-like sanctuary where you can recharge your batteries and restore your sense of well-being.
Natural Stone Mosaic Tiles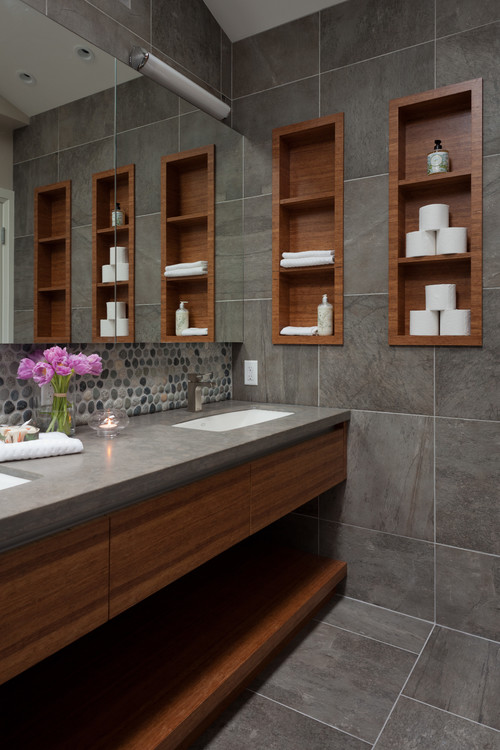 ID# 161902 | Houzz.com – Credit | © Upward Construction
---
Contemporary Bathroom with Pebble Backsplash Tiles
In this contemporary bathroom, gray porcelain wall and floor tiles create a sleek and modern backdrop! A wood vanity with a concrete top adds warmth and natural texture to the space while the pebble tile backsplash adds a unique and organic touch. Built-in wood niches provide convenient storage for bathroom essentials, and mirrored cabinets add a touch of glamour and functionality.
Is pebble tile hard to clean?
Pebble tiles, like any other tiles, require regular cleaning as body oil, soap, and shampoo residue accumulate in the showers, which causes mold and mildew in the long term. That's why drying the pebble tiles after every shower is one of the key things to do. Plus, it also depends on the shape of the pebble tiles. If they are round-shaped and are picked up from the riverbeds, then it will be harder to clean them when compared to the porcelain-made flat pebble tiles.
But apart from that the cleaning process is cheap and easy. To clean it, you can mix vinegar and water in a spray bottle in a ratio of 1:16 (1: vinegar; 16: water). Spray the pebble tile floor and let the mixture set for 15 minutes to do its job. After 15 minutes, you can start to scrub the floor with a soft brush to remove the accumulated dirt. Then rinse the pebble floor or wall with warm water and let it dry. Instead of vinegar, you can also use mild detergents and perhaps use the vinegar for more stubborn stains. But to ensure what is the best way for that specific pebble tile you get, don't forget to check the manufacturer's instructions, which will give you the best idea.
Another thing to pay attention to decide the best cleaning method is knowing if the tiles are sealed and if the grout is concrete or epoxy. Then you can adjust the cleaning routine accordingly.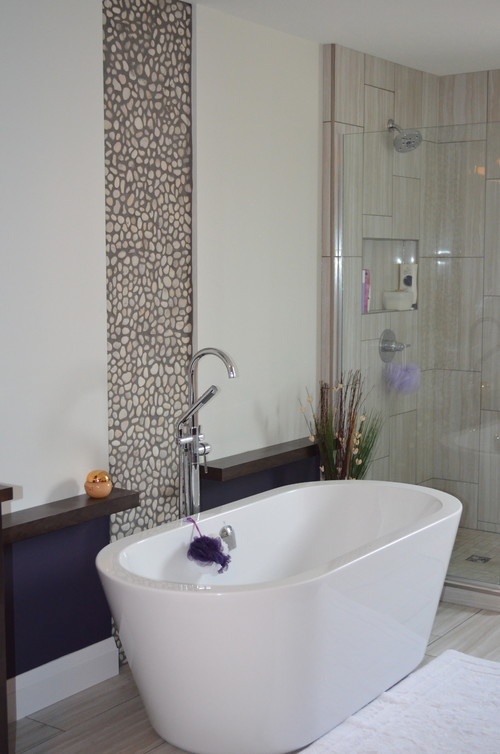 ID# 161903 | Houzz.com – Credit | © Bella Vista Developments
---
White Freestanding Tub with Chrome Fixtures
In this transitional bathroom, a white freestanding tub takes center stage, creating a focal point in the space. The tub is complemented by a unique and eye-catching accent wall behind it, featuring pebble wall tiles that add texture and visual interest. Chrome fixtures provide a sleek and modern touch, while the lower parts of the walls are painted in navy blue, adding depth and contrast to the space.
Pebble Tile Bathroom Floor
If you want to know one of the safest options to use on the bathroom floor, it is the pebble tiles providing non-slip ground. If you have children running around the house or even just for yourself, you can rely on pebble tile floors to avoid any injury. On the other hand, If you are worried about their staggered edges, flat pebble tiles are available on the market, which won't cause any discomfort underfoot.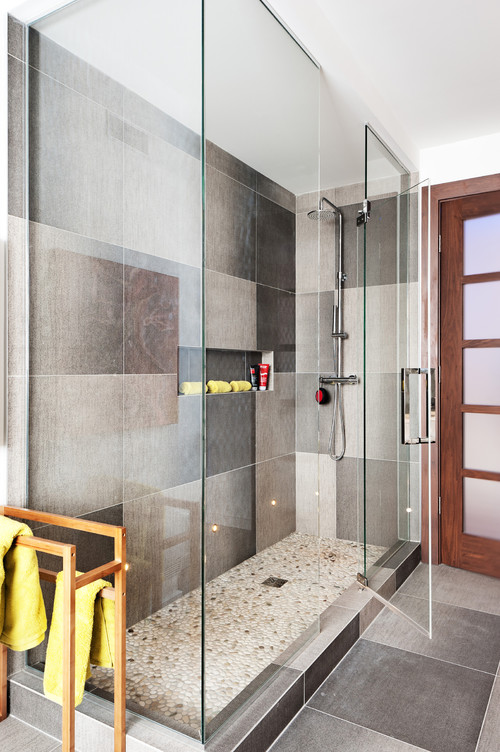 ID# 161904 | Houzz.com – Credit | © David Giral
---
Modern Walk-in Shower Design with Gray Porcelain Tiles
As you step into this modern walk-in shower, the large gray porcelain tiles exude a sleek and fashionable vibe! The pebble tile bathroom floor of the shower adds a natural and textural touch to the space, making you feel grounded and connected to nature. The frameless glass doors give the shower a clean and minimalist look while still allowing the beauty of the tiles to shine through, making you feel a sense of clarity and simplicity.
Is pebble tile slippery?
Pebble tiles are not slippery, which is one of the reasons why they are often preferred especially to clad the shower room floors.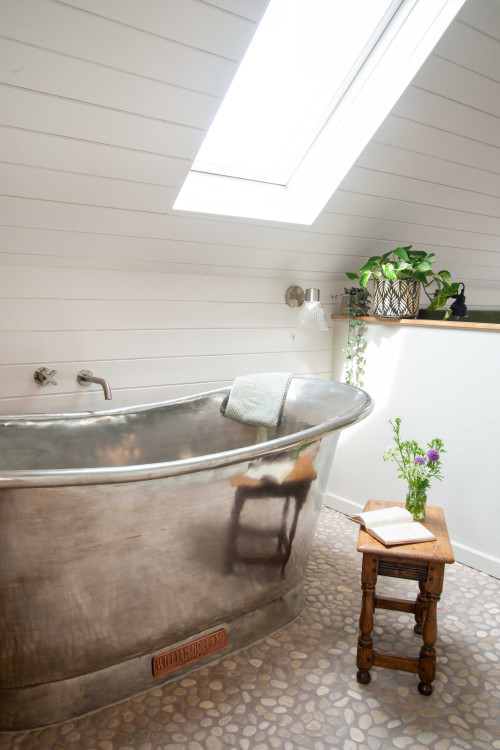 ID# 161905 | Houzz.com – Credit | © No.54 Interiors
---
Pebble Tile Bathroom Floor with Metal Bathtub
In this Scandinavian-inspired bathroom with a rustic flair, a metal freestanding bathtub becomes the focal point of the space! The pebble tile bathroom floor adds a touch of natural texture and complements the rustic aesthetic. The white shiplap ceiling adds a bright and airy feel to the room while a skylight brings in natural light, enhancing the overall Scandinavian vibe. Wood details, such as a stool, add warmth and natural elements to the space, adding to the rustic flair.
Pebble Tile Bathroom Wall
Whether for an accent wall, backsplash, or a niche feature, pebble tiles can be used for various purposes to add extra texture to the wall. You can even create a strip with them to highlight the shower head and tap part while the rest can be clad in rather neutral and pattern-free tiles to balance it.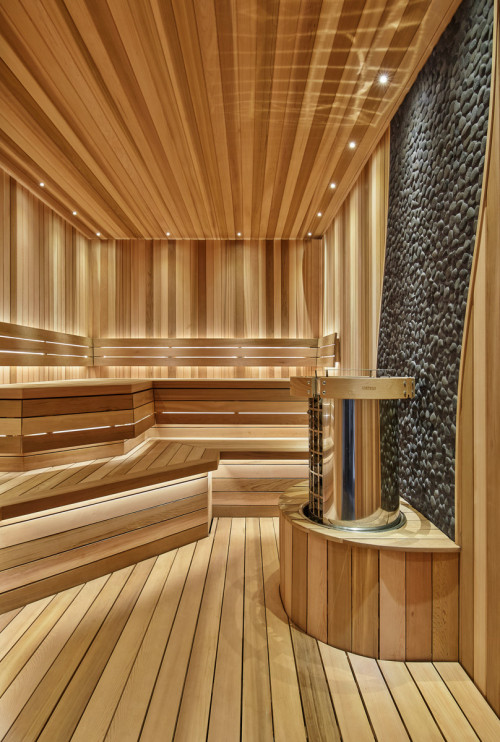 ID# 161907 | Houzz.com – Credit | © Studio Ridge Residential
---
Exquisite Sauna Room with Black Accent Wall
As you step into our exquisite custom-built sauna room, you'll immediately feel a sense of pure luxury and comfort! The stunning cedar paneling gives off a warm and welcoming natural glow that's sure to make you feel at ease. To add a modern twist, a striking black pebble tile accent wall contrasts beautifully with the wood. The pebble tile wall not only provides visual interest but also adds an extra layer of texture, making it an irresistible focal point in the room.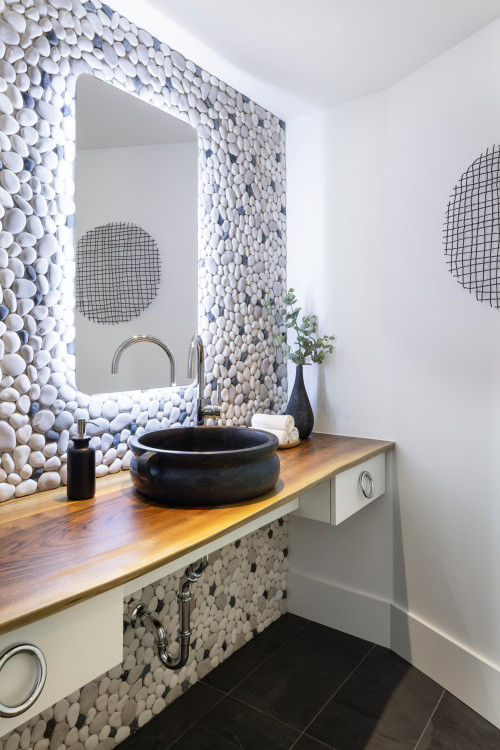 ID# 161908 | Houzz.com – Credit | © Best Builders ltd
---
Pebble Tile Bathroom Backsplash with Black Vessel Sink
In the contemporary bathroom, a white pebble tile backsplash adds a unique and natural touch to the space, creating a visually stunning feature. LED lights are strategically placed around the mirror, providing ample illumination for grooming tasks while adding a modern and sleek aesthetic. The floating vanity in white boasts clean lines and a minimalist design, with a wood top adding warmth and texture to the space. A black vessel sink with rustic flair adds a striking contrast against the white vanity, creating an eye-catching focal point.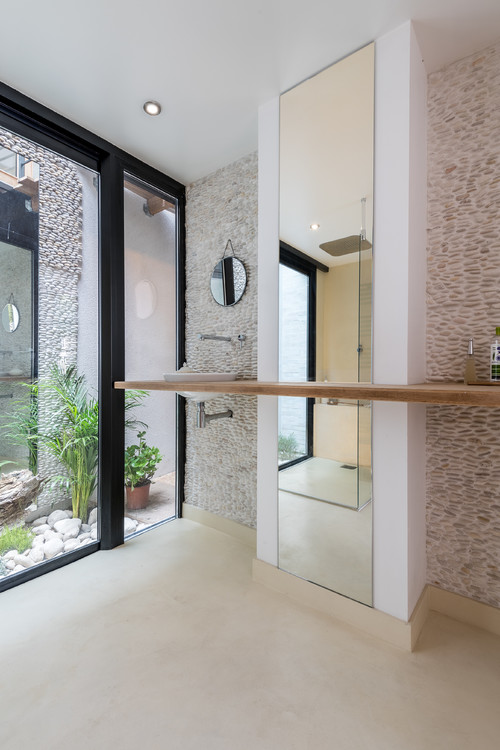 ID# 161909 | Houzz.com – Credit | © Stanislas Ledoux
---
Minimalist Modern Bathroom with Unique Vanity Design
As you step into the modern bathroom, the earthy beige pebble mosaic tiles catch your eye, imbuing the space with a natural and textural vibe. The wood shelf, serving as a minimalist vanity, invites you to touch its smooth surface and feel its organic warmth. Looking into the full height frameless mirror, you feel a sense of jubilation as it reflects the light and visually expands the space, bathed in contemporary elegance. Walking onto the beige floor, you sense a seamless connection to the pebble wall tiles, harmoniously blending the space into a cohesive whole.
How often reseal pebble shower floor?
As someone who cares about preserving the beauty and integrity of your natural stone pebble tiles, it's important to take steps to prevent the growth of mold and mildew caused by water permeating through their porous surfaces. First and foremost, it's crucial to regularly seal your pebble tiles. Experts recommend sealing your pebble shower floor every six months to a year to ensure the best results. But not all sealers are created equal – be sure to choose one that's specifically designed for your type of tiles. For example, if your pebble shower floors are made of porcelain or marble, select a sealer that's tailored to those materials. If you have natural stone pebble tiles, a sealer that's formulated for use on natural stones will be your best bet for keeping them looking great!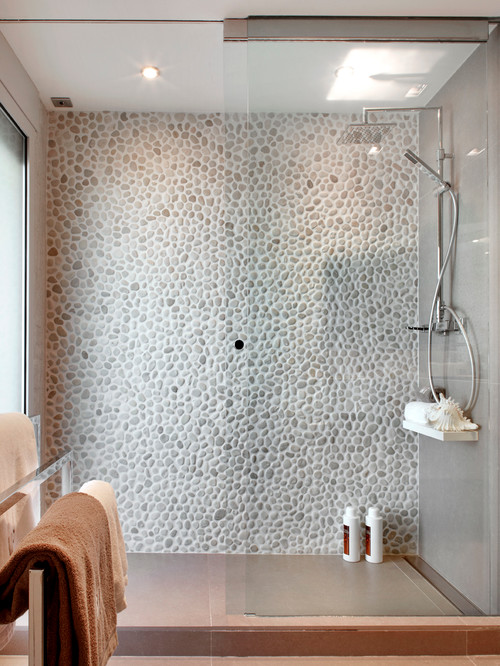 ID# 161910 | Houzz.com – Credit | © MOLINS DESIGN
---
Mediterranean Bathroom with Large Walk-in Shower
In the Mediterranean bathroom, a large walk-in shower takes center stage, featuring a gray pebble tile accent wall that adds texture and visual interest to the space. The beige floor complements the Mediterranean color palette, creating a warm and inviting atmosphere. A frameless glass separation keeps the shower area open and airy, while chrome fixtures add a touch of elegance and sophistication.
Pros and Cons of the Pebble Stone Tiles
Pebbles are easy-to-find natural materials abundant in nature on beaches and riversides. They can be used in our home improvement projects to bring the outdoors in. And of course, like any other materials, they also come with pros and cons. Now let's discover what they are.
Pros of Pebble Stone Tiles:
First of all, pebble tiles provide a natural finish that looks very aesthetic. They also create textured surfaces that will stimulate your senses and activate your body. Secondly, you can lay them out in different ways. You can either use their flatter edges on the floor or you can install them in their standing positions, which is especially great for shower walls or to create backsplashes. This way, you can achieve more textured backgrounds. Thirdly, they are available in many different colors. Whether you want to have a design in earthy shades or dark shades, you will have all the options.
In functional terms, they are easy to install and are affordable and DIY-friendly materials. You won't need anything like tile cutters and they don't necessitate any professional help. Probably the most important and sought-after feature of bathroom floors is the non-slip nature of the material, something which pebble stones have. Thanks to their small size and more fraction they bring underfoot, they are non-slippery, preventing injuries. It is especially great when you have children running around and playing with water in the bathrooms.
Another important feature is that they are durable and won't scratch easily. As long as you seal them regularly, they will last for years without causing any trouble. Plus, who would say no to a food massage and therapy, which is surely provided by the pebble stone tiles?
Cons of Pebble Stone Tiles:
When it comes to the disadvantageous sides of the pebbles, they are hard to clean and demand regular cleaning and sealing. Only this way, you can prevent water from seeping through them over time. Also, with the pebbles, unless you opt for a flat finish, there will be gaps, and not every tile will be of the same size and height, dirt will easily be able to accumulate between those gaps. And it will make them harder to clean. It is also recommended to dry the pebble floor after every shower if you want it to last for longer years.
Lastly, the pebble choice is very important. If you gather them just randomly, including the sharp-edged ones, they might hurt your feet. But to eliminate this possibility, you can choose a flat pebble floor finish.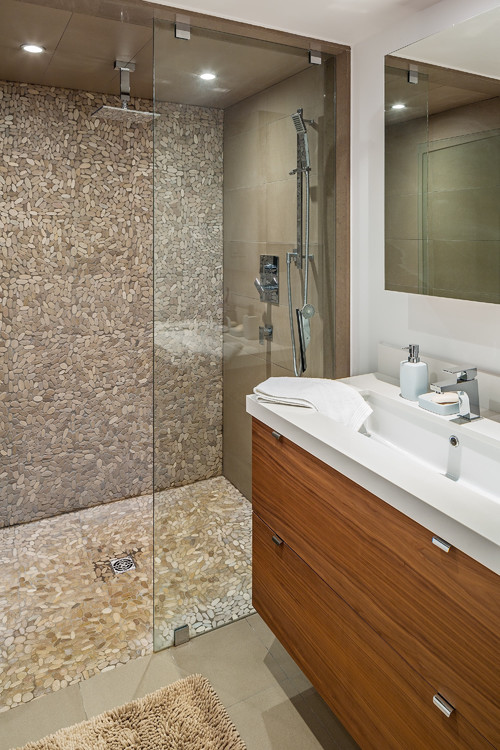 ID# 161912 | Houzz.com – Credit | © Peter A. Sellar – Architectural
---
Pebble Tile Bathroom Wall and Floor with Chrome Details
The contemporary bathroom features a sleek wood vanity with a white top, adding warmth and natural beauty to the space! The walk in shower is divided by a frameless glass panel, creating a seamless and open feel. The highlight of the bathroom is the stunning pebble tile wall and floor, adding a unique and textured element to the design. The pebble tile bathroom creates a natural and spa-like atmosphere, inviting relaxation and tranquility. Chrome fixtures add a touch of modernity and shine and complement the overall contemporary aesthetic of the bathroom.
How to lay the bathroom floor using pebble tiles?
As pebble stones come in sheets of stones joined together, it makes it a lot easier to install them. But how do you lay them? Here is how. Before starting to lay tiles, sweep the floor first to remove the dust and dirt from the application area. It is also better if you practice the design first to ensure that they look harmonious and the sheets interlock with each other seamlessly. This way, you will get the chance to see how the stone sheets fit together.
After done with this second step, you can spread the thin-set mortar with a notched trowel. But don't apply it to the whole area, and rather keep it small to give yourself more time before the mortar dries without you having finished laying. Lay the tiles and apply some pressure to them with your hands. If any mortar oozes up between the tiles, just wipe it immediately before it gets dry. A damp sponge will do the work for you at this point.
Cutting Tiles
For the edges, you might need to cut the tile sheets to get the right size. You can even use individual stones on the extra sheets to fill the gaps and create a cohesive look. To do so, you can use a utility knife. Also, make sure to leave ¼ inch gap along the edges to allow for expansion.
Lastly, wipe away the excess mortar and let it dry for the next 24-48 hours. Then come back to apply the grout. Mix it according to the manufacturer's instructions. While applying it with a grout float, make sure that the grout fills all the gaps. Lastly, remove the excess grout with a damp sponge.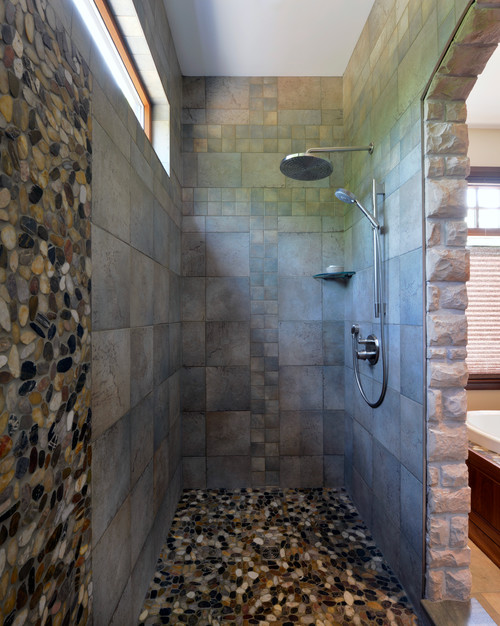 ID# 161913 | Houzz.com – Credit | © Chuck Mills Design
---
Rustic Bathroom Design with Gray Stone Tiles
The rustic bathroom features gray stone wall tiles, adding a sense of natural and earthy charm to the space! The rugged texture of the stone tiles creates a rustic and weathered look, evoking a sense of warmth and coziness. The pebble tile bathroom floor complements the rustic aesthetic with its organic and textural appearance, adding an additional layer of natural beauty to the design. Chrome fixtures provide a touch of modernity and contrast against the rustic backdrop and add a sleek and polished element to the space. The earthy color palette, consisting of neutral tones and natural hues, further enhances the rustic ambiance of the bathroom.