43+ L-Shaped Kitchen Ideas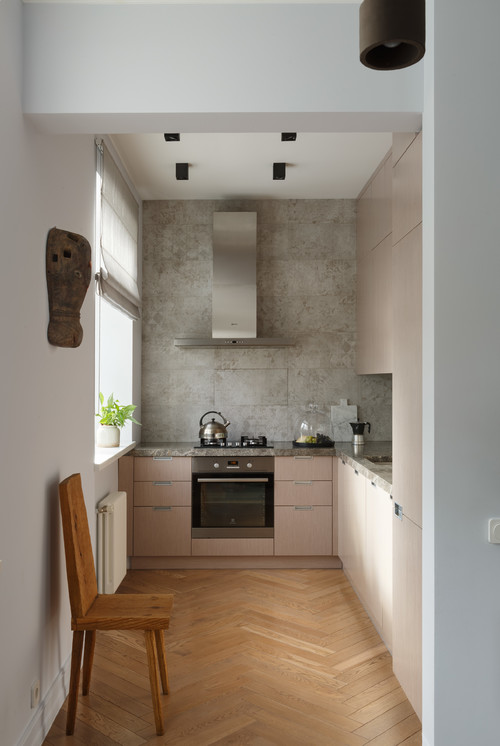 ID# 143915 | Houzz.com – Credit | © U(nik) design team
---
Small L-Shaped Kitchen with Muted Pink Cabinets and Brown Backsplash
L-shaped layouts are one of the most recommended layout options for small kitchens like this one. And just because it is small doesn't mean that you have to give up on more colored design options. Here, for example, the muted pink cabinets come together perfectly with a brown backsplash and matching countertops. The use of large format tiles on the backsplash expands the visual scheme, while the standalone wood stool and a wall accessory mounted above it inject a dose of personality into the design.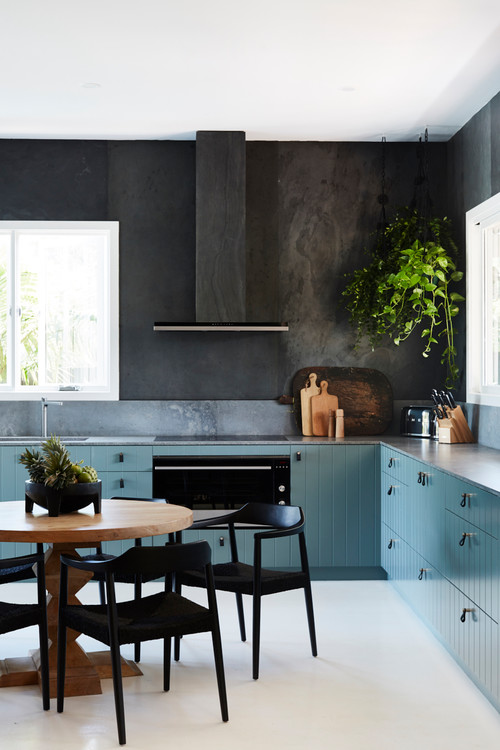 ID# 143930 | Houzz.com – Credit | © The Designory
---
Blue Cabinets with Black Walls and Blue Backsplash
This visually striking kitchen is designed as a holiday house for a boutique accommodation business, instilling a sense of calmness and instant tranquility in its visitors. It is mainly characterized by V-groove blue cabinets, a blue backsplash, blue countertops, and black texture rich walls that result in a luxe palette that feels casual as well. Adding to that are the indoor plants, and wood dining table, that create a tropical inspired environment. And the lack of upper cabinetry helps visitors enjoy the holiday vibes to the fullest.
L-Shaped Kitchen Ideas
L-shaped kitchens have one of the most classic and popular layouts that promise efficient and ergonomic cooking spaces. In these kitchens, situated along the two right-angled walls, the cabinets can involve negative spaces such as corners and incorporate them into a viable kitchen design. Plus, thanks to their flexibility, L-shaped layouts can be adjusted to a kitchen of any size and type, be it small, large, medium, open-plan, or enclosed. That's why L-shaped kitchen ideas maintain their popularity among designers and homeowners even today.
L-shaped kitchen ideas focus on the usability and efficiency of the space and the smooth workflow. These ideas also welcome peninsulas and kitchen islands to expand the kitchen's furniture vocabulary. And in terms of aesthetics, L-shaped kitchens might even surprise you by pushing the boundaries of your imagination. Hoping that we have whetted your appetite enough already, we offer you a list of L-shaped kitchen ideas. Just take a closer look at them to get to know this layout better and steal some inspiration from their clever use of space.
How much does an L-shaped kitchen cost?
Considering a standard kitchen measures 10*10, the average costs for these kitchens range between $15,000 and $30,000. In other words, you can make your budget plan on the basis that a kitchen remodeling costs 75 and 150 USD per square foot.
What can I do with an L-shaped kitchen?
Tucked into the corners, L-shaped kitchens consist of two arms of cabinetry along the right-angled walls, thus maximizing the use of space best. This layout also carves out an open space in the center, which can be furnished with a kitchen island or a dining table depending on the needs of homeowners.
In L-shaped layouts, you can always integrate a window either to place the peninsula by it or run an arm of cabinetry below the window. This way, your cooking space gets the chance to utilize an abundance of natural light. Also, with windows, the outdoor views are invited in, bringing a calming effect.
A peninsula could also make one part of the L-shape. If you wish, you could support these layouts by getting a kitchen island to provide you with extra storage and a worktop.
But if you think that you need lots of storage, you can use full-height cabinets for the entire L. And use a kitchen island to accommodate the stove and sink. Keep the island as large as possible to leave some space for food prep. The rest of the appliances can be integrated into the full-height cabinets.
L-Shaped Kitchen Layout
The L-shaped layout of the kitchen creates an ergonomic and efficient cooking space while integrating corners and windows into the design and maximizing their benefits.
Modern L-Shaped Kitchen
Modern L-shaped kitchens love integrating windows into the layout to harvest plenty of natural light and create a well-lit space to diminish the need for artificial light. The juxtaposition of different materials and the use of glass sheets and slab backsplashes in light shades are also popular to define the background in modern kitchens.
How to build an I-shaped kitchen island?
One of the most important points is to rigorously proportionate the island to the overall scale of the kitchen. And secondly, decide for what purposes you would like to use the island. For storage? Worktop with hob and sink? Eating space? Determining what you expect from your island will make it easier for you to decide on the budget, shape, and size of the kitchen island.
Small L-Shaped Kitchen
The color spectrum is significant in small L-shaped kitchens. To play safe, you can go with white-dominant color schemes, muted shades, or different saturations of the same color for a sophisticated look. In these kitchens, also, instead of an island, you can go with a peninsula and trade pendants with ceiling-mounted lambs to carve out more open space both on the floor and overhead.
L-Shaped Kitchen with Island
L-shaped kitchens are designed in such a way that they tend to carve out a space for a kitchen island. If you need extra storage or want to create a social hub of sorts, adding an island is the ideal and functional way.
Are L-shaped kitchens good?
L-shaped layouts are popular for good reason. First of all, they are adjustable to any kitchen, whether the kitchen is small, medium, or large, making maximum use of the space. And when doing so, these L-shaped layouts also facilitate an efficient and practical workflow. The working triangle feels smooth leaving almost no room for human traffic. Plus, the corners that remain a negative space most of the time get the chance to be integrated into the kitchens.
L-Shaped Kitchen with Peninsula
When space is limited (or perhaps you don't want to) incorporate a kitchen island, you can use a peninsula to create an informal, cozy dining area in the kitchen.
What is the disadvantage of the L-shaped kitchen?
L-shaped kitchens are not suitable to host multiple cooks, and corner base cabinets turn into a black hole. Unless designed properly, you might find it hard to reach cookware kept at the back of these corner cabinets. Additionally, these kitchens might force you to find extra storage. For example, you may also need to get an island. And if you don't have enough space for an island, that could be tricky as well.
L-Shaped Kitchen without Upper Cabinets
Ditching upper cabinetry in any kitchen frees the walls and allows for further personalization of the kitchen with floating shelves, wall-mounted prints, and kitchen plants. So, as long as you ensure that you have enough storage, you can trade upper cabinets with free walls, floating shelves, or better with windows.
Open Concept L-Shaped Kitchen
L-shaped kitchens are popularized by open concept floor plans that create flexible entrances and exits to the kitchen. But if you want to develop a better sense of space you can use a kitchen island or dining table to differentiate the kitchen from the lounge area. Especially, if you have a small space this layout will be an ideal option to create a functional and at the same time stylish kitchen design.
L-Shaped Kitchen Cabinets
Full-height cabinets, upper wall units, and floating shelves could make for a viable design, ensuring you have enough storage to create a clutter free working space. Shaker style and flat panel doors are the most popular options for l-shaped kitchen cabinets. Using an island with cabinets is also a great way to add more storage space.
Where should a fridge be in an L-shaped kitchen?
In L-shaped kitchens, the fridge should be placed at one of the ends and far from the sink. Such spacing ensures that you have enough countertops in between.
L-Shaped Kitchen Backsplash Options
If the aim is to make your L-shaped kitchen look more spacious, mirror splash-backs, glass sheets, and polished backsplashes are the route to go. Aside from those, kit kat mosaics, subway tiles, Mediterranean-inspired tiles, marble slabs, and penny round tile backsplashes make great additions to any kitchen, including L-shaped kitchens. But if you want to create a focal point with your backsplash, you can even use two types of backsplashes.
How do you make a small L-shaped kitchen look bigger?
One of the best ways to make a small L-shaped kitchen look bigger is to integrate mirror or high-gloss cabinets to create an illusion of spaciousness. Likewise, instead of typical tile backsplashes, you can utilize window backsplashes that will not only provide brightness but also outdoor views, blurring the distinction between the interior and exterior spaces. If you are not into window backsplashes, glass and mirror backsplashes could serve the same purpose. Or you can just treat your backsplashes with a high-gloss finish to create a similar effect.
Secondly, allocating one side of L to the full-height cabinets and leaving the other top half empty help kitchens to feel expanded. Plus, large-format tiles can have an enlarging effect on the spaces. Monochromatic looks and integration of different saturations of the same color could also be beneficial to make the kitchen feel roomier.