35+ Different Kitchen Backsplash Ideas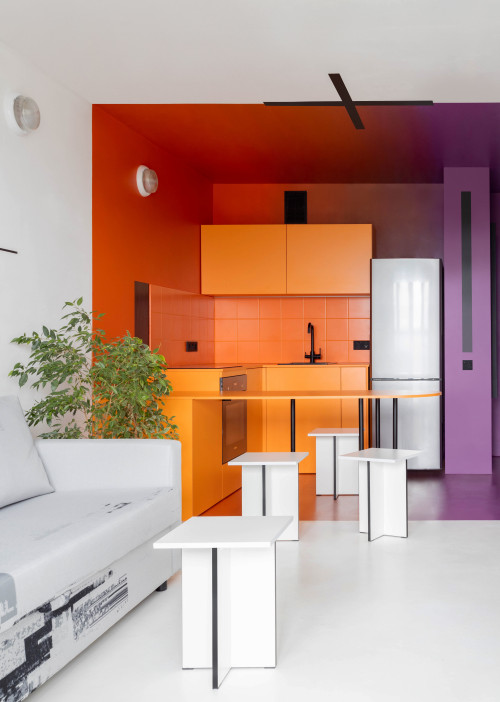 ID# 137918 | Houzz.com – Credit | © Уразметов Рустэм
---
Contemporary Design with Burst of Colors
The dynamic color burst in this contemporary kitchen design creates a jaw-dropping effect. The purple and orange colors of the kitchen provide a lively look after the all-white living room décor. The square tile kitchen backsplash adds texture and movement, however, these do not draw attention since the colors stand out more.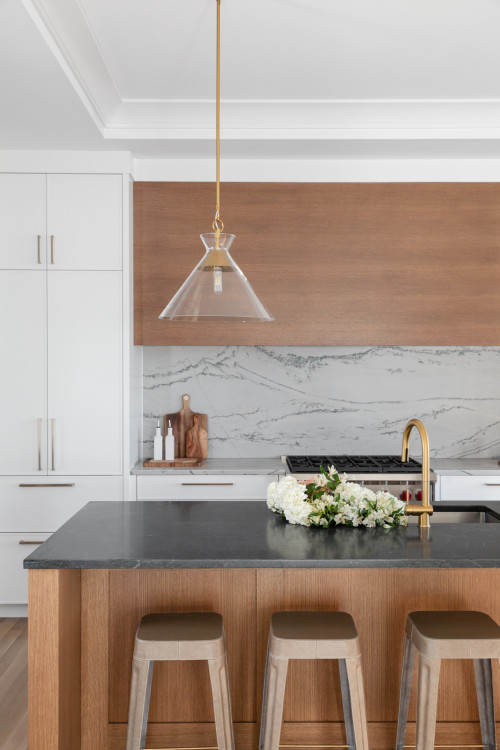 ID# 137925 | Houzz.com – Credit | © Reena Sotropa In House Design Group
---
Contemporary Flat-Panel Wood and White Cabinets
The seamless look of the wood upper cabinets and the wood island provide a cohesive look adding a natural atmosphere to this contemporary kitchen. The black worktop of the island balances the environment with a matching look to the dark veins of the marble slab backsplash.
Different Kitchen Backsplash Ideas
Cabinets and countertops are more than just pieces of furniture when constructing a kitchen. Even if these are the components that serve the most purposes, there are several small features, such as sinks, lighting, and, of course, the backsplash, that have an impact on the atmosphere and style of the room and enable us to view everything as a complete. A backsplash in a kitchen should be made of materials that are simple to wipe off and clean when spills and splashes occur while cooking. A well-chosen backsplash may give your kitchen an instantaneously altogether new aesthetic in addition to its useful element. You can find many options for different kitchen backsplash ideas in today's market.
The backsplash is a design feature where you may express your creativity and add color and individuality. Recently, many different kitchen backsplash options have been available, ranging from classic kitchen and bathroom tiles to glass backsplash tiles, ceramic subway tiles, and even wood and galvanized metal, which is beginning to reappear in style. It provides you with countless color, pattern, form, and size possibilities, giving you an extraordinary design opportunity. You can take chances and select daring things if you want to design distinctive environments. So, if you are ready to dive into stunning different kitchen backsplash ideas, scroll down and get inspired!
Different Tile Shapes for Kitchen Backsplash
Kitchen design is a difficult task; there are many materials, color schemes, and shape options to consider. When choosing your very own backsplash after settling on all of these options, you can feel restless. It makes sense, but have no fear—not it's that difficult to choose among the many different tile shapes for kitchen backsplash ideas. You have a variety of kitchen backsplash alternatives to pick from, but in our opinion, there is always "one" style you can rely on.
No kitchen renovation is complete without the backsplash, even though it is typically the last component to be finished. Since then, different tile shapes for kitchen backsplashes have become just as important as the colors and materials. There are several layout and shape choices for kitchen backsplashes, including the subway tiles pattern, hexagons, herringbones, penny tiles, the chevron arrangement, the diamond layout, or the fish scale tiles. To examine and comprehend the different tile shapes for kitchen backsplash ideas, scroll down.
Subway Tile Kitchen Backsplash
Today's market offers a vast selection of subway tiles in terms of materials, colors, and sizes. Kitchens may use subway tiles in a variety of ways, from dazzling glass to natural stones. But none of them can match the timeless elegance of a subway tile kitchen backsplash, especially in white color. Because of its modest elegance and natural beauty, a traditional subway tile kitchen backsplash is a tried-and-true addition to any kitchen.
A timeless subway tile kitchen backslash is the most popular and flexible option for kitchens since it never goes out of style. In addition to the conventional staggered stack pattern, these plain rectangular tiles can be placed in several other ways, such as herringbone, chevron, vertical stacked, and basketweave. This may help you draw more people in visually. Since subway tiles are comparable to black canvas, they may also go well with a range of design aesthetics. Furthermore, there are several opportunities to experiment with different textures, materials, and colors while employing these tiles. Kitchens may be made elegant using a variety of materials, such as glass, porcelain, ceramic, and natural stone.
What is the most popular backsplash for 2022?
Clear, geometric lines and neutral color palettes make up the foundation of a contemporary kitchen backsplash design, which stands out in 2022 trends. Traditional subway tiles may be stacked to give a room a more contemporary look. For a contemporary look, geometric tiles like triangles or hexagons are ideal!
Hexagon Kitchen Backsplash
Due to its propensity to reflect its surroundings, hexagon tile suits a variety of design styles, including classic, farmhouse, modern, traditional, bohemian, minimalist, and more. In your kitchens, hexagon tile kitchen backsplash designs come in a wide range of sizes, materials, and patterns and are long-lasting. Any style or size of hexagon tile may be utilized to create a magnificent backsplash. White hexagonal tiles are a terrific alternative that will never go out of style for a light and airy design. Bright hues look more forceful whereas beige and gray seem more relaxing. But every color adds style. Black and white also clash sharply all the time.
Hexagonal or honeycomb-shaped kitchen backsplashes offer a chic, enduring appeal. Because there are so many different types of hex tiles available, you may utilize this material in any kitchen. With a white hexagon tile kitchen backsplash, you may tie everything together neatly, or you can add an unexpected twist by utilizing contrasting hex tiles to create a striking focal point between your cabinets. Whatever you choose, a well-constructed hexagon tile kitchen backsplash may, by standing out, assist you in designing the kitchen of your dreams.
Diamond Tile Kitchen Backsplash
The diamond tile kitchen backsplash design is created by arranging square tiles on a diagonal, and it gives your kitchen such a chic appearance! The kitchen backsplash made of diamond-shaped tiles offers countless creative options due to its striking geometry. They are just amazing, audacious, and fantastic. Your impending refurbishment seems to be covered in this form.
If you want to give your kitchen a unique look, a diamond tile kitchen backsplash may be the solution. Diamond tiles are available in a wide range of materials and hues, so there are many options available on the market right now for you to select the ideal tile to match the backsplash in your kitchen. The versatility of diamond tiles, which ranges from classic to beach-style, mid-century modern, and contemporary kitchens, is another feature that sets them apart. Let's look at some chic ideas for diamond tile kitchen backsplash designs!
What backsplashes are out of style?
4" backsplash designs are out of style.
Square Tile Kitchen Backsplash
Square tile kitchen backsplashes are a classic that will never go out of style. Until a few decades ago, the standard square size was 20×20 or 33×33 cm. Today, the most popular square size is 60×60 cm since it can be utilized in both large and small settings. Huge sizes are a current trend in interior design concepts. The backsplash area is 60 cm tall, making it simple to install 60×60 tiles on your backsplash wall. On the other hand, large square tiles result in fewer seams, extending spaces and volumes by providing surfaces—be they walls or floors—a sense of continuity. To heighten this impression, nearly hide the joints.
When selecting tile for your kitchen backsplash, there are countless shapes, patterns, styles, and colors to choose from. It should come as no surprise that choosing where to start may be difficult. A square tile kitchen backsplash could be overshadowed by modern geometric patterns and conventional subway tile. But as we have observed, this adaptive form has returned. A tried-and-true choice that works well in several settings, from classic to contemporary, is a square tile kitchen backsplash.
Fish Scale Tile Kitchen Backsplash
Are you looking for something new since you've become tired of the traditional backsplash tiles? One of the most popular tile design ideas right now is fish scale tiles. Fish scale tiles often referred to as mermaid tiles, scallop tiles, or fan tiles, are a lovely addition to making items that resemble works of art. These tiles may be used for backsplashes to make them stand out, fireplace surrounds, shower or bathroom walls, etc. If you want to find out more about fish scale tile kitchen backsplash designs, go through these several alternative ideas!
A backsplash is mostly useful in the kitchen, but it is also an important design component that gives aesthetically appealing charms. The backsplash in the kitchen is the ideal location to be more whimsical, in contrast to the other components. The fish scale tile's distinctive and entertaining form encourages creativity and adds a touch of individuality to your design. This lovely design gained popularity throughout the 1920s Art Deco period and has recently had a big resurgence. It has never been more attractive to include the Art Deco style in your design project thanks to these gorgeous tiles. A fish scale tile kitchen backsplash comes in a variety of materials and colors, and with its quirky design, it offers a seaworthy style for kitchen backsplashes! You may add a rich sense with marble or bring the quiet and restful atmosphere of the ocean with blue!
Different Materials for Kitchen Backsplash
Different materials for kitchen backsplashes may be used, and well-balanced design ideas can be used to create modern, bohemian, cozy, and inviting kitchens. By utilizing a range of hues, materials, and patterns, a space that might normally be chilly may appear warm, calm, and indicative of its warm design. The different tile materials for kitchen backsplash ideas may be of interest to you if you want to add a trendy touch. When creating a backsplash, tile is one of the best and simplest materials to utilize. There are a variety of tile possibilities, including marble, ceramic, glass, and terrazzo.
There are numerous possibilities for tile or slab materials for kitchen backsplash designs, including ceramic and stone tiles, as we previously discussed, for various kitchen backsplash ideas. However, you may decrease these effects by choosing the right tile materials for kitchen backsplash ideas. Your kitchen's overall design, including the worktops, cabinets, and backsplash, may have an impact on how it is designed. To learn more about the different materials for kitchen backsplash ideas, go here.
Marble Kitchen Backsplash
It's easy to fall in love with the natural material after reading through your posts because there are so many beautiful marble kitchen backsplash designs accessible online. Marble is unquestionably gorgeous, but we'd be remiss if we didn't let you know that it needs some maintenance. Because marble is softer than granite, you should use a cutting board rather than cutting straight on top of it to avoid scratches. Spills that aren't immediately cleaned up run the risk of changing the color of the stone since it is porous.
While marble is one of the most costly materials for backsplashes and countertops, in some grades it may cost just as much per square foot as high-end quartz or granite. But some house owners like the architectural beauty and timeless elegance that marble backsplash ideas offer to the kitchen. Marble backsplash designs for the kitchen provide a number of benefits. Remember that there are several marble species available. Ideas for marble kitchen backsplashes might increase the value of your house. In addition, marble ages organically, its distinctive veining acquiring a patina with time. Compared to polished marble, which has a lovely, reflected sheen, honed marble has a more enticing appearance. View more gorgeous marble kitchen backsplash design ideas by scrolling down!
Ceramic Kitchen Backsplash
Ceramic tiles are arguably the most well-liked and sought-after building material in the design sector. They are simple to locate, simple to set up, simple to keep clean, and simple to maintain! Ceramic tile is long-lasting, affordable, and simple to install. It also features a huge variety of designs, colors, and textures. A ceramic kitchen backsplash protects your walls from unattractive and potentially damaging food spills. In addition to serving a functional protective function, a ceramic kitchen backsplash may bring a lot of aesthetic appeal, color, and personality to your kitchen design.
Many homeowners believe that a ceramic kitchen backsplash is the best surface on which to experiment with new patterns, colors, and designs. Ceramic tile is one of the most adaptable choices for kitchen backsplashes. It is available in an almost infinite variety of shapes, colors, forms, and sizes and may be purchased online or in-person at virtually any home improvement outlet. Additionally, several ceramic tile specialized stores may fulfill any demands for a certain shape, color, or texture. You may definitely discover the kind of ceramic tile you're looking for among the many alternatives. The images further down are one of the stylish options for a ceramic kitchen backsplash that we love to share with you.
What is timeless backsplash?
When you start remodeling your kitchen backsplash or select a new one for your kitchen, you'll notice that design fads come and go. For this reason, you could choose to create a timeless kitchen backsplash so you can enjoy its beauty for a long time. Many kitchen design fads are still prevalent today for good reason. They are ageless, appealing to a wide range of tastes, and exquisite in their simplicity. Given how expensive it is to build and remodel a kitchen, it makes sense for homeowners to apply historical designs there.
Therefore, if you want a kitchen backsplash that you'll like for years to come, stick with what has been tried and true. Designs for kitchen backsplashes that are timeless will stand the test of time and promote home sales.

Glass Kitchen Backsplash
Due to its contemporary and elegant appearance, glass is one of the tiles that is used in homes the most frequently nowadays. Glass kitchen backsplashes provide you with greater creative flexibility and adaptability because they are so versatile and provide so many alternatives. Contrary to popular assumption, glass is extremely robust, waterproof, and easy to repair. With all these benefits, installing a glass backsplash in your kitchen should be a no-brainer. The appearance of your kitchen may be considerably altered, adding aesthetic value while withstanding daily usage.
The best approach to give your kitchen color and aesthetic appeal is with a glass kitchen backsplash. Additionally, the tiles may be arranged in virtually endless ways, bringing even more unique style and aesthetic flair. The arrangement you select is ultimately entirely up to you because glass tile is offered for backsplashes in practically every pattern, from rectangular subway tiles to mosaic and penny designs. Glass sheets or "slabs," which resemble stone slabs, are also an option to enhance the simple and contemporary appearance. Scroll down to see some stylish glass kitchen backsplash ideas.
Terrazzo Kitchen Backsplash
Terrazzo, which has long been a part of our culture, is slowly making a comeback and reclaiming its position in residential, commercial, and industrial settings. Starting as a condensed and grey-based composition, it has evolved into one with a more modern voice, one with big statement colors and loosely linked chips that more closely resemble floating objects. As a result, terrazzo began to play a vital role in the design of our homes as its design flexibility developed over time. One of its functions is to serve as a terrazzo kitchen backsplash, one of the widely used wall treatments that give kitchen walls a distinctive aesthetic value while also delivering numerous practical advantages.
Quartz, marble, glass, granite, and other materials are combined to create terrazzo, which is then held together by cement or epoxy resin. Terrazzo develops strength and flexibility with the binder, allowing for the creation of fantastic, adaptable designs that not only liven up the room but also exude elegance. Metallic divider strips can also be used to manage the erratic placement of the little specks and the bulky, multicolored elements, producing more intentional terrazzo designs. Let's check this eco-friendly idea and see some examples of the terrazzo kitchen backsplash ideas.