26+ Colorful Kitchen Appliances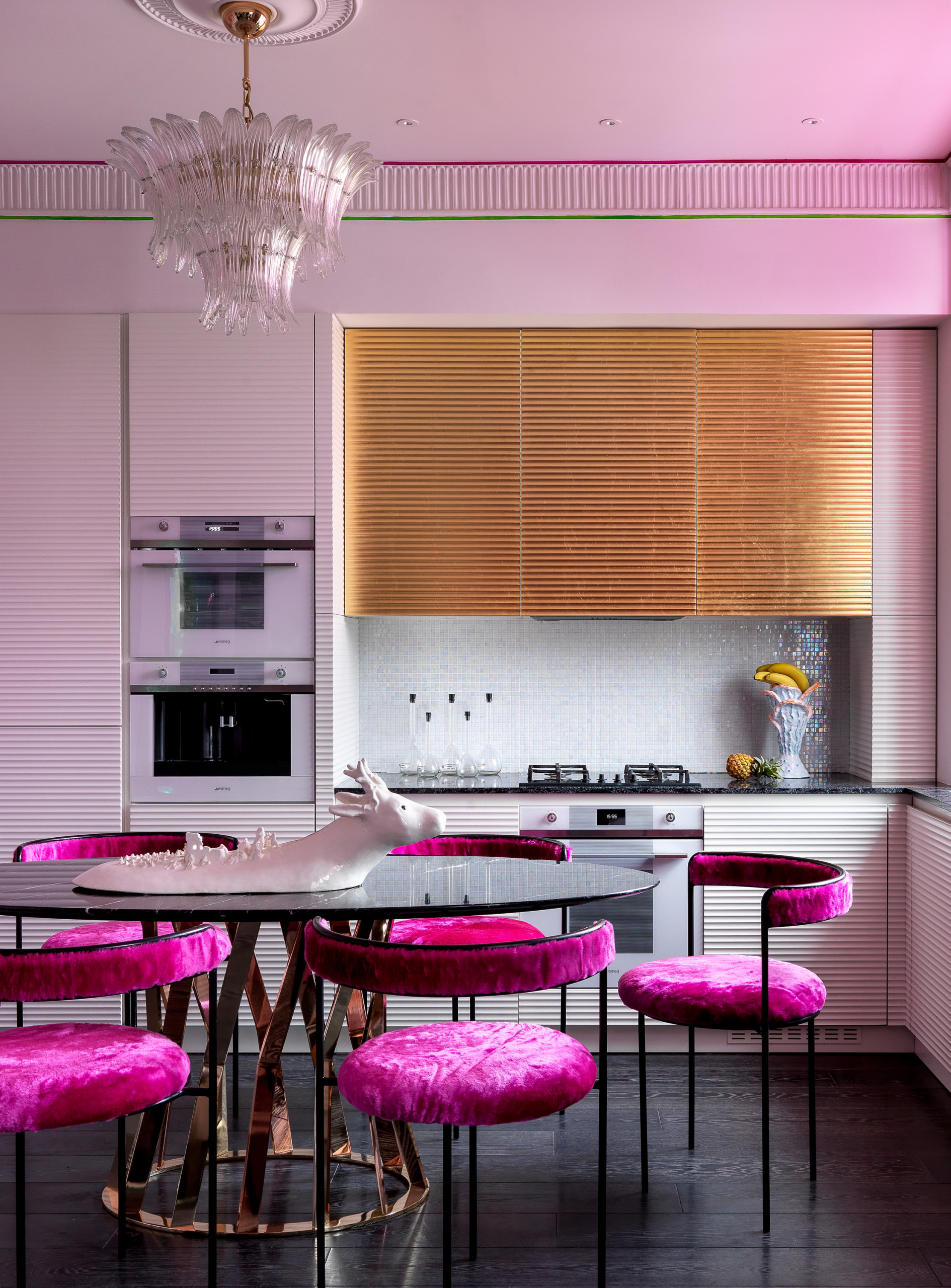 ID# 173309 | Houzz.com – Credit | © Красюк Сергей
---
Colorful Kitchen Appliances for Eclectic Kitchen Design
In this eclectic kitchen, pastel pink appliances from the same brand with metallic accents make themselves feel at home between the pastel pink cabinets to give the kitchen a little shake-up! Complementing them is the white glass mosaic tile backsplash that delineates the stove zone, bringing out the warmth of the upper cabinets. The oval dining table and purple velvet chairs bring extra interest to coordinate with the appliances which makes it clear that this kitchen design is based on an eclectic style that catches the eye.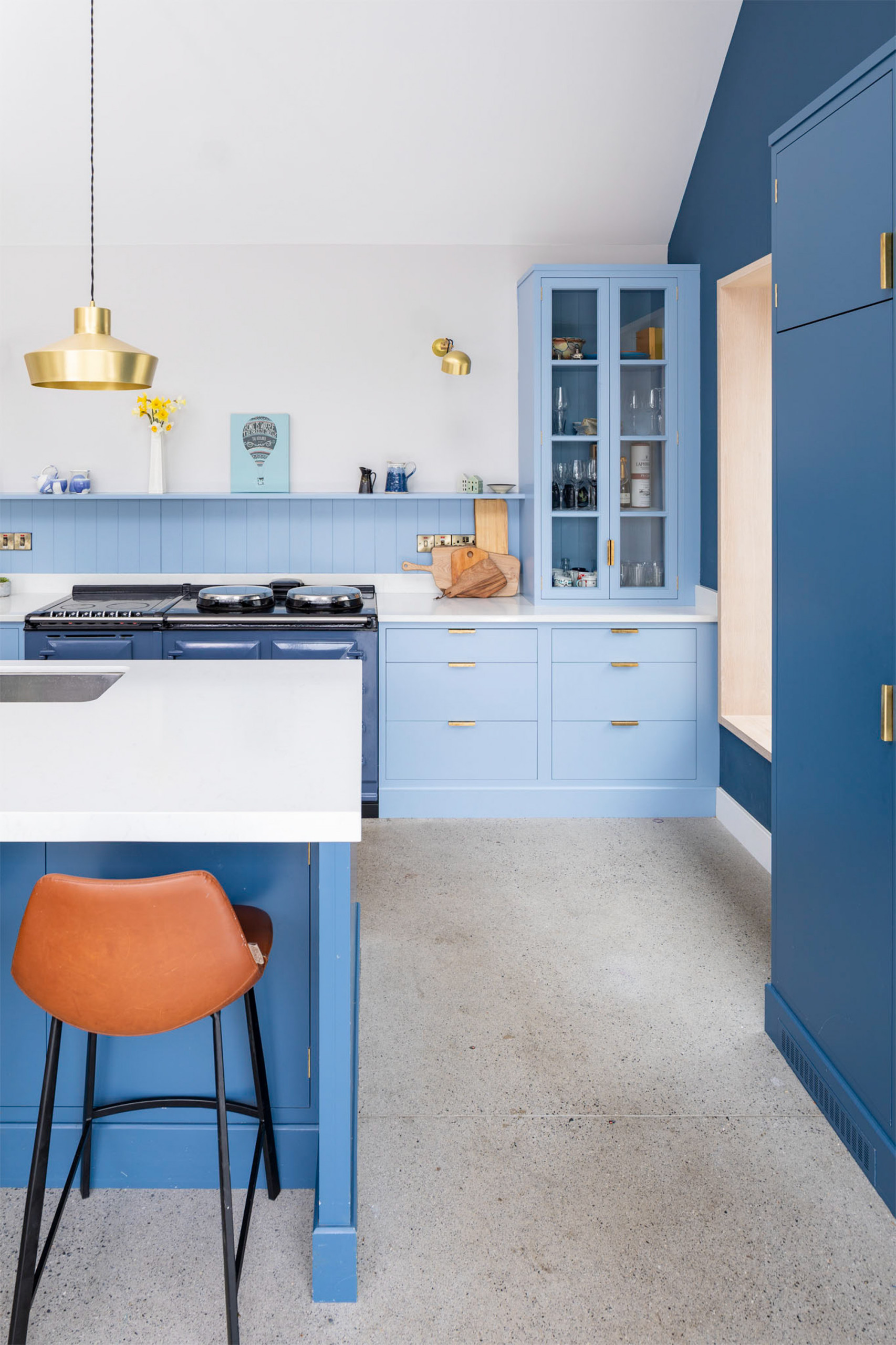 ID# 173318 | Houzz.com – Credit | © Mullan Lighting
---
Blue Kitchen Design with Brass Accents and Concrete Floor
A dark blue stove couldn't have looked better! It stands out, surrounded by light blue cabinets that allow it to be the statement piece. The rest of the space and fixtures serve it as well. The tall cabinets with glass fronts house kitchenware, while the blue shiplap backsplash enhances the blue accent details that bring the design together.
Colorful Kitchen Appliances
When upgrading a kitchen, complementary design elements such as lighting fixtures and kitchen appliances remain as important as the main elements of the kitchen (countertops, backsplashes, and cabinets) for they come as the most personal touches, creating a look that homeowners can identify themselves with. In this blog, our focus will be on the colorful kitchen appliances that bring whimsy touches and help you update your kitchens effortlessly.
Unique and Joyful Appeal of Colorful Kitchen Appliances
Unlike stainless steel appliances that you get for their unparalleled durability, sleek look, and easily adjusting physical features, colorful kitchen appliances have a different story. They are mostly reminiscent of vintage homes, thus nurturing naïve feelings sometimes associated with family stories. These colorful designs also cheer up the space and the mood of its users, showing how important and even life-changing a punch of color is. They may even make you feel encouraged to cook after a long working day and so on. Here we have over 30 design projects that employ colorful kitchen appliances that will inspire you to get one of those.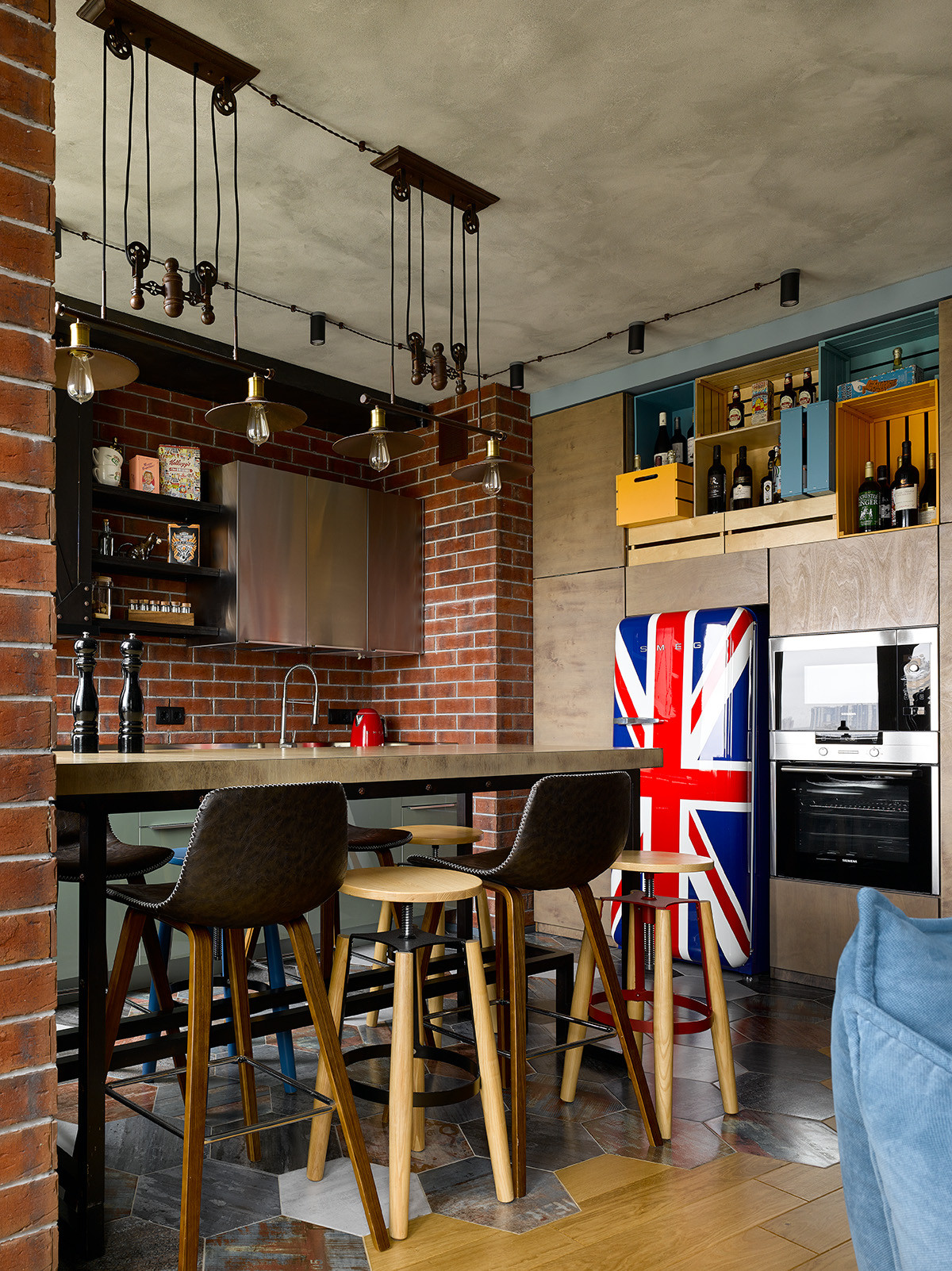 ID# 173301 | Houzz.com – Credit | © AR-1 | architecture & design
---
Rustic Industrial Kitchen with Stainless Steel Cabinets and Brick Walls
This amazing kitchen has truly a statement piece: the Smeg fridge with a United Kingdom flag print. Sheltered by wood kitchen cabinets, it lends an unexpected feel that prevails over the space. Nothing else would complement it better than exposed brick walls, stainless steel cabinets, black open shelves, and metallic lighting fixtures that complement the industrial vibe with authentic materials!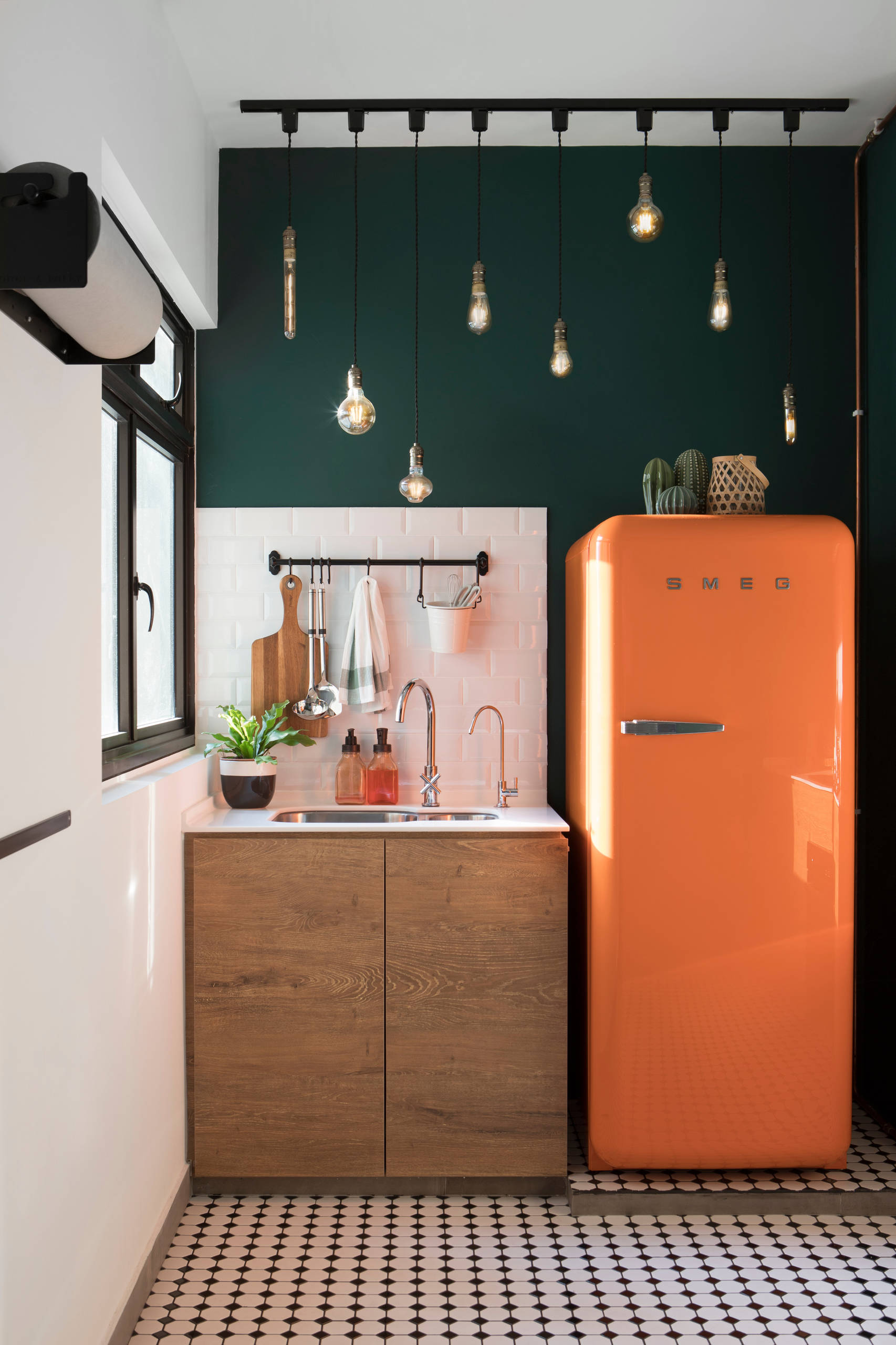 ID# 173302 | Houzz.com – Credit | © Fuse Concept Pte Ltd
---
Vintage Kitchen With Orange Fridge and Wood Cabinet
It is not a secret that colorful appliances have a vintage vibe that they deliver to the space, taking their users back in time to the 1950s. And this retro-inspired tiny kitchen exemplifies it perfectly with a retro refrigerator. Posing against a dark green accent wall, the orange fridge from Smeg adds a shot of color. Right next to it, the white subway tile backsplash and white countertop team up with the flat-front wood cabinet to neutralize the orange shade and bring the design into balance. The floor is finished with diamond patterned tiles to spice up the design and contrast the calm profile of the top half skillfully.
Are colored appliances coming back?
Yes, colored appliances are back. Long gone are those days when they were excluded and replaced by stainless steel or chrome appliances. As vibrant colors and subtle shades are more and more integrated and embraced in modern and contemporary kitchens, and even industrial designs, it sometimes feels necessary to find new ways to incorporate pops of colors. At this point, appliances come into the frame as one of the great options to add shots of color. This way, you can bring not only a modern appeal but also a retro vibe to the kitchen.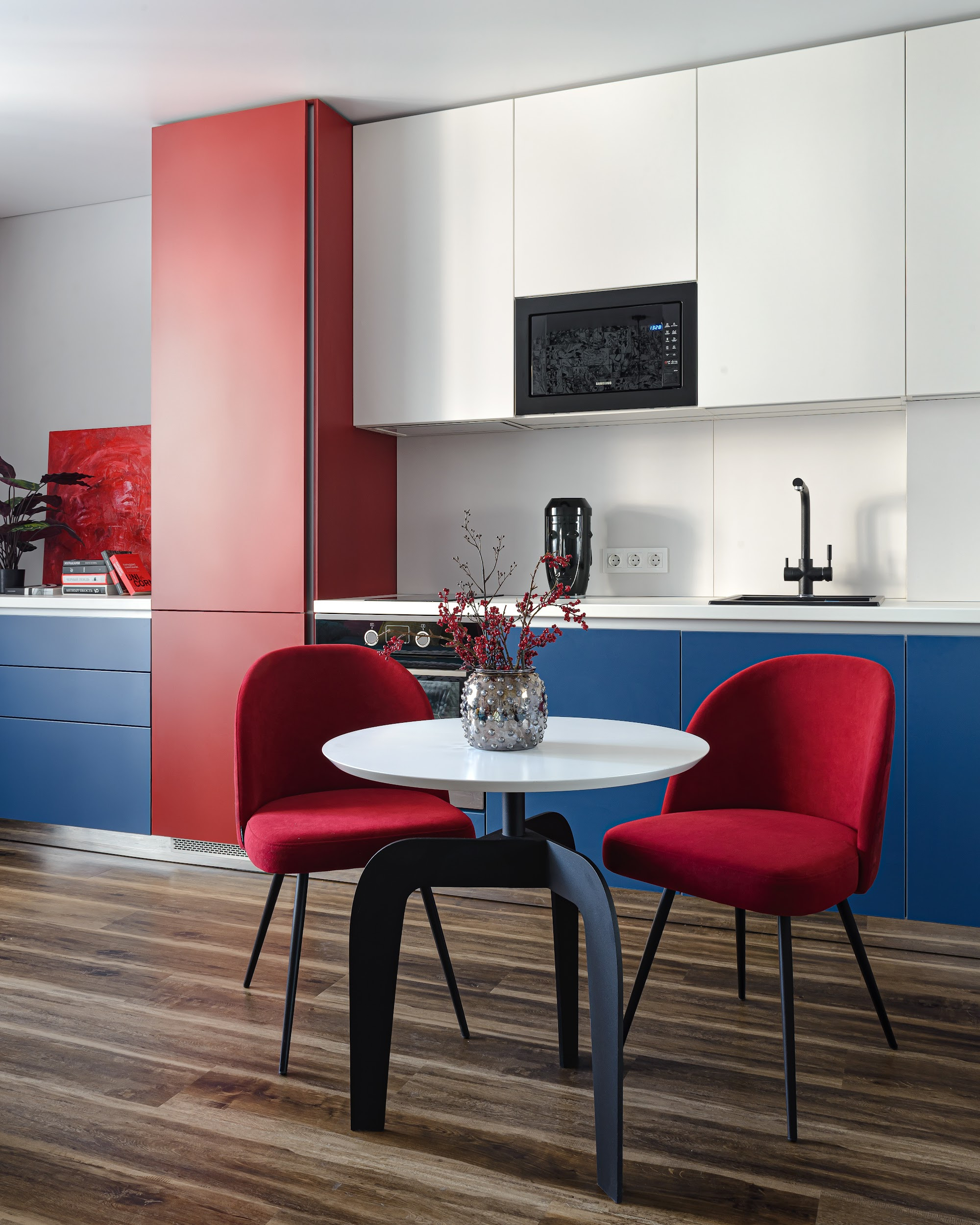 ID# 173303 | Houzz.com – Credit | © Art Twins Design
---
Contemporary Colorful Kitchen with Three-tone Cabinets
If you want to use a colorful appliance for your kitchen but don't want to spend a fortune on it, then creating a cabinet door for your fridge and painting it with a different color than your cabinets might be a great way to achieve your goal! As you can see in this kitchen, the tall red cabinet covering the fridge creates a striking focal point between the blue and white cabinets without breaking their clean and sleek appeal. The red velvet chairs of the circular dining table complement the red cabinets while the wood floor makes a beautiful final touch that adds warmth to the atmosphere.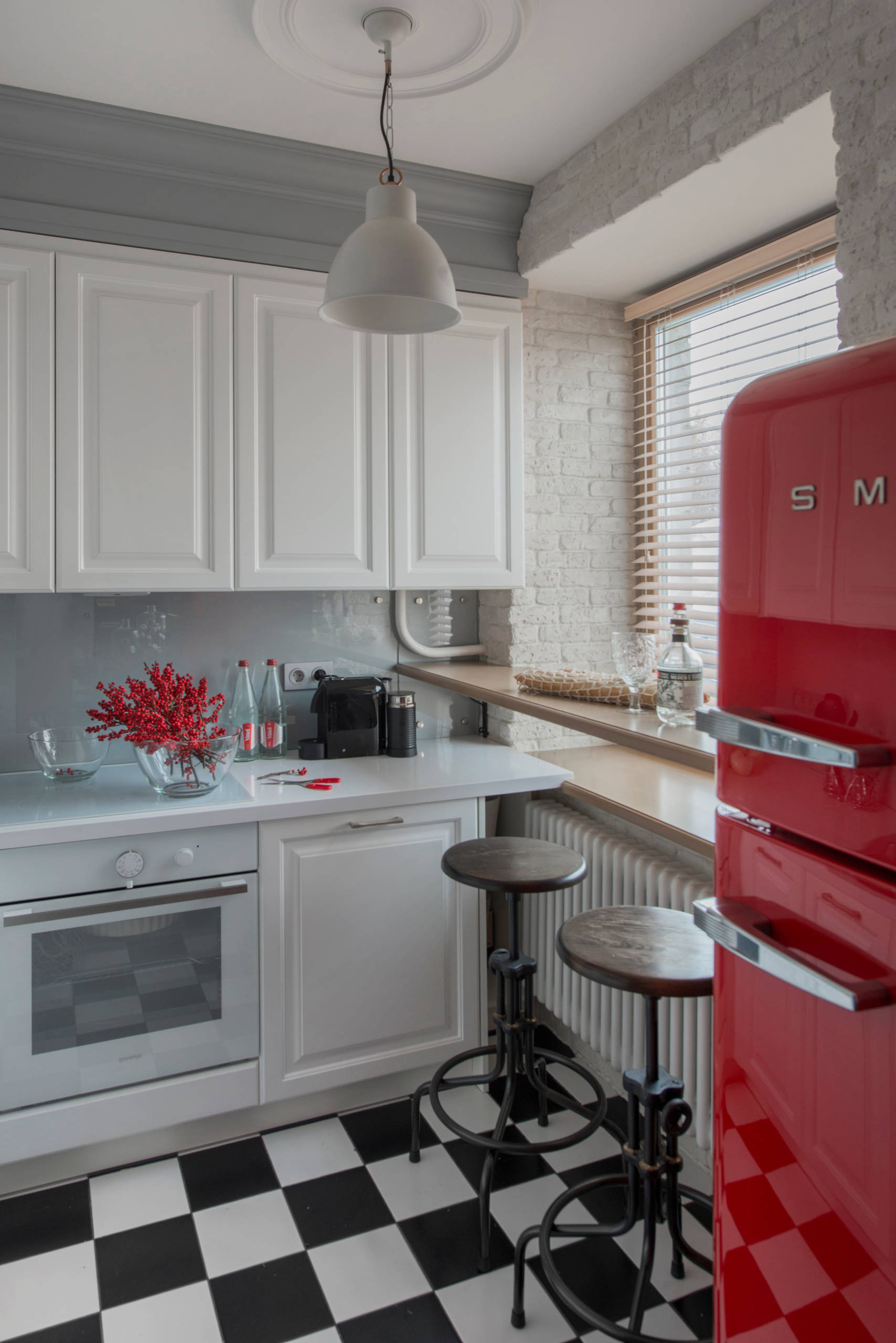 ID# 173304 | Houzz.com – Credit | © m. kunyakina
---
White Raised-panel Cabinets with Checkered Floor Tiles
Trying to come up with new ways of upgrading your mostly white kitchen? You can use colorful kitchen appliances to break up the monotonic look without compromising its clean appeal. For example, in this kitchen, we have an amazing red fridge from Smeg! This amazing ambitious design energizes the kitchen, settling among the white raised-panel cabinets. They also add a shot of color, showing that the kitchen doesn't take itself too seriously. Apart from those, the black and white checkered floor tiles add dimension to the white-dominant kitchen, while gray glass sheet backsplash and white countertops communicate with each other. Overall, the kitchen presents a cohesive and well-curated look!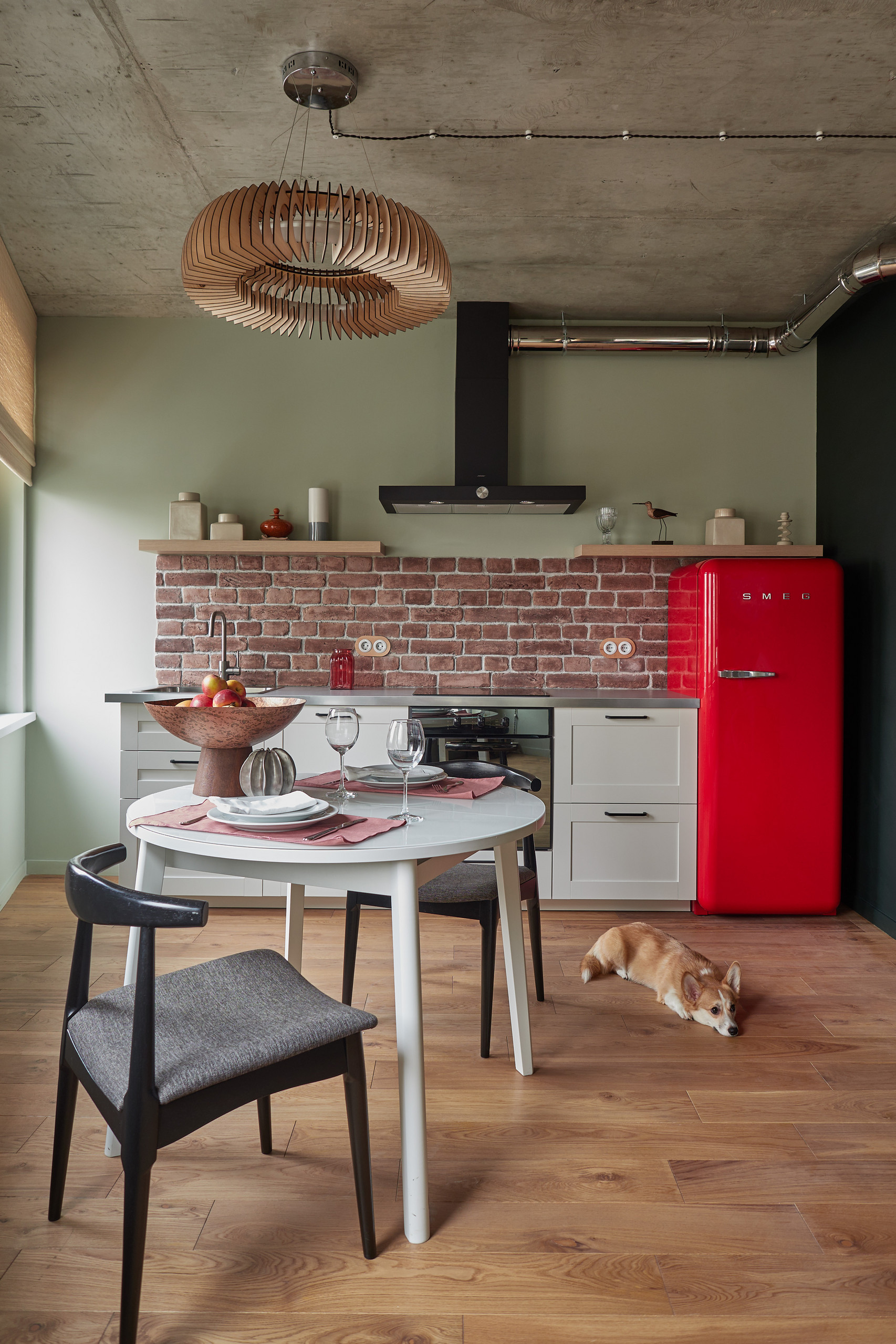 ID# 173305 | Houzz.com – Credit | © 4arts
---
Rustic Kitchen with Brick Backsplash and Green Walls
Abundant in colors of red, green, and wood, this rustic kitchen offers an intimate atmosphere for its users rich in organic forms. Starting from the red brick backsplash to the concrete ceiling, green-painted walls, and wood floor, the kitchen blends various raw and uncultivated materials in the same pot. But above these, if there is one thing that pops out, it is the red fridge paired with white shaker cabinets and gray countertops. This stand-out feature brings a modern retro feel that contrasts the rustic theme!
What is the most popular color of kitchen appliances?
Stainless steel, white and black appliances are the most commonly used appliance colors and materials as they can adjust to any kitchen design easily and just befriend other kitchen items. To start with, stainless steel offers a high-end finish with a modern appeal and unparalleled quality that provides a sleek look!
Another popular color for appliances is white as it brings a clean look and crisp look. If you have white cabinets and want to preserve a uniform look, a white fridge can help you achieve a monochromatic space. Also, as they are more traditional, they are more budget-friendly options as well.
Thirdly, black appliances have risen in popularity to create a sleek design with an edgy personality. They are more like updated versions of stainless-steel finishes. As dark kitchens also grow in popularity, they also draw attention to black appliances to shake up the conventions of white and clean-looking designs.
But apart from those, you can also mix appliances of various colors. As black, white and stainless steel go well together, you can match them. But if you want something colorful and a vintage touch, colorful appliances are also on-trend.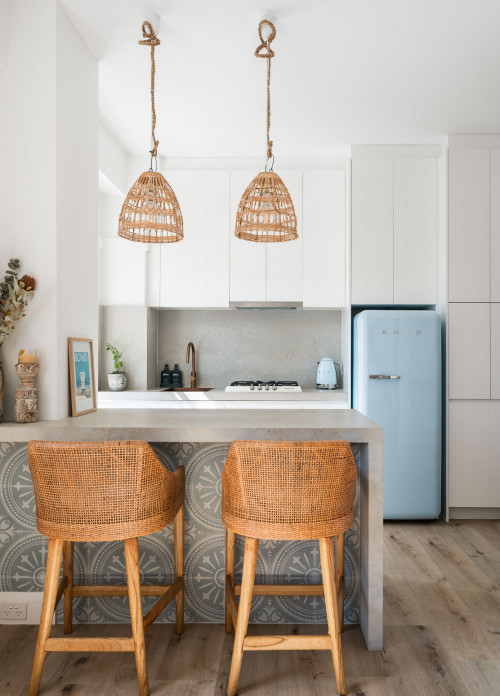 ID# 173306 | Houzz.com – Credit | © Rebecca Lu
---
Off-white Cabinets with Concrete Countertops and Tiled Kitchen Island
Colorful appliances don't always need to be super colorful. So, if you think you will get bored of strong colors in the long term, you can consider the ones featuring a subtle hint of color like in this particular kitchen. Here the muted blue refrigerator injects a gentle dose of color, naturally coordinating with the concrete backsplash and countertops. For a final touch, the tiled kitchen peninsula combined with wicker chairs adds a nice textural look against the sleek backdrop.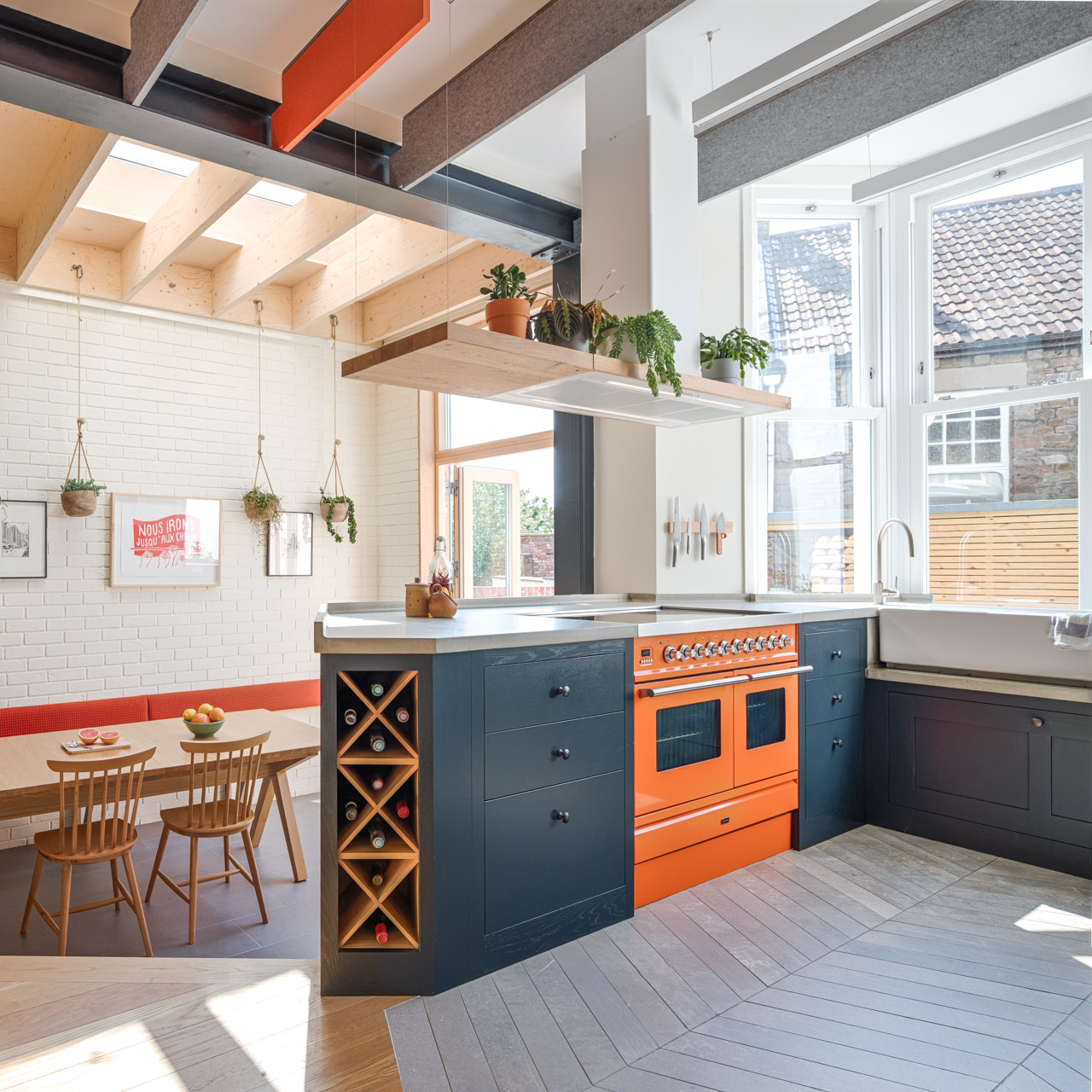 ID# 173307 | Houzz.com – Credit | © Sustainable Kitchens
---
Colorful Kitchen Appliances with Dark Gray Cabinets and Concrete Countertops
Sometimes all that you need in the kitchen is a punch of color. Here the dark gray cabinets are put into a dialogue with the orange stove, creating a sense of drama that doesn't take itself too seriously. The unique and modern design of the wooden aspirator coordinates with the wood floor, showing that you don't have to match the appliance colors.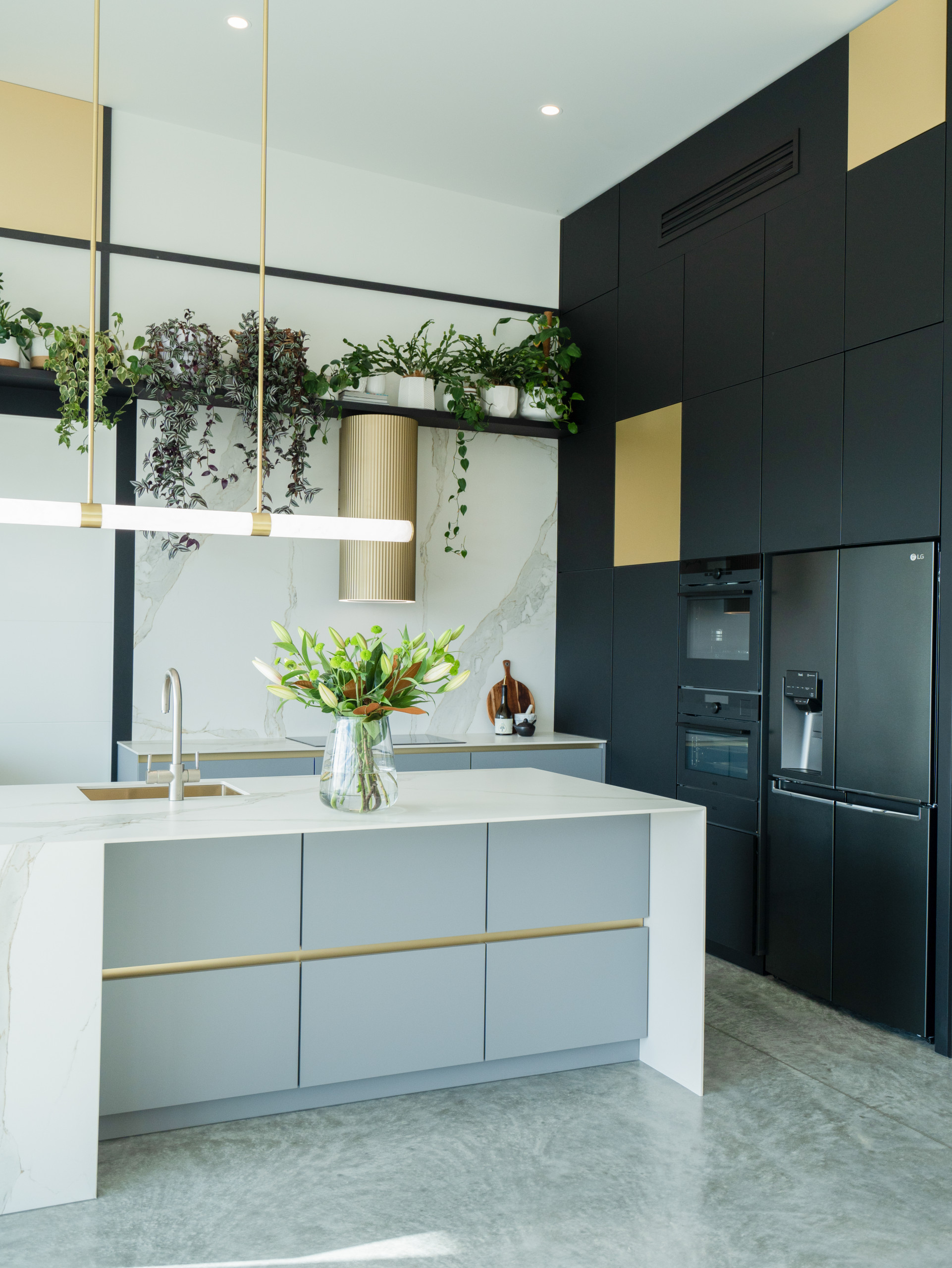 ID# 173308 | Houzz.com – Credit | © 5R Studio
---
Full-height Backsplash and Gray Cabinets with Gold Accents
What attracts your attention most in this kitchen? The gold-colored accents? Potted plants on the floating shelves? Or gorgeous quartz backsplash and countertops? This contemporary kitchen is filled with whimsy elements that surprise you in whichever corner you look at, and they all work well together to make for an immersive design. Especially thanks to the full-height backsplash that ditched the overhead cabinets to open up the space! Consisting of a large-format quartz slab, this backsplash creates a modern and graphic look, blending with the light gray cabinets placed on the sleek concrete floor. The gold-colored circular range hood and other gold details enjoy being at home while the tall black cabinets on the right side bring depth to the space by creating contrast against the light colors. Smartly, the addition of potted plants transforms the industrial vibe of the floor into something homier.
Kitchen Appliance Color Trends 2024
With the pandemic, so many things have changed, including what makes a home "home" and how we should design it to have a calming yet entertaining space. That's why it is not surprising that colorful appliances have made a comeback. As of 2024, we come across pink, yellow, blue, orange, and red appliances that give a modern update to the kitchens more and more. But of course, besides the colorful appliances, white, black, and stainless-steel appliances retain their popularity as well.
Red Kitchen Appliances
Generally paired with light and dark gray cabinets and subway tile backsplashes, red kitchen appliances add a ripple of color to entertain the space. If you are looking for an ambitious design that will immediately wake up the gray-white shades, red appliances will do that for you. You can complement them with stainless steel backsplashes, faux brick walls, and wood shades to soften or balance the red hues.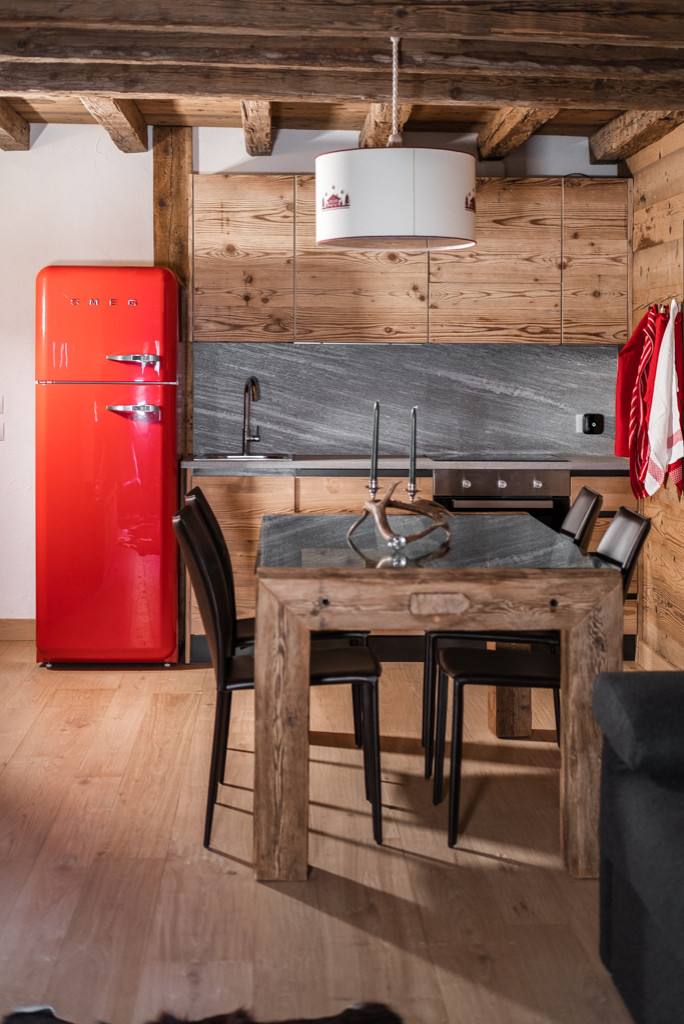 ID# 173310 | Houzz.com – Credit | © Luca Capurso
---
Wood Cabinets and Gray Backsplash with Red Fridge
The gray and red combination has been recently having a moment of its own, which is perfectly exemplified in this kitchen. Here, the wood cabinets ground the look, while the red fridge feels transported into this kitchen accidentally, yet still feels very included. The gray marble backsplash and countertops make a perfect combo and complement the rustic flair of the richly stained wood cabinetry.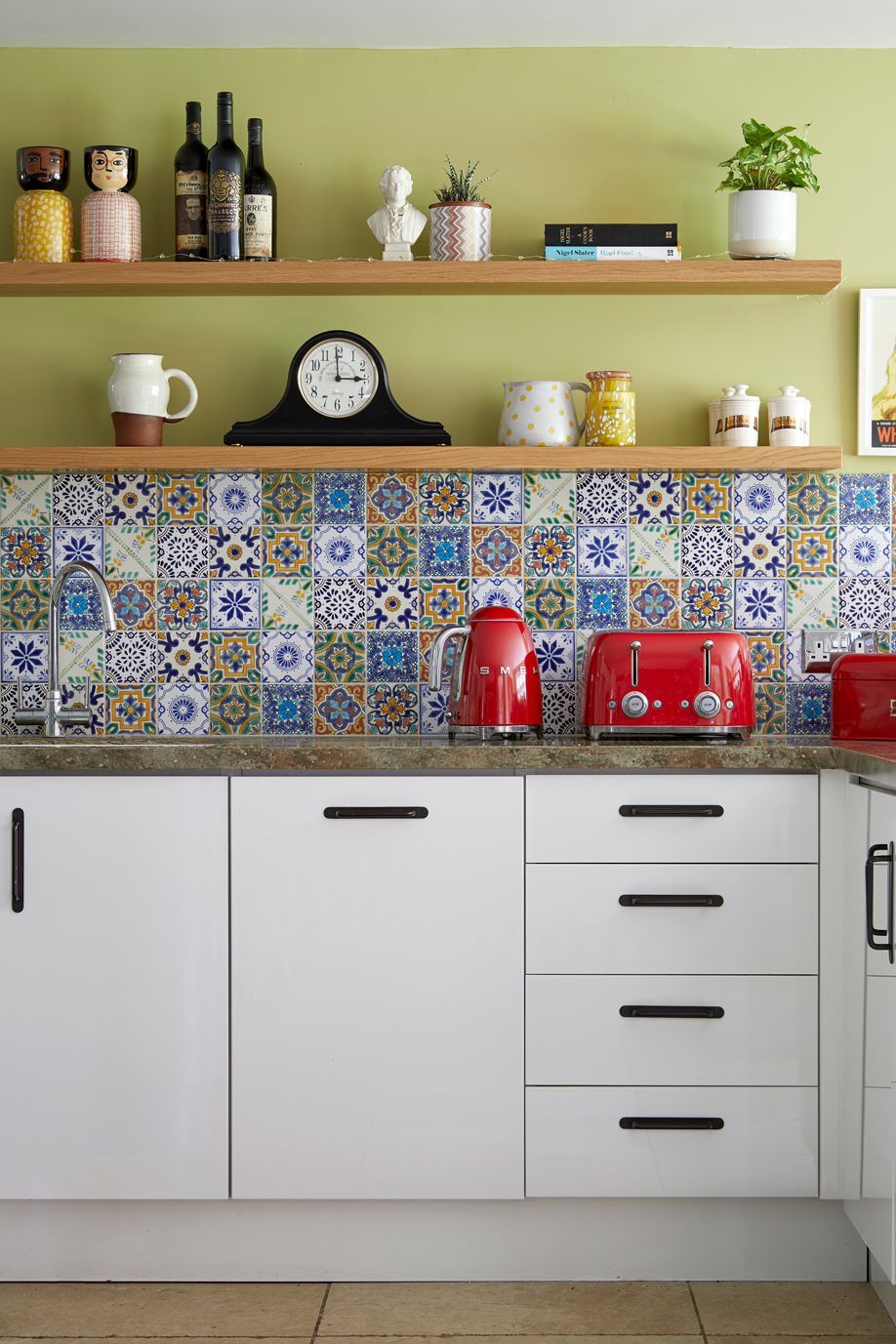 ID# 173311 | Houzz.com – Credit | © Slightly Quirky Ltd
---
Wood Cabinets and White Quartz Backsplash for Red Stove
If you want to add a splash of color to your kitchen but don't want to use main appliances with color such as a fridge or stove, you can still achieve your goal with small appliances. As you can see in this kitchen, the amazing trio of kettle, toaster, and coffee machine energizes the plain and sleek look of the white cabinets and gray countertops. Also, these small appliances perfectly complement the joyful appeal of the Spanish tile backsplash and the decoration objects in the wood floating shelves!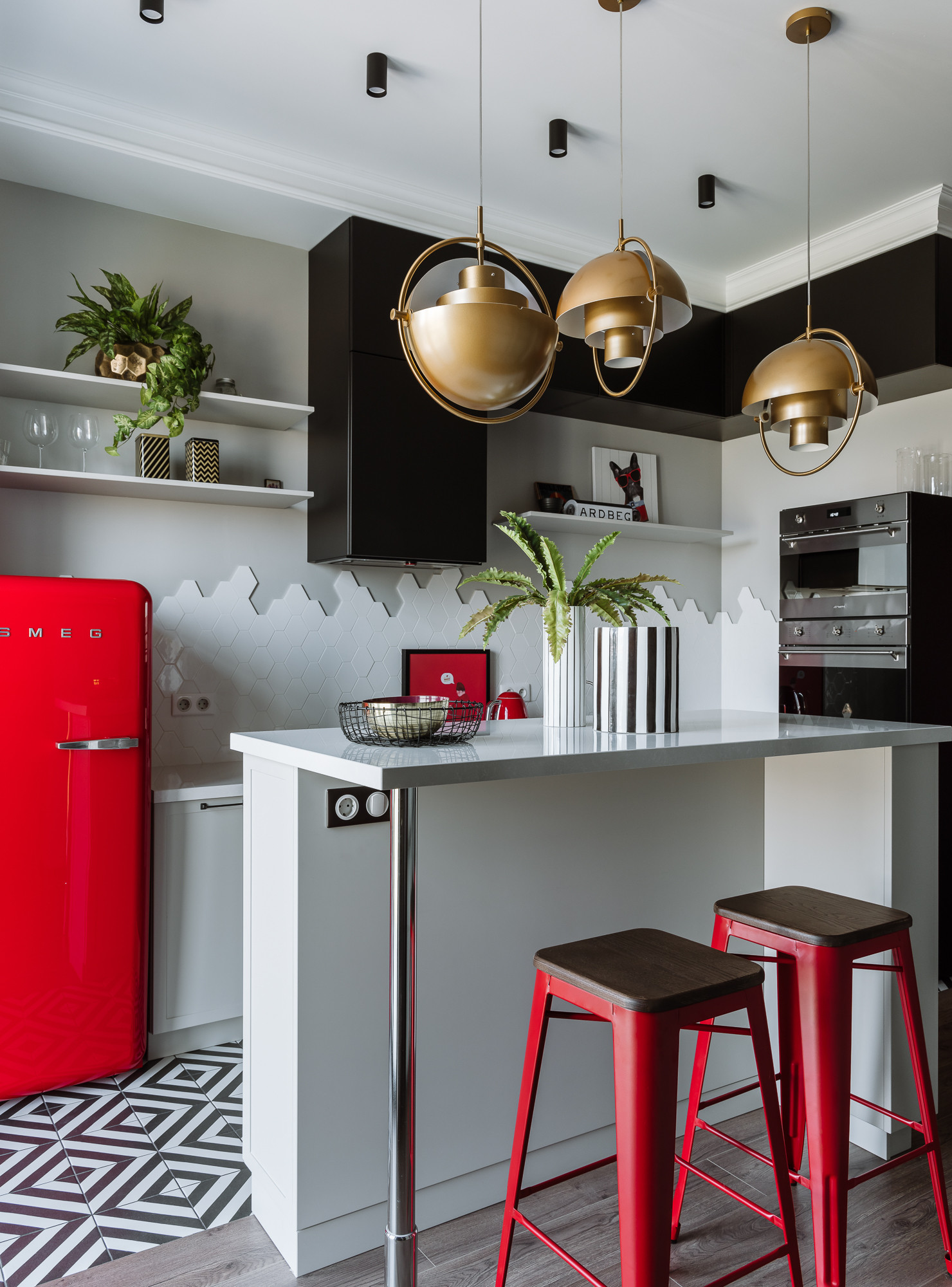 ID# 173312 | Houzz.com – Credit | © Анна Моджаро
---
Colorful Kitchen Appliances with Gray and Black Cabinets and White Backsplash
Here we have another stunning kitchen filled with many distinguishing features that enmesh industrial and retro vibes through modernized lines. Adding a sense of grandeur, the white hexagon tile backsplash gives the kitchen an industrial feel assisted by the light gray base cabinets, white floating shelves, white countertops, and black upper cabinets. On the other hand, the red accents such as the Smeg refrigerator and backless bar stools bring just the right amount of color, while the gold pendant lights above the breakfast bar add a dose of sparkle.
Pink Kitchen Appliances
Whether it is a transitional, shabby chic, modern, or farmhouse kitchen design, pink kitchen appliances have always something to contribute to the overall look. You can go with dark or muted shades or brighter and light colors to host a pink appliance. In both scenarios, it will pop out and entertain the space. But don't forget to create small references throughout the kitchen to complement it, which could be pink grout between the tiles, pink kitchenware, or other smaller pink kitchen appliances like a blender and toaster.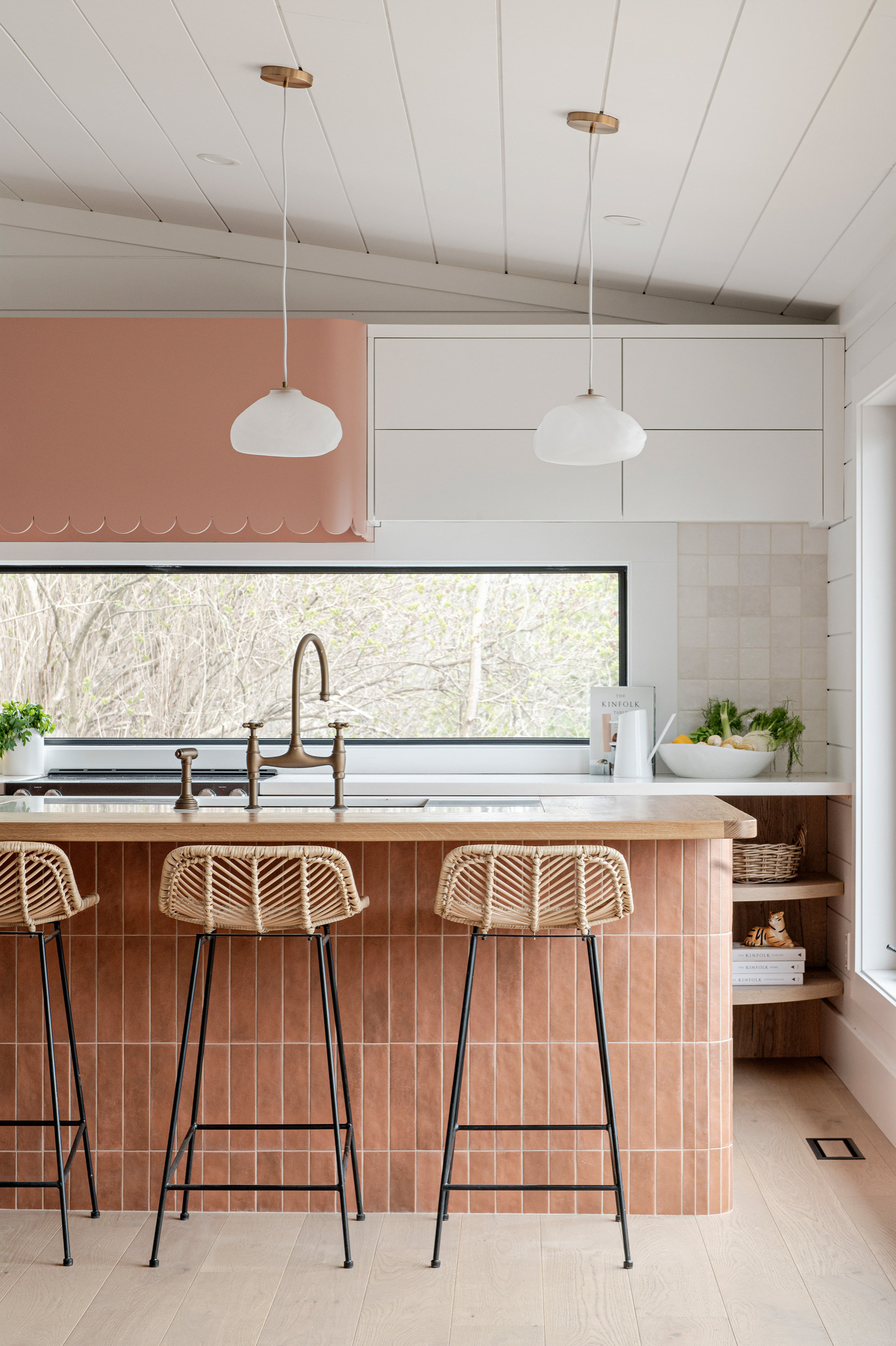 ID# 173313 | Houzz.com – Credit | © Michelle Berwick Design
---
Colorful Kitchen Appliances for White Cabinets and Backsplash
Upgrading an all-white kitchen look is a lot of fun with colorful kitchen appliances, especially when they come in shades of pink. Here we have a pink range hood embellished with a wave-like shape for a stylish look. It is sandwiched by white cabinets and a white square tile backsplash that oozes opulence. To create synchrony between white and pink, the kitchen benefits from wood textures. Ranging from the wood countertop of the tiled kitchen island to the light wood floor and open shelves of the base cabinets, each element coordinates with the pink accents. As for the pink shades, the range hood befriends the pink tiles on the island torso, while the white pendant lights and wicker counter chairs make a cohesive final touch.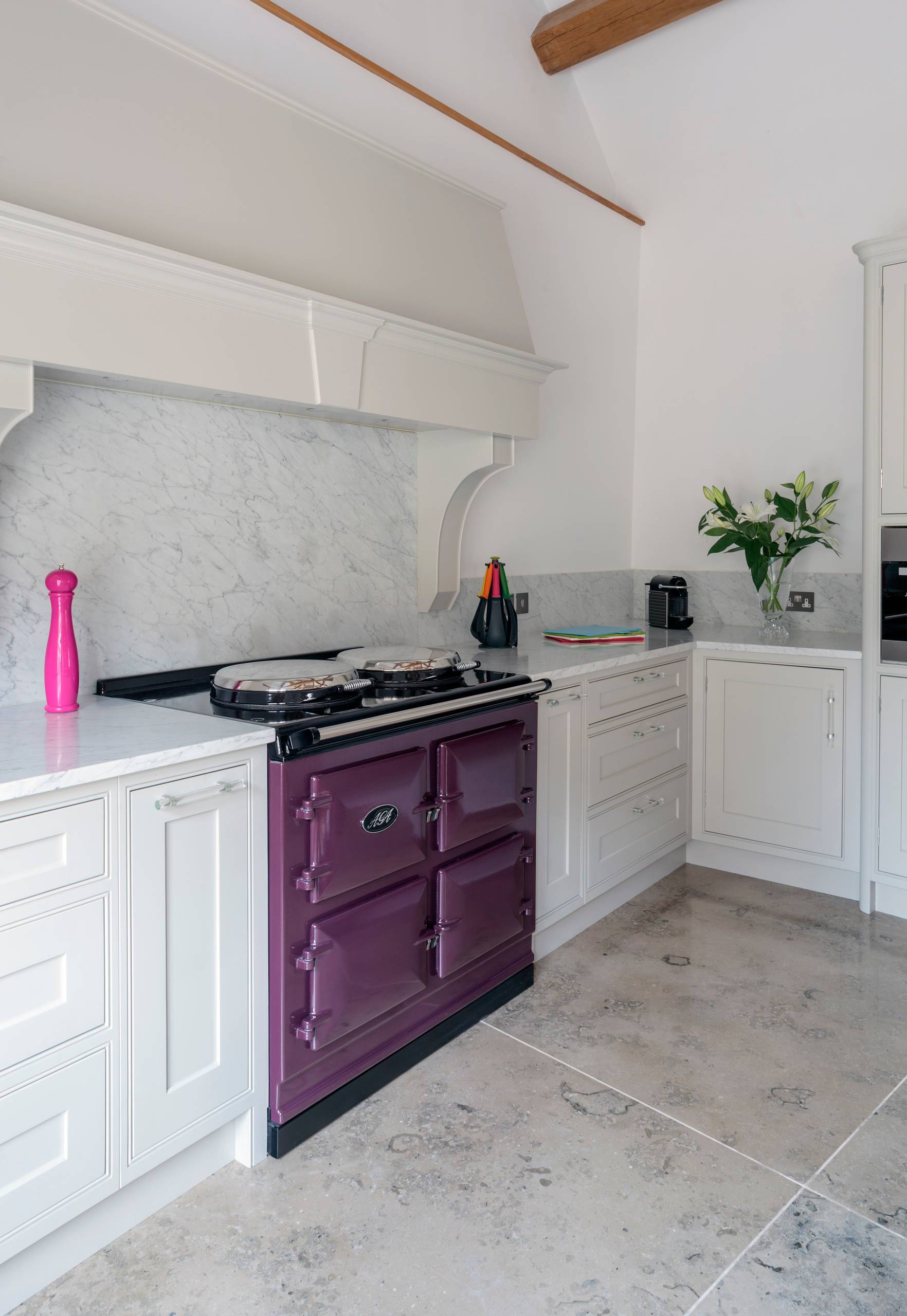 ID# 173314 | Houzz.com – Credit | © Stephen Graver
---
White Shaker Cabinets with Purple Stove and Marble Countertops
If you don't know how to integrate pink shades into your kitchen, a pink appliance could be your solution! This traditional kitchen brings together white shaker cabinets with a purple stove to upgrade the mood of its users. Complementing them are the glass hardware, marble backsplash and countertops that enrich the visual scheme. Also, as a darker and natural shade feels like a necessity to complement the kitchen, the floors get treated with beige floor tiles that inject warmth into the kitchen!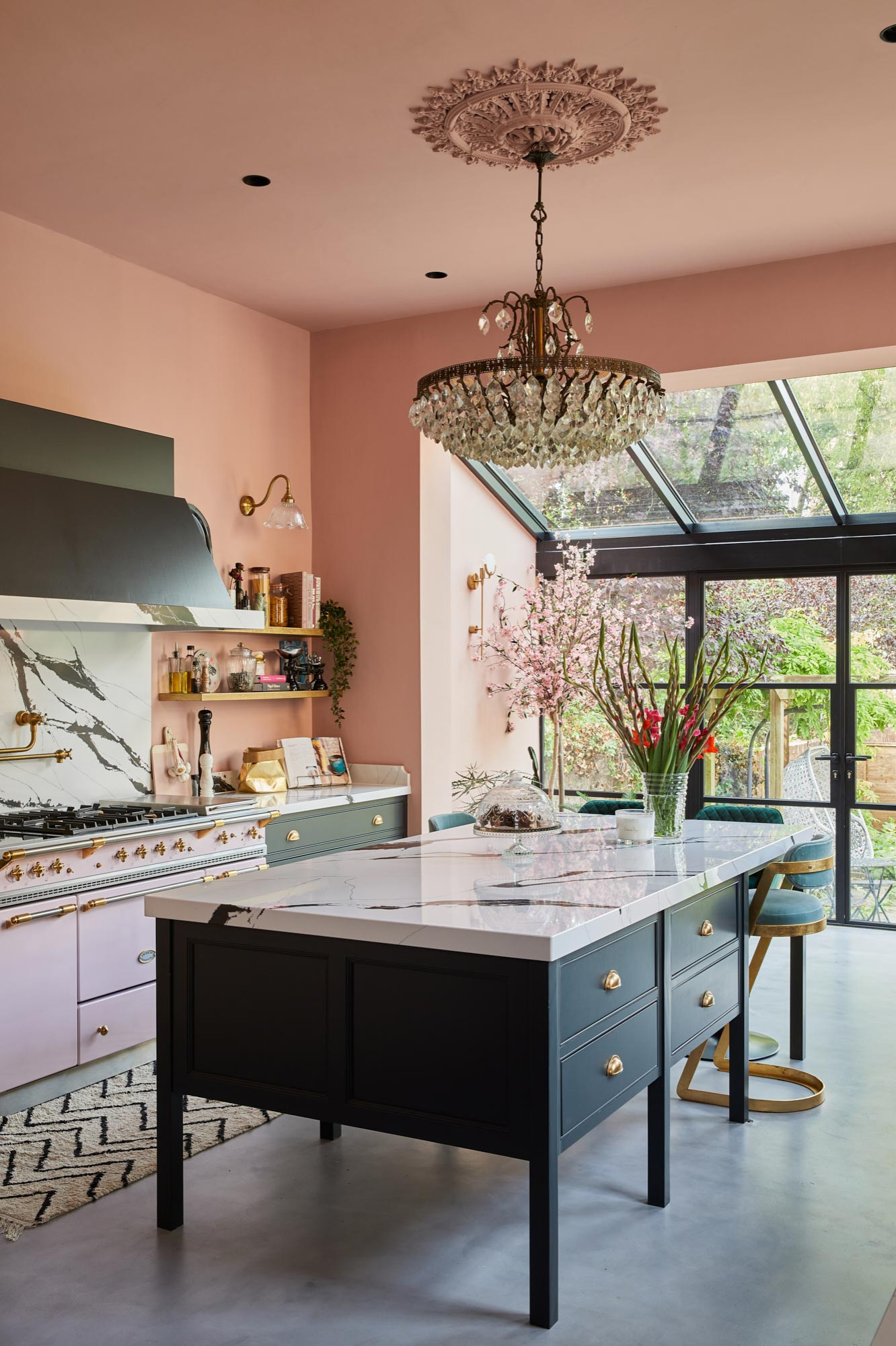 ID# 173315 | Houzz.com – Credit | © The Main Company
---
Eclectic Kitchen with Colorful Kitchen Appliances and Green Cabinets
Being in this eclectic kitchen feels like watching a black-and-white movie that suddenly gets colored. Among the muted dark green cabinets and dark wood flooring, what stands out is a pink vintage stove along with a marble backsplash. Colorful appliances can also be combined with a paneled range hood as here. But to complement these different colors and styles, it is better to keep the rest simple. For example, this kitchen is on the side of a pastel pink shade fading into the walls. Complementing it are the wood floating shelves in place of overhead cabinets to open up the space more, while the brass cabinet hardware, quartz countertops, and crystal chandelier bring a glamorous appeal as a final touch.
Blue Kitchen Appliances
Blue is one of the happy colors that will cheer up your kitchen, whether it is used in light or dark shades. If you have a white and monochromatic kitchen, you can get blue kitchen appliances to energize the space and give it a facelift.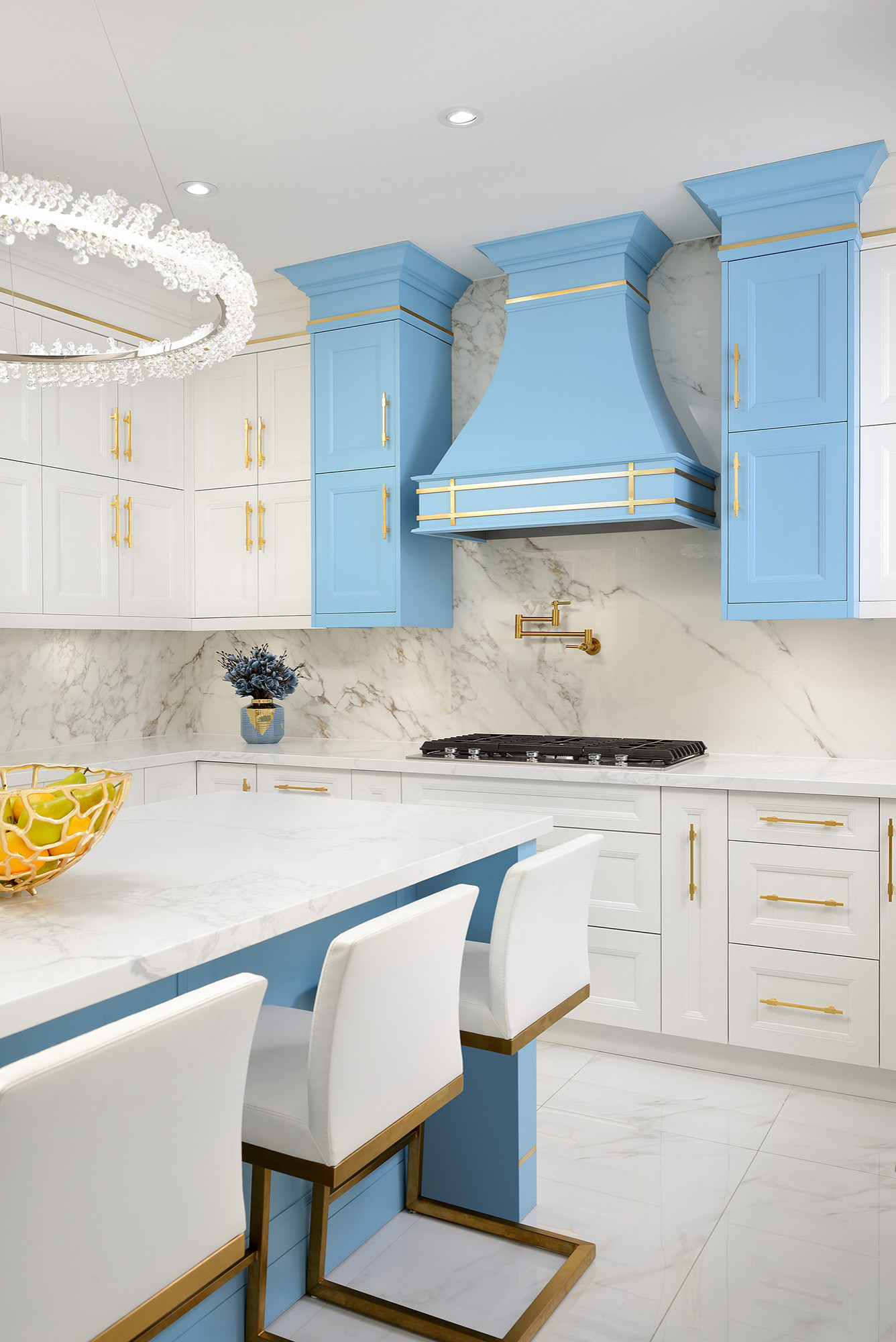 ID# 173316 | Houzz.com – Credit | © Dizeh Group
---
Colorful Kitchen Appliances with Light Blue Cabinets and Full-Height Backsplash
We love how this gorgeous blue range hood leans against the ceiling-height marble backsplash. Its brass stripes add a punch of glow in full contrast with the vibrant blue shade. In the middle, the kitchen island of the same color makes a great pair with the hood, while the light blue cabinets assist them. The symmetric placements of blue cabinets on both sides of the range hood also draw attention toward the stove part, and the brass cabinet handles complement the luxurious overall design.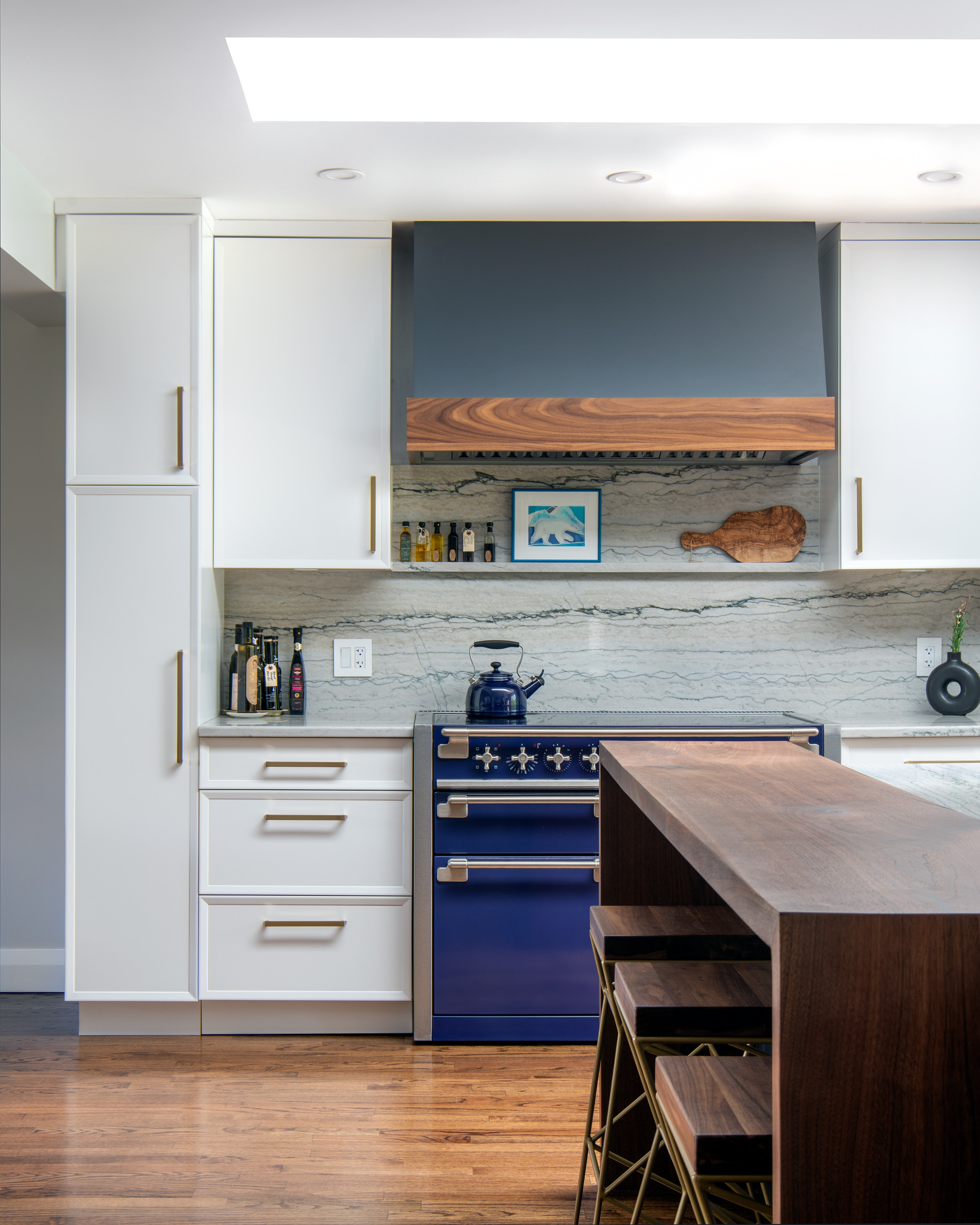 ID# 173317 | Houzz.com – Credit | © The Cabinet Connection
---
White Cabinets with Blue Stove and Range Hood
When you are working with a transitional kitchen, the color scheme plays an important role. The light shades consisting of blue and white generally define the transitional space with a chic look just like in this kitchen. But looking at the materials and forms, the kitchen grows akin to a farmhouse style thanks to the vintage blue stove, gold hardware, and charming navy blue range hood with wood trim.
What color appliances will be popular in 2024?
Colorful appliances including pink, red, blue, yellow, orange and green are popular colors used to energize the kitchen with vibrant hues!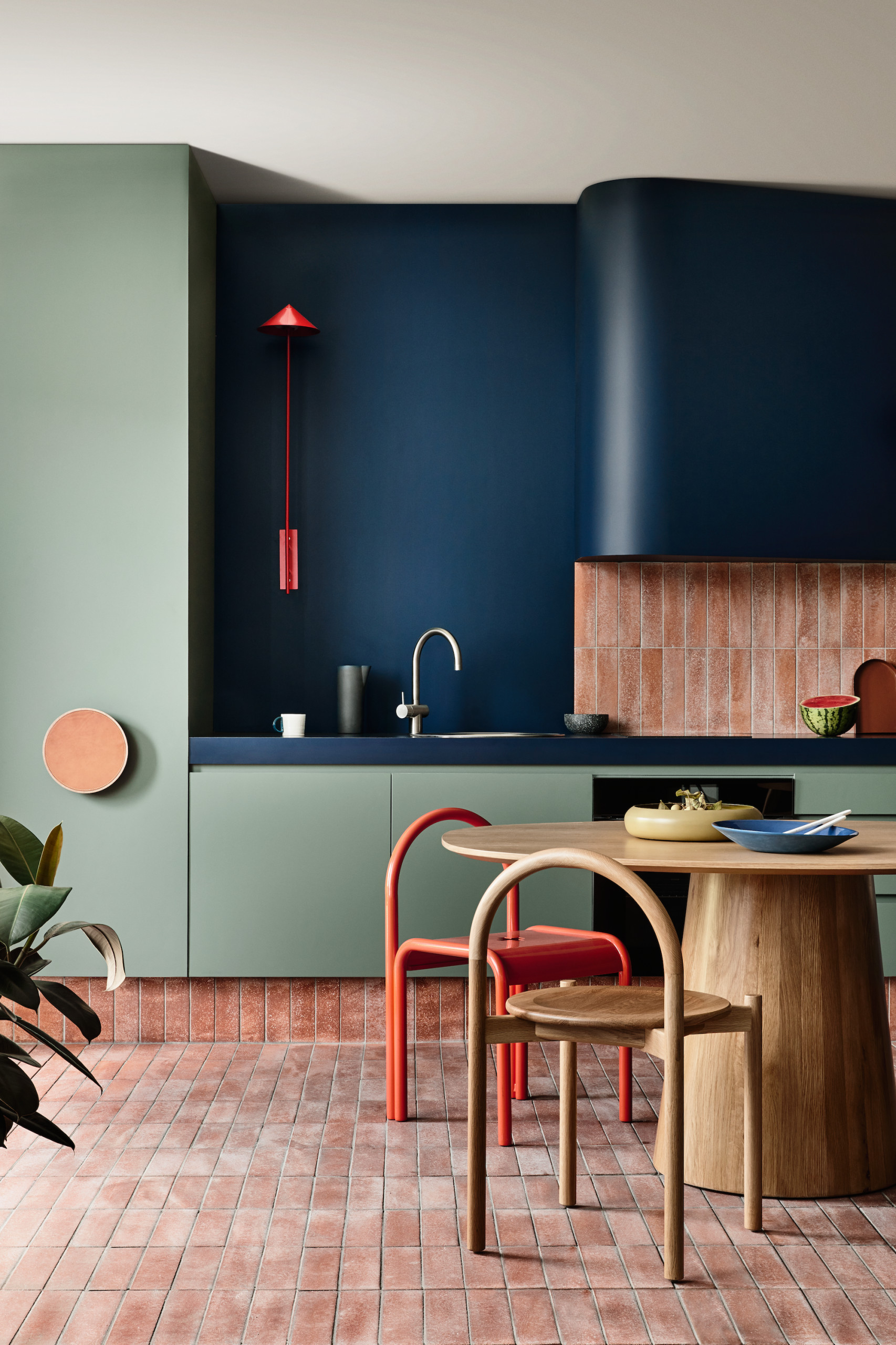 ID# 173319 | Houzz.com – Credit | © Laminex Australia
---
Sage Green Cabinets with Dark Blue Walls and Range Hood
The best part of the colorful appliances is that they encourage us and even teach us to feel free while using colors. This way, it also gets easier to open up new design possibilities when we don't shy away from colors. For example, what greets us here is a contemporary kitchen recontextualized in a more colorful environment. It is thanks to the sage green cabinets and pink glazed tile backsplash that pose against dark blue walls, while the range hood in the same shade melts into the background for a seamless look. To complement them, the pink backsplash and floor tiles soften the dark shades.
Geen Kitchen Appliances
If you want to create a farmhouse feel, green kitchen appliances could be fantastic additions! The traditional vibe that farmhouse kitchens adore is given by those with brass and metallic decorations in particular. However, appliances in pastel colors that include sleek lines are a great option if you want something contemporary!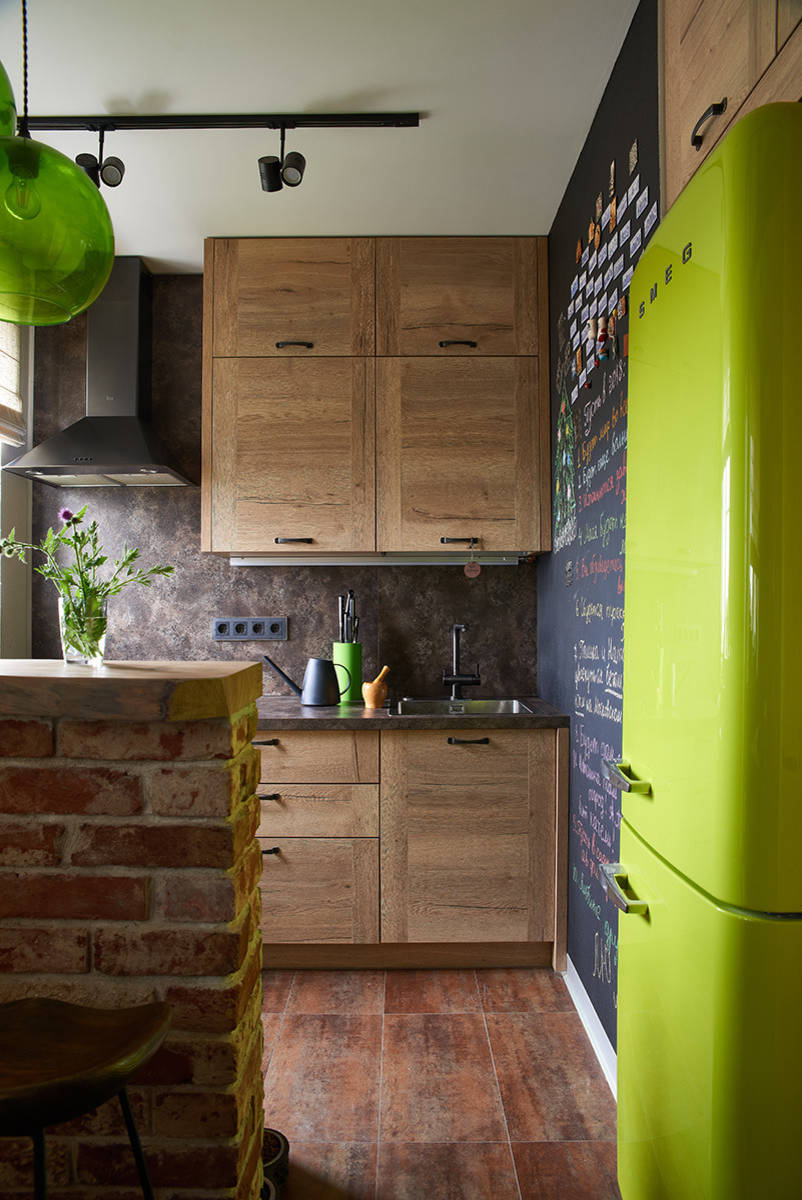 ID# 173320 | Houzz.com – Credit | © Оксана Цымбалова/студия "ДОМ СОЛНЦА"
---
Rustic Kitchen with Stone Slab Backsplash and Countertops
If you prefer rustic-style kitchens over modern ones, here is one of them that consists of natural wood kitchen cabinets, brownstone slab backsplash and countertops, and rustic floor tiles. To complement them and match the rustic flair, the black cabinet hardware and the brick division wall come in, enhancing the overall look. But the amazing kitchen has truly a statement piece: the green fridge! It makes an unexpected twist against the rustic aesthetic and brings a modern touch.
Yellow Kitchen Appliances
Used in public and commercial spaces, kindergartens, restaurants, and cafes, a yellow color is surely very popular for a particular reason. It is convivial, cheerful, and optimistic, which can't contain itself, and spreads the same positive vibes to its users and the space. And the same goes for the yellow kitchen appliances that will improve the psychology of your kitchens and give them a modern uplift. You can combine them with shades of orange, black, dark blue, and red to enliven and darken the space in equal measure. This way, you can give more direction to the kitchen design and navigate the mood of the space better.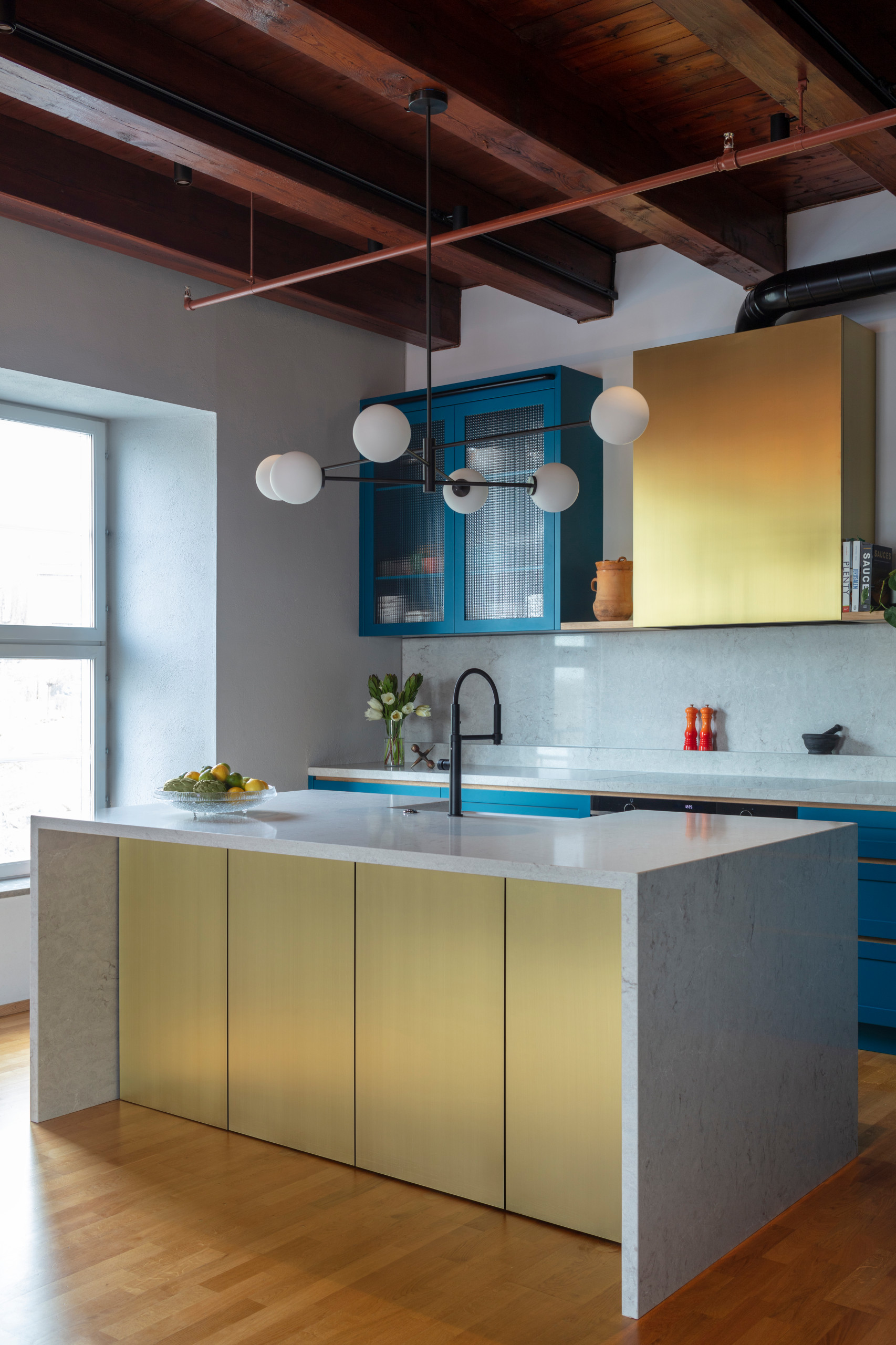 ID# 173321 | Houzz.com – Credit | © B R I T T F U R N – Interior Design
---
Blue Kitchen Cabinets with Marble Backsplash and Countertops
The statement finishes like the custom-designed blue cabinets, the marble countertops and backsplash, the metallic yellow range hood and the mid-century-inspired lighting fixtures define this gorgeous kitchen! First, the kitchen is dominated by blue cabinets with a pop of color along one wall, while the marble countertops and backsplash give the room a modern feel with an opulent touch. The metallic yellow range hood is the visual focal point and completes the unusual overall appearance. Its exquisite shape demands careful consideration. The rustic wood ceiling and lighting fixture over the waterfall island are what, in the end, give the kitchen a harmonious and balanced appearance.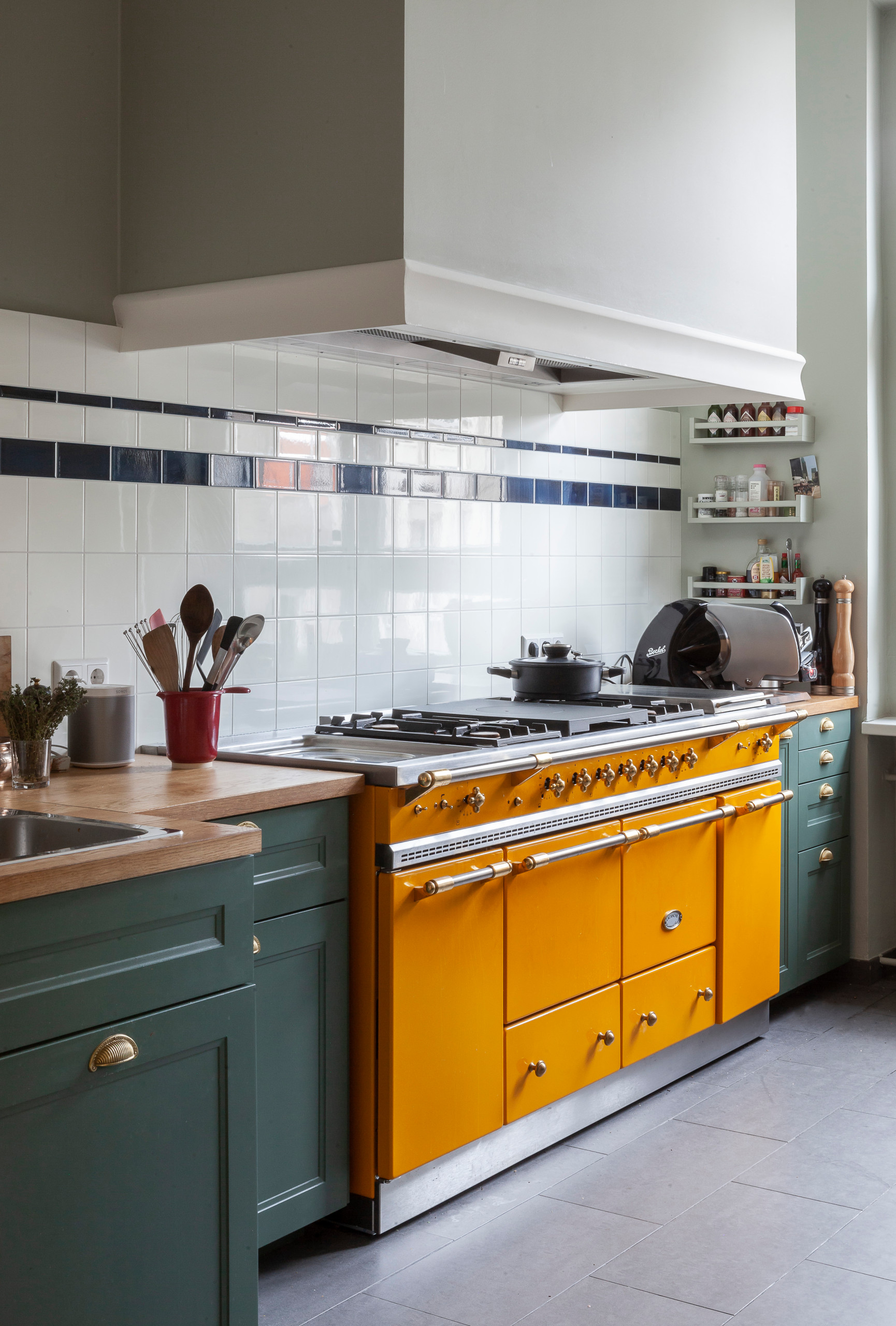 ID# 173322 | Houzz.com – Credit | © Holzconnection
---
Green Cabinets with Yellow Stove and White Backsplash
Can you think of another pair beside the yellow and green that can create an exotic escape from this world? This kitchen offers one of those thanks to the dramatic forest green cabinets, white square tile backsplash, and a yellow stove that makes for an immersive look. Behind them, a beautiful wall peeks out, protected by a standard white tile backsplash that seamlessly blends with the white trim of the range hood. For a final touch, the butcher block countertops and the antique brass hardware complement the vintage style of the stove.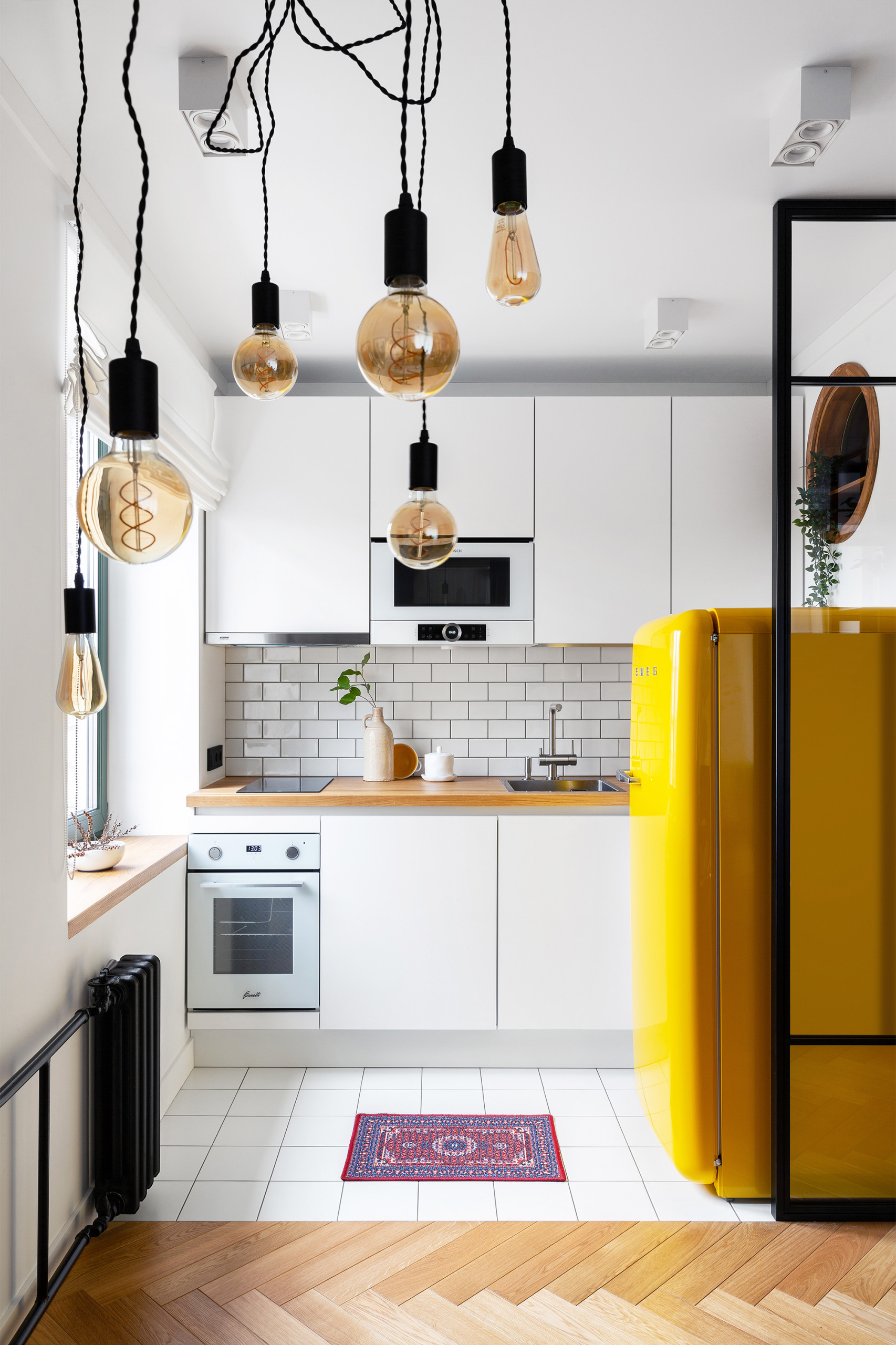 ID# 173323 | Houzz.com – Credit | © Бюро "АрхОснова"
---
White Cabinets and Backsplash with Yellow Appliances
We love how these yellow appliances pop out against the white background and feel 3-dimensional with visual and tactile accents! Accompanying the vivid yellow refrigerator are the white cabinets with flat-front door style and the classic white subway tile backsplash that adds depth and extra interest. The white square floor tiles complement the classic style of the backsplash while the wood countertops bring much-needed warmth to the design.
Colorful Kitchen Appliances with White Cabinets
To give an upgrade to your kitchen dotted with white cabinets, you can use colorful kitchen appliances, which is also a recent trend. Coming in various colors of yellows, oranges, pinks, greens, blues, and more, colorful appliances will update your kitchen and give it a new fancy outfit. To complement white cabinets and colorful appliances, you can benefit from 3D backsplash options or backsplashes with visual accents, butcher block countertops, or marble additions. Creating accent walls with paints or whimsy elements could also work well to assist the colorful appliances.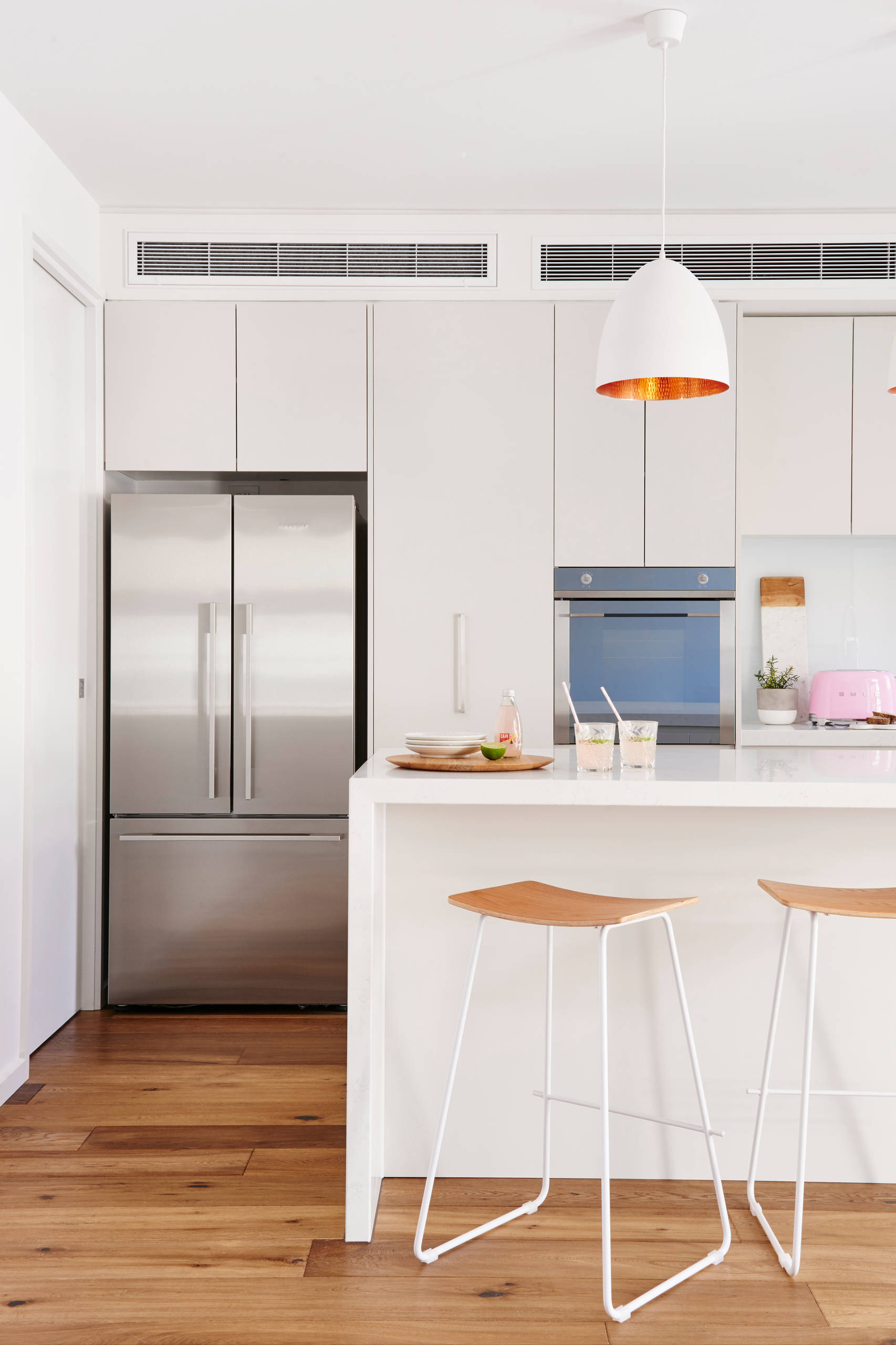 ID# 173324 | Houzz.com – Credit | © eands
---
Modern White Kitchen Design with Flat-panel Cabinets and Waterfall Island
This simple yet colorful kitchen design is characterized by modern white cabinets and wooden floors, enriched with colorful additions. Thanks to the pops of blue that come with the microwave and a pink toaster from Smeg, it makes for a modern look. The wood floor brings warmth to the white dominant atmosphere while the wood stools and the gold details of the white pendant light complement this warm feel.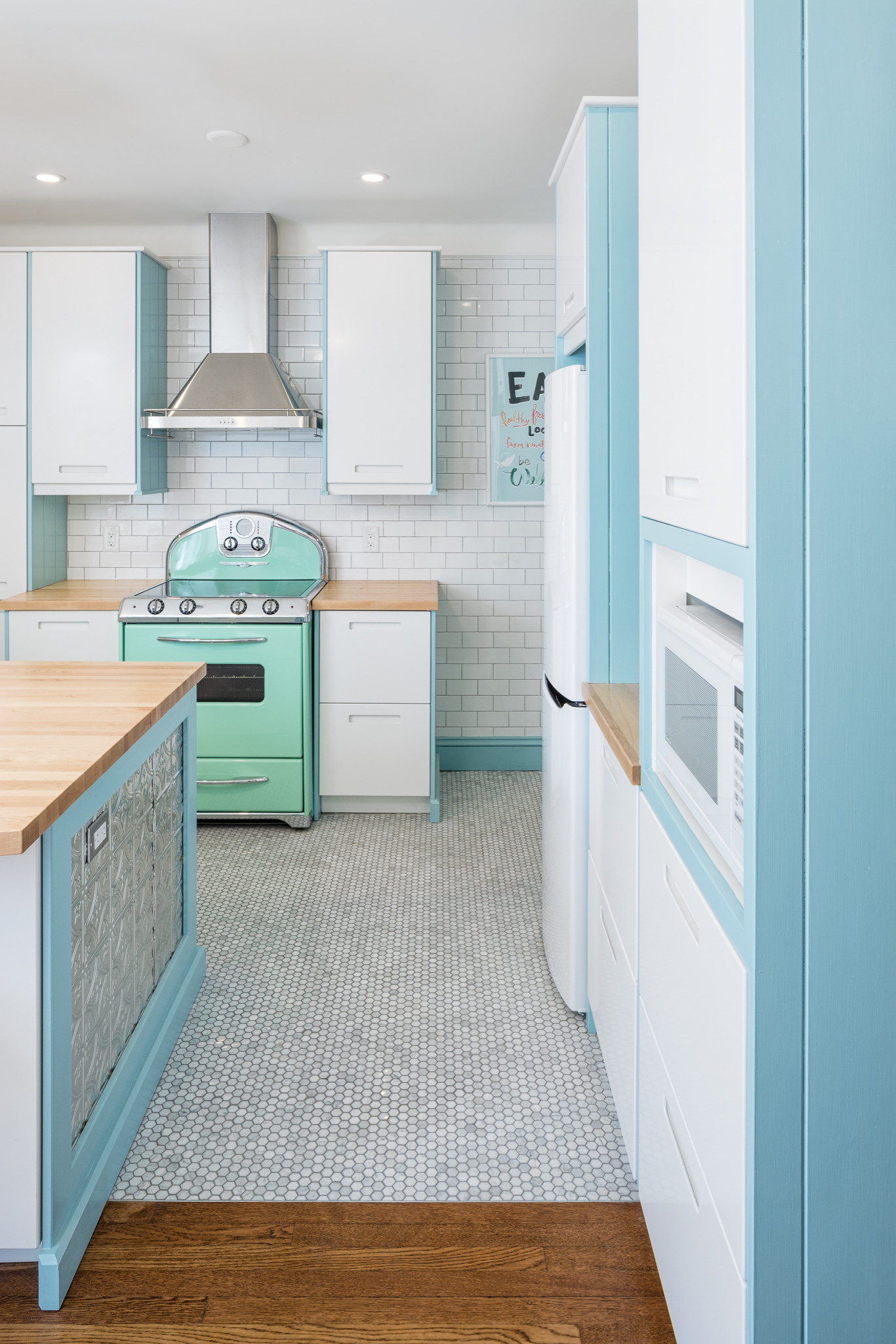 ID# 173325 | Houzz.com – Credit | © Grassroots Design
---
White Cabinets and Butcher Block Countertops with a Blue Stove
This cozy kitchen that seems to be giving a very calm profile shakes you up with blue accents! But the most distinguishing feature of this kitchen is the attention paid to each piece in equal measure. In other words, while the space is given an update with these blue accents such as the oven and the cabinet base, other pieces get a similar treatment as well. For example, the white cabinets are topped by butcher block countertops. And the marble floor tiles are given a gesture with a natural finish. The full-height subway tile backsplash creates a nice textural backdrop, while the stainless steel range hood punctuates the oven. In sum, everything comes together naturally in harmonious integrity.
What is the best brand for kitchen appliances?
Kitchen appliances are an essential part of our lives, including refrigerators, toasters, blenders, hobs, dishwashers, coffee machines, waffle makers, and many more. They make life much easier for us and are getting smarter every day to meet the demands of the fast urban life. That's why homeowners look for reliable brands that will provide them with products with a long lifespan and great quality. But what is or what are the best brands for kitchen appliances? Whirlpool, an American multinational manufacturer and marketer, ranks at the top of the list of best kitchen appliances. And it is followed by other well-known and reliable brands, including LG, Samsung, Bosch, and Gaggenau.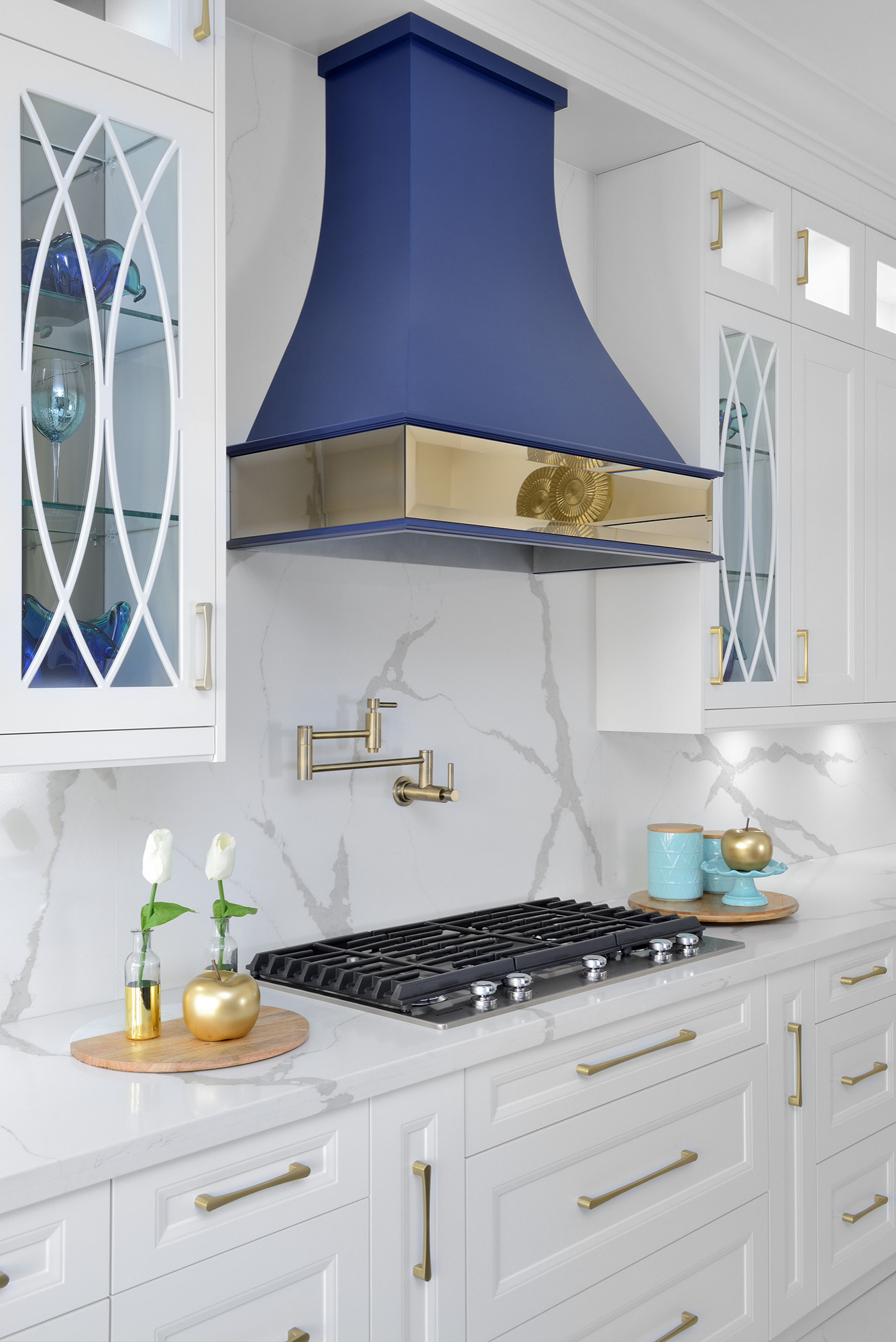 ID# 173326 | Houzz.com – Credit | © Dizeh Group
---
Stunning Marble Backsplash with White Cabinets and Blue Range Hood
The rhythm captured by the marble backsplash and countertops and navy blue range hood delivers a sense of sweetness without breaking the sophisticated character of the marble. The white cabinets, brass trim of the hood, and brass cabinet handle work harmoniously to tie the design together.