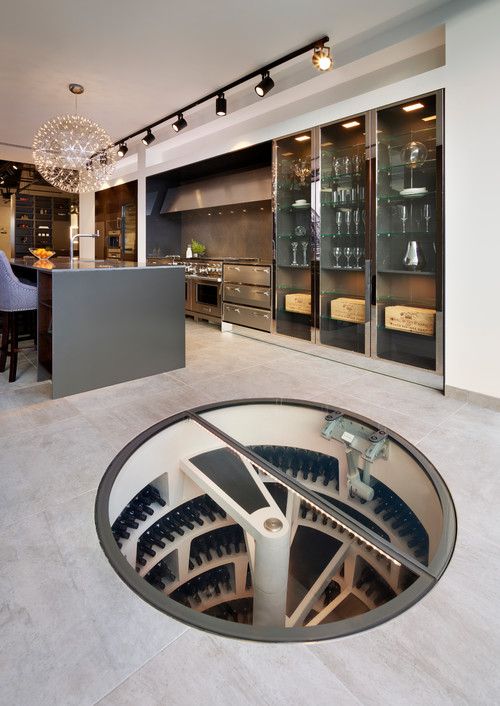 ID# 122446 | Houzz.com – Credit | © Spiral Cellars
---
Unique Spiral Basement Wine Cellar With Light Tone Floor
The Spiral wine cellar offers professional and high-capacity storage areas at home. The wine cellar, which looks quite modern, attracts attention with its different design. It harmonizes with the light tone color used on the floor against the white walls.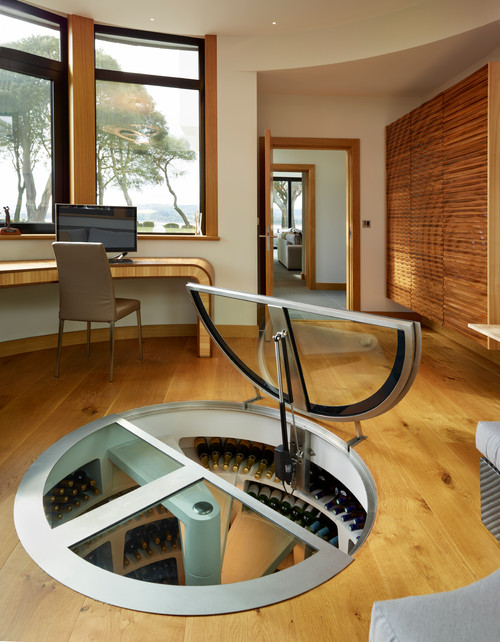 ID# 122441 | Houzz.com – Credit | © Sapphire Spaces Bulthaup Exeter
---
Modern Basement Wine Room with Spiral Staircase
Wood material was used extensively. The glass doors of the spiral cellar on the floor attract immediate attention. This clever design uses natural ventilation to achieve the best possible temperature and humidity for storing wine. The cellar can also be used as a cold store/larder.
Unique Rustic and Contemporary Basement Wine Cellar Ideas!
Maybe you've spent years, and yes, you've collected a wine collection. Even if your collection is small, you want to keep these precious bottles at their best. And for that, you need a place. Building a wine cellar in your basement is the best way to display your collection. Now with our basement wine cellar ideas, you can transform your basement into wine storage!
Build a wine cellar in your basement with glass, stone, wood, and more!
The right form of storage for wine is crucial as it affects its taste. Storage conditions affect the taste of the wine. For them, we have to maintain a balance of temperature and humidity levels. The basement is one of the best places for wine cellars. Now, is the time to turn your home basement into a wine cellar! To incorporate it into your home, you can test our basement wine cellar ideas.
They are glass stone wood and more wine cellar that suitable for all styles.