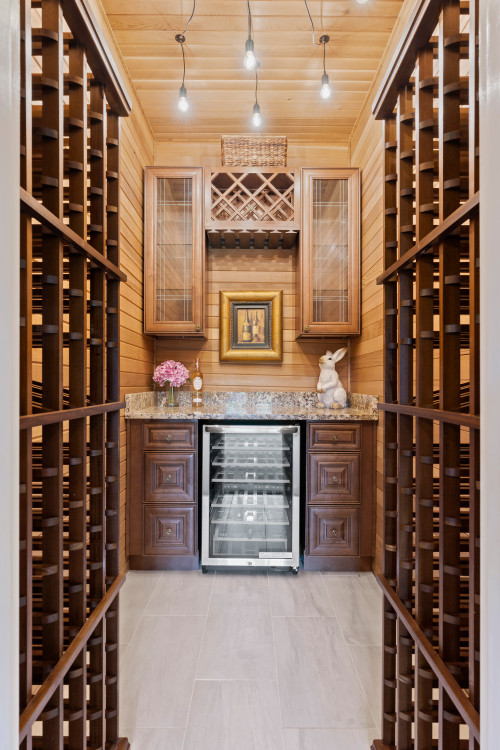 ID# 122301 | Houzz.com – Credit | © trueONE Group, LLC
---
Small Wood Wine Cellar With Wood Walls and Ceiling
The wine room has stalls that create excellent service areas. Dark wood cabinets contrast with light wood walls and ceilings. There are wines on vertical and horizontal shelves. Lightwood was preferred on the floor.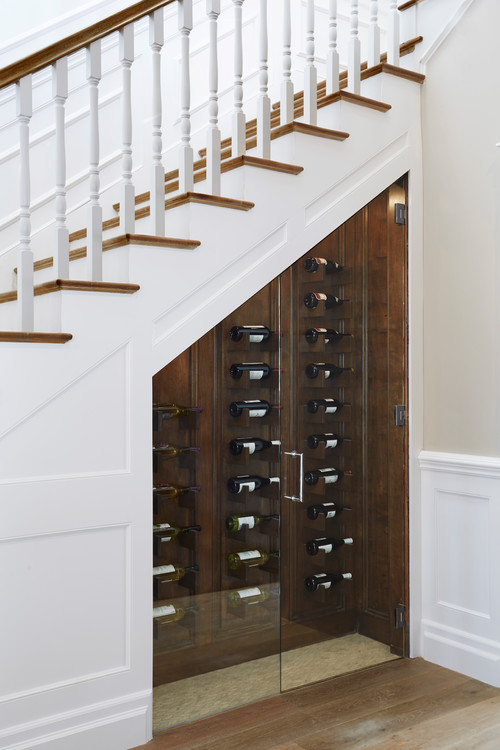 ID# 122345 | Houzz.com – Credit | © Eden LA Furniture and Interiors
---
Minimalist Wine Cellar With Wood Walls and Metal Hangers
There is a dark wood wine cellar located under the white staircase. the dark wood walls contrast against the white staircase. In the wine cellar, which has a glass door, there are wines hung on hangers. It has a modern style.
Modern Rustic and Elegant Small Wine Cellar Design Ideas
You don't have to have a big wine cave or millions of dollars to build a wine cellar! All you need to build your own wine cellar is a closet, pantry, or any corner. Yeah, you heard that's all you need. Now with our small wine cellar ideas, you can create your wine room beautifully.
Choose glass, stone, wood, and more small wine cellar ideas.
Are you ready to build your own small wine cellar? There are many things you can do to store wine in your home or anywhere. First, after determining your small area, you have to decide on your style and choose your material. Now it's time to turn a small area of your house into a work of art. To incorporate it into your home you can test our small wine cellar ideas.
They are glass stone wood and more wine rooms that suitable for all styles.