37+ Recycled Glass Countertop
Sophistication, style and sustainability: Recycled glass countertop ideas.
Thinking about renovating with style and keeping an eco-friendly ambient? I have the perfect solution for you. Recycled glass countertop ideas are the newest market trend which has already become the favorite material of homeowners everywhere.
Keep it #1 eco-friendly top: How this beautiful material is made
The Recycled glass countertop is made of a combination of glass chips with binding resin. How is this eco-friendly, you ask? Easy peasy: the source of the glass is recycled wine and beer bottles! The mixture depends on each manufacturer, but usually, it is composed of 80% glass and 20% binder.
The price range of this material varies between $50 and $125 per square foot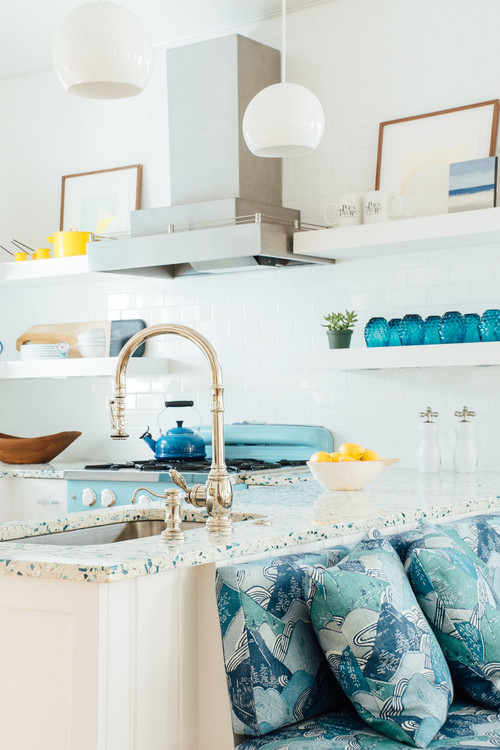 ID# 90303 | Houzz.com – Credit | © Cortney Bishop Design
---
Bringing beach to inside of your kitchen
If you are crazy about beach design, and want some in your home, this is for you! The minimal color scheme is a fresh union of white, light blue and yellow. The open shelves, gorgeous detail, give the illusion of the kitchen being bigger than it is. And can we talk about the gorgeous recycled glass countertop, which matches perfectly the style of the ambiance? White subway backsplash tile makes clean look. Dream kitchen!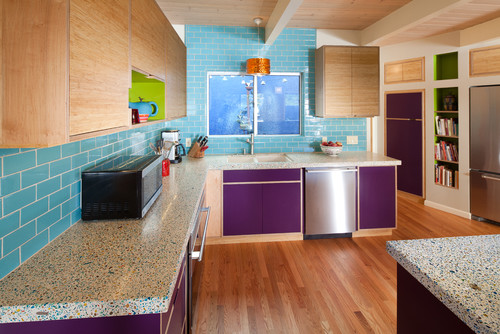 ID# 90314 | Houzz.com – Credit | © Green Goods
---
Eclectic kitchen space
Amazing backsplash tiles are the first thing you notice in this gorgeous space. The amazing recycled glass countertop, with different colors and shapes is a great asset inside this ambient. Finally,the red oak of the floor tile and clean blue backsplash idea helps creating a cozy environment.
PROS OF RECYCLED GLASS COUNTERTOPS: ADVANTAGES
Pleasant looking: – The beautiful surface comes in different colors and pigments, adjusting to your unique and personal style and fitting in any type of kitchen!
Easy to clean: – There is not an easier task than cleaning your amazing recycled glass countertops: hot water will, in fact, be more than enough. You can also use soap, but a continuous use is not recommended as it will damage the material in the long run. It is recommended to clean the spills as soon as possible after they occur, so that the countertop won't be damaged by the acids that food and drinks contain.
Eco- friendly: – Helping the environment is amazing, and so is this incredible eco-friendly substance. 80% of this surface is made of recycled materials!
CONS OF RECYCLED GLASS COUNTERTOPS:
It requires sealing: – Not a big con, but if you have a limited budget, recycled glass could be a bit tricky. At the same time, though, sealing means that your product will have a long-lasting life, so you could actually take it as an investment for the future!
Glass can chip out – Depending on the edge of it, glass can chip out. When buying your countertop, make sure you have enough information from the store and the installer so you can make a good choice and have a beautiful product without having to constantly worry about it getting ruined.