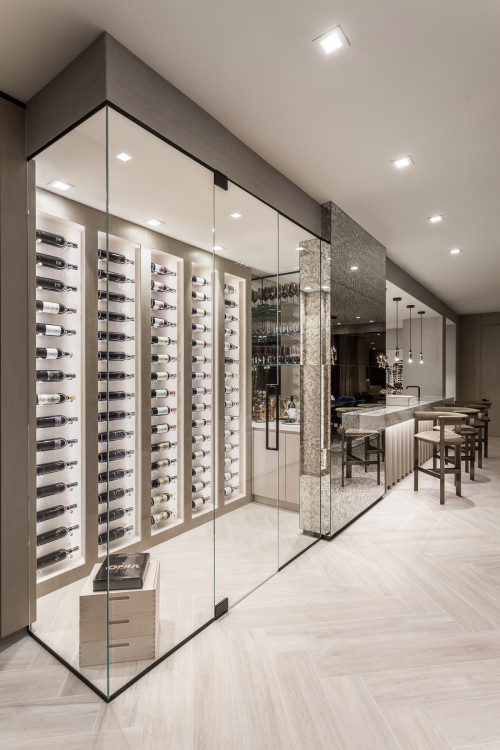 ID# 122231 | Houzz.com – Credit | © Sofia Joelsson Design
---
Modern Kitchen Design with White Wine Cellar
The wine cellar, dominated by light tones, looks pretty modern. The wine cellar next to the kitchen is handy. The wines placed in niches on the wall resemble the appearance of a store. It is supported by simple but stylish spotlights. Lightwood was used on the floor.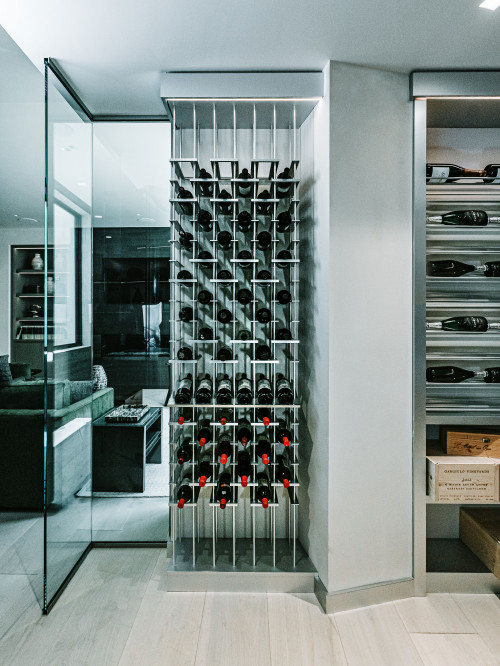 ID# 122202 | Houzz.com – Credit | © Viking Wine Cellars
---
Small Wine Cellar with Light Wood Floor
The large contemporary wine room looks pretty stylish. The use of suspension tubing on the floor-to-ceiling cork forward racking to the left of the back wall gives the illusion that the wine bottles are suspended in mid-air. The label forward racking is single length, but the triple depth allows for maximum storage capacity. The light tone is preferred on the floor.
Modern Stylish and Functional Modern Wine Cellar Ideas!
A wine cellar or wine room has been found in houses since the time of the ancient Greeks. The wine cellar, which used to be only in the homes of distinguished people, is now in everyone's house. Creating a modern wine cellar is easy now. It doesn't matter if the room, basement, corridor are not used for this. Now, with our modern wine cellar ideas, you can find some inspiration and start to design!
Choose glass, steel, wood, and more wine cellar ideas
Creating a modern wine room is now very easy. A seated bar, a simple shelf compartment, and the process are complete! To find some inspiration for your home, you can test our modern wine cellar ideas.
They are glass steel wood and more wine cellar that suitable for all styles.