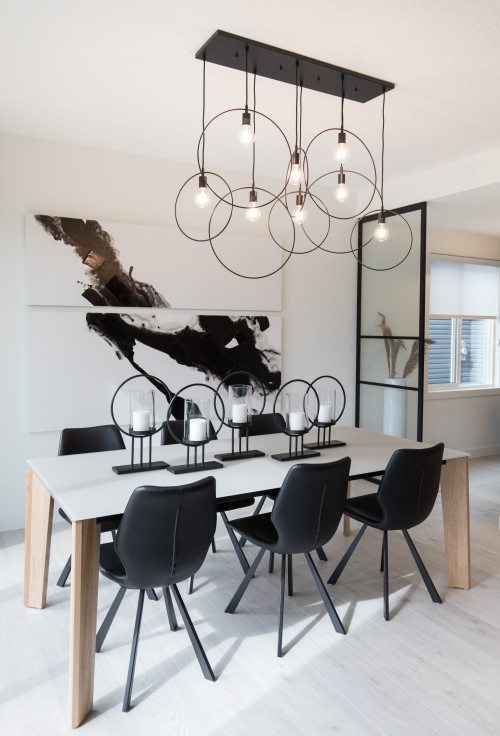 ID# 117701 | Houzz.com – Credit | © Rochelle Cote Interior Design
---
Scandinavian Dining Room Design with Black Leather Side Chairs
A combination of wood and black brings a modern look. Whitetop dining table with wooden legs placed between the black leather side chairs. Remarkable black lighting fixture and circular candlesticks under it in great harmony with the art piece on the white wall.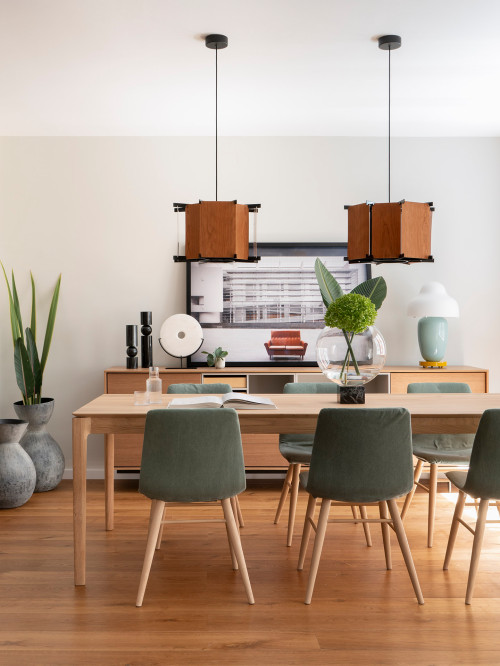 ID# 117729 | Houzz.com – Credit |  The Room Studio | © Mauricio Fuertes
---
Scandinavian Dining Room with Wood Table and Gray Chairs
Combination of natural colors and clean lines creating a cozy but modern look. The dining nook features a wooden dining table, pastel green side chairs with wooden legs, a wooden buffet, and wooden pendant lightings. Modern decoration objects like table lamps, glass plant pots, and art pieces on the wall liven up the atmosphere.
Classy, Chic, and Modern Dining Room Ideas
The dining room is the heart of the home. It's where you can gather up and spend quality time with your family and enjoy delicious meals. If you're undecided, you can find your dream look with our modern dining room ideas!
Choose plain, sleek furnishing
A successful modern dining room scheme needs a couple of key considerations. Modern design has clean lines and curves, without clutter. You need to find a balance between comfort, aesthetics, and practicality. Of course, modern does not have to mean totally devoid of soft edges and weathered charm. Furniture design has strong lines and angles without complicated curves. You can add in as much color as you want and choose a wallpaper that totally suits modern schemes. Here are some inspirations for our modern dining room ideas!
For a completely modern look, keep the chairs, table, buffet server, and any other major piece all in one uniform material, such as a sleek metal or finished wood.