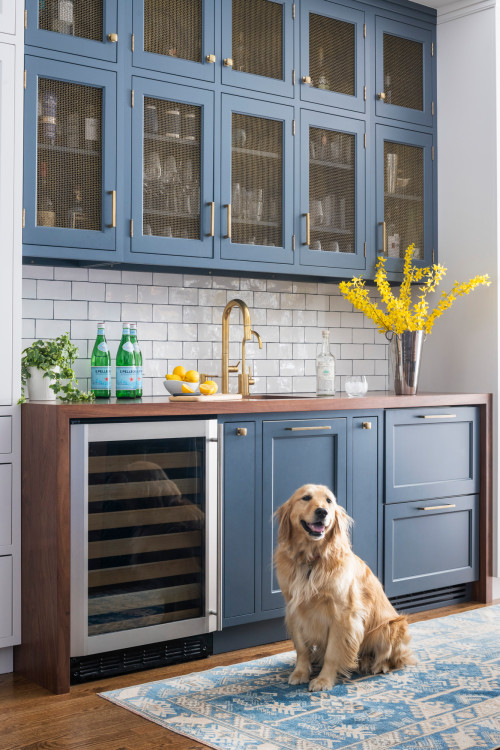 ID# 129403 | Houzz.com – Credit | © Studio Dearborn
---
Wooden Countertops and Waterfall with Navy Blue Cabinets and Subway Tile Backsplash
Again, the shaker cabinet design and subway tile backsplash duo show off in this bar design. There is a soft harmony with the navy blue shaker cabinets and wooden countertops with a waterfall. Gold hardware and navy blue cabinets have an endless harmony and they put a stylish view to the interior.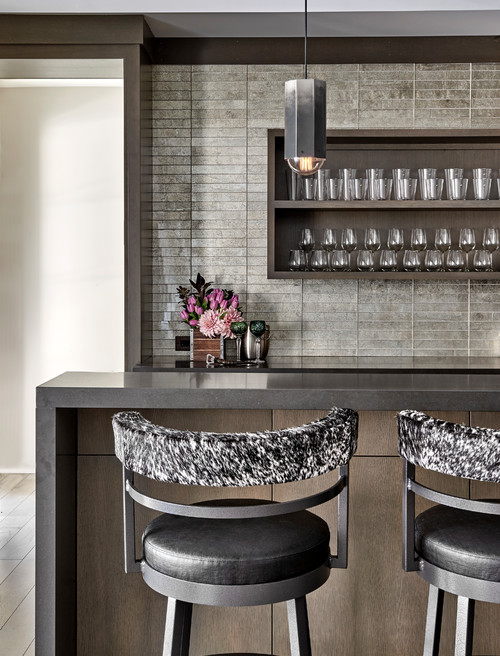 ID# 129432 | Houzz.com – Credit | © Tiburon Homes LLC
---
A Contemporary Home Bar Design with Stone Tile Backsplash
Contemporary design means having simple and plain lines or surfaces, of course. As it can be seen in this home bar area all the lines and surfaces of the cabinets have a plain look that gives a stylish appeal. The dark grey countertops and waterfall create a nice match with the brown cabinets and the brown shelf system draws hard edges which is a signature of the contemporary design approach. The stone tiles for the backsplash look as if it is made completely for this home bar design. It has a natural and stylish harmony with the brown cabinets.
Bar Backsplash
It is a nice idea to have a corner for entertainment with your guests, and home bars are perfect for this! It is a very useful home part when it comes to entertaining for both hosts and guests. Celebrations, small chats, or long heart-to-heart talks can be in this very special corner of yours. For this reason, you may like to complete your house design with the design of the bar or you can just contrast it to your house design and stand out the bar. Just like the kitchens and bathrooms, a backsplash has an important role for home bars. Bar backsplash is the element that brings all elements together and adds a stylish focal point. In this article, we gather different styled bar backsplash ideas. Keep reading and dive into these stunning tile designs to find the right backsplash for your home!
Of course, designing such a special place is not an easy task. There are many details such as which material you will choose and what color you will use. One of these details is the backsplash. Bar backsplash choice gains importance in designing a bar according to your style. There are plenty of alternatives in terms of materials such as marbles, granites, glass, or bricks to design your home bar. Besides its visual impact, a backsplash also provides a protective layer for walls, and this is important, especially in wet bars. So let's see what are the alternatives for our bar backsplash!
Types of Home Bar
Having a home bar getting more and more popular nowadays. It is a place where you can gather with your friends and family and have some good times with them. Even these small places have a variety of types that you can choose to use. There are dry bars that serve only to prepare drinks, you can use wet bars that you can wash your dishes. You may want to design your home bar most cleverly and uniquely and make it your favorite place so firstly you should decide what type of home bar is good for you. You may want to survey for yourself to understand your needs and the suitability of the place that you built in your home bar. Then you can go to the second phase of the design, choosing the materials! After all these, you will have unique ideas to design your sacred place.
Dry Bar Backsplash
Do you only want to hold your beverages with a mini-fridge but do not want to use water? Okay, dry homes bars are a perfect fit for this. A dry home bar is usually a place that can have a counter, backsplash, cabinets, and a mini-fridge that you can combine with plenty of textures or materials, you can have different accessories, too. You can diversify the things that you want to hold in your dry home bar, do not stick with only the simple structure, you can add shelves, built-in wine racks, cocktail napkins, etc. If you decide to use a dry bar, then let's look for the materials! What type of backsplash, countertop, what should be the color of the cabinets?
Wet Bar Backsplash
There are dry bars, okay, but what is a wet bar? The answer is simple, you have a special corner that is installed to an interior to hold your beverages for your guests and it also has a sink! You can prepare some drinks and then clean your dishes! It is easy to say "the difference is only a sink" because when it comes to designing your special place all the combinations come to mind and it becomes harder to choose the materials and combine them. Even the sink type and style matter!
Basement Bar Backsplash
The basements can have different duties for homeowners according to their lifestyle of course. You can design it as a music studio, atelier or home cinema, and home bar. If you want to design a home bar in your basement there are a lot of options that you can consider such as the size, colors, materials according to the interior that your special design will belong to. Are there windows to have illumination, are you going to build it near a stair? Once you decide on all of the options, you can start your basement bar design. Of course, as the design emerges, details such as backsplash emerge. According to your design style, you can choose metal, stone, brick, or mirror for your basement bar backsplash.
Small Bar Backsplash
If you want to evaluate the small and unused areas in your home or if you want to create a small space, it would be very reasonable to use a small home bar here. Whether you choose modern, minimalistic, contemporary, or traditional design styles, a stylish home bar will satisfy you in these small spaces. If the materials you will use in small bar designs are simple, you can achieve a stylish and eye-catching result. Of course, if you want to go crazy and go out of the ordinary, maybe you can make a difference by highlighting your backsplash material.
Backsplash Materials for Home Bar
Once you decide on your interior design style the most important part occurs, choosing the correct material! Will you use a mirror backsplash or brick? Which material of backsplash will create an elegant look? Is it stone or wood? Every material surface has its special aspect in the design and sometimes these aspects blend with other design elements that create different results.
Mirror Bar Backsplash
There is a beautiful and stylish way to make your home bar create depth and illusion! With the mirror backsplash, you can have more depth and a stylish look. Also, this mirror material can have harmony in nearly every color with this you can have an opportunity to create a lot of combinations!
Stone Bar Backsplash
Stone backsplash allows you to use their gorgeous colors and patterns to create stunning designs. They have natural look so you can have a warm and welcoming view with your design. This stone backsplash can be used in kitchens, bathrooms, and bars and make combinations with every color! The fashion of the stone material has an endless circulation with all design styles, so do not be afraid to use them.
Wood Bar Backsplash
Wood materials require a little special attention when used in wet areas, such as wet bars. It must be sealed and maintained properly. Once you do this wood material can be used as a backsplash and you can have a stunning natural design look. Rustic design styles mostly have wood materials but you can have it in any style! To create a warm, natural, and inviting look these wood materials are the perfect choice for backsplash!
Metal Bar Backsplash
Artificial material usage is popular these days, as technology grows material alternatives become wider and wider. The metal materials are one of these artificial ones and they have a lot of alternatives such as sheet metal backsplash that you can use for fireplace, the patterned metal backsplash that you can imitate brick or tiles, even mirror! The choice is up to your taste!
Brick Bar Backsplash
Thanks to industrial design style, bricks can have a contemporary design! The farmhouse or country design style loves to use bricks, too! So to have a friendly and welcoming look with the warmth of brick materials you can have a stylish look. When the brick backsplash is used with wood materials it creates a cozy and serene view. Sometimes it is possible to add a movement to the atmosphere with its colors or patterns. Brick can serve as joker material for nearly every design style!
Tiled Bar Backsplash
Tiles mean everything for places like kitchens and bathrooms. It is the only warp and woof that you can shortly complete your design. There is such a wide variety of tiles that if you try to choose a tile without adjusting your design style, you can probably get lost in this endless sea. These tiles, which you can also use in home bars, are mostly thought to be compatible with the general design of the house. Sometimes you might want to highlight one of your materials. How about a crazy design with an unusual color?
How to clean bar backsplash?
Keeping the backsplash clean is a job in itself, of course. Although things vary from material to material, cleaning it naturally is a smart way to avoid damaging your backsplash. These natural materials can be baking soda, water, and hand dishwashing soap that are in a spray bottle. For the mixture, you can use a glass of water and a quarter cup of baking soda, just add a small amount of hand dishwashing soap. It is a good way to wipe it down with a cloth and then damped the cloth with water to wipe the cleaning mixture.
Styles
The styles and the material choices together with them create endless matches, revealing stylish and beautiful designs. As time passes and technology progresses, we can see differences in design. If you ask what's among the styles, we can count rustic and modern styles as examples. These two designs have temporally and visually opposite characters. Which would you like to choose? Is it the warmth of a design that takes us back to the old times, or the designs that satisfy our eyes with the rapid cycle of modern times?
Rustic Bar Backsplash
Are you ready to have an aged, natural, rough interior style? If so you are in right place. Wood, bricks, marbles are common materials for this style. Mostly you can see raw wood materials as the main material in the design. If you like to use natural materials in the rustic style, you may like to consider it in home bars. You can have a rustic backsplash to highlight it or the bar design can be in a rustic style.
Modern Bar Backsplash
Modern design is a style that is in constant progress and changes itself in that direction as technology progresses. For example, if we were in 1950, the design style of that year would have been modern for us. There is a wide variety of products in this style, in which flatter and simpler surfaces are used. You can use various colors and textures, from the backsplash to cabinet handles, which is an alternative you can use when designing a home bar. As backsplash, there is a wide range of products from tiles to stones, from metals to glass.