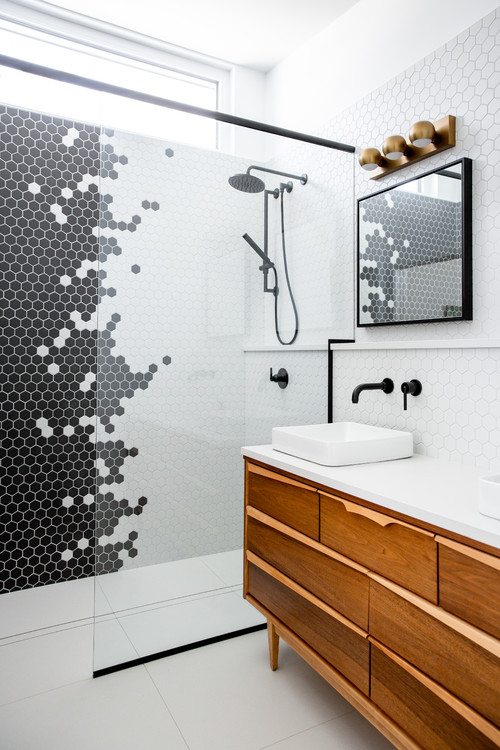 ID# 119202 | Houzz.com – Credit | © Ravenwood Developers LTD.
---
Midcentury Modern Bathroom with Black and White mosaics and Walnut Vanity
It's a simple, modern, geometrical, high contrast bathroom that has less in quantity but more in quality as a midcentury bathroom should. There are very simple and striking details such as the black and white hexagonal mosaic tile detail on the shower wall and the custom-made walnut cabinet. The rest is basically black and white; white countertop with double vessel sink, white porcelain tile floor, matte black minimalistic faucets, matte black square mirror, and brass triple-globe wall lamp.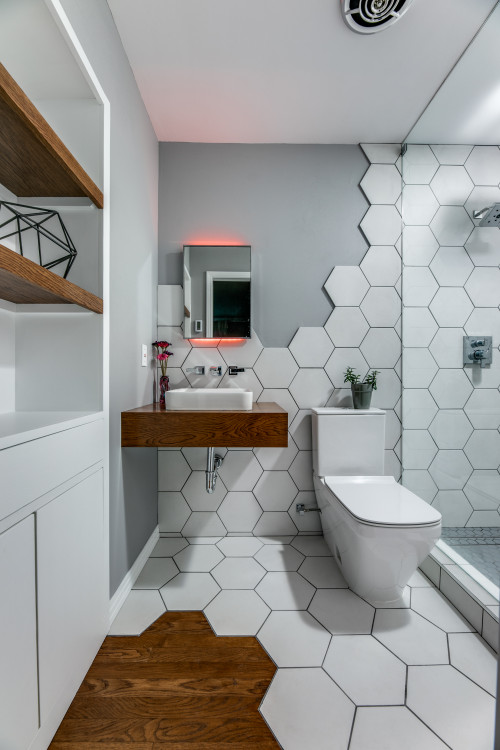 ID# 119241 | Houzz.com – Credit | © Hrs Build
---
Contemporary Bathroom with Hexagon Tiles and Warm Wood Accents
Natural wooden warmth is very eye-catching in this white and gray dominant bathroom. Hexagonal tiles have covered the floor and the walls partially and are completed with gray wall paint and wooden pieces in a way that enhancing the hexagon shape even more. Small space is used efficiently with placing all the waterworks on one wall which is the single wall mounted sink with wooden vanity, toilet, and shower.
Very Small Bathroom Ideas; It Is All About the Placement and Materials!
Modern city life has compelled us to live in smaller houses and bathrooms are one of the most significant rooms in our lives; the smaller they get, the more time we consume in bathrooms decreases because we only use them to quickly get cleaned and prepared. However, it's in the designer's hands to create enjoyable small bathrooms with the right choices of materials and placements. Scroll down and how to work with very small bathroom ideas!
Say goodbye to the bathtubs, walk-in showers are the best!
The lack of square footage and limited natural light is one of the most challenging points of the small bathroom design ideas. As our bathrooms are getting smaller, we're starting to get rid of the big bathtubs and use our spaces more lightly with walk-in showers. With minimal elements, our bathrooms are becoming more spacious and enjoyable, especially with frameless shower separations we perceive the room without any distraction. When a small bathroom is planned effectively, it's time to choose the right materials; bigger surfaces like floors, ceilings, and walls are better being in light colors and if patterns are going to be applied smaller patterns would be more appropriate.
Vanity and cabinets are to support the style choices and can be chosen according to the shape of the room. Accessories and the fittings are the key elements to complete the style, most likely they can be in any color and style because they are most likely very small surfaces.