32+ Marble Subway Tile Backsplash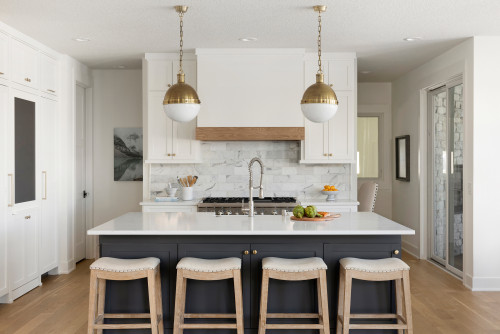 ID# 130504 | Houzz.com – Credit | © Swanson Homes
---
Black and White Kitchen with Marble Subway Tile Backsplash
The custom white kitchen cabinets are paired with a richly stained quarter-sawn oak accent to match the gorgeous wood floors. The black kitchen island with a white countertop stands out in front of the white cabinets and completes the timeless look of the cabinetry. The marble subway tile backsplash, white quartz countertops, brass hardware, and beautiful brass light fixtures perfectly finalize this timeless look.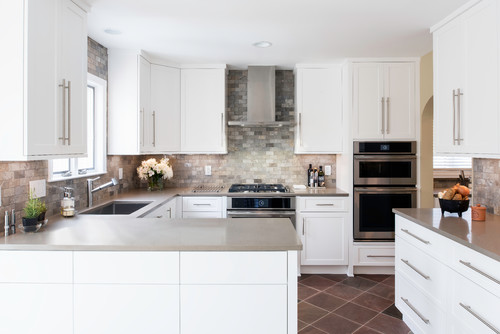 ID# 130518 | Houzz.com – Credit | © Synergy Design & Construction
---
Marble Subway Tile Backsplash in Gray and White Kitchen
Frameless, bright white Shaker cabinets reflect tons of light into this transitional and provide a spacious atmosphere. The solid quartz countertops create a clean and neutral surface while the multi-colored backsplash tiles take the attention and complement the gray countertop. The stainless steel appliances and the brushed nickel hardware create a harmonious look with the gray shades.
Marble Subway Tile Backsplash
Marble is a precious natural stone that is quarried from different places in the world. This beautiful stone is a great material to provide both a protective layer and an eye-catching visual effect as a kitchen backsplash. There are two different ways to incorporate marble into your backsplash: slabs and tiles. In this article, we gathered the marble backsplash in the form of subway tiles, which is the most popular form of tiles. Keep reading and find different applications of marble subway tile backsplash ideas!
With its natural veining and undeniable luxurious appeal, marble is a classic material for all kitchen and bathroom types and it can instantly elevate your design. And thanks to this beautiful natural look, it acts as a piece of art and becomes the centerpiece of your kitchen. Just like marble, subway tiles are also classic material for backsplashes. So, when the luxurious look of the marble meets with the effortless beauty of the subway tiles, the result is undeniably perfect!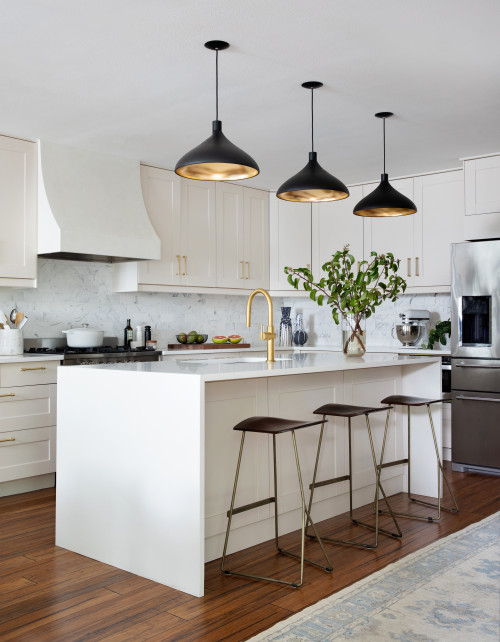 ID# 130501 | Houzz.com – Credit | © Urbane Design
---
Transitional Kitchen with Off-White Cabinets and Marble Subway Tile Backsplash
All-white kitchen designs are a rising trend for all kitchen types. You can spruce up these designs with small touches. In this transitional kitchen, the marble subway tile backsplash adds a nice textural look between the cream off-white kitchen cabinets. The white Caesarstone quartz countertops complete the bright look of the backsplash while the brass details such as hardware and plumbing fixtures complete the warm feel of the dark wood flooring.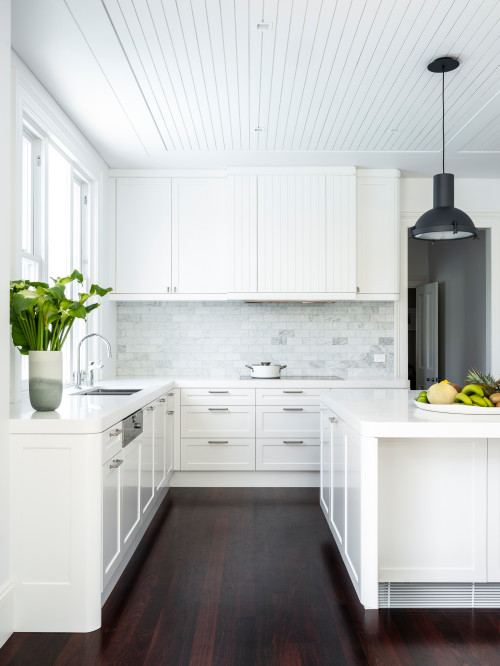 ID# 130502 | Houzz.com – Credit | © Porebski Architects
---
White Shaker Cabinets with Shiplap Ceiling and Dark Wood Flooring
The pure and clean feel of the white surrounds this contemporary kitchen and offers a bright and spacious atmosphere. The marble backsplash makes a luxurious twist and elevates the design. The curved edges of the white Corian quartz countertops soften the space while the white paneling of the range hood matches with the white shiplap ceiling. The dark wood flooring breaks the white domination and creates a contrasting look with the white features.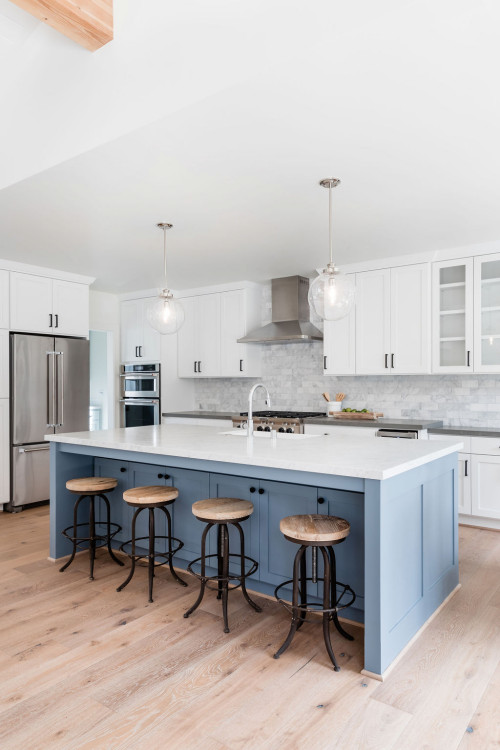 ID# 130503 | Houzz.com – Credit | © Staged by Alchemy
---
Midcentury Kitchen with Light Blue Island and Marble Subway Tile Backsplash
In this midcentury kitchen, the kitchen island takes the stage with its lovely blue color and makes a statement. The white shaker cabinets and marble walls provide a sleek backdrop for the island while the gray countertop of the perimeter cabinets and the black cabinet hardware nicely contrast with the white features to emphasize them.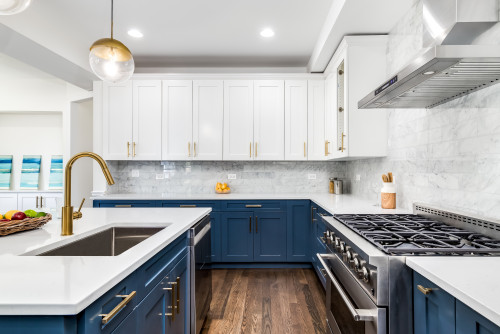 ID# 130505 | Houzz.com – Credit | © Coveted Interiors
---
Two-Tone Blue and White Cabinets with Marble Subway Tile Backsplash
The two-tone blue and white kitchen cabinets serve a classic traditional look with a fun twist! The subway tiles lend a more modern vibe while the beautiful marble texture adds to the timelessness of the space. The white countertop of the navy-blue perimeter cabinets completes the fresh look of the white upper cabinets. The brass hardware ties both colors together.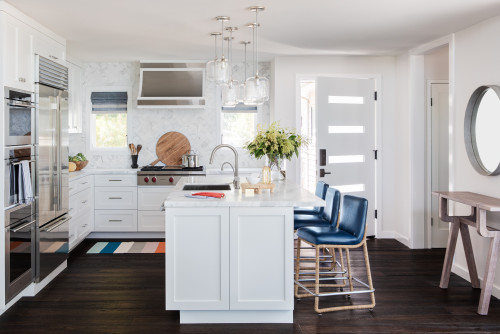 ID# 130506 | Houzz.com – Credit | © Jennifer Wundrow Interior Design, Inc.
---
White Kitchen Cabinetry with Marble Backsplash and Countertop
In this transitional kitchen, the marble subway tiles are laid in a diagonal pattern. This more unique pattern adds more visual interest to the design. The marble countertop of the white cabinets creates a continuous look with the backsplash while the stainless steel appliances complete the traditional style of the cabinetry.
Top Marble Backsplash Colors
In today's market, marble stone comes in a wide range of color options. Each one has different veining, grains, and flecks and each one offers different visual impacts. Also, each of them has different price tags. So, before making your final decision, you can check these different options and find the best marble that suits your taste and budget. Here are the top marble colors for kitchen backsplashes;
Carrara marble backsplash: It is the most popular white marble option which has a grayish-white base with gray veins. The cost of a Carrara marble backsplash varies between $15-35 per square foot.
White Calacatta marble backsplash: It is another popular option that is identified by the cracked pattern and grey veins. It has a higher price tag than a Carrara marble.
Calacatta gold marble backsplash: It is one of the most luxurious marble colors that has a deep white background color and dramatic natural veining in gold and gray. This beautiful stone acts as a piece of art! It is much more expensive than other options that could cost as much as $30 – $90 a square foot.
Bianco Carrara marble backsplash: This classic Italian marble consists of a pure white background with gray veins. It offers a softer appeal. The average cost of it is between $15 to $30 a square foot.
Thassos Marble Backsplash: It is one of the most expensive ones that is characterized by its pure white quality and luxurious shine. The cost of it can go anywhere from $25 to $60 a square foot.
White Marble Subway Tile Backsplash
White marble subway tile backsplash represents purity and peace. With its clean and fresh look, it offers a classic and timeless appeal for kitchens. As we mentioned before, different types of white marble can use as a subway tile. Carrara and Calacatta are some of the most popular white marble options.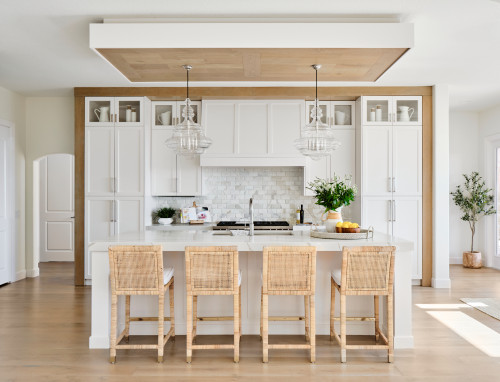 ID# 130507 | Houzz.com – Credit | © Haven Design and Construction
---
White Transitional Kitchen Design with Marble Subway Tile Backsplash
This transitional kitchen serves an organic and airy look! The white shaker cabinets, white marble subway tile backsplash, white quartz countertops, and glass pendant lights create a bright look. The wood framing of the cabinets, flooring, and suspended ceiling give the kitchen some additional contrast white the wood ceiling cloud helps to anchor the space. The marble backsplash adds modern texture.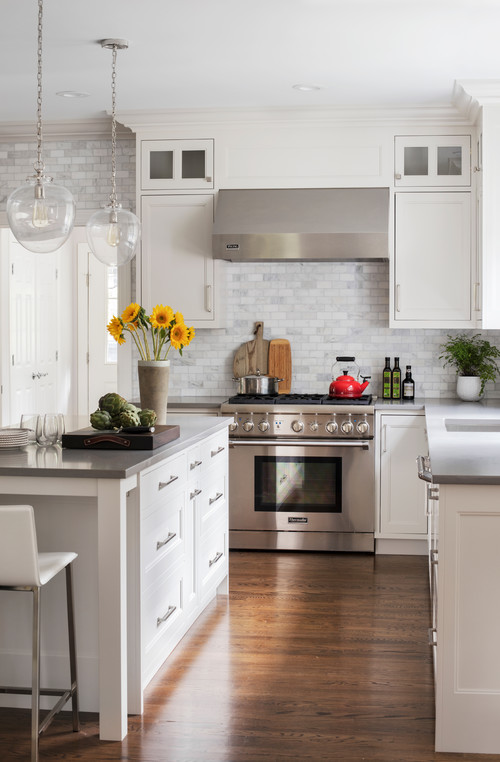 ID# 130508 | Houzz.com – Credit | © ND Interiors, LLC
---
Shaker Style Kitchen Cabinets with Gray Countertops
The white Carrara marble backsplash takes the stage in this plain white kitchen. The white shaker cabinets, light gray countertops, chrome hardware, and stainless steel appliances serve the classic beauty of the traditional style while the subway tile makes a modern touch!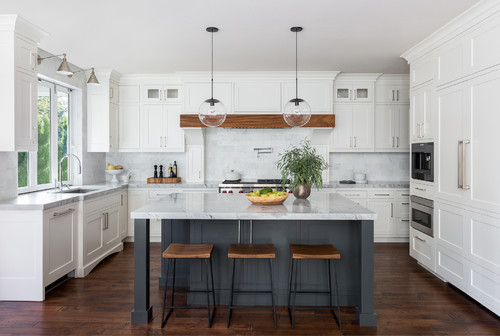 ID# 130509 | Houzz.com – Credit | © Urban Restoration
---
Black and White Kitchen with Wood Accents
With its white shaker cabinets, black central island, and marble accents, this transitional black and white kitchen serves a timeless and stylish look! The marble subway tile backsplash and marble countertops add value to this kitchen design. The wooden trim of the white range hood creates a frame for the backsplash behind the stove to emphasize it. Also, this wooden trim and the wooden stools complement the dark wood flooring.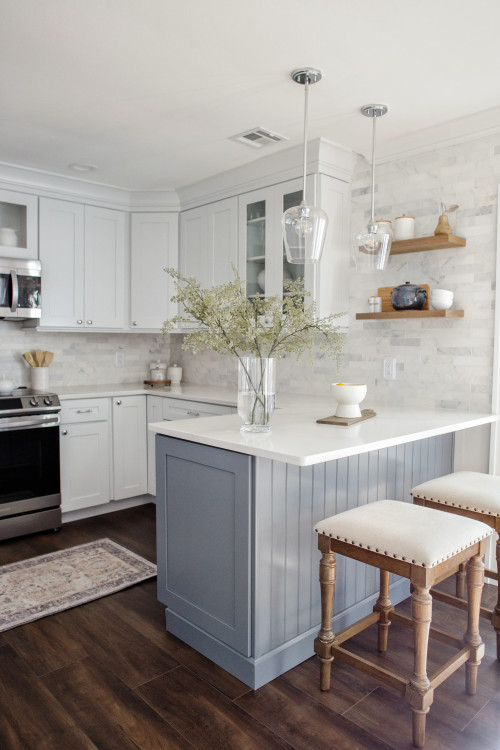 ID# 130510 | Houzz.com – Credit | © Jaclyn Marie Interiors
---
Small Open Concept Kitchen with Light Gray Peninsula
Using white color in the small spaces is a perfect way to make the space feel larger. In this open concept kitchen, this approach has been applied with white kitchen cabinets, white backsplash, and white countertop. The marble tiles as a backsplash add a nice texture while the light gray cabinets of the peninsula add a splash of color. Also, the marble stones complement the peninsula with their gray veining. The u-shape layout of the cabinets maximizes the functionality.
Is marble backsplash hard to maintain?
Marble is a natural stone that's why it has a porous surface. Because of this surface marble is more prone to staining than some other materials like ceramic or glass. But you don't have to worry about it. With regular sealing and cleaning, you can maintain the beautiful look of the marble. So, it is harder to maintain than other materials but nothing can beat the undeniably beautiful look of the marble!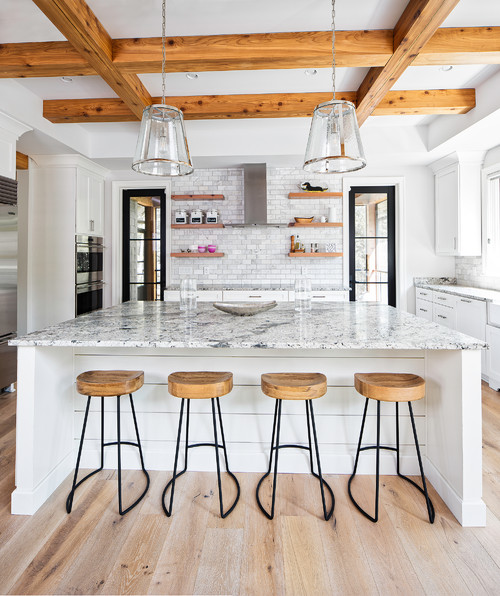 ID# 130511 | Houzz.com – Credit | © Aaron Fine Architectural
---
Rustic White Kitchen with White Granite Countertops
In this rustic kitchen design, the bright look of the white features is perfectly balanced with the wooden accents to create a welcoming atmosphere. The full-height natural stone backsplash creates a focal point with the wood open shelving while the white granite countertops complement the textural look of the marble.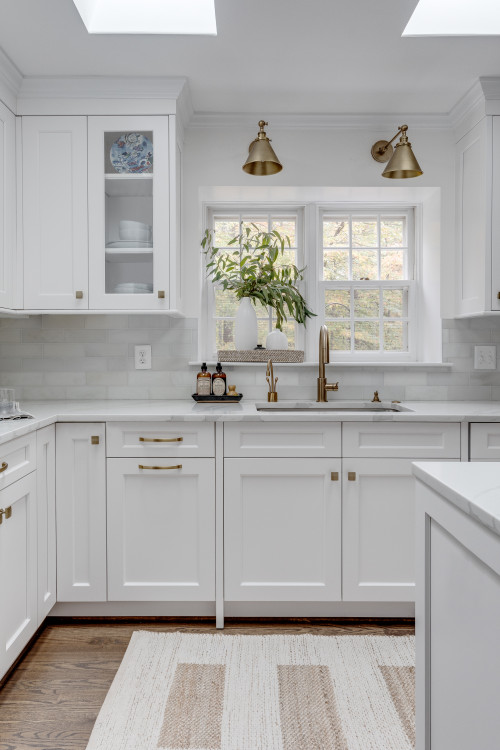 ID# 130512 | Houzz.com – Credit | © Erika Jayne Design Build
---
All-White Kitchen Design with Wood Flooring
Going with classic doesn't mean that it will be boring! You can liven up the design with tiny details. This transitional kitchen features classic design elements such as white shaker cabinets, marble backsplash, and quartz countertops. These elements are spruced by brass and wood accents to add warmth and interest to this timeless design.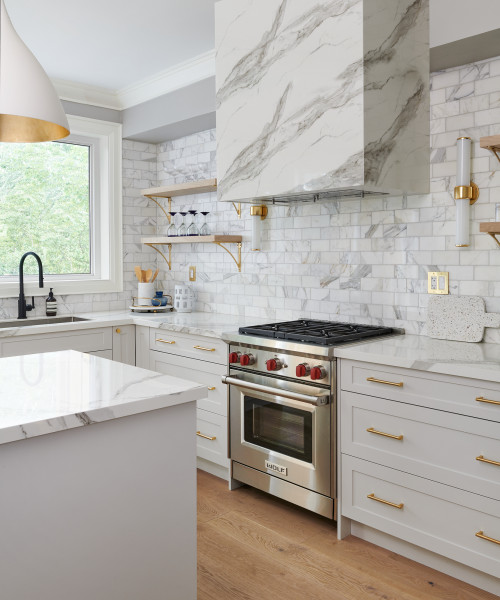 ID# 130513 | Houzz.com – Credit | © Homekin
---
Off-White Cabinetry with Calacatta Marble Backsplash
In this beautiful all-white kitchen design, white shaker cabinets and marble details offer a timelessly elegant appeal. The stunning marble range hood makes a statement while the marble subway tile backsplash and the countertop create a continuous look with the range hood. The brass details complement the gold veining of the Calacatta gold marble backsplash and complete the luxurious feel of the marble.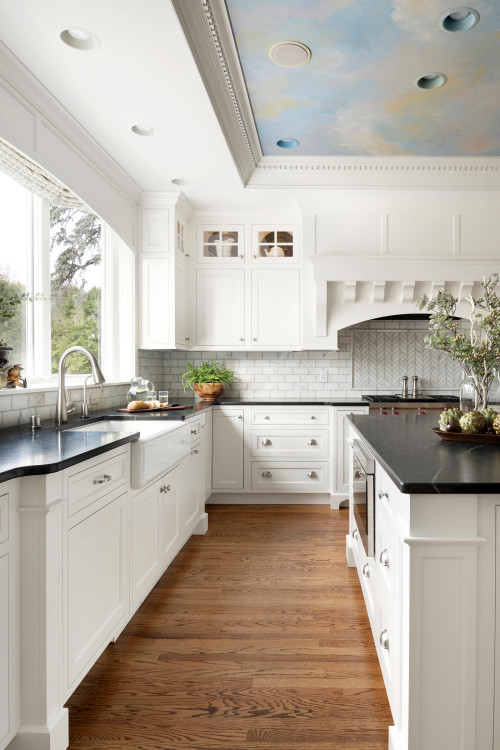 ID# 130514 | Houzz.com – Credit | © Crystal Kitchen + Bath
---
Traditional Kitchen with Black and White Color Scheme
In this traditional kitchen, the black quartz countertops stand out between the white cabinets and white backsplash and create a contrasting look. The chrome hardware completes the classic traditional style of the cabinets. Using marble backsplash in subway tile form makes a modern touch. Also, chevron tiles behind the stove add visual interest.
Gray Marble Subway Tile Backsplash
Just like white, gray is also a popular color for kitchen backsplashes. If you want to create a soft look with a luxurious feel, a gray marble subway tile backsplash will be a perfect addition to your kitchen.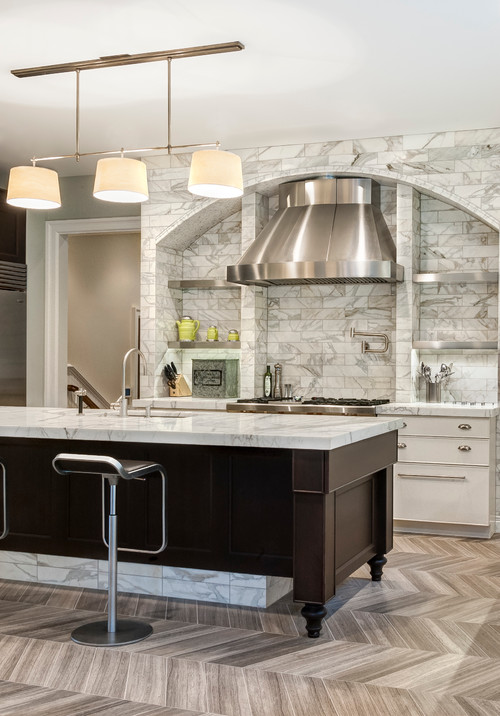 ID# 130515 | Houzz.com – Credit | © Artistic Tile
---
Marble Accent Wall with Stainless Steel Shelves
The shooting effect of the marble tiles creates a strong accent in this contemporary kitchen! The unique shelving system with stainless steel shelves complements the stainless steel appliances while emphasizing the backsplash. The beautiful appeal of the marble is continued on the countertops of the white perimeter cabinets and the dark wood kitchen island.
Finishes of Marble Subway Tile Backsplash
Just like the colors, marble backsplashes also come in different finish options such as honed, polished, and tumbled. Each of them has different aspects and they give different visual impacts. Keep reading and find which finish will suit your kitchen design.
Honed Marble Subway Tile Backsplash
Honed is a matte finish that reflects the light in a very small amount. With this matte surface, a hones marble subway tile offers a sleek appeal. Unlike the polished finish, honed is not buffed after it is sanded and it has a more porous surface than the polished one. That's why they are more susceptible to staining. But also thanks to this matte surface, it shows scratches less than the polished marble.
What countertop goes with a marble backsplash?
The color of your countertop is one of the most important decisions that will affect the overall look. You can pair your marble backsplash with white, gray, or black countertops. This way you can complement the veining of your marble. Also, using the same material for both backsplash and countertop is a popular way. Matching your marble backsplash with a marble countertop will provide a completed look. On the other hand, you can go with other natural stones like granite, soapstone or give a marble effect with a quartz countertop.
Polished Marble Subway Tile Backsplash
Polished is the most common and traditional finish for the marble backsplash. Because of its glossy surface, a polished marble subway tile backsplash can help you to create a bright atmosphere for your kitchen. Also thanks to this glossiness, polished finish allows the color of the marble to its fullest and offers a luxurious appeal for kitchens.
Tumbled Marble Subway Tile Backsplash
For this finish, marble stones are tumbled to give a more natural and rustic appeal. With its beautiful and natural texture, a tumbled marble subway tile backsplash brings depth to the atmosphere. A tumbled finish is more expensive than other finishes because the process often leads to more broken tiles.
Faux Marble Subway Tile Backsplash
Marble is a beautiful material that can instantly elevate your kitchen. However, this natural stone has more pricer than other materials such as ceramic or porcelain. That's why, if a marble backsplash is out of your budget, you can check different tile alternatives which have a shooting marble effect.