36+ Kitchen Storage Cabinet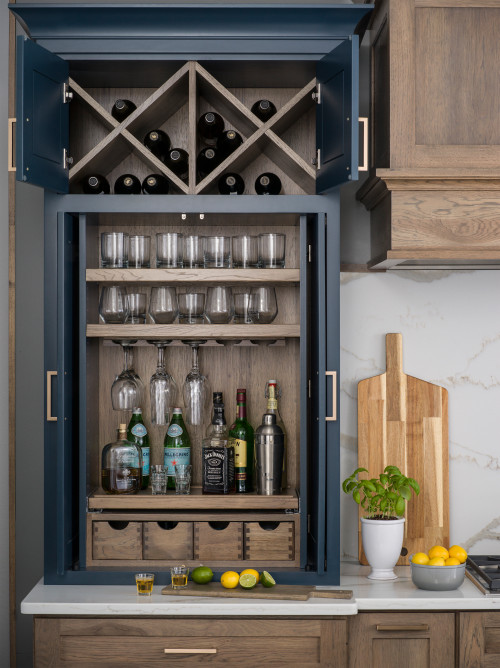 ID# 100305 | Houzz.com – Credit | © Dura Supreme Cabinetry
---
Modern Farmhouse Kitchen with Compact Beverage Cabinet
This modern farmhouse kitchen features a beautiful combination of navy blue painted and gray stained Hickory cabinets with marble backsplash that's sure to be an eye-catcher. Beneath beautiful pocket doors of the cabinet, an intricately designed beverage cabinet with apothecary drawers thought for housing beverage stir sticks, sugar packets, creamers, and other misc. coffee and home bar supplies.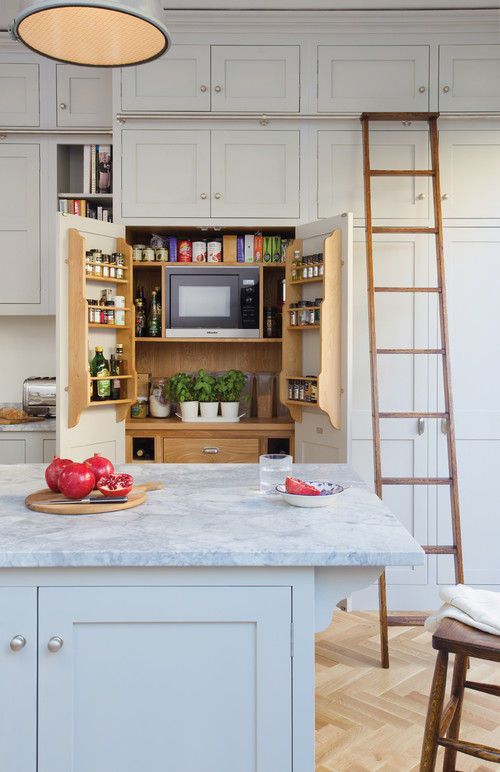 ID# 100320 | Houzz.com – Credit | Charlie Kingham | © Guildford
---
White Traditional Kitchen with Huge Storage Cabinets and Ladder
This impressive shaker-style kitchen features tall built-in white cabinets paired with a ladder for easy access to the taller cupboards. The integrated larder and storage space unit includes a built-in microwave and mounted spice racks with a natural wood interior finish.
Kitchen Storage Cabinet Ideas
We are fully aware that there is never 'too much storage' and know you think the same! Regardless of the style, cabinets are the primary storage spaces in the kitchen. If you wanted to get inspired by a variety of ways a cabinet can be more effective, you are more than welcome!
Depending on the space you've got, you can have efficient storage spaces through your cabinet design
From narrow pull-out shelf units on either side of the oven for kitchenware or spices to large cupboards that need to be organized effectively inside for all the kitchenware and food items, there is a wide range of examples for you to choose from.
Also, you will find that in any given cabinet space, you can create clever solutions which will make your organization and cooking process more joyful. Amongst our carefully picked collection, you can design your cabinets that will always keep your items at hand and always organized!