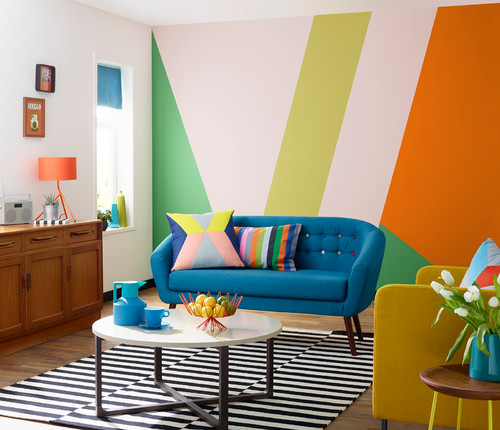 ID# 115105 | Houzz.com – Credit | © Set Visions Ltd.
---
Contemporary Cute Living Room with Multicolored Wall
A great example that you should not afraid to combine vibrant colors! This trendy mid-sized living room has nailed the bright and bold look with its multicolored wall design, dark wood floors, and eye-catching furnitures to match the energetic setting. A bright color palette helps the small living room feel more open and airy.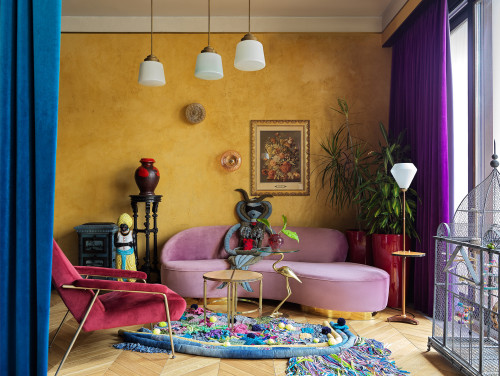 ID# 115131 | Houzz.com – Credit | © Дарья Василькова, студия «Art Group»
---
Medium Sized Cute Living Room with Golden Yellow Wall
This ravishing eclectic living room is packed with special design elements like golden yellow textured walls, light wood parquet floors, luxurious contemporary furnitures in shades of purple, and authentic decorative pieces.
Stylish, Chic, and Cute Living Room Ideas
There are limitless ways to add some joy to the living rooms that will make it the most inviting, relaxing, and blissful place in your house. If you are looking for some cute ideas to add some fun twist to your living room but can't decide on a color palette or style, here are lots of living room ideas for you!
Do not afraid to add color to your living room!
We hope you would pick some great solutions for a colorful wall, pattern harmony, and how to bring the most unique decor into your space. You will find that the size of your living room doesn't matter when you want an interesting space with lots of dynamism.
Whether you prefer vintage style or a more modern one, pastel colors or bright tones; you will find the perfect design that will make the living rooms your ultimate happy place.