38+ Metal Kitchen Countertops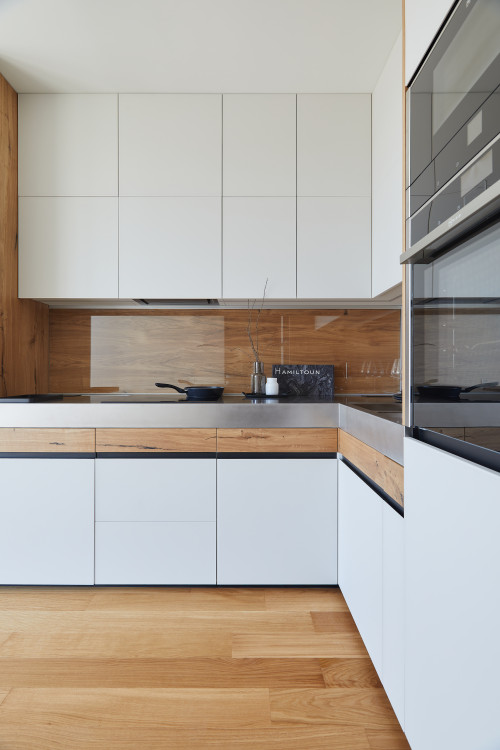 ID# 139110 | Houzz.com – Credit | © Hamiltoun
---
Combination of White, Wooden, and Metal Kitchen Countertops in a Modern Kitchen Design
We see the harmony of natural and industrial materials in the kitchen with metal countertops and a wooden look used with white flat kitchen cabinets. When built-in appliances and under-counter washbasins are added to this space, the space as a whole offers a quality space to the eye and the user. While the stylish stance of the metal countertop offers an effective appearance, it provides convenience to the user. When the reflective texture of the metal is combined with the wooden coating on the floor, warm light is provided in the space.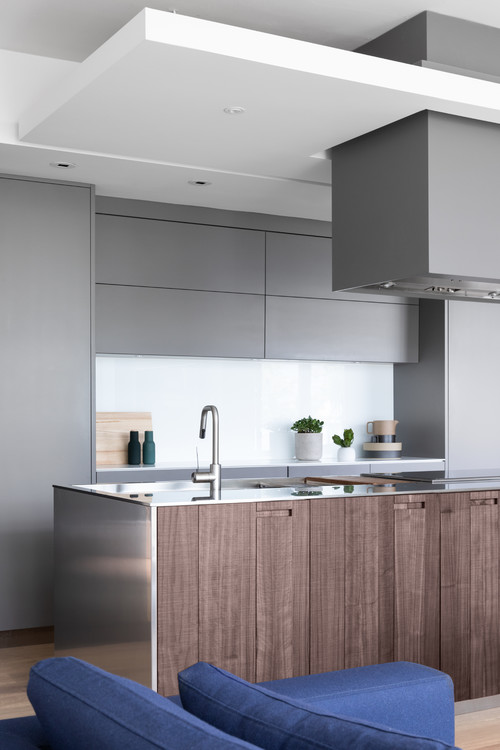 ID# 139124 | Houzz.com – Credit | © PlaidFox Studio
---
Open Kitchen Design Balanced With Modern Metal Kitchen Countertops
Kitchen designs with open spaces always make the space look more elegant and useful. While the location of the kitchens in the space makes it stand out, it creates a living and active space perception. The color transitions created by the metal with the plain wooden textured kitchen cabinets and the matte smoke of the other cabinets show the harmony of metal and materials. While the suspended partition used on the ceiling and the white color kitchen and metal countertops stand out, it gives a feeling of simple elegance. The reflective white texture used in the backsplash enhances the feeling of emptiness in the kitchen.
Metal Kitchen Countertops
Countertop selection is a very important element in kitchen designs. The harmony of the counter and backsplash is a factor that greatly affects the overall atmosphere of the kitchen. Among these, metal kitchen countertops are one of the long-lasting and visually pleasing materials that designers enjoy using with designs that have come to the fore in recent years in terms of style and appearance.
Metal kitchen counters are a type of material that provides industrial effects, offers an aesthetic appearance, and provides convenience to the user in terms of use. Stainless steel and copper are the most commonly used varieties. Metal kitchen counters, which provide modern and even futuristic lines in designs and are the foremost material of these designs, provide users with places that offer visuals for many years and do not go out of fashion.
Are metal kitchen counters expensive?
It is a costly product compared to classical countertop materials. A metal worktop costs an average of $150 per square foot. however, it can also vary between $80 and $225 per square foot.
Is metal good for countertops?
Easy to use, durable, and long-lasting making it a suitable material for countertops. There's a reason professional chef has relied on metal counters for many years. These countertops are antibacterial, and stain resistant, and add a beautiful sparkle to any kitchen.
Stainless Steel Kitchen Countertops
Stainless steel kitchen counters are materials that remain hidden in restaurants and cafes for many years. However, nowadays, stainless steel kitchen counters appear as a product that is quite common in homes and that puts kitchens and spaces in a different visuality and functions. The harmony of wood and steel, and the long-lasting and easy use of steel are among the most important features that explain why this material should be in our homes.
Can you use aluminum as a countertop?
Aluminum is a versatile material that creates a clean and flawless surface that can be used on countertops, backdrops and sinks. Its seamless surface means it has no cavities or folds where food or dirt can accumulate, making it ideal for countertops.
Copper Kitchen Countertops
Since the history of humanity, copper has been an element that people use in every field. Copper, which is found almost all over the world, is a material that is frequently encountered not only in pots and pans, but also in countertops, sinks, hoods, kitchen cabinet handles, and even lighting. Whether in a modern kitchen design or a traditional design, there are many ways to incorporate copper into the design.
The distinctive tone of the copper countertops creates a striking effect with the kitchen cabinets and blends perfectly with wood and its tones. In addition to its visual properties, copper is a great option to be used on the kitchen counter as it is antibacterial. If you like the shiny look, it is necessary to polish the copper periodically, but if you want an aged look, there is no harm in using it without maintenance.
What is the most durable kitchen countertop material?
Quartz is a material that ranks first in terms of durability. Made of crushed quartz stone mixed with polymers and resin, this artificially designed stone countertop has an extremely durable surface with a natural stone-like appearance. In addition, durability is a factor that changes with use and time.
Can you cut on a stainless steel counter?
Yes, it is possible to cut on stainless steel material, but cutting can cause scratches. Hot pots and pans can be placed directly on its surface without worry.
Modern Metal Kitchen Countertops
With modernism, new design elements and materials continue to appear in kitchens day by day. In this way, changing the materials we use in the kitchen becomes an inevitable element. The use of metal in new-generation kitchens is one of the most obvious manifestations of this trend and innovation, and its durability and longevity allow us to create spaces with both visual and high quality.
Modern metal countertops stand out as one of the leading materials that are frequently used in new-generation kitchen designs and that affect designs with their texture. Ease of use and the convenience it offers during the manufacturing phase play a major role in the preference for metal benches. Metal kitchen counters, which are indispensable for the modern kitchen design created today, show that we will encounter a lot in the future.
What is the disadvantage of metal countertops?
The disadvantages are that it is easily scratched, expensive compared to other materials, and not appealing to every eye. There will be fingerprints, and scratches, making it a little difficult to keep it clean. You can clean stainless steel counters using a mild detergent or a little vinegar or baking soda mixed with water.
Industrial Kitchen Metal Countertops
The catering industry is a competitive and challenging field. so chefs and their teams also need to be fast, competitive, and creative. In such a challenging working environment, your kitchen must be always ready and in working condition just like you.
That's why metal countertops have always been indispensable choices for demanding kitchens. Being durable, easy to clean, and long-lasting are the main reasons for metal countertops to take place in industrial kitchens. Metal kitchen counters, which are equally resistant to heat and cold, not easily damaged, and easy to work on, make them one of the most used materials in the industry. Apart from its outstanding features, its stylishness and visually pleasing appearance allow industrial countertops to be included in the most competitive kitchens.
Metal Kitchen Countertops with White Cabinets
Metal and white are always pleasing to the eye. When simple and elegant designs are combined with beautiful craftsmanship, it is impossible not to get good results. The harmony of textural difference emphasizes the beauty of metal worktops in kitchens where white and gray are combined, creating a space that gives pleasure to the user, together with function and visuality.
When the clean appearance of white is combined with the metal texture, the clean and tidy feeling of the kitchen gives pleasure to the user, while the durable and long-lasting structure of the metal countertop adds continuity to the space. Ease of application and light weight provide convenience in the production process of the kitchen. While it is easy to clean and not damaged, it provides continuity in the area used and adds air to the kitchen with its appearance.
How much do metal kitchen countertops cost?
It is 15 to 40 percent more expensive than other materials.
Kitchen Island Metal Countertops
Metal kitchen islands are beginning to be the material choices that we frequently encounter, both visually and with their ease of use. When the islands, one of the most crowded units of the kitchen, are combined with metal countertops, they become indispensable for kitchens with their hygienic, easy-to-clean, durable, and stylish visuals. In addition, its ease of manufacture and lightness, and the joining details in the corners, constitute safety for both your family and your guests. Metal kitchen islands, which stand out with their use and appearance, are kitchen units that keep up with many designs and adapt to all kinds of designs from modern to traditional.
How to install metal kitchen countertops?
The metal surface, which is cut as sheet metal, is mounted and seated like other bench materials after the necessary frame and carrier system according to the area to be applied.