20+ Backsplash for White Cabinets and Black Countertops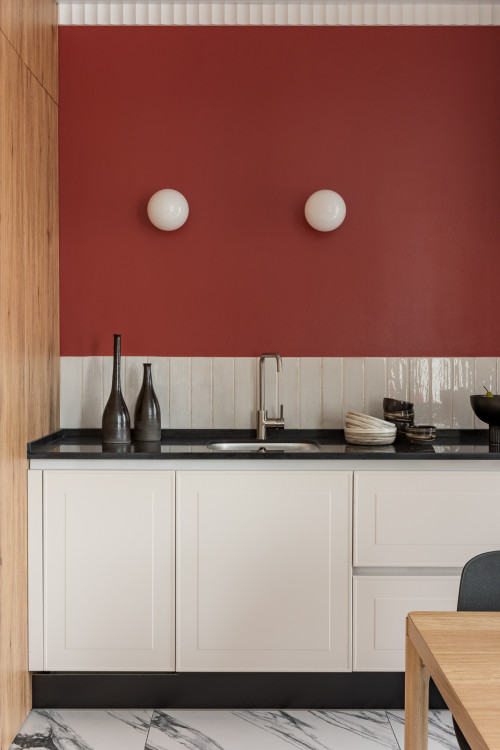 ID# 173908 | Houzz.com – Credit | © Александра Никулина
---
Modern Small Kitchen with Red Walls
If you designed a minimalist kitchen but want to jazz up a little bit, consider painting walls in a vibrant hue! Painting the walls is the most cost-effective DIY project that can make a big impact on the overall look. As you can see in this small modern kitchen, the red wall paint instantly elevated the mood of this kitchen consisting of white cabinets, black countertops, and a single raw of white vertical tile backsplash.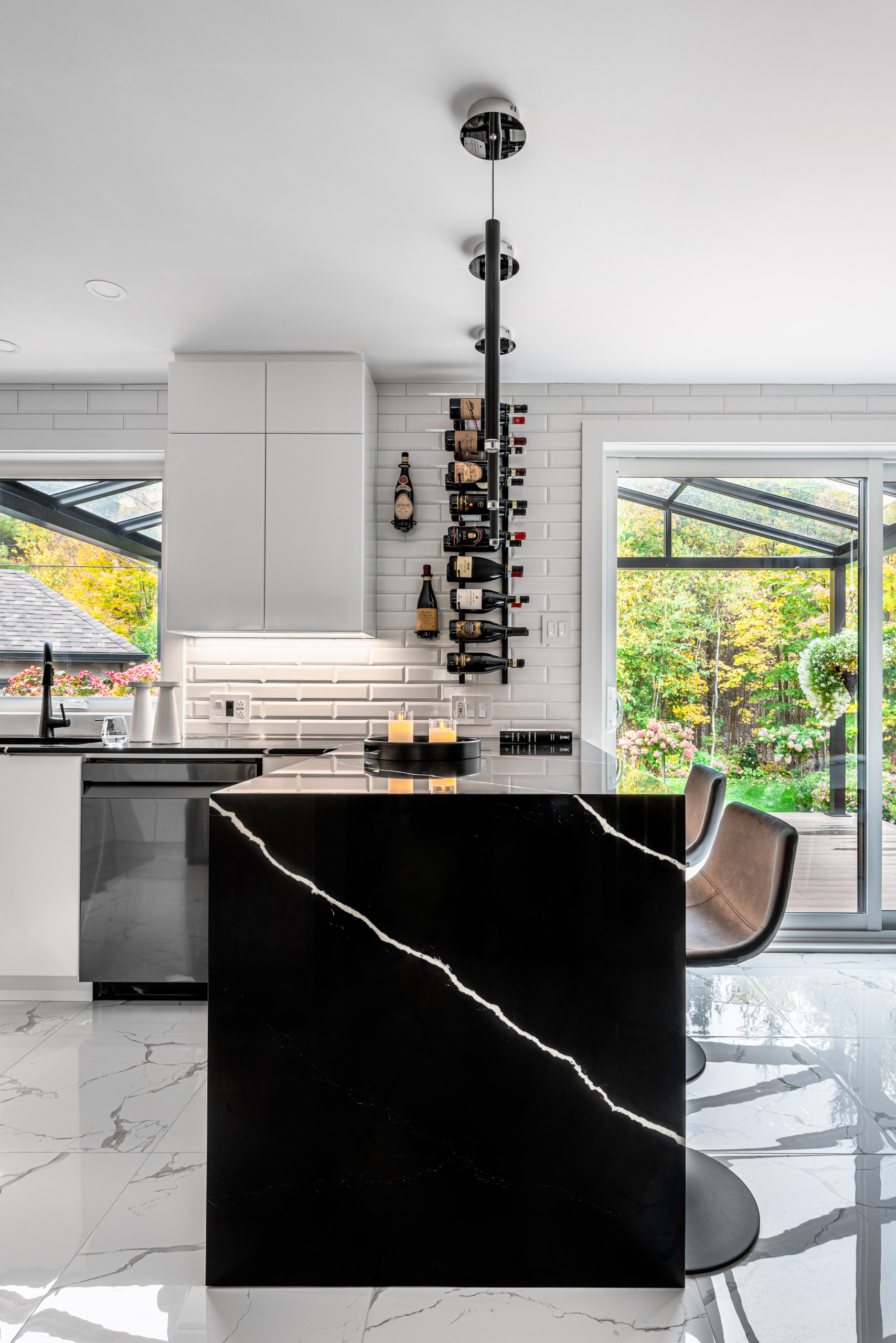 ID# 173920 | Houzz.com – Credit | © KFantazy
---
White Beveled Subway Tile Backsplash with Black and White Quartz Countertops
The sleek black and white flat-panel cabinets in this contemporary kitchen design beautifully match the white-veined porcelain tiles used on the floor. Along with a sleek under-counter basin and stainless steel appliances, a black basin mixer provides a touch of refinement. Black and white veined quartz worktops finish the kitchen and give the whole design a sleek, contemporary feel. The space between the countertops is adorned with a white subway ceramic backsplash that blends in harmoniously with the black quartz countertop.
Backsplash for White Cabinets and Black Countertops
Kitchens with white cabinets and black countertops give a feeling of combining clarity and comfort when looking at them. The black color usually gives the space a feeling of sharpness and luxury, while the white color, on the contrary, gives a feeling of comfort. And simplicity, combining two colors gives the result of luxury and comfort at the same time. When it comes to choosing a backsplash for this duo, many colors suit a black and white kitchen where white can be to give a sense of spaciousness. It can be black, gray, or wood tones and can be used to give the feeling of increasing the intensity of the colors of the kitchen. You can also create unique effects with different types of glass, ceramics, or marble. In this article, we gather stylish backsplash for white cabinets and black countertops. Scroll down and dive into inspirational backsplash ideas!
Find Balance with a Backsplash Between Black and White Contrast
If you are incorporating the timeless elegance of the white cabinets and black countertops, it adapts to every style from modern to traditional, farmhouse style to contemporary kitchens. The only challenge about the backsplash will be which one to choose, thanks to the unlimited backsplash options suitable for these styles. Because every material and every style creates different exciting effects. Each of these alternatives makes a different and beautiful contribution to the design.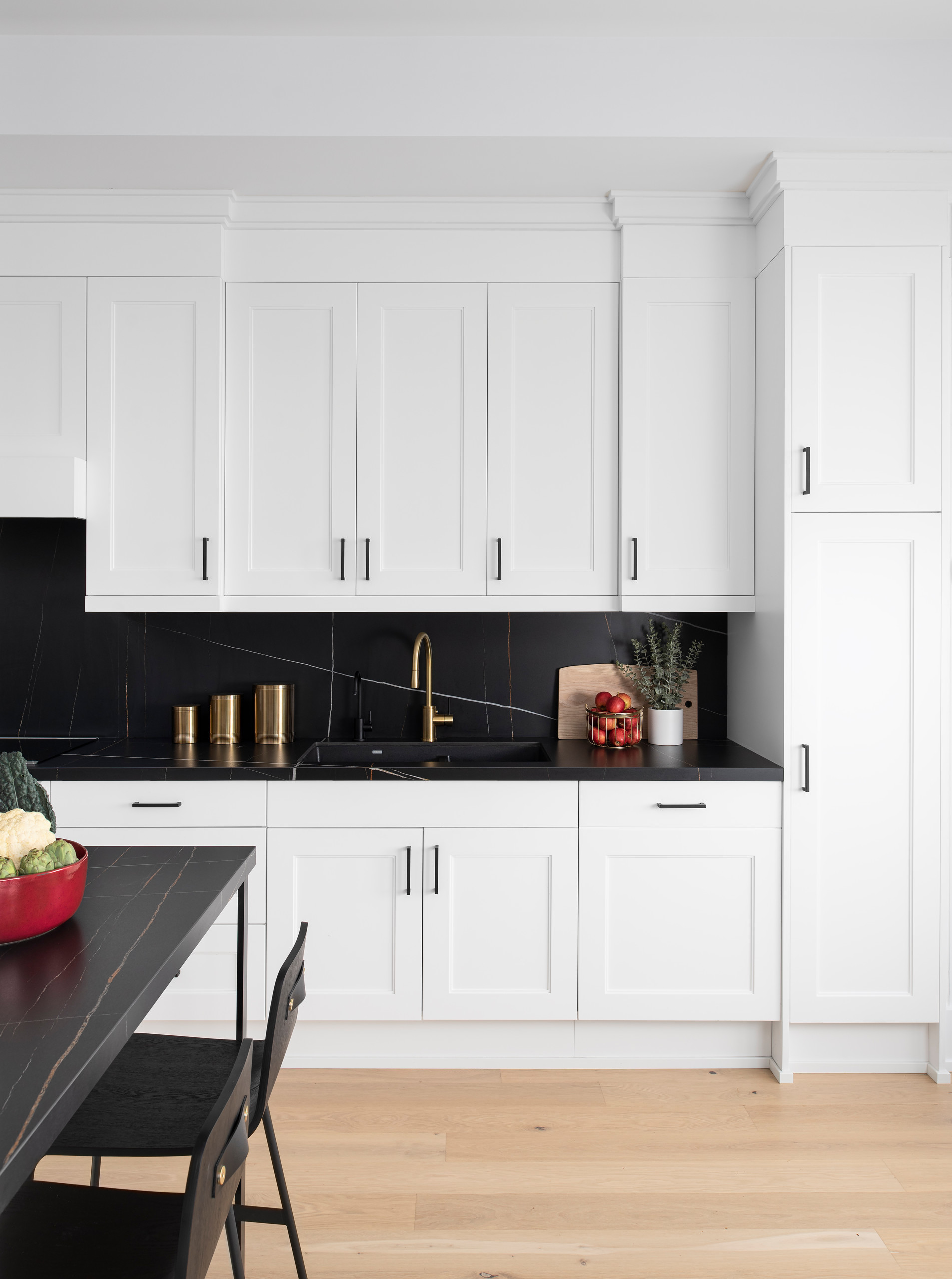 ID# 173901 | Houzz.com – Credit | © Lesley Brookes Design
---
Scandinavian Kitchen with White Shaker Cabinets and Black Backsplash
If you want to create a striking focal point with your backsplash, then try black shades! As you can see in this Scandinavian kitchen, the black soapstone backsplash brings depth between the white shaker cabinets while the same stone countertops create a seamless look with the backsplash. The black cabinet hardware complements the contrasting appeal of the backsplash and countertops.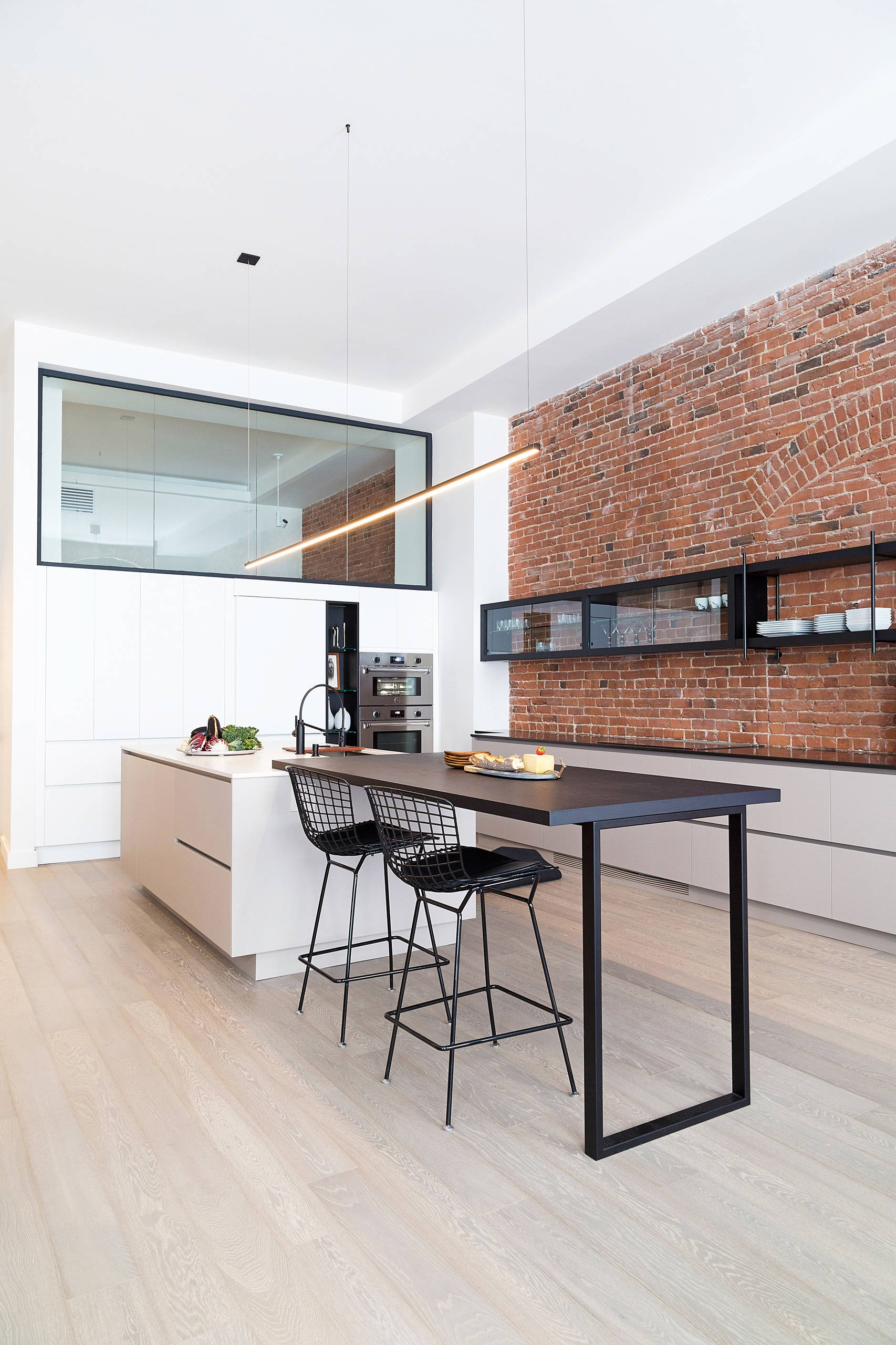 ID# 173902 | Houzz.com – Credit | © Cuisines Steam
---
Brick Backsplash for White Cabinets and Black Countertops
With its black top cabinets, white lower cabinets, and ceiling-height brick backsplash, this modern industrial kitchen manages to create a powerful visual impact while feeling airy and light! Mirroring the perimeter plan, the galley-style kitchen island offers additional workspace, storage, and an eating area. A black table and modern, minimalist black stools that contrast with the all-white cabinet design enlarge it. The closing touch that warms the room and intensifies the modern vibe is the linear lighting fixture over the island.
Does a black countertop go with white cabinets?
Looking for a striking yet subtle combination for your kitchen? Consider pairing white cabinets with a black countertop. The contrast between these two classic colors creates a harmonious balance of peacefulness and boldness, resulting in a stunning and timeless design. Black and white – a duo that never goes out of style.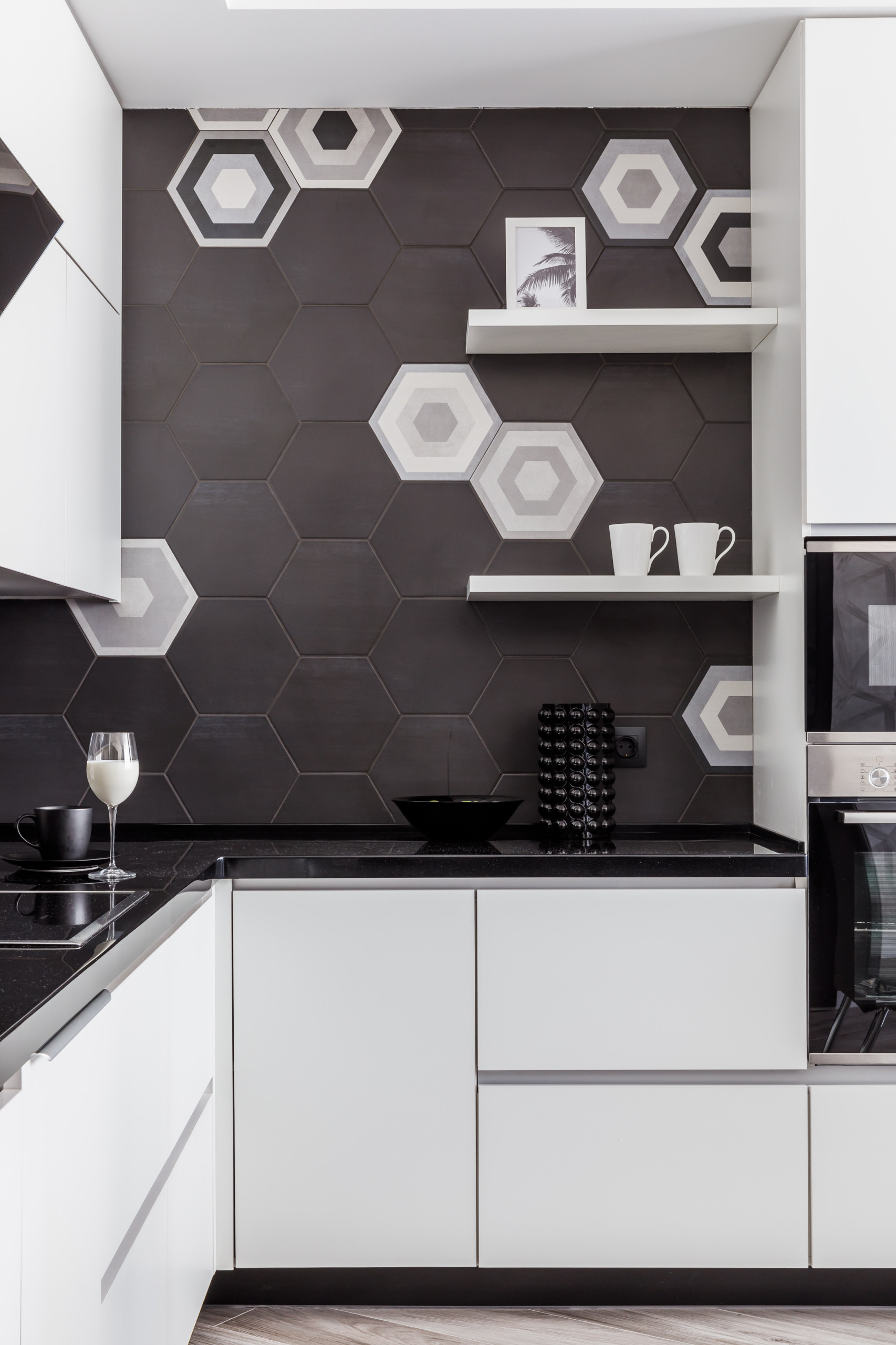 ID# 173903 | Houzz.com – Credit | © Archigram (Студия Евгении Княжевой)
---
Black and White Contemporary Kitchen with Full-height Backsplash
Black and white… If you want to create a modern look with a subtle elegance, you will not go wrong with a black and white color scheme! The white kitchen cabinets provide a bright and fresh base for this contemporary kitchen while the black additions bring depth and dimension to the space. The large format hexagon tiles reach through the ceiling to create a seamless backdrop while the additions of white tiles enhance the visual interest of the backsplash.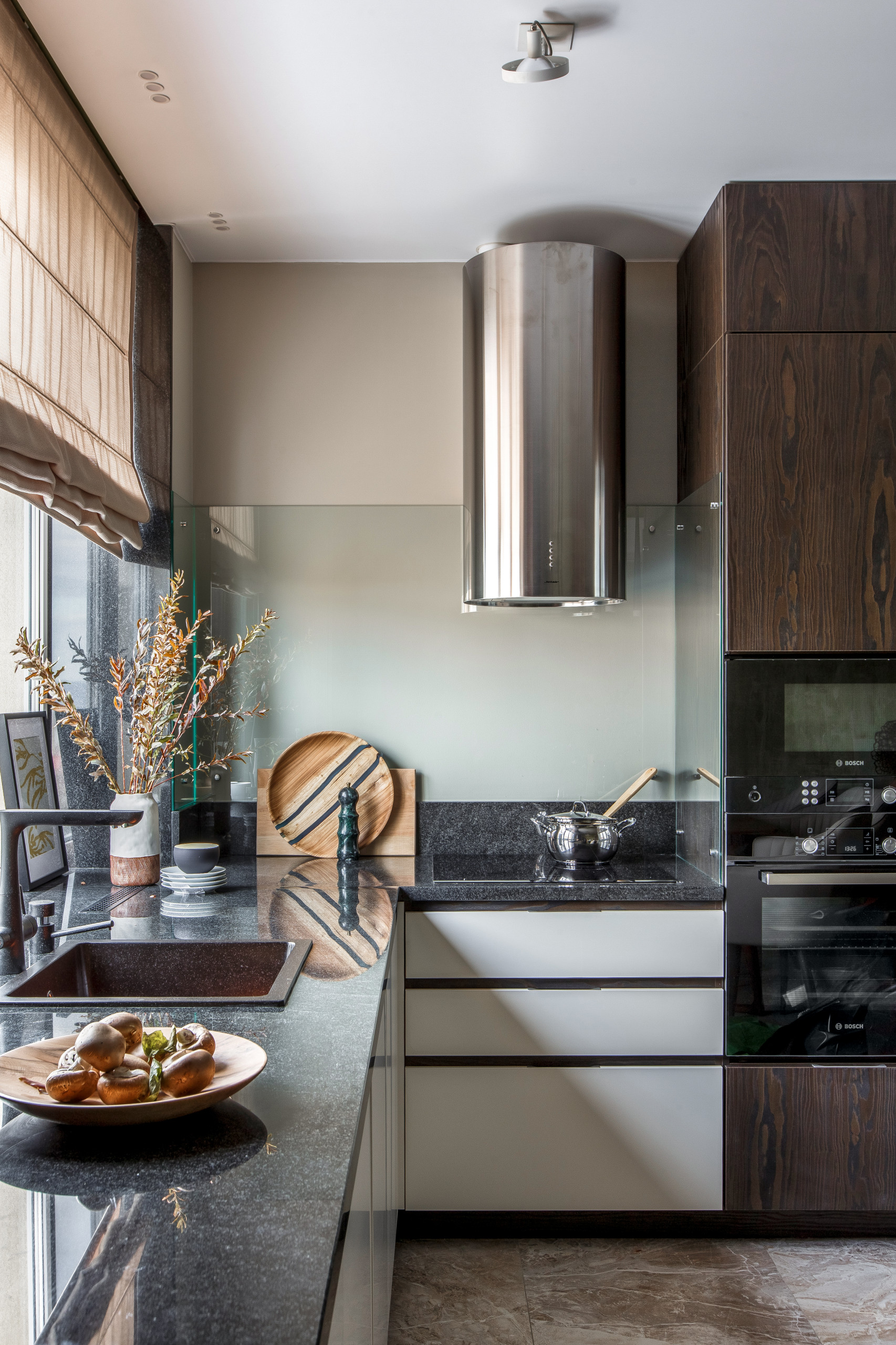 ID# 173904 | Houzz.com – Credit | © Юлия Вишнякова
---
Contemporary Small Kitchen with Clear Glass Sheet Backsplash
If you are working with a small kitchen space, material choices will have a big impact on the space feel. That's why, a clear glass sheet backsplash might be one of the best alternatives for small kitchens. Since a glass sheet backsplash has a clean and sleek appeal, it also balances the dark shades of the black granite countertops and tall dark wood cabinets. The white flat-panel cabinets and the stainless steel circular range hood complement the fresh look of the backsplash.
Should the backsplash be lighter or darker than the countertop?
Well, there are no rules for this one! Finding the sweet spot, mastering shadow balance, and designing an aesthetically pleasing kitchen are all important. The truth is that any choice can add personality to your kitchen. Individual taste dictates the regulations. Choose an item that brings you joy every time you enter your kitchen. You own the kitchen, after all!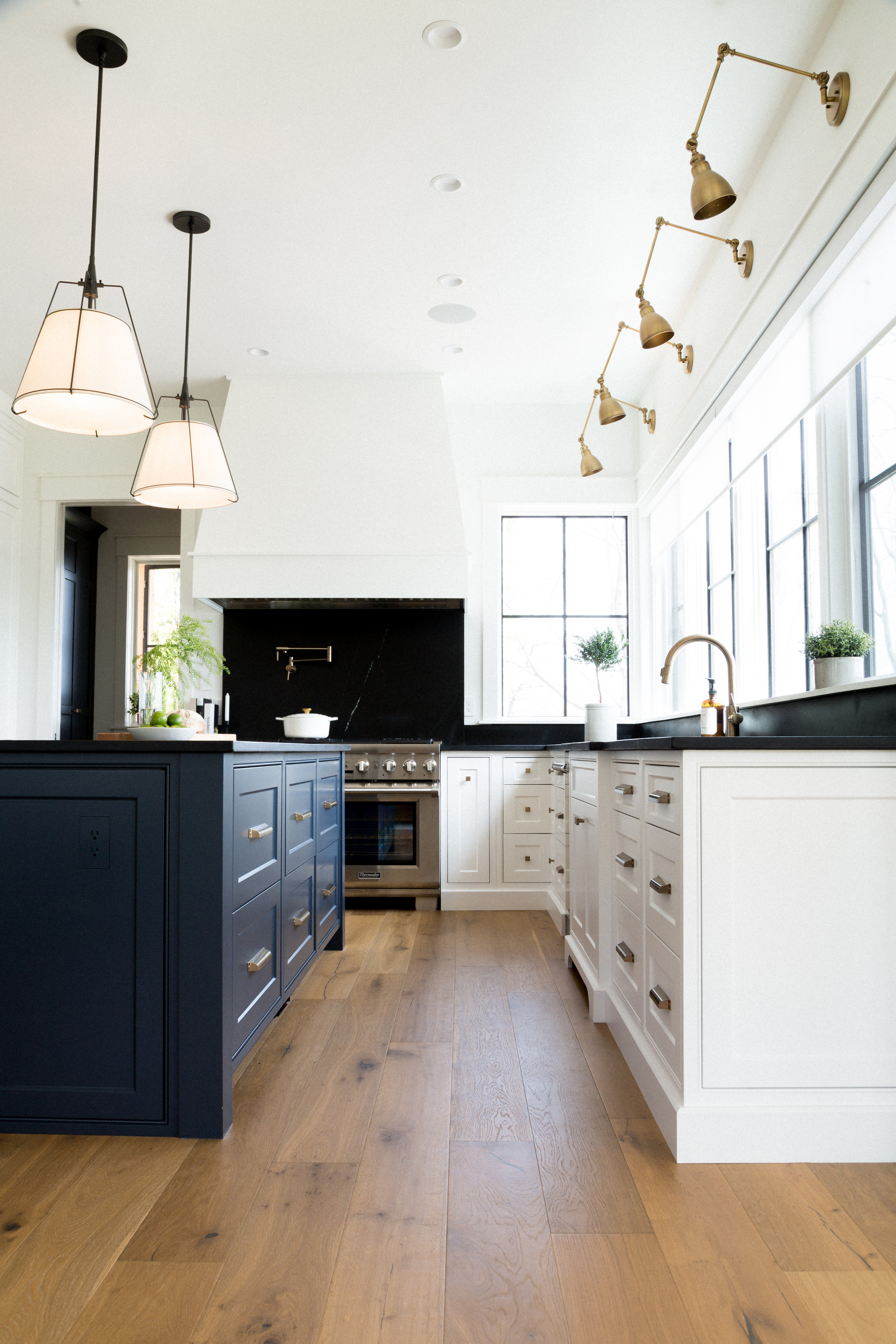 ID# 173905 | Houzz.com – Credit | © Thorpe Concepts
---
Transitional Kitchen with Navy-blue Island and Brass Accents
Shaker style cabinets, check. Natural stone slabs, check. And of course, metallic accents, check… This bright and spacious kitchen has everything it needs for a modern classic design! Adorned by a crisp white color, the kitchen cabinets dominate the space to create an open and airy feel while the black backsplash and countertops add a contrasting look that brings depth to the space. The navy blue kitchen island breaks the monochrome color scheme and adds a pop of color. For a final touch, the wood floor, brass cabinet hardware and brass sconces along the windows add a warm sense.
Backsplash Color Options for White Cabinets and Black Countertops
When you look at kitchens with white cabinets and black worktops, you get a sense of timeless beauty and refinement! The combination of the two colors also produces a rich and warm effect and various hues, such as gray, green and wood, complement a black and white kitchen. Stronger hues like warm blue, green, earthy and yellow backsplashes, may provide a dash of color and visual interest to your monotone design. Of course, the first choices are always black, white, and gray backsplash solutions that will complement the timeless color paired with their timeless beauty. shapes.
White Backsplash for White Cabinets and Black Countertops
If you want to play safe but still create a stylish look, a white backsplash will be the most appropriate option for your white cabinets and black countertops! The white backsplash is often preferred because it has a bright, comfortable, and at the same time elegant stance. Because a white backsplash makes even the smallest kitchen feel more. And whether the design is modern, traditional, or rustic, there are many ways to combine white with other design colors. White will be appropriate and beautiful. Successful results are obtained following every design with various material types such as marble, ceramic, porcelain, glass, and flooring types such as subway, hexagon, herringbone, and chevron.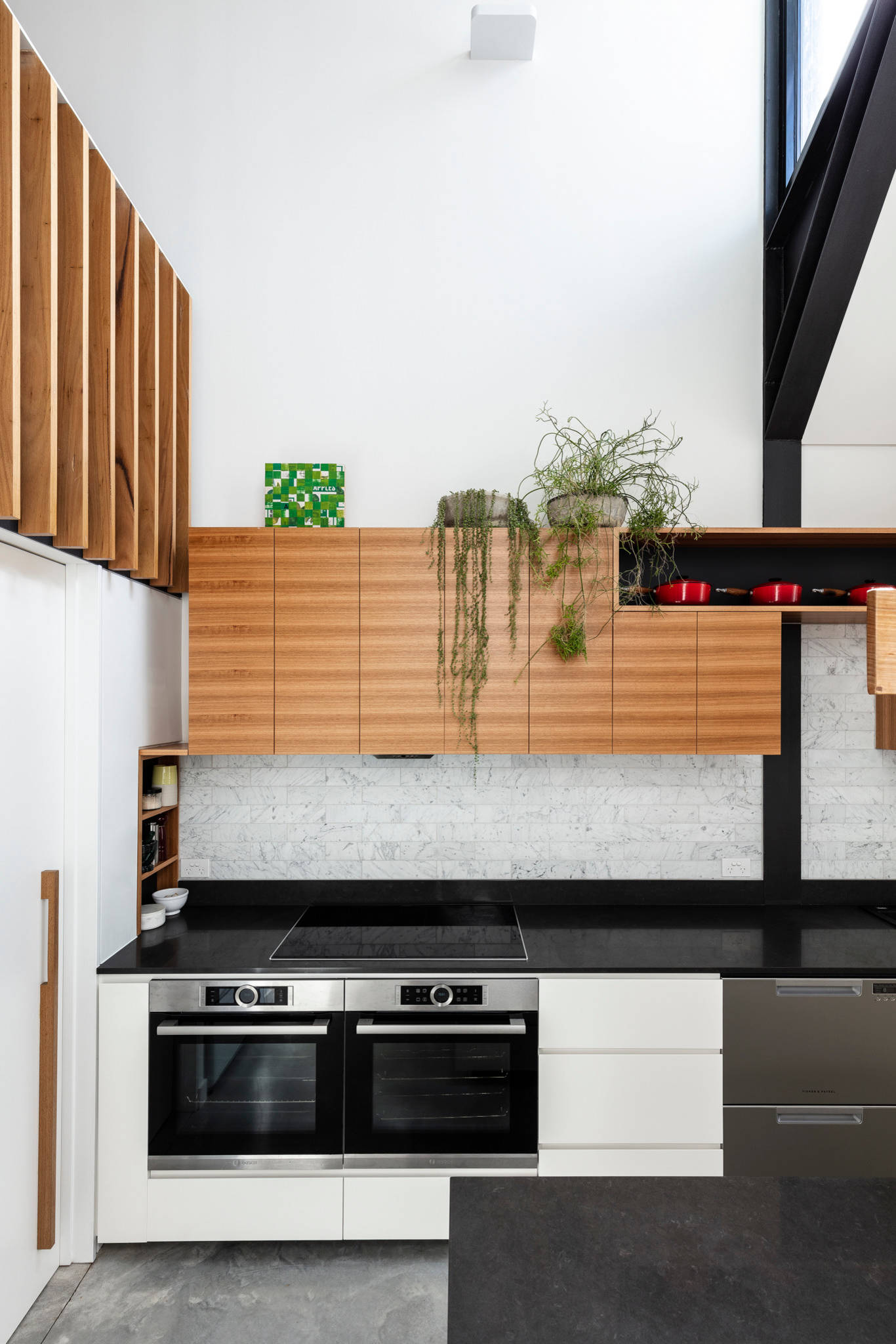 ID# 173906 | Houzz.com – Credit | © anderson architecture
---
Two-tone Kitchen Cabinetry with Marble Subway Tiles
Black, white and a touch of wood… When designing a modern kitchen, you can't get wrong with this color combination! Even though the white color dominates the space through the walls and cabinets, the addition of the black countertops, wood upper cabinets and marble subway tile backsplash creates a visually appealing space that offers a warm and welcoming atmosphere.
Should backsplash match cabinets or countertops?
The age-old design conundrum: should your backsplash blend in with your worktops or stand out against your cabinets? There isn't a universal solution; rather, it all depends on your unique kitchen romance. It's a good idea to match the backsplash to the countertops or cabinets if you're going for a smooth, cohesive aesthetic. Your kitchen turns into a symphony of color and texture as a result of the cohesive front it produces.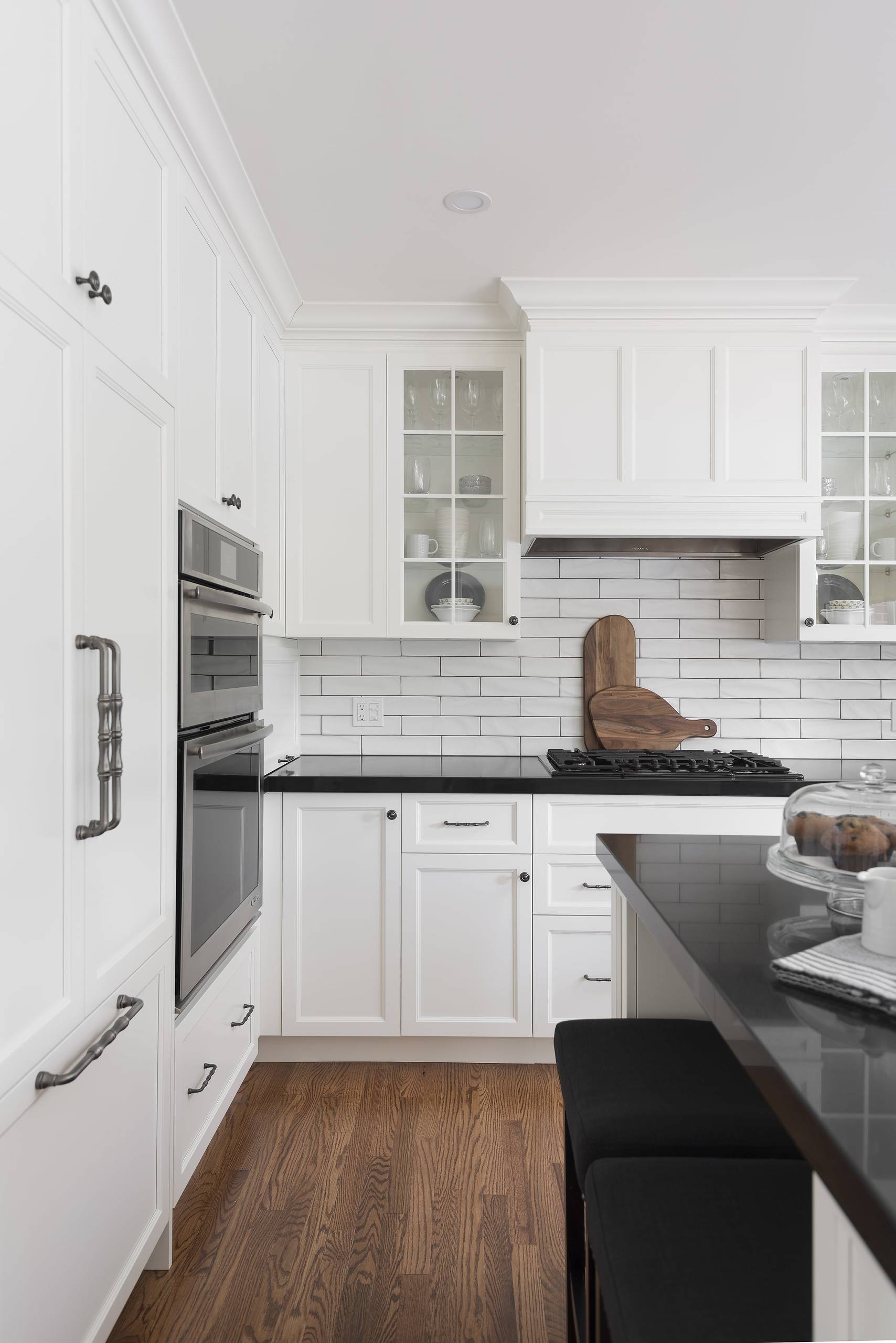 ID# 173907 | Houzz.com – Credit | © Monarch Kitchen Bath & Home
---
Classic White Kitchen Design with Subway Tiles and Metallic Hardware
If you are looking for a classic kitchen design with subtle elegance, you will love this example! The white shaker cabinets and white subway tile backsplash provide a sleek, classic yet stylish backdrop for the space. The black quartz countertops bring a contrasting look with a touch of opulence. The brushed nickel hardware makes a cohesive final touch that enhances the traditional aesthetic.
Black Backsplash for White Cabinets and Black Countertops
Black backsplashes are a favorite among individuals who like a strong and unique style, as they bring intensity to the design when coupled with white cabinets and black countertops and may be used in a variety of ways. To balance the light and lend depth to other design components, black hues are employed. There are many various types, such as glass, porcelain stoneware, ceramic, and marble, and each kind has a particular aesthetic effect when added to the kitchen. With black worktops and white cabinets, the unique attitude of black compliments each other gracefully. Various designs are acquired with backsplash alternatives ideal for a wide range of kitchen styles, from modern to traditional.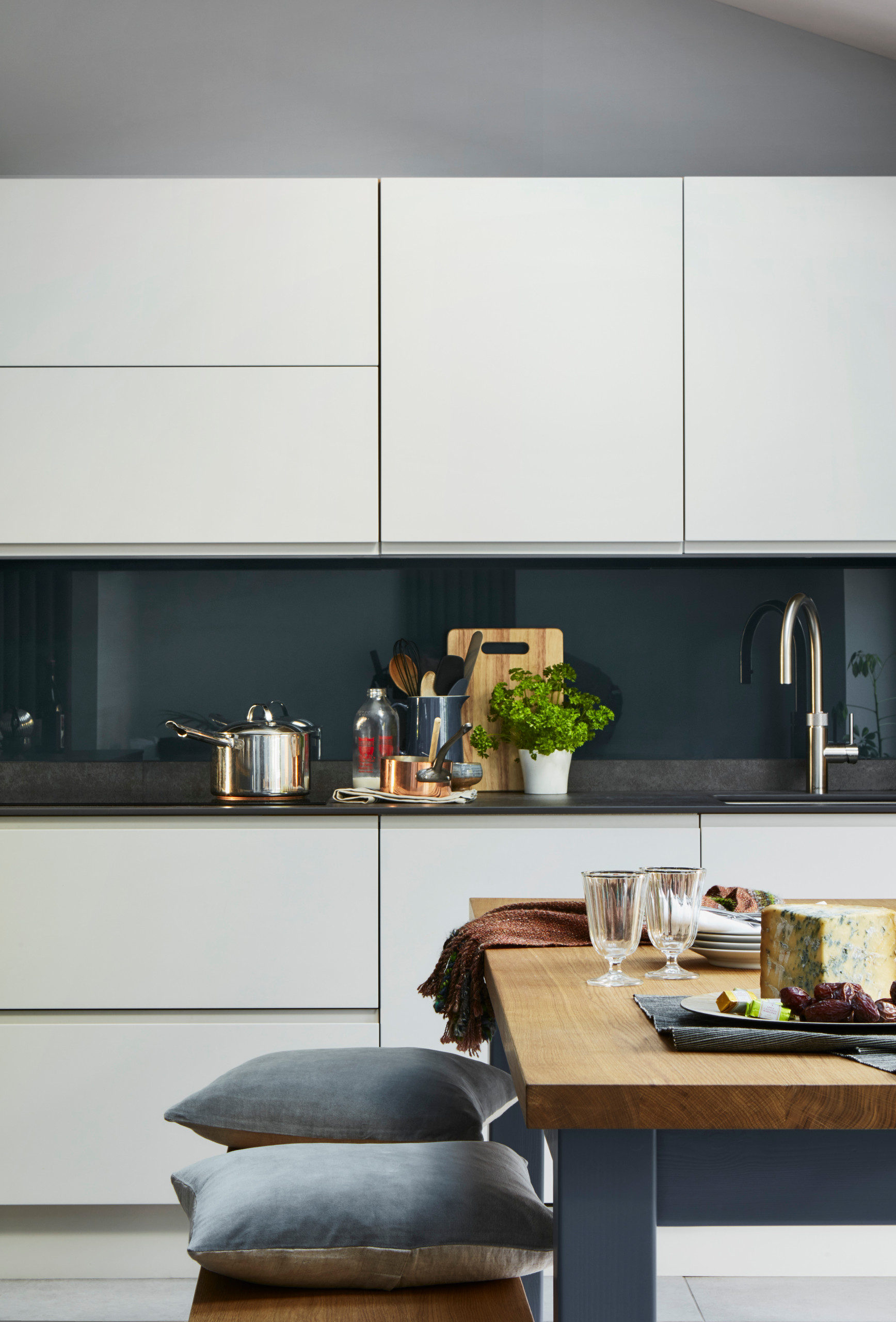 ID# 173909 | Houzz.com – Credit | © John Lewis of Hungerford
---
Modern Black and White Kitchen with Glass Sheet Backsplash
Another fantastic illustration of how a backsplash made of glass sheets improves the entire scheme! This glass sheet is a deep black hue but it feels open and spacious because of its reflective surface. The simple design of the contemporary white cabinets lets the black accents take center stage while the black countertops and backsplash combine to create a seamless effect.
How do you add warmth to a black and white kitchen?
It is one of the best options to use wood, which adds a sense of warmth to the design of a black and white kitchen, in kitchen details, cabinets, middle islands, or through shelves or chairs where wood can be placed. It helps to give the design a feeling of warmth. The noble stance of black and the elegance of white are very beautiful with the wooden touches applied correctly. In addition, you can create a warm atmosphere by adding colorful elements. Warm spaces can be provided with colorful backsplashes, floor coverings, chairs, lighting, and many other objects that can be placed.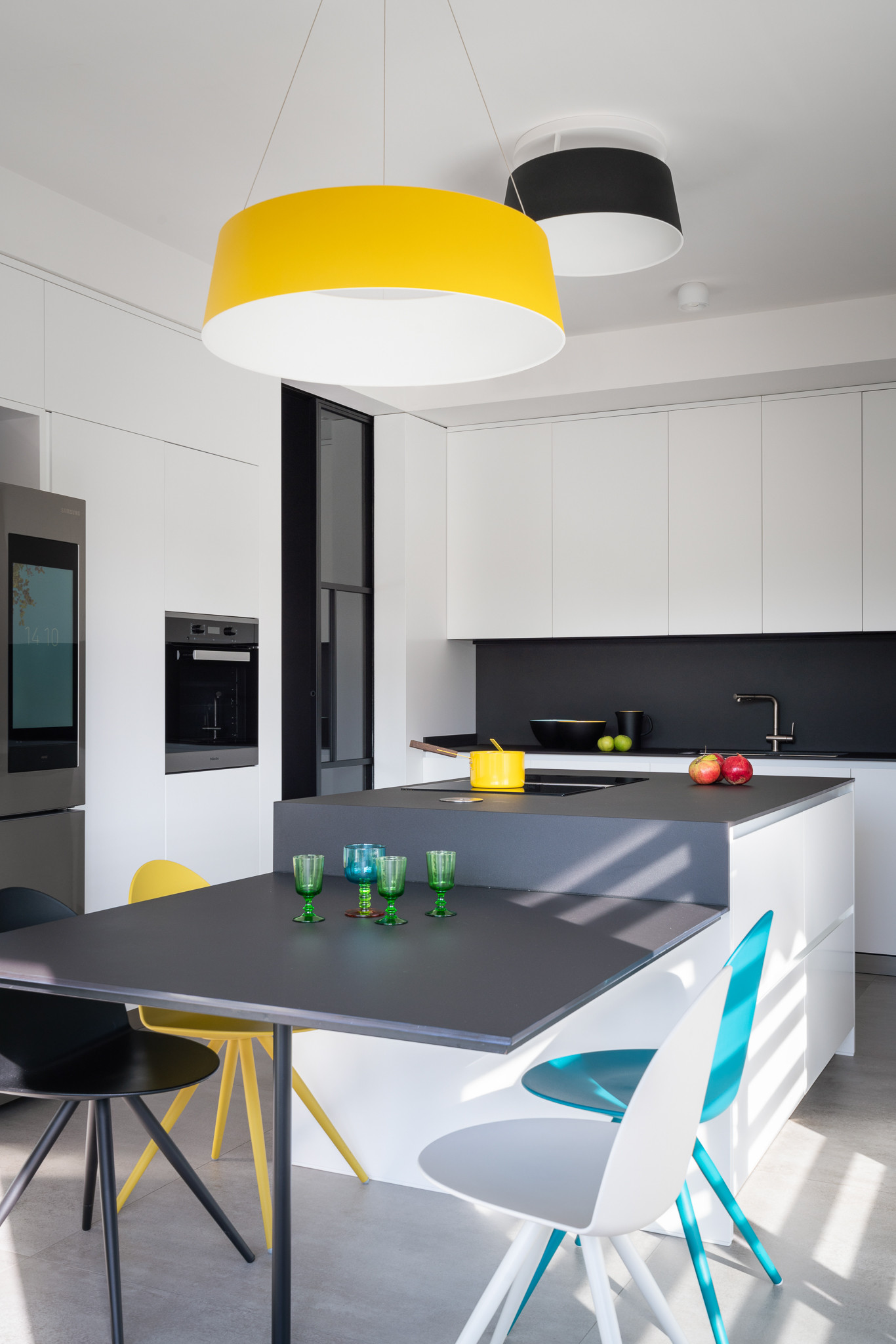 ID# 173910 | Houzz.com – Credit | © Dario Borruto
---
Modern Black Backsplash for White Cabinets and Black Countertops
Sleek, understated and quirky! The inclusion of colorful accents such as big pendant lights and chairs, quickly livens up the space and adds a wacky attitude, even if this modern kitchen has simple black counters and white cabinets.
Gray Backsplash for White Cabinets and Black Countertops
Even though it's a neutral hue, gray is everything but boring in kitchen decor! Gray backsplashes go well with white cabinets and black counters for a unified effect that appeals to those who want a relaxed but distinctive style. The beauty of a gray backsplash is that it comes in a variety of tones that make it possible to create a multitude of designs. Gray backsplashes go nicely with any color scheme whether you want a softer, lighter atmosphere or a dark opulent look!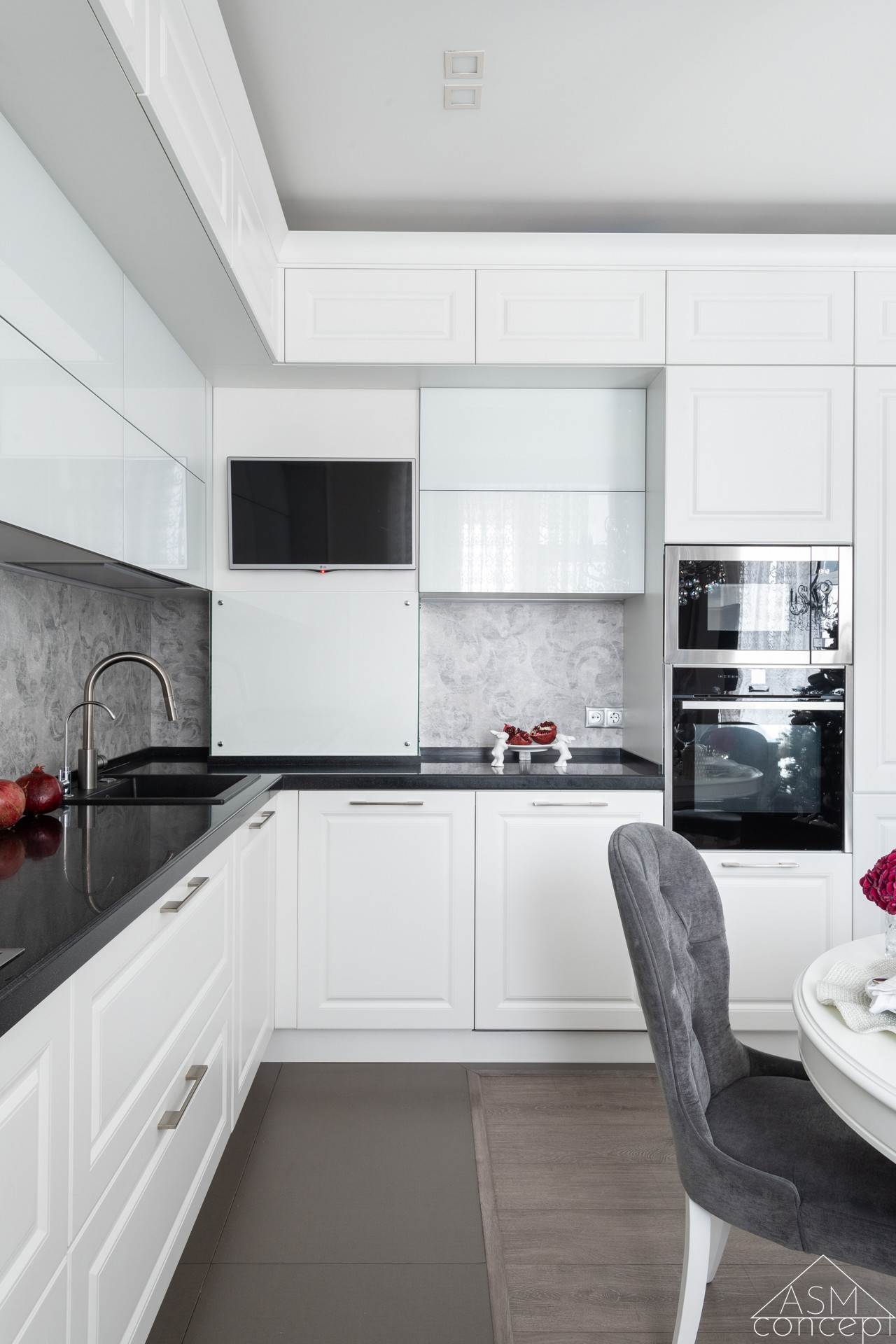 ID# 173911 | Houzz.com – Credit | © ASMconcept | Татьяна Архипова
---
Gray Backsplash for White Cabinets and Black Countertops
Wallpapers might not be the number one choice for the backsplashes but this kitchen is proof that you can create a beautiful backdrop even with a gray wallpaper! The slight floral patterns of the wallpaper add a nice movement between the white kitchen cabinets and black countertops.
Design tip: If you want to use wallpaper to cover your backsplash area, you must have a waterproof option!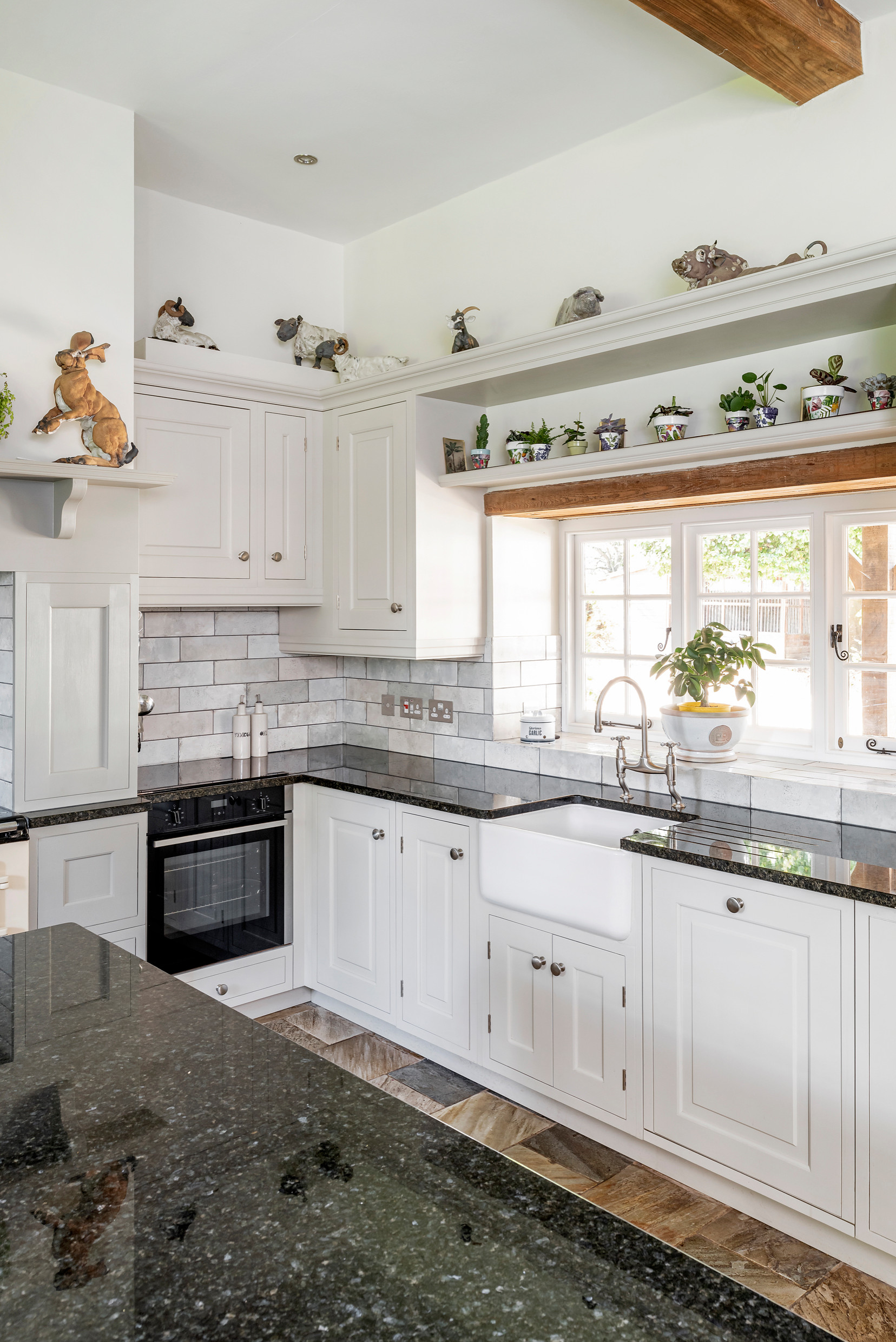 ID# 173912 | Houzz.com – Credit | © Shaker & May>
---
Farmhouse Kitchen with White Raised-panel Cabinets and Granite Countertops
White raised-panel cabinets, black granite countertops, a subway tile backsplash and a touch of wood. This bright and spacious design has everything it needs for a farmhouse style! The black busy granite countertops stand out between the white features and add a dose of luxury to this cozy kitchen.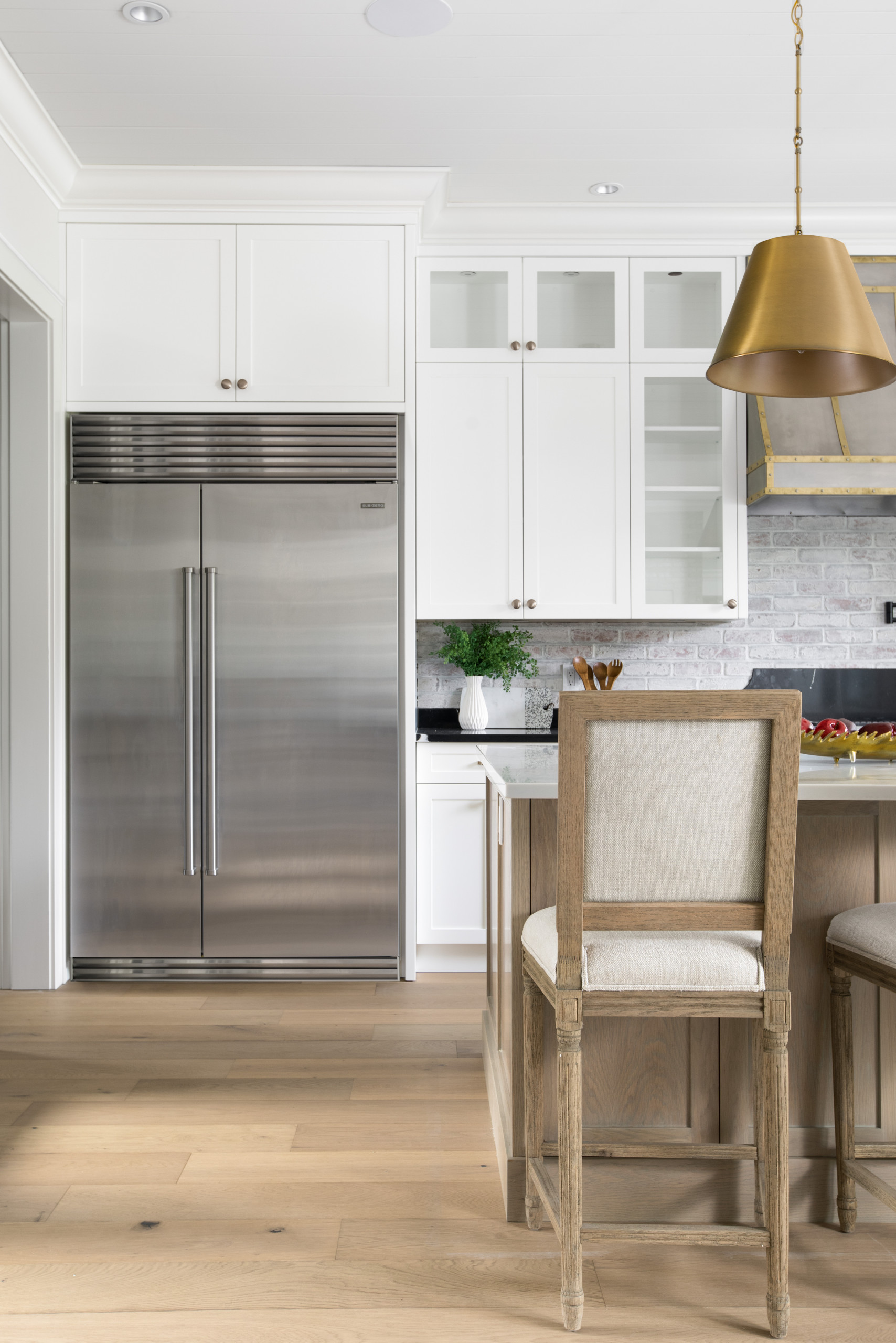 ID# 173913 | Houzz.com – Credit | © Jessica Velikovsky Interios
---
Transitional Kitchen with Whitewashed Brick Backsplash and Black Countertops
Brick backsplashes have a distinctive appeal that can easily enhance your kitchen but this red appeal might be overwhelming if you are looking for more clean and bright looks. If you think also that the rough and textural finish of the brick tiles can be a good addition. You might be in a dilemma about this, but don't worry, we have a solution: the whitewashing method! As you can see in this transitional kitchen, the whitewashed brick backsplash creates a sleek appeal with a nice textural look and complements the crisp white color of the kitchen cabinets.
Colorful Backsplash for White Cabinets and Black Countertops
Prepare to transform your kitchen into a vivid work of art featuring a striking combination of black worktops, white cabinets and a colorful backsplash. Your kitchen becomes a canvas for a vibrant array of colors in this ultimate design extravaganza, where bold meets classic!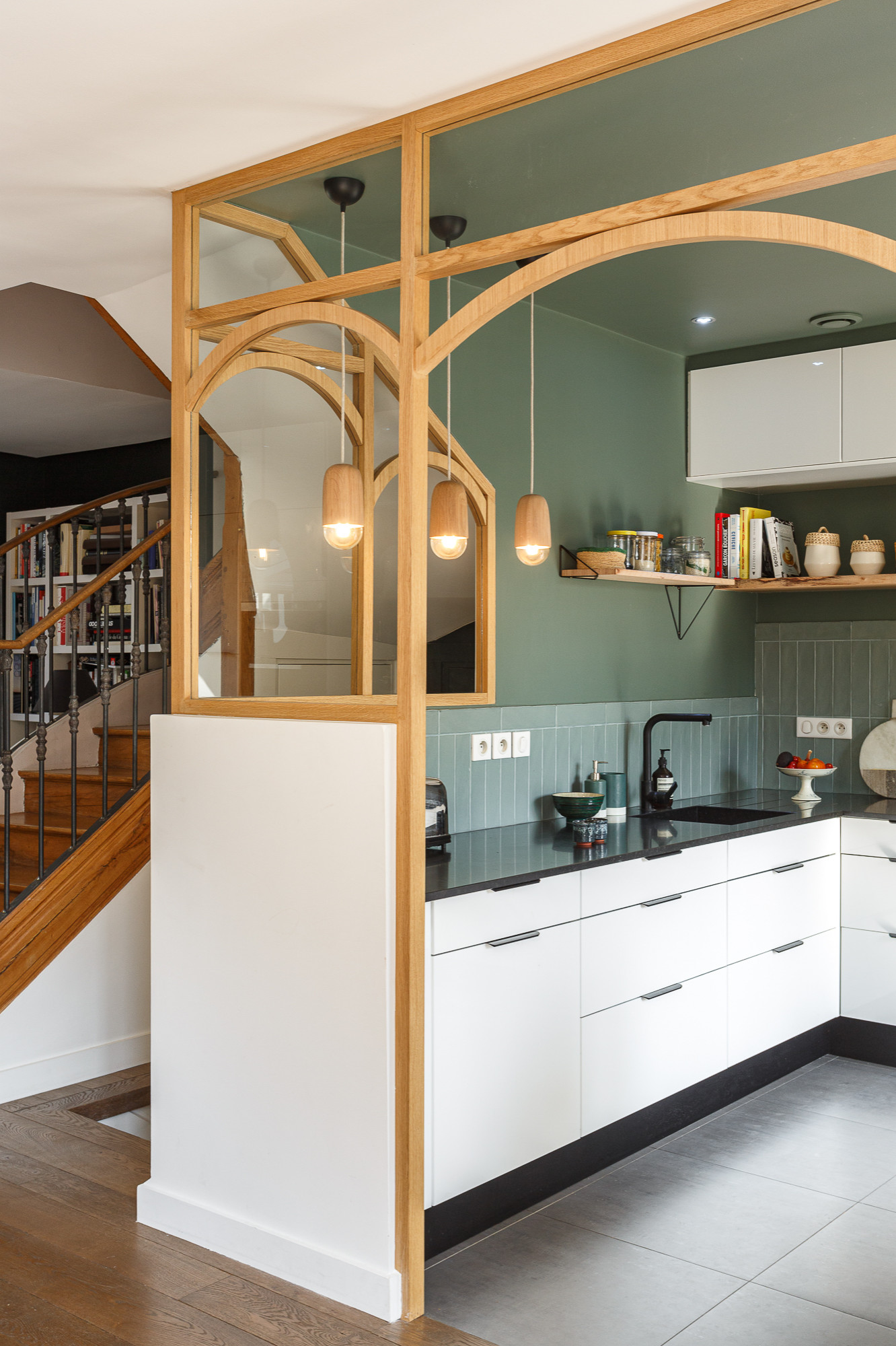 ID# 173914 | Houzz.com – Credit | © Emilie Melin architecte DPLG
---
Open-concept Kitchen with Sage Green Backsplash Tiles and Walls
Designing an open concept kitchen might be a daunting task but don't worry and check this beautiful Scandinavian kitchen! The white kitchen cabinets provide a clean and fresh foundation for the space while the black countertops bring a contrasting look that adds depth. The most important feature of this kitchen is the wooden frames that create a visual feast in the corner of the living space. The sage green vertical backsplash tiles and walls complement the warm and natural sense of the wood perfectly for a final touch that jazzes up the ambiance.
Black Countertop Materials
Black countertops are essential for achieving that modern and chic kitchen aesthetic. Every material including granite, marble, quartz, laminate and others, has unique qualities! There is a black countertop material that is ready to up your kitchen's ante, whether of your preference for the classic charm of granite, the carefree feel of quartz or the distinctive texture of slate.
Backsplash for White Cabinets and Black Granite Countertops
The combination of white cabinets and black granite countertops gives your kitchen a distinctive and elegant makeover because of the natural colors and textures that are brought about by those magnificent minerals! Choose a white subway tile backsplash for a timeless, uncluttered design. Opt for a black backsplash to create a sophisticated, strong, monochromatic look. Consider a mosaic backsplash with a combination of black, white, and perhaps a touch of gray if patterns are your thing.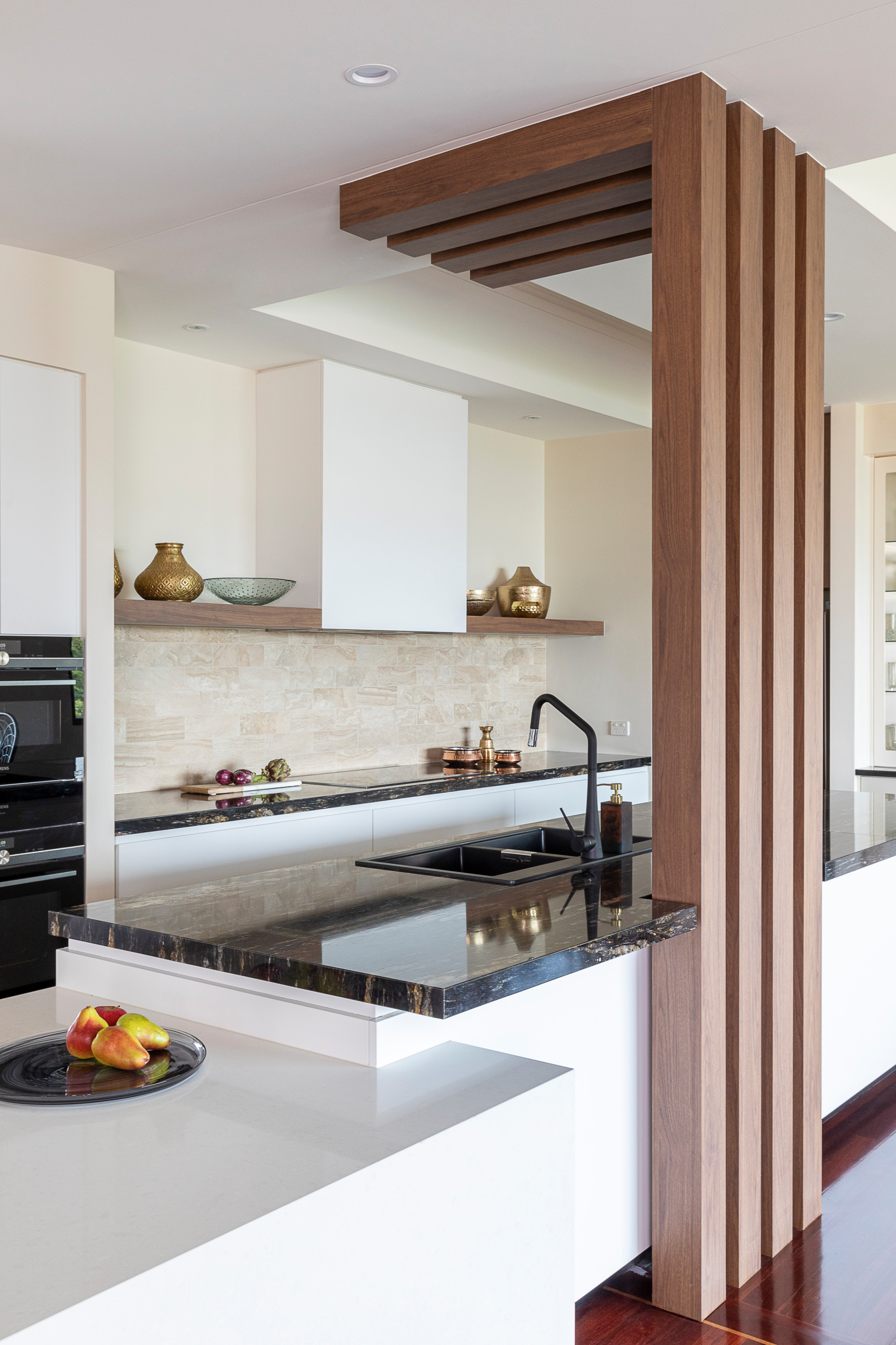 ID# 173915 | Houzz.com – Credit | © Popham Interiors
---
Travertine Backsplash for White Cabinets and Black Countertops
The use of muted color palettes such as beige and white, in this charming kitchen design creates a calming effect that is enhanced by the dark granite worktops! Granite has subtle patterns that give the countertop movement but they don't overpower the room's understated, basic aesthetic. The granite countertops look fantastic with the subdued brick-like appearance of the subway tile backsplash. Finally, the room's clean white cabinets offer a modern and clean foundation and the wooden panels that extend from the floor to the ceiling accentuate the floating shelves close to the range hood.
Are black countertops outdated?
Black countertops are always a valid product color variety, as they harmonize with kitchen designs of all types and styles! Since it is used in most kitchens due to the timeless style of white cabinets it always remains the most popular with black countertops that contrast with it.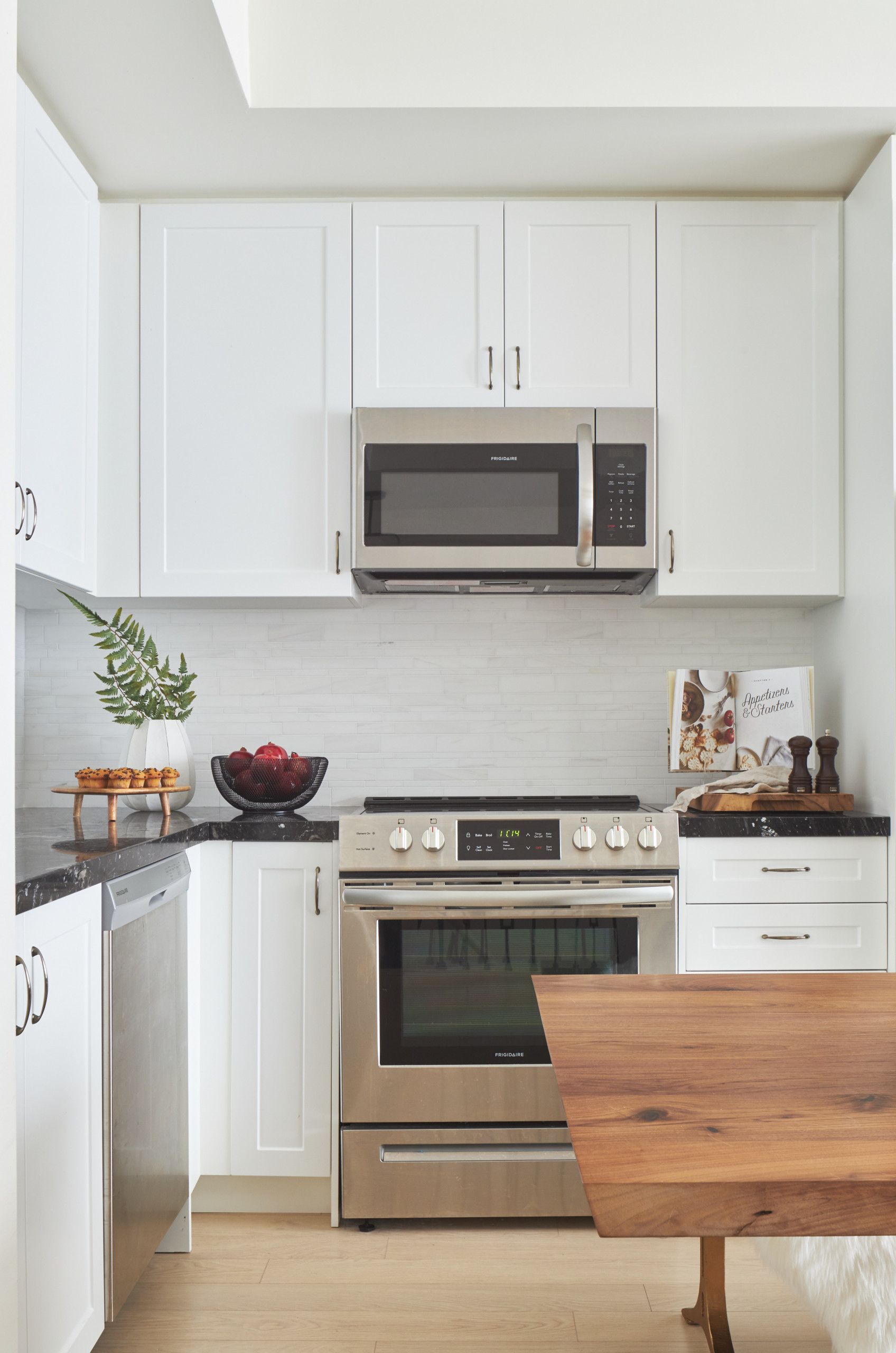 ID# 173916 | Houzz.com – Credit | © Elisse Navi Interiors
---
Scandi-style Kitchen with White Cabinetry and Granite Countertops
A trendy and cozy kitchen design is created by combining warm wood textures with simple lines! The white shaker cabinets and light wood kitchen floors go nicely together and provide a classic look in the space. The simple white backsplash tile highlights and softens the dramatic contrast between the black granite counters and white shaker cabinets.
Backsplash for White Cabinets and Black Marble Countertops
Getting that right touch with white cabinets and black marble countertops is a pleasure because of its natural capacity for drilling and detailing! Think about using a white subway tile backsplash for a dramatic contrast. It's like having a blank canvas on which you may add some texture and let your cabinets and countertops take center stage. Daring enough? If you want to create a sophisticated, dramatic monochrome design, go with a black backsplash.
ID# 173917 | Houzz.com – Credit | © Алёна Горбачёва
---
Tiny Kitchen with White Flat-front Cabinets and Gray Floor Tiles
Marble is the way to go if you want to add a touch of subtle elegance to your kitchen, especially in a black tint! As this little kitchen demonstrates, the black marble countertops and backsplash give an instant luxurious touch to the otherwise white space. The gray floor tiles temper the stark black-and-white contrast while the simple flat-front cabinet design lets the marble slabs steal the show.
Backsplash for White Cabinets and Black Quartz Countertops
White cabinets and black quartz countertops work together like the yin and yang of a simple, clean design that produces a stunning symphony of effects! Let's talk about backsplash magic now. Imagine a variety of sizes and shapes of black or white tiles serving as the supporting cast. It resembles the setting for this chic drama. Alternatively, you might maintain the black quartz theme to achieve a smooth, cohesive look and a seamless flow.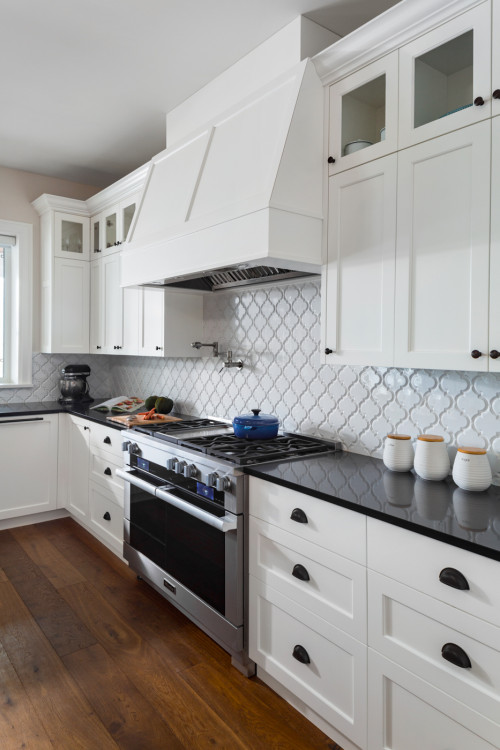 ID# 173918 | Houzz.com – Credit | © Troico
---
White Arabesque Tile Backsplash for White Cabinets and Black Countertops
Arabesque-style tiles adorned with a flowing pattern can add a refined and artistic touch to any kitchen! To go with the timeless beauty of the arabesque tiles, the white shaker style cabinetry is a fantastic option. Visual appeal is increased by breaking up the white dominance with black quartz countertops and black cabinet hardware.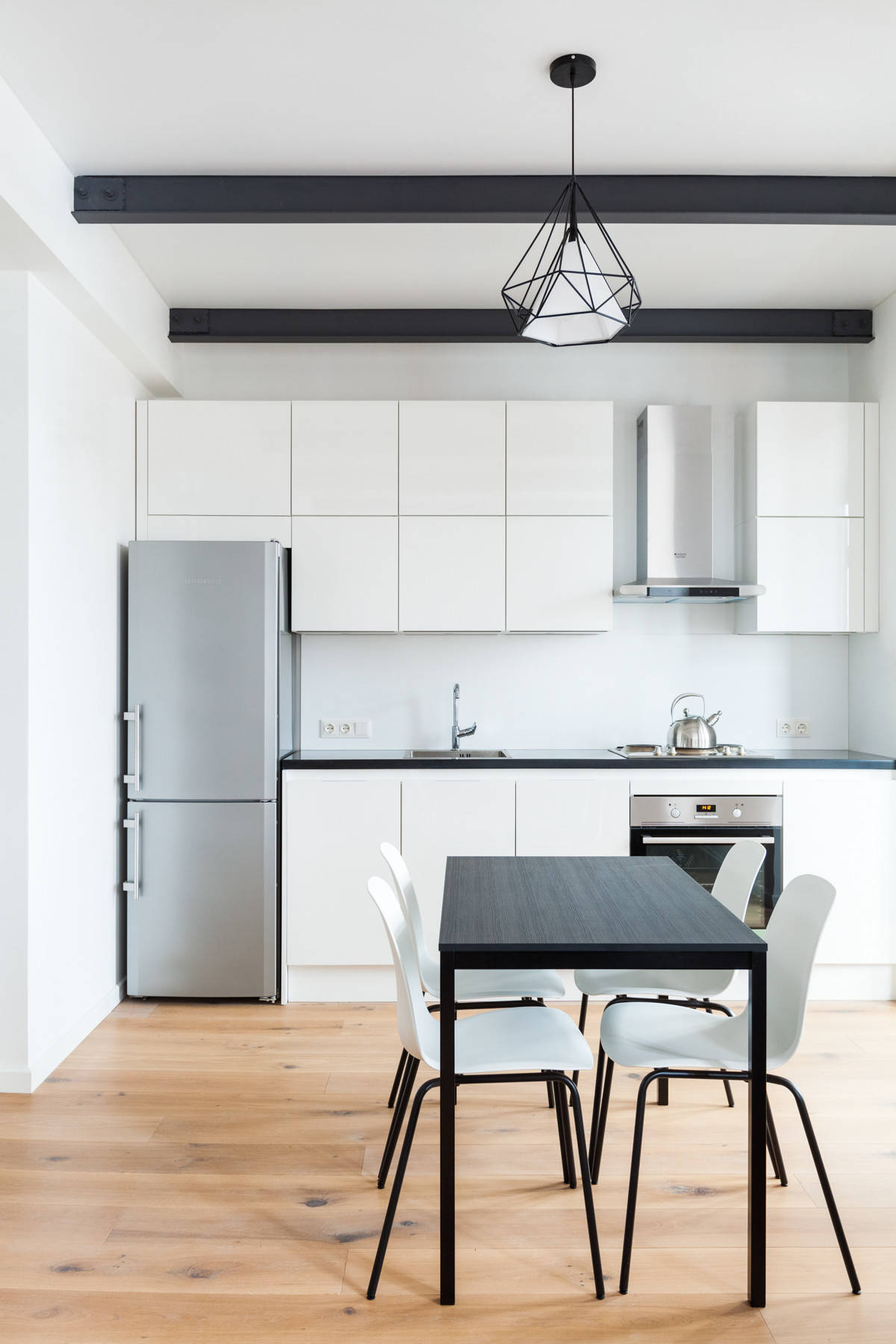 ID# 173919 | Houzz.com – Credit
---
White Contemporary Kitchen with Black Accents
Clean, sleek, and minimalist… This kitchen offers a sleek yet oh-so-trendy appeal thanks to its black and white color scheme. The white kitchen cabinets and white stone slab backsplash provide a bright and spacious atmosphere for this kitchen while the black quartz countertop, exposed beams, and dining table break this white domination to add dimension to the space.