24+ Large Subway Tile Backsplash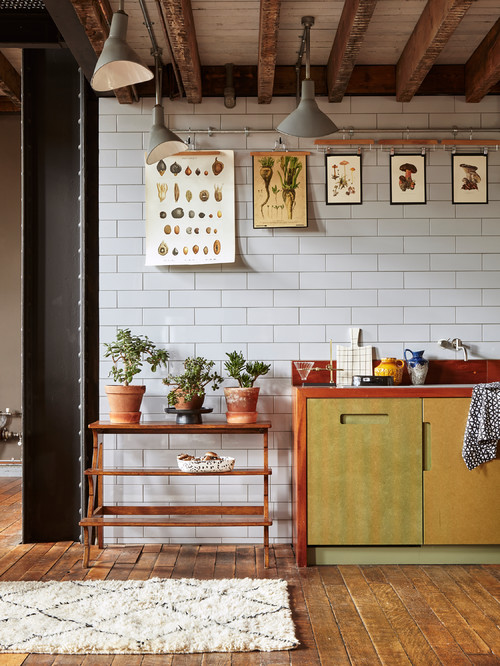 ID# 135903 | Houzz.com – Credit | © Ali Attenborough
---
Industrial Kitchen with White Large Subway Tile Backsplash and Wooden Countertops
Industrial kitchens generally welcome us with dark shades, lots of black, and mostly brick backsplashes. But this London apartment surprises us with warming earthy shades without compromising its industrial character. The full-height white subway tile backsplash replaces the bricks, and the fresh vegetable pattern prints decorate it. The discolored yellow cabinets topped by wooden countertops along with a timber plant ladder comprise the main furniture vocabulary. The exposed ceiling beams, rustic wood floor, and the iron column stand out as the signifiers of the industrial kitchens in this apartment too. A modern soft rug in light shades brings in extra texture, highlighting this casual and comfort-oriented design with the color palette that warms up the interiors.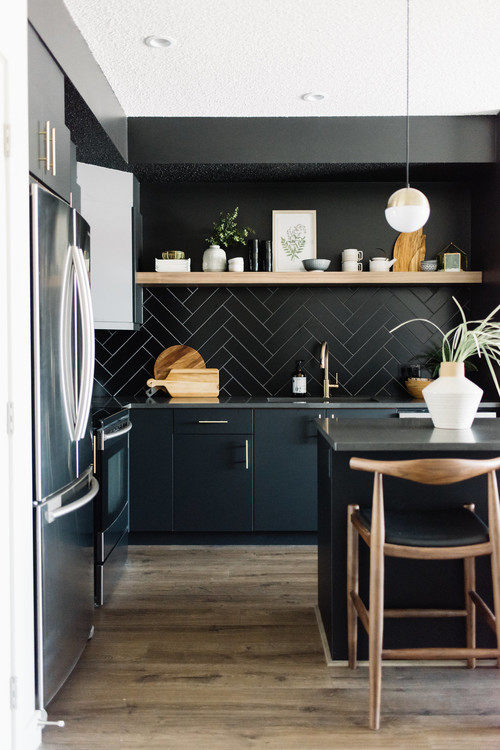 ID# 135913 | Houzz.com – Credit | © Kresswell Interiors
---
Black Large Subway Tile Backsplash with Black Cabinets and Timber Floating Shelves
Black monochromatic looks feel profound, sophisticated, and contemporary, especially when they are designed to the ethos of the Scandinavian kitchens that embrace nature, functionality, and simplicity. Staying true to these principles, this Scandinavian-inspired modern kitchen proposes clean lines, a clutter-free look, and a minimalist color palette. The timber floating shelf, kitchen plants, rustic floor, and wishbone stools inject a healthy dose of organic textures and forms. The rest sheathed in all black exudes elegance, and the highlight of the kitchen stands out as the subway tiles that are laid in a herringbone pattern to bring more interest. These backsplash tiles' color and size scale make them feel more pronounced while the gray grout adds a neutral shade between the tiles. But if you would like to add more contrast, you can use white grout instead of gray. This way, you can highlight the patterns even more.
Large Subway Tile Backsplash
As an ultimate tool for all sorts of kitchen looks, be it modern, farmhouse, traditional, or contemporary, subway tile backsplashes provide a standard look that goes well with anything. After having been introduced in 1904 for the first time in the New York City subway, the subway tiles have been used in multiple settings, ranging from the indoors to the outdoors, residential and commercial areas, and public and private spaces. That's why over time, they gained a lot more flexibility in terms of aesthetics. And today, coming in various shades, sizes, and materials, they open up nearly endless design possibilities for homeowners and designers. Though the traditional size for a subway tile is 3*6 inches, they can get enlarged in length and width. And a large subway tile backsplash can consist of tiles that reach up to 4*8 and 6*12 inches.
These large backsplash tiles come with certain benefits, which also apply to a large subway tile backsplash. First, they make the kitchen walls look more expansive, and second, the pattern itself gets more pronounced when it is larger. So those who have small kitchens can use large subway tiles not only to create a timeless look but also to encourage the space to feel larger. In this blog, we compiled a list of large subway tile backsplashes in different design contexts where they are used in a variety of shades and materials. Whether you have a small or large kitchen, these large subway tile backsplashes installed in multiple ways for extra interest will surely whet your appetite.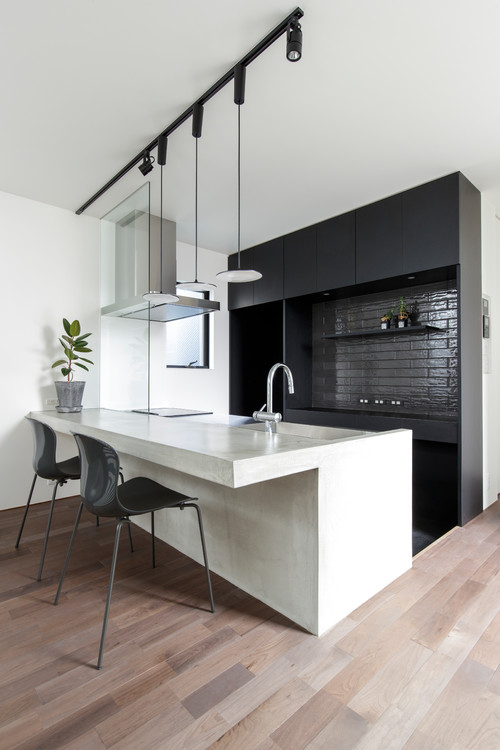 ID# 135901 | Houzz.com – Credit | © DIRECT
---
Minimalist Kitchen Design with Large Subway Tile Backsplash and Concrete Countertops
Subway tiles are a classic but you can always find a way to make them look new with a newfound identity. This minimalist kitchen, for instance, goes with a glazed black ceramic tile backsplash that creates a dramatic background with black cabinets. And what's enriching is are concrete countertops of the island unit that continue on the base as well, providing a seamless look from the outside. But inside the kitchen, on the other side of the concrete are the stainless-steel cabinets and countertops that provide a hygienic working space with unparalleled durability. The glazed feature wall behind the range hood creates a subtle division between the countertop and the eating space. Illuminated by black tracking spotlights that provide task and ambient lighting, the concrete island part converses with the rest of the space. And lastly, among these metal and dark elements, a kitchen plant adds a sense of life.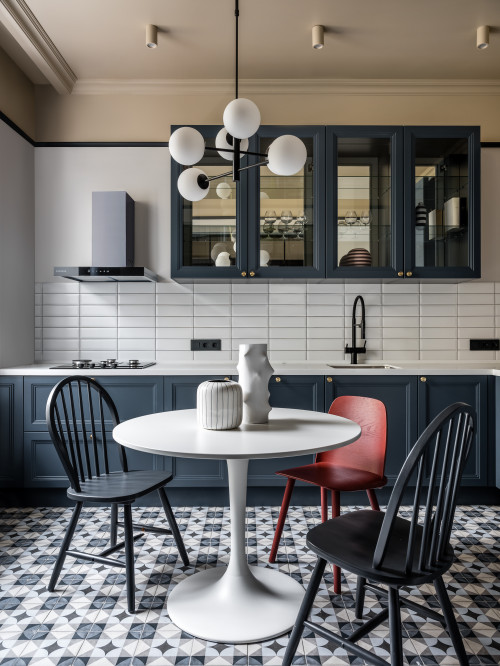 ID# 135902 | Houzz.com – Credit | © Зуева Анна
---
Stacked Subway Tile Backsplash with Blue Cabinets and Printed Floor Tiles
Stacked and matte finish subway tile backsplashes as in this particular kitchen give the space a modern spin while introducing order and clarity as well to ease the eyes. It is no secret that we all look for some symmetry to feel safe and comforted from time to time. And this kitchen provides that with this stunning white backsplash, complementing it with white quartz countertops and dark blue cabinets. But it does a lot more things as well with diverse inventions in terms of the perception of space. For example, the overhead display cabinets with reflective glass serve as a mirror rather than offering a glimpse into the cabinets. The ceiling is treated with warm beige paint to contrast the blue cabinets and printed floor tiles. The sculptural decorative pieces bring a contemporary voice, and the red stool pops against the background, creating an artsy feel.
Color Options for Large Subway Tile Backsplash
As subway tiles are popular and have been around since the 1900s, the color options of these brick tiles are almost limitless. Whether you love all-white looks, black kitchens, or energizing designs, subway tiles come in all sorts of shades that will give you the look you desire. Plus, as the material options are quite high, the colors change with the materials as well, gaining a more unique character, especially with natural stones like marble and granite. That's why when choosing a color, also consider the material itself and what kind of mood you want your kitchen to impose on its users.
White Large Subway Tile Backsplash
White subway tile backsplashes are everywhere. They are laid in a running-bond style or a herringbone pattern, or they are stacked vertically or horizontally, allowing creating of different patterns and enriching the design possibilities. And the neutral profile of this couple endows them with an easygoing nature. For those who want to play safe and go with a blank canvas-like background, a white subway tile backsplash is one of the best options. With the complementary features, homeowners can create a modern, traditional, beach-style, rustic, and farmhouse look out of these white subway tiles effortlessly. And using the larger versions makes the pattern look more pronounced and encourages the space to feel larger.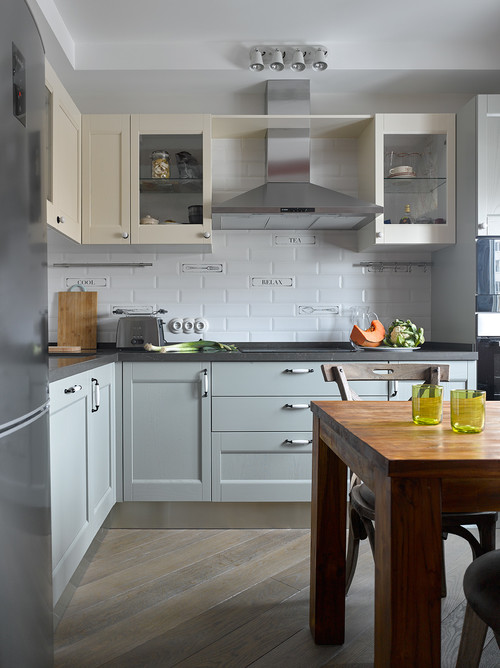 ID# 135904 | Houzz.com – Credit | © Interior-point
---
Two-tone Cabinetry with White Backsplash And Gray Countertops
This modern kitchen presents a color palette that keeps the kitchen feel open and airy. The white subway tile backsplash stands out between the light yellow and white cabinets, while the gray countertops lend sophistication and depth. The use of large subway tiles laid in a running-bond style expands the visual scheme on the horizontal axis. The wooden dining table and diagonally laid-out wood planks in neutral shades echo the overall color palette, bringing the design together.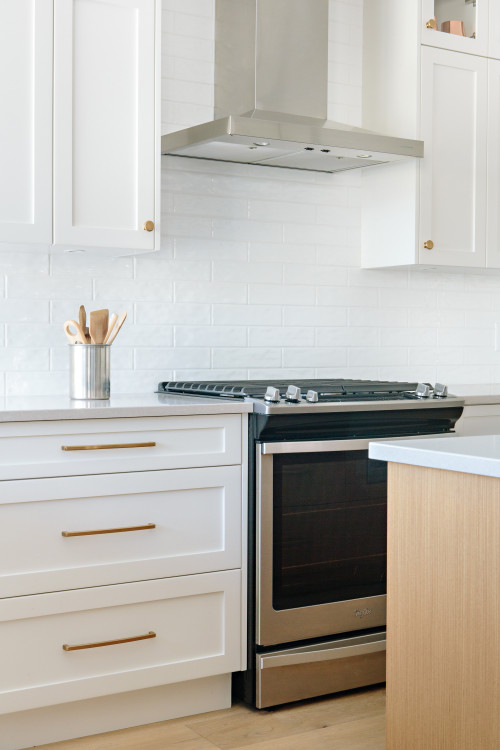 ID# 135905 | Houzz.com – Credit | © Norelco Cabinets Ltd
---
Bright Kitchen with White Cabinets and Brass Hardware
If you want to introduce glitter to your kitchen, why not give your subway tile backsplash a glazed finish? This way, you give the background a nice sheen that will interact with natural lights playfully. And when you have such an eye-appealing background, to complement it, you can use white cabinets and white countertops and benefit from brass hardware to add extra warmth as in this kitchen. And to break up the monochromatic look, the wooden island base paired with faux leather brown counter stools do the job. Globular-shaped glass pendants with brass hardware are good options as lighting fixtures that suit a shimmering background, bringing a modern twist.
Can you use large tiles for a backsplash?
Large tiles create eye-catching backsplashes that bring elevated looks as the tiles make their presence more felt and create the illusion of larger wall space. But, if there is anything greater about the large backsplash tiles is that they come with fewer grout lines, which keeps the cleaning process much simpler. Hence, it is almost like a blessing for homeowners.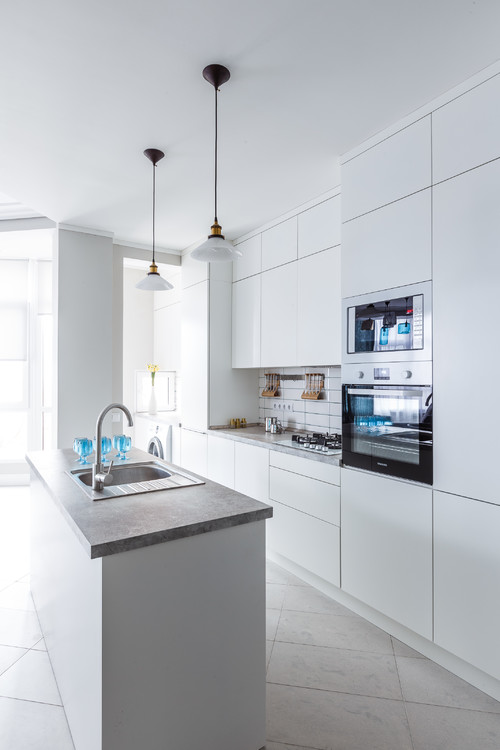 ID# 135906 | Houzz.com – Credit | © architectural bureau "Symmetry"
---
All-White Kitchen with Blue Glassware and Gray Countertops
If you are fond of clean lines, streamlined cabinetry, and white shades, this kitchen has the perfect look for you. Characterized by white slab-front cabinets, gray speckled countertops, and white subway tile backsplash, it creates a timeless look and style. The vintage-style pendants add a punch of character above the kitchen island. To refer to the blue floral pattern wallpaper on the side of the living room, blue glassware is added to form a visual connection. But above all, the best part of these all-white looks, when needed, you can give them a new outfit by playing with the complementary elements such as lighting fixtures and wall decorations.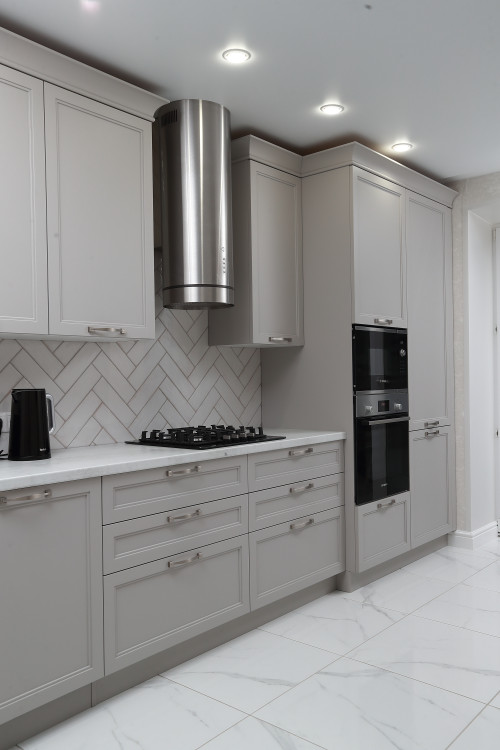 ID# 135907 | Houzz.com – Credit | © КухниХолл
---
Herringbone Pattern Backsplash with Cream Cabinets and Upscale Appliances
If you are bored with vertically and horizontally stacked subway tiles or the ones laid in a running-bond pattern, why not try a herringbone pattern with the same subway tiles to give a modern twist to your transitional kitchen as in this kitchen? Plus, with large subway tiles, you can create a bigger change and highlight the form of the pattern. Here, we have a great example of it complemented by the cream shaker cabinets and sleek appliances. The brushed stainless-steel rounded range hood creates a neutral and ornate ambiance along with other fixtures, and marble-look porcelain floor tiles form a nice balance with the rest.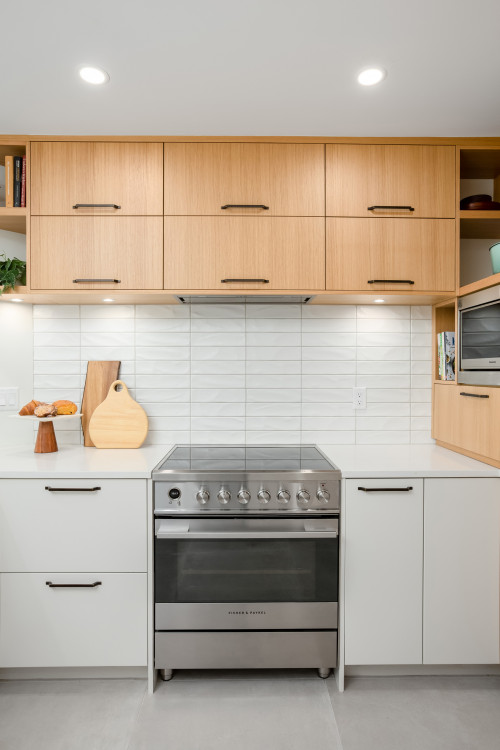 ID# 135908 | Houzz.com – Credit | © Designs by KS
---
Contemporary Kitchen with Two-tone Cabinetry and Black Hardware
To soften the all-white look, wooden additions are the route to go. In a similar vein, this contemporary kitchen employs timber upper wall units. But it also doesn't forget to build a connection with the white base cabinets and does so by using the same hardware. Between the two-tone cabinetry sits the white stacked subway tiles that add a modern appeal, highlighted by the under-cabinet spotlights to create task lighting for the countertops and ambient lighting for the simple but modern beauty of the backsplash.
Gray Large Subway Tile Backsplash
If you are looking for a winning color in all designs, gray is the one. It not only helps you to maintain a bright airy feeling but also adds a sophisticated feel to any design. Though gray feels distant and looks too serious for some, it can feel warm too. Just check the warm-tone or yellow-based gray tiles that look much more approachable. But in all versions, a gray subway tile backsplash brings in a versatile shade and pattern, allowing homeowners to go with any look they dream of.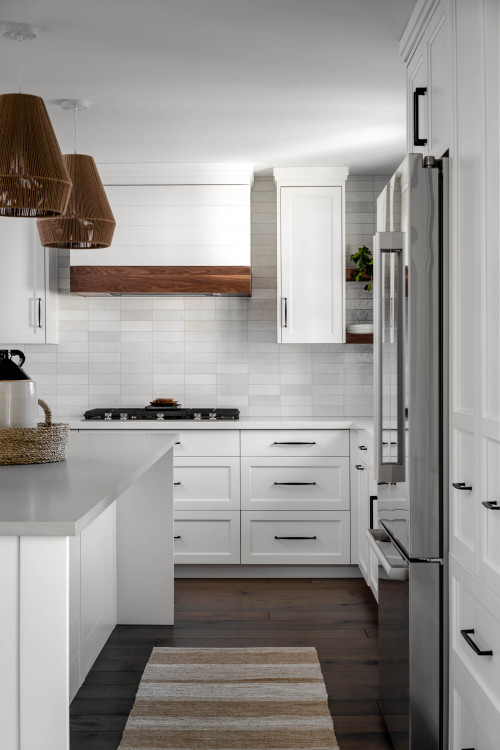 ID# 135909 | Houzz.com – Credit | © Cranberry Hill Kitchens
---
Gray Large Subway Tile Backsplash with Wood Accents and White Cabinets
This kitchen offers a modern country design with a refined color palette and clean lines. The white shaker cabinets with gray subway tile backsplash make a great pair; the stacked subway tiles give a modern twist. The corner wooden shelves, wood trim of the range hood, and plank floor finish add warmth, creating a dramatic impact. The rug brings more texture and comfort underfoot, while the boho-style pendants provide task lighting for the island.
What is the largest subway tile size?
The sizes of subway tiles vary significantly, including 1*2, 2*4, 3*6, and 4*8-inch tiles. In short, any rectangular tile with a ratio of ½ can make a subway tile. But the largest subway tiles are considered to be 3*8-inch, while the traditional size is 3*6.
For those looking for more square-look ones, 3*3, 4*4, and 6*6 versions are available. Also, if you want more skinny and slender ones, 1*6 tiles come as an alternative that enlarges the backsplash wall on the horizontal axis, especially when laid in a running-bond style or horizontally stacked.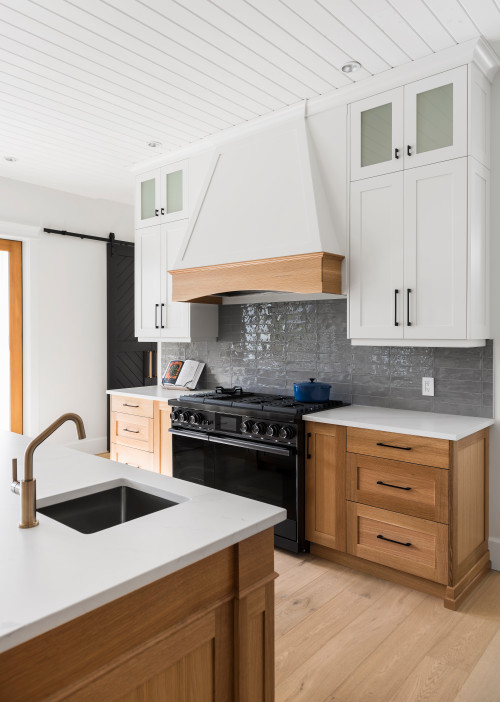 ID# 135910 | Houzz.com – Credit | © Harbour City Kitchens
---
Two-tone Cabinetry with Glazed Subway Tile Backsplash and White Quartz Countertops
Even if you have a neutral country kitchen, you can always find new ways to spice it up. This one, for example, gives a gloss finish to the gray ceramic subway tile backsplash that creates a very interactive surface engaging with natural lights. The white quartz countertops and the white oak cabinets brighten up the interior and warm it up, while the gray backsplash adds depth and an edgy feel to the design. Black hardware and the amazing black stove add a contrast that solidifies the bonds between the various materials and textures used throughout the space. Above, the white-painted wood slats clad the ceiling for extra interest but feel slightly assimilated due to the white paint, enhancing the openness of the kitchen. Overall, distant yet approachable, simple yet sophisticated, this country kitchen offers both of the worlds surely.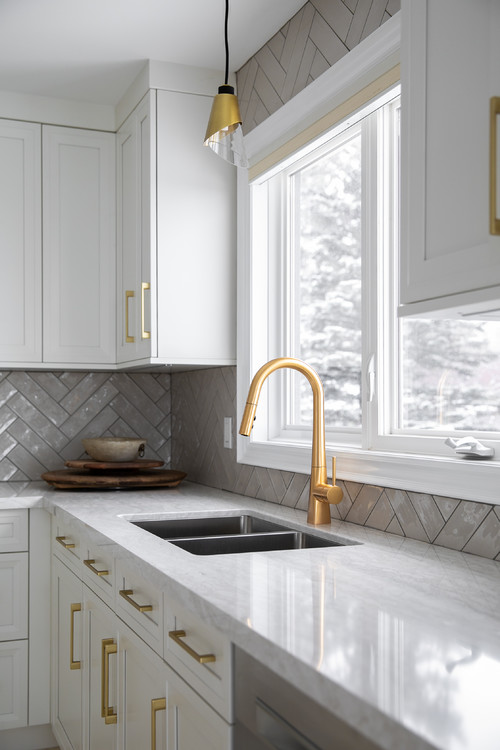 ID# 135911 | Houzz.com – Credit | © Total Living Concepts
---
Chic Transitional Kitchen with Brass Hardware and White Cabinets
Transitional kitchens are perfect for those who want to borrow from modern and classic designs and enmesh them in one pot. If you are one of those people and want to emulate the coveted look of transitional kitchens, here is one you can steal some inspiration from. Consisting of white cabinets, gray patterned backsplash, and grayish countertops, this stylish transitional kitchen offers a neutral color palette that feels easy to the eye. And it goes with brass hardware to enliven it, while the pronounced sizes of subway tiles and their herringbone pattern keep the focus on the backsplash. A simple lighting fixture with brass detailing over the sink also adds a tiny accent providing task lighting, and the two-compartment integrated sink increases the utility of the kitchen.
Black Large Subway Tile Backsplash
As one of the most statement colors that never let you down, black offers a rich pigmented shade that delivers depth and elegance. Whether you want to go with contrasts or all-black looks, you can utilize a black subway tile backsplash to add depth to the background. For a more modern look, also feel free to stack them vertically or benefit from the beveled versions that will elevate the overall look instantly. In case you want to add contrast even on the backsplash, you can use white or gray grout instead of black and highlight the beauty of the subway tiles and emphasize the dramatic impact of the black.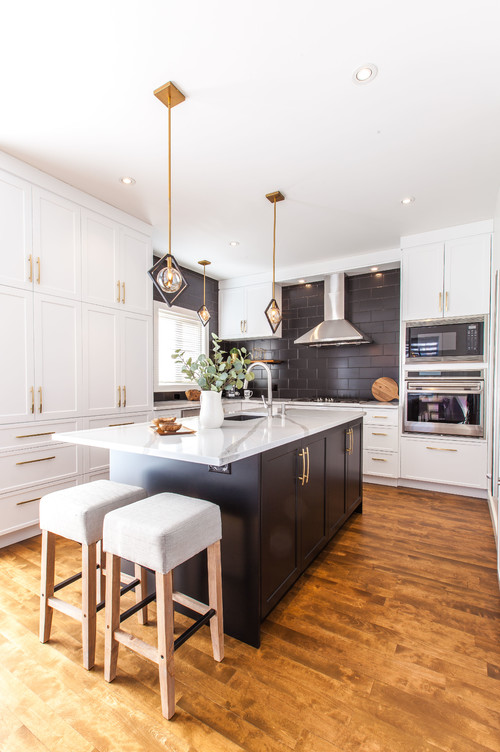 ID# 135912 | Houzz.com – Credit | © KaBé Design
---
White Cabinets with Brass Hardware and Black Backsplash
This U-shaped transitional kitchen is well-appointed with white cabinets, black subway tile backsplash, and brass hardware. Even though it is not vast, it manages to pack a lot of stuff, maximizing the storage and incorporating an island as a space-organizing object. In addition to those, the contrasting colors are also used proportionately, which brings a well-planned balance to the design, while the brass and wood additions make the kitchen more approachable. The large black subway tiles in the background expand the wall surface visually, which proves that it was a smart choice to take the backsplash to the ceiling.
What size subway tile looks best as a kitchen backsplash?
3*6 subway tiles are considered to be the best for a timeless look to ensure the relevance of the design in the long term. Plus, they are also better at adding a sense of movement to the kitchen. So, if you want to spice up the background without going too bold, 3*6 traditional-size subway tiles will do it for you.
Blue Large Subway Tile Backsplash
If you want to give your kitchen a colorful finish that lends calmness and serenity, blue subway tiles will give you the look. Especially the glass subway tiles in light shades capture natural lights skillfully, creating a more interactive design. You can combine these blue tiles with white cabinets, brass or silverish hardware, and glass pendants. But if you are into the mid-century looks, just bring in walnut cabinets and timber floating shelves supported by ergonomic stool designs. This way, you can create a look that dates back to the 1950s and 1960s, exposing yourself to modern nostalgia.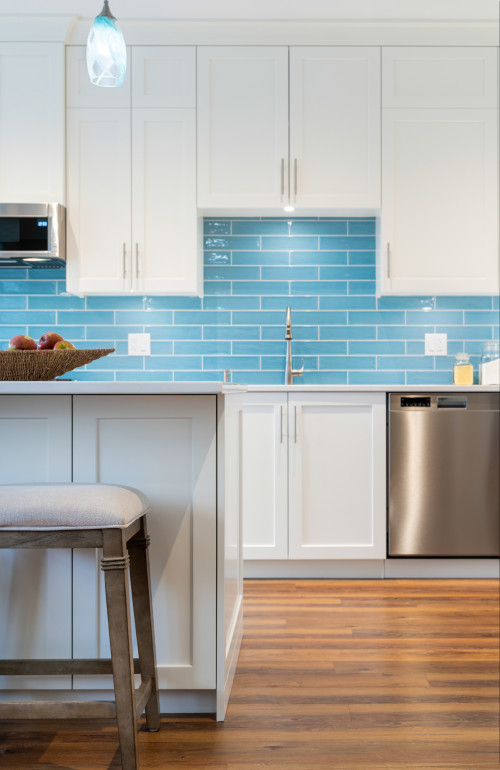 ID# 135914 | Houzz.com – Credit | © Wesgrove Homes
---
Blue Large Subway Tile Backsplash with White Cabinets and Countertops
Blue is one of those colors that never disappoint, adding a delightful flavor to beach-style kitchens like this one. Defined by the white cabinets with white countertops, this serene kitchen design is filled with a sense of airiness, while the glass blue subway tile backsplash brings freshness. The under-cabinet lighting fixtures put the backsplash in the spotlight, letting natural lights play with the glass tiles. Overall, the white-blue coordination expands the sense of the space, allowing homeowners to enjoy this tranquil and calm design. If you want to emphasize the beach atmosphere, you can bring in French bistro stools with sailor stripes, hang anchor-shaped decorative items, and utilize glass pendants over the island for task lighting.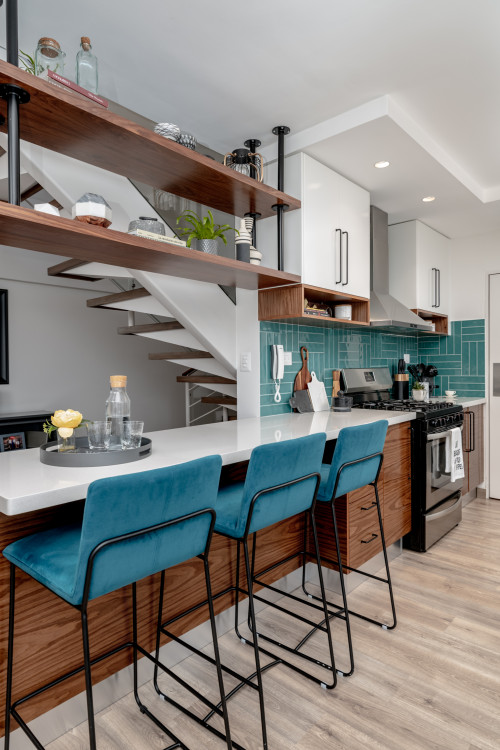 ID# 135915 | Houzz.com – Credit | © Dos más Uno Interiores
---
Mid-Century Kitchen with Wooden Cabinets and Teal Subway Tiles
Taking us back to the 1950s kitchen designs, this renovated kitchen taps into the spirit of mid-century modern looks. The medium wooden cabinetry with white wall units and teal subway tile backsplash mimics the favorite color palette of that era. The basketweave-style layout of the cabinets engages with the subway tiles intriguingly, creating a statement backsplash. The suspended shelf, blue counter stools, and cabinet shelves inject more personality into the space. Overall, upon the request of the homeowners, this used-to-be outdated kitchen turns into something more functional, colorful, and stylish, where homeowners can cook and eat together.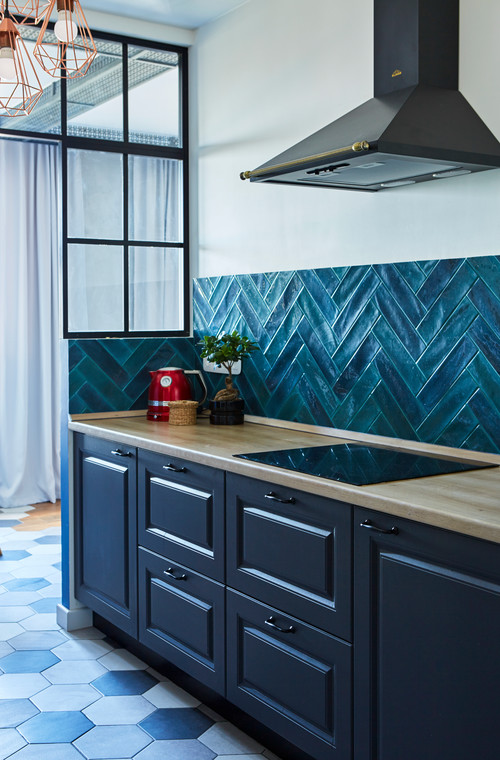 ID# 135916 | Houzz.com – Credit | © Creative Home
---
Blue Herringbone Pattern Backsplash with Wooden Countertops and Hex Floor Tiles
For blue lovers, this kitchen offers a visual feast. From the standard-size backsplash to the raised-panel cabinets and floor tiles, each element comes in variegated shades of blue. Whether you want deep navy or lighter shades, it is all here that delivers an eye-catching look. Even better, the herringbone and hexagon patterns give the blue different articulations, while wooden countertops add a soft element to make the design more approachable.
Material Options for Large Subway Tile Backsplash
Whether you prefer natural stone, glass, ceramic, or porcelain, large subway tiles come in a plethora of materials. If you want something more natural, marble and travertine subway tiles add a classy feel, lending sophistication to the kitchen. But for more functional and easy-to-maintain options, you can go for ceramic, porcelain, and glass subway tiles.
Large Ceramic Subway Tile Backsplash
As one of the easy-to-clean and durable backsplash materials, ceramic tiles are as classic as subway tiles. Highly customizable and available in many colors, you can find ceramic subway tiles that would fit any look that you aim for. That's why when ceramic and subway patterns come together, they offer the best of both worlds.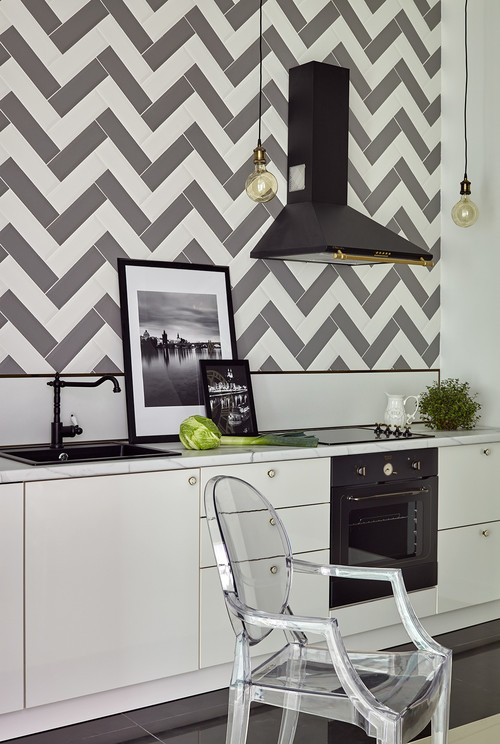 ID# 135917 | Houzz.com – Credit | © Vera Tarlovskaya Interiors
---
Scandinavian Kitchen with Large Subway Tile Backsplash and Black Appliances
If you have a small kitchen and want to expand it visually, one thing you can do is use large backsplash tiles with bold pattern and take it up the ceiling to draw eyes upward. This Moscow apartment, for example, goes with large subway tiles and lay them in a herringbone pattern for a change. And it combines two shades of them, white and gray, to create a backsplash design that resonates with the overall black-white color scheme. And to complement this perfect pair, it uses flat-front white cabinets, white countertops, black appliances, and black hardware for an expressive look. Lastly, monochromatic prints and transparent stools join to add more interest with artsy touches.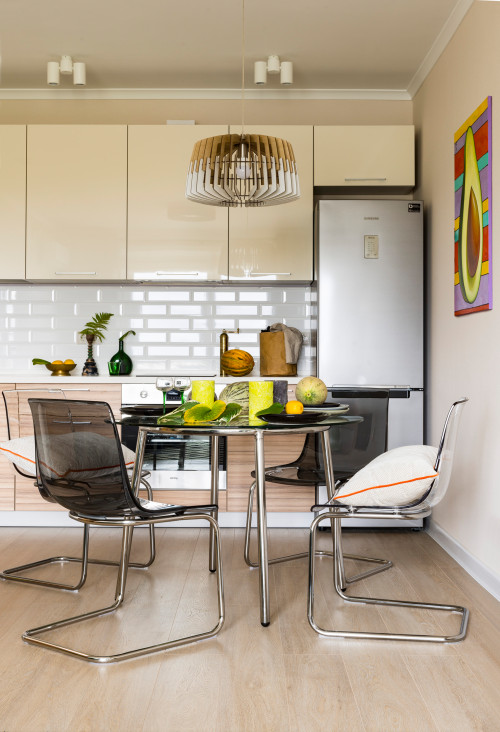 ID# 135918 | Houzz.com – Credit | © Пегасова Елена / Pegasova Design
---
Cream Cabinets with Ceramic Tile Backsplash and Transparent Stools
Scandinavian looks are ideal for those looking for something calm, natural, and warm, and it can be established with cream and wood veneer cabinets coupled with timeless classic ceramic subway tiles as here. But this kitchen also goes over these cabinets with polish to achieve a more glamorous look, which is supported by transparent ultra-modern stools and an avocado painting that adds a ripple of color to the beige-painted wall.
Do large tiles make a small room look bigger?
Yes, they do. If you have a small kitchen, using large tiles for your backsplash help the interiors look larger, expanding the space visually. To expand its impact, you can also use floating shelves instead of wall units to open up the space. Another strategy could also be the use of ceiling-height backsplashes. Especially if you have a herringbone or chevron pattern backsplash, when you take them up the ceiling, they draw eyes upward, creating the illusion of a taller kitchen. Also, if you are working with subway tiles, flipping them or stacking them on their short side makes the kitchen look taller.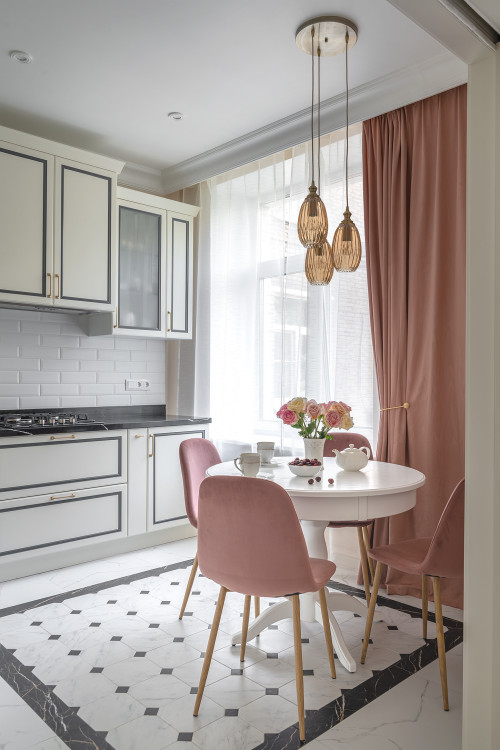 ID# 135919 | Houzz.com – Credit | © Alisa Kashcheeva
---
Neutral Kitchen Design with Glass Pendants and Pink Fixtures
This lovely kitchen infuses pale yellow cabinets with pink stools and pink full-height curtains that create a cozy atmosphere peppered with brass hardware. The subway tile backsplash with marble flooring and diamond accents on tiles crown the gentle spirit of this beautiful kitchen. The black countertops help anchor the look, bringing out the warmth of the yellow and pink shades. And of course, the all-time favorite white ceramic subway tile backsplash complements the rest, providing a clean background for other elements to shine.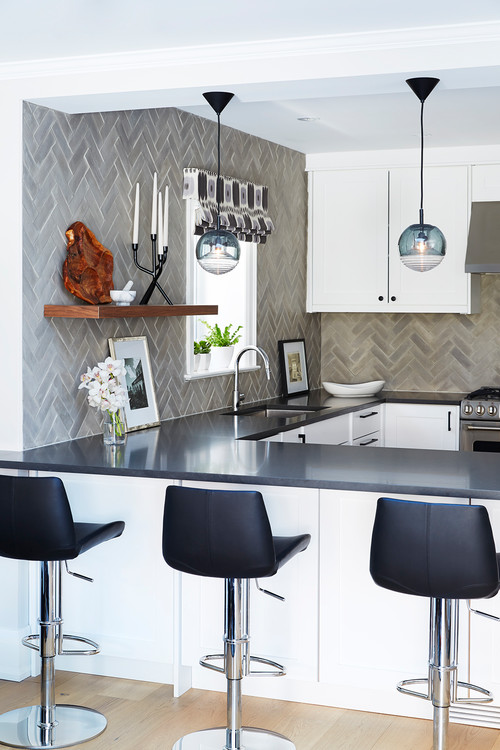 ID# 135920 | Houzz.com – Credit | © The Dickson Design Group
---
U-Shaped Kitchen with Herringbone Ceramic Tile Backsplash and Black Countertops
The grayish brown herringbone pattern backsplash demarcates the U-shaped open kitchen from the lounge area skillfully, paired with black countertops and white cabinets. This white-black contrasting theme is alleviated with the gray backsplash, while the minimal use of wall units opens up the space. Instead, a small floating shelf punctuates the backsplash exhibiting personal items that add a punch of character to the design. The candles, prints, a kitchen plant by the window, patterned window shades, and glass pendants throw in more intriguing objects that encourage engagement with the space not only for cooking but also for pleasing the eyes.
Large Marble Subway Tile Backsplash
As one of the most remarkable and popular natural stones, marble, without a doubt, makes a great backsplash. Available in the panel and tiled versions, it brings an upscale feel, communicating a sense of luxury. Thus, you can easily create a visual focal point with marble tiles. Especially when a timeless material and timeless pattern come together and make a marble subway tile, the kitchen guarantees a lifetime look and durability as long as the marble is sealed and cleaned regularly. But if you are tight on budget, you can also go with marble-look quartz and porcelain backsplashes that mirror marble patterns beautifully.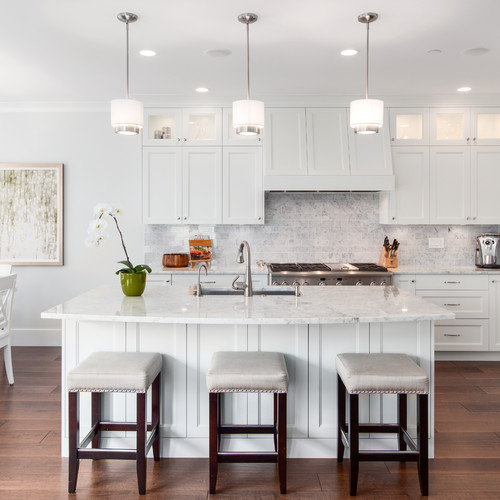 ID# 135921 | Houzz.com – Credit | © SGDI – Sarah Gallop Design Inc.
---
Marble Large Subway Tile Backsplash with Custom Cabinetry and White Countertops
This transitional open-plan kitchen forms part of a custom home designed for a growing family with a dog and two children. To ensure the longevity of the design, it is curated with durable materials with a timeless aesthetic, consisting of white cabinets, marble subway tile backsplash, and white marble countertops. The engineered dark wood flooring, stylish chrome-detailed lighting fixtures, and built-in spotlights come as further enriching elements, executing a well-illuminated and easy-to-navigate environment.
This kitchen design also embraces family moments. The oversized island, for example, paired with a trio of backless cushioned classical stools offers enough space for the family to gather around. The minimal use of kitchen utensils on the countertops not only opens up the space but also provides a safer environment for children. Likewise, the open-plan layout allows for bigger family moments, opening up the space to the lounge area and making it a perfect place to socialize.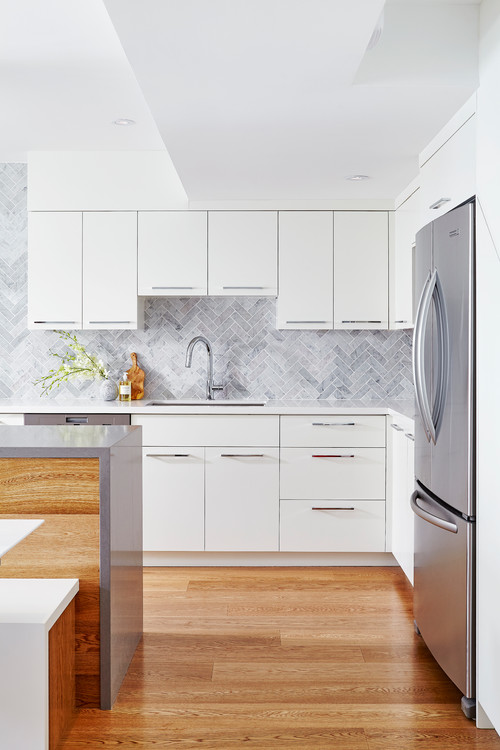 ID# 135922 | Houzz.com – Credit
---
Herringbone Marble Backsplash with White Cabinets and Wood Floor
In this contemporary kitchen, seeing the subway tiles in the marble form makes them feel more recessed and shier. But they still stand out between the white flat panel cabinets thanks to their herringbone pattern, coordinating with the stainless-steel appliances and gray waterfall countertop of the kitchen island. To warm up these neutral shades, the timber island base, and timber flooring come in a medium tone that proposes a provocative presence as the surrounding is sheathed in white and gray. But overall, this contemporary kitchen curates a well-balanced and timeless look with timeless material by bringing marble, steel, and wood together. Yet above all, the marble subway tile backsplash ensures the best of both worlds.
Large Glass Subway Tile Backsplash
Glass tiles are championed for their natural sheen, creating a shimmering background for kitchens. As non-porous and eco-friendly materials, they provide easy-to-maintain surfaces, don't require any sealing, and can be repurposed easily. So, for those who want to go green in their kitchens, glass tiles provide an excellent option.
When it comes to the large-sized glass subway tiles, they help homeowners to minimize the grout lines and provide a sleek and well-articulated look. Available in nearly limitless colors, they can be utilized in any color scheme. Especially in beach-style kitchens, large glass tiles are a favorable material for their natural shiny look to give the sun-kissed impact. Small kitchens can benefit from these tiles for the same reason. Thanks to their reflective surface, they can expand the kitchen and mimic a more spacious look.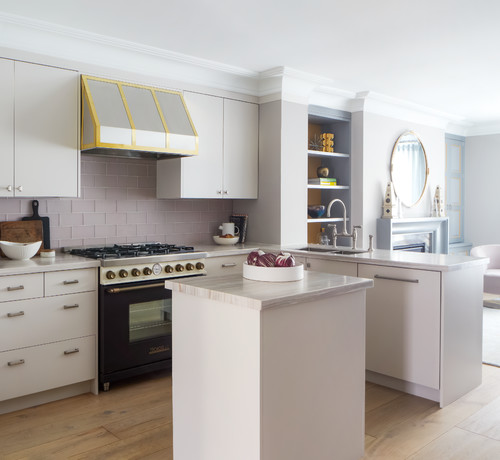 ID# 135923 | Houzz.com – Credit | © URBAN BLUEPRINT
---
Beach-style Kitchen with Statement Hood and Bronze Hardware
The shimmering glass tiles are one of the best fits for a beach-style kitchen as their glittering sheen gives a sun-kissed effect. And here in this open-plan coastal design, it has a naïve edge to it, surrounded by subtle lilac shades. Right above, the range hood with golden stripes put this backsplash in the spotlight, supported by bronze hardware that adds extra texture and an aged feel. The rest is complemented by flat-front cabinets configured in an L-shape and an island placed in the center to provide extra worksurface and storage. The layout helps demarcate the kitchen from the main lounge area. This way, the kitchen has a way of enclosing to have the privacy of its own.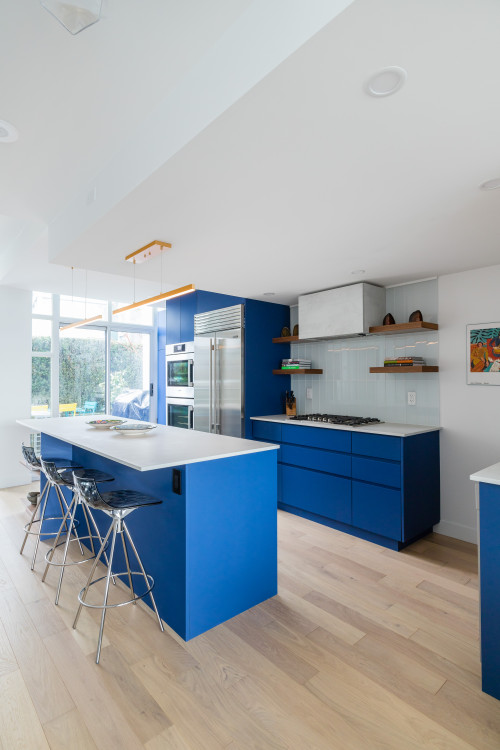 ID# 135924 | Houzz.com – Credit | © Troico
---
Blue Cabinets with Glass Subway Tile Backsplash and Floating Shelves
Bored of neutral shades? Why not give a try vibrant blue cabinets? This contemporary kitchen is characterized by blue cabinets topped with white countertops and a glass subway tile backsplash. To highlight its form, the timber floating shelves are added, which also open up the space more. The orange lighting fixture above the kitchen island adds a pop of color, while stainless-steel appliances bring an upscale feel.