35+ Classic Kitchen Backsplash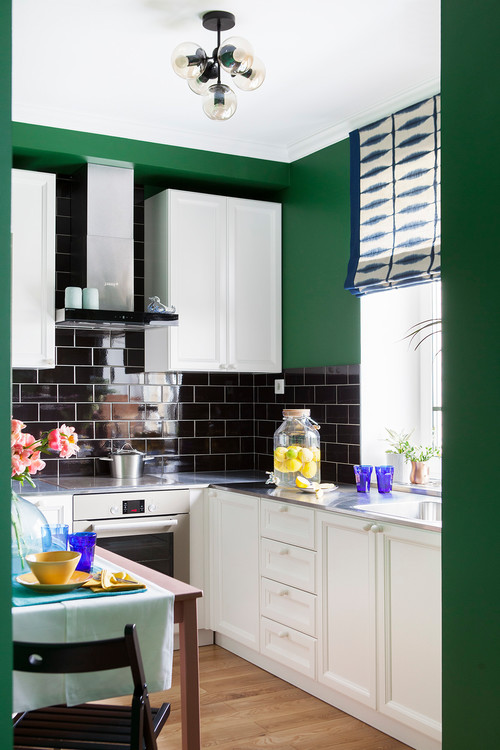 ID# 169507 | Houzz.com – Credit | © Юлия Веселова
---
Contemporary Kitchen with Stainless Steel Countertops
The striking contrast between the light and dark colors is well-designed in this contemporary kitchen design! The black subway tile backsplash creates a striking focal point between the white shaker cabinets while the white grout adds movement and texture to the kitchen. The stainless steel countertops bring a sleek appeal that enhances the contemporary aesthetic! The green walls emphasize the white kitchen cabinetry and black backsplash to add another contrast to them.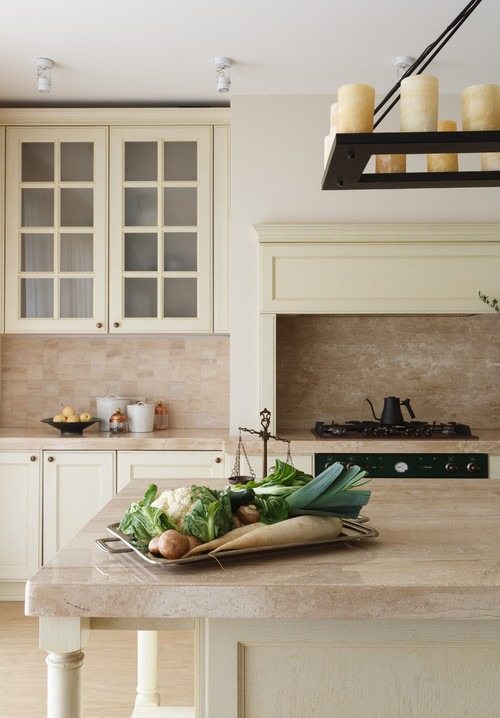 ID# 169525 | Houzz.com – Credit | © Daria Lukovnikova Interiors
---
Traditional Kitchen with Off-White Cabinets and Travertine Backsplash Tiles
The off-white kitchen cabinetry, which is accented by the gorgeous travertine backsplash and countertops, provides a warm and welcoming ambiance for this conventional kitchen! If you want to improve the aesthetic attractiveness of your kitchen, using backsplash tiles in various layouts is a great way to do it! The square travertine tiles in this beige kitchen, for example, offer a great textured impression between the cabinets. The travertine slab backsplash behind the stove, on the other hand, coordinates with the hood trim and offers a seamless aesthetic.
Classic Kitchen Backsplash
In a kitchen, the backsplash is a subtle but significant finishing touch that may completely alter the room's appearance. It's also a reasonably quick and inexpensive improvement to make in comparison to changing the cabinets, countertops, or appliances—especially if you're adding a backsplash to your kitchen for the first time. White subway tile is one of the most widely used backsplashes in classic kitchens in the South, especially ones with plenty of white. The color and pattern of the placed tiles' grout add some diversity, it's cheap, and it works with everything. You can easily rely on a classic kitchen backsplash.
Timeless Appeal of Classic Backsplash Tiles
Working with a classic kitchen backsplash makes it simple to combine modern and vintage aesthetics, and backsplash designs are one of the greatest methods to highlight this carefree stylish quality. When using classic tiles in a kitchen or bathroom, the pattern's blast from the past appearance is clearly visible. Choose appliances and fixtures that compliment the minimalist or shabby chic designs, combine the old with the new, and arrange vintage and modern components right next to one another. Maintain balance and functionality at the core of the design while using colors that were prevalent during that era to help evoke a vintage feel. If you want a contemporary feel, a classic kitchen backsplash can easily blend with the contemporary design elements in the kitchen adding a timeless touch.
What is the most timeless kitchen backsplash?
A white subway tile backsplash is one of the most timeless kitchen backsplashes. Besides, you can create new patterns with it, such as herringbone or basketweave tile backsplash. These tiles are so versatile that you can blend them with nearly every style.
What Is The Most Classic Backsplash?
There are too many alternatives to choose from when it comes to kitchen design and making these choices may be difficult! However choosing a kitchen backsplash is the most enjoyable and unique way to express your particular style. If you want an easy solution for your design, you may wonder what is the most classic backsplash design. The white backsplash is the most traditional and timeless solution for any kitchen among all these possibilities. A white backsplash adds value with its simple elegance and versatility in any color scheme or design aesthetic. The most popular white backsplash is the subway tile backsplash!
Kitchen backsplashes with subway tiles are still preferred after more than a century. In the early 1900s, this backsplash style first appeared in New York City subway stations. In a modern kitchen, the subway tile backsplash design has recently gained popularity. The first reference to the backsplash is a traditional tile pattern. The advantages of a subway tile kitchen backsplash are durability and ease of cleanup!
Classic Subway Tile Backsplash
Subway tiles are available in a huge variety of materials, colors, and sizes on the market today. There are many ways to incorporate subway tiles into kitchens, from bright glass to natural stones. But none of them can compare to the ageless elegance of a white classic subway tile backsplash. A classic subway tile backsplash is a tried-and-true complement to any kitchen because of its understated refinement and unforced beauty.
The most common and adaptable option for kitchens is a classic subway tile backslash since it never goes out of style. These straightforward rectangular tiles can be arranged in a variety of ways in addition to the traditional staggered stack design, including herringbone, chevron, vertically stacked, and basketweave. You may increase visual attraction in this way. White subway tiles may also complement a variety of design styles since they are similar to black canvas. Additionally, there are a lot of leeways to experiment with various textures, materials, and hues while using these tiles. There are countless material alternatives to bring this elegance into kitchens, including glass, porcelain, ceramic, and natural stone.
How do I choose a timeless backsplash?
For a kitchen backsplash, there are numerous classic alternatives available, including hexagon tiles, picket tiles, penny tiles and square format tiles (just to name a few). Classic Backsplash Advice: For a more conventional and timeless appearance, choose a natural stone like marble or slate. mosaic tile made of marble or slate, for instance!
What backsplash is out of style?
Skinny backsplashes or 4-inch ones are definitely out of style.
Beveled Subway Tile Backsplash
The white brick tiles used in New York City subway stations in the early 1900s are where the term "subway tile" originates. Since then, both residences and restaurants have adopted this simple, low-maintenance, traditional aesthetic. Today, any space can have a vintage vibe by using a range of subway tile styles, including beveled subway tile backsplash in the kitchens and bathrooms. The white brick forms are adaptable enough for modern and transitional bathrooms and kitchens where clean, uncomplicated lines are needed.
Subway tile design innovations in the contemporary era have increased its appeal. The fundamental 3 x 6 pattern has been given more alternatives, which has increased its degree of design compatibility significantly. If you adore this traditional style but would want to give the timeless white brick design a little something more, you might want to have a look at some of the newest beveled subway tile backsplash designs. Here are some creative suggestions to get you motivated as you begin your design.
Herringbone Tile Backsplash
Kitchen backsplash tile is a crucial component of any kitchen's design. Its function is to provide a surface that is simple to clean for water and food splatters. A focal point that improves the room's aesthetic is typically the backsplash in the kitchen. The kitchen backsplash tile arrangement ideas play a significant role in the backsplash design process, just like the colors and the materials do. Use a herringbone tile backsplash design if you want to take things a step further and attempt something new for the backsplash from previous ideas.
The herringbone pattern got its name because it looks like fish bones. The subway tiles are arranged in a zigzag pattern at 45- or 90-degree angles. One of the first brick-laying patterns was the herringbone pattern, which was used to pave roads under the Roman Empire. Today, though, we may also utilize this design for backsplashes. A herringbone tile backsplash pattern is achievable, albeit time-consuming, for a novice because it just requires a little trimming around the edges and precision.
Are subway tiles out of style 2023?
Although the "classic" attractiveness of subway tiles gradually diminishes, kitchen backsplashes are filled with fresh variations and hues. On the other hand, they continue to be timeless and adaptable to fit with any kitchen design style!
Hexagon Tile Backsplash
Hexagon tile complements a range of design aesthetics since it tends to mirror its surroundings, including classic, farmhouse, modern, traditional, bohemian, minimalist, and more. These backsplash designs are available in a variety of sizes, materials, and patterns and will last a lifetime in your kitchens. Hexagon tile may be used in any design or size to make a stunning backsplash. For a light and airy design, white hexagonal tiles are a great option that will never go out of style. While gray and beige seem more calming, bright colors appear more powerful. All colors, however, give style. Additionally, black and white are constantly in sharp contrast.
Kitchen backsplashes in the shape of hexagons or honeycombs have a timeless, stylish charm. You may use this material in any kitchen because of the infinite variety of hex tiles available. You may finish the whole appearance cogently with a white hexagon tile backsplash or add an unexpected twist by using contrasting hex tiles to provide a standout focal point between your cabinets. Whatever you decide, a properly built hexagon tile backsplash can help you design the kitchen of your dreams by standing out.
Square Tile Backsplash
Despite being one of the most basic forms available, many inventive square tile pattern ideas may give your decor a spectacular boost! You can choose from timeless designs like a 4″ x 4″ white ceramic square tile backsplash for a traditional kitchen design, patterned encaustic look tiles to create a stunning geometric pattern on your walls or backsplashes or a mini-square design made of tiny Mother of Pearl mosaics that will sparkle and shine in a glitzy backsplash!
Due to their adaptability and simplicity, square tiles are a great option if you want a clean, minimalist environment with a monochromatic color palette. You can select a design that will match almost any residential or commercial taste! To create a straightforward and attractive interior that can be paired with any type of décor, you may reproduce your minimalist kitchen ideas, or you can explore our selection of square tile backsplash designs for a chic kitchen appearance!
Marble Kitchen Backsplash
Despite being one of the most expensive materials for backsplashes and countertops, marble may be just as expensive per square foot as high-end granite or quartz in some grades. However, some homeowners like the kitchen's sculptural beauty and ageless elegance that marble kitchen backsplash and countertop designs bring.
There are various advantages to marble backsplash ideas. Experts advise using a trivet, potholder, or kitchen towel to prevent burns on the countertop while using boiling-hot equipment even if marble is heat-resistant. A marble kitchen backsplash should also be sealed once a year to increase its resistance to stains and small scratches. Keep in mind that there are many marble varieties available. Marble kitchen backsplash ideas might raise your home's worth. Additionally, marble ages naturally, its characteristic veining developing a patina over time. Honed marble has a more alluring look than polished marble, which has a beautiful, reflected sheen. Scroll down to see some stunning backsplash designs made of marble!
Glass Kitchen Backsplash
Due to its contemporary and elegant appearance, glass is one of the tiles that is used in homes the most frequently nowadays. You have greater creative flexibility and adaptability with glass kitchen backsplashes since they are so versatile and give a wide range of choices. Contrary to popular assumption, glass is also incredibly durable, resistant to water and fire, and easy to maintain. Given all these benefits, installing a glass kitchen backsplash in your kitchen should be a no-brainer. Your kitchen's appearance may be drastically altered, and it would add aesthetic value while withstanding continuous usage.
A glass kitchen backsplash is a great way to give your kitchen some color and aesthetic appeal. Additionally, you'll see that the tiles may be arranged in virtually infinite configurations, bringing even more unique style and design flair. The arrangement you select is ultimately entirely up to you because glass tile is available for backsplashes in practically every pattern, from rectangular subway tiles to mosaic and penny designs. Also, like the stone slabs, you can find glass sheets or "slabs" to increase the plain and contemporary appeal. Let's scroll down and see some of the stylish design options for a glass kitchen backsplash design.