34+ White Kitchen Cabinets with Brass Hardware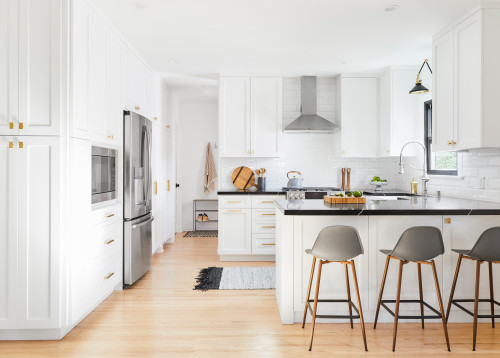 ID# 130103 | Houzz.com – Credit | © KrimsonHAUS
---
White Cabinetry with Black Quartz Countertop and Subway Tile Backsplash
What a bright and spacious design! The black quartz countertop stands out between the white features and adds visual interest by creating a contrasting look. The polished brass hardware complements the luxurious feel of the quartz and completes the warm feel of the wood flooring. The beveled subway tile backsplash creates a harmonious look with the timeless appeal of the white shaker cabinetry.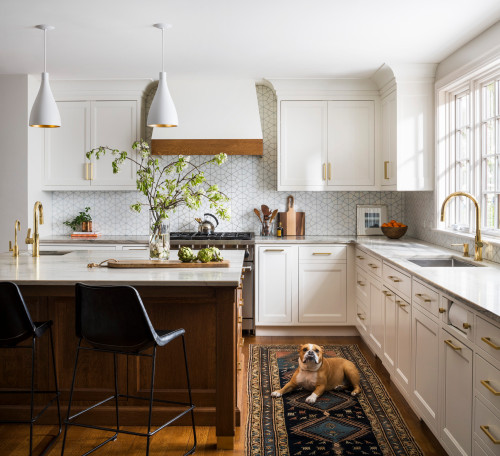 ID# 130122 | Houzz.com – Credit | © Studio Dearborn
---
White Kitchen Cabinets with Brass Hardware and Hexagon Backsplash
In this traditional kitchen design, the interior designer creates a modernized kitchen space with the original Tudor charm. Bright whites, wooden textures, and brass details are perfectly balanced to create a warm and welcoming atmosphere for the family and their guests. The ceramic hexagon tile backsplash introduces shape and texture to the space and a little modern edginess. The white shaker-style cabinets reflect the old world motifs of a Tudor revival.
White Kitchen Cabinets with Brass Hardware
White kitchen cabinets are the all-time popular design elements for all kitchen types. From modern lacquer flat panels to traditional recessed panels, white cabinets come in a wide range of style options but classic doesn't have to mean bland. There are plenty of different ways to spruce up white cabinets and the cabinet hardware is one of the easiest ways to give a refreshing appeal to them! But how do choose the right cabinet hardware? Matte black, brushed nickel, rubbed oil bronze, and more. There are endless options for cabinet hardware and if you want to add a warm allure, brass is the way to go! In this article, we gather out inspirational white kitchen cabinets with brass hardware ideas!
If the cabinetry is the backbone of the kitchen, hardware is the jewelry of the cabinets, and brass cabinet hardware is the most glamorous one! The clean and sleek appeal of the white cabinets is perfect to create timeless appeals for kitchens. With using brass cabinet hardware, you can instantly add a dose of sparkle and make a warm touch to the white cabinetry without breaking their timeless appeal. Also, thanks to its different shape, style, and finish options, brass hardware can work with any design aesthetic. If you want to see different design approaches, scroll down and dive into our white cabinets with brass hardware gallery!
Is brass kitchen hardware too trendy?
Yes, definitely is! Whether it is a sleek brushed brass with a contemporary look or an antique brass that gives a vintage feel, brass kitchen hardware is dominating the trend lists. Thank to the wide variety of shapes, styles, and finish options, you can easily incorporate brass handles or knobs into your different styled kitchens.
Brass Cabinet Hardware Types
When it comes to choosing cabinet hardware, deciding the type of hardware is the first thing that you need to consider. In today's market, hardware comes in two basic forms: pulls and knobs. What you'd like to use knobs, pulls, or a mixture? There are no certain rules of what is right and wrong. You can go with all knobs or pulls or mix and match both of them. Generally pulls work better on drawers or large cabinet doors because of the functionality. It is easier to open a drawer with a pull. And you can pair your cabinet doors with a knob. This way you can create visually interesting appeal. But as we said, you can try different combinations according to your taste.
White Cabinets with Brass Cabinet Hardware Pulls
Brass hardware pulls are larger pieces than knobs which require two screws to install. Just like the knobs, pulls also come in different shapes and styles such as bar, arch, ring, cup or, finger. They are generally used for drawers and larger cabinet doors because of their functionality. Also, because of their sleek appeal, pulls have a more contemporary look but you can also see them in traditionally styled kitchens.
White Cabinets with Brass Cabinet Hardware Knobs
Brass hardware knobs are smaller pieces than pulls that are designed to be easy to grab and are mounted to the exterior of the cabinet door. They require only one screw to install which provides easy installation. From round to square, mushroom to oval, knobs come in different shapes. Round, square, or oval shapes are perfect to give a sleek appeal to your white cabinets but you can also go bold and use art-like pieces!
What Color handles are for white cupboards?
White cabinets are like a black canvas. That means you can pair them with all hardware colors. This is where your personal tastes come into play. From chrome hardware to matte black ones, there is a wide range of color options. However, if you want to add sparkle and make a warm touch, brass hardware will be a perfect option for your white cabinets!
Brass Cabinet Hardware Finishes
Once you decide the type of brass hardware, it is time to decide its finish. From polished to brushed, brass hardware comes in different finish options to give different appeals.
White Kitchen Cabinets with Brushed Brass Cabinet Hardware
Brushed brass is a matte finish that has been brushed with a special tool. Brushed brass hardware is the most popular option for white cabinets because of its sleek and elegant appeal. Thanks to this appeal, you can easily make a statement without being too flashy!
How do you spruce up white cabinets?
There are different ways to spruce up the white cabinets. But if you are looking the easiest way, changing cabinet hardware is the easiest and most effective way! With this small change, you can give a totally fresh look to your white cabinetry.
White Kitchen Cabinets with Polished Brass Cabinet Hardware
Polished brass is a bright and cool-toned finish that has a reflective surface. It is polished and lacquer coated to prevent tarnishing over time. You can see this finish in both modern and traditional kitchens but it is more likely to see them in traditional ones. The polished brass hardware is the most glamorous finish thank to its mirror-like surface and it is perfect to add a dose of sparkle to your white cabinets.
White Kitchen Cabinets with Antique Brass Cabinet Hardware
Unlike the polished or brushed, an antique brass finish is treated to appear aged. It has a rich deep brown shade with a gold undertone. With its warm allure, antique brass cabinet hardware is perfect to add a vintage appeal to your kitchen cabinets!
Does your kitchen faucet have to match cabinet hardware?
There is no certain rule that the faucet and hardware have to match. Using the same material both for faucets and hardware will give a more complete look but you can also mix and match other materials.