62+ Luxury Walk-in Closet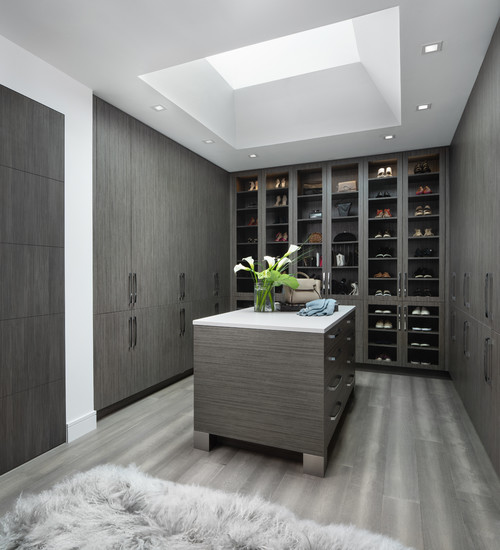 ID# 101705 | Houzz.com – Credit | © Nosan Signature Homes
---
Gray Walk-in Closets With Flat-panel CabinetS
Large skylights provide daylight without losing any wall space. The glass doors are both functional and beautiful allowing one to view the shoes and accessories easily and also serves as an eye-catching display wall. Central island with a quartz countertop provides more space for clothes! Gray wooden doors create a sharp panel look.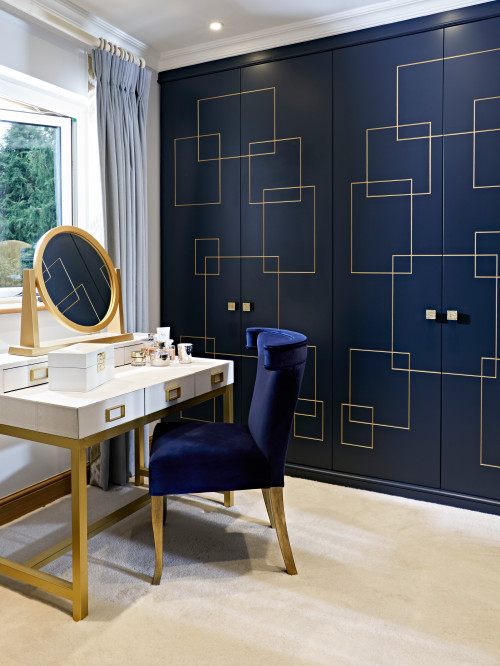 ID# 101735 | Houzz.com – Credit | © Clayton & Company
---
Dark Blue Wardrobe With White Vanity and Gold Details
What a strong color choice! Deep blue color matches perfectly with gold details! Square touches as a pattern on the wardrobe and handles bring elegance. Classic style armchair and makeup table create a contrast with flat panel cabinets. Light blue curtains provide the color transition.
Glamorous, Luxury Walk-in Closet Design Ideas with Chic Touches!
Who wouldn't want a gorgeous walk-in closet in their house! Walk-in closets never fail to add a dose of luxury to a home. If you have a lot of clothes and have no idea how to organize and store them properly, you can create your very own high-end boutique with the help of our luxury walk-in closets!
Combine display cabinets, drawers, shelves
Well-designed walk-in closets can be a great way to store your clothing, shoes, and accessories. You can maximize the functionality of the space with cabinets, drawers, a central island, and upper shelves. Material, color schemes, and even tiny elegant touches like gold handles or glass shelves can enhance your design. Find inspiration from our luxury walk-in closet design ideas to maximize the small spaces and also large dedicated dressing rooms.
Mirror usage in the walk-in closets makes the space wider and it can fit all designs.